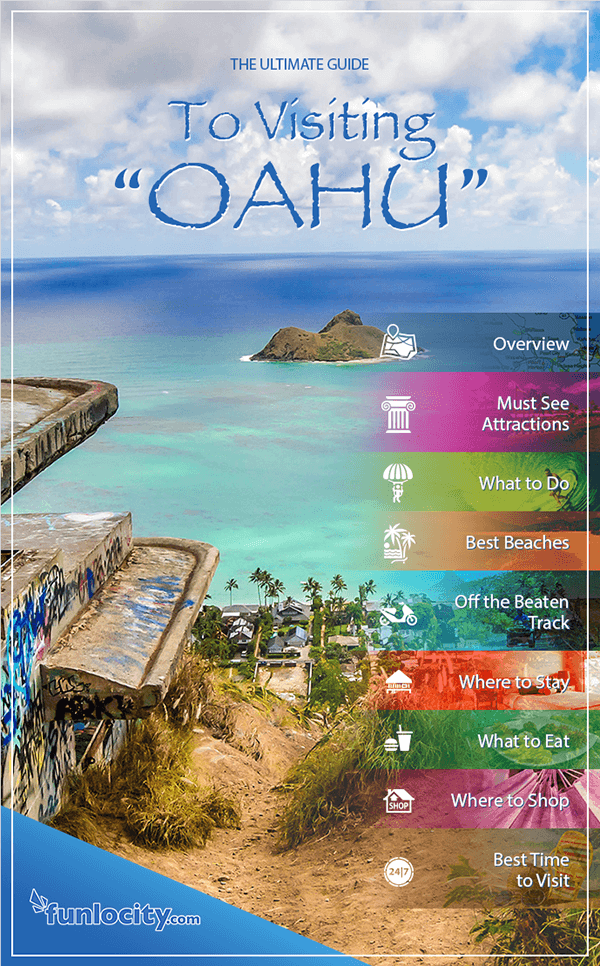 The birthplace of modern surfing, the beating heart of Honolulu, and a pristine spot awash in ancient custom and culture – is it any wonder that Oahu, Hawaii is known as the gathering place for those visiting Hawaii?
Visiting the Hawaiian islands has long been a desire for many travelers, all seeking the velvet green mountains, blue and white beaches, rolling waves, and sweet scent of hibiscus clinging to the air. With so many islands to pick and choose from, it can be tricky to know which to claim as your own without an Oahu travel guide.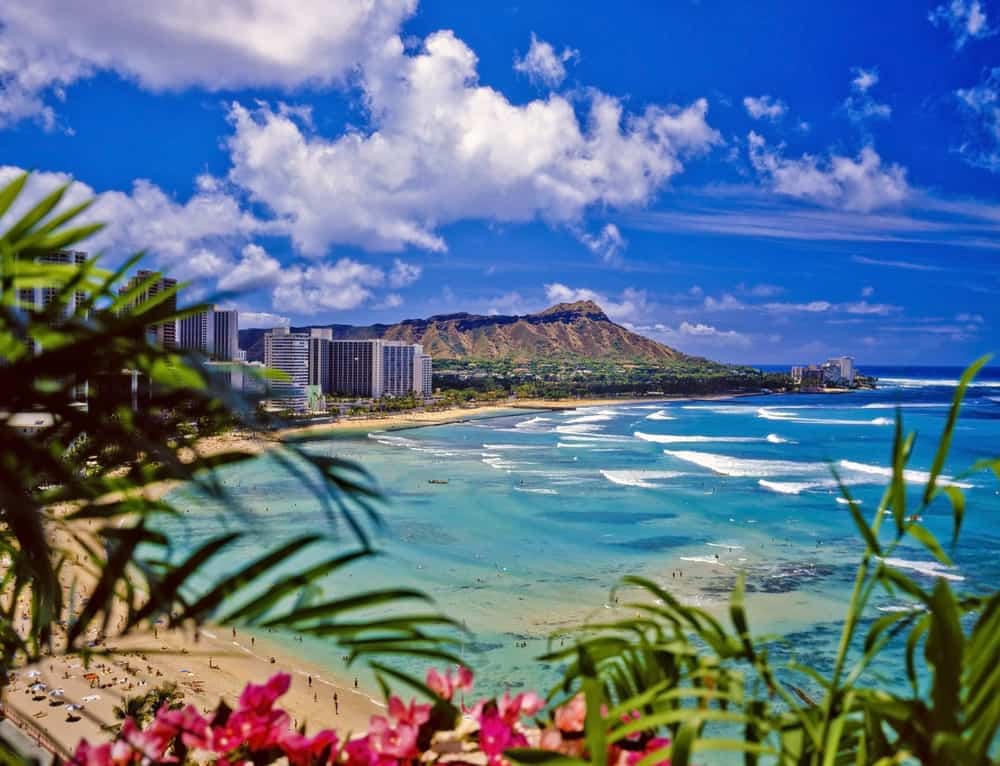 Kauai may have the gardens, Maui may have the magic – but visiting Oahu can offer historic landmarks (like the Arizona Memorial at Pearl Harbor), rare encounters with Mother Nature along the Windward Coast, a plethora of Oahu tours to choose from, a smidge of luxury, and the iconic Oahu North Shore. With downtown Honolulu on one side, and jungle paths on the other – it seems to be the best island for balancing out your trip to Hawaii and can be incredibly fulfilling for those wondering what to do when they finally make their trip to Oahu.
For the adrenaline junkies, there are a plethora of things to do in Oahu – you can spend your days carving waves with a surfboard at Waimea Bay, shark cage diving off the coast of beautiful beaches, going on a majestic hike through the dazzling foliage of the Olomana Trail, or swimming with dolphins and stingrays at Hanauma Bay. For history buffs -the Pearl Harbor National Memorial invites you to step back into the past (allowing you to show reverence at the Arizona memorial), or you can get lost in the lavish regal history of Hawaii at the European-influenced Iolani Palace or at the fascinating Polynesian Cultural Center. Honolulu, Oahu (the state capital) and Waikiki can fulfill every food dream, with lots of great Hawaii dinner cruise options, along with offering endless spa days and shopping for those who take their paradise with more than a dollop of comfort and class. Finally, nature lovers will be wooed by the blissful botanical gardens and moon-like lava landscapes scattered across Oahu, Hawaii.
The third largest island in the chain, the question of what to do in Oahu, Hawaii knows no limits. For those seeking to burn the candle at both ends, and combine nightlife with nature, comfort with culture, and relaxing white sands with world class surf – then visiting this strip of paradise with an Oahu travel guide is the solution for those narrowing down which Hawaiian island to choose.
Must See Attractions in Oahu
Pearl Harbor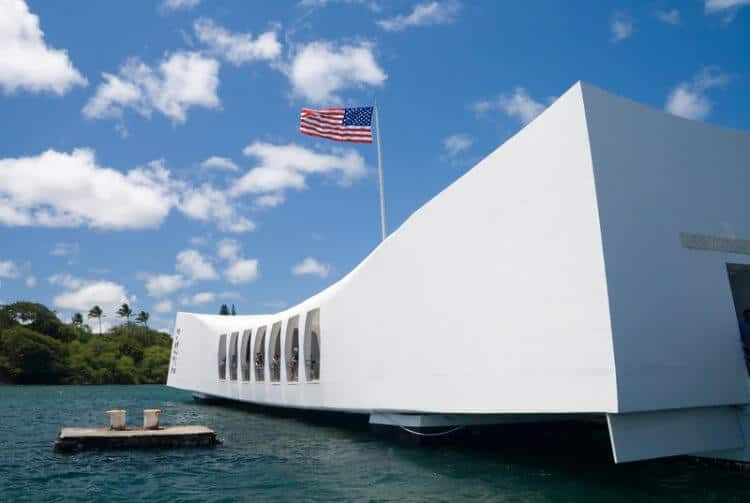 History was changed forever the day there was an attack on Pearl Harbor – a moment that propelled the USA into one of the world's most infamous wars. On December 7th 1941 the Japanese attacked Hawaii's largest natural harbor located west on Highway 1 from Honolulu – a spot that had previously been known only for its abundance of iridescent pearl oysters below the surface. Many men lost their lives that morning, including most of those aboard the USS Arizona (which is the main attraction of Pearl Harbor National Memorial). Now, Pearl Harbor is a must-see tourist site for those visiting Hawaii, and a place to remember the 2,390 people that died that fateful day when the bomb was dropped.
If you are looking for things to do in Oahu, Hawaii then take a Pearl Harbor National Memorial tour, hear the stories come to life at the Pearl Harbor Visitor Center, lose yourself in the video footage, and wander the Pearl Harbor Museum. After that you can take a boat ride out to the floating USS Arizona Memorial, and visit the Pacific Aviation Museum as you spend a day tying together the frayed strands of history and learning the facts.
Iolani Palace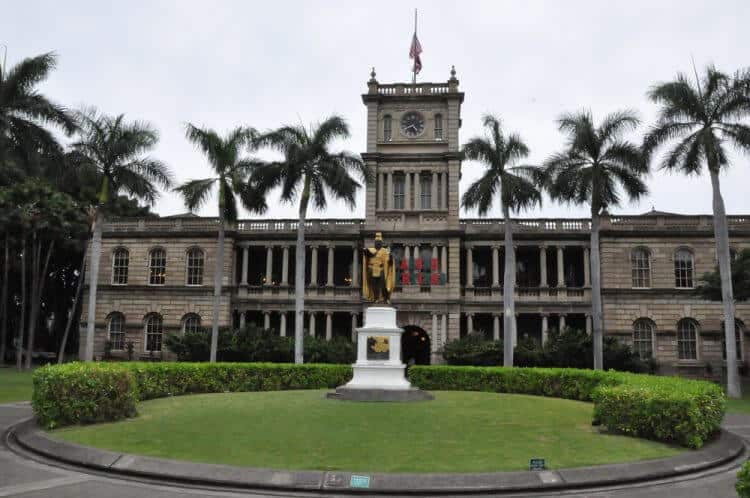 Once upon a time Hawaii had a monarchy and King Kalakaua and his sister Queen Liliuokalani sat upon the throne. The crown may have fallen from grace, but the palace still holds awe inspiring regal charm. It is said that the Iolani Palace in Honolulu, Oahu could boast electricity even before Washington's White House. With its mighty ramparts and ornamental façade, you can see a touch of European inspiration woven into the palace.
Inside one of Oahu's best attractions, you will find a grand museum lovingly restored with swaths of red velvet, a koa wood staircase, glittering jewels, and a tantalizing crimson throne room. Be sure to check out the sorrowful Queens Quilt, hand sewn by Queen Liliuokalani during her five-month imprisonment within the walls of the palace.
Diamond Head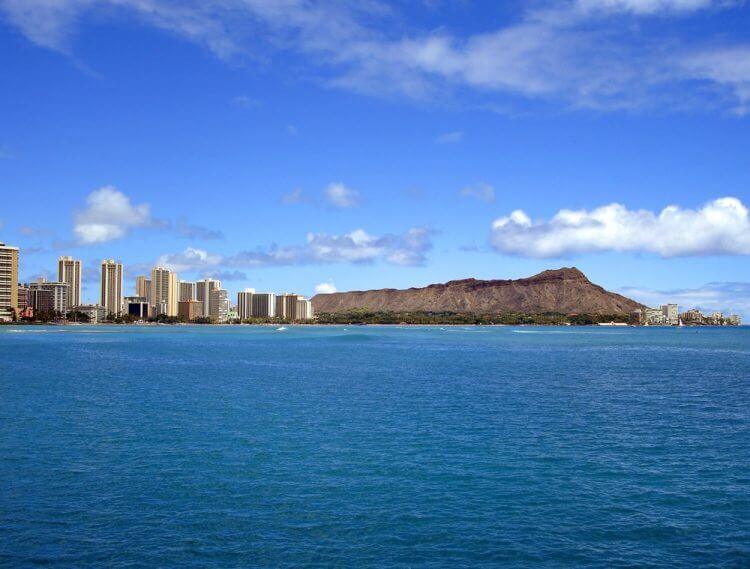 The Diamond Head trail is a glittering gem on the island of Oahu, Hawaii that's within jogging distance of Honolulu and Waikiki Beach to the northwest, and a must-see if you plan to hike in Hawaii. This once active volcano doesn't spit fire and brimstone anymore, but the Diamond Head crater is still a wondrous sight. Boasting a 3500-diameter crater and a shimmering 760-foot summit – Diamond Head is one of Waikiki's most iconic landmarks.
The ancient name of Diamond Head is Le'ahi, meaning the point of the Ahi fish, and named so because the mountain looks like a dorsal fin against the bright blue sky. From the Diamond Head Visitor Center it only takes an hour to reach the summit, and along the way you can find a World War II bunker hidden amidst the greenery, a remnant of Diamond Head's military history. From the top of the volcano you can see Oahu spread out like a tapestry beneath your feet. Hearing the waves roar and the trade winds kiss your skin makes the walk worthwhile and is the reason why this is one of the best things to do when you visit Oahu.
Byodo-In Temple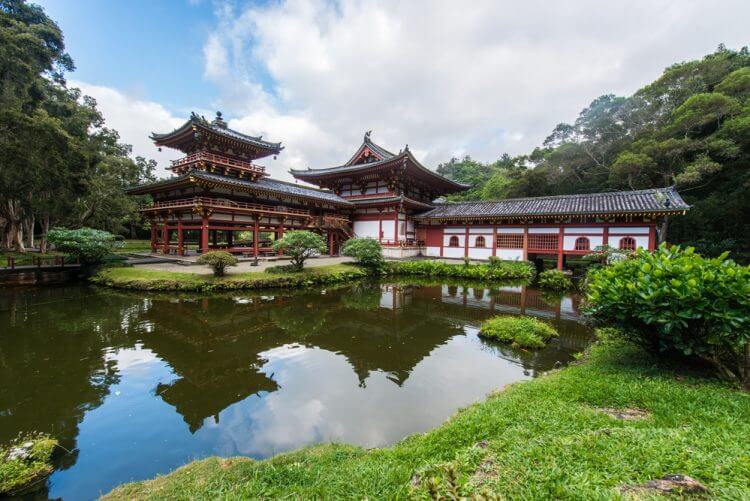 Stumbling upon the Byodo-in Temple at the foot of the Ko'olau Mountains, you may think you have been whisked away to the storybook pages of Kyoto. Sitting snugly in the Valley of the Temples, the Byodo-in is a non-practicing Buddhist temple providing a place of harmony for all to sit and ponder. The temple gardens are adorned in lush vegetation, and peacocks strut with their turquoise feathers beneath the sun. Koi Carp fill the ponds, and small waterfalls tumble into mist adding to the sense of serenity.
Since 1968 this temple has been standing gracefully as an homage to the first Japanese immigrants in Hawaii. Take an afternoon to visit the Valley of Temples when visiting Hawaii, to sit quietly at the Byodo-in Temple and to contemplate the feel of the sun on your back and the soundtrack of Mother Nature in this stunning setting. This is what to do in Oahu when you need a slice of simplicity.
Waimea Bay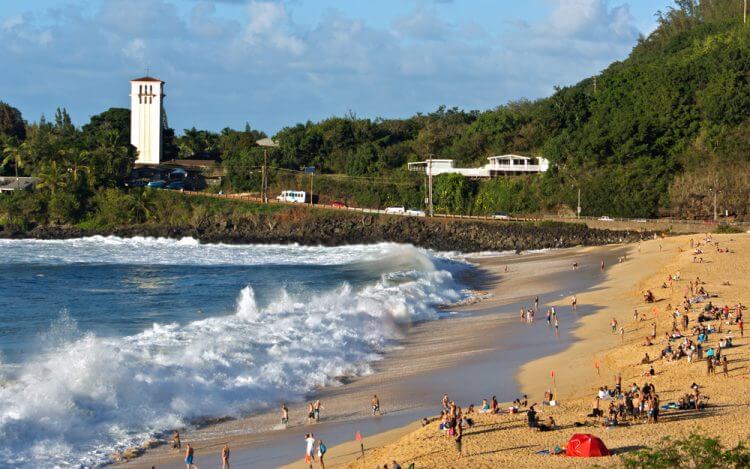 Famous among surfers across the globe – Waimea Bay (an estuary of the Waimea River that flows through nearby Waimea Valley) gave birth to big wave riding and has been part of the myth of Oahu's North Shore for decades. A visit to Oahu, Hawaii in the winter is when the swell kicks up monstrous waves and watching world class surfers attempt to tame the surf can make for an edge of your seat afternoon. Yet in the summertime you barely see a ripple, only green blue waters lapping at pale white sands and snorkelers bobbing across the crystal-clear surface.
Jutting out into the ocean is a large monolith rock which locals and travelers use to take the leap of faith into the warm waters below. Snorkelers and strong swimmers can also brave passing through the submerged tunnels where colorful fish flicker. Of course, one of the highlights of visiting Waimea Bay on the North Shore of Oahu, Hawaii is the wonder of swimming with sea turtles. Spend summers in calm clear waters and winters watching five story waves roll in – Waimea Bay truly is a tale of Jekyll and Hyde. If you have saltwater in your veins, then Waimea Bay Beach Park is one of the best things to do in Oahu.
Waikiki
Waikiki was once a playground for Polynesian royalty, now it is the epicenter of activity for those visiting Oahu, Hawaii. Waikiki is often top of the list for those visiting Honolulu, Oahu who are seeking a spot to sample sun drenched action and maybe rent some jet ski's for the afternoon. Brimming with beautiful Waikiki restaurants, top level luxury resorts, evocative nightlife, impeccable shopping and the treasured Waikiki Beach– this part of the island near Honolulu captures the lively side of paradise.
This is the place to gaze upon the chiseled face of the Duke Kahanamoku Statue, or to hit the floury sands outside the resorts to watch the Hilton Village fireworks. Learn to dance the hula at the Royal Hawaiian Center, find a ukulele concert, or duck into the fascinating Honolulu Zoo or exotic Waikiki Aquarium. When the sun starts to fall, you can opt for a romantic sunset cruise to watch the lights glittering back on the bay, or ride the Waikiki trolley and taste that famous shaved ice as you take a moonlight stroll through Kapiolani Park.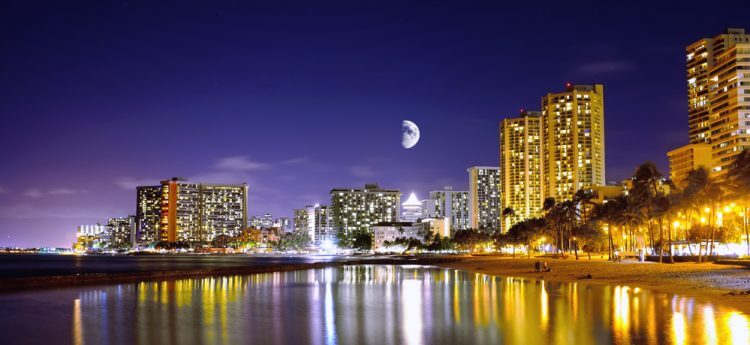 Honolulu Chinatown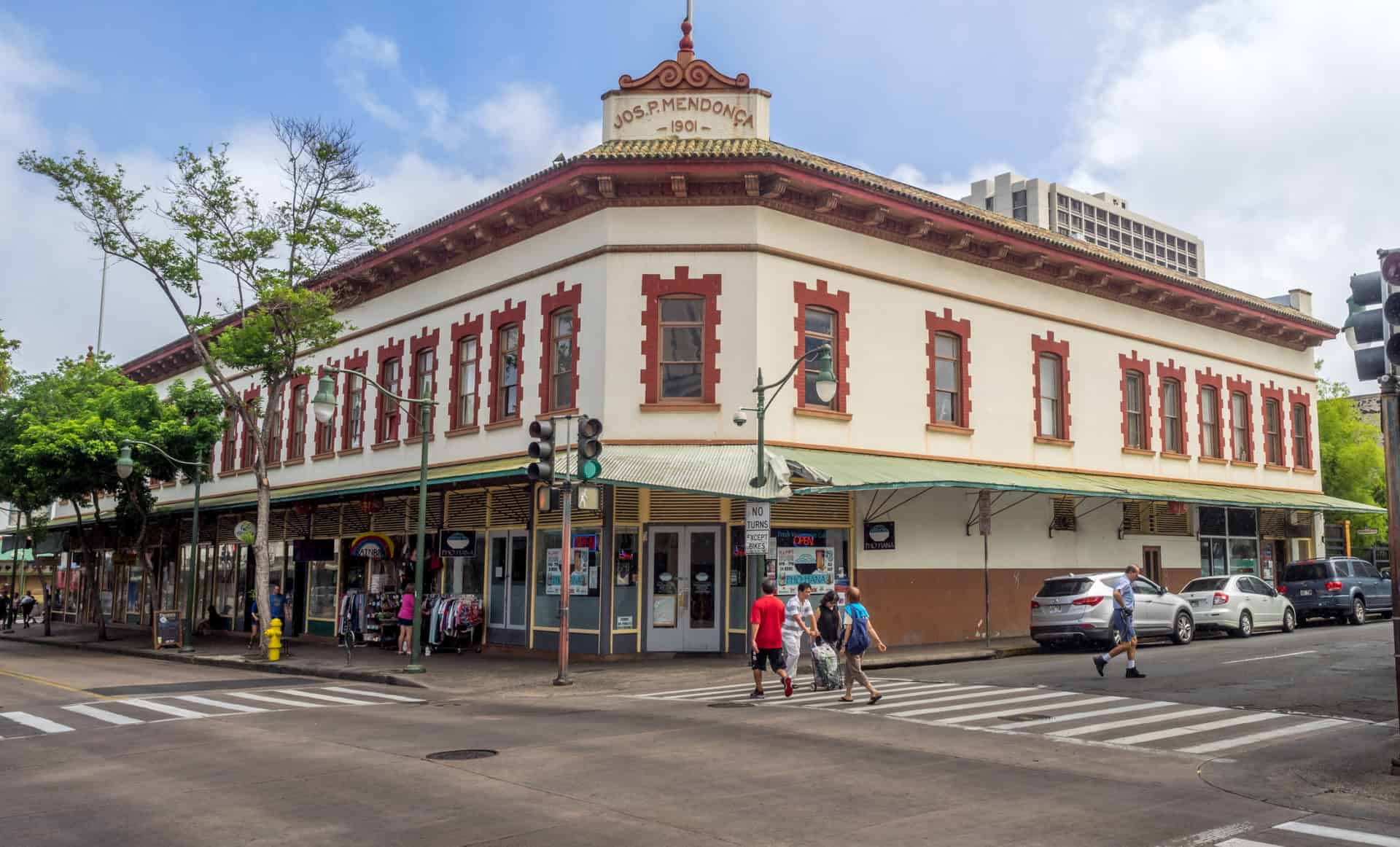 Chinatowns across the globe are always a hive of hustle and bustle, and Honolulu's is no exception. Here the streets are laden with fresh fruits and vegetables, traditional oriental stores and stands, and locals bowing beneath the weight of their weekly wares. Not only is it a fabulous spot to soak up the atmosphere but it is also a foodie magnet for those who visit Hawaii, with their stomachs acting as a travel guide.
The Maunakea Marketplace is rumored to have the best Filipino food in Honolulu, and on the fringes of Chinatown you can find Char Hung Sut – notorious for their pillowy Hawaiian dumplings and Manapua. Noodle lovers should swing by the Yat Tung Chow Noodle Factory, and when you get tired of feasting – you can sit in one of the many pretty plazas and watch the elders battle it out as they play Chinese checkers.
Polynesian Cultural Center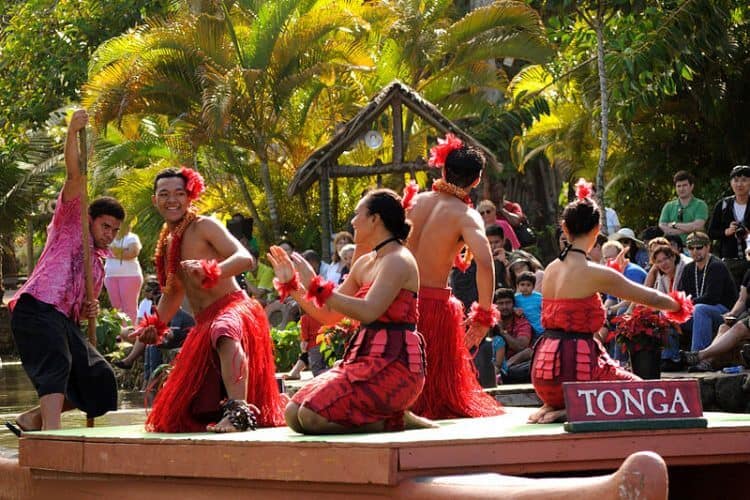 Polynesian culture is fascinating to those visiting Hawaii; the soft strum of the ukulele, the taste of luau pig, the energy of fire, the delicacy of hula dancing, and the ancient lore's woven into the modern world. Those who want to explore more should swing by the Polynesian Cultural Center when visiting Oahu. Take a canoe tour across the lagoon, buy handmade delights at the Hukilau Marketplace, visit recreations of six different Polynesian Islands, and feast in firelight at the local PCC luau. The PCC is one of the best value things to do in Oahu.
In-between there are a ton of activities to partake in, from traditional poi to fire making and even learning how to cook the Samoan way. PCC tours can be one of those all-day affairs for the whole family and will deliver a fabulous understanding of Hawaiian culture.
What to Do in Oahu
Surfing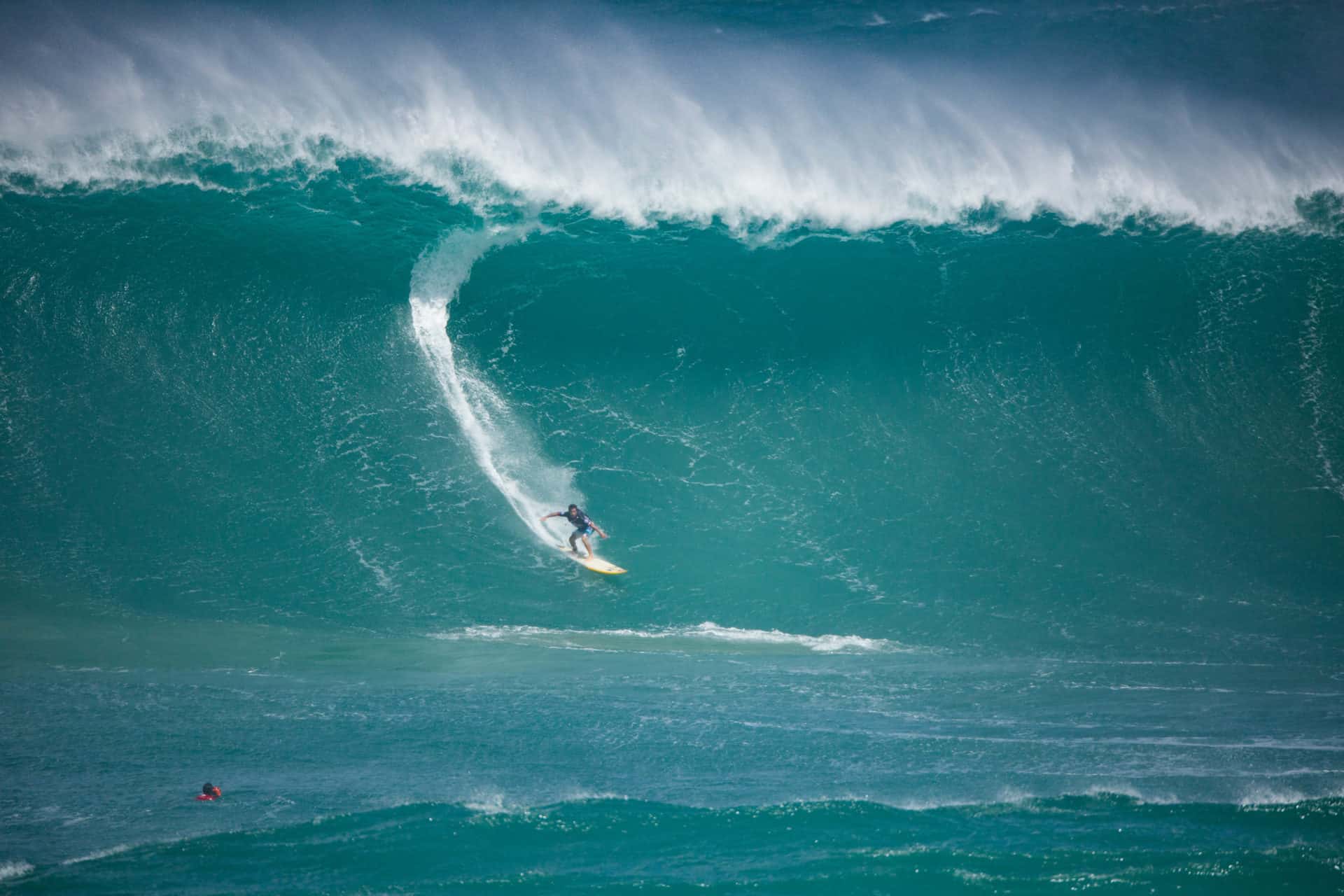 Some people visit Hawaii to try their hand at surfing at least once. The island of Oahu is a surfer's paradise with warm waters year round, a plethora of beaches to choose from, and conditions to suit everyone from novices to surfing superstars. With lots of surf schools popping up along the coast and connected to every resort – this is the perfect time to try surfing along the the most magnificent beaches in the Pacific Ocean.
Beginners should stick with surf schools to play it safe or can find solace from gentle playful waves at Haleiwa Beach Park, Kawela Bay, and the dazzling surf thronged sands of Waikiki Beach near Honolulu. Those who are seeking something a little more demanding can head to Canoes on the South Shore of Oahu, or ride the fabled barrels of sunset. If you want to watch the pros take on the mountains of whitewater, then head to the Banzai Pipeline and experience one of the most nail biting things to do in Oahu.
Hiking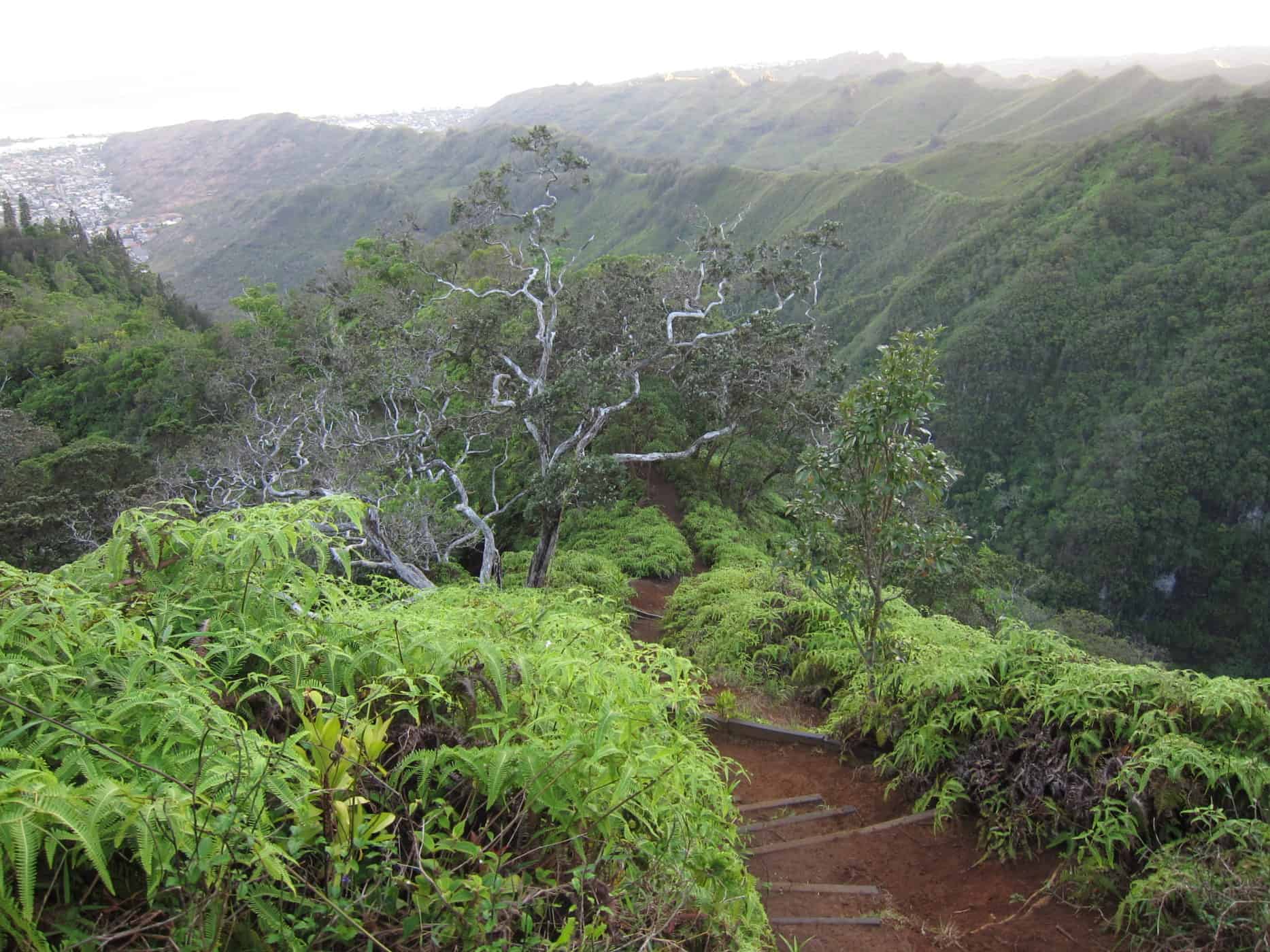 Visiting Oahu becomes a pure playground for hikers, especially those who love to disappear into the wilderness. From craggy volcanic peaks, to ziplining from the top, to dense orchid flaring rainforests, hidden waterfalls, and jaw dropping vistas – this island is etched with passages and trails for the most adventurous to hike. Diamond Head is a very popular part of the island to hike, yet the Kuliouou Trail is also mild and simple and rewards climbers with clear and dazzling views from the summit. The Han Bay hike is another popular one, especially for those who want to indulge in a colorful snorkeling experience afterwards.
Lanipo is for the less faint of heart – with her ridgeline crest trail that dips in and out of the rolling green hills. If you want to lose yourself in the humidity of the jungle and pass through banyan arches, then Ualaka'a is a hike that may test your limits. Waimano Falls leads you down a shaded path until you reach a cascade waterfall of the brightest blue. Whichever path you choose, you can be sure that the best Oahu hikes will stay carved in your heart.
Snorkeling
For the crème de la crème of Hawaii's underwater wonders – Hanauma Bay is the poster child tempting snorkelers from across the world into visiting Hawaii. On the eastern side of Diamond Head, adjacent to Mamala Bay of Honolulu, the visibility of Hanauma Bay makes snorkeling one of the most incredible activities for those seeking what to do in Oahu. Close to 3000 visitors a day make the journey to this sheltered bay in the Hanauma State Park, to plunge into the deep and explore the perfect prisms of coral color. It is said that the Han Bay nature reserve boasts the highest number of fish in one spot out of all the islands.

During the summer months snorkelers can also head to Sharks Cove; a natural shallow garden surrounded by rocks and wonderful for younger snorkelers on calm days. In the warm liquid blue of Oahu you can swim alongside sea turtles, spinner dolphins, and a whole network of shimmering fish and marine species.
Helicopter Tour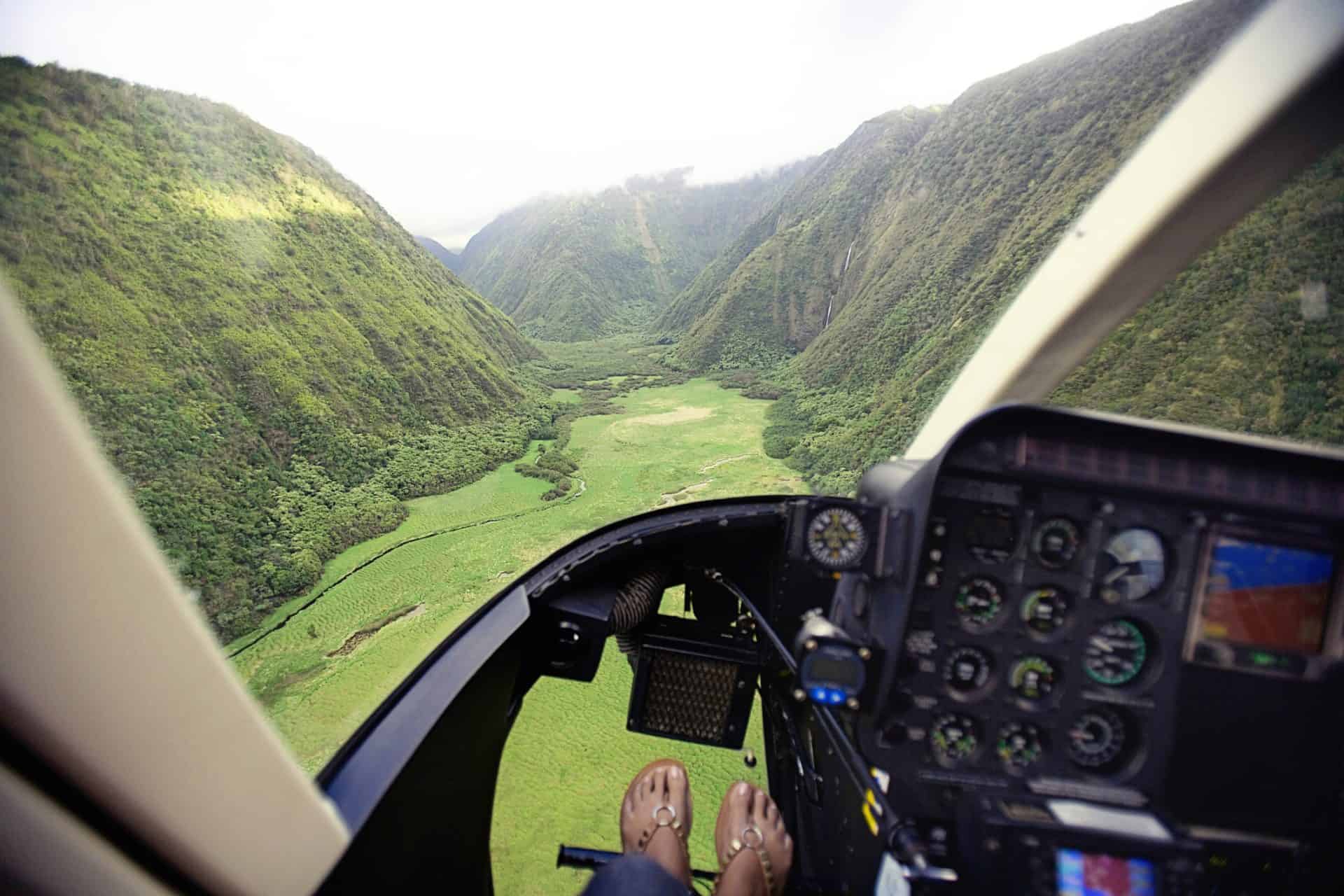 Oahu is a kaleidoscope of color – silvery slips of beach, turquoise tapestry seas, velvet rainforests, simmering craters, and dazzling skylines. The best way to see the island is to soar to the sky with a helicopter tour of Oahu. For those wondering what to do in Oahu when visiting Hawaii, helicopter tours can be a once in a lifetime experience.
Whirring into the air from downtown Honolulu, Oahu you can catch a glimpse of the harbor before soaring over the majestic Iolani Palace. Skirt across the hundred-acre national cemetery of the pacific, duck down above the famous Waikiki Beach, and finish over the Arizona Memorial at Pearl Harbor. Flights tend to last from 40 minutes to an hour.
Out-Rigger Canoe Tour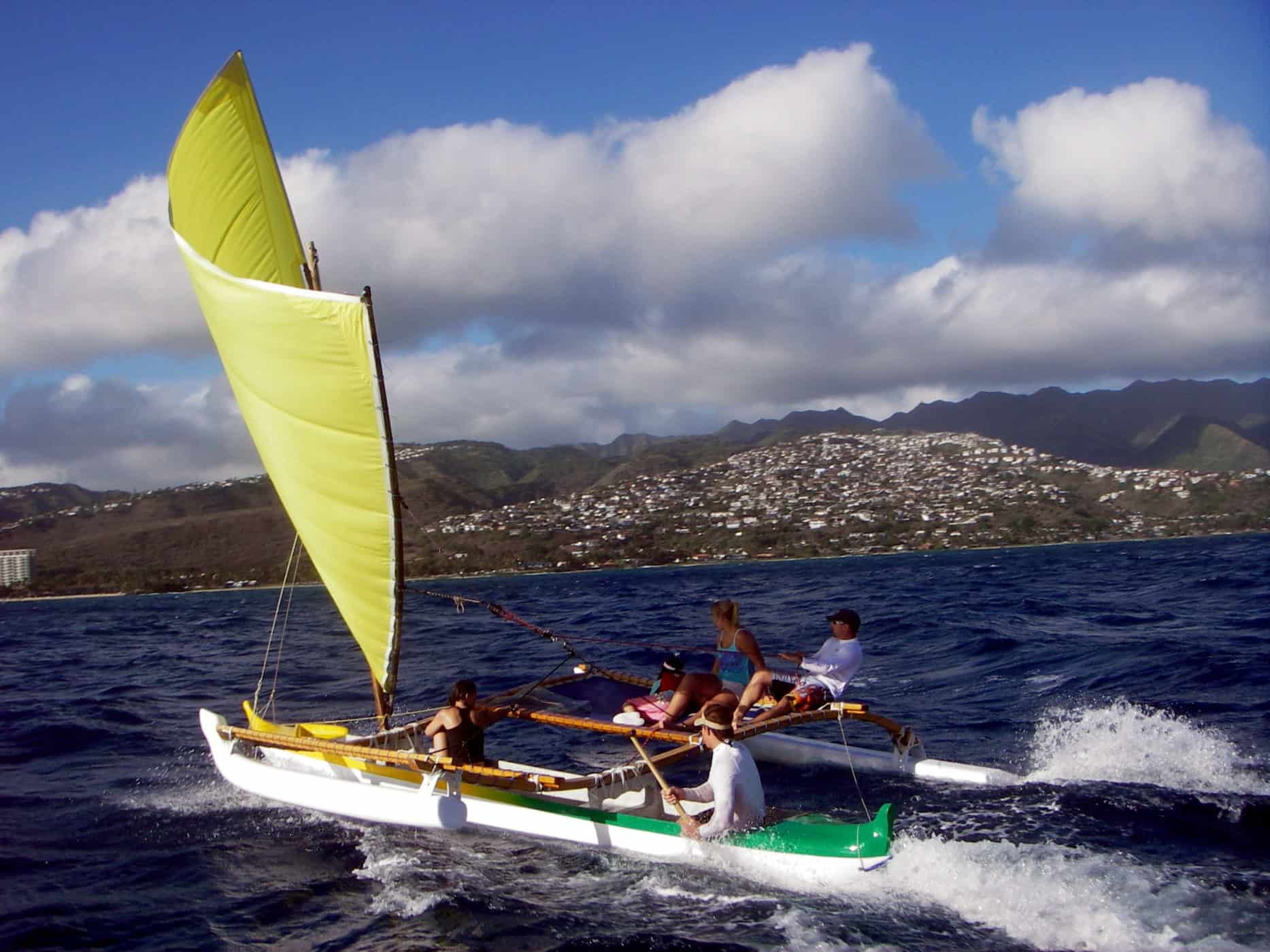 The ancient Hawaiians once explored their islands by paddling hard across the waters in their dugout canoes. With the soaring waves and strong currents, the outrigger was the safest and most stable way of traveling on water, and had the bonus of being able to surf waves to shore. Modern outriggers are carved from fiberglass and when visiting Oahu, you are sure to see them cresting the waves. Around the beaches of Waikiki, you can take an outrigger tour. On the tour, you can feel the thrill of catching wave after wave, along with seeing turtles, dolphins, and plenty of marine life. You are sure to get wet on this tour, but it can also deliver the safest and most exciting ride of a lifetime. For those wondering what to do in Oahu and hoping to combine tradition with charm – this can be the perfect option.
Swim in Waterfalls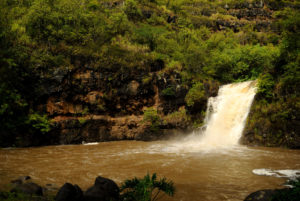 Like any paradise isle, Oahu is brimming with beautiful waterfalls. Some gush from dizzying heights, others trickle like the sound of music, some take death defying hikes to get to, others have serene blue pools for bathing. The only waterfall in Oahu you can swim in is in the Waimea Falls Park. The fifty-foot waterfall cascades into a freshwater pool, lifeguards man the edge, and you can even borrow life vests if you want to take the plunge safely. Surrounding the falls, you can find beautiful botanical gardens, and there are often Polynesian inspired cultural events taking place in the courtyard.

Whale Watching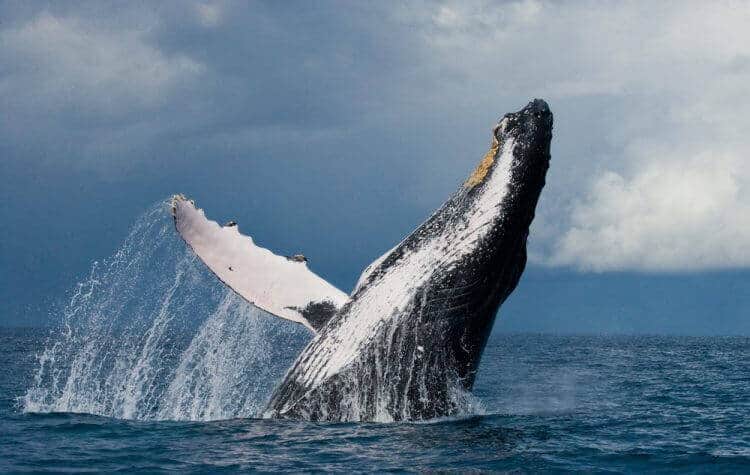 Common in December until May, whale watching tours can be a wonder to behold when you visit Hawaii. During the winter months, the humpbacks leave the icy waters to travel down to the balmy tropical seas that surround Hawaii. Here, they give birth and start to raise their calves. From Oahu, you can take a charter boat out to get up close and personal with these gentle giants. The most common spots you can book a boat tour from are the waters by Makapuu Lighthouse, along Hanauma Bay, and the coastline close to Diamond Head. Go the extra mile when looking for things to do on Oahu and book a boat with an expert guide who can tell you all about these fascinating creatures as you seek out your own Moby Dick.
Go Camping
Hawaii has some of the most inspiring camping spots in the world and even if you don't do during your entire visit – just a night or two in the wilderness can really help you to experience Mother Nature's paradise. For those seeking things to do in Oahu that focus on the great outdoors, camping can be the perfect break away from city life. Bellows Field Beach Park may be a military base during the week, but on weekends it opens for campers to come and pitch tents along the white sandy beach. If you prefer to camp surrounded by evergreen and beneath the shadow of mountains and the scent of orchids, then the Ho'omaluhia Botanical Garden makes for a great sleeping spot. If you need a more solid place to stay than under canvas but still want to camp, then Malaekahana Beach offers sweet little huts and food trucks for a slice of home comfort.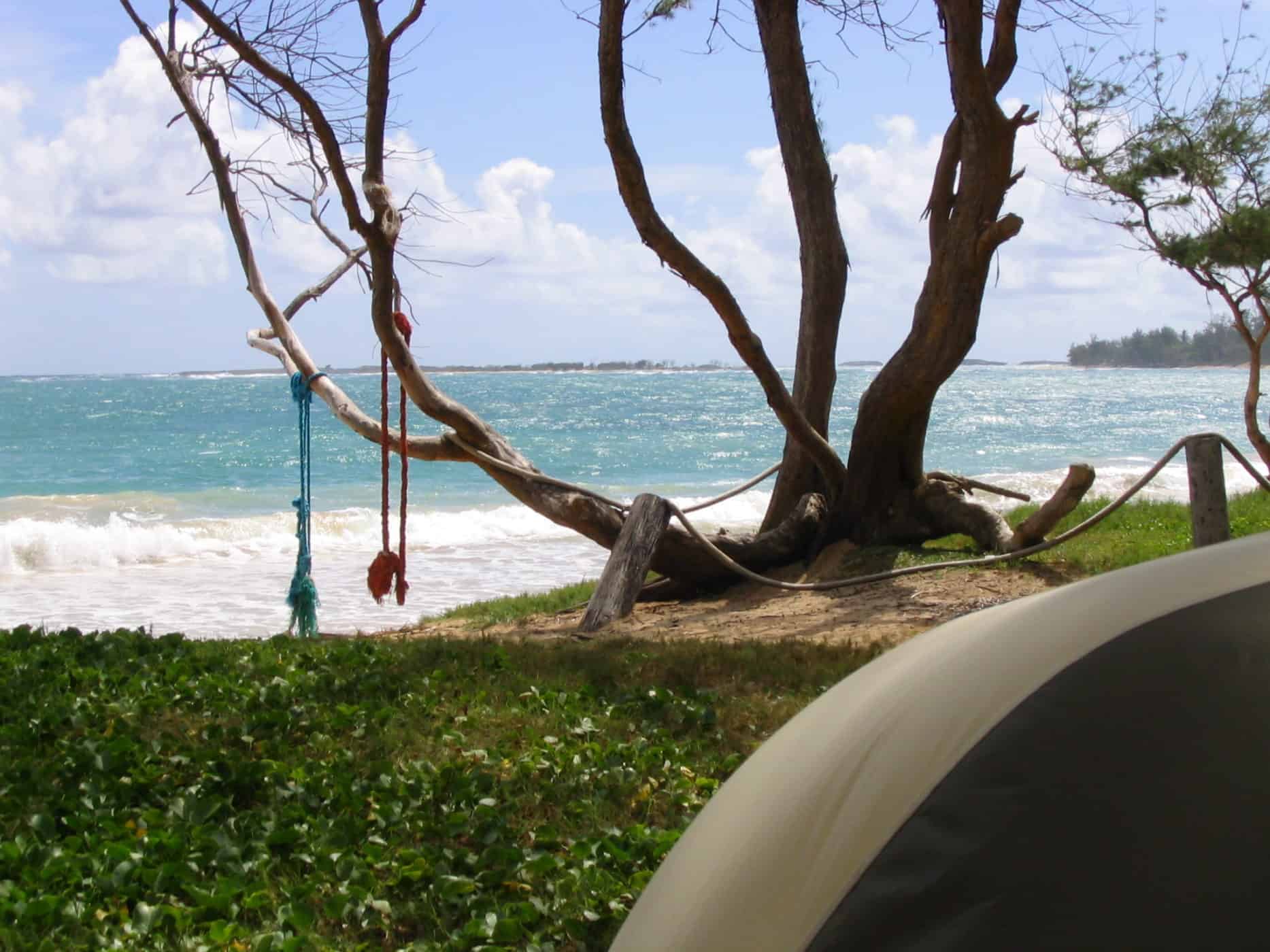 Best Beaches in Oahu
Best for Action
If you want to spend your days lingering on white sands but don't want to miss out on the party, then Waikiki Beach should be top of your list for beaches when visiting Oahu. The two-mile stretch of golden beach is split into sections ensuring that everyone gets a space to call their own. Watersports galore, cosmopolitan chic, and family fun – from sun rise to sun down; the good times don't skip a beat at Waikiki.
Ala Moana Beach Park is another firm favorite for those visiting Hawaii with children. This pretty little crescent of sand boasts lawns to play on, tennis courts, a yacht club, a mall close by, shaded picnic spots, and a laid back active vibe that lasts all day. Ala Moana is popular for families looking for low cost things to do in Oahu.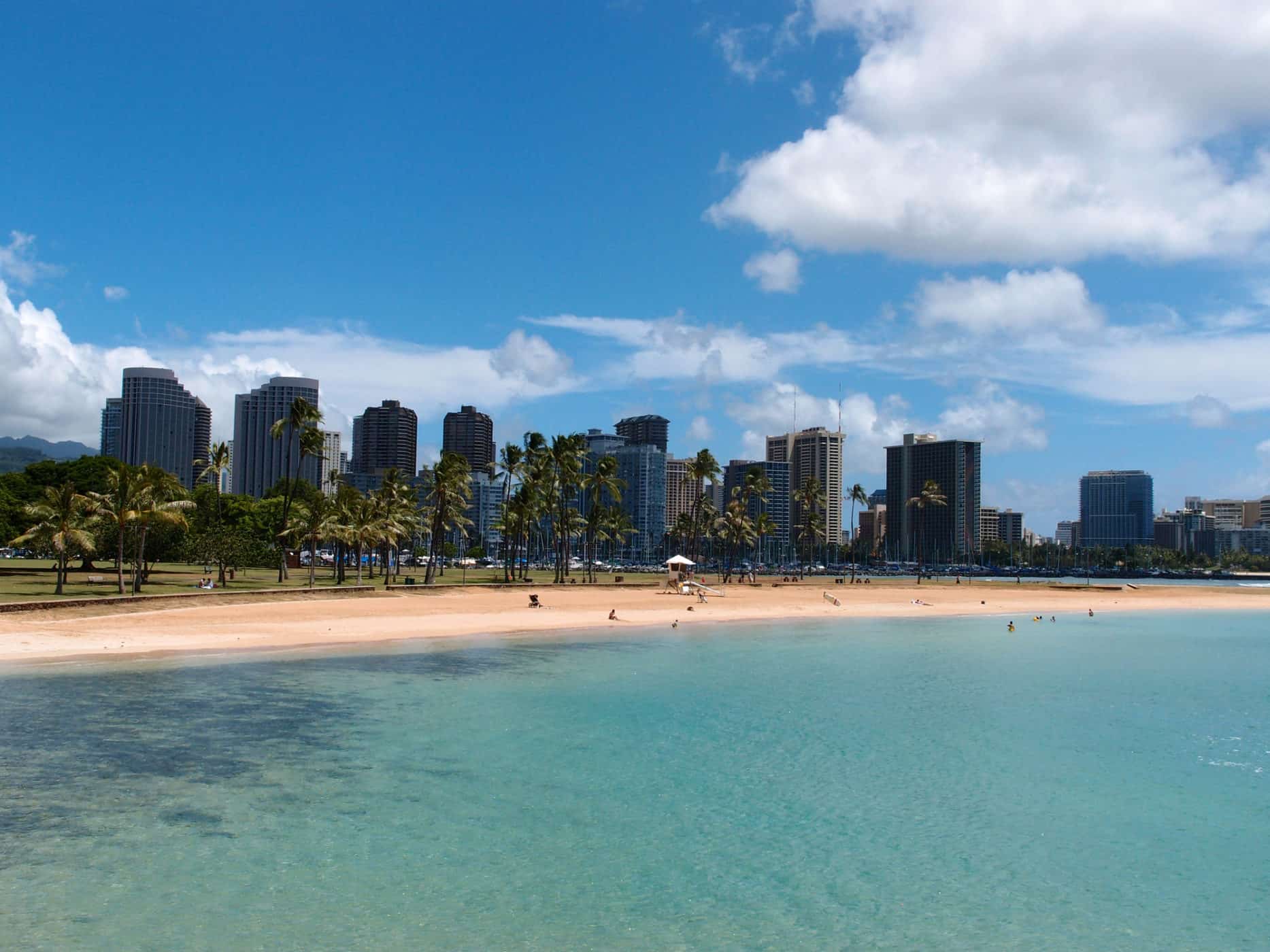 Best for Beauty
Golden peach sands, gin clear waters, and a small island turned into a bird sanctuary rising out of the blue – Lanikai Beach is the very vision of paradise. For those visiting Hawaii and working out what to do in Oahu – be sure not to miss out on this glorious spot that has put the sleepy town of Kailua on the map. You can even rent a kayak and paddle across the calm waters to get closer to listen to the bird song of the islands.
Only a stone's throw away from Lanikai you will also find Kailua, named as Americas Best Beach in 1998. Gentle waves roll playfully to shore, sands are pristine as snow, and this is one of the best places to get shaved ice and was even a firm favorite of former President Obama. Turtle Beach near the Turtle Bay Resort on the tip of the North Shore is another must visit spot, only if just to see the green sea turtles soaking up the sun. Otherwise known as Laniakea, this sandy spot is a haven for protected turtles year round, so feel free to look but avoid getting too close.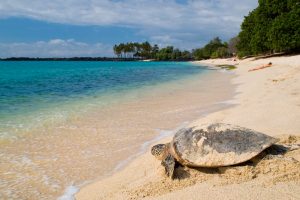 Best for Surf
Oahu is home to one of the most notorious spots in the whole of the surf world and a major reason why people visit Hawaii– the iconic North Shore. In winter the swells throw up some of the biggest waves known to man and you need to be a hardened pro with nerves of steel. From Sunset Beach to Pipeline and Waimea Bay – these dense shorelines are worth watching but steer clear of the water unless you are an expert.
For softer play when visiting Oahu, you can seek out the frolicking white water spots of Waimanalo Beach and Bellows Beach – both excellent choices for beginners who want to get a foot on the board. Intermediate surfers can head for Sandy Beach with its powerful shore breaks and vibrant colored sand that seems to get stuck in every orifice.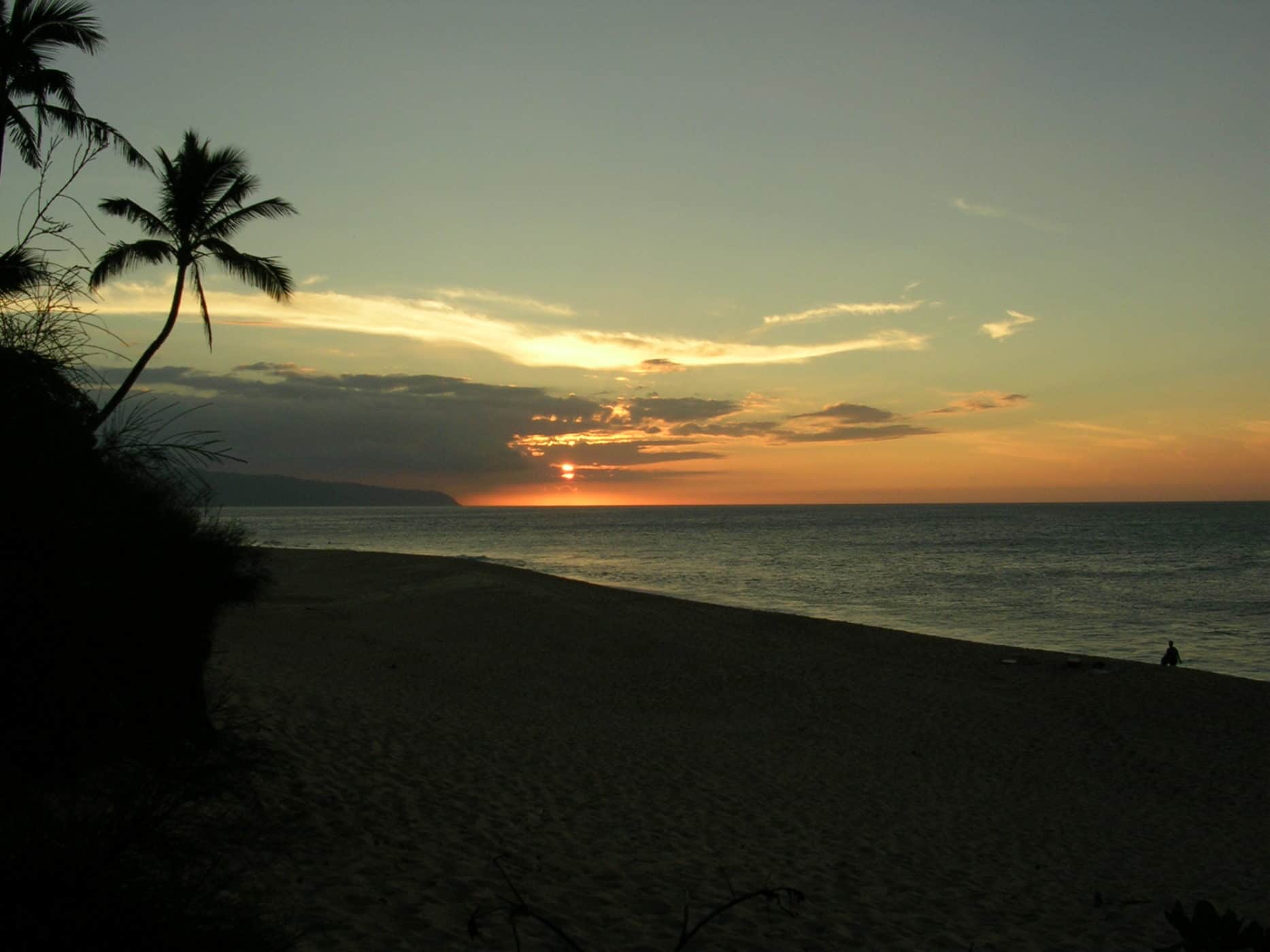 Best Hidden Gems
With so much coastline you can be sure to find hidden gems scattered along any beach in Oahu, Hawaii and sometimes the best beaches in Hawaii are tucked away. These are beaches where you may not see another soul in sight and can leave a single set of footprints in the sand. A spot that needs discovering when seeking hidden things to do in Oahu is the Halona Beach Cove. Surrounded by craggy rock, this beautiful pocket of sand meets waters of the purest blue. Close to the fiery Halona blowhole, this is also the star beach that featured in the 1950's movie – From Here to Eternity.
Makapu'u Beach is another diamond in the rough, a delicate slip of sand backed by rising cliffs of carved lava that contrast darkly against the color of the sea. This beach is a temptress though so be warned – although she looks stunning, she throws up strong rips and pounding shore breaks.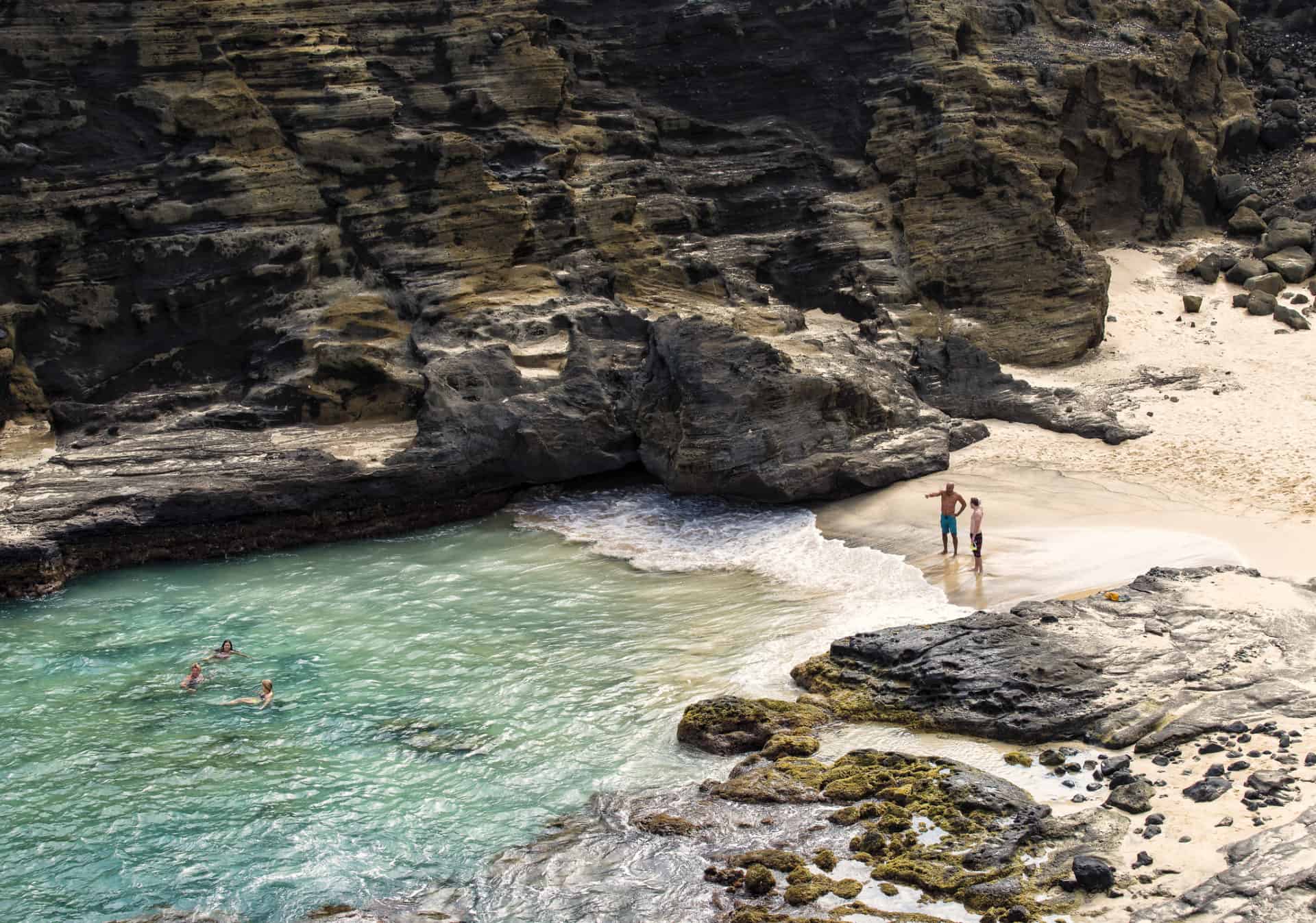 Off the Beatn Track in Oahu
Honolulu Fish Auction
 When visiting Oahu, Hawaii be sure to set an alarm to arrive at the fish auction early enough to soak up the salty atmosphere. This local gem boasts shades of Tokyo's famous fish auction or Seattle's seafood market where briny fishermen throw their catches of the day across the room amid a din of noise. Pier 38 in Honolulu, Oahu is a hive of activity long before the sun rises and from 5.30am until 9am – prized tuna, magical moonfish, mahi-mahi and other shimmering scaled fish are bargained and bartered over. Along with being a fascinating spot to soak up the action, it's also a great time to dine on fresh fish for breakfast. Nico's Pier 38 is the classic go to spot where you can find the catch of the day served with eggs and fresh fruit. It may not be one of the most popular attractions when visiting Hawaii and wondering what to do in Oahu, but it is an authentic one.
Kualoa Ranch
If you are looking for things to do in Oahu, then Kualoa Ranch is an impeccable all-rounder. Boasting 400 acres of fun in the wild, Kualoa Ranch is a living and breathing movie set. This is the real life set of iconic Hollywood films like Jurassic Park, Godzilla, and hit TV show – Lost. Not only can you take a one of a kind movie tour, but if film isn't your thing, then there are also horse-riding tours, foodie tours, ancient mythology tours, jungle treks, ziplining, and secret beach adventures. A private nature reserve, working cattle ranch, vision of verdant paradise, and ancient wonder – Kualoa Ranch is the perfect place to play.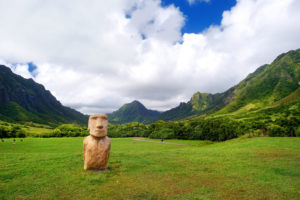 Shangri La Museum
The wealthy heiress Doris Duke had a real penchant for pretty things from the exotic middle east, so much so, that she turned her glorious home into a living breathing museum for Islamic art. The opulent estate of the Shangri La Museum, just outside of Honolulu, boasts beautiful vistas of Diamond Head, along with over three thousand works of wonder from the far-flung shores of India, Egypt, Tukey, Syria, Iran and beyond. You can marvel at rare Persian tiles from the 13th century, wander the Mughal garden, sit quietly in the darling courtyard, and trace history in the Mihrab library.
This private collection is a rare find on the salt whipped shores of Honolulu, Oahu. Keep in mind that you must book in advance if you visit to partake in a travel guide tour. Originating at the Honolulu Museum of Art, you can combine the two for an afternoon of pure artistic pleasure when you visit Honolulu, Oahu for this tour.
Haleiwa Farmers' Market
Foodies can fall over themselves at the Haleiwa Farmer's Market in the charming neighborhood of Haleiwa. Here you can find Malakai pink sea salt, fat pineapples, local guys cracking coconuts, plump red Maui beef, and glistening star fruits. It's the perfect place to take a taste test of island delights. Those who want to pick up pretty souvenirs to take home can also find local art in tiny boutiques and aloha shirts hanging from the racks. Swing by to get a glimpse into how fertile island life is, and how living between the garden and the sea can produce quite a moveable feast. Food lovers looking for drool worthy things to do in Oahu will love this one.
See the Chinaman's Hat
Rising out of the sea on the Windward Coast of Oahu is the little green island of Mokolii, known locally as the Chinaman's Hat. This lush piece of paradise took its name from the fact that it looks like a common hat worn by rice workers in rural parts of China. The tiny island boasts a slip of sand and a couple of tall palm trees but little else. Still, for those who have dreamed of packing a picnic and heading to a real-life desert isle, this could be just the chance. You can only tour this area on foot from Kualoa Park when the tide is low. However, to save getting caught by the changing tide – most people make the trip on surfboard, paddleboard, or small boat. The reef waters around Mokolii are popular with hammerhead sharks, even though they are usually harmless to humans. As with all natural spots you see when visiting Hawaii, be vigilant and consider the safety measures before diving right in.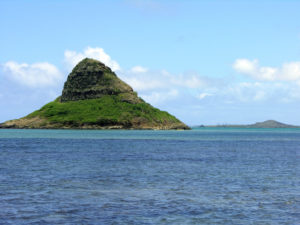 Kaena Point
Located at the most northern tip of the West Side of Oahu is a magical place in more than sight but also in ancient mythology. This is said to be the spot where the souls of ancient Hawaiians would take the leap of faith into the spirit world to meet their ancestors. Hiking the dramatic ridged shoreline is challenging but offers incredible vistas of the ocean in all her glory, the dry dunes that rise and fall, and bird preservation areas where you can watch nesting seabirds lay their eggs. There is little shade on offer along this barren like track, but once you reach the actual point you do have the chance to see Hawaiian Monk Seals. If you are wondering what to do on the West Side of Oahu on bright and sunny days – a Kaena Point hike and tour is a great idea.
There are two trails to reach Kaena point, south from the Leeward Coast or north from Mokuleia. Both are known for being long and hot hike so remember to bring a hat and plenty of water.
Where to Stay in Oahu
Honolulu and Waikiki Hotels
Those looking to stay in the heart of the action when visiting Hawaii can opt to stay in the center of Honolulu, Oahu and the world-famous Waikiki Resort Hotel. With world class resorts, fabulous foods, shopping and nightlife you don't have to worry about being stuck in the sticks and running out of ideas for what to do in Oahu. Being the beating pulse of the tourist epicenter – accommodation in these areas can be higher, and those seeking sweet serenity are probably best heading outside the city. You won't find an abundance of hotels in downtown Honolulu, and most tourists head straight for the sands of Waikiki, Honolulu when seeking a hotel accommodation in Oahu (where there is virtually a hotel within sight from anywhere in this neighborhood).
Luxury
If you really want to stay in the capital when visiting Oahu, then the Halekulani is a landmark hotel that has been enticing visitors for more than a century. The impressive freshwater swimming pool hailed as a modern piece of art overlooks Waikiki Beach. For upscale diners, there is afternoon tea and champagne service, and the French restaurant in house is worth writing home about.
If luxury along the coast is what you seek when visiting Hawaii, then The Royal Hawaiian hotel in Waikiki is a five-star all-inclusive Hawaiian experience. The pink whipped fairytale resort boasts full service spa, two outdoor pools, and a maitai bar with views of Diamond Head.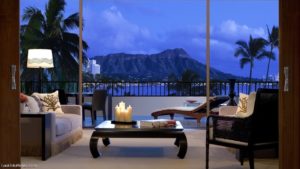 Mid-Range
The Outrigger was the legendary patch of sand frequented by the famous Duke Kahanamoku. This is the place to stay if you want to experience the authentic feel of visiting Oahu without splurging on five-star service. The Outrigger Resort hotel still holds onto its historical heart, offering cultural activities to embrace the spirit of aloha every day – from traditional lei making to stand up paddle boarding – there are a ton of things to do in Oahu at the Outrigger.
The New Otani Kaimana Beach Hotel has clearly been inspired by the Japanese art of design and hospitality and is great for those seeking what to do in Oahu with a smidge of serenity. Down towards the Diamond Head, the shores are quieter and the hotel reflects that sense of calm. Private tatami rooms, kimonos, and simple muted color schemes add to the pleasure of pure relaxation.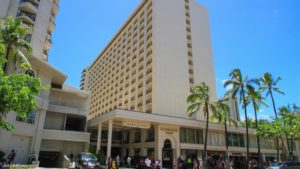 Budget
Even though Honolulu is the last place you would think you could find a backpacker friendly place to stay – the Polynesian Hostel Beach Club won't break the bank. It's a luxury hostel but added features like your own kitchenette can help you save, and being right in the heart of Honolulu without the price tag makes your stay worthwhile.
The Waikiki Beachside Hostel Hotel is another top choice for cost conscious travelers visiting Hawaii. Free coffee and toast with peanut butter can prep you for the day ahead, rooms are clean and spacious, and the shimmering white sands of Waikiki are only a couple of blocks away.
Leeward Coast Hotels
The Leeward Coast is littered with pristine beaches, gentle rolling waves, glorious golf courses, and a mesmerizing marina. As it's only a thirty-minute drive from Waikiki and the same to Pearl Harbor – staying on the Leeward Coast can be the compromise you need. There are fewer choices here for places to lay your head and dine in comparison to Honolulu, but if you are looking for a calmer vibe when exploring what to do in Oahu, while still being close to the action – it's perfect.
Luxury
Lap up the life of luxury on the Leeward Coast at the J.W. Marriott Ihilani Resort and Spa. Four white sandlagoons, marble bathrooms, lomi lomi massages, tennis courts, direct ocean access, and gourmet dinners are just some of the amenities offered at this hotel. These are all the things you want when choosing a five-star hotel to stay in Hawaii. For something a little quieter, the Ko Olina Beach Villas Resort, just north of Ko Olina Beach Park on the West Side, offers lashings of green acres bordered by 2 miles of pristine pale sands. The hotel resort also borders the fabulous Ko Olina Golf Club. When visiting Oahu, you can stay in their gorgeous villas with ocean views, gourmet kitchens, and even rub shoulders with the private concierge who can book event trips and show you all the things to do in Oahu during your stay.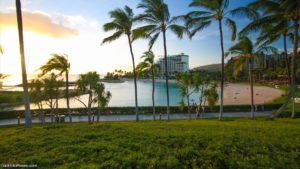 Mid-Range
In the tranquil Makaha Valley you will find The Hawaiian Princess, a simple high rise resort offering one and two bed units. This is great for those visiting Hawaii who want a clean and convenient base for exploring Oahu, away from the chaos of downtown, and without the need to splurge on five star frills. You can splash in the swimming pool, watch dolphins from your doorstep, sink down into the hot tub, and whip up your own meals in your private condominium.
Budget
If you are looking to save money when visiting Oahu, without compromising on the jeweled blue and white wonders of the Leeward Coast, then you can stay at the Kahumana Community Center in Waianae. For roughly $45 a night you can sleep sweetly in a rustic retreat home. The people who run the center help many homeless families and run an organic farm to table café. Even though you won't have a swimming pool or private masseuse, this is a great way to understand a more local side of what to do in Oahu, to wander the wild farmlands, and to support something special.
North Shore Hotels
The North Shore is notorious for its epic surf conditions and breathtaking scenery. Those who want to embrace a more chilled out vibe when visiting Hawaii are sure to fall in love with this iconic stretch. Along with some of the best beach inspired things to do in Oahu you also have lots of cultural sights right on your doorstep including Waimea Valley and plenty of farms and coffee plantations. Dining and partying choices are more limited out this way, and you are likely to find boutique style independent accommodation rather than big North Shore hotels.
Luxury
The Turtle Bay Resort has been making waves along the North Shore for quite some time. Conde Naste even hailed it as their must stay spot for luxury travelers visiting Oahu. The beach cottages are sublime – with soaring ceilings, lashings of marble, glass, and cotton, and the oceans edge as your own personal garden. Pools and hot tubs, world class surfing, paddle boarding, and kayaking- the activities are endless. When you are finished with all the fun you can enjoy delectable chef specials paired with perfect wines; this is what paradise should feel like.
Mid-Range
If you are visiting Hawaii with a group of friends or large family and exploring what to in Oahu's North Coast, then the Sunset Beach House provides that perfect balance of independence and comfort. An exotic Polynesian style home only a stone's throw away from the world-famous Banzai Pipeline surf spot, with four bedrooms, hand crafted Koa kitchen, and jacuzzi on deck. The best bit is that you can watch whales pass by right outside your window.
Budget
The Backpackers Vacation Inn & Hostel is the best option for surf bums and budget travelers visiting Oahu and seeking a place to stay that won't burn a hole in their pocket. Located right on the shore, you can literally roll out of bed, grab your surfboard, and be in the sea in seconds. Dorm
style accommodation may not offer as much shut eye as a private room, but for $30 a night, you can buy enough beer to ensure you pass out without a problem. As you can imagine this is a popular hub for young travelers and surfers looking for things to do in Oahu, so for those out on the road solo – it can be a great way to meet people.
Bonus Tip: For vacation rentals by owners check out Ownerdirect.com
What to Eat in Oahu
Liliha Bakery
Besides our love for luau's in Oahu, your experience visiting Hawaii wouldn't be complete without tasting the impressive Chantilly cake with buttercream frosting at Liliha Bakery. This lovely little Honolulu bakery has become an institution and travelers with a sweet tooth should swing by when seeking places to eat in Oahu. Along with ordering a slab of cake don't leave without tasting the coco puffs. The melt in the mouth crust are stuffed with light chocolate cream and finished with a dollop of Chantilly, this is what to do in Oahu when hungry!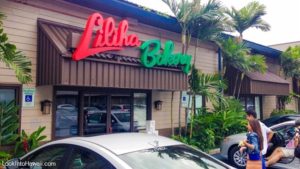 Helena's Hawaiian Food
One of Hawaii's oldest eateries can be found in Kalihi and is the perfect choice for those who want to taste authentic island dishes like Lomi salmon, sweet potatoes, and Kalua pig created exactly how they should be. Menu D will introduce you to all the right flavors with a pile of perfectly juicy kalua pig, fresh lomi salmon, fried butterfish collar, pipikaula, and coconut haupia desert. After dining at Helena's, you will know the tantalizing secret to tasty Hawaiian food.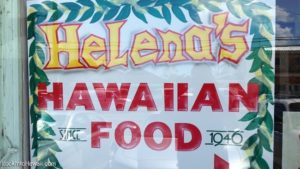 Town
Restaurants in downtown Honolulu boast some of the best dining on the island, and pure and simple pleasures can be found at Town, the wonderfully unpretentious spot on Honolulu's Waialae Avenue. As organic as possible, the seasonal menu showcases that Hawaiian cooking can carve new paths. Think ahi tartare, local mahi-mahi with meyer lemon, homemade gnocchi with sunchokes and capers, and striploin in Roquefort butter. Dining at Town is a real treat for those visiting Oahu and seeking a break from pork and musubi.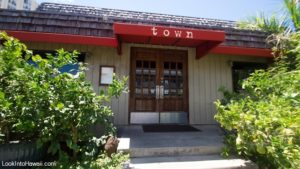 MW Restaurant
If you want to sample age old recipes whipped up in a creative new way with cultures smashed together– then the MW Restaurant can deliver at this trendy Honolulu haunt. The tasting menu may just be the way to go for indecisive diners, but the a la carte menu is sure to knock your socks off too. Chinese roast duck is served with a pork hash quesadilla, Portuguese bean soup comes with a splash of Kim Chee, and the Kona lobster is complemented by truffle bacon.
Koko Head Café
When visiting Hawaii, you need loco moco in your life and at Lee Anne Wong's beloved brunch spot -the Koko Head Café you will be bowled over by the koko moco. Beef, garlic rice, sunny side up eggs, and tempura kimchi in a mushroom gravy makes for quite the feast. If you want something lighter, then the kimchi and cheese scones are sure to work a treat, as will the poi biscuit and gravy.
Romy's Kahuku Prawns & Shrimp
If you fancy something as soon as you step out of the sea, then hit one of the most famous spots to eat when visiting Oahu. The prawn and shrimp shack in Kahuku bathe their juicy shrimps in lashings of garlic butter before sizzling them to a delicious crisp, throwing them into a box, and serving it to go. The shrimp shacks are always hailed as one of the best things to do in Oahu.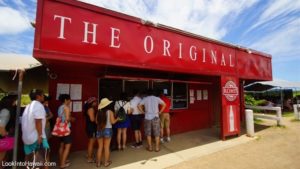 Rainbow Drive In
You don't get much more local than the Rainbow Drive In. This is the all-American scene with a Hawaiian twist, and a spot that's easy on the purse strings for those visiting Hawaii on a budget. Since the 60's this joint has been family owned and you can expect honey fried chicken smothered in gravy, famous lunch plate specials piled high, slush floats for cooling down on hot summer afternoons, and traditional chili dogs. The Rainbow Drive In is what to do in Oahu when missing the mainland.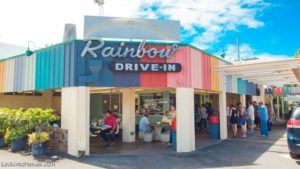 Kuaaina Sandwich
Fresh fish sandwiches and surfboards are the name of the game at this cool North Shore hangout in cool Haleiwa. A fabulous local Oahu eatery, you can order up mammoth burgers chargrilled and served with heaps of avocado and slices of pineapple to surfers still shaking saltwater from their hair. If burgers aren't your thing, then the mahi-mahi steak on a Kaiser roll is to die for.
Where to Shop in Oahu
Ala Moana Center
Scores of luxury brands, beautiful boutiques, and fashion stores galore makes the Ala Moana Center in Honolulu, Oahu one of the best places to shop when visiting Hawaii. This is the place to go if you want to find everything from Prada to local paintings. Add into the mix the fact that there are tons of dining options covering everything from grab and go food to gourmet dining and you can make a day of this impressive shopper's paradise when looking for splurge worthy things to do in Oahu.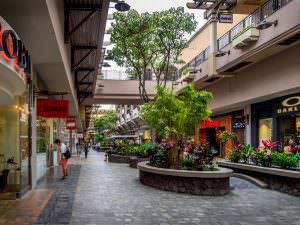 Aloha Tower Marketplace
If you want to swap out designer goods and brand names for something more unique to take home from Hawaii, then close to the Ala Moana Center you will find the Aloha Tower Marketplace. This place is a treasure trove when visiting Oahu, selling everything from handmade jewelry to macadamia nuts, sweet scented candles, patterned sarongs, and more. Live music and a carnival atmosphere can sometimes fill the air making it a true pleasure for bargain hunters and souvenir shoppers.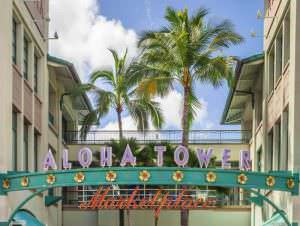 Island Slipper
If when visiting Hawaii, you happen to refer to your flipflops as any other name then a slipper – you will suffer confused stares. Island life isn't about heavy shoes heating up your feet so pay a visit to the popular little store – Island Slipper. Since the mid 1940's this neat little spot has been producing stunning beach sandals for the whole family; whether you want something sweet and delicate or something sturdier that will last the endless hikes. Take our advice and get a sturdy pair as hiking is one of the best things to do in Oahu to enjoy its dazzling scenery.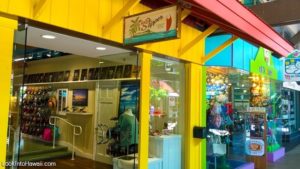 Manoa Chocolate
Bean to bar chocolate is heavenly on all the islands of Hawaii, a place that boasts beatific conditions for growing all kinds of goodies. Manoa Chocolate is the go to for glorious rich chocolate with a distinct island twist. From chocolate adorned with pink sea salt to bars with lavender, Hawaiian honey – or even goats milk chocolate – these are the perfect flavors to take back home. Along with buying up a storm you can even take a tour of the factory where the magic happens. This is what to do in Oahu when you need to feed your sweet tooth.
Aloha Stadium Swap Meet
Flea markets are always a treasure trove of fun when visiting Hawaii, and on the island of Oahu, just 20 minutes outside of Waikiki you can find the Aloha Stadium Swap Meet. On weekends and Wednesdays, the Aloha stadium becomes encircled by tents and stands as everyone seeks to sell their wares; from Hawaiian shirts to surfboards. You can peruse a thousand and one items, learn to haggle like a laid back local, and when you get tired – refresh yourself with a cool coconut water and juicy chunks of fresh mango, or Japanese rice crackers.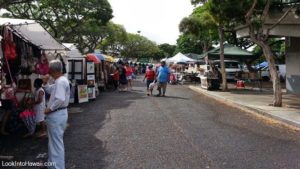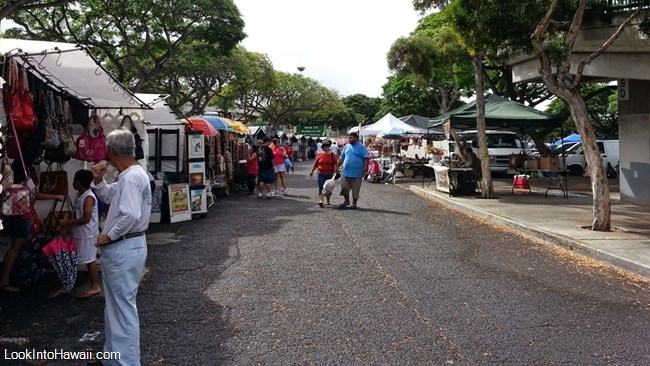 Hawaii Music Supply
If you dream of taking a few notes home from visiting Hawaii -then head to the famous Hawaii Music Supply. Here you will find some of the best ukulele names on the island – and many musicians visit here on a pilgrimage when seeking things to do in Oahu. The Haleiwa store has over a hundred ukes to choose from; whether you are seeking a beginner's strummer or something a little more extravagant and made from the best koa wood. Take some time to browse, ask the friendly guys for their advice, and splurge on a special Hawaiian memory. This is what to do in Oahu when you are a music lover.
Roberta Oaks
If you long for a Hawaiian shirt without the tackiness, then Roberta Oaks could save your skin. This hip little boutique boasts glorious modern aloha shirts and jaw dropping vintage inspired dresses for fashionistas visiting Oahu. Everything is handmade in Honolulu ensuring that you get items that are one of a kind, well-tailored, and supporting the local economy. When you tire of staring in the mirror, you can prop yourself up at the in-house coffee bar and even buy some beans to take home.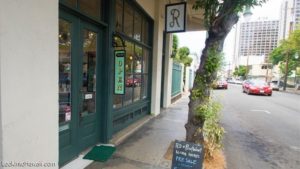 Hound & Quail
Kitsch and cool in equal measure, if you want to take home a piece of taxidermy art, retro treasures, and rare vintage oddities from as far as Amsterdam and Tokyo- then the Hound & Quail is an Aladdin's cave. Since 2011 the owners have been collecting goodies from far flung and closer to home shores and peddling them in their vintage boutique. After exploring strange things on their shelves, you can even duck down into their artistic hub basement for an art show and some wine. This is what to do in Oahu when looking for weird and wacky souvenirs.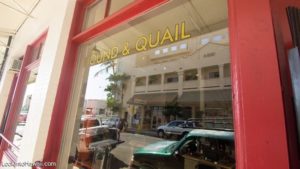 Local Travelers Tips for Oahu
Get a Go Oahu Card
If you are set on exploring the whole island when visiting Oahu, then the Go Oahu Card could be your ticket to cut price attractions and adventures when visiting Hawaii. The pass gets you into the Polynesian Cultural Center, a snorkeling trip on one of the islands best reefs, a full sightseeing tour, a hike up diamond head, and a day at the waterpark – all the best things to do in Oahu. You can also get coupons to make big savings at eateries and watering holes across Oahu. They have 3 and 5 day cards so you can plan your days alongside your budget.
Rent a Car
Oahu isn't the largest island, and if you really want to have the freedom to explore then you will need a set of wheels. Car rental when visiting Hawaii isn't the cheapest, but it is well worth every penny. With a car, you can explore the hidden beaches around Leeward and hit some of the best surf spots on the North Shore. Packing a picnic in the trunk, putting your foot down on the gas, and adventuring around the island is the very best way of visiting Oahu.
Hit the Food Trucks
Oahu is famous for their food trucks; the island is brimming with beautiful food and fabulous restaurants – but the food trucks open another door of epicurean adventure. The Kahuku Shrimp Truck is one of the most notorious mobile kitchens on the island – renowned for their hot and spicy fire on the tongue shrimp and their juicy drowning in garlic and butter shrimp too. Giovanni's Shrimp Truck on the North Shore is also worth swinging by. If you are looking for a quick fix of Mexican food then Surf N Salsa delivers a dreamy taco plate laden beneath the weight of freshly smashed avocados. It wouldn't be a real trip to Hawaii without trying out the food trucks.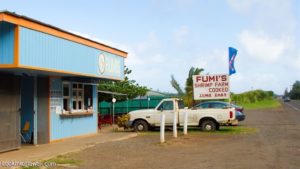 Sneak into Black Point
Black Point is a highly prestigious neighborhood behind locked gates, but it also boats one of the most incredible saltwater swimming pools in the state of Hawaii. The gorgeous infinity pool perches on the edge of the ocean – so close that swimmers can enjoy the occasional splash of the sea as the waves hit the wall. Sneaking into Black Point swimming pool has become a bucket list fantasy for many travelers visiting Hawaii, and if you can make it past the gate without being spotted – you will have one of the most memorable dips imaginable. This is what to do in Oahu when you have spent all your savings.
Visit the Dole Pineapple Farm
Pineapples are a part of Hawaiian culture and the island of Oahu has proven to be an absolute paradise for the prickly but beautifully juicy fruit. Close to the dazzling display of Diamond Head you will find the Dole Pineapple Farm. On these fertile grounds, you can take a Pineapple Express Train Tour to find out the facts about the humble pineapple. Children can run wild in the pineapple maze, and from the sweet kalua pig to the pineapple chunks in the ice cream – it's a delectable day out.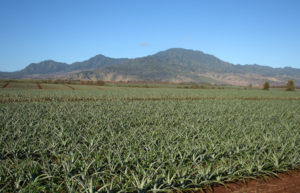 Get Gifts at Costco
If you are visiting Oahu on a tight budget but still want to bring sweet memories and gifts home, then skip the trendy markets and boutiques and head to Costco. At both Costco and Sam's Club you can buy big bags of Kona Coffee for half the price you would find them in the gift shop. You can also stock up on macadamia nuts, Hershey's Macadamia Nut Kisses, little ukuleles and a bunch of other island inspired products and produce that are sure to make great gifts.
Slurp Shave Ice at Matsumoto's
The taste of shave ice is a Hawaiian tradition. The humble icy treat started its life back in the 1940's with your baseline flavors of orange, lime and grape. Now everyone on the island flocks to the famous Matsumoto's to taste the best shave ice on the North Shore in every flavor imaginable beneath the sun. You can slurp on tropical tastes from guava to pineapple, sugar up with cotton candy and bubblegum flavor, or go for soft as snow coconut cream. To add a little something extra special remember to get your shave ice dressed with Azuki beans and a dollop of ice cream. This really is one of the best things to do in Oahu.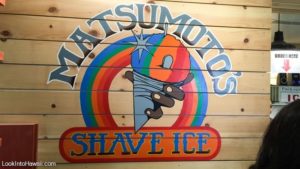 Don't Miss Eat the Street
Eat the Street is a must attend for food lovers deciding what to do in Oahu. On the last Friday of the month all the food trucks descend upon Honolulu and from 5-10pm on Ala Moana Boulevard you can let your tastebuds run wild. This food truck rally tends to have a monthly themed event; one evening you can be chowing down at the freshest seafood party, and the next month you could be going crazy with chopsticks at the Japanese theme. Eat the Street brings together the best flavors and food truck culture when visiting Hawaii, check out their Facebook page for details on the next event.
Finding secret spots when visiting Hawaii isn't easy but the mythical mermaid cave is one of the few remaining hidden gems for things to do in Oahu. Notoriously hard to find, hazardous, and with only a whisper of their existence on the internet – those who want an adventure should seek to find this special spot (and maybe with the help of a travel guide). It is hidden somewhere in Nanakuli Beach Park and is a beautiful underwater cave. On calm days, you can cool off in the luminescent blue waters without another soul in sight. Seeking the cave should only be done on low tide and calm days. When the ocean is surging and the tide strong – the possibility of being swept away is high. Be warned!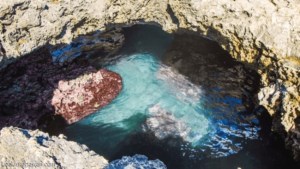 See the Sunflower Fields
The North Shore may be famous for food trucks and waves but they also boast the most breathtaking fields of gold on the island. You wouldn't imagine it when wondering what to do in Oahu, but these flowers are worth the journey. In November and December, the fields beneath the Waialua Mountains bloom into a dazzling carpet of sunshine petals as the sunflowers lift their faces. The sound of buzzing bees rises like a chorus as they come in their droves to pick the pollen. Dupoint Pioneer offer laid back tours through the fields. As the flowers are homegrown on a private farm it can be tricky to get access there when visiting Oahu.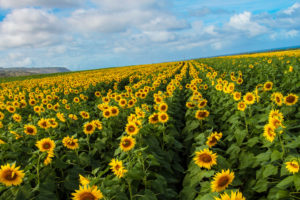 Getting around in Oahu
Rental Car
One of the best ways to explore when visiting Oahu is by car. These are islands of pure adventure and when you have your own rental car you can choose to get far from the tourist track. Many visitors in Oahu will rent cars on touch down at Honolulu International Airport, dropping them off again at the end of the trip. The roads are good across Oahu, but parking in downtown Honolulu or the whirlwind of Waikiki during high season can require patience thanks to the traffic. Once you get out of the capital through – the open road flanked by rising green cloaked volcanoes and dazzling beaches – has never been so appealing. When visiting Hawaii, and looking for things to do in Oahu, car rental is the easiest and most cost effective way of getting around.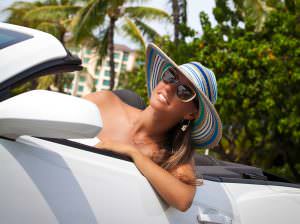 Bus
Public transport across Oahu is aptly named The Bus. The most popular lines are across Honolulu and Waikiki, but it also branches out to all the major towns on the island. Fares are cheap with each journey only costing a couple of dollars. You can also buy a four-day unlimited pass that will take you across the island for $20. This is a great option for those who plan on hitting the major spots and don't want to drive. Those who are looking at creeping into the hidden corners when working out what to do in Oahu may find it a little more difficult when relying solely on public transport.
Taxis
In the capital and tourist hot bed of Waikiki you can find an abundance of taxis glad to take you where you need to go. Once you get further out into the wild lands of the North Shore this becomes a little trickier to navigate. When visiting Hawaii, the best way to get a taxi is to ask the hotel to call you one, as flagging them down on the street isn't considered to be part of the aloha spirit. If you are planning to venture out of the metropolitan heart to find things to do in Oahu, then hiring a car will probably be much cheaper and easier.
Bike Rentals
In downtown Honolulu and Waikiki, you can certainly walk around or rent a bike and go for a ride. These parts of Oahu are extremely pedestrian friendly and of course – you help the environment remain a greener place. However, unless you swap out your push bike for a moped or motorbike you probably won't be able to venture further out than the city. Traveling around the Hawaiian Islands by moped can be a good way of balancing costs, but be prepared as some journeys can be lengthy. This is what to do in Oahu when you are fit and fabulous.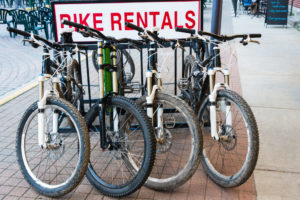 Best Time to Visit Oahu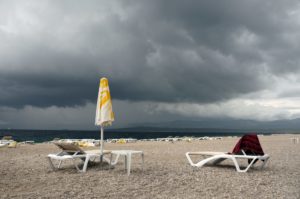 For the Weather
Year-round sunshine can be found slathering the island of Oahu – meaning that if you are packing for perfect weather then you won't be disappointed any time of year. However, if you want to experience Oahu at her best then between the months of April and October you can relish blue skies and high temperatures cooled by the sweet sea breeze. From November until March the weather is still warm, but some days are more likely to be grey and a little drizzly, with December and January having the highest rainfall for those visiting Hawaii.
For the Surf
If you are visiting Oahu to spend your days riding waves and this isn't the first, second, or fortieth time you have held a surf board, then you will find the best time to be in the winter. The winter swells along the North Shore of Oahu are world famous for being equally terrifying and amazing. During the winter months, world class surf surfers descend on the island to compete for world titles in 20 and 30 foot waves. For beginners, you will find softer conditions in the shoulder seasons and over summer, although not every famous spot will kick up a swell. For example, Waimea Bay is flat as a pancake come summer, but in Winter is nothing short of a monster.
For the Holidays
Everyone dreams of swapping winter snow for summer sun, making Hawaii a popular destination around Christmas and New Year's. When visiting Oahu, and planning your dates, you should also be aware that the last week of April will see an influx of Japanese tourists to the island as Japan has it's so called Golden Week during this period. If you are hoping to hit the wide-open ocean with the dream of whale watching, then you will need to wait until December through to May before planning what to do in Oahu. At this time the waters can teem with whales who return to warmer spots to nurse their young.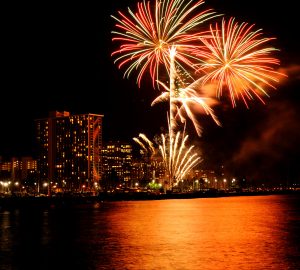 For the Deals
Visiting Hawaii isn't always for budget conscious travelers and backpackers. Island life can be expensive which is why shoulder season is the perfect time to plan your trip. The spring months are sweet in Hawaii, with flowers in bloom and arguably the best weather. This is the time you will find the cheapest deals on accommodation, car rental, and all-inclusive package resorts. The same can be said for fall, when the summer crowds disperse leaving prices to fall to a much more acceptable rate. This is also when you will find cheaper things to do in Oahu. If you want to plan your Hawaiian adventure tour on the cheap – then steer clear of the height of summer and the seasonal period, when costs are sure to skyrocket.
Insider Tip: Listen to HTR Oahu Radio on StreamingThe.Net