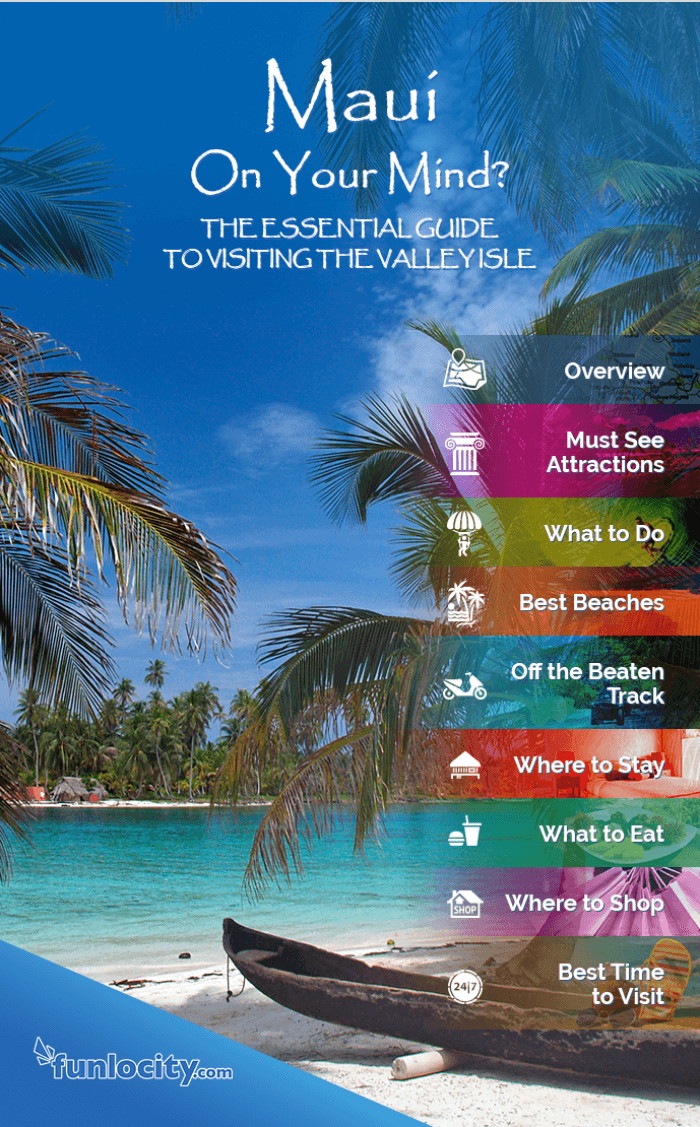 One often experiences a sense of surrender the moment they touch down and visit the island of Maui, yielding to the fragrant air, glowing skies, and glimmering, sunlit water of this vibrant vacation community. (Worries where?)
Indeed, if paradise exists on Earth, then Maui is where it's magnified. Radiantly beautiful and boasting top travel and tourism honors—including the world's largest dormant volcano at Haleakala National Park, a humpback whale sanctuary, and 120 miles of coastline—it's no wonder Maui is consistently ranked as one the best islands on the planet.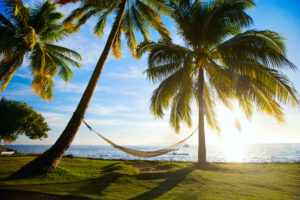 And for an island smack dab in the middle of the Pacific, it offers an incredible array of choices, from staying at a cozy bungalow deep within the jungle to bedding down at a five-star resort; from zip lining across the wilderness to chilling on a sun-drenched cove, and from scaling vertiginous cliffs to relishing tunes by Grammy Award-winning artists. That's why tourism has always been a big industry for this hot travel destination.
But the sheer number of Maui tours and options can be downright dizzying for both first-time guests and repeat visitors. We recommend booking at least a 5 or 10 day trip. There are just so many fascinating things to discover and enjoy. So, where should you and your family start? What's absolutely not to miss?
With that in mind, we've assembled the ultimate guide to visiting Maui: Where to stay, where (and what) to eat, what to see, and where to play.
Ready from some travel tips?
Let's sail—or, rather, fly—away to the wonderful island of Maui!
Best Time to Visit Maui
Make the most of your time when you visit Maui by first determining when you would like to travel and what you hope to find on your holiday trip. Tourism is popular year-round.
Seeking some serenity? April, May, and October are less busy than the summer and winter holiday months—and offer equally wonderful weather.
Crowds more your thing? Thanksgiving through New Year's tends to be Maui's buzziest time, when snowbirds flock to the island.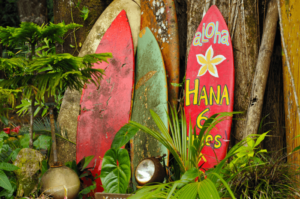 Maui Transportation
Between hitting the Road to Hana to climbing Haleakala, a rental car is, hands-down, the smartest option while visiting Maui during your travel adventure.
On a budget? Don't despair: Maui Bus is a clean, affordable alternative; passes are $2 for each boarding (daily and monthly passes are also available).
Prefer to leave the driving up to someone else? Valley Isle Excursions supplies guided tours to Hana, while the island's Uber drivers are timely and good-natured (but we recommend a rental car).
Maui Weather
While home to perennially blue skies and warm climatess, Maui does experiences some (albeit slight) alterations in weather.
January, February, and December are on the cooler side—with lows in the bottom sixties—while August and September sometimes peak in the high eighties and nineties.
Rain is common year-round on the windward side of the island (Makawao, Haiku, Hana) and the trades are strongest during summer.
In other words? Pack light but bring layers, particularly if you plan to spend some time in the mountains of Haleakala National Park. Travel safety always comes first.
Where to Stay on Maui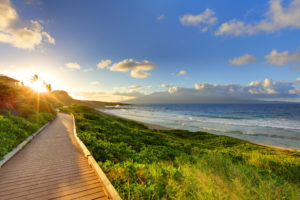 Accommodations often set the entire tone of one's travel experience. Whether you're searching for a tranquil spot in the middle of nowhere, or a lavish resort that's abuzz with action, know this: Lodging on the island of Maui spans from the luxurious to the radically rustic—with an ocean of options in between.
Bonus Tip: Maui Vacations – Jon's Maui Info
(Please keep in mind that Covid 19 is still a global safety concern in 2021. Travelers and tourists who have been vaccinated for Covid 19 are allowed to enter the State of Hawaii and bypass quarantine without a pre-travel Covid 19 test.
Wearing a mask can slow the spread of Covid 19, however, wearing a mask is no longer mandatory outdoors on the island of Maui. Inter-county locals are not required to wear masks. You should check with your hotel to find out whether out-of-state tourists are recommend or required to wear a mask inside the hotel premises.)
Having said that, here are some of the leading accommodation options (and what makes them spectacular):
South Maui
Wailea
With its pristine beaches, crystalline waters, and glossy golf courses, Wailea is the Pacific's answer to Beverly Hills.
Located on the sunny south side of the island, much of this region was nothing more than kiawe country less than two decades ago. Today, those savannahs house 7 exceptional resorts—5 of which are tucked onto the magnificent coast—and a copse of lovely condos.
Andaz
First up? The Andaz.
The newest hotel on Wailea's shores, this sensuous resort is a favorite among solo travelers, millennials—and visitors who left the keiki with grandma.
Understandably so: There's an undeniable sultriness at this sleek spot, from the chic aesthetic of the lobby, to the infinity swimming pools that face the Pacific.
And what a slice of Pacific it is: The Andaz sits on Mokapu Beach, a stretch of golden sand that, due to its somewhat hidden location, affords sunbathers and snorkelers a measure of privacy. The rooms themselves inspire intimacy as well; guests have the choice of humbling views of Haleakala or the luminous coastline, and each comes with an airy lanai perfect for stargazing.
What's more, Andaz—which was named one of the top new hotels of 2014 by Condé Nast Traveler—offers some of the best chow on the south side, including Morimoto's (a sushi joint with some seriously smashing creations) and Ka'ana Kitchen, a hopping spot that's deserving of every one of its awards.
WAILEA BEACH RESORT—MARRIOTT, MAUI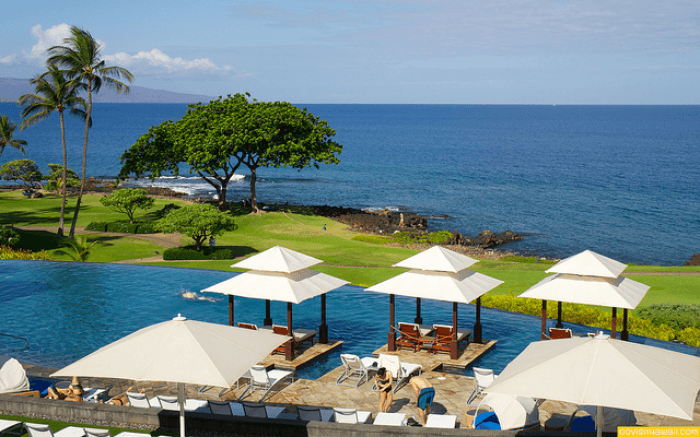 Consider Wailea Beach Resort—Marriott, Maui the region's subtler cousin:
As the oldest (though completely refurbished) resort on the Wailea coastline—and with its eye towards understated details that allow the island's natural beauty to shine—the Marriott favors authenticity over flamboyance.
The lobby is framed by verdant landscaping, while its pools lead to a grassy expanse edged by two of the finest beaches on the island of Maui (Ulua and Wailea). Rooms are bright and spacious, and the on-site eateries—like Roy Yamaguchi's Humble Market Kitchin—are manned by a staff with boatloads of aloha.
Wherever you happen to stay when you visit Maui, pop into the Marriott's poolside bar: you can catch a game while the ocean shimmers behind you, or dine on Happy Hour eats while chatting it up with the bartenders. Ask for Joe: He serves 'em strong and frosty—and tells a great story.
GRAND WAILEA: A WALDORF ASTORIA RESORT
Looking for a plush resort that's a destination in itself?
Search no further than the Grand Wailea Resort & Spa. Aside from its name—which is literal in this case—here's why:
Its 40-acres of foliage include massive monekypod trees and stalks of flirty ginger. It features the liveliest pool scene in Hawaii, from waterslides that'll leave you screaming, to waterfalls that, well, feel and look like the real thing. One of its many restaurants possesses a thatched roof and bobs on a koi pond, and its expansive bar—in the equally expansive lobby—exhibits Maui's version of the Sistine Chapel.
And speaking of chapels: The Grand has its own—stained-glass and all—as well as the largest spa in all of the islands. Come here and savor the kinetic vibe: 832 rooms provide sweeping vistas and an energy that practically vibrates.
FOUR SEASONS RESORT MAUI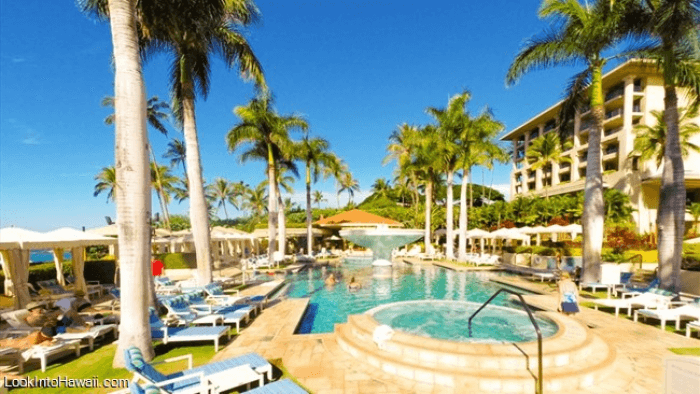 Holding true to its reputation around the globe, The Four Seasons Maui is one of the most elegant resorts on the island.
The place is pure swank, from Maui's iteration of Spago on the fourth floor to the lomilomi massages offered at their ocean-side cabanas.
Evenings are especially memorable here, when musicians serenade crowds in the Lobby Lounge and libations—such as their signature Hana Haze martini—are served as hula dancers greet the night.
Named one of the World's Best Hotels by Travel + Leisure, and a favorite among celebrities, this is the spot to experience genuine glamour while visiting Maui.
FAIRMONT KEA LANI
Opulence abounds at this dramatic resort on the border of Wailea and Makena, where white turrets twist into the sky and Italian cypresses spiral just as high.
The only all-suite resort on Maui, the Kea Lani takes comfort and sophistication to whole new levels with a cool, Euro vibe, private villas, and a cluster of pools built for lounging.
A leader of eco-sustainability on the island, the Kea Lani's front yard blends into a golden-washed beach great for snorkeling and moonlit strolls. And those aching to get spoiled from head to toe are in luck: The resort's 9,000 square foot Willow Stream Spa—which was voted one of the World's Best Spas (and recently went through a $70 million renovation)—artfully combines the freshest innovations in spa technology with ancient Hawaiian healing traditions. Oh my is right—or, rather, ono.
HOTEL WAILEA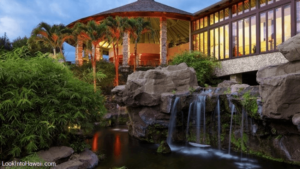 Just north of the Kea Lani sprawls Hotel Wailea, a boutique resort that's a favorite among honeymooners visiting Hawaii.
And for good cause: As the only resort exclusively for adults, it supplies 72 suites spread across 15 acres and an ambience that inspires romance. Each gorgeously-appointed room provides vistas of either Haleakala or the outlying islands, and their five-star, eponymous eatery—which markets itself as "hyper-local"—offers terrific food and one of Maui's greatest Happy Hours. Unwind on your suite's spacious lanai, or watch the moon rise from the beach a half-mile below.
ADDITIONAL SOUTH MAUI ACCOMMODATIONS
The new Residence Inn Wailea Maui is an ideal venue for those craving a home away from home. Here, cozy suites come equipped with full-sized kitchens, while the grounds feature BBQ grills, a putting green, a fitness center, and a sports court. Don't want to brave Safeway in Kihei? Let the staff do your errands for you: The Residence Inn offers a grocery shopping service for guests who'd prefer to loll by the pool.
Similar amenities are found at the Mana Kai Maui Resort—a condominium complex nestled on one of the sweetest beaches on the island. From your lanai, you can relish the view of the cinder cone Pu'u O'Lai, or saunter down to 5 Palms for fresh—and fabulous—sushi.
Determined to dwell like a local? Check out the private homes on the slopes of Maui Meadows—one of the quietest and most delightful neighborhoods in Hawaii.
And if the bar scene is more your thing, book a room at the Maui Coast Hotel. Located in the heart of South Kihei, it's in walking distance of the rough and rowdy Triangle—and directly across the street from the beach.
Feeling flush? Look no further than Ho'olei Villas at the Grand Wailea. These private residences press the boundaries of decadence, with roomy kitchens and expansive balconies.
West Maui
Years before Wailea made such a serious splash, the west side of the island was the go-to place for elegant accommodations.
Home to the former capital of the Kingdom of Hawaii, the largest banyan tree in the archipelago, and some of the choicest spots for whale watching on the Valley Isle, the west side—comprised of Lahaina, Ka'anapali, Napili, and Kapalua—is all sugar-sanded beaches, glitzy restaurants, and a vibrant, let's-have-some-fun energy.
Its hotels, condos, and resorts reflect this sensibility, spanning from beachy, humble inns to premier, enormous resorts. Here's the top spots to catch some shut-eye: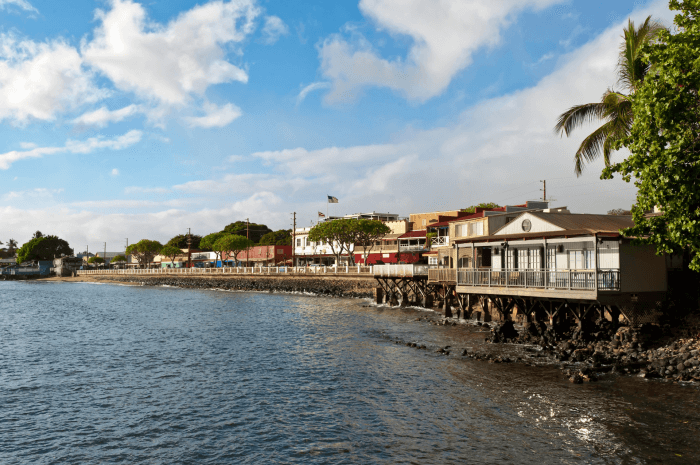 Lahaina
BEST WESTERN PIONEER INN
Over 2.5 million people visit Maui annually, and the vast majority of that lot finds themselves, at one point, on Lahaina's Front Street.
It's no wonder: this oceanfront boulevard teems with world-class restaurants, spirited bars, trendy shops, and gorgeous galleries.
Be in the center of it all at the Best Western Pioneer Inn. Tucked onto the harbor of what was once the whaling capital of the world, this registered historic landmark has retained its old-world charm. Think: whitewashed columns that call to mind bygone western brothels and an achy-breaky bar that still holds the souls of salty sailors. Wake up to chatty mynah birds and then head down for a Bloody Mary on the water: The Pioneer Inn makes the meanest morning swills on the island.
While Maui may not be known for its low-cost prices—consider it the fee to pay to be in paradise—a number of resorts offer comfort, economy, and tons of aloha.
One such place? Lahaina Shores Beach Resort, a beachside condo complex that features 199 rooms equipped with kitchens, airy spaces, and private balconies.
Given the resort's proximity to the best Lahaina has to offer—including front row seats to humpback whales soaring out of the water—this is a great option for folks traveling with their ohana.
Ka'anapali
THE WESTIN MAUI RESORT & SPA, KA'ANAPALI
Both high end resorts and budget-friendly hotels line the sparkling coastline of Ka'anapali—a stretch of powdery sand that served as a sacred gathering place in ancient Hawaii.
Then, Chief Kahekili turned cliff diving (or lele kawa) into a much-loved sport at Pu'u Keka'a, where legend tells us Polynesians leaped from the physical world into the next.
That bravery continues to be seen today at Black Rock on the beach's northern end—and there are few hotels closer to the action than the Westin.
Two towers filled with nearly 800 rooms frame five pools that may as well be a playground: Slides share space with waterfalls, while grottos, whirlpools, and cabanas offer the ultimate in joy and relaxation.
The guests here like to party (their oceanfront bar is often bustling) and the open-air lobby features streams studded with ducks and flamingos—rendering this resort one-part Spring Break and 100% Hawaii.
KA'ANAPALI ROYAL
Posh resorts are just one segment of the Ka'anapali community—and those in search of calmer (and less spendy) parts ought to make ressos at the Ka'anapali Royal, where heated pools, pleasing landscaping, and lighted tennis courts create a cozy but, well, kingly environment.
The multiuse property—it also accommodates full-time residents—is ideal for those who want to dodge pricey restaurants and dine from the comfort of their lanais.
HYATT REGENCY MAUI RESORT AND SPA
40-acres of awesome comprise this showy and all-out-fun resort, which combines a Vegas mindset (think: infinity pools, a knife-and-fire performance under the stars, and a grotto bar beneath a waterfall) with the glories of nature (their grounds are downright alive).
So entertaining is this place that, beyond the beach, there's almost no reason to step off the property.
Should you lounge around the resort, know that you'll have a number of grand choices. Their sushi bar, Japengo, consistently receives the top restaurant awards in the islands, while their late-night Tour of the Stars—which earned the Hyatt its title as the World's Top Hotel for Stargazing by CNN Travel—features a 14" telescope and astronomical views from their rooftop.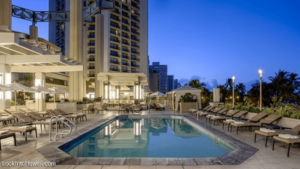 Kapalua
THE RITZ CARLTON, KAPALUA
A certain quiet descends upon the 'aina the moment you leave Ka'anapali and travel northwest to cooler climes. With that also arrives a particular sophistication that's found nowhere else on Maui—and is best embodied at the Ritz Carlton, Kapalua.
This a resort that understands the importance of small but dramatic touches, from travertine bathrooms to a lobby with koa paneling, local artwork, and a lava-rock bar.
The rooms are spacious and seductive, and views of the pine trees lining the rock-washed coast lend to its haunting beauty.
Whether you're ten or seventy, you'll find delight in Jean-Michel Cousteau's Ambassadors of the Environment program, which includes eco-adventures in multiple environments.
MONTAGE AT KAPALUA BAY
Beach meets sleek at this dazzling resort on the plantation town's bay.
Originally conceived as a timeshare, the 50 enormous rooms at the Montage—a one-bedroom alone boasts 1,200 square feet of comfort—will make you want to stay for a good, long while.
The views are wondrous, the kitchens are gourmet, the in-residence laundry is ideal for families traveling with small keiki—and the entire resort makes one think of country clubs and tee times.
What's more, their three-tiered sunset pool peers out upon the neighboring island of Molokai, while their locavore restaurant, Cane & Canoe, has some of the most delicious food on the west side.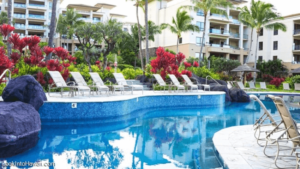 ADDITIONAL WEST MAUI ACCOMMODATIONS
The Marriott at Ka'anapali Beach is a shrewd choice for those traveling in groups: Two-bedroom suites feature kitchenettes and private balconies. Napili Shores Maui by Outrigger is just off the beaten path but is nonetheless situated on the glorious water, and the plantation shutters throughout make you feel as if you're in another era. Those who favor no-frills experiences over pretension ought to book their stay at Napili Kai Beach Resort, where three-bedroom rooms can fit the whole family. And the Honua Kai Beach Resort offers some of the island's finest views of the West Maui Mountains.
Central Maui
The central isthmus of Maui—framed by the two volcanoes of Haleakala and Mauna Kahalawai—gave the island its moniker of the Valley Isle. Most guests visiting Maui snub this region for the sun-splashed shores and fashionable resorts, but intrepid travelers searching for a more authentic—and less expensive—experience ought to explore accommodations in this humbler area.
The Courtyard at Marriott-Kahului Airport is within echoing distance of OGG's terminals, but its central location—and clean, pleasing rooms—make this a great spot for guests who'll be spending most of their time adventuring around the island.
Maui Seaside Hotel may be showing its age, but at $163 a night, it's one of the most economical options on the island.
And the Maui Beach Hotel is equally relaxed—plus, it's mere minutes to the windswept Paia coast.
North Shore & Upcountry
Maui's North Shore is markedly different from the island's leeward coasts.
This is the wilder side of the Valley Isle, where the waves are huge (it's home to Peahi), the wind is fierce, and the jungles are unbelievable.
Rapidly becoming the "it" place to be and be seen on Maui, its mix of rawness and awesome have turned it into a leading tourist destination. Here's the lowdown on its accommodations:
PAIA INN
Paia was once a plantation camp that housed laborers from around the globe; today, it's commonly called the "Windsurfing Capital of the World." And with that arrives a rare combination of tough-loving locals, guitar-strumming hippies, Namaste-ing Californians, and sun-seeking Euros.
That mixed, bohemian vibe is best experienced at Paia Inn, a sweet little spot that brings to mind the tropics' version of Tuscany.
Millennials are drawn to this charming inn, in part because Paia-resident Owen Wilson frequents their café for brunch and Travel + Leisure voted its workforce The Sexiest Staff in the world.
But that's just one part of the pretty package: the rooms are hip, the beach is close, and the nearby bars and restaurants are packed with free spirits.
LUMERIA MAUI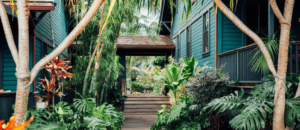 Forget waterslides and Starbucks' lines that go on for miles: Lumeria puts the treat in retreat at their eco-cool resort.
Located just outside of the lush, artsy town of Makawao, the rooms at this serene spot stare out at organic gardens and platforms built—literally—for meditation.
Nightly fire-lighting ceremonies are set against clear skies perfect for stargazing, while their on-site resto has an ever-evolving menu that pulls from the grounds' morning harvest.
Ideal for those looking to spend as much time on their mat as on the sand, Lumeria is chic and inimitable—which is pretty much the North Shore in a nutshell.
ADDITIONAL NORTH SHORE & UPCOUNTRY ACCOMMODATIONS
Bed down at Maui's original B &B: The Haiku Plantation Inn is so quiet and remote you can hear the mating calls of coqui frogs and the wind through the trees. Plantation-style suites are handsomely appointed in aloha luxury, and the gardens grow everything from coconut to ulu.
The "Big Red House in Kula"—otherwise known as An Upcountry Bed and Breakfast—appeals to visitors searching for a local-kine stay on Haleakala's pastoral slopes.
The Kula Lodge, meanwhile, brings refinement to rustic with homey rooms that gaze out at the property's botanical garden; pop into their on-site gallery and restaurant for some ogling and camaraderie.
Visiting Maui on a song? Meet like-minded travelers—and be right near the beach—at the Aloha Surf Hostel in Paia.
Hana
TRAVAASA HANA, MAUI
Hana may translate to "work" in Hawaiian, but it's assumed the modifier "heavenly" for a reason: This is the most exquisite side of the island, where waterfalls plummet onto beaches made of onyx and birds serenade your steps as you scamper through bamboo forests.
While most visitors to Maui elect to "do" Hana in a day, you're better off booking a room or campsite to relish every moment of your stay.
Accommodations here are few and far between—as Mauians prefer it—but what it does have is fantastic.
The Travaasa Hana, Maui deems itself an experiential resort, with packages that range from culinary (complete with lessons on crafting killer cocktails) to exploratory (spear-fishing, anyone?)
Originally built in 1946, the hotel now features 69 bungalows that overlook the striking Hana coastline. It also has the No. 1 Resort Spa in Hawaii—and a restaurant that redefines farm-to-fork.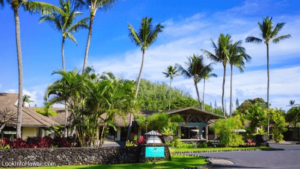 WAI'ANAPANAPA STATE PARK
There are few better ways to experience Hana's beauty than beneath a blanket of stars so bright they practically strobe in the darkness.
Wai'anapapa State Park offers adventurous travelers the chance to engage with nature, with camping sites near the water and a bank of cottages ideal for hosting groups of friends and families.
Bonus tip: Camp X will get you outfitted with a tent and gear at a super reasonable price.
Where To Eat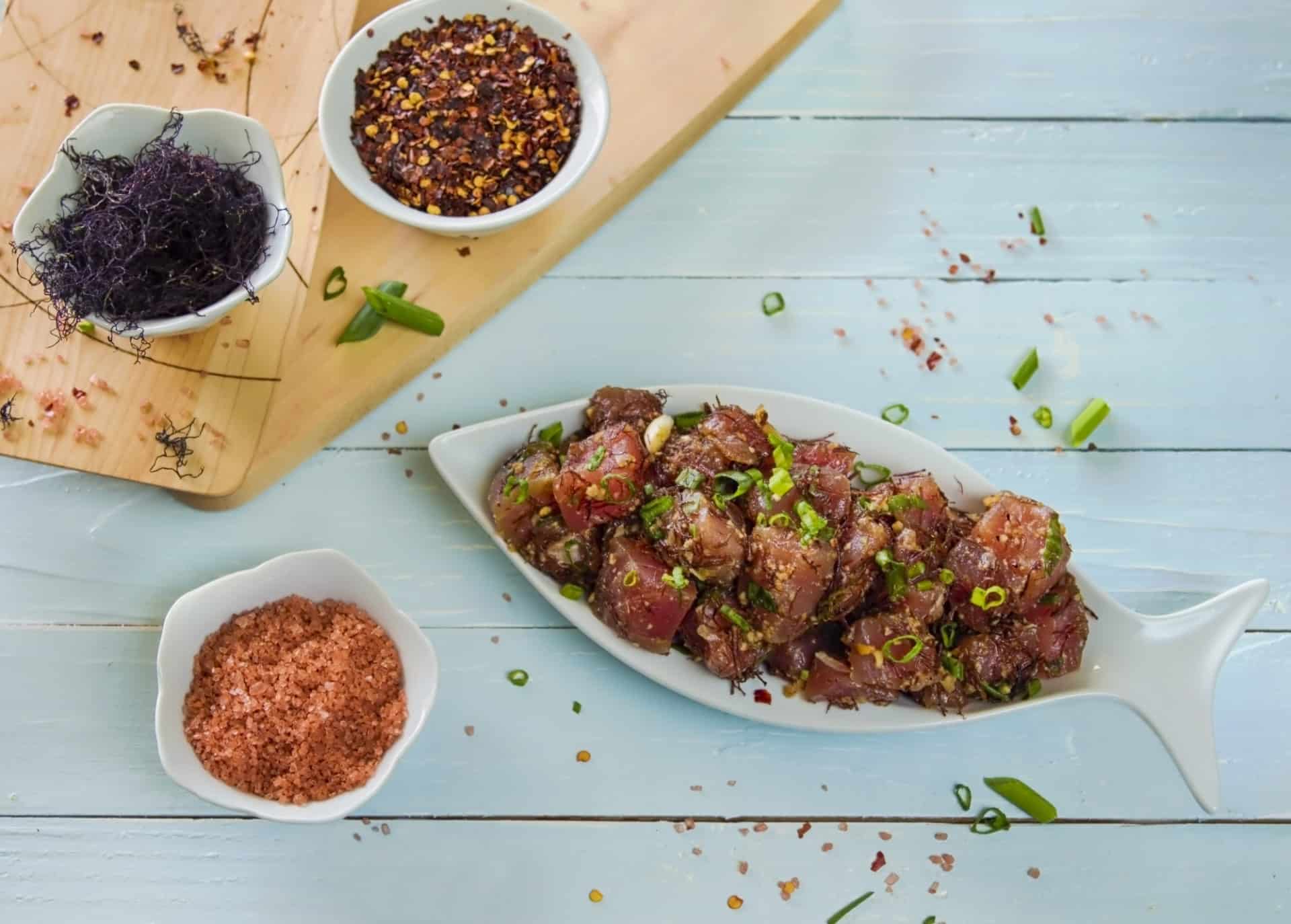 Hawaii has become a culinary destination for foodies around the globe—and the Valley Isle boasts some of the choicest places to grind in all of the islands.
Whether you're visiting Maui specifically to try out its slow food scene or possibly a dinner cruise, or want to zip through your meals to get back to exploring, know that the island's mix of multicultural flavors will keep you more than satisfied.
Here's where to eat—and what—and why you should grab a seat at these venues:
South Maui
Kihei
'AMI 'AMI BAR AND GRILL
The beach-buzzy city of Kihei has seen a recent surge in topnotch restaurants, with 'ami 'ami consistently coming in first place for both visitors and kama'aina.
There's no why in this equation: Created by the masters behind the Café o'Lei franchise, this roomy, open-aired eatery sits directly across the street from the beach and exhibits tiki torches that go long into the night.
Start with a kale Caesar salad, move on to lotus root with sweet chili dressing, and dig into a plate of slow-braised beef short ribs and mashed russets.
And save room for something special: their peanut butter waffle with chocolate ice cream, caramel, and mac nuts might scream kids, but this baby was definitely built for adults.
FORK + SALAD
Several years ago, three star chefs got together and started Three's Bar & Grill, a lively space in Kihei's Triangle that features an excellent bar and a lanai meant for idling.
They've taken their blend of Mediterranean and Hawaiian cuisine to a new spot in Central Kihei, where each snappy-fresh item on their menu is inspired by local farms.
The result? An ideal spot for a quick, healthy lunch, with dishes that range from a beet and grapefruit-honey salad to a pastrami-seasoned seared ahi sandwich. With Kombucha on draft—and health shots to boot—this is, as the boys tout, farm-to-fork 2.0.
SANSEI SEAFOOD RESTAURANT AND SUSHI BAR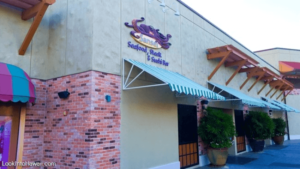 Step into this festive space and you'll immediately feel like something exceptional is happening: Groups of friends crowd over plates glistening with sashimi, the bar is packed with both well-dressed and kicked-back diners, and the smiling staff zooms through it all as if choreographed.
And something rare is occurring within these dark-paneled walls: As any local will attest, Sansei has the best sushi on Maui.
We're talking mango and crab salad hand rolls wrapped in mamenori and served with spicy Thai chili, panko-crusted "Butterfry Rolls" stuffed with salmon, crab, and frishomi, and cold water lobster tails marked with crispy asparagus.
Happy Hour specials are offered for late night diners Thursday through Sunday, when visitors and kama'aina pile up platters at 50% off before taking the stage to show off their karaoke chops.
DA KITCHEN
The Hawaiian palate has been hugely influenced by the Asian, Portuguese, and Filipino cultures that shaped the state during the sugarcane days—and that impact is profoundly felt at the mom and pop plate lunch spots peppered around the island.
The south side's iteration of local-kine grinds is tucked into Rainbow Mall, where everyone from construction workers to lifeguards pop in for one of their enormous meals.
Breakfast offers a nod to Azores immigrants, where batter-dipped sweetbread is served with Portuguese sausage.
Famished? Go for their Big Braddah Combo, which pairs Teriyaki Chicken (and Beef) with Chicken Katsu, Kalua Pork, mac salad, and sticky rice.
Wailea
KŌ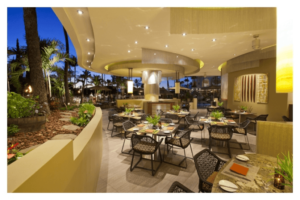 Savvy Maui residents head to Kō on special occasions for good reason: This refined oasis, in the heart of the Kea Lani, offers heaps of style and enough options to satisfy everyone's palate.
Thank Executive Chef Tylun Pang for the range of delectable choices: the 'Aipono Lifetime Achievement Award winner and Hawaii native looks back upon Maui's past to cull recipes straight from the plantation era. Bowls of Portuguese Bean Soup are offered alongside lau lau filled with fresh-catch fish, shrimp, and scallops, while pancit noodles and 'ono pulehu chicken vie for attention.
Happen to be visiting Maui from one of the other islands? Bring your Hawaii ID: kama'aina get buy one get free on all pupus and entrées.
MANOLI'S PIZZA COMPANY
Not long ago, finding a pizza joint that stressed local, organic, and sustainable was nearly impossible.
And while these aims might be more ubiquitous than ever, Manoli's practices what it preaches: The food is so fresh and flavorsome you can practically taste when it was harvested.
Their generous wood-roasted pizzas—with organic wheat and gluten-free options—are delectable and inventive, from a Hawaiian Honey pie with smoked ham, caramelized pineapple, Maui onion, and mozzarella, to a Shrimp Pesto with tiger prawns, baby spinach, mushrooms, arugula-basil pesto, and marscapnoe-bechamel.
HUMUHUMUNUKUNUKUAPUA'A

Strolling through the Grand Wailea is a feast in itself: Immense marble sculptures dare you to tear your eyes away from the palmy views of the Pacific, while the lazy-river pool has spurred more than one visitor to impulsively tear off their T-shirt.
Whether you're staying on these regal grounds or just passing through for a treatment at their spa, grab a reservation at Humuhumunukunukuapua'a. This unique venue, named after Hawaii's state fish, boasts thatched roofs, huge aquariums, and tropical breezes that oh-so set the mood.
Here, Maui No Ka Oi's Chef of the Year Michael Lofaro takes a hyper-local approach to his epicurean marvels, serving fresh-caught Hamachi with celery and ginger shave ice, and Maui Cattle Butchers Steak with miso and charred scallions.
Plan to visit the island of Maui during your honeymoon? Start your marriage off right by booking Table 70, a private oasis that floats on a saltwater lagoon and includes a custom-made meal, gobs of chocolate, and glittery views of the outlying islands.
MONKEYPOD KITCHEN BY MERRIMAN
Forget Lono: Peter Merriman is something of a god in Hawaii, having created award-winning eponymous restaurants on Maui, Oahu, Kauai, and the Big Island.
Dubbed the "Pied Piper of Hawaii Regional Cuisine" by the Los Angeles Times, his menu at this Wailea outpost showcases local ranchers, fishermen, and farmers, with dishes that range from Kauai Shrimp and Hamakua Mushroom Dim Sum to crisp salads comprised of veggies from Maui's own Waipoli Farm.
With 36 craft beers on draft—and one of the hottest cocktail menus on the island—it's no wonder that Monkeypod is a local favorite for pau hana.
Bonus Tip: For vacation rentals by owners check out Ownerdirect.com
ADDITIONAL SOUTH MAUI EATERIES
Hawaii might be home to the birth of hula (which you can partake in if you do a luau in Maui), but belly-dancing has become quite the thing on Maui. Wailea's Pita Paradise offers a nod to this growing genre, with ultra-sensuolus belly-dancers hypnotizing the crowds on Friday nights. Come for the show but stay for the fare: the gnocchi Bolognese and pita-crusted Chicken Parm are scrumptious.
Nightly live music—and a capacious, breezy bar—pull tons of locals into Central Kihei's Nalu's South Shore Grill, where you can pair a locally-crafted beer with a beet, goat cheese, and mac nut salad (with proceeds going to a nonprofit).
Across from Kamaole Beach Park II, 808 Deli's bright, funky deli is generally packed with peeps who love their paninis and kimchee gourmet hot dogs, while Tommy Bahamas in The Shops at Wailea has a mega-attractive staff—and a kick ass Happy Hour.
West Maui
Lahaina
STAR NOODLE
Big Island native Sheldon Simeon made an international splash as one of the leading contenders on Top Chef; today, the affable entrepreneur calls Maui home, which has been a huge boon for both visitors and kama'aina.
His first restaurant—Simeon also founded Kahului's Tin Roof and the now-closed Mala Tavern—is situated away from the beach crowds on the slopes above Lahaina, where Simeon's Asian heritage and global experience finds its way onto the extensive, remarkable menu.
The Ahi Avo is clean and bright, the steamed pork buns are mild and comforting, and the salmon—charbroiled with su-miso sauce—melts in your mouth.
With picnic tables that encourage communal dining, and a bar that serves innovations and classics, this is one of the most enjoyable places to dine on the Valley Isle.
HONU SEAFOOD & PIZZA
Front Street presents chain restaurants (Hard Rock Café, Bubba Gump's), kick-back cafes, and choice bistros found nowhere else on the planet.
One such place? Honu—a romantic eatery tucked into Mala Harbor mere blocks away from the pedestrian madness.
Here, star chef Mark Ellman (who, with his wife Judy, created the much-loved Maui Tacos franchise and next door's Mala Ocean Tavern) brings Indonesian and Mediterranean sensibilities to the island's bounty: Octupus is served grilled with tomato beurre blanc and garlic, whole Hawaiian Snapper is fried in Malaysian black pepper, and Bolognese is prepared with ahi sausage, San Marzano tomatoes, and fennel pollen.
But the real winner here is the Ahi Bruschetta—a local favorite that piles fresh-caught tuna, edamame puree, haiku tomatoes, and 20-year old balsamic on flax seed toast. Ono. Or, rather, kalá.
FLEETWOOD'S ON FRONT ST.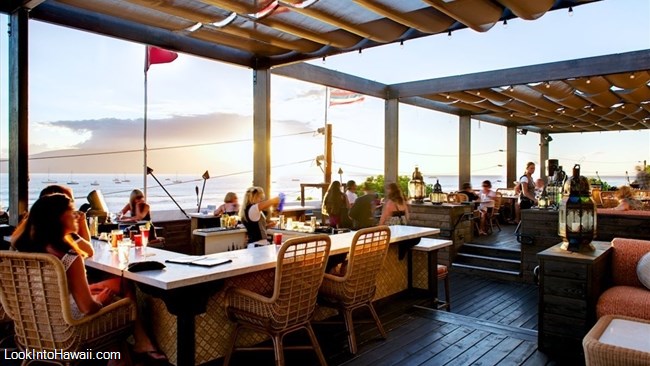 Mick Fleetwood is best known as the soulful drummer who brought Fleetwood Mac to international acclaim before being inducted to the Rock and Roll Hall of Fame, acting in movies, and writing a memoir about his time with Stevie Nicks and Eric Clapton.
Add restaurateur to that list of achievements.
Today, the man who gave us "Go Your Own Way" provides a spectacular site to savor Maui's splendor. Dominating two stories on Front Street, Fleetwood's features Celtic music at its rooftop bar, a wine cellar of impressive portions, and hearty dishes that range from pork chops with bacon-braised cabbage, to Makaweli hamburgers with tomato jam and aged cheddar. The live jazz and clever cocktails make it the spot to wind down—or start off—a west side night.
FRIDA'S MEXICAN BEACH HOUSE
Visiting Maui wasn't exactly synonymous with first-rate Mexican fare before star chefs Mark and Judy Ellman—the same brains behind the above-mentioned Honu—took their knowledge of South American cuisine and turned it into one of the most adored restaurants on the island.
Located across the way from the Lahaina Cannery Mall, this cantina knows precisely how to say welcome and ole. In homage to the great artist Frida Kahlo, the Ellmans and their crew dole out dishes that underline fresh seafood, from poached calamari tiraditos with hominy and cancha, to oyster coctels with cucumber and cilantro.
40 premium tequilas line the colorful bar, and sun-drenched seats make up their oceanfront lanai.
Ka'anapali
JAPENGO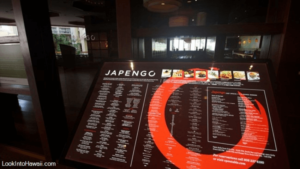 Tucked into the Hyatt Regency Resort & Spa in Ka'anapali, Japengo—the pet project of Okinawan-born and Honolulu-raised chef Jay Ledee—has won nearly every island award available, including Maui's Best Sushi and Maui's Best Pacific Rim Cuisine.
Japengo was a shoe-in for both accolades, of course—this sleek eatery serves just-caught fish in heavenly combinations, like Hamachi sashimi with local watermelon, lychee pearls, and sriracha tempura, and chunks of crab and unagi drizzled with shi-chimi mayo and kabayaki.
Tables on the lanai peer out at views of Molokai, the ultra-sexy lounge pours sangria with passion fruit rum and pineapple, and tiki torches light up the fringey palms when the sun sets beyond the horizon.
ROY'S KA'ANAPALI
Cruise onto Ka'anapali Parkway and you'll feel as if you're stepping into a country club that's known nothing but pleasure.
And, in many ways, you are. Home to two award-winning golf courses, a shopping mecca complete with Kate Spade and Tori Richard, and a procession of luxe resorts, this is the equivalent of Palm Springs—if only California were so lucky.
Amid it all sits Roy's Ka'anapali, a plush restaurant started by Tokyo-born Roy Yamaguchi, who graduated from the Culinary Institute of America before starting a line of eateries that earned him two toques from Gault & Millau—and two nods from Condé Nast Traveler in their honors for the top 50 restaurants in America.
His Maui location knows how to spoil the palate, with items such as "Chinese Style" Jade-Pesto whitefish, and lumpia with black bean dragon sauce. The bar gets nice and lively—and the bountiful views of the West Maui Mountains aren't too shabby either.
LEILANI'S ON THE BEACH

There's something to be said about having a Lava Flow in one hand, a coconut shrimp in the other—and two feet slipped into the sun-warmed sand while the ocean crashes before you.
Such is the experience at Leilani's on the Beach, an institution legendary for bringing the beach into the restaurant. (Or, rather, the other way around.) The café is as breezy as its ambience, with goods like Kalua pork nachos, Niihau lamb sliders, and sriracha-guava chicken wings.
Those searching for a respite from the sun can grab fancier fare in Leilani's glossy dining room, where Tristan lobster and lemon-fennel pasta is served beside filet mignon with peppercorns and truffle butter.
THE GAZEBO
Just outside of Ka'anapali proper, you'll wind your way down to the tranquil town of Napili, where older, humbler resorts hug the water and keiki roam the streets on bikes.
It's here that you'll also find one of Maui's most cherished—and popular—treasures. The Gazebo is frequently named the top spot to indulge in a wicked-good, casual, and fairly-priced breakfast.
Located just outside of Napili Shores, it offers macadamia nut pancakes with sweet crème and coconut, a Big Kahuna omelet with bacon and Portuguese sausage, and fried rice with scrambled eggs and soy sauce.
ADDITIONAL WEST MAUI EATERIES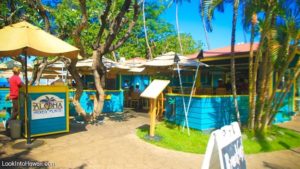 Aloha Mixed Plate is beloved by locals and visitors alike, thanks to its affordable prices, lip-smacking menu (try their Furikake Garlic Fries and Chow Funn with seasoned pork), and small slice of Italian culture. Industry workers—of which there are many—flock to Sale Pepe, where a Brooklyn chef and her Milan-raised hubby alter their Italian menu daily to mirror Maui's harvest. Their pizzas are sophisticated and brilliantly cooked, and the wine menu is one of the grandest on the island.
And speaking of pizza: Head to Prison Street Pizza for the perfect pie, like "Guardrails" with roasted red pepper and ricotta or "Windmills" with goat cheese and pesto.
Kale more your thing? Check out Choice, a wildly fashionable place for all things acai, vegan, and quinoa.
Those in the mood to be truly indulged will get their kicks at The Banyan Tree, a glitzy spot, tucked into the Ritz, that serves farm-fresh fare and a variety of vegetarian options.
Central Maui
Wailuku
SAM SATO'S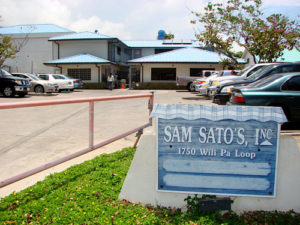 Wailuku is the closest thing to a city that Maui's got—and it wears that honor with great integrity. With views of 'Iao Needle soaring into the sky—and an artsy vibe matched by its historic theater—Wailuku (and its neighboring Kahului) offers some of the most authentic eats on the island.
Sam Sato's best represents that old-school sensibility. A veritable hole in the wall, this cozy restaurant in the town's industrial heart is hailed for its bowls of "dry noodles"—thicker, chewier saimin noodles tossed in oil and served with bean sprouts, green onion, and barbequed pork.
With marinated beef sticks and manju on the side, this is real plantation food at its finest.
No wonder there: The Japanese-American founder and owner is a second-generation plantation laborer.
808 ON MAIN
Legal professionals who frequent Maui's Wailuku-based courthouse head to 808 on Main when they want to celebrate a winning case—or desire simple but sophisticated fare.
The solid menu has a number of nice touches—their salmon spinach burger, for one, is accented with wasabi tartar sauce and a Caesar salad—while the space itself offers a certain poise found few places else.
THE MILL HOUSE
Resting on the grounds of Maui Tropical Plantation—an island institution that goes down as one of the most visited places in Hawaii—The Mill House selects fresh produce by field and row to deliver dishes so fresh most ingredients were harvested just that morning.
'Ai Pono Chef of the Year award winner Jeff Scheer mans it all, handpicking crops outside his door—and sourcing proteins from local ranchers—to create menus that change not once but twice daily.
Past pleasures have included a charcuturie plate with venison macadamia nut pate and house mustard, and chickpea panisse with crème fraiche and parsnip.
Loll at the bar before grabbing a table on their lanai—the cocktails are crafted with plantation ingredients, and the artifacts, many from the sugarcane era, are downright absorbing.
TASTY CRUST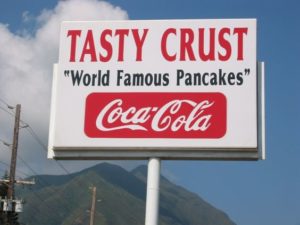 Tasty Crust first opened its doors in the 1970s, earning a reputation on Maui as the best place for quality pancakes at a reasonable price.
While competition is fierce these days—with the west side's Slappy Cakes falling into second place—this divey, charming spot still knows how to toss and fry cakes with the best of 'em (and, mind you, serve them with bananas). Grab a seat at one of their vinyl bar stools, order a few, and talk story with the staff.
And should pancakes—tasty, slappy, or fluffy—not be your thing, know that there's more to sate your yen, whether it's a Local Favorite (fried rice with eggs) or stick-to-your-ribs, old fashioned oatmeal.
Kahului
BISTRO CASANOVA
Kahului was one of the most coveted regions of Maui during the sugarcane days, when plantation workers and their families saved up for single-level homes in what was then Dream City.
Since then, the landscape has changed dramatically—today, the industrious town houses the island's international airport and big box stores—but it's maintained its mixed ethnicity flair, offering everything from food truck fare to pizza joints next to carwashes.
To find some elegance within the industry and fast food joints, head to Bistro Casanova on Lono Ave. A favorite among corporate types and people heading to the MACC for a performance, this bustling venue boasts a great bar, a private dining room, and a citified, shaded lanai.
Awarded the Best New Restaurant by Maui No Ka Oi shortly after it opened, Casanova's doles out dishes that blend Mediterranean, French, and Spanish flavors—all of which are found in their tapas, crepes, salads, and entrees. The Paella is pleasing, but it's the tapas that draws in repeat takers. Plan to be there for Happy Hour, when $5 mojitos are delivered in carafes, plates are joyfully shared, and the pau hana thrill gives the bar a jolt of pure happiness.
POI BY THE POUND
Poi might be the most passed-over side dish at luaus, but its chief ingredient—kalo—was a primary staple for ancient Hawaiians.
Its roots are honored at this simple Kahului café, where hearty portions of kalua pig—salt-rubbed pork steamed in ti leaves—are served besides sticky rice and macaroni salad, and lau lau comes with lomi salmon. The service is friendly and the prices are just right, rendering this spot a must on your way to some North Shore hiking.
DOWN TO EARTH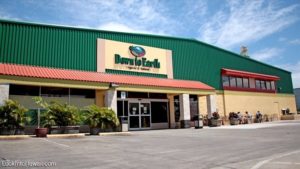 Before Whole Foods opened its doors in Maui Mall, Down to Earth (and its predecessor, Mana Foods) boasted the freshest organic cuisine on the island.
It's since expanded into a welcoming, two-story spot, where the deli custom-makes sandwiches and wraps, and the hot bar features everything from vegan enchiladas to Indian classics.
KAHULUI ALE HOUSE
Pub fare gets an island twist at this big, boisterous brewery minutes away from Kahului Airport: Saimin with SPAM and Chinese cabbage, Blackened Mahi Mahi wraps with papaya seed dressing, and Kalua pork pizzas topped Maui onions and mozzarella.
With a wraparound bar featuring every major sports game, and 38 beers on draft, this hopping house is well worth the drive from the major resorts.
ADDITIONAL CENTRAL MAUI EATERIES
Las Pinatas—an order-at-the-front joint mere minutes from the airport—has a cooler full of Mexican beer, a salsa bar with super-hot choices, and decent daily specials. Pair a Negra Modelo with a chile relleno and you'll understand why this place touts itself as having the best Mexican food west of the border.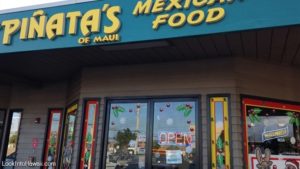 Maui Coffee Roasters may draw you in with its rich aromas, but don't be fooled by its name. This colorful gem offers more than locally-grown joe and iced cappuccinos: Their garden burger is one of the best on the island, while their bakery case brims with fresh delicacies; those feeling brave ought to go with a coconut-flaked, poi-maple donut. (It's also a great place to buy souvenirs.)
And a trip to Central Maui isn't complete without a visit to Tasaka Guri Guri—a 90-year old, family-owned icon that dishes out a fruity Japan dessert that's somewhere between sherbet and ice cream.
North Shore & Upcountry
CAFÉ DE AMIS
Paia is currently having its moment as a leading destination for international travelers—with thanks in part to its array of first-rate restaurants.
One such gem? Café de Amis, a modest but modish spot known for its marvelous courtyard. Dangling lights beckon diners inside its vivid-blue walls, where shrimp curry wraps share menu space with crepes. Hit up the café between 4 and 6pm and you can score half-priced beer, wine, and sangria.
NUKA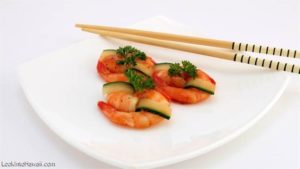 Lush and sedate, Haiku is a far cry from the touristy, leeward sides of the island. Here, stalks of sugarcane whistle—literally—in the wind, and the few homes that exist are largely veiled by rainforests.
But in the center of such remoteness sits Nuka, a no-reservations joint that's earning a reputation as one of the finest places for sushi on Maui.
Master sushi chef Hiro Takanashi gives standard rolls an innovative spin, such as the Haleakala Roll with crab, avo, salmon, and bonito flakes, and the much-loved Hawaiian Roll, wherein ahi, avo, and cucumber are coated with macadamia nuts. Order a pomegranate-lilikoi cosmo at the bar and gaze at the Gyotaku fish prints—this place is as pretty as it is pleasurable.
FLATBREAD COMPANY
Paia is nothing if not a hub of health-minded folks—this, after all, was the launching point of Maui's hippie movement; today, the milk is hemp, the tattoos are gluten-free, and the food is, well, holistic.
Flatbread Company matches that philosophy with a menu brimming with natural ingredients. The pizzas are terrific because of it, in that the lion's share of toppings are grown locally and include jewels such as Pele Pesto with organic Maui basil, Haiku tomatoes, and homemade garlic oil. Meat lovers will also be delighted with pies like their kiawe-smoked-pig Mopsy's Kalua Pork and nitrate-free pepperoni and mushroom.
Looking to do some good? Tuesday evenings are Benefit Nights, during which a portion of proceeds is donated to an island nonprofit.
MAMA'S FISH HOUSE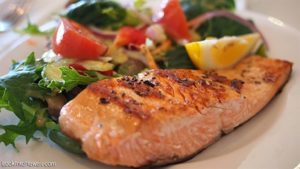 Meals at this dreamy Kuau Cove restaurant don't come cheap, but if ever there's a splurge-worthy dinner, you've found it.
Peerless views of the water are found at the intimately-lit tables, where consummate servers bring out fish that was reeled in that morning.
Must tries include super-soft opakapaka topped with Hana ginger and sizzling peanut oil, and Mama's Bouillabaisse with Kampachi, King crab, scallops, and clams.
Linger on the beach once you're sated: the lovely shore and crashing waves render Mama's the most romantic venue on Maui.
LA PROVENCE
Makawao, Pukalani, and Kula comprise Maui's upper climes, where the air is cooler, the land is greener, and the roads—lava-loamed and bordered by alluring views—are quieter.
One of the loveliest places to enjoy it all is at La Provence in Kula. Located on Lower Kula Road, this unassuming but idyllic spot transports diners to the French countryside. Cast-iron tables are spread around a terrace that offers sweeping views of the beaches below, while the simple but sumptuous menu provides tastes rarely found in the tropics.
Their lemon crepes are especially delightful—sweet but tart and topped with fresh whipped cream—while their Eggs Benedicts, served with Maui-grown greens and seasoned tots, often sell out before noon.
With its swank feel and homey service, this is one of the greatest spots for a meal after witnessing a Haleakala sunrise.
KULA LODGE
Kula Lodge capitalizes on the region's unique aura, coupling tropical attitude with comfy details. A roaring fireplace warms up the center of this cherished restaurant which, perched on a cliff and enclosed by glass, supplies vistas of the distant islands. Even its surrounding grounds are fit for royalty, featuring everything from torch ginger to bright jacarandas.
Every meal is covered at Kula Lodge, but it's the special touches at dinner that make the spot exceptional. Their scallop bruschetta is distinctive and inspired, while their Black and Bleu Ribeye will remind you that you're in paniolo country. The dark-paneled bar is warm and cozy, and brick-fired pizzas are cooked in an outdoor oven—a particularly seductive sight when the sky is aglow with moonlight.
MAKAWAO STEAK HOUSE


Forget Ruth's and Outback: if you want a real steak on the island, plan a special trip to one of Maui's most rustic villages.
Makawao—a former cowboy town that still holds remnants of its paniolo past—is oft-considered one of Hawaii's artsiest towns. Glass blowers operate out of studios you can swing into for a spell, and galleries feature everything from saddles to oils.
Its thirty-year old steak house highlights that whimsical vibe, featuring an old-timey bar, dimly lit tables, and a flickering fire. Images of Maui's horsemen line the walls, while the bartenders treat most like they're kama'aina.
Now owned by the brains behind Café o'Lei and 'ami 'ami, Makawao Steak House continues to feature the Maui cattle for which it earned its fame, presenting dishes that range from salt-crusted rib eye with horseradish and au jus, to Kobe beef sliders with cheddar and grilled onions.
Tend towards garden flavors? Rest assured they've got you covered, with French Onion soup, crisp salads, and Japanese eggplant with quinoa.
HALI'IMAILE GENERAL STORE
Happen to be visiting Maui specifically because of its foodie scene? Then certainly you're familiar with Bev Gannon. The epicurean master runs some of the hottest restaurants on the island, from the now-closed (and much missed) Joe's to Wailea's Gannon's. But the 'Aipono Chef of the Year award winner's real claim to fame is Hali'imaile General Store, a plantation-inspired venue located on the lower slopes of Makawao.
Here, Bev—a Jewish woman who made Maui her home in 1980—demonstrates why she's credited as one of the forerunners of Hawaiian Regional Cuisine.
Standards like seared ahi are given an inventive twist; in this case, the just-caught tuna is sautéed in fennel pollen pepper and served with melted leeks, Ali'i mushrooms, and Molokai sweet potatoes whipped with a sour-cherry glace.
The pupus are tons of fun—crab pizza, duck tostadas, kalua pork and goat cheese wontons, to name just a few—while the coconut curry with lemongrass pesto is nothing short of fantastic.
Happy Hour specials run daily, with $8 tacos and $7 pita pies. Try the Korean prime rib—it arrives with cucumber kimchee and a sauce that's truly dynamite.
ADDITIONAL NORTH SHORE & UPCOUNTRY EATERIES
Tobi's Shave Ice North Shore is a much-loved stop for surfers in need of a refreshing treat. The flavors here are first-rate—ranging from POG to a Haleakala Sunrise with mango, guava, and pineapple—and the local-style eats, like ginger-scallion rice, are just as luscious.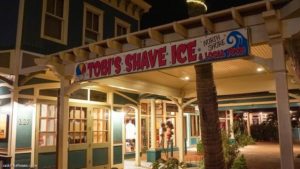 Rock & Brews was founded by KISS front-men Paul Stanley and Gene Simmons, who certainly know how to select fine beers: over 38 ice-cold choices are offered at this airy tavern.
Health-conscious diners will be in heaven with the selections at Mana Foods, an island institution that abides by the creed of local and organic.
Looking for similar but fancier fare? Mana's progeny, Maka by Mana, offers raw, vegan, and gluten-free dishes, including jackfruit tacos with mac nut sour cream and homegrown cilantro.
Tucked into a courtyard in the center of Makawao, Market Fresh Bistro works with several notable Maui orchards, including Makawao Market and Kula Country Farms, to bring the freshest possible ingredients to your table. The vibe is chill, the food is crisp, and the outdoor seating is pretty darn close to pure bliss.
Right up the road, you'll find Polli's Mexican Restaurant, a kitschy place that once stood as one of the only restaurants in Maui's upper heights. The bar gets packed in the late afternoons, where you can grab taquitos and guac while listening to the locals commiserate over Coronas.
Down the way is one of the rowdiest taverns on the island: The Stopwatch Sportsbar & Grill, where French Dips and fried shrimp are served with a healthy dose of biker 'tude and divey ambience. Call ahead—they frequently feature live music, karaoke, and special events.
And those hoping to picnic in one of Upcountry's pastures need to look no further than Rodeo General Store. Peddling everything from fresh-picked papayas to homemade biscuits and gravy, this shop is great for its comprehensiveness; it also has a bad ass wine collection.
Hana
HASEGAWA GENERAL STORE
With a population that's barely over the 1200 mark and miles and miles of unspoiled rainforests, Hana is far better known for its beauty and remoteness than it is for its dining options.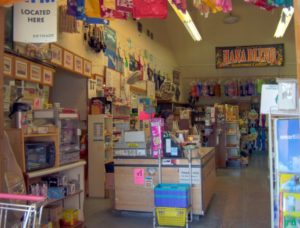 That said, the eateries here satisfy and charm—if for nothing else than their resourcefulness in waterfall country.
Hasegawa General Store is the go-to source for both locals and visitors, in that the crammed, quirky shop sells everything from books on Hawaiian myths to locally-crafted hops.
The food here is generally intended to haul back to your campsite, but what you can find—SPAM musubi and mochi among them—is sure to hit the spot.
THE PRESERVE KITCHEN + BAR
During his presidency, President Bill Clinton brought an extra dose of adoration for Hana when he, Hillary, and Chelsea would head to Hana for some serious R & R.
Their resort of choice? The Travaasa Hana (see Where to Stay), a tranquil, all-inclusive hotel that looks upon the heart-stopping coastline.
As part of its transformation to one of the leading resorts and spas in the islands, it revitalized its on-site bistro by bringing in bright, young chef Jason Johnson—and by placing greater emphasis on its organic, farm-fresh menu. (Kula's O'o Farm is a major contributor, as well as Hana Ranch.)
Menus regularly change to reflect star harvests, but sample bites include a ruby heirloom tart with goat cheese and aged balsamic, and a Poblanito Invierno with achiote quinoa, root veggies, and roasted tomato salsa.
ADDITIONAL HANA EATERIES
Coconut Glen's is synonymous with Maui's best ice cream. Tucked into Nahiku—a lush, harmonic village just off the Road to Hana—this little hut creates super-creamy ice cream from local coconut milk. Indulge in their classic flavor, or try their lemongrass ginger for a touch of fire.
Hana Ranch Restaurant—directly across from Hasegawa's—features simple entrees in an unpretentious setting, while its adjacent counter specializes in food to go. (Try some saimin on a rain-swept day.)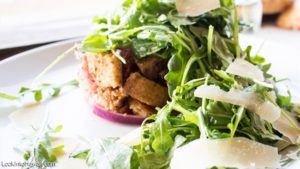 Dining before sunset? Thai Food by Pranee—a chain of Thai restaurants with an awesome mahi mahi salad—has two trucks and picnic tables on Uakea Road.
And those suffering from hunger after a trip to Ohe'o Gulch would be behooved to step into Laulima Farm, a 13-acre orchard with a stand that sells strawberry papayas, pickled mangoes, coffee with coconut cream—and corn you can pop yourself.
EXTRA PLEASURES: COFFEE, DESSERT, & SHAVE ICE
In terms of exports, Maui may be best known for its sugar and signature gold pineapple. But since the recent closure of HC&S—the last sugar plantation on the island—talk has been circling about the Valley Isle reclaiming its name as a leading hub for coffee. Plantations are popping up and being resurrected around the island, while cafés featuring Valley Isle-grown beans are receiving more attention than ever.
Akamai Coffee is one such spot. Two locations on Maui—one in Kihei, the other a drive-through in "town"—feature 100% Maui-grown coffee, gourmet espresso drinks, and cinnamon rolls so large and tantalizing you'll forget all about the Cinnabon back home.
Meanwhile, The Mill House Roasting Café at the Maui Tropical Plantation grinds beans grown mere feet away for every cup that's served. (If anything, drop in to marvel at their antique coffee grinders.)
While Kahului's Maui Coffee Roasters brews beans from all over the Hawaiian Islands—and not just Maui itself—their swills are some of the purest and most fantastic on the island; their café also features homegrown goodies like Danishes and macaroons. (Bonus tip: Cappuccinos are $2 during their Happy Cappy Hour, 2pm to close.)
The Coffee Store in Napili Plaza on the island's west side has one of the foamiest breve lattes in paradise and gluten-free, vegan energy balls.
Kihei's Java Café—a large, airy spot—recently went through a head-to-toe remodel and is now furnished with gorgeous tables and an unparalleled smoothie menu.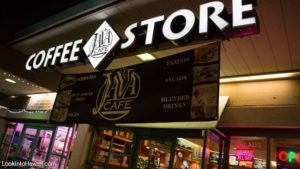 And those who love discovering little gems ought to find their way to Belle Surf Café, a hip, hidden spot that features excellent crepes. Trust us when we say they're the real deal: the proprietor is from the South of France.
Visiting Maui seems to call for reining in the diet a notch—after all, it's always bikini season in Hawaii—but that doesn't mean kama'aina shy too far away from the sweet stuff.
Leoda's Kitchen and Pie Shop recognized Maui's need for a great spot for quality desserts, first opening its doors a half a decade ago in Olowalu. The coffee here is fresh and hot—and the sandwiches are hearty—but it's the baked goods that win locals and visitors' hearts. Tarts range from pineapple lemon to strawberry cream, while their mini, "handheld" pies have to-die-for flavors like apple crumb and Olowalu Lime.
Speaking of pie: those in the mood for some home-baked goodness ought to saunter their way into Kihei's Sugar Beach Bake Shop, where some of Maui's finest (and most beloved) desserts are crafted from local ingredients (bananas, pineapple, and fresh-picked lilikoi, to name just three); choices range from malasadas—a Portuguese donut dusted in sugar—to sticky buns studded with mac nuts.
Lappert's is practically a Hawaiian landmark, having first opened its doors on Kauai in 1983. Kihei, Wailea, and Lahaina keep the family name going and attract out-the-door lines with their waffle cones and Hawaiian flavors. (Try their coffee-based Kauai Pie with coconut and chocolate.)
And one of the most delectable desserts is found at Wailea's Pita Paradise, where baklava and vanilla ice cream are lovingly placed between soft bites of Phyllo.
Shave ice—yes, shave, not shaved—is a ubiquitous Hawaiian treat that dates back nearly a century and a half, when Okinawan plantation workers introduced the Japanese treat, kaki-gori (or sweetened shave ice) to islanders. And it's been part of Hawaiian culture ever since.
Often served in paper cones and featuring a rainbow of colors, shave ice has become Hawaii's most iconic dessert—helped in part by photos of Obama and his girls diving into bowls of it.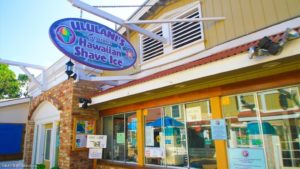 From food trucks to five-star restaurants, it's frequently found around Maui, but one of the top spots to get your fix is at Ululani's Shave Ice. Locations are spread out—from the Hyatt Regency in Lahaina to Maui Manapua in Wailuku—and each parlor features oh-yes flavors like Calamansi Lime, Li Hing Mui, and Wedding Cake.
Kihei-based S & Q's Coffee & Shave Ice Shack offers vanilla ice cream and azuki beans on da bottom of their killer concoctions (one to try: banana cream pie), and their hut across the street from the water renders it the perfect stop on scorching days.
Looking for a buzzy way to enjoy this sweet treat? Lahaina's Down the Hatch blends up a mean adult shave ice; consider it the grown-up's take on keiki pleasures.
What To See & Where to Play
South Maui
Beach Bound
South Maui provides the prevailing view of paradise—pristine beaches, luminous waves, slender palms, elegant resorts, and glossy golf courses. Within it all, there's a boatload to do and heaps to see—to say nothing of simply doing nothing on the beach.
While nearly every beach has something spectacular to offer, Makena's Big Beach is one for the records. Otherwise known as Oneloa, this south side splendor is so expansive it has three separate entrances; each one has its own flavor. Locals tend to flock to what's known as "Thirds"—the southernmost tip of the nearly mile-long stretch of golden sand—while first entrance offers closer proximity to Maui's most famous beach for nude sunbathing.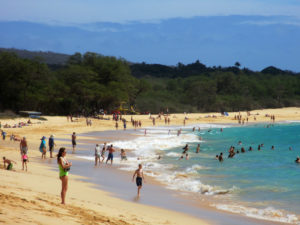 Know before you go: Big Beach has one of the fiercest shore breaks in the world, rendering Seconds and Thirds a top spot for skim boarders but a major—even fatal—hazard for those unfamiliar with Hawaiian waters. (To note: it's often referred to as "Breakneck Beach.") Be extra cautious even if the water looks flat, and stay clear of getting in when the warning flags are a-waggin'.
Little Beach—located just over the dome—has a wildly popular Sunday night drum circle shebang. While certainly a spectacle to witness—the fire dancers are especially magical—keep your wits about you and don't bring the kids.
Just north rests Maluaka Beach, where creamy sand gives way to still waters and stellar views of Pu'u O'lai—a cinder cone hill created in Haleakala's last eruption.
Maluaka's southern end offers a pasture of grass, picnic tables, and showers; its northern bank tends towards the quieter side, with lazy palms and calm stretches of sand.
Wherever you choose to break out a towel, know that you'll be swept away by the sound of birds and the breathtaking water: Some days it's clear enough to see fish swimming beside you.
Indeed, such luminosity has, in recent years, earned it the moniker of Turtle Town—that is, a resplendent spot for viewing honu. The best time to view Hawaiian Green Sea Turtles—pure marvels that can weigh as much as 500 pounds, and tend towards reefs when flipping around—is first thing in the morning. Hawaiian Paddle Sports offers swimmers the chance to kayak near their environs; solo trekkers who relish solitude will want to rent snorkel gear from Boss Frog's and conduct self-guided tours.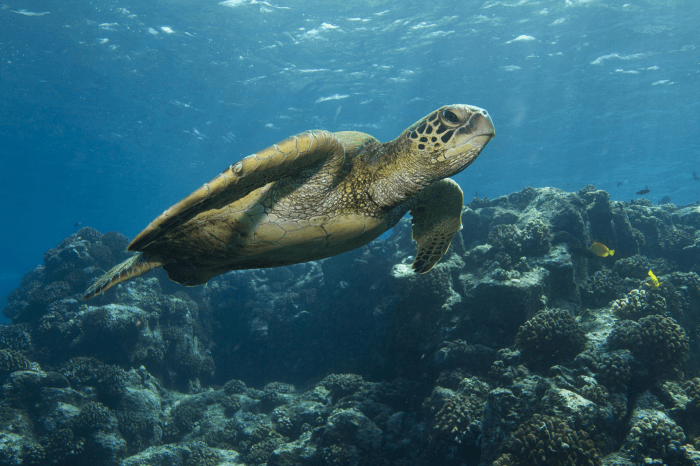 Should you prefer people watching to turtle ogling, head to nowhere else than Wailea Beach—a crescent of velvety white sand that serves as the front yard to the Four Seasons and the Grand Wailea. Meaning, of course, that celebrities are often seen frolicking in these aqua waters, from Ben Affleck and Jennifer Garner to Britney Spears and Jessica Alba. Spread out your towel and enjoy the show one of the coolest beaches on the island of Maui.
With its lively restaurant, expanse of grass, and excellent angle, Keawakapu Beach has become the most coveted spot on Maui for watching the sunset. (Indeed, the sun seems to slip between the islands of Kaho'olawe and Lanai as if divinely choreographed.) Bordered by Balinese homes and vistas of the west side, Keawakapu might mean Forbidden Cave in Hawaiian, but its beauty is far from kapu.
Aspiring surfers can get their fix at Cove Park, where the gentle waves and welcoming crowd make it the perfect place to learn how to longboard. Hawaiian Paddle Sports (as mentioned above) sports a crew of consummate watermen and women who can get you riding in hours.
Stand-up paddling seem more…accessible? Rent boards and oars across the street from Cove and brave the outer reefs tandem or solo.
And if snorkeling is topping your Maui bucket list, head south to Ahihi-Kinau Natural Reserve. A snorkeler's Shangri La, this Makena-based marine ecosystem is home to some of the most beguiling sea creatures on the island, including trigger fish, barracudas, and more of those magnanimous sea turtles.
Beyond the Beach
The south side of the island's crowing jewels are indeed its beaches, but there's far more for tourists to see and do than just kicking back on the sand.
Perhaps hiking is more your thing? Rise with the birds and discover the Big Beach to La Perouse. Otherwise known as Keone'o'oi Bay, the land in this remote region is largely characterized by its miles and miles of lava terrain. It's a fantastic place for you to explore on your hiking day trip. It's home to tide pools brimming with some of the most unusual species you'll ever lay eyes on, close-up views of nearby Kaho'olawe, and King's Highway—a remnant of the first path to connect the whole island. Make a personal note to bring water and sturdy shoes—the trail may test your endurance, but it's well-worth the solitude and sights it supplies, including salt pans, ancient heiau, and the remains of fishing villages.
Birders will feel blessed by cruising out past North Kihei to discover Kealia Pond National Wildlife Refuge. This 691-acre natural wetland and seabird sanctuary is the digs of some of the most bewitching birds in the Pacific. Take note of the coots, herons, and the endangered—and enchanting—Hawaiian stilt.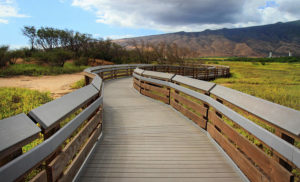 Ladies and gents looking to spoil themselves—as you rightfully should—need to look no further than the spa at the Grand Wailea for some seriously royal treatment. Comprising 50,000 square feet of serenity, this beauty boasts a hydrotherapy circuit (with Swiss jet showers and Roman tubs), luxurious facials, and Hawaiian-style massages. Voted one of the top 10 best spas in the world by Travel + Leisure and Conde Nast Traveler, it also offers reiki, body polishes, and chocolate-infused keiki packages.
Shoppers determined to splurge will be thrilled to their gills at The Shops at Wailea. This pristine, two-story plaza makes up the heart of Wailea and features boutiques that range from ultra-high end (Prada, Louis Vuitton) to the accessible (Gap, Banana Republic). In between, you'll find boutiques found nowhere else but in the islands, including Mahina—the ultimate spot for summery dresses and trendy accessories—and Kii Gallery, a fine art boutique that features colorful blown glass and Tahitian pearl jewelry.
Looking for a leisurely way to burn off those poolside pina coladas? Head to Wailea Coastal Walk. Your best bet is to park at Ulua Beach and turn left towards Makena, where the waterfront path will loop you past heavenly coastlines and the region's toniest resorts. The boardwalk officially ends at Polo Beach, but we won't tell if you stop a few steps short to sneak into Nick's Fishmarket for a glass or two of vino—or some oysters in the half-shell.
After Dusk
In recent years, Kihei has become a hub of activity when the sun goes down, offering everything from dancing in sexy little clubs to enjoying a magic show at a raucous Irish pub. Here's what to do after dark: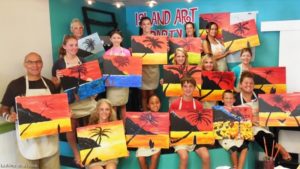 Those with an artistic bent will get their grins at the beach city's Island Art Party. Located in Azeka Plaza, this hip venue features amiable, energetic artists who'll teach you and your gang how to paint a Hawaiian sunset. The libations are locally crafted, the music is loud and peppy, and the instructions are handy and solid. Whether the night's theme is a palm tree or a sea cliff, know that you'll end it all with a souvenir that's worth saving.
Wednesdays are more than Hump Day in these sunny parts: It's also the evening that Grammy Award winner and local legend Willie K puts on a hilarious and harmonious show at Mulligans on the Blue—a super-fun Irish bar located on the slopes of Wailea.
With a rollicking roster that ranges from Irish ballads to beloved covers—with a ton of humor tossed in—this is, hands-down, one of the most engaging shows on the island. Come early for a dinner performance that includes gems like fish and chips and Irish stew, or stick with a Black and Tan and savor Willie's snark from a seat at the bar.
Keen on experiencing South Maui's bar scene? The Triangle is the epitome of island debauchery. Located across in the heart of South Kihei—and directly across the street from Kalama Park—this cluster of lively bars is where visitors across the land travel to enjoy a wildly jovial night out at some of the famously divine (like the sassy and classy What Ales You) and divey (read: Haui's Life's a Beach) watering holes.
The party here starts at pau hana, when each tavern offers a daily special, like $2 Bud Lights and $5 shots of Jaeger at the whimsical Dog & Duck Irish Pub. For tropical tunes, step into South Shore Tiki Lounge, where TVs feature surf videos while local DJs spin grooves.
Three's combines a fantastic restaurant with an equally fantastic lounge, while The Lab (as Life's a Beach is lovingly called) features giant beers for cheap and rowdy, get-the-party-started karaoke.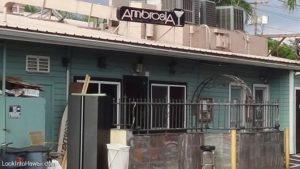 Finish off your night at Ambrosia Martini Lounge, an intimate space with the hottest dance floor on the island.
Additional South Maui Hot Spots
All of the Kamaole Beaches that line South Kihei are worthy of dropping your towel, but Kam I might just be the most attractive. (Volleyball players will also be stoked with the sand-and-grass court in its center.) Meanwhile, Kam III features an enormous lawn that makes it a favorite for BBQs, kite flying, bouncy castles, and waterslides. North Kihei's Sugar Beach has a narrower bank of sand than its southern cousins, but its position away from the crowds offers solitude rarely found in these leeward parts. Arrive early for a sunrise stroll, or spread out beneath a kiawe in the early afternoon—you'll be spellbound. Once that sun sets, head south for The Grand Luau at Honua'ula. Named after the moku upon which the Grand Wailea sits, this marvelous performance includes a buffet dinner, hula lessons, Hawaiian lawn games, and endless cocktails. There's always something else to discover no matter where you are on the island.
West Maui
Beach Bound
Ka'anapali Beach is where people come to get lost for hours—if lost can be defined as discovering one of the happiest parts of yourself. Spanning nearly three miles, and comprised of sugary sand and sparkling waters, "America's Best Beach" (as it's frequently ranked) features lullaby waves, Jet ski adventures, and excellent snorkeling.
It also, as mentioned, features Pu'u Keka'a—a steep lava outcrop, otherwise known as Black Rock, that presents a perfect place to dive into the Pacific. Scamper up the backside and follow cues from the local kids, who'll demonstrate how to soar into the ocean like their predecessors.
Commonly called DT Fleming Beach Park in honor of the Scottish rancher who introduced pineapple to West Maui, Honokahua Bay presents almost a half-mile of tawny sand and fantastic views of neighboring Molokai.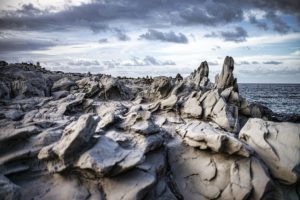 Named America's Best Beach in 2006, this sunbather's utopia is a prime choice for green—and seasoned—body surfers. Nearby, you'll also find Dragon's Teeth—a serrated lava outcropping traditionally called Makalua-puna Point. Snap some pics and ponder its past—this sight shows the dramatic collision between Haleakala's flow and the cool ocean water.
Visiting Maui isn't wholly complete without hitting up Honolua Bay. Resting three miles north of Kapalua, this expansive cove is just as much of a haven for surfers as it is for snorkelers—winter months sees waves that reach 25-plus feet, while summertime offers smooth, cellophane-clear water. During the latter, schools of ta'ape and akule swim by in droves; during the former, big wave heroes demonstrate the impossible.
Beyond the Beach
Front Street unofficially begins at Banyan Tree Park, where Hawaii's 144-year-old banyan spans a city block (and twists mightily into the air). Admire its magnificence before exploring Old Jail Gallery, where the Lahaina Arts Society exhibits works by exclusively local artists.
Recently refurbished, Ka'anapali's Whalers Village features high-end stores—Prada, Baron & Leeds—island-inspired boutiques, and trusty mall favorites like Sephora and Lululemon. The top tier of the mall features a small but splendid whaling museum, where 19th century scrimshaw is exhibited next to one of the largest whaling ship replicas in the world. Tourism isn't simply confined to Mother Nature— sometimes you just feel like shopping!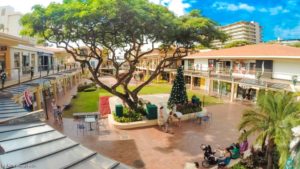 And speaking of whales: If you happen to be visiting Maui during winter or early spring, plan to work a whale watch into your itinerary.
More than 10,000 of these gentle giants migrate from Alaska to Maui every year, when they take to the shallow, incandescent waters of Maui Nui to breed, calve, and nurse.
And while you can witness their brilliance from the island's many beaches, getting up close and personal is the sagest way to comprehend their magnificence.
Lele—as Lahaina was once known—is one of the leading spots to see them in their environs, while its sizable wharf harbors the preeminent whale watching boats on the island.
The Ultimate Whale Watch departs from this famed port on a 30-foot rigid hulled inflatable raft, and is manned by a staff of experts well-versed in humpbacks and environmental precautions. See a spy hop mere yards away—or get blissfully sprayed by one of their breaches.
Whether you're an avid golfer or brand new to the sport, you're in the right place: Maui's courses are striking and immaculate, and the island itself is often ranked one of the top golfing destinations on the planet.
Ka'anapali Kai Golf Course contributes to its sterling reputation with a Par 70 course that peers out onto banks of bougainvillea and Norfolk pines. Book an early morning game—the winds here are notoriously savage.
After Dusk
Maui's West Side inarguably offers the best nightlife on the island.
Chief among its many after-dusk pleasures is The Feast at Lele. The invention of star chef James McDonald—who also founded acclaimed restaurants Pacific'O and I'O—this revitalized twist on the traditional luau features a five-course, oceanfront dining experience paired with Pacific-inspired entertainment. The music is superb; the dancing is exquisite.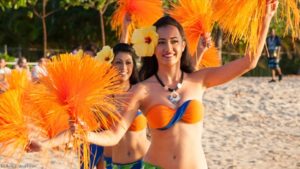 Hailed by The New York Times as a "beautiful depiction of Hawaii's history" and a "spectacular theatrical sensation" by National Geographic, 'Ulalena easily goes down as the most enthralling and satisfying performance on the island. Tracing Hawaii's history from creation to the arrival of Captain Cook, it paints an unforgettable portrait of the islands' radical, turbulent past through dancing, chanting, singing—and live percussionists.
Additional West Maui Hotspots
Lahaina's Old Lahaina Luau is consistently voted the ultimate celebration on Maui. Bold and authentic—with a great buffet to boot—this beloved luau includes poi pounding, an imu ceremony, and some of the leading hula dancers on the island. The Royal Lahaina Luau is just as spellbinding, with fantastic fire performances and Pacific Islander dancers from Samoa, Tahiti—and, of course, Hawaii.
Central Maui
Beach Bound
Kanaha Beach Park may be one of the most overlooked gems on the isle. Tucked between Kahului Bay and Spreckelsville, this strand of golden sand features wind and peace in equal measures. Flop down with nothing more than a cooler and a towel to watch kite surfers soar through the sky, or give the sport a gander yourself: HST's Windsurfing and Kitesurfing School equips newbies and mavens with gear and lessons to take you a wee bit closer to heaven.
Beyond the Beach
Horses first arrived in the Hawaiian Islands when a stallion and a mare were gifted to King Kamehameha in 1803, thus paving the way for Hawaii's paniolo culture and fortifying the islands' ranching scene.
Experience the glory of riding horseback today with a group tour at Mendes Ranch in Waihe'e. Family-owned and operated, this 3,000-acre outpost has been in the clan for more than a century and a half, and features well-preserved views of Maui's valleys and shorelines. Morning and afternoon tours are available; both come with a meal that'll make you feel like part of the ohana.
Wailuku is more than the county seat of Maui County: It also features Market Street, one of the most citified (and idiosyncratic) drags on the island. Here, you'll find a coffee store that has tons of swagger, a used records store that's always rocking, and Birds of Paradise Unique Antiques—where you'll happen upon vintage Hawaiian shirts and first-rate relics.
Grab an acai bowl to go at Market's Farmacy Health Bar before winding your way up to Waihe'e Ridge Trail. This storied area once saw the fiercest battles in the archipelago—and boasted the largest taro plantation on Maui—but you'd hardly know it from the tranquility you're bound to find on its epic paths. Moderate but steep, the Waihe'e Ridge Trail will take you through copses of guava and endemic scrub forests before delivering you to its peak. There, you can peer down at the island's lush gorges and understand, first-hand, why this place was dubbed the Valley Isle.
From its dazzling waters to its rugged coastlines, Maui certainly isn't at a loss for extraordinary vistas. That said, there are a number of sights on the island that can only be accessed by air.
The island's array of helicopter tours—from Air Maui to Blue Hawaiian—take bold voyagers to some of the county's remotest posts, including the depths of Pu'u Kukui, the waterfalls of Hana, and the ruby-hued slopes of Haleakala.
Feeling adventurous? Sign up for a flight that will take you across the Pailolo Channel to Molokai, where the world's largest sea cliffs slice the Pacific, and Oloupena—the tallest waterfall in the state—gushes nearly three thousand feet above sea level.
After Dusk
The Maui Arts and Cultural Center—one of the island's most celebrated spots—offers a litany of fabulous performances and festivals throughout the year. Chief among them is the Maui Film Fest, a celebrity-studded weeklong event that exhibits artsy films and ongoing parties. While most of the film festival's action takes place in Wailea, the pristine, Central Maui center boasts select viewings in an unrivaled environment.
Maalaea—an uber-small town that's home to less than 400 residents—is known around the globe for featuring one of the fastest waves in the world. It also features a harbor bobbing with enticing boats, including the Pride of Maui—a 65-foot catamaran that, besides snorkeling and whaling watches, offers a first-class sunset and dinner cruise. The mai tais are strong, the food is solid (think: baby back rips, Maui onion tartlets, and bowls of tropical fruit), and the music is vibrant, but it's the sun slipping between the islands that'll really get your pulse pumping.
Additional Central Maui Hotspots
Iao Valley may be currently closed due to recent storm damage, but its lush, vertical needle can still be appreciated from the park's outskirts. The site of the Battle of Kepaniwai—a gruesome fight, helmed by King Kamehameha, that resulted in the conquering of Maui—Iao retains its quiet, melancholy soul, rendering it one of the choicest spots for solitude and reflection.
North Shore & Upcountry
Beach Bound
Peahi earned its nickname of Jaws for good cause: This North Shore break (and favorite of riding giant legend Laird Hamilton) is world-renowned for some of the biggest, most fearsome swells on the planet.
Situated off Hana Highway in Haiku, Jaws' largest waves appear only a few times of year (December through March) but no matter: the views here are nothing short of spectacular.
Happen to arrive during peak season? Stay on shore and forget the binoculars: the surf here reaches more than sixty feet—and positively crushes.
Ho'okipa's waves might be more sedate, but that's saying nothing: This North Shore jewel is a proven favorite of some of the top surfers in the world. Featuring a horseshoe of white sand marbled with black lava rocks, this energetic spot offers a great way to relax and enjoy the sight of surfers bobbing in the water. Bonus tip: Come at sunset, when Hawaiian Green Sea Turtles near closer to shore and play in the breaks.
Beyond the Beach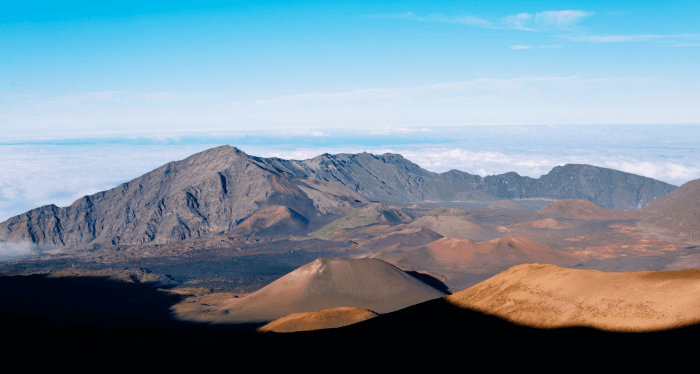 Superlatives are often bandied about when it comes to describing Haleakala. Rightly so—this is one magnificent mountain. It towers 10,023 feet above sea level. Its crater is so vast and deep it could squeeze in all of Manhattan Island. Its park includes over 30,000 acres, and the mountain itself comprises three-quarters of the entire island. The "House of the Sun" shelters flora and fauna found nowhere else in the world, including Hawaii's state bird, the nene goose, and the seemingly extraterrestrial Haleakala silversword. It also carries the matchless distinction as the quietest place on Earth, with the Smithsonian reporting that "acoustic experts found that ambient sound levels within Haleakala Crater were near the very threshold of human hearing." Is it any wonder why Jack London called this curiosity "a workshop of nature still cluttered with the raw beginnings of world-making"?
Viewing Haleakala's many spectacles at sunrise is the most popular option. And it's not surprising: the sun blisters the sky with otherworldly colors while cultural practitioners blow the pu and the Big Island shimmers across the water. Eager to see it? Make reservations in advance—pre-registration is now required. Keen on sleeping in? The park and its astounding views are just as enjoyable throughout the day and at sunset, while valiant travelers can glide down the slopes on a sensational, even hair-rising bike ride.
One of the greatest pleasures the North Shore affords is the chance to go hiking through some serious spellbinding jungles for a day or two. Downslope from Haleakala and off Hana Highway, you'll find Twin Falls, a local fave that features lavish rainforests and roaring waterfalls. Meanwhile, Makawao Forest Reserve provides several verdant trails ideal for both easy ambles and electrifying bike rides.
Situated in the center of a blazing hot savannah is Surfing Goat Dairy, a stretch of ranchland that houses 200-plus goats, kids, and does. Tours include the chance to feed alfalfa to the adorable creatures, a brief lesson on milking, and an inside glimpse on the art of making cheese. Kick back at one of their picnic tables for a flight of samples (their chèvre is so fine it was served at Obama's inauguration) and then pop into their creamery to take home a deluxe, goat-milk truffle. One to try? Their rum raisin, which is smooth and tart—even intoxicating.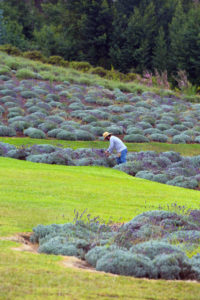 Maintain that connection with nature by visiting Ali'i Kula Lavender Farm on Haleakala's bucolic slopes. The brainchild of Oahu farmer Ali'i Chang, this tranquil orchard features 45 different varieties of lavender and 13.5 acres of botanical gardens. Self-guided and group tours are available daily—both of which should be concluded with a stop at their café for a lavender scone and a steaming cup of coffee.
Soak in more of Upcountry's singular beauty with a stop at Ulupalakua Vineyards. As the oldest winery on the island, this vineyard—once home to sheep, sugar, turkeys, and hogs—was the last king of Hawaii's holiday home, a place where the Oahu resident came to drink, gamble, and sing with his neighboring islanders. In business as a winery since 1974, it offers panoramic views, complimentary tastings, and ample signs of its rich history. Try their Maui Splash—made with handpicked Maui Gold pineapples, its combination of sweet and sharp is sure to hit the spot.
Gain a fresh perspective—and fly high while you're at it—by booking a tour with Proflyght Paragliding. As the oldest paragliding school in Hawaii, this expert-run outfit will take you 5,000 feet into the air and let you hover in the clouds while panoramic views unspool below you.
Not as audacious as your partner? Let them take to the skies while you snap shots of Maui's conifer forest at Polipoli Spring State Recreation Area—a mystical reserve that supplies staggering views of Kaho'olawe and South Maui's coastline.
Determined to fly—just not so high? Rocket across luxuriant jungle floors at Pi'iholo Ranch, where the ultimate zip lining experience spans 6,400' and winds through more than seven treetops. The guides are kind, the scenery divine, and the ranch itself, well, one of a kind.
After Dusk
The North Shore shutters up early in the eve—most restaurants close around 9 pm—but that doesn't mean the only nightlife to be found is on the leeward sides of the island.
One of the best spots for after-hours entertainment is Charley's Restaurant & Saloon—a rustic, gleeful tavern, frequented by North Shore resident Willie Nelson, that offers some of the most rockin' shows and parties on the island. Check out their calendar of events before visiting Maui and shoot to attend one of their 80s nights—it's always a swinging good time.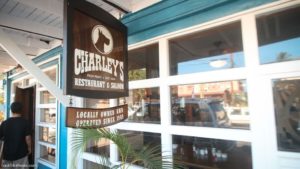 Additional North Shore & Upcountry Hotspots
Tucked onto the verdant, northeastern slopes of Haleakala, Makawao—small, enthralling, and just plain delightful—was recently named one of the top 25 arts' destinations in the country. Experience its inspired soul by signing up for a tour at Hui No'eau, a visual arts center, surrounded by brilliant greenery, that's taught, housed, and employed a cornucopia of local artists. Their gallery/gift shop alone is well-worth your time; here, you'll find eclectic, fine art treasures from more than 75 Maui-based painters, sculptors, photographers, jewelers, and more.
No trip Upcountry is complete without a stop at T. Komoda Bakery. Founded in 1916, this local fave features the most beloved cream puffs on the island, as well as homespun delights like maple-doused Long Johns and apple turnovers. But it's the sight of the shop itself that's worth the stop—it's akin to stepping into another era.
Hana
Beach (and Road) Bound
The Road to Hana is inarguably one of the most iconic and breathtaking drives in Hawaii. The journey itself is less than 60 miles from Kahului, but oh, what miles those are: 619 switchback turns, 59 stone bridges, and too many remarkable visions to count.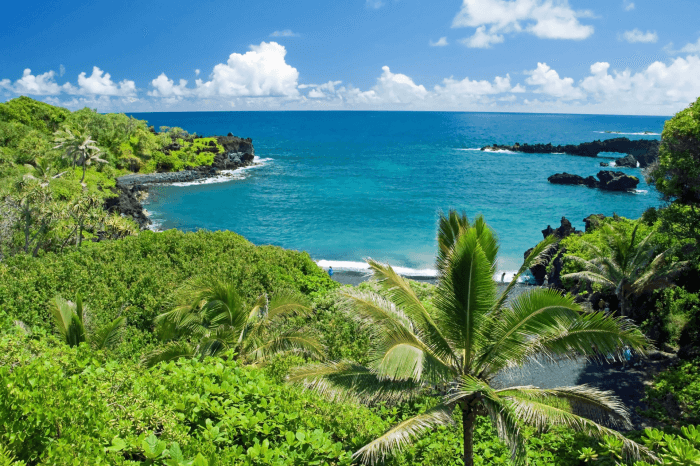 Start your day off by gathering provisions at Mana Foods (and a cup of joe at Honolulu Coffee) before meandering your way towards the most extraordinary region on the island.
While photo opps and striking stops are found after every curve on Hana Highway, be sure to turn off for Ke'anae Peninsula. Often called the "halfway point to Hana," this historic fishing village functions as far more than a mere pit-stop. Once the sight of a prison—its jailers did the lion's share of grunt work on Hana Highway in the early 1900s—it now exhibits an arboretum booming with bananas, taro, hibiscus, and ginger. For an extra dose of serenity, be sure to slip into its eponymous Congregational Church. Built in 1856, and bordered by spindly palms, this simple, lovely chapel is the last surviving structure of Maui's 1946 tsunami. The Road to Hana is the perfect excuse to get that rental car that we recommend so much!
Next up? Pa'iloa Beach at Wai'anapanapa State Park, an incredible, black-sand beach amid saw-toothed lava and emerald foliage. Get your toes wet before exploring the 120-acre park's exquisite parts, including a blowhole of impressive proportions, anchialine pools, lava tubes, underwater caves, and the largest heiau—or Hawaiian temple—in all of the islands.
Happen to see red running in the park's waters? Science assures us the hue is due to the presence of tiny, scarlet shrimp, but myth suggests it's the blood of one of Hawaii's loveliest princesses.
Just beyond Hana proper—an enclave characterized by beauty and quiet—you'll find Hamoa Beach. Framed by gem-green cliffs and angular palms, the salt-and-pepper sand on this crescent-shaped cove gives way to one of the leading surf breaks on the island. Parking can be tricky and the public access trail is rather precipitous, but these are minor inconveniences compared to the magic Hamoa offers. Stay for a spell and admire the views—Mark Twain and James Michener tagged this place their favorite beach in Hawaii.
Beyond the Beach
Hana is world-renowned for its explosive waterfalls—Wailua and Upper Waikani Falls are just two of the region's showstoppers—and nowhere is this better felt than at Ohe'o Gulch.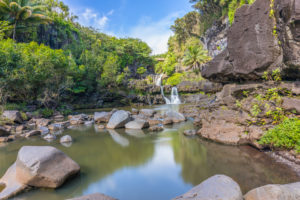 Commonly referred to as Seven Sacred Pools, its moniker is misleading—well over seven tiered pools cascade down a craggy promenade and into the Pacific's waters. Cliff jumping from its bluffs has long been a favorite pastime for visitors and kama'aina, but a recent spate of injuries and rockslides has led to the pools' indefinite closure; be sure to visit their website for news on its status before arriving.
Don't despair if the pools are indeed closed: the nearby attractions are just as riveting. Nestled into the mauka side of Hana Highway (and forty minutes from Hana Town) is Pipiwai Trail, a four-mile, moderate hiking adventure that will take you through the lushest part of Haleakala National Park in less than a day. Here, thickets of whistling bamboo part at just the right place to provide you with outstanding views of Makahiku and Waimoku Falls.
Charles Lindbergh—aviator extraordinaire and the first man to fly across the ocean—spent the last years of his life on the Kipahulu Coast, where he and his wife, poet Anne Morrow, lived off the grid and relished the region's bounty. After his death in 1974, the famed flyer was buried at Palapala Ho'omau Church. His gravesite may be humble, but the reverence inspired by his resting place will linger in your soul for decades.
After Dusk
Hana's wildest nightlife is, well, its wild life. (Plus, with all of the day-time adventures, you'll likely be spent by the time the sun descends.) That said, if you're staying the night and have energy to spare, spend your evening at Paniolo Lounge at the Travaasa. Most evenings showcase talented local artists, who serenade the lounge and dinner crowd with traditional Hawaiian music. The bar's mojitos are above par, the ambience is low-key, and the views of the salted-dark sky are sublime.
Maui County
Visiting Maui may suggest that your options will be limited to what the island itself has to offer—a daunting thought for those who are prone to rock fever. But fear not, intrepid traveler: the greater Maui County has a surplus of pleasures to offer.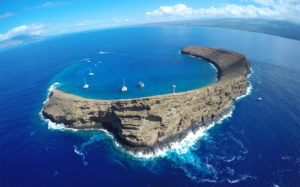 Those seeking an escape from their escape can book a cruise on Expeditions, an economical ferry that'll transport you to Lanai for a fare that's less than most bar tabs. Spend your day snorkeling at Hulope Bay, a gorgeous, white-sand beach community that rivals Maui's most famous treasures. Rent a Jeep in the "Pineapple Island's" teensy, rustic town before heading over the rutted roads to discover Shipwreck Beach. Here, you'll find the rusty remains of Liberty Ship—an enormous World War II vessel that was laid to rest in Lanai's glistening waters.
Maui may supply several excellent spots for world-class snorkeling, but it's the outlying atoll of Molokini Crater that provides a profusion of marine wonders. A fabled travel and tourism destination among scuba divers, snorkelers and tour boats, this submerged caldera has clarity in spades—not to mention over 200 different species of tropical fish (as well as reef sharks, eels, manta rays, and turtles). Located two and a half miles off Maui's southern coast, your only option for exploring its waters is on a boat. One company to try? Redline Rafting. With a maximum capacity of 24 guests, each tour feels rare and personally tailored. Expert guides supply tips on everything from Hawaiian myths to humpback whales, and up-close views of Maui's Forbidden Coast are worth every inch of that sunburn.
Molokai is home to more than those dizzying sea cliffs and the loftiest waterfall in Hawaii: As the fifth largest island, it gained international attention when King Kamehameha V named its secluded northern coast a leprosy colony in the late 1800s—a stunning spot that can be viewed today aboard a mule that'll take you onto Kalaupapa Peninsula. Frequently credited as the birthplace of hula, this sparsely populated, picturesque island also boasts a barren, orange-sand beach, the state's lengthiest pier, and the longest, uninterrupted stretch of sand in Hawaii. Maui shimmers in the distance from this perch—radiantly beautiful, nearly mythical in its diversity, and worthy of every one of its honors. Paradise on Earth, indeed—and then some.