Take a moment to imagine your wildest dream vacation. Maybe it's filled with stunning scenic mountain vistas of a crystal clear sea? Maybe it's dotted with extravagant rainforests, rushing waterfalls and rivers, or the golden white sands of a secluded beach? A place like this could only have been created by Mother Nature herself.
Snap back to reality – does a truly breathtaking place like this exist? A place of unimaginable natural beauty as well as awe-inspiring ecological and geographical diversity. Well, we've got some amazing news. This island fantasy exists, and it is called Kauai, Hawaii. With so many things to do in Kauai, it's no wonder why people flock to this beachgoer's paradise every year.
Quick View: Best Things To Do In Kauai
Waimea Canyon
Helicopter Tour
Snorkeling at Napali Coast
Dinner Cruises
Mahaulepu Beaches
Hanalei Bay
Spouting Horn
Wailua Falls
Kayaking in Kauai
ATV Tours in Kauai
Mountain Tubing
Zipline
Clay Shooting
Visit Kukui Grove Center and Kukui Grove Marketplace
Surfing
Visit Keahua Arboretum
Stand-up Paddle boarding
Horseback Riding
Food to Try in Kauai
Movie Site Tours
Sailing Around Kauai
Ching Young Village
Kong Lung Trading
Kauai, or "The Garden Island", is Hawaii's fourth largest island encompassing over 560 square miles. It is located on the westernmost tip of the Hawaiian island chain. A truly prehistoric and nearly secluded environment, the ancient island of Kauai is the oldest landmass of the Hawaiian Islands. Its name has a few translations and possible meanings. One of the most popular translations comes from the legend of Hawaiʻiloa who was believed to have discover the island and named it after his favorite son.
Kauai's genesis is volcanic. The five million year old island was formed when the Pacific Plate shifted over the "Hawaiian hotspot", an area where the Earth's mantle plume emerged from its core to create the Hawaiian-Emperor seamount chain. Kauai consists of two flank calderas that lay adjacent to a 10-mile wide summit caldera. The Cenozoic fossils of ancient marine life that lived on higher sea beds have been discovered on Kauai island.
Kauai is a tropical island. It is generally humid with stable conditions year-round. It's a very rainy place that holds a record for average annual precipitation. Average yearly rainfall ranges from 20 to 50 inches across the island. Despite being a humid tropical island, Kauai's climate is relatively temperate. Average yearly temperatures range in the low-70's to low-80's Fahrenheit. At higher elevations, temperatures range from the 40's to 60's Fahrenheit (and 30's to 40's in the winter).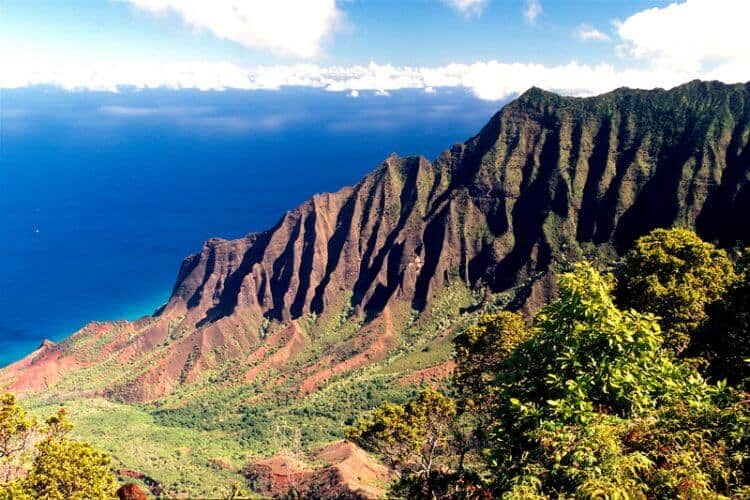 Kauai island itself can be divided into five regions each offering their own unique experiences and adventures.
North Shore – Laced with expansive mountains, river valleys, numerous wildlife refuge, natural reserve areas, Na Pali Coast State Park, and a unique mix of greenery and warm beaches. Ke'e Beach and Anini Beach are located here, as well as the famous Lumahai Beach, the low-key Tunnels Beach (ideal for snorkeling in shallow reefs), and the secluded cliff beach of Kauapea.
East Side – Known as Royal Coconut Coast, the East Side is home to groves of coconut palms, historic sites, and luxury resorts. It's a well-developed area with towns and roads. Lihue Airport is located to the south. The East Side also features river valleys, forest reserves, and Wailua River State Park (where Kauai's largest and longest river enters the Pacific). A surfing and bodyboarding hotspot at Kealia Beach is also located here, as are numerous other beaches like the sandy Pacific Lydgate Beach (with a breakwater) and Nukoli'i Beach Park.
West Side – Venture over to the West Side and you're in with the locals. West Side is a trip away from many of the normal tourist attractions and brings with it eclectic towns and untouched natural wonders like the Waimea Canyon State Park (the "Grand Canyon of the Pacific"). The isolated white sand cliff beach at Polihale State Park is located here, along with Kalalau Beach and Honopu Beach.
Lihue – About an hour from East Side you'll find Lihue – the government and commercial center of Kauai. You will most likely pay a trip to this section since the island's main airport is located in its epicenter. Kipu Kai Beach, Ha'ual Beach
South Shore – When it's finally time for the ultimate beach day and shopping experience, you need to visit the South Shore of Kauai. You'll be able to watch the sunset with your family from some of the best beaches in Kauai. Shipwreck Beach, Glass Beach, Kekaha Beach Park, Davidsons Beach, and Pakala Beach are some of the top Kauai attractions to enjoy. Last, but definitely not least, is the extremely popular Poipu Beach (ranked as one of the best beaches in America by The Travel Channel).
Kauai Activities
If you've been searching for a family friendly tropical island retreat that offers a magnificent beach around every corner, a long and winding trail hike, and cool elevated mountainous regions, then a self-guided Kauai tour is the ticket.
If you've been searching for a tropical island retreat that offers warm and sunny beaches as well as cool elevated mountainous regions, Kauai is the answer.
Top Things To Do On Kauai
Land Activities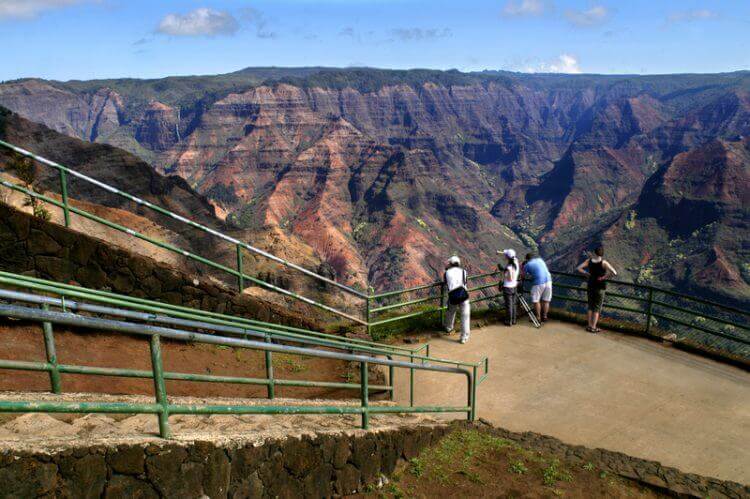 Take on the journey to see what is known as the "Grand Canyon Of The Pacific." Waimea Canyon is the picturesque result of a collapsing volcano mixed with wear and tear from the Waimea River. At about 3,000 feet deep, this Grand Canyon of the Pacific is filled to the brim with eye-catching red soil and lush greenery. Don't forget to bring your best hiking boots and cameras when you embark on your memorable trip to Waimea Canyon to capture a once-in-a-lifetime experience.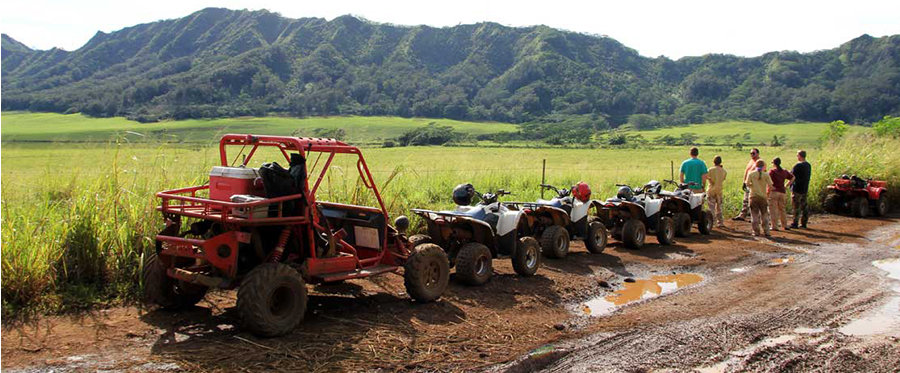 Time to head to the ranch and pick up the speed for some serious fun on an ATV tour sure to get you close to all the action from beaches to mountains. The ATV tour guides will lead you and your team on a three to four-hour adventure that will allow you to explore the best Kauai has to offer. Start at the gorgeous golden coasts and work your way inland to hidden waterfalls where travelers can stop for a dip in a natural pool and grab some food. If you're not afraid to get dirty and have a passion for adventure, the island ATV tours in Kauai were created just for you.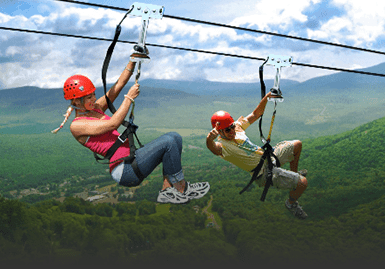 Want to see the Garden Isle from up above? What if we told you that an extreme adrenaline rush paired with a bird's eye view of almost the entire gorgeous island of Kauai is only a short hike away? Zip lining adventures on Kauai are offered at all times of day (and they're more fun than a helicopter tour)!
That's right, morning, noon or night, enjoy an adventure like never before with zipline tracks as long as half a mile, offering the best sights on the south side of Kauai, Hawaii. You'll be zipping through native flora and fauna, witnessing natural water streams from above, At prices in the mid to low $100s per person, a ziplining tour is a thrill that packs immense bang for your buck and should be on your list of things to do.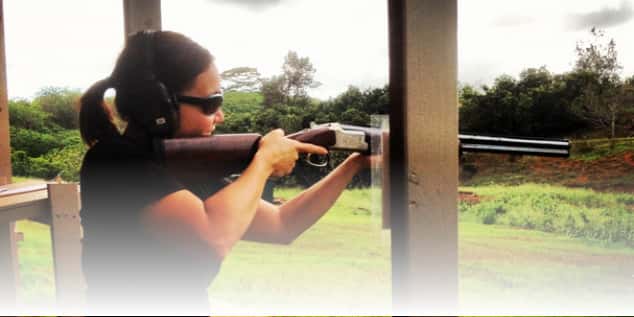 Are you looking for more of a unique Kauai adventure that is less focused on hiking and more on thrills? Give clay shooting a try! All the necessities plus expertly trained guides are provided. Searching for an added challenge? Try shooting in the rain! Clay shooting courses are open rain or shine and available for all skill levels.
Gently glide down the historic tunnels and canals of Kauai crafted in the 1870s, while safely secured with a helmet and flashlight in your own mountain tubing craft. During the tour, you'll be able to explore the exclusive Lihue Plantation, made famous for its sugar crops. Tubers will be able to catch sights of Waialeale Crater and tropical views only seen on this tour. An experience of a lifetime, if you're interested in an outdoor journey that requires a little physical activity, give mountain tubing on Kauai a try.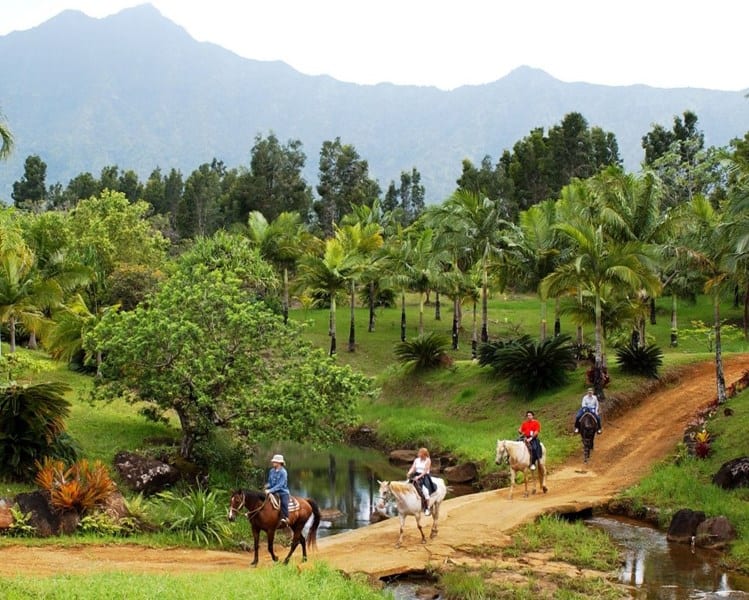 Back to the ranch we go for a quintessential Kauai experience. Don't leave the island without giving a horseback ride through the lush landscapes a try. One of the best scenic activities to do in Kauai, a horseback riding tour is a great option for group outings or loved ones. Not to worry about safety or skill level, your guide will keep you and your group at a comfortable pace slow enough to truly take in the Makaleha mountain ranges of Kauai, and the multitude of local flowers including orchids and hibiscus plants.
Travel to the base of the mountains themselves while witnessing ancient volcanic calderas up close. Rides can range from just over an hour to three hours long, depending on what secret sights you plan to uncover.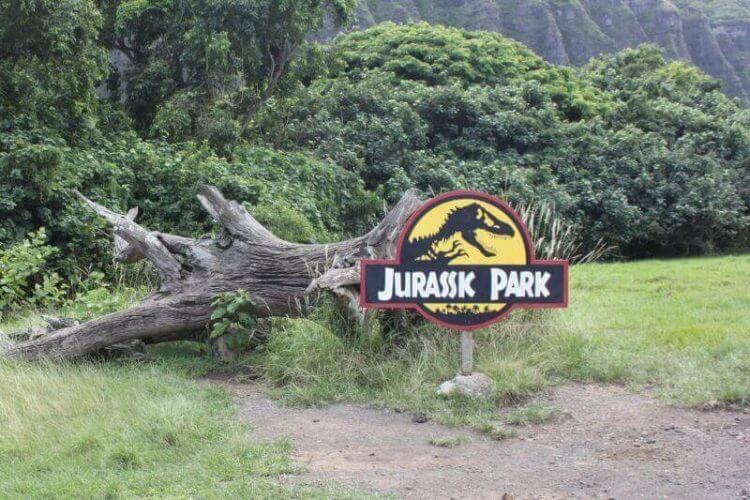 On Kauai we always recommend unplugging and enjoying nature, but if you're craving a movie fix you can't afford to miss the famous Movie Tour. "Jurassic Park", "Tropic Thunder", "Gilligan's Island" and "Lilo and Stitch" are just a few of the many stops you'll make on this expertly guided tour.
During this 8-hour tour, you'll visit several of Kauai's popular destinations like Kilauea Lighthouse, the secret beach of Aliomanu, Kapaa Town, and much more. Seasoned guides offer a true look behind the scenes of what made your favorite flicks magical with delicious refreshments like shave ice provided. This is one of the best things to do in Kauai if you want an all day tour to explore Kauai and keep the family entertained.
Air Activities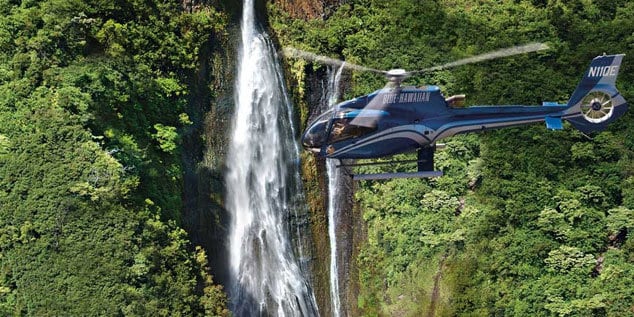 One major benefit to venturing on a helicopter tour is your ability to actually see all Kauai in a breathtaking panoramic view. Witnessing Hawaii's fourth largest island by air guarantees that you will make the most of your time on your trip. There's no wonder why the helicopter tour is one of the most popular attractions in Kauai, almost three fourths of the island itself can only be accessed by air or boat.
Due to their popularity, there are multiple options for a helicopter tour on the island of Kauai. Your best bet is to first determine what you and your travel crew would like to get most out of your experience. Do you want to visit Anini Beach, Poipu, the Waimea Canyon, a coconut plantation, or simply all of the wonders that the "Garden Isle" has to offer?
Tours can range from hour-long trips around extensive canyons (like the Waimea Canyon), private tours with no doors, and first-class seating with a pilot's view. There are even options to bring your own camera to capture the unbelievable waterfalls and valleys or purchase a professional live recording. With prices ranging from the mid $200s to upper $400s based on times, speeds, and helicopter model, it's best to pre-plan and book your helicopter tour ahead of time. That way, you can be sure that the experience is best suited to your unique needs.
Beaches and Water Activities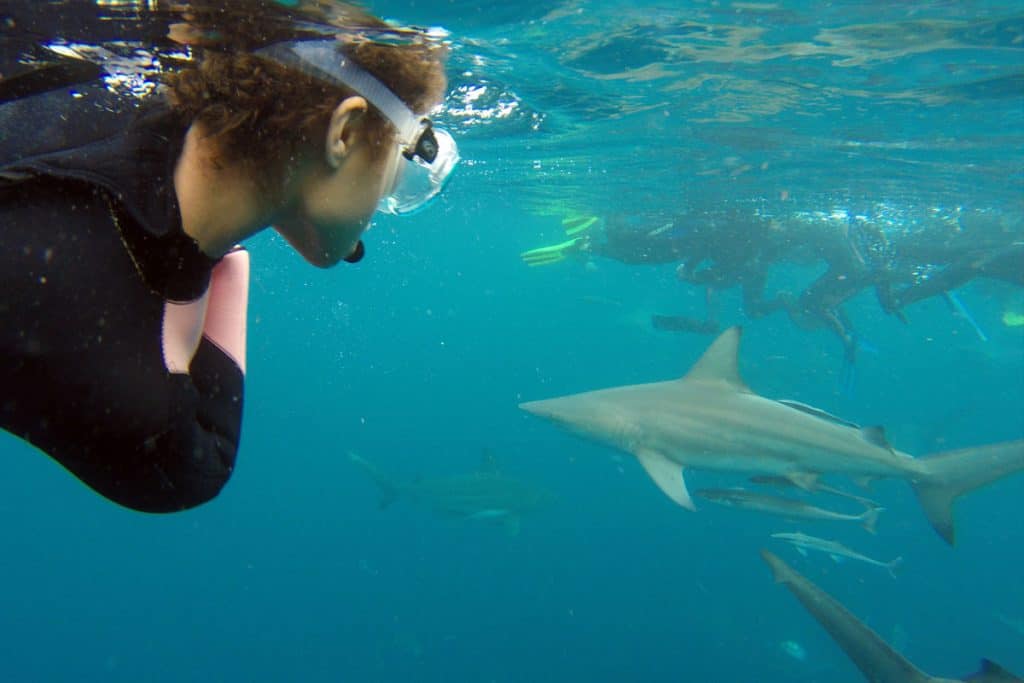 Snorkeling and Kauai, Hawaii go together like pineapples and poke (they just make perfect sense). Take advantage of any unique underwater trip that's offered on all parts of the island of Kauai. Tours are also offered at all times of the day for varied lengths of time including day trips or just a few hours. The coast of Kauai is truly spectacular, and one of the many coast snorkel trips is something that must be on your things to do bucket list. For example, the discreet Tunnels Beach in Ha'ena State Park on the North Shore is perfect for snorkeling in shallow reefs. It also has the unique benefit of bordering beautiful tropical vegetation. Also, Poipu Beach is one of the best places to snorkel in Kauai, Hawaii. In fact, Poipu Beach was named one of America's best beaches by The Travel Channel.
No matter what you choose, you simply will not believe your eyes at the stunning and mysterious sea creatures you're bound to run into, as well as the breathtaking destinations you'll be taken to off the beaches of Kauai, Hawaii. Your tour guide will be poised and ready to answer your any and every question.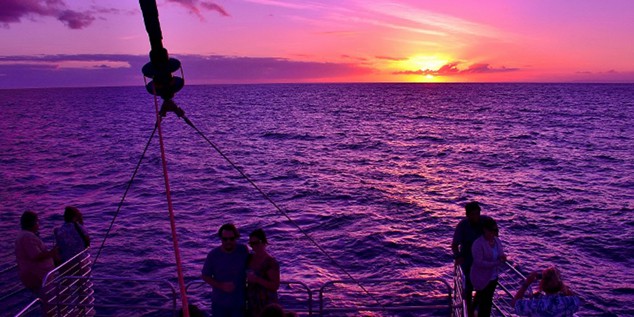 The only thing better than an information rich tour of a scenic tropical island is an information rich tour of a scenic tropical island with authentic local cuisine. A popular dinner cruise service is the Na Pali Coast Tours and it's easy to see why. The coast is dotted with the jaw-dropping cliffs that helped to bring the island its fame.
You'll be able to take in the sights at a leisurely pace with a delicious Polynesian dinner and refreshments ranging from a sunset champagne toast to Mai Tai's and Margaritas. There's no rush, you're on island time with over three and half hours to witness unbelievable marine life.
Whether you're yearning for that perfect sunset summertime glow or a chance to catch a glimpse of the native humpback whales in the winter season, taking a dinner cruise will be a must-do on your itinerary.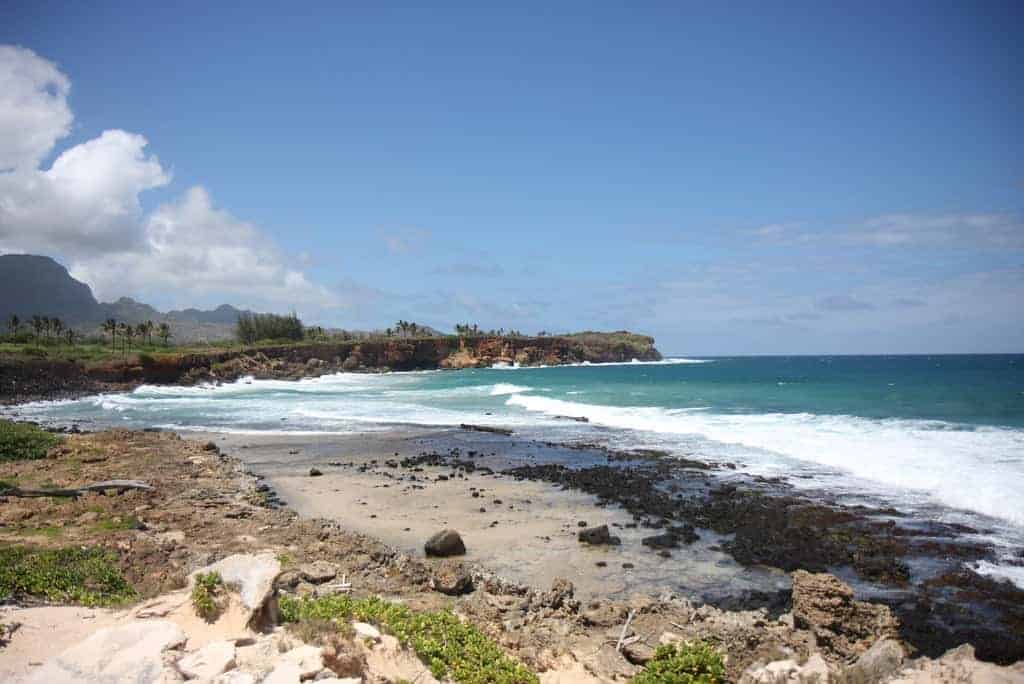 Get back to the basics with this gorgeous beach on the southern coast of Kauai, where nature has taken charge. One of the more undeveloped beaches, travelers will delight in finding various things to do like exploring hidden coves, stunning cliffs and a variety of marine life. The water itself tends to err on the rougher side, so those without expert swimming abilities should stick to the sand. This is definitely one of the best beaches in the south though.

Can't decide between a beach or mountain day while staying in Kauai? Why not choose both? Hanalei Bay is the largest bay located on Kauai's North Shore. Hanalei Bay is shaped like a semicircle and outlined by striking mountain peaks and lush vegetation. You'll have plenty of things to do here such as swimming, volleyball, picnicking, or exploring the small local town of Hanalei while you enjoy some truly delicious poi or shave ice at the Waipa Farmer Market. This spot is easily a local favorite, and should be on everyone's to do list during their trip to Kauai, Hawaii.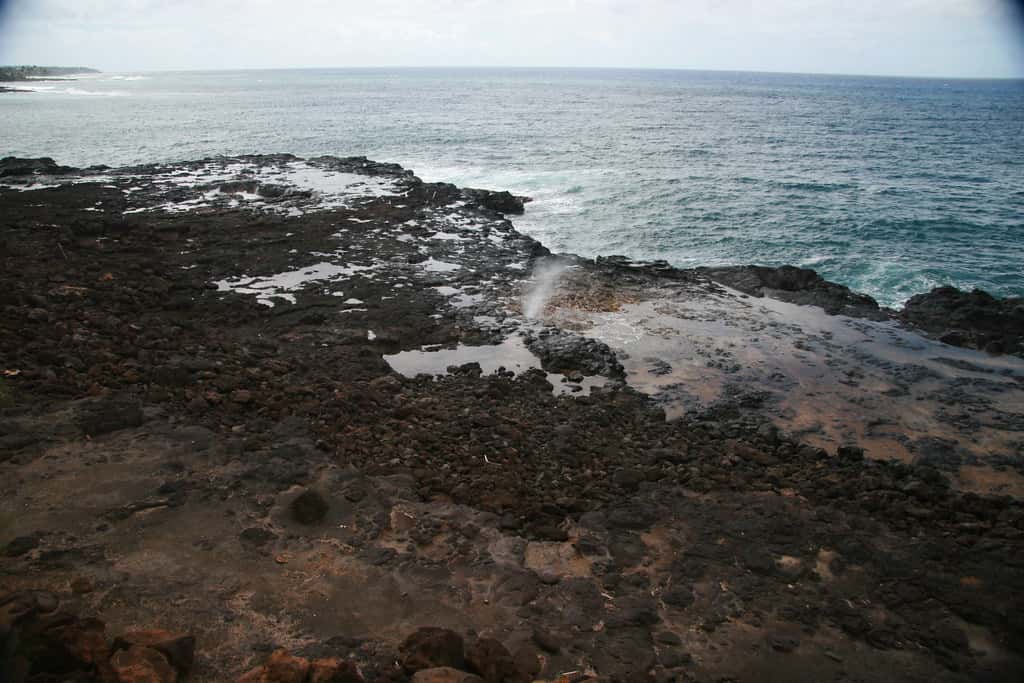 Spouting Horn is a gorgeous beach park in Kauai that's known for its savage, untamed waves. Located in Poipu Beach, this underground cave system has been spraying water out of lava tubes for a very long time. Over many years, lava rocks were eroded on the coastline that left behind narrow openings. When one of the many waves crash into the openings, they spray up, sometimes reaching heights of 50 feet! Legend has it that this area in Poipu is protected by a giant lizard, whose cries can be heard every time the waves crash. If you love beaches with big waves, you need to check out this ancient natural wonder. It's perhaps one of the more unique things to do in Kauai.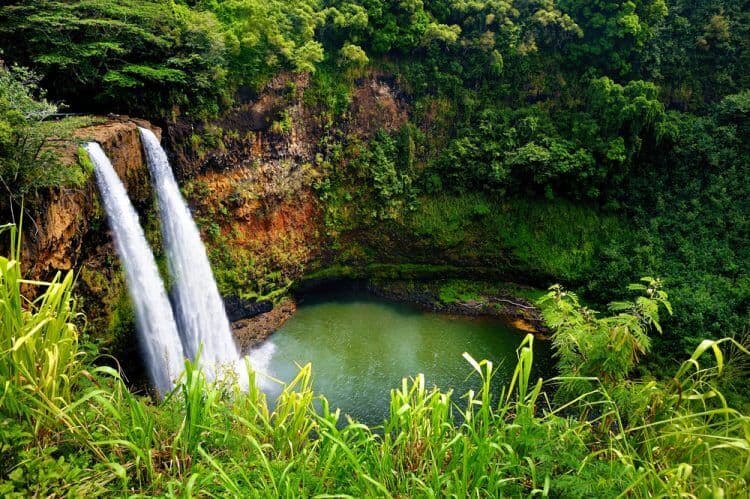 Kauai has two famous waterfalls. Wailua Falls is one of those majestic waterfalls in Kauai, stretching over 170 feet, falls into a lovely pool where everyone is welcomed to take a dip. 'Opaeka'a Falls is the other one that is located near Wailua Falls in Wailua River State Park. Take advantage of the ancient river kayak tour that leads you up the South Fork Wailua River where you can take a journey that the original Hawaiians made over a century ago as you visit the Falls. Paired with ancient history, these waterfalls have been featured in many pop-culture movies and shows including "Fantasy Island," "The Amazing Race" and "Tropic Thunder." One of the best things to do in Kauai if you love the outdoors, nature, and fresh water is to visit these waterfalls.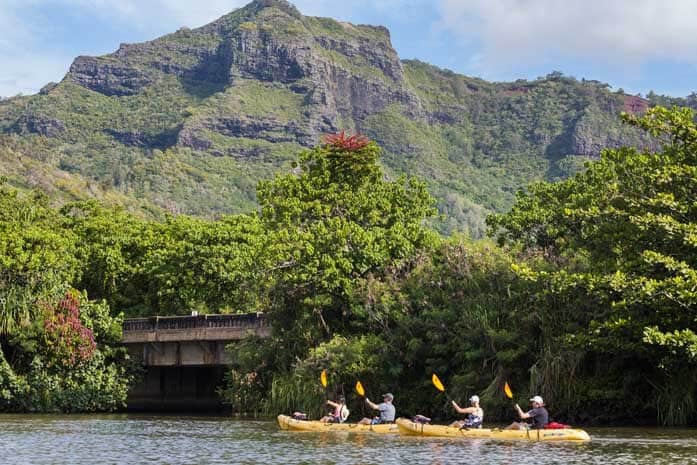 For those looking to get even closer to Kauai's crystal clear waters, travelers and locals alike cannot recommend kayaking tours enough as one of the top things to do. There are multiple types of tours offered in Kauai, each featuring their own adventures with different thrill ranges. Take on the Ancient River Adventure that leads explorers to a secret waterfall and accompanying pool. Or, try out the kayak and snorkeling tours that take you down the Hanalei river into a bay where you'll catch the sea turtles and other wildlife relaxing on the coral reef and pristine banks. This is one of the most immersive Kauai activities.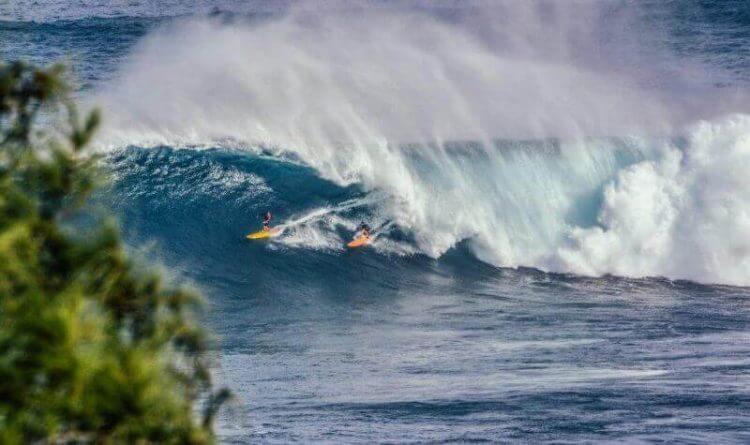 Connect with traditional Hawaiian cultures and the sea by learning the ancient sport of He'e Nalu. Whether you're a beginner or seasoned wave rider, you've got nothing to lose learning from local experts on the beaches of Kauai on how to truly connect with the water. The options for learning on rivers, the ocean, or bay is given depending on your mood as well as private and group lessons. Having said that, there is a lovely surfing beach waiting for you. In fact, there are five: Kealia Beach, Kalapaki Beach, Kekaha Beach, Hanalei Bay, and Kahili Beach. During the winter season, Hanalei Bay produces some of the largest surf in Kauai (making it a popular surfing spot). Without a doubt, some of the best surfing in Hawaii is done on Kauai island (Kalapaki Beach and Hanalei Bay being topnotch). Having said that, if you feel that surfing may be too difficult, you can always try bodyboarding on Shipwreck Beach (east of Poipu in the Keoniloa Bay) or even Hanalei Bay.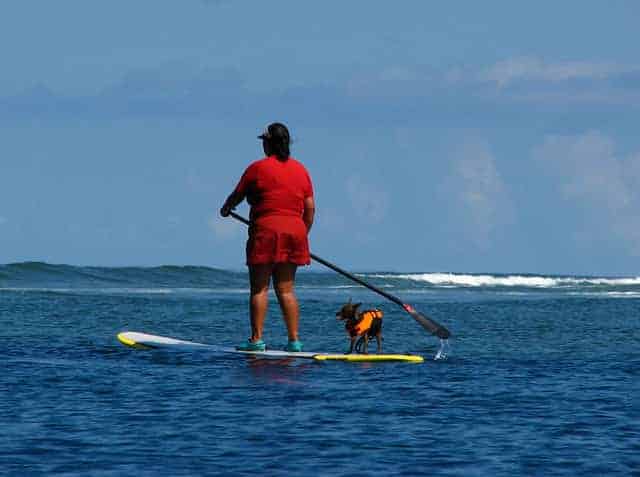 You're always seeing it on vacation advertisements, it's time to give paddle boarding in Kauai a try when you're simply not up to riding on a boat tour or trying out surfing. After all, paddle boarding is one of the best things to do in Kauai. Stand-up paddle boarding, also known as SUP, allows you to ride the rolling waves off of the beaches in Kauai, or calm bay waters using your balance and oar. A SUP tour is a perfect alternative to a boat tour for any age group, whether you're searching for a calm and relaxing paddle, or a challenge on rougher waters. Group and private lessons are available, meaning a perfectly catered experience is available to all. If you're interested in surfing, but nervous to start, SUP is the perfect beginners' course.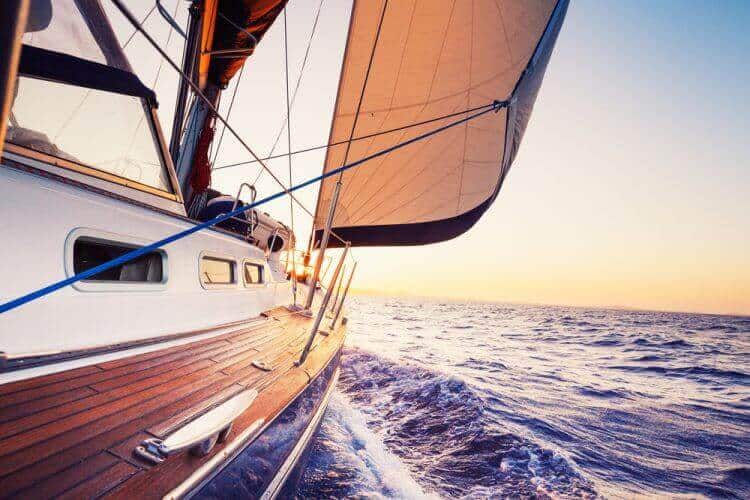 If heading out on the open water is your thing, then sailing around Kauai island needs to be on your list of things to do in Kauai. There is no true feeling like a relaxing sailing boat experience to melt your stress away while you explore the South Shore (or North Shore) of Hawaii Kauai.
Come aboard a few of the Hawaiian Island's most popular catamaran boat tours equipped with authentic island food, drinks, and classic Hawaiian music to accompany the sunset. Explore exotic Kauai locations like the Na Pali Coast, Hanalei Bay, Poipu Beach, the gorgeous 'Anini Channel off the coast of Princeville, or pass by the Pu'u o Kila Lookout. By the end of the trip, you'll feel it's your duty to carry on the Aloha spirit. These boat tours can last around two hours with prices starting at just $85.00 per person. Perfect for families, romantic couples or the curious solo traveler, experience the sea like a true Kauai local.
Free Kauai Landmarks & Things To Do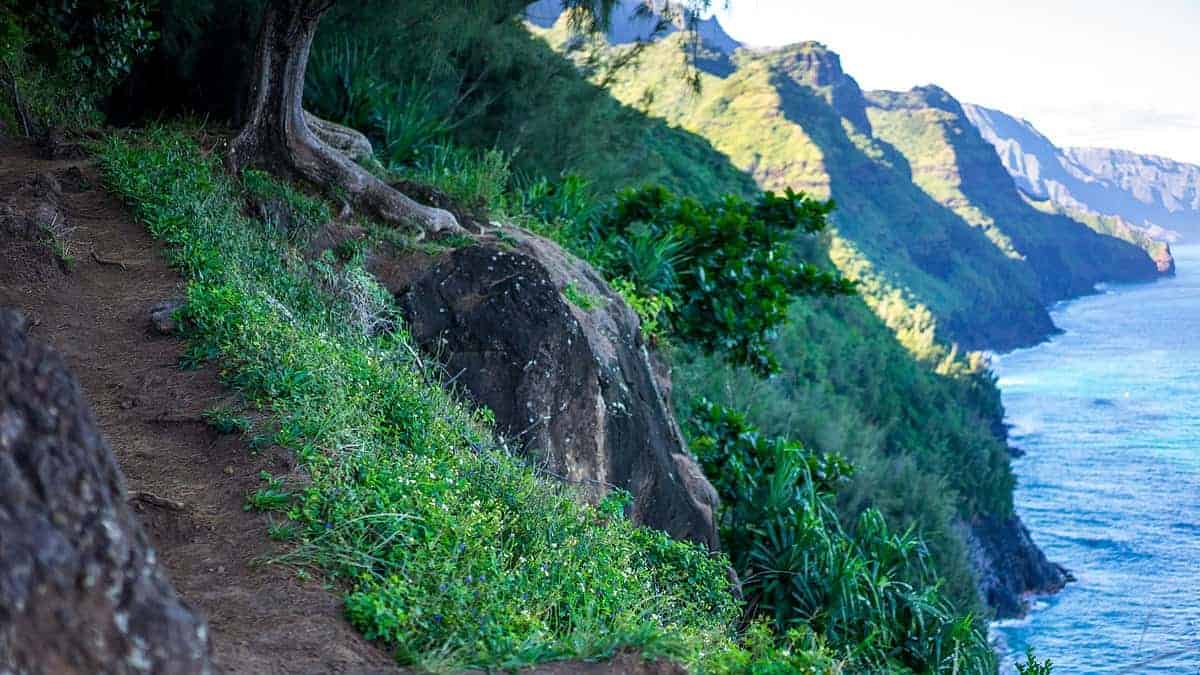 Saving our favorite trail hike on Kauai for last, the Kalalau Trail is an 11-mile long trail hike that takes you through five gorgeous valleys up Kauai's North Shore coastline. The Kalalau Trail starts at Kalalau Beachand and zigzags past Ka'a'Alahina Ridge and Manono Ridge as it makes it way to the Hanakoa Falls Trail Head in the Hanakoa Valley. It then traverses near the Waiahuakua Sea Caves and into the Ho'Olulu Valley before reaching Hanakapi Beach. The trail finally ends at the Kalalau Trail Trailhead situated at the foot of the secluded Ke'e Beach.
The Kalalau Trail is the only trail hike that leads adventurers on a trip to the coastline, making for a private and dream-like climb. We say climb because you're likely to do quite a bit on this trail as steep elevations upward and downward are the norm. One of the great things about this trail is that it starts and ends at two magnificent beaches, including the sandy beaches and coral reef of Ke'e Beach. The Kalalau Trail adventure is worth the effort as you will witness the gorgeous coastline and all that Kauai has to offer on foot.
You can also consider hiking the Queen's Bath Trail which is located in Princeville on the North Shore of Kauai, Hawaii. Named after the Queen's Bath rocky sinkhole on the coast, the Queen's Bath Trailhead begins on the Kapiolani Loop in the town of Princeville.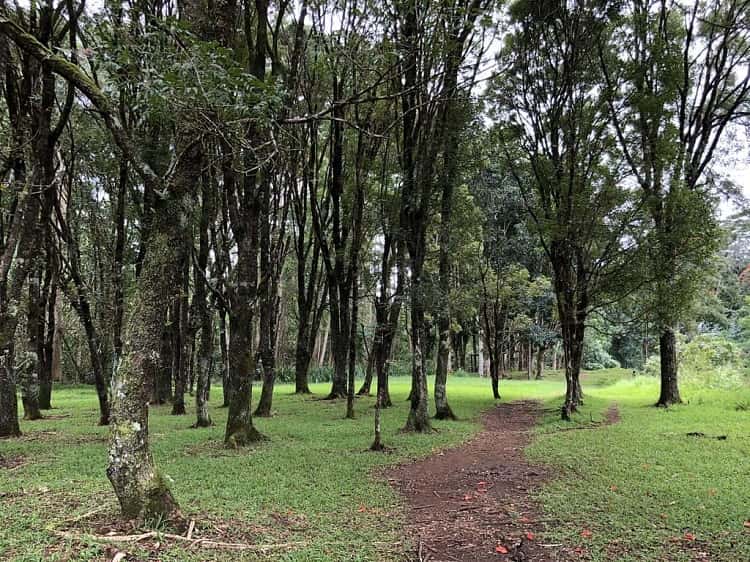 Next on our list of free things to do in Kauai, we've chosen an east-side location that forgoes the common beach scene for a more tree-lined and cooler climate. Keahua Arboretum, the next best thing to a farm plantation, is utilized as an outdoor classroom that's filled with native & non-native Kauai plants and trees. The park is a hot-spot for families who wish to picnic, as well as hikers, joggers and horseback riders.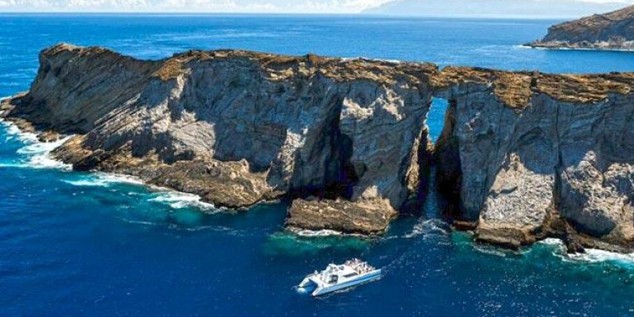 Mountainous peaks greet you as a seemingly endless coastline laps gracefully to say "Aloha". The Na Pali Coast stretches along the North Shore of Kauai and is a perfect mixture of land, sea, & exquisite natural beauty. Even though there are so many things to do in Kauai, visiting the Na Pali Coast is a complete experience in its own right. This iconic 17-mile stretch is filled with activities ranging from snorkeling, mysterious sea-cave tours and lava-tubes rich with history. The Na Pali Coast also borders the Na Pali Coast State Wilderness Park. There you will discover cascading waterfalls, majestic streams, slender valleys, or reach the peak of the Pu'u o Kila Lookout. Clearly one of the best things to do in Kauai, taking a hike through this North Shore wonderland is an adventure that's fit for the whole family. Can you hear the Na Pali Coast calling your name?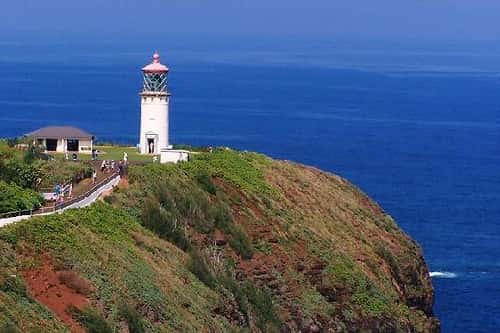 Not quite free, but at only $10 per person, it's close enough. The Kilauea Lighthouse has been proudly guiding ships home since 1913. What's remarkable about its construction was that all materials used in creation had to be transported by sea due to lack of proper road infrastructure. The Kilauea Lighthouse is special because it's located on a narrow lava peninsula on the northernmost tip of the North Shore in the Kilauea Point National Wildlife Refuge. If you visit this point, you'll essentially be on the literal tail end of the Hawaiian Islands chain! Enjoy panoramic views of the stunning coastlines that stands 180 feet over the ocean. Truly one of the best things to do in Kauai North Shore during your family adventure in Hawaii.
Shopping in Kauai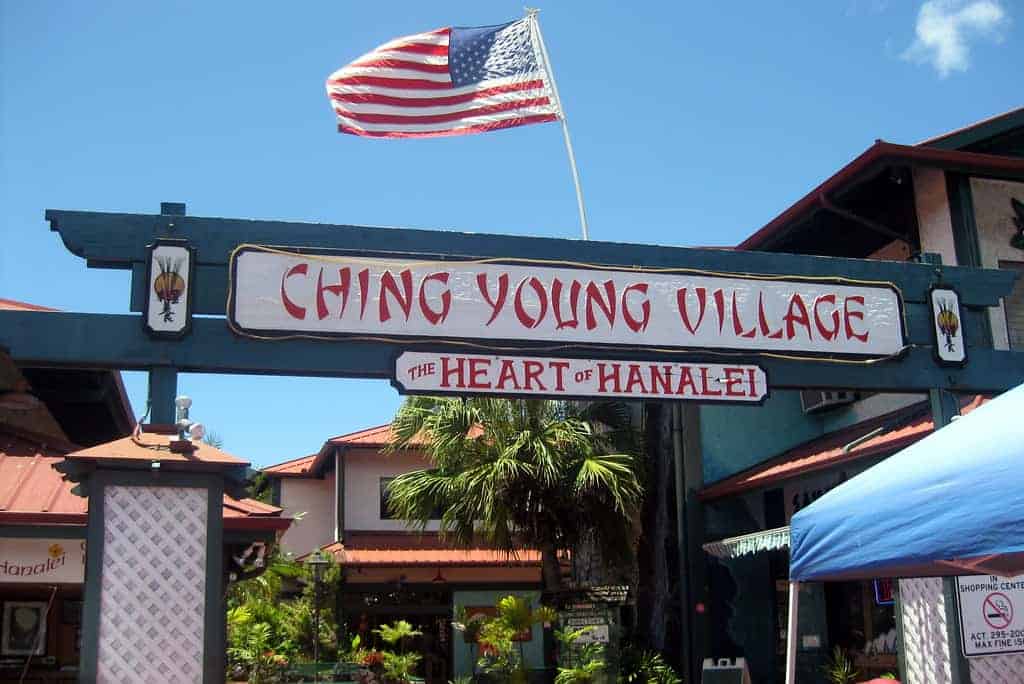 Just a few blocks from Hanalei Bay in Kauai, this shopping village offers local treats and eclectic finds with a view. Located in the center of Hanalei, the village is oftentimes referred to as the "Heart of Hanalei" and a great place to visit on the Garden Isle if you love shopping (and eating great food).
No matter what you're searching for when visiting Kauai, Kong Lung Trading has it all. From gifts, accessories, home decor, or local food trucks, this local favorite is situated in a historic building of the Kong Lung Historic Market. The store dates back 120 years, so stop in for a true island treasure (or at least some shave ice).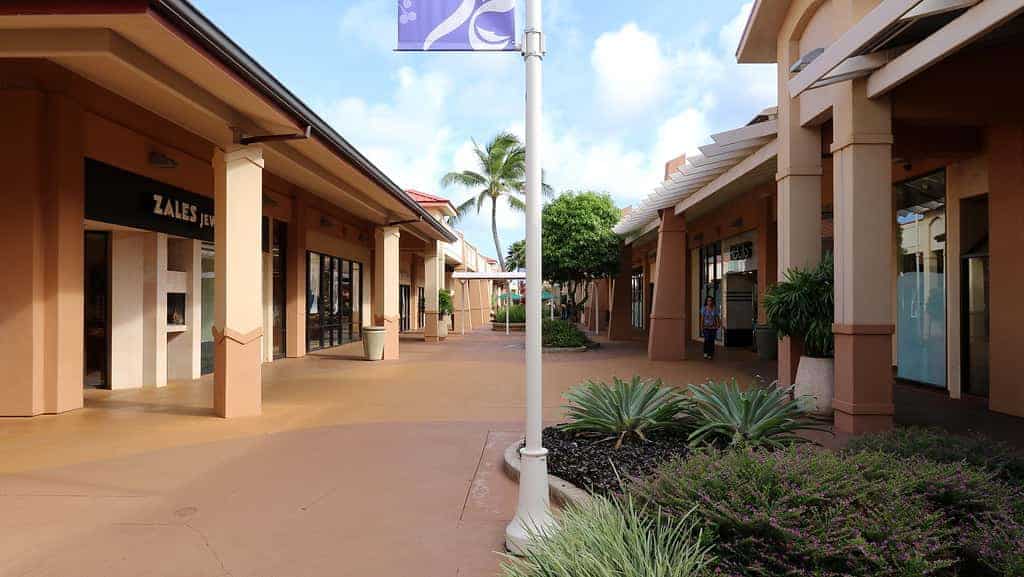 Kukui Grove is more than just a shopping marketplace, it's a lifestyle center. With over 50 stores to visit, ranging from Macy's to local shops, you'll need a few hours to discover and explore all that this 50-acre center has to offer. Stop by on Monday's for a farmer's market and live music Friday nights.
Some other notable options include the Eleele Shopping Center in the town of Eleele on the South Shore of Kauai, Hawaii and the Princeville Center in the northernmost settlement on Kauai (the master-planned residential neighborhood of Princeville).
Traditional Hawaiian Food to Try on Kauai
Hawaiian cuisine can be viewed as a melting pot of food from many exotic cultures including Korean, Japanese, Chinese, Filipino and Polynesian. You'll notice many dishes featuring pineapples, their national fruit, rice, Korean BBQ and salted fish. Add in a delicious Mai Tai or Kauai coffee, and you have yourself a recipe for success. Together these ingredients come together for delicious and unique culinary delights that are not to be missed during your trip to Kauai, Hawaii.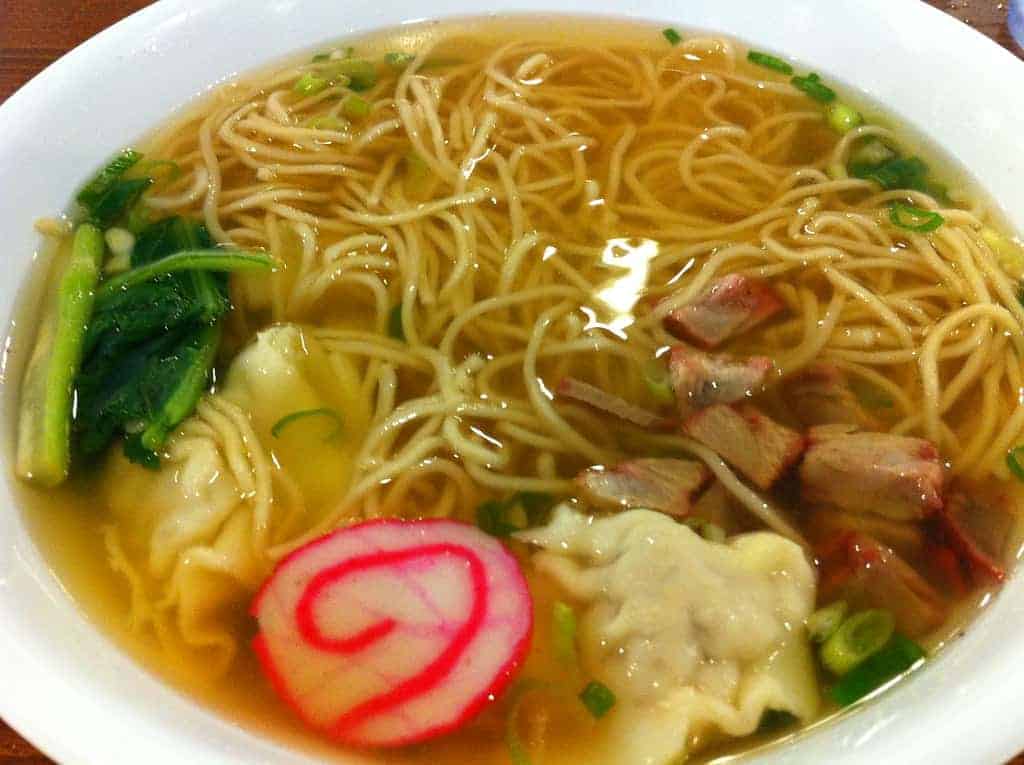 Saimin is a dish most similar to the Chinese Okinawa soup. It's an egg noodle dish in hot broth that can be topped with Spam, seaweed, barbeque or cured pork sausage and cured fish. This is one of the more traditional dishes, originating from Chinese immigrants who were the first Asian immigrants in Hawaii. Today, you can enjoy a bowl at the McDonalds, sports venues and is a regular option to serve to schoolchildren.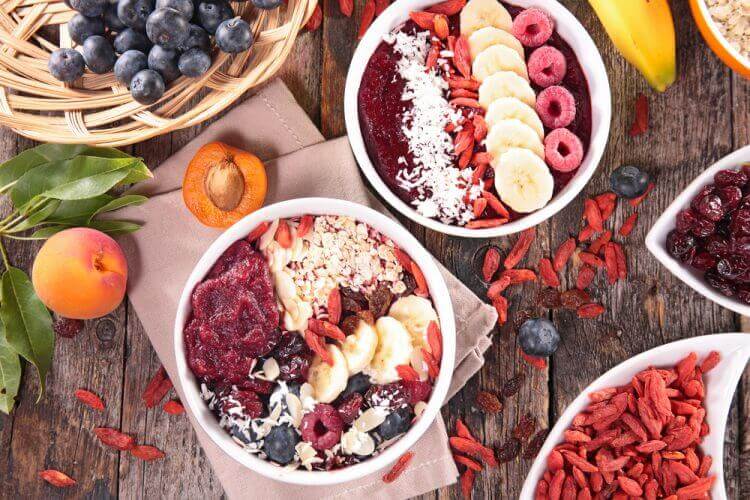 Acai bowls, the next coolest thing to shave ice, have gained popularity in the United States over recent years (just as shave ice has been for decades), but they are found in just about every smoothie or snack bar in Hawaii. The tropical blend of frozen berries, granola, fruits and shave ice toppings make this the perfect refreshing treat in hotter months. Although blended Acai is the staple of the bowl, ingredients such as Dragonberry or the Hawaiian Poi can be used as delicious alternatives.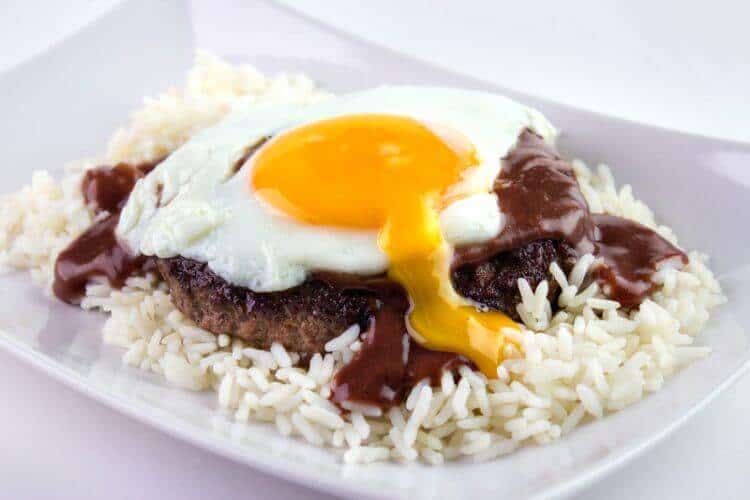 Loco Moco is the ultimate Hawaiian comfort dish. It calls for a burger smothered in gravy atop a bed of rice, topped then with an over-easy egg. Although made up of simple ingredients in an even simpler stack, this dish has been gracing Hawaiian dinner tables since 1940, first created as an affordable meal for workers.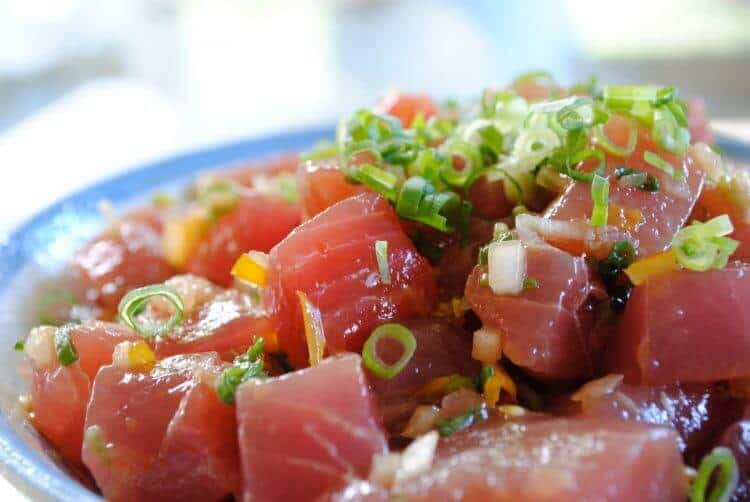 It's almost impossible nowadays to head out to a seafood dinner without seeing the options for tuna poke. Poke has been a staple of cuisine in Hawaii ever since locals popularized it in the 1970's. Poke, which literally means to slice, is a raw fish served traditionally with sea salt, seaweed and algae. Although ahi, or tuna, poke is most common, poke can be crated with octopus. This is one of the great culinary creations exported from Hawaii. One of the best local joints to try poke is at the Ishimara Market in the town of Waimea (south of Waimea Canyon by Highway 550) on the South Shore of the island. You will also undoubtedly encounter numerous food trucks serving street food like poke.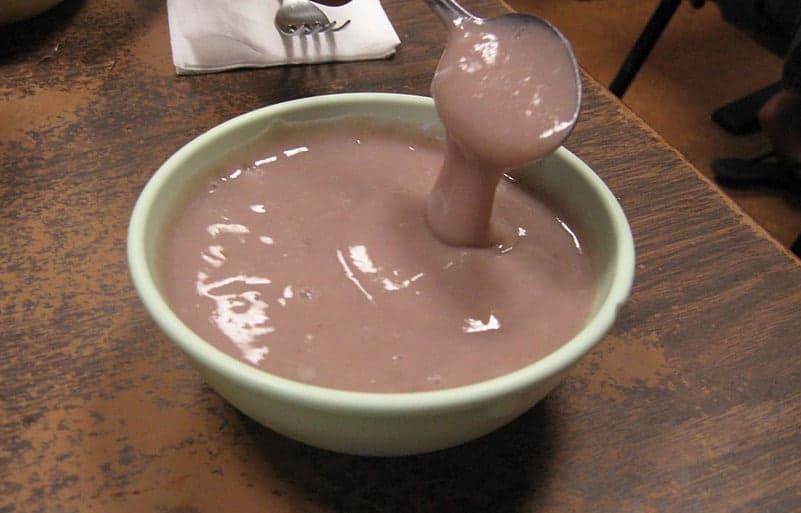 Poi is a combination of mashing the cooked stem of the taro plant with water to create a dough. The dough is then mashed again into a near-liquid form. Consistency can vary depending on the eater's preference. The dish is considered a sacred element of Hawaii, representing the spirit of Haloa. Don't let its look fool you, this dish is delectable and pairs perfectly with fish or as a dipping sauce.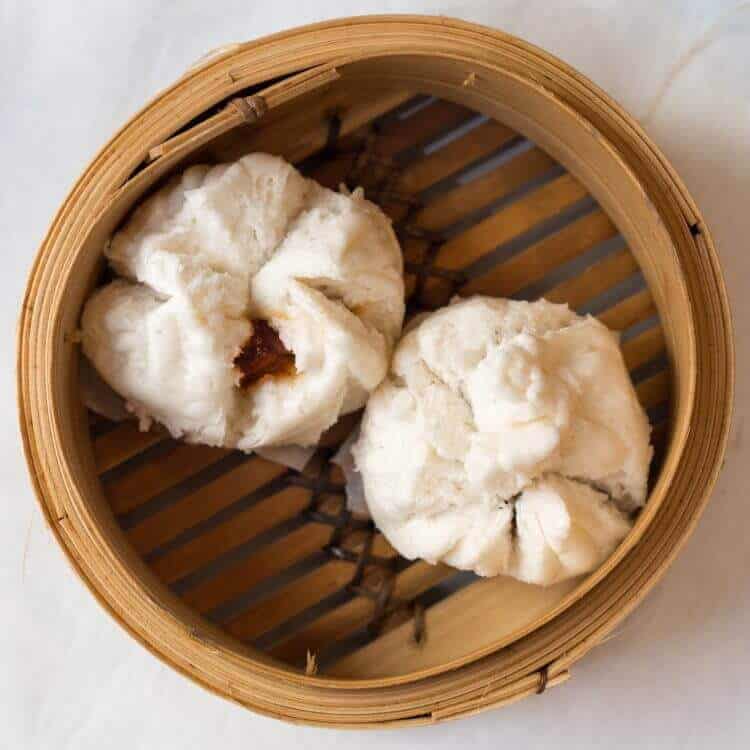 Manapua derives from Polynesian and Chinese influences and translates to "delicious pork." The dish is very similar to steamed buns, where a warm and fluffy bun is filled with a yummy blend of meats and seasonings. Most commonly, Manapua is stuffed with shredded pork, sesame oil, and hoisin sauce. Today it can be found everywhere from famed Hawaiian restaurants to the local island 7/11.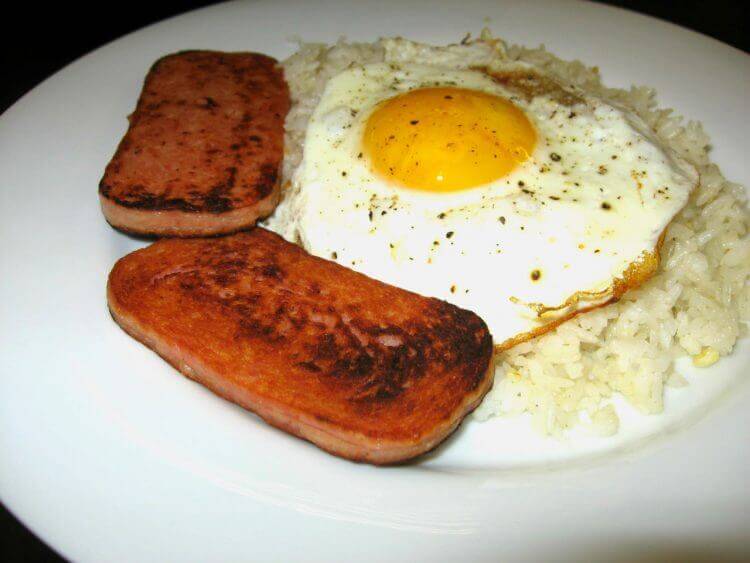 Spam is synonymous with Hawaii. If you've never tried Spam before, make this treat your number one food priority on the island! With Japanese roots, the look is similar to the rice ball. It consists of a grilled slice of Spam on top of sticky rice held together with a seaweed wrap. It's a mixture of savory and sweet that can be found almost everywhere on the island. This dish is so easy to make, and so tasty, that you can easily try it out at one of several local food trucks (don't forget to order a side of flavorful shave ice).
Whether you're on a mission for adventure and thrills, a relaxing dream-like beach stay or tantalizing unique Hawaiian delicacies, Kauai ("The Garden Isle") is the island to visit in Hawaii. Whether it's a desire to appreciate the Na Pali Coast, explore Waimea Canyon, chill at the beach resort town of Poipu, walk through a pineapple plantation, or relish the picturesque seclusion of Princeville, there are an endless amount of things to do in Kauai, trails to hike, beaches to catch the sunset, and places to explore when visiting. Hopefully, this travel guide will steer you towards some great locations.
With welcoming locals and a laid-back vibe, you'll never want to leave this Hawaiian oasis. Have any questions? We'd be thrilled to answer. Give us a call at x or message us at x and one of our knowledgeable representatives will be thrilled to assist you and your family!