A trip to Hawaii wouldn't be complete without an adventurous scuba diving activity. The volcanic island is prized for its diving spots where you can swim and explore its extensive marine ecosystem.
With so many spots to choose from, you may not be sure which one's the best for you. Luckily, we've got you covered with our list of best scuba diving spots in Hawaii for beginners. From Koko Crater's sea turtles to the mesmerizing corals in Angler's Reef, you're bound to have a memorable diving getaway.
Read on to learn more about the best scuba diving spots you can choose from if you're a beginner.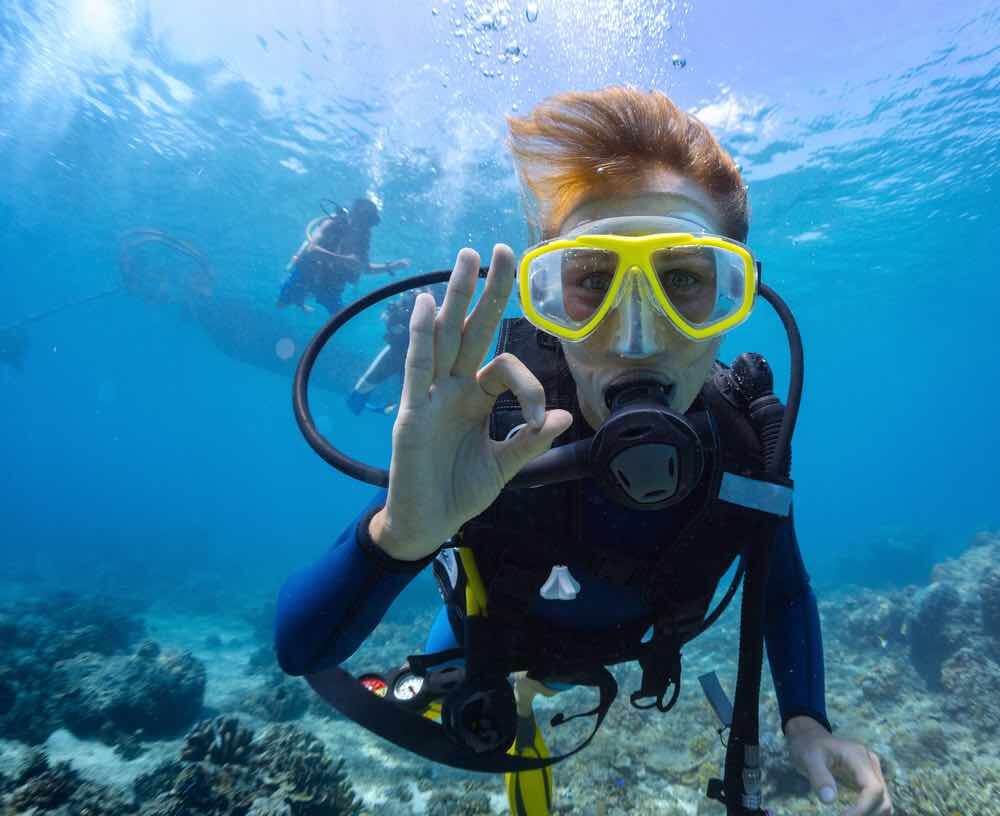 Before You Go Diving
Unlike snorkeling, diving provides you with a free swimming experience where you feel like you coexist with the surrounding marine life. The experience is slightly similar to flying, except you're pushing your way through the blue water, rather than the sky.
Now, before you get fitted in a diver's suit or look for a top rated underwater camera for scuba diving, you need to be confident in your swimming skills. Aside from swimming practice, you may also need to work on your breathing technique underwater.
You'll be using a tank to breathe and it requires you to be relaxed so you don't burn through the whole container at a faster rate.
By any means, don't hold your breath. Just take in the oxygen through your mouth regulator and remain calm. Lastly, we suggest staying hydrated before you go diving. Diving is just like any workout, if not harder.
Your body will lose a lot of water during this activity, especially from breathing dry and compressed air from the tank.
Electric Beach, Oahu
Electric Beach is one of the best scuba diving sites for beginners. The average depth of the spot ranges between 20 to 30 ft. and features a 15 ft. pipeline. This underwater line originates from a nearby power plant.
This plant is what gave Electric Beach its name. Now, the water from the pipeline is used to cool down the power plant and then the line ejects warm water. This high-temperature area attracts all sorts of marine wildlife such as sea turtles and tropical fish.
You may not even be able to see the underwater pipeline at its start from all the corals covering the cylindrical surface. Other than schools of fish, you may get a chance at seeing some spinner dolphins, monk seals, and manta rays.
During winter, you may even get to see some humpback whales all the way from the beach's parking lot.
Aside from that, don't try to swim in the pipeline like sea turtles sometimes do. If you plan an Electric Beach diving trip, we recommend going first thing in the morning so the waters are calm. Plus, you'll be able to spend half a day on the beach.
If you decide to go at night, then you may be able to catch a glance at some lobsters and crabs crawling along the pipeline.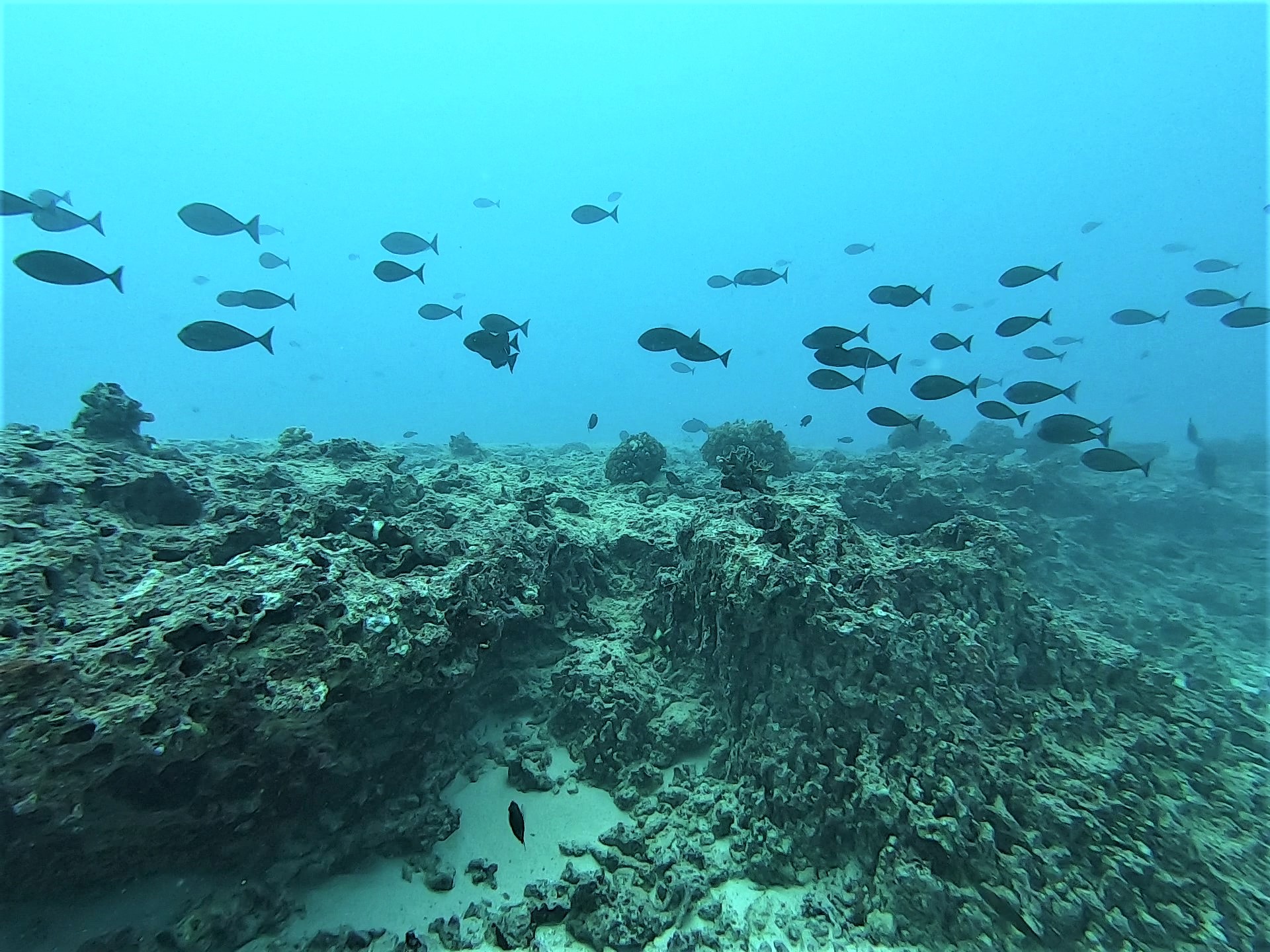 Angler's Reef, Moanalua Bay, Oahu
Interestingly, Angler's Reef isn't named so because of the abundance of Angler fish. Instead, the diving site is famed for its frogfish population. Nevertheless, frogfish are characterized as any member of the anglerfish family.
That being so, frogfish are notoriously difficult to locate since they camouflage and hide so well. They blend in so well and dangle their signature appendage, similar to the luminous esca in anglerfish.
You may be able to site frogfish in their hunt once they catch their prey. Although you have to keep your eyes peeled since every bite takes about six milliseconds. Apart from frogfish, you can spot other species such as squirrel and butterfly fish.
Alternatively, the reef also holds octopuses, eels, and eagle spotted rays. Once you see one of these marine animals, stay calm, they'll likely swim by like you're not even there.
Apart from the fauna, the diving area is structured with a dried lava plateau bottom. This lava plateau runs next to the shoreline for around 70 yards. Afterward, the plateau reaches a sandy bottom.
Now, the lava plateau area is approximately 40 ft and reaches 45 ft as you move opposite the shore. Overall, this region is ideal for beginner divers willing to explore diverse marine habitats.
Koko Craters, Moanalua Bay, Oahu
To get to Koko Craters, you have to first get on a 10-minute scenic boat ride. Keep a lookout for Koko Head Mountain on your way to the craters. Once you reach the diving site and jump into the blue, you'll notice two large craters.
Surrounding them are other semi-circular craters. The diving area is around 35 to 40 ft in depth. Luckily, the currents are light and the visibility is also clear.
Koko Craters isn't particularly known for coral views. Instead, you'll be met with more marine life sightings. For instance, you can find sea turtles cruising by you and other exotic schools of fish. Divers often feed the surrounding fish, which is why the region is flooded with them.
Accordingly, you can grab a handful of crackers yourself, and get to feed some fish. You may spot some striped belly puffers, just be sure to not touch them since they tend to bite.
Alternatively, you can dive around the crater's lip and pick out sleeping sea turtles. Apart from that, we suggest being careful around small cracks or holes since an eel might be living in there.
On top of eels, puffer fish, and sea turtles, you may also see octopuses Potter's anglerfish, scorpionfish, and snappers.
As you're diving through the craters, be sure to always stay near your diving instructor. You may get easily lost if you trail away. Professional diver instructors usually use small coral heads as landmarks.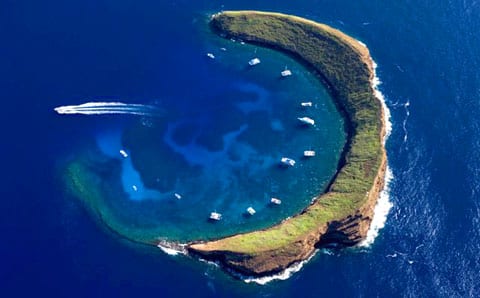 Molokini Crater, Maui
Molokini snorkeling is one of Maui's most popular activities. The area handles up to two thousand snorkelers every day. When it comes to diving, Molokini Crater is best for those looking to up their adrenaline.
This Maui diving site is about 60 to 70 ft deep. Its structure is shaped like a crescent, which creates a protective bay area for the diving spots inside.
In the Molokini Crater, you're bound to be speechless by the colorful schools of fish swimming by. You wouldn't want to miss the schools of Pennant and butterfly fish. The prior are easily identifiable with their white base, black thick stripes, and yellow-hued tail.
Meanwhile, the beautiful butterfly fish come in several color variegations such as black dotted, golden masked, and bright yellow-finned.
Besides the schools of fish, you may also meet some giant Blue Fin Trevally fish. These predatory fish can reach up to 46 inches in length. Color-wise, their bodies are infused with silver, blue, and grey colors as well as some dark speckles.
You may also get a chance to check out some Yellowtail Wrasse fish. The fish are black, covered in multiple white dots, and sport their small signature yellow tails.
Another reason why you should visit Molokini Crater is that you might be able to see a white-tipped shark. If you're particularly uncomfortable with sharks, then we suggest staying close to the instructor at all times.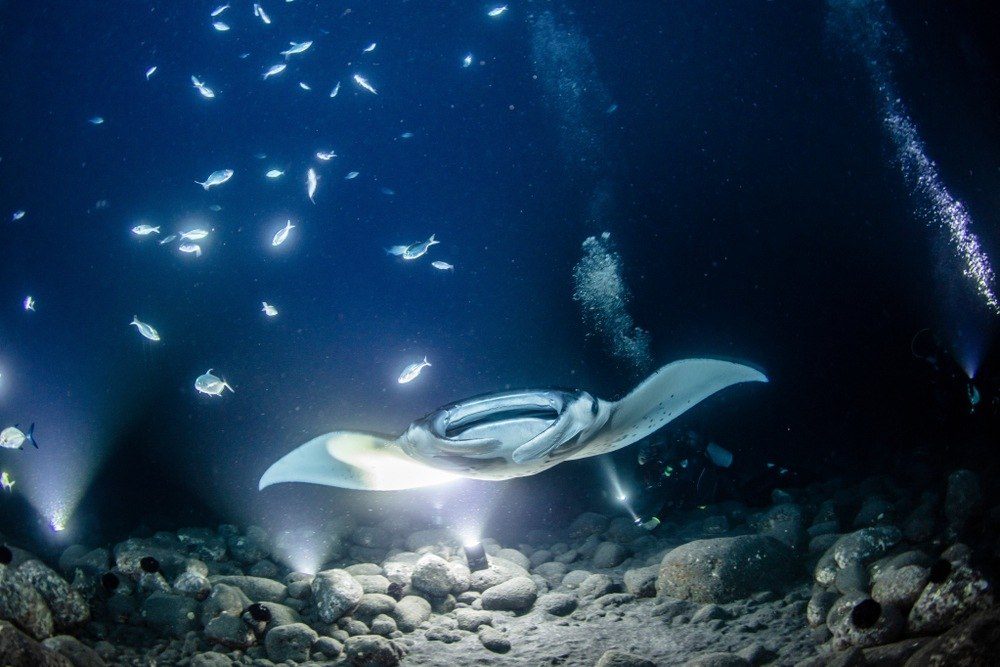 Kona Manta Ray Night Dive
If you're not exactly a morning person, then a night dive may spark your interest. Kona offers a night dive where you can swim among manta rays.
The best part is that you won't just see one or two manta rays, but it'll be a whole school of them. They usually come out at night to feed on zooplankton.
To see each other in the dark, you'll likely be given glow sticks with colors depending on which tour group you're with. Meanwhile, you may be wondering how the manta rays will be visible in the dark.
This is where the experience becomes out of this world. Now, the diver instructors will be carrying an underwater lighting system and once it turns on, you'll instantly see the rays gliding around. The light reflects on the manta rays' bodies and gives them an ethereal alien-like glow.
From the light rays coming from the flashlight, tiny specks of light will become visible. Those are the plankton the rays are feeding on.
All in all, the manta ray dive is an unmissable experience if you're in the area. Every dive almost always guarantees manta ray sightings. Some tours have even seen 30 of them.
Pelagic Night Kona Dive
If you're looking to cross night diving off of your bucket list, there's no better place to do so than in Kona. This specific night dive may not be for the faint of heart. The tour typically consists of six divers who will be tethered to the boat with a 50 ft line.
To start, you'll be boating around three miles offshore to reach this diving site. Once there, there's nothing left to do but jump into the darkness. Don't worry, the diving instructor will turn on the underwater light system.
As you dive 50 ft deep, the night show will begin with a few jellyfish swirling by. You may then start to notice some crabs creeping and octopuses swishing around you. The only light source will be your diver's strong flashlight.
You will likely not be able to see the ocean floor. It'll be like swimming in vast darkness with a spotlight. If you're looking to try new and daring experiences, the night dive ought to satisfy your craving for adventure.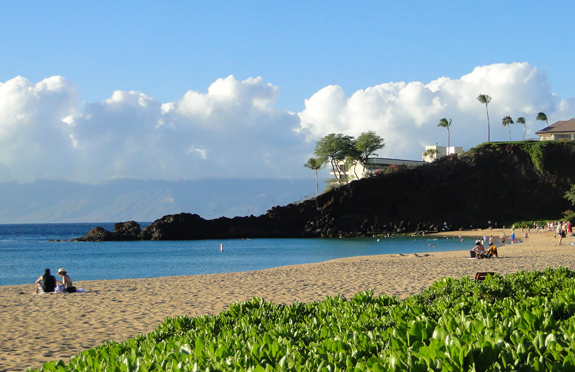 Black Rock, Maui
The Black Rock Maui diving site is located in a Sheraton hotel. This spot is ideal for beginner divers since its depth is around 32 feet only. The relatively shallow dive provides you with enticing views of colorful coral reefs.
You also get a chance to swim with sea turtles. Besides turtles, you can see some rays and monk seals.
When the sun goes down, the diving doesn't stop. You can go on a night diving trip and witness an enthralling display of marine wildlife scurrying around you. They can include eels, crabs, lobsters, whitetip reef sharks, and Spanish Dancers.
The latter is a red sea slug that moves similarly to, you guessed it, a Spanish flamenco dancer wearing a flowy red dress.
The good news is that you can get a Scuba certification from the scuba diving lessons provided by the hotel.
Having said that, in terms of build, Black Rock is a naturally occurring island made from accumulating underwater lava.
Aside from diving, you can also try cliff jumping in Black Rock. If you'd rather have a calm morning instead, then lounging at the beach is also a suitable option.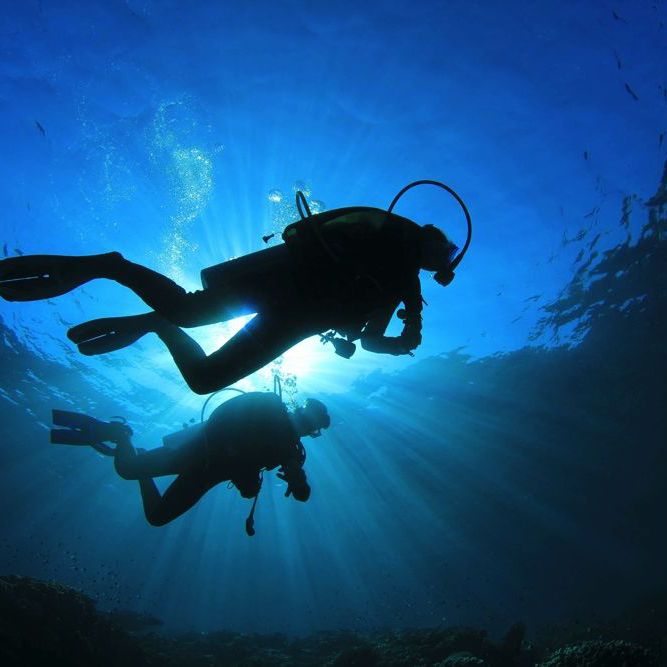 Au Au Crater, Kona
If you're on a mission to see some sharks, then the Au Au Crater might be your best bet. This diving area is home to a few hammerheads and whitetip sharks.
Other than sharks, you can also find large Pacific crevalle jackfish. These fish can span up to 40 inches in length. That being said, you may also be able to see scorpionfish, sea turtles, and eels.
Upon visiting the Au Au Crater, you may expect to see a large circular hole in the ocean floor. Instead, you may notice a more V-shaped structure. The walls may reach around 30 to 70 feet on a single side, while the other can extend approximately 50 to 70 ft.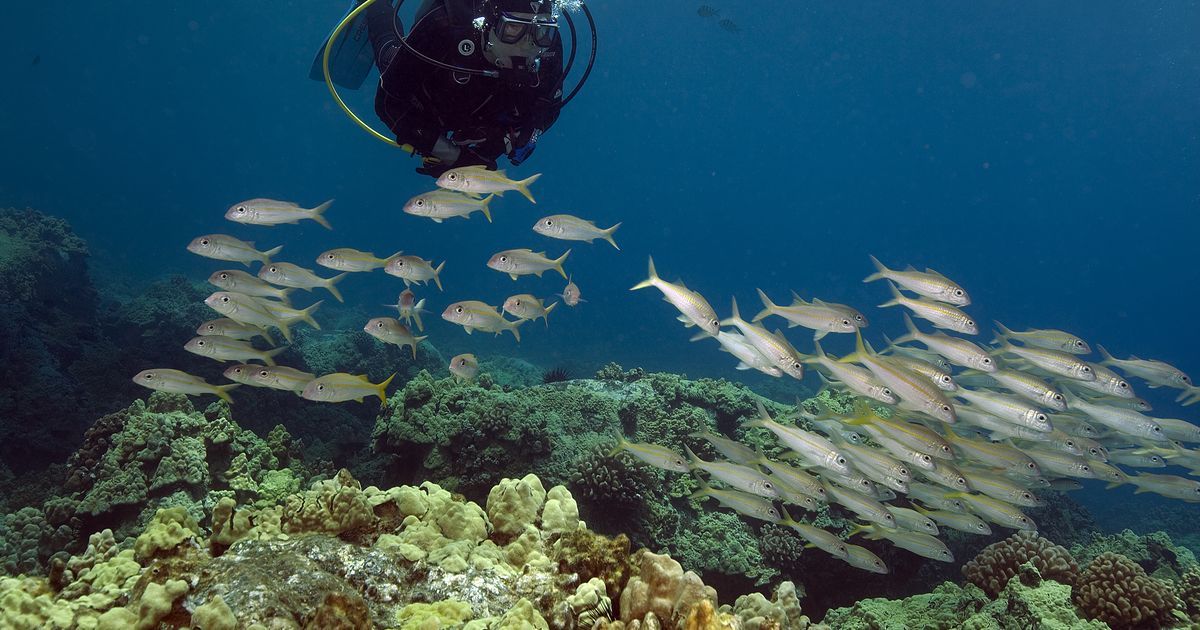 Naia, Kona
Naia in Hawaiian translates to "dolphin." If you're not leaving Hawaii without seeing some dolphins, then this diving site could be your top spot. As you dive through the Naia site, you may just spot a few spinner dolphins coming your way.
Besides spinner dolphins, you can also feast your eyes on butterfly fish and tangs. The latter is basically the same species as Dory from "Finding Dory."
Naia is also a habitat for frogfish and stonefish. Looking for the latter could be tricky since they resemble the stony surface of corals so be sure to sweep the whole reef carefully.
If you're looking for bigger fish, you may be able to see a tiger shark or eagle rays during the summer.
Fish Rain, Molokai
If you're expecting a dive filled with schools of fish swimming around you, then Fish Rain in Molokai is an ideal choice. The diving site is filled with both large and small fish ranging from parrotfish and triggerfish to hammerheads and tiger sharks.
Alternatively, you may find yourself swimming near sea monks and Galapagos sharks. Now, if you're looking for a big fish and luck is in your favor, you may end up swimming past a whale shark.
Check out this guide to learn more about which sharks you can swim with in Hawaii.
The visibility in Fish Rain is also exquisite and clear. The main downside of this diving site is how you'll get there. It can take close to an hour to reach Fish Rain from Lahaina Harbor.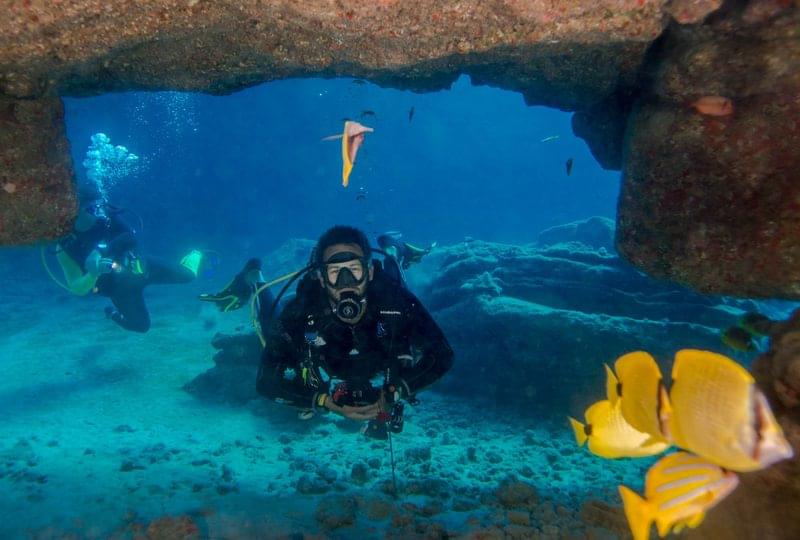 Koloa Landing, Kauai
Koloa Landing in Kauai is perfect for beginners looking to start their diving journey. Getting to the diving spot is relatively easy. Plus, the water depth is also shallow compared to other spots since it's only around 30 ft.
The waters are also usually calm throughout the year. Consequently, the water visibility is considerably clear.
That being said, Koloa Landing's unique features include its horseshoe-shaped reef area. The shape is divided into two separate regions where one is filled with lava tubes.
Meanwhile, the other side houses plenty of bright-colored fish and sea turtles. You'll want to make sure to snap some pics of this area to keep in your travel log.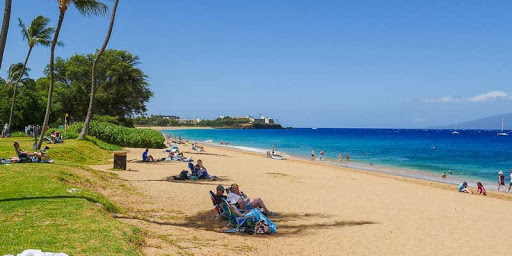 Airport Beach, Maui
The Airport Beach diving site is found around Kaanapali Beach's northern area. The diving site offers options for both intermediate and beginner-level divers.
You can choose to dive in areas between 25 to 47 ft. in depth. In those depths, you can find sea turtles. You may even be able to spot a rare Hawks Bill Turtle on your diving excursion. The dive is mainly centered around the coral reefs as well.
Having said that, Airport Beach also offers scuba diving lessons and refresher courses for beginners.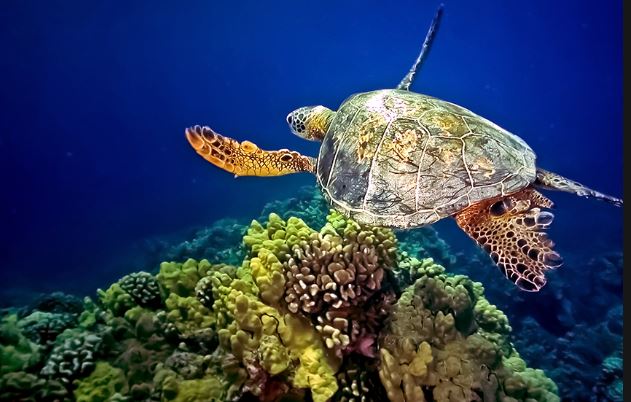 Puako, Big Island
If lava tunnels, sea caves, rock arches, and deep chasms all sound interesting to you, then the Puako diving site should be your next trip. The reef scuba diving area is easy to reach.
The diving scene includes sea turtles, butterfly fish, and even some eels to name a few. After your deep scuba diving session, you can relax on Puako's scenic beach which is scattered with lava rock pools.
Wrapping It Up
Hawaii offers some of the best places to dive in the USA: world-class sites boasting flourishing marine flora and fauna. As a beginner, you don't have to be intimidated by the large number of diving spots available. Luckily, lots of diving areas are ideal for those new to diving.
Whether you're looking for a night dive or simply want to swim with some sea turtles, all these options are available in Hawaii's scuba diving itinerary.
Once you're in the blue, remember to remain calm and stay hydrated to get the most out of this memorable experience.