Scuba diving is one of the best ways to admire and explore the underwater world. If you're a scuba diver looking for the next body of water to conquer, then this article's just for you.
Scuba diving is an extreme sport that may need some training and certification. As much as it's fun and thrilling, some dangers come with scuba diving, so it's best to be safe than sorry.
There are countless underwater worlds for scuba divers to explore, but today, we'll set our sights on the USA. No worries, you'll still have a wide range of beautiful areas to choose from.
The fun in scuba diving starts with the planning, so ready your diving gear in high spirits. Let's go ahead and take a look at the best places to scuba dive in the USA.
The Highest Rated Places to Dive in The USA
The USA is home to lots of diving sites any casual to professional scuba diver is sure to enjoy. We're talking thousands of miles worth of coastline that's waiting to be explored.
Can't wait to scratch these off of your checklist? Here are some of the top places to scuba dive in the USA:
1. Electric Beach (Oahu, Hawaii)
In Oahu, or "The Gathering Place," we'll find the beautiful shores of Electric Beach or Kahe Point Beach Park. The Electric Beach has a lot to offer for scuba divers, snorkelers, and casual vacationers alike.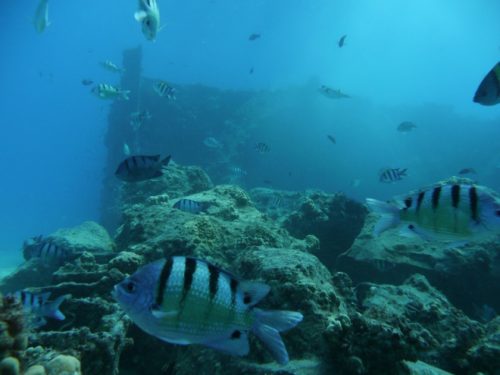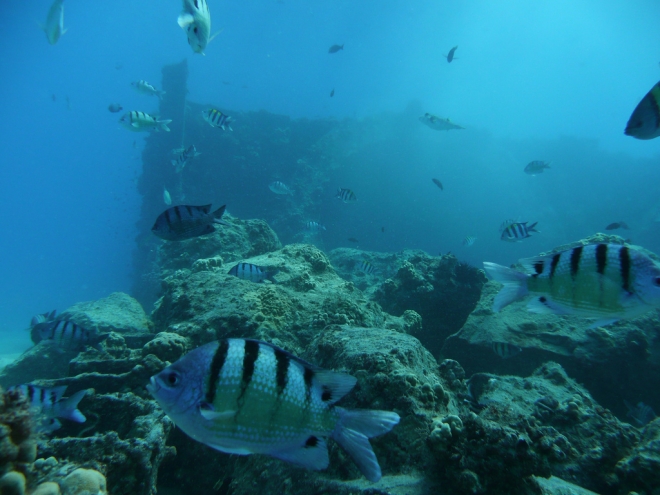 The popularity of Electric Beach in terms of name and features comes from a nearby power plant on Mauka mountain.
A cooling pipe coming from the power plant runs along the seafloor, producing warm water. The warm water attracts an abundance of wildlife, making it a must-see for divers and snorkelers.
The entry point for divers is through the beach, around a hundred meters from the parking lot. Do be careful not to swim near the cooling pipe's opening to avoid getting swept by the strong water discharge.
Divers in Electric Beach also have access to several reefs, shark caves, and Buddha statues. Try to be an early bird for a better chance to see dolphins, monk seals, rays, and other wildlife.
2. Casino Point (California, USA)
Casino Point can be found next to the famous Catalina Casino Building on Catalina Island. Casino Point stays true to its name by being rich in wildlife, wrecks, and historical artifacts.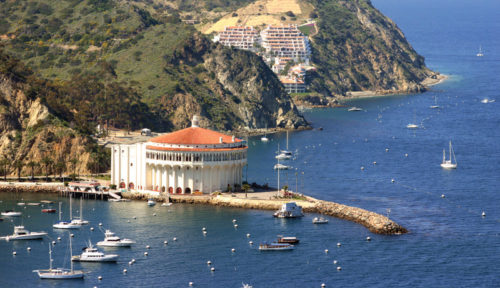 This dive park is known to be the first park in the USA built for underwater exploration. Divers will find the Casino Point easy to access, thanks to a convenient set of stairs that leads you straight into its deep waters.
Dive and swim free in more than two acres worth of Marine Protected Areas to your heart's content. The park's marine ecosystem changes with the climate and currents, giving you something new to see every visit.
Common wildlife in its deep waters include:
Octopuses

Abalones

Sea Lions

Moray Eels

Garibaldis
Since the habitat is protected by law, the wildlife is used to interacting with humans. Divers will enjoy an up-close and personal look at its beautiful underwater creatures.
3. Bonne Terre Mine (Missouri, USA)
Are you brave enough to dive into the center of the Earth beneath the mines? Try giving the Bonne Terre Mine a whirl for your next diving trip!
Bonne Terre Mine is one of the largest man-made caverns and used to be the leading producer of lead ore in the world. If those weren't enough, it's also considered the world's largest freshwater dive resort.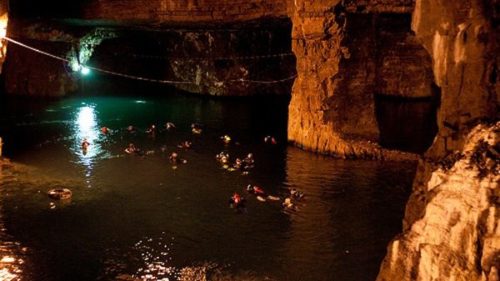 Bonne Terre Mine was developed in 1860 and eventually closed in 1962. The mines were five levels high, three of which became home to the world's largest subterranean lake.
Divers can enjoy a 100 feet dive with good visibility, thanks to 500,000 watts of light above the water's surface. The exploration starts as you descend the mines and make your way to the entry point for divers.
If you want to experience a deepwater adventure that's rich in history, this one's right up your alley. Divers usually go in squads of nine, accompanied by two professional guides.
4. Puget Sound (Washington, USA)
Do you want to challenge your thirst for diving and underwater exploration? How about taking on the massive underwater areas of Puget Sound?
You might want to prepare for a long trip on this one. Puget Sound has more than 75 diving sites for you to quench your thirst.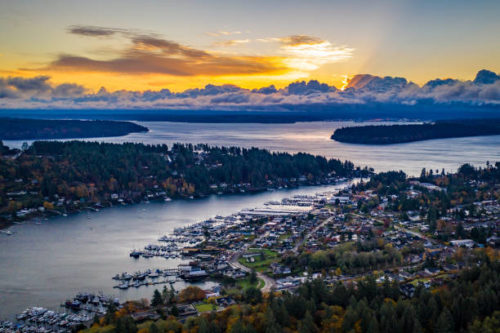 Here's to name a few of the best diving spots in Puget Sound:
Edmonds Underwater Park

Three Tree Point

Les Davis Marine Park

Saltwater State Park

Alki Seacrest Park (Cove 2)

Sunrise Beach County Park

Deception Pass
The waters of Puget Sound are cold and stay at around 50 degrees all year. Although, it's nothing a good dry suit and thermal wear can't handle.
Raring to give Puget Sound a go? Here's a preview of what to expect when exploring its waters:
Underwater fjords

Underwater caves

An abundance of reefs

Old shipwrecks

A variety of wildlife (killer whales, sea lions, the giant Pacific octopus, etc.)
Be sure to bring loads of energy and the right equipment. In Puget Sound, you'll never run out of underwater places to explore.
5. Black Water Diving in Kona (Kona, Hawaii)
Who said the day has to end when the night comes? You wouldn't want to miss a once-in-a-lifetime experience of black water diving in the open waters of Kona.
We're no strangers to the beauty of twinkling stars on the darkest nights, but what about underwater? If you're not afraid of the dark and have enough diving experience, blackwater diving in Kona might just be for you.
A boat and a team of professionals will escort divers 2-3 miles away from the coast of Kona. Once set, you'll be able to descend up to 45 feet into the ocean's abyss while being tethered by a rope attached to the boat.
While it may sound scary and intimidating, the wonders you'll get to see will replace your fears with astonishment.
Watch as a variety of beautiful bioluminescent creatures greet you in pitch-black darkness. The experience will make you feel like you're in outer space but underwater.
6. Flower Garden Banks National Marine Sanctuary (Texas, USA)
Have you ever seen a vast garden of beautiful and colorful flowers underwater? Well, they're not really flowers, but a forest of colorful coral reefs awaits you at the Flower Garden Banks.
Flower Garden Banks has one of the healthiest coral reefs and continues to thrive. Conservation efforts from NOAA (National Oceanic and Atmospheric Administration) help preserve the habitat.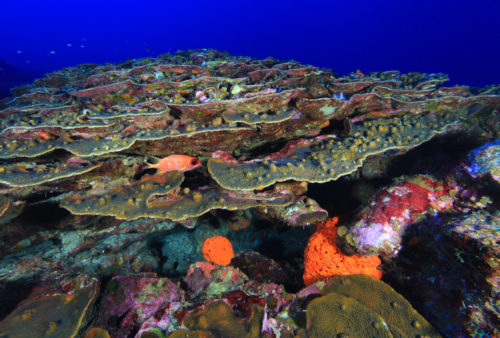 If you're an avid diver and environmentalist, then that's hitting two birds with one stone. Get to see Mother Nature up close at its finest with the Flower Garden Bank's myriad of fauna and flora.
The rainbow of corals is already quite the sight, but with great habitat comes a lot of other great species. Depending on the season, you get the chance to see the following underwater creatures:
Hammerhead sharks (winter season)

Whale sharks (summer season)

Manta rays

Yellowfin grouper

Spotted drum

Other tropical fishes
You don't need a permit to dive or snorkel in Flower Garden Banks, but there are some sanctuary regulations. The regulations were imposed as part of NOAA's efforts to preserve Flower Garden Banks.
7. Beaufort North Carolina (North Carolina, USA)
Are you a fan of the historical value that lies within many shipwrecks? You might want to check out North Carolina's Outer Banks or "Graveyard of the Atlantic" if that's the case.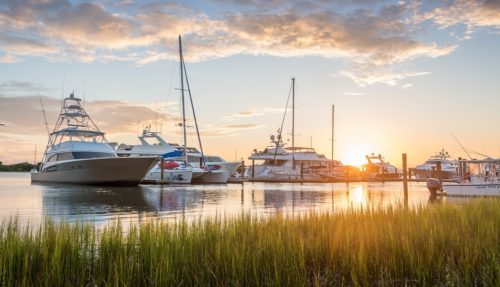 The Outer Banks were known for claiming thousands of shipwrecks throughout history. The sunken ships eventually became playgrounds for sand tiger sharks and other wildlife.
Divers won't have access to a boat escort or professional guides, so we recommend bringing a friend or two. Although, if you're well-trained and up to the challenge, you can always explore on your own.
Even so, whether with a friend or not, the experience is definitely worth the trip. How often do we get to see sand tiger sharks swimming through countless shipwrecks?
Although the sand tiger sharks may seem scary, they're actually quite harmless. These creatures also don't get easily startled, so just be gentle with them.
You can find other underwater creatures in the Outer Banks, such as:
Greater amberjacks

Giant stingrays

Barracudas

Lobsters

Various groupers
8. Makena Landing Park (Maui, Hawaii)
Makena Landing is a common favorite among many diving spots in Maui, Hawaii. If you're looking for a breathtaking diving spot that's brimming with life, then this one's for you.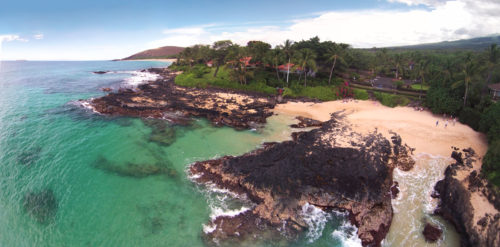 Makena Landing is famous for a lot of things, giving the place a variety of nicknames. These names include:
Five Caves

Five Graves

Turtle Town

Turtle Arches
As the names imply, there are five caves to explore in its waters, and–you guessed it! Hundreds of green sea turtles waiting to swim along with you as you bask in the ocean's natural beauty.
You can access the dive site by the Makena Landing's beach, taking you around 200 yards of surface swimming. We recommend getting a guide if it's your first time in Makena to make sure that you find the caves.
Even though Makena is also known as Turtle Town and Turtle Arches, its waters are inhabited by lots of other underwater creatures.
Other than the green sea turtles, the vast marine life in Makena includes these things you may see while snorkeling:
Frogfishes

White tip reef sharks

Butterflyfishes

Spotted eagle rays

Octopuses

Manta rays
9. Key Largo, Florida Keys (Florida, USA)
There are lots of popular diving sites to visit in Key Largo for any scuba diving enthusiast. With its diverse ecosystems and diving sites to choose from, divers will never run out of underwater places to explore.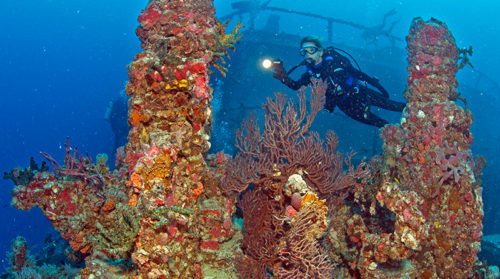 Here are some of the best diving sites to explore in Key Largo:
USS Spiegel Grove Wreck

Molasses Reef

Christ of the Abyss

French Reef

The Wreck of the Benwood
The shipwrecks, sunken artifacts, and abundance of reefs make Key Largo a dream destination for divers. If you have time to spare, it's best to go on a long vacation to make the most out of your trip.
Whatever your purpose is for diving, Key Largo is sure to have something good to offer. Give the place a visit to quench your thirst for adventure.
Oh, and be sure to check out the famous 510 feet USS Spiegel Grove Wreck. It's the third-largest artificial reef in the world, so you wouldn't want to miss it.
10. Underwater Museum of Art (Florida, USA)
Are you a diver and an art fanatic at the same time? Then you'll surely love to pay the Underwater Museum of Art or UMA in Santa Rosa Beach a visit.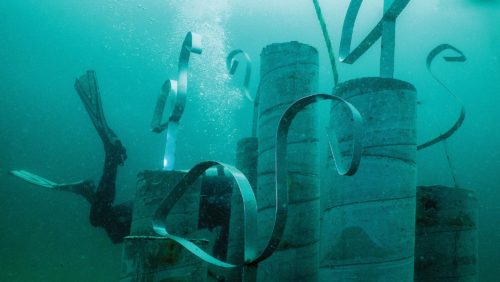 You can find the UMA 58 feet beneath the waters of the Gulf of Mexico near Walton County, Florida. It's the first underwater art exhibit in the USA with a number of sculptures that eventually serve as living reefs for marine life.
The project started in 2018 with the collaboration of the Cultural Arts Alliance of Walton County and the South Walton Artificial Reef Association (SWARA). The combination of art and ecosystem will give you (and the fishes) a fresh take on art museums.
This diving site is certainly one for the books, giving divers a site to explore and its marine life a place to thrive. The UMA is where the natural and artificial coexist in perfect harmony.
Conclusion
There are countless more diving sites to explore around the world, let alone in the USA. However, we'll start small by taking it one diving site at a time.
The thrill of scuba diving compares to none once you've seen the beauty hiding beneath our waters. Yet, we must remind ourselves of the duty that comes with such experience.
The myriad of underwater life will cease to exist if we don't do our jobs as humans to preserve them. Any diver who admires the wonders of the world below should be responsible for protecting it as well.