Traveling always comes with romantic notions – dreams of tanned skin and white teeth, laughing and clinking beers with your new found buddies on the beach, finding yourself as you trek through the wild and having experiences that you can dine out on for the rest of your life.
We all believe that backpacking makes us cool.
Fast-forward to reality and you suddenly find yourself alone and crying into a plate of noodles in a dirty hostel somewhere in far flung Asia, where you may or may not need a tetanus jab after using the shared shower.
Backpacking is equal measures awesome and terrible.
You have to put up with weirdos in dorm rooms, counting out pennies to afford lunch, and spending days feeling like you are dragging a dead horse along thanks to the size of your bag.
But then there are the moments where you find yourself watching whales frolic off shore, standing up for the first time on a surfboard, and spending an evening letting luau pig melt on the tongue -then you know it's all worthwhile.
Hawaii has a bad rep when it comes to cost as being a pricey place to play – but this guide can help you to select the best Hawaiian island for those who don't have cash to burn…
Note to Self – Tourism Can Mean Cheap
You may have dreams of flitting from island to island, but let's face facts – unless you are really good at long distance swimming (even then the sharks may stop you), then you probably won't be able to bounce from place to place.
We suggest that the best island for a home base is actually Oahu. Even though Oahu and its capital, Honolulu, are thronged with the most tourists, it is also the biggest spot, with plenty of adventures to be had. Size means opportunity and options and this can also mean the chance to save.
On Oahu, because of the tourist industry, businesses will be more competitive, meaning that you can get rooms and food for cheaper than the more isolated spots. If you want value for money, then Oahu is the best Hawaiian island for backpackers.
Note to Self – Resorts are for Honeymooners Only
You may dream of raising an all-inclusive cocktail as a team of waiters fan you on a beach while relaxing on a beach blanket, but save it for the honeymoon. Resorts will blow a hole in your wallet before you can even ask how much.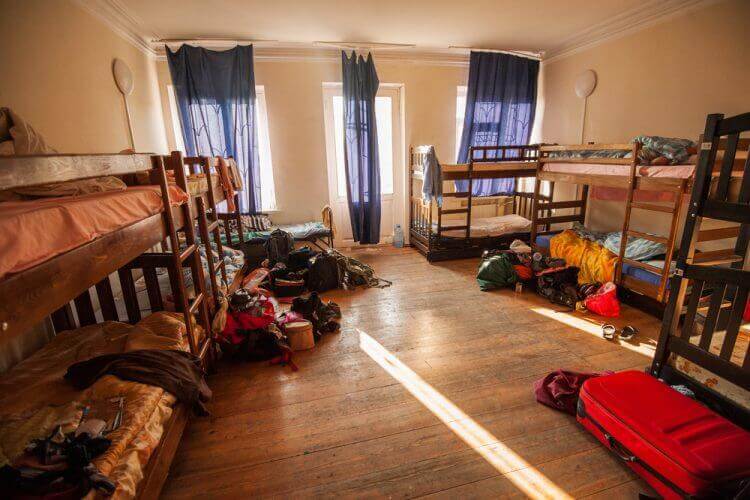 This is another reason to pick Oahu, it is home to hostels. Sure, you will have to share a room with a bunch of strangers, but you will enjoy the same idyllic spots, views, and surroundings for a fraction of the price. Plus, if you sip enough Big Swell IPAs before bed you won't even hear the snoring of your fellow cheapskates.
Dorm beds in Hawaii aren't the cheapest in the world, in-fact you can still expect to painfully part with no less than twenty dollars for a place to lay your sunburnt head. But, when you compare it to the zillion other hotels and resorts offering a bed for at least double or triple that, you will save yourself a small fortune on a tour of Hawaii.
The Waikiki Backpackers Hotel also offers free pizza and beer a couple nights a week, along with free coffee (the real coffee, not that freeze dried soil like powder that makes you want to pull out your tongue), and has a convenience store a few doors away meaning that you can stock up on groceries rather than hitting the high class restaurants.
Not to Self – Hide Pineapples Down your Pants
So, if you pick a hostel with a free breakfast you are sorted for most of the day, just make sure to order an extra-large stack of pancakes, and hide a pineapple in your pants.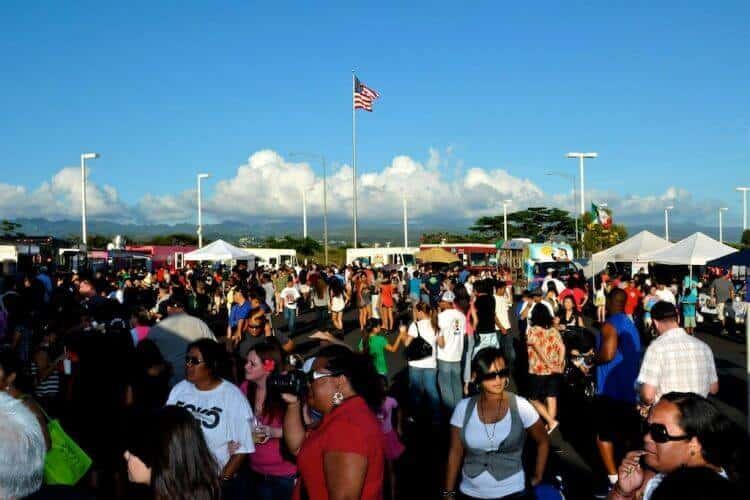 Only here's the tricky bit, you can dine for cheap in Oahu if you pick the early bird specials. So that means that you will have filled up on a free breakfast, but now its 4pm and you are seated at a restaurant trying to stuff enough food in your face to last until midnight.
If you can't face the idea of dinner before 6pm, then the food trucks will literally become your knights in shining armor. On the last Friday of the month you can head down to the Eat the Street gathering where more than forty trucks congregate to offer their edible wares to those with a few short dollars in their pockets.
Let's not forget that Hawaii is the land of plenty when it comes to fresh fruits. If you are happy to survive during the day on fruits from the farmer's markets, and fresh fish from the shoreline – then you are sure to save a bundle and have a cheap time in Hawaii.
Note to Self – Nature Doesn't (Shouldn't) Have a Price Tag
Hawaii is brimming with amazing activities to keep you entertained. Sadly, they mostly come with a price tag that is a little high for cheap ass backpackers to reach. Zip lining, scuba diving, whale watching cruises, and parasailing will not only get your heart beating, but may actually cause your bank manager to have a heart attack.
Let's remind you of all the wonderful things you can do that are free and will help your budget in Hawaii.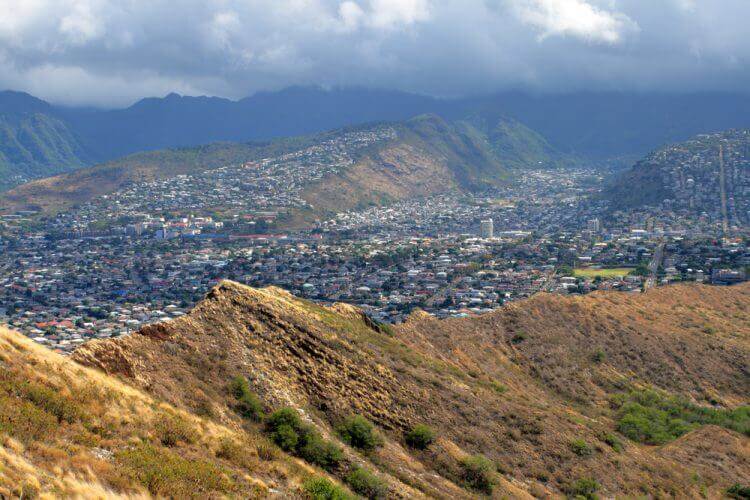 Beaching…beaching is bitching. You simply rock up, claim your sandy spot, and spend the day reading books, snoozing and leaping into the sea. It's awesome and you will never get bored of it.  You can find some awesome beaches to go to by checking out the Willgoto, World travel directory and travel guide.

Walking – you can still explore the rainforests, watch whales, and go wild in the wilderness without the need for a price tag to be hung around natures neck. Grab a map, a good pair of shoes, and speak to some locals about the best hikes and trails to carry yourself on.
If you really want to immerse yourself in a little culture then you can head to the Royal Hawaiian Centre for free lessons on the ukulele, lei making, and hula dancing.
Last and not least; if you want to hop, skip and jump around Oahu, then take the public buses. Car rental can be pricey and who the hell wants to drive on vacay anyway? Save your cents for those happy hour cocktails and jump on the bus instead.

[funlocity_book_frame tour_id="494″ link_title="GET LOWEST PRICE ON MAUI SUNSET PREMIUM DINNER CRUISE (LAHAINA)" background-color="#f92c8b" color="white" padding="10px" border-radius="12px"]