Nestled in Waimea Valley, Waimea Falls is one of the most popular hiking destinations in Oahu. This famous waterfall spills 45 feet (13.7 m) into a natural pool of cool, fresh water where visitors can swim under the cascading falls. Since Waimea Valley is an adventure park, there are demonstrations and performances taking place. Swimming is allowed in between the professional cliffdiving performances.
In Hawai'ian, waimea means "reddish water",which is a reference to the underlying reddish volcanic soil. The Kamananui Stream becomes swollen in times of heavy rain, and as it scours, the reddish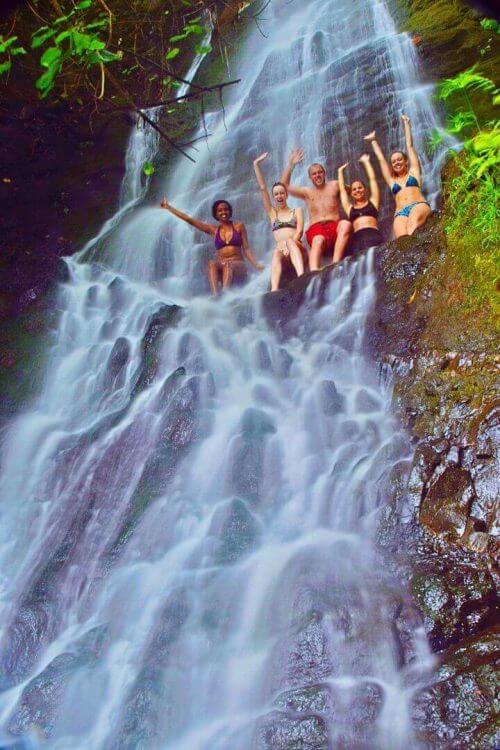 volcanic soil from the banks turns the falls red.
The waterfall itself is accessible by walking about one mile down a one-way paved trail. Once there, you will find a changing room and a lifeguard at the pool. If you are heading there to swim, be sure to check the sign at the entrance gate to the park to see if swimming is allowed on the day you are visiting. On some days, conditions cause swimming to be prohibited.
Waimea Valley was formerly known as the Waimea Valley Audubon Center and the Waimea Arboretum and Botanical Garden. It is a sanctuary for rare birds and plants native to Hawai'i.
The 1,800 acre visitor attraction offers education on Hawai'ian culture and history while sharing an appreciation of nature. The valley, being an important place in Hawai'ian religion, includes several historical structures constructed during the time of the Hawai'ian monarchy. They also offer a number of activities such as lei making, kapa demonstrations, history walks, hula lessons, and Hawai'ian games.
Additionally, the park is home to a spectacular botanical collection boasting over 5,000 species of tropical and subtropical plants, including native and endangered Hawai'ian plants. The garden is open for visitors to take a self-guided walking tour.
Useful Information:
CAUTION: As with all freshwater streams and waterfalls in Hawai'i, Leptospirosis bacteria may be present in the water. Do not drink the water and keep water out of open wounds (including small scratches) and eyes.
Admission:
Adults: $15
Children (4-12 years) & Seniors (60 years and older): $7.50
Kama'aina/Military Adults (ID required): $10
Kama'aina/Military Children: & Military Seniors: $5
Annual Pass, Individual: $50
Annual Pass, Family (2 adults and up to 4 children under the age of 12): $100
Hours:
Open daily from 9 a.m. to 5 p.m.
Special hours on Christmas Eve and New Year's Eve: 9 a.m. to 12 p.m.
Closed on Thanksgiving, Christmas Day, and New Year's Day.