While there are tons of different tours in Hawaii to go on, sometimes you just wanna try something unusual.  Here's some Hawaii trivia to ponder, as you peruse the aisles at ABC on one of our amazing islands:
Hawaii imports 90% of its food. In other words, that $8.99 you're forking over for a box of organic granola isn't due to avarice—at least not entirely.
From the distributor to the shipper to the manufacturer, there are a plethora of peeps to pay for your bowl of morning glory.
Sound complicated and, well, unnecessary?
You're not alone in thinking so.
But, if you use that sun-and-mai-tai-soaked noggin of yours, you'll also see why this is partly inevitable.
Hawaii has limited space and thus, limited resources. Unlike mainlanders who haven't a whole lot to do but cultivate crops on the utterly forgettable expanse of land in the Midwest, nearly every square inch of our state is lusted over by developers, hoteliers—and people like you and your husby looking to revitalize your drive for life in paradise.
The good news is that farms—that oh-so-trendy "pastime" for slick city dwellers who can hardly tell a duck from a rabbit—are becoming a booming industry in Hawaii, providing sustainable nutrition for islanders and serving a niche market of tourism while they're at it.
And, what they are growing is superb. From Maui Tropical Plantation's luscious coffee beans to Kauai's Steelgrass Farm's scrumptious chocolates, the fields that do exist are spawning products of consummate quality.
Learn more about it at these 5 Hawaiian farm tours that are totally worth getting dirty:
Surfing Goat Dairy, Maui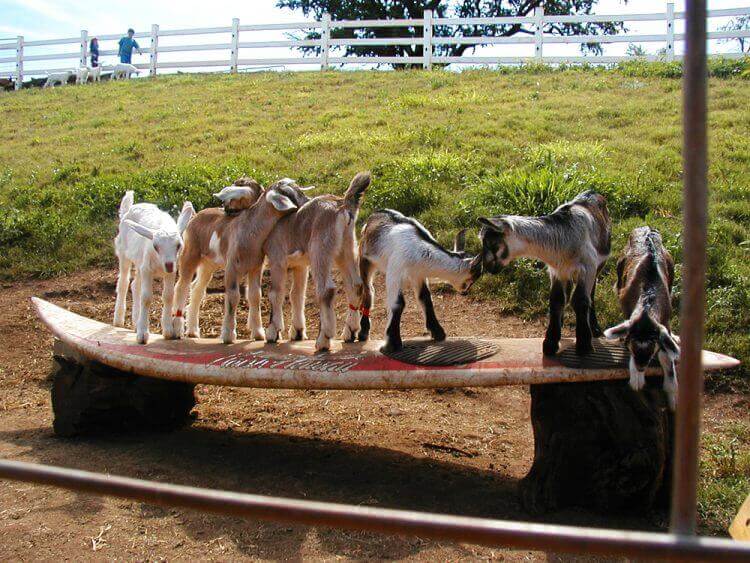 Goats are an amorous lot.
As in, bucks—those uncastrated dudes whose names rhyme with my favorite word—mate up to eighty times per night. Even the sluttiest among us gotta agree that's a shit-ton of bootie calls to answer.
Two German entrepreneurs cashed in on nature's prowess, when they took forty-two acres of untouched grass on Haleakala's slopes and turned it into a veritable factory for yuppie products.
Today, more than 250 saucy-eyed Swiss Saanen, French Alpines and crossbred goats grind on alfalfa and generate enough milk to produce artisan cheeses that range in flavor from lavender-enhanced Purple Rain to a jalapeno-infused chèvre, aptly named Spicy Ole.
Tours here take visitors into a different part of Eden—one where the savannahs bring to mind South African prairies, butchered surfboards serve as fence posts and plantation mutts putter around looking for love (and, from the looks of it, water). Feeding the goats gives guests the sort of up-close-and-personal encounters found at county fairs and the energetic guides burst with information that's actually worth your ear space.
But, the real magic here is found within what the farm has become famous for—so famous, in fact, that their plain, unsalted chèvre, Udderly Delicious, was served at President Obama's 2009 inauguration.
Indulge in a flight of offerings at one of their kick-back picnic tables and save room for dessert: Surfing Goat Dairy's specialty truffles are flat-out fantastic.
Come early—it gets hot as hell here—and take some time to pet their kids. (As in baby goats, Humbert Humbert.)
And, if you're on Maui on a budget, you're in luck: "Casual" tours will only cost you twelve bucks (of the other kind, smarty pants).
[mc4wp_form id="4788″]
Kahuku Farms, Oahu
Oahu's North Shore might be best known for breeding waves taller than most Hawaiian buildings, but it's also home to farmland that grows some of the finest eats on the island, which is why dinner cruises in Oahu are so popular.
Kahuku Farms is one Hawaiian activity that's worth the (temporary) break from Lanikai.
Think: 300 acres of lush land housing taro, papaya, watermelon, corn, Japanese eggplant, starfruit and bell peppers, with super-cute aggies inviting you to eat their harvest.
Tractor-pulled trolleys take guests deep into the plantation to see where these goods are grown and used for many of the popular luau's on the island. Meanwhile, the happy staff offers lessons on Oahu's agricultural scene, giving you the kind of arcane knowledge you need, to impress on trivia night.
But, the real payoff for trekking it out to this plantation is found in their café, where farm fresh treats, like lilikoi ice cream, are served with tons of aloha.
Try their Grilled Banana Bread with vanilla caramel and haupia—it's so worth stretching out that bikini (and then some).
Ali'i Kula Lavender Farm, Maui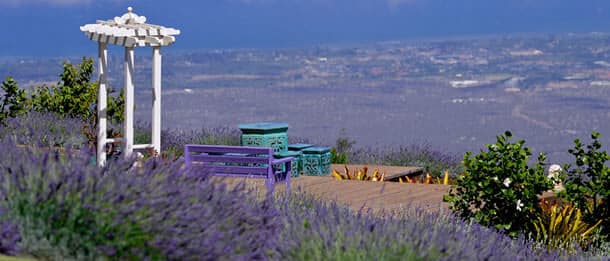 Vitamin Sea might just be nature's leading cure for a hangover—what do they put into those luau drinks?—but spend more time than necessary under the sun and you'll only dehydrate yourself further.
Turn your lazy morning into an upcountry adventure at Ali'i Kula Lavender Farm instead.
The brainchild of the late Ali'i Chang—an Oahu-born farmer whose green thumb fostered the rise in protea bouquets around the globe—Ali'i Kula Lavender Farm was inspired by a single sprig of lavender, which goaded Chang into creating a whole new take on Purple Haze.
Today, over sixty varieties of lavender grow in an orchard that also includes bonsai avocado trees and tropical flowers so huge and succulent that you'll think you're high. (Are you?)
Self-guided tours allow visitors to get lost in a labyrinth on their own, while daily educational tours are well-worth the lessons on botany that they offer.
Stay after to indulge a bit at their charming café, where the vistas are panoramic and their lattes are infused with lavender. By the time you make it back down the hill, you'll be rarin' for Round Two. Ready for that drinky-drink, Don Ho?
Kualoa Ranch, Oahu
There's something oh-so-virtuous about saying you ate at a farm-to-table venue, putting it right up there with bragging about composting your chicken bones and watching only gluten-free TV.
But, given that the concept is less understood than Rihanna's choice of hairstyles, use your downtime by learning what it really means to dine farm-to-fork in Hawaii.
Kualoa Ranch, a 4,000-acre farm on Oahu's windward slopes, offers immersion tours that blend verdant environs with serious lessons on livestock and tropical produce—and all of it is served with views so killer that you'll be reminded why this place is called paradise. From banana trees to an instruction on how to "throw net" like native Hawaiians, this 2.5-hour tour lets you play sexy farmhand without having to rise at dawn with the mynahs.
The best part yet? The whole tour includes ample plantation nibbles, making you feel more righteous than usual.
Garden Island Chocolate, Kauai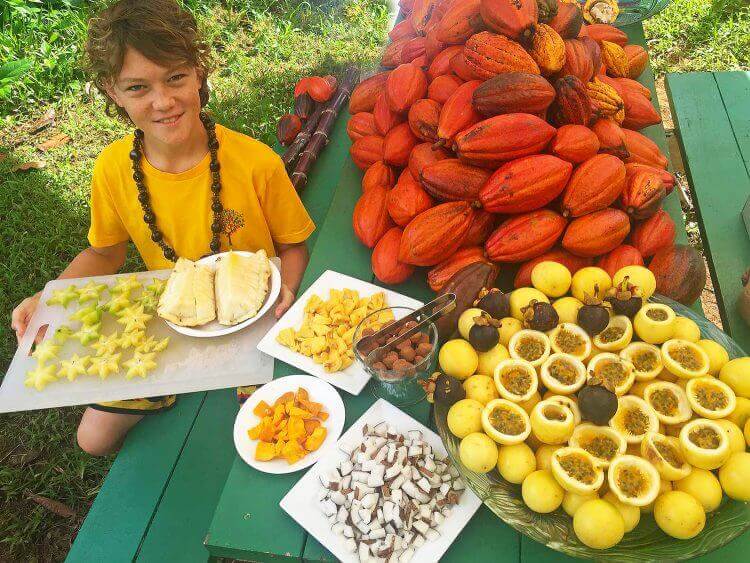 Willy Wonka's got nothing on Kauai's Kilauea, where cacao trees grow in volcanic soil and master chocolatiers create to-die-for truffles in flavors that range from Tahitian lime to mole.
Three times a week, the geniuses behind Garden Island Chocolate offer hungry outsiders an inside look on processing a cacao bean to turn it into the world's most beloved candy.
Three hours long and detailed to a D, these tours include an unlimited tasting of over twenty types of chocolate, including coconut, vanilla and honey.
Leave your diet in your hotel room—I know and you know that these samples are the whole reason for going. And, the next time you see "Locally Grown" Ante up. You'll be contributing to keeping this vacation destination going.