If you love watersports, you probably already know (and have experienced) the importance of having the right gear. Even the smallest and seemingly insignificant gear can affect your overall experience.
List of Best Swim Parkas For Keeping Dry
Think of a swim cap. You can swim without it but wearing one will help you swim faster by eliminating drag. The same is true with a swim parka.
A swim parka can be really useful regardless of your water sport. This piece of clothing keeps you warm and comfortable before you go for a swim or dive and right after you get out of the water.
Best Swim Parkas – Comparison Table
IMAGE
SWIM PARKA
FEATURES

Material:

100% Oxford Nylon

Great for:

Swimming, Soccer, Water Polo

Price:

$$

Check Price

Material:

100% Nylon

Great for:

Cold Weather Use

Price:

$$

Check Price

Material:

100% Polyester

Great For:

Swimmers

Price:

$$$

Check Price

Material:

100% Oxford Nylon

Great For:

Swimming & Water Polo

Price:

$$

Check Price

Material:

Specially Treated Outer Shell

Great For:

Professional and Recreational Swimmers

Price:

$$

Check Price

Material:

100% Waterproof

Great For:

Beach & Camping

Price:

$$$

Check Price

Material:

100% Oxford Nylon

Great For:

Swimming & Water polo

Price:

$$

Check Price

Material:

100% Nylon

Great For:

Swim Teams

Price:

$$

Check Price

Material:

100% Polymide

Offers:

Great Comfort

Price:

$$$

Check Price
It protects you from surrounding conditions. With a swim parka, you will no longer have to sit on your soggy-bottom butt and watch your body temperature plummet as you wait for the actual event.
If you think that a swim-parka is not that helpful in your performance, check out this study. In that study, it shows you a great improvement in the performance of swimmers who wore a heated jacket (a swim parka works the same way).
Even though swim-parkas are designed for the same function, some are simply better than others and in certain areas. That is why we will help you choose the best swim parka for your needs. Here are our top 3 choices:
Factors to Consider to Get the Best Swim Parka
Lining
The type of lining a swim parka has can greatly affect its performance. The lining is a layer of fabric inside the parka that will keep your body warm. The most common materials for linings are fleece, false fur (faux fur) and cotton.
Fleece – It may not be an inexpensive material, but generally, you get what you pay for. Most of the fleece lining in this kind of swim parka are synthetic rather than from a fluffy sheep's coat.
But despite being synthetic, it mimics some of the best qualities of a real fleece such as being soft, warm and breathable. These qualities make fleece incredibly useful for keeping you warm and cozy.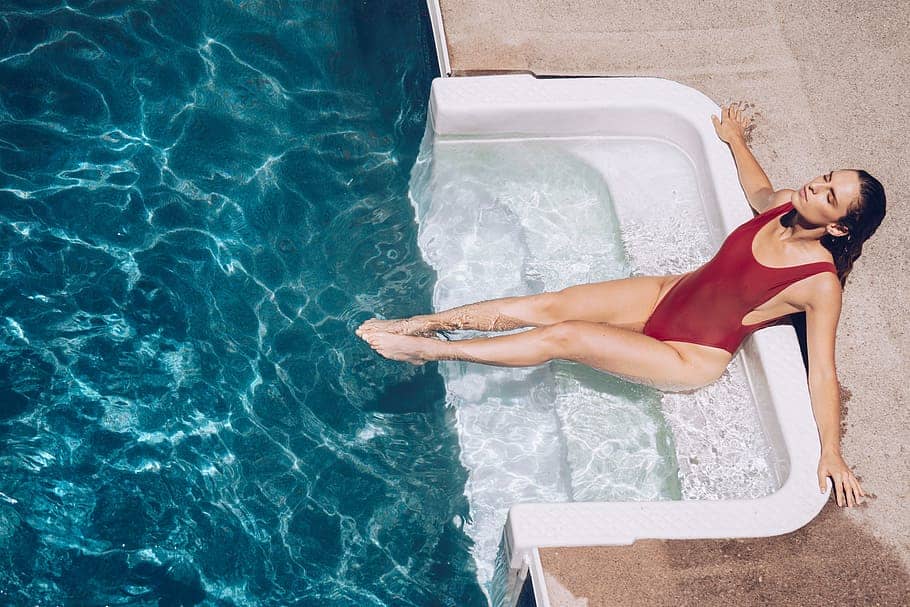 And since it allows for the air pockets to sit between the threads, it can retain your warm temperature. Moreover, fleece is moisture resistant and durable which makes it ideal for extreme weather conditions.
Compared to faux fur, fleece is generally more comfortable and it feels nicer on the skin. Many swimmers also prefer this type of lining because it dries you off easily.
Faux fur – Also known as fake fur, this fabric is typically made from polymeric fibers that are processed to look and feel like genuine animal fur. Unlike the real one, fake fur is inexpensive and has better abrasion resistance.
All these qualities make faux fur an excellent lining for swim parkas. However, what makes some people turn away from using a swim parka with a faux fur lining is that this material tends to become a bit scratchy when wet. It also takes longer to dry compared to fleece.
Cotton – The third type of material for a parka lining is cotton which works like a regular bathroom towel. It feels really comfortable, but more often it soaks a lot of water and becomes heavy. It is also difficult to dry.
Pockets
A pocket is incredibly useful in swim-parkas as you can use it for keeping your swimming gear and other personal essentials including your mobile phone near you.
Most swim parkas come with only two side pockets on the outside, while others also have them inside as well as special ones for your phone and other small gadgets.
Ventilation
While the main purpose of a parka is to keep you warm, it still needs a good ventilation system to keep you comfortable and not sweating.
That is the reason why some parkas come with vents that allow the air to circulate and keep you cool when needed. These vents are typically integrated under the arms.
Material
Since the main purpose of a swim parka is to keep you warm in between swimming, it's important to invest in one that is waterproof and reliable in providing isolation.
Many of the parkas in the market are made of polyester materials such as nylon which is durable and water-resistant. When comparing parkas, it's important to choose a material with these qualities so that you get the most of your parka.
Design
When it comes to the design, parkas may differ in the availability of colors, the position of pockets, type of closure and length, among others.
Generally, swimming parkas have long sleeves and they are designed as a long coat to cover a larger part of your body. As your head needs to stay warm too especially after swimming, some parkas also come with a hood for that purpose.
Size
A swim parka is designed to be worn as a long coat with long sleeves, and that is why choosing the correct size for you matters. Ideally, your swim parka should be below the knee with sleeves that aren't too long or too short for your arms.
That way, you get enough protection that you need. Always refer to the sizing chart of the manufacturer to know the size that's right for you.
Locking Mechanism
Your swim parka should have a reliable locking mechanism so that it stays closed when it has to be. Many swim parkas have a zip or button closure. Zippers are faster to close but they tend to break easily with constant use.
Buttons, on the other hand, take longer to close but they generally last longer. Depending on the buttons used, they also look fashionable.
Aesthetics
Just like with any outerwear, wearing a swim parka also reflects your fashion choices. Choose a swim parka that better reflects your personality. This should be easy as parkas are available in a wide range of designs and colors.
Why You Need a Swim Parka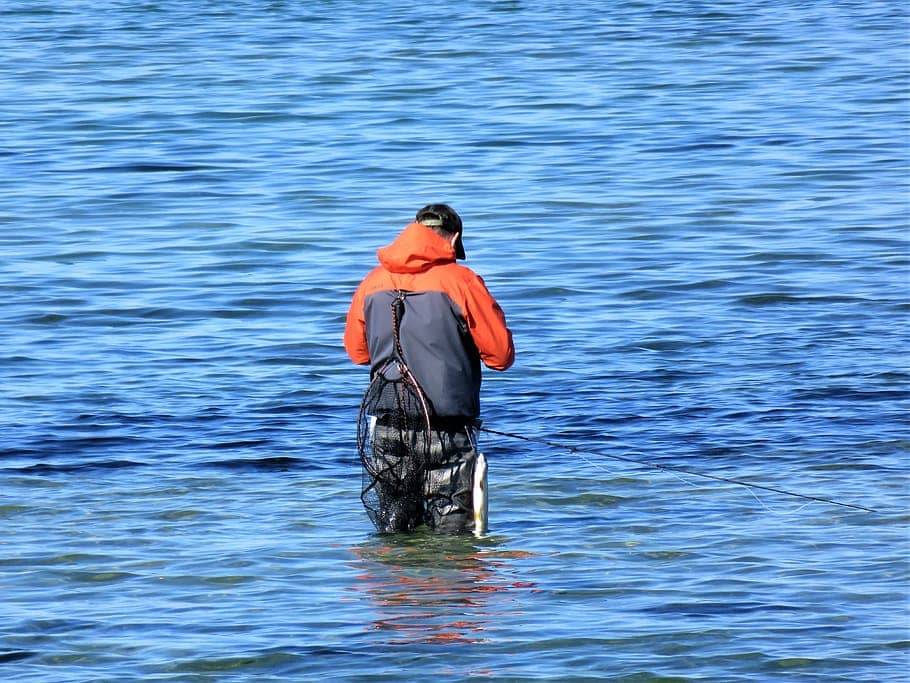 If you are into water sports, getting the best swim parka offers the following benefits:
It provides warmth. If you are competing in any water sports like swimming or water polo, it can get really cold after getting out of the water. To keep your core body temperature at normal levels, you could use a swim parka before or after a competition. This is especially true if the outside temperature is chilly.
It lets you carry your personal essentials. A swim parka typically comes with a pocket or a storage space for carrying your swimming gear such as goggles, nose clips, etc. Some even have a special compartment for keeping gadgets such as cell phone or iPod for easy access.
It works as a team uniform. Some manufacturers allow for customization of your team swim parka so you can add your logo or colors.
It is a versatile garment. You can also use your parka for camping, hiking or traveling. It can protect you from the elements.
FAQ
Q: What is a swim parka?
A: A swim parka is a multi-functional coat made for those who are into water sports such as swimmers, surfers and divers. The best swimming parka works like a coat and is designed to be waterproof, windproof and breathable to make you feel warm and comfortable when you are out of the water.
Q: Are the best swim parkas waterproof?
A: Many swim parkas are waterproof, and unfortunately, some of them are not. It would be good to check the manufacturer's product description to make sure that you are buying a waterproof one.
Q: Can you wash a swim parka?
A: Yes, generally they are washable. Some parkas are machine washable while the more delicate ones require hand washing. As a rule of thumb, use a mild soap in washing and do not use bleach.
It's also important that you don't soak your parka before washing as they are prone to bleeding. Always refer to the washing instructions for more information on the right way of washing it.
Q: How do you take care of a swim parka?
A: Your swim parka will last long if you know how to take good care of it. Aside from the proper way of washing, there are other basic tips that can help your parka stay in its best condition longer.
It's important to remember that chlorinated water is the top cause of swim parka deterioration. The chlorine and other harsh chemicals in the water will cause the parka to easily break down and fade.
In addition, if you pack your parka while it is soaking wet, it can form mildew and emit a bad smell. That is why after using your parka, you need to hang it up to drip and dry. You may also use a dryer to remove moisture but keep it on a low setting.
Moreover, before storing your swim parka, make sure that it is completely dry. You can loosely fold or hang it where it is dry, cool and away from direct sunlight. These conditions protect your parka from mildew and fading.
Best Swim Parkas
Adoratex earned a good name when it comes to making water-resistant warm coats and swim parkas. The Adoretex Unisex Adults & Youth Swim Parka is one proof that this brand lives up to its reputation.
In fact, this product is one of their bestsellers as it has many of the bells and whistles that you would want in a similar product.
It is also an extremely versatile product and is ideal for those looking for a multi-functional parka. You can use it not just for swimming and other water sports but also for playing soccer and other sports.
Looking at its main components, its inner lining is made of fleece. Fleece is not only warm and comfy but it also easily dries. Its hood is also lined with the same material so your head will also be as comfy as the rest of your body.
As for its outer fabric, it uses high-quality water-resistant oxford nylon. This is perfect as you don't have to worry about your parka getting wet and feeling damp. A two-way YKK zipper in the front opens and closes this parka.
When it comes to storage, you won't get disappointed. This parka has two exterior fleece-lined side pockets with zip closure as well as one sleeve pocket with Velcro closure for additional storage space.
Also, one unique feature of this parka that is worth mentioning is its interior has a pre-sewn name label so you don't have to pay extra for the embroidery.
Interior, hood and pockets have a high-quality fleece lining to keep you warm
Uses a very durable YKK zipper
More storage space for keeping your gear and gadgets
The outer fabric is water-resistant
The TYR Alliance Parka is undeniably a great-looking swim parka with a bunch of awesome features. It makes a perfect parka for those who engage in water activities and sports and also for those looking for cold weather thermal protection.
The outer fabric of this TYR Alliance parka is made of 100% nylon which is durable and water-resistant. It has a micro-fleece lining that prevents moisture and wind from coming in.
On top of that, it features an adjustable hood that you can use in case your head also needs extra protection. Looking at its overall construction, you can tell that it can keep you warm and dry even if the temperature is very cold.
What's good about the TYR Alliance swim parka is that it puts great attention to the smaller details including the pockets. This product has several of them sewn in the exterior and interior of the parka.
These pockets either have a zip closure or Velcro closure to keep your things secure. More pockets mean more storage space for your essentials and gadgets.
There are also other bonus features that you may find interesting in the TYR Alliance swim parka. One is its venting system for air circulation. It also has custom front and back Velcro flaps. Plus, it has adjustable raglan sleeves for a perfect fit around your arms.
Lots of pockets for storage
Exterior fabric is water-resistant
Micro-fleece interior keeps you warm and cozy
Speedo is another popular brand that produces some of the best swim parkas. The Speedo Unisex Team Swim Parka has a sleek design and is available in different colors, making it a great choice for men and women. It is also one of our top picks if you are looking for uniform swim parkas for your team.
There's a number of good reasons why you should choose this swim parka. First, we could look at its materials. Its outer fabric is a water-resistant polyester material and it uses the same material for the outer layer of the hood.
For the lining, the use of fleece is a good choice as it dries up quickly and it also feels nice to the skin. The parka also incorporates a double front zipper so you can open it from the inside or outside.
Even the smallest details of this swim parka were designed with the user in mind. Its zip pockets in the front as well as in the interior are lined with fleece so you can tuck your hands inside to feel warm.
The hood is also lined with fleece and it has a drawstring so you can adjust it for a custom fit. Oh, and the colored zipper pulls are also interchangeable.
Water-resistant polyester outer layer
Fleece interior is warm and comfy
Pockets and hood are also lined with fleece
A bit tight on the shoulders so you need to be careful when choosing the right size
If you are looking for a basic and functional swim parka at a budget price, this swim parka is worth checking. It is available in a wide range of colors and sizes so it would be easy for you to pick one that matches your personality.
Just like many of the high-end parkas, this one also has a water-resistant Oxford nylon as its outer shell. It is an extremely durable material that blocks cold air and water from getting in.
Below is a layer of fleece lining that will keep you warm and cozy. Fleece also dries quickly which makes it useful if you have more hours of water sport events ahead of you. A two-sided zipper at the front allows you to easily wear this parka.
As for storage space, which is also an important factor to consider, this one has two exterior side pockets with zipper closure and one sleeve pocket with Velcro strap closure.
These pockets will not disappoint you as they are also lined with fleece to keep your hands warm. Inside the parka, it also has a pre-sewn label that you can customize with your name.
Multiple fleece-lined pockets for storing your essentials
A wide range of colors and sizes to choose from
Water-resistant outer shell
Quick-drying and comfortable fleece lining
Some customers reported issues on sizing
If you have a special preference for cotton because of the extra softness and comfort that it offers, then Great Aussie Swim Parkas is for you. Wearing this parka feels like wearing a bath towel – it is very soft and comfy.
However, it's important to note that cotton lining takes more time to dry compared to faux fur or fleece. This is something that you need to take into consideration, depending on your needs.
What's great about this parka is that it uses a specially-treated outer shell so that it is highly waterproof that will not leak water through. You can use this parka right after swimming and straight into your car. You'll not be bothered by a wet seat at all.
If you need a reliable storage space to carry your phone and other swimming gear, this swim parka features two zippered pockets for that purpose.
This parka is somewhat longer than most swim parkas. It also comes with a fitted hood. These two features ensure that most parts of your body will be covered and comfortable after swimming.
Covers a bigger portion of your body as it is long and has a hood
Uses a heavy-duty YKK zipper
Outer shell is water-resistant
If you are looking for a swim parka that doubles as your changing robe, this product is right for you. It is designed to be oversized so that you can use it to easily change your swimming clothes without going to the washroom.
Aside from being oversized, this swim parka is also made from 100% waterproof and windproof outer shell with a fleece lining, which makes it extremely versatile and ideal for camping, hiking and other outdoor activities and water sports.
Since it is designed for all-weather conditions and for many sorts of activities, it's just right that it comes with other incredible features that can be useful to you.
First is its pockets. It has one A4-size pocket on the inside that is huge enough for keeping your extra clothes. It also has a zippered pocket for your phone and comes with a headphone slit.
Aside from that, it has an external fleece-lined pocket with elastic zip pulls for easy opening and closing. Moreover, unlike most parkas that are only available in long sleeves, with this product you can choose between short and long sleeves.
Can be used as a changing robe
With a headphone slit
Huge internal pocket for storing clothes
Two sleeve options
Waterproof and windproof
Adoretex is one of the top brands when it comes to swim parkas. And we can't deny that it is one of our favorites. That is why we feature this third swim parka model from the same brand.
It is a versatile parka that is great for those who are into water sports and outdoor activities where you need protection against the elements.
Just like the other two Adoretex swim parkas in this review, this one also uses Oxford nylon for the outer shell, fleece for lining and YKK-branded zipper.
It also comes with standard features such as fleece lining in the pockets, Velcro closure in one of the pockets, and a fleece-lined hood with a toggle draw cord.
One of the best features of this swim parka is its two-way separating zipper which allows you to unzip it not only from the top but also from the bottom to give your legs extra room to move. Since it is also a bit oversized, it also works as a changing robe.
Works as a changing robe
Hood and pockets are also lined with fleece for ultimate comfort
Two-way zipper gives your legs more space for moving
Oxford nylon outer shell is water-resistant
This Tri-Mountain swim team parka is a good choice if you are on a budget and are just after a basic swim parka. While it is one of the cheapest swim parkas you can find, it also has some of the best features.
If you check the materials that this swim parka uses, you'll see that it is on par with many of the more expensive swim parkas. Its outer shell is made of 100% nylon which is windproof and waterproof.
As for its interior, it's made of polyester anti-pilling micro-fleece which will help you stay warm, dry and comfortable after a swim. Moreover, it has an adjustable hood with the same outer layer and lining as the garment to give your head the same level of comfort.
Since a swim parka won't be complete without pockets, this product has two zippered side pockets and one interior pocket. It also features a two-way zipper in the front which lets you open from the bottom if you need extra legroom.
One of the most affordable swim parkas
Two-way zipper opening for ease in wearing
Multiple color options
Completely waterproof
This product may be expensive but it has many outstanding features that will make you want to buy it if money is not a problem. It is top notch in terms of overall construction and is designed for heavy-duty use.
It is also very versatile. It makes an excellent option for aqua athletes, triathletes, lifesavers and swimmers.
The Arena Pistony Ol Parka is the only product in this review that uses 100% Polymide material which is recognized for its high durability and strength.
That tells you how much this brand focuses on quality. Apart from that, it also has an ultra-plush inner lining that provides thick insulation against cold and windy environments.
Your head is similarly protected, as it has an adjustable hood with a drawstring. Fabric-wise, this swim parka is superb. Other features are a two-way zipper which most swim parkas have.
It is an essential feature since the bottom opening allows you to free up that area for more legroom and freedom to move around. It also comes with two zippered side pockets for your gadgets and gears.
Uses excellent quality materials
2-way zipper opening
Comes with a hood and drawstring
Thick insulation to protect you against cold environment
Two color options only
Has two pockets only while most parkas in this list have more
Conclusion
The best swim parkas are there to protect you from the shivering cold temperature as soon as you jump out of the water. They help maintain your core body temperature at optimal levels so you can give your best performance in swimming and other water sports.
While all the best swim parkas in this review serve that purpose, there is one product that stands out. The
Adoretex Unisex Adults & Youth Swim Parka
is our number choice as it is a balance between quality and affordability.
It uses Oxford nylon which is also a popular choice as an outer shell for many high-end swim parkas due to its water-resistant qualities and durability. It also uses a quick-drying and cozy fleece lining.
But what we like most about it is its storage spaces which are also fleece-lined and are large enough to store many of your swimming gear. Overall, this swim parka is affordable and worth your money.
Live Your Aloha Swim Parkas Review
Swim Parka
★★★★★
"

I was eagerly willing to buy the Great Aussie Swim Parka but wanted to see an honest review like this. I'm glad I've made the right choice.
"