It's widely known that every region around the world has a signature dish.
Paris? Frog legs and buttered snails. New Orleans? Gumbo, often served with a hangover. New York's got Gray's Papaya hot dogs, Portland has Voodoo Doughnuts and all of Southern California is basically Tijuana 2.0 (read: bona fide Mexican eats at every grubby, traffic-ridden corner).
But, come west for a Hawaiian vacation? Chances are you'll be bowled over by the vast array of choices, rendering it difficult to point to a single distinguishing dish.
We have Asian influences that range from Filipino to Vietnamese, authentic Hawaiian food like poi and lau lau and American fusion—whatever the hell that means—that conveniently forgets things like gluten and flavor.
But, if there's one staple of Hawaiian food you shouldn't miss on your trip, it's fish.
These are islands, after all, surrounded by a glossy Pacific not exactly teeming with marine life (Trump, overfishing, pirates), but certainly producing a healthy amount of melt-in-your-mouth seafood.
And, yet. We can be a…how do I put it? Laze-back culture. The tried and true becomes so easy that we rarely get out of our comfort zones. I feel it, the bum at Kalama Park feels it and chefs undoubtedly feel it. And, this manifests in mahi mahi taking center stage at nearly every goddamn venue.
Don't get me wrong: Mahi mahi is well and good, but it's become trite in its ubiquity.
Strap on your lobster bib and hit up these six inventive seafood restaurants instead:
1). Sansei Seafood Restaurant and Sushi Bar: Kihei and Kapalua, Maui; Waikiki, Oahu; Waikoloa, Big Island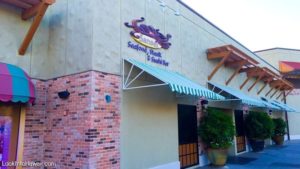 Ask a local where to find the finest sushi and guarans Sansei will wiggle its way into the conversation.
With locations on three of the major islands—Maui, Oahu, and Hawaii—Sansei serves sashimi so fresh that you can practically see the fish's heartbeat.
The selection is wide and varied, from old standards, like scallops and salmon, to Wahu, smelt roe and sea urchin.
Try their award winning Blue crab and mango roll, or go sideways with a 69—a California roll crowned with broiled unagi, masago and eel drizzle.
Best part yet? The sake is superb and there's not a single mention of mahi mahi on the menu.
2) Mama's Fish House, Kuau, Maui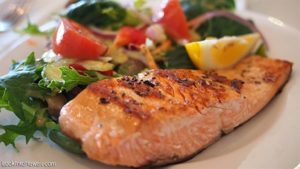 Sure—the name of this place might call to mind a really bad Martin Lawrence movie (who watches that shit?), but this is, hands down, one of the most extraordinary restaurants in the islands.
To note: TripAdvisor named it one of the ten best restaurants in the U.S., Open Table confirmed that it's the second most popular eatery in the country and Zagat deemed it the best place to eat on the Valley Isle.
This isn't the result of dirty money passed under the table or favors performed by peeps lusting after the bistro's bartenders.
Mama's, as it's known, is legit to the bone. Or, rather, boneless—as in its servings of exquisite fish that's caught within echoing distance of the kitchen's doors.
Mahi mahi might be on the menu—macadamia nut crusted, too—but choices also include Papio with Hamakua mushrooms and garlic and Molokai ahi grilled in ti leaves with papaya.
Or, you can man up like a Kanaka Maoli (that's native Hawaiian to you, dear) with their Traditional Hawaiian: Grilled salmon with Big Island wild boar, octopus, ahi poke and sweet potato. Mahi mahi is here, but only as, like, Kate Beckinsale. (Total dependable filler.)
3) Koloa Fish Market, Koloa, Kauai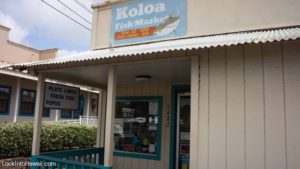 Have you ever wondered what, exactly, is fried in beer batter, dipped in vats of tartar sauce, served with "chips" and called fish? 
The brains behind Koloa Fish Market in the historic town of Old Koloa haven't—and that's good for you and exceptionally good for me. (I'm a twenty-minute plane ride away, suckers.)
Meaning, of course, that the seafood here is totally transparent because it was caught thirty seconds after you stepped into the café.
Family owned and operated, this kick back place is poke galore; be sure to try it with Sriracha. Other top choices? Ahi with wasabi cream, tako (octopus) and seaweed salad. (Seriously, Bubba Gump.)
4) Nico's Pier 38, Honolulu, Oahu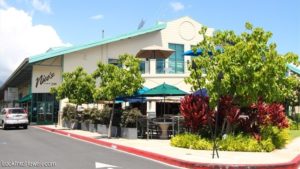 I've yet to meet Nico.  But, if he's anything like his name, I bet he's hot as hell.
With chilly, damp hands, of course: After all, this award winning chef handpicks each evening's selection of fresh fish from local water boys. (You do understand a metaphor, don't you?)
What began as a plate lunch spot has transformed into a foodie destination, thanks to Nico's special "touch" (and, let's be fair, also his vision for supporting local fishermen and sustainability).
Pupus range from ahi belly bites with lomi tomato to perfect poke with Sriracha aioli, while entrees run the gamut from Manila clams to grilled peppercorn swordfish.
And, stay for dessert. The selections might be lacking that telltale briny smell, but oh my god, Crème Brulee Cheesecake and toffee crunch blondies? Screw dinner altogether.
5) Town, Kaimuki, Oahu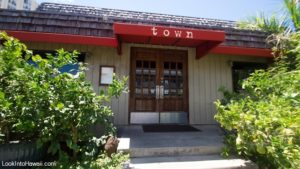 "Town" might be one of the more pretentious names of a venue—it's right up there with LA's "The Standard" and NYC's "The Kobe Club"—but we can excuse a touch of douchebaggery for epic achievements.
Of which Town has many. Indeed, everything they touch is close to culinary magic. Black mussels with fennel, pastina, tomato and cinzano broth and cured upelo with watercress are just two of their inspired dishes. Local ingredients are used strategically to enhance their fish's flavor, and the sides—like risotto cakes with balsamic vinegar—are worth the splurge and then some.
6) Nobu, Lanai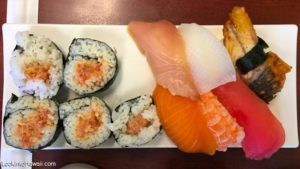 Happen to be on "The Pineapple Island"? Rest assured that gas station Fritos and Funyuns aren't your only options for dining. For an island the size of my thumb, Lanai has some kick ass options.
And, one of their top picks just happens to specialize in fish.
Tucked into the Four Seasons Manele Bay like a Victoria Secret's model at the Playboy mansion (think: supremely elegant and putting the rest of the babes to shame), this chic venue is the small-kine-island version of the global phenomenon.
With a menu inspired by Chef Matsuhisa's tours around Asia and South America, fortunate diners will find killer dishes like Bigeye and Bluefin toro tartar with caviar, sashimi tacos and lobster ceviche, while hand-cut rolls are filled with wonders like Yellowtail jalapeno and soft shell crab with avo. Insta this shit up: You'll look like a rock star.
So, now you can stop complaining about mahi-this and mahi-that and enjoy the best of Hawaii's seafood eateries!!