The trill of the ukulele, beautiful bikinis, dancing on waves and pigs on spits – when you look to Hawaii you almost rub your eyes in disbelief.
How do we look so good, when we must constantly be shoving sizzling spit roasts down our throats? Is it just like the puritans thought when they arrived on the island all those centuries ago to find us naked and walking on water – are we locked into some dark magic?
All of these thoughts circle in your mind, especially when you have spent the last hour trying to squeeze into your wetsuit and almost passing out from sucking your stomach in so hard after that tasty Hawaiian dinner cruise the night before..
Well, perhaps it's time to let you in on the secrets of Hawaiian superfoods; yes, that's right – there is more to this island than a sorrowful looking pig or a dusty tin of spam.
Replace your visions of poi with pillowy steamed buns stuffed with goodness, glistening Akai berries, jeweled fish, fresh from the ocean and thick coconut treats that clot on the tongue.
Take a look at these heavenly traditional Hawaiian foods fit for a Polynesian king and the next time you come to Hawaii, make sure you try a couple…
Poke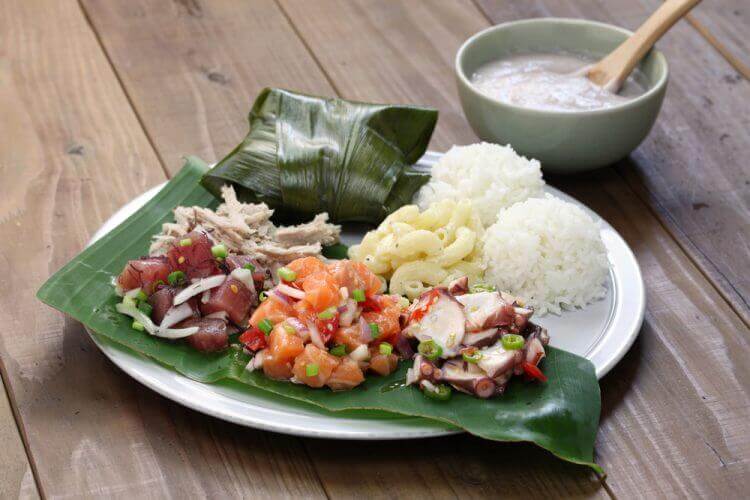 It may sound less like a food and more like a jab in the eye, but poke is one of those perfect Hawaiian dishes that is sure to make you drool.
Simply put; Poke is fresh fish- cubed, salted or marinated and served on a bed of beautiful rice and garnished with all kinds of glorious extras. Of course when whipping up a bowl of perfect Poke, you want to make it like a local.
Using fresh fish is paramount.  If Poke was a house in Game of Thrones then, just like a Lannister always pays their debts, House Poke would say that Fresher is Better. Poke would be a pretty lame house and would probably go out red-wedding style.
Ahi or Yellowfin Tuna is the most common fish used.  The rice should be garnished with glorious chopped kumbu or seaweed and the garnish should include sliced avocado, lashings of soya sauce, chopped scallions, bright cherry tomatoes and toasted sesame seeds.
Saimin Soup
After a day of crashing through the surf or hitting up your favorite tour, wiping out on your board and grazing every inch of your skin on razor-sharp coral – there is nothing as comforting as a steaming bowl of Saimin.
Just like every awesome island – Hawaii is a fusion of fabulous cultures.  This dish grabs a glut of Chinese culture, a pinch of Japan and a sprinkle of the Philippines and throws it all into one big beautiful pot.
  Oodles of noodles, steaming clear broth, flaky fish cakes, chicken, egg, shrimp or whatever floats your boat – is all heaped into a bowl and slurped with chopsticks. When it comes to Saimin the rule seems to be go big or go home.
Manapua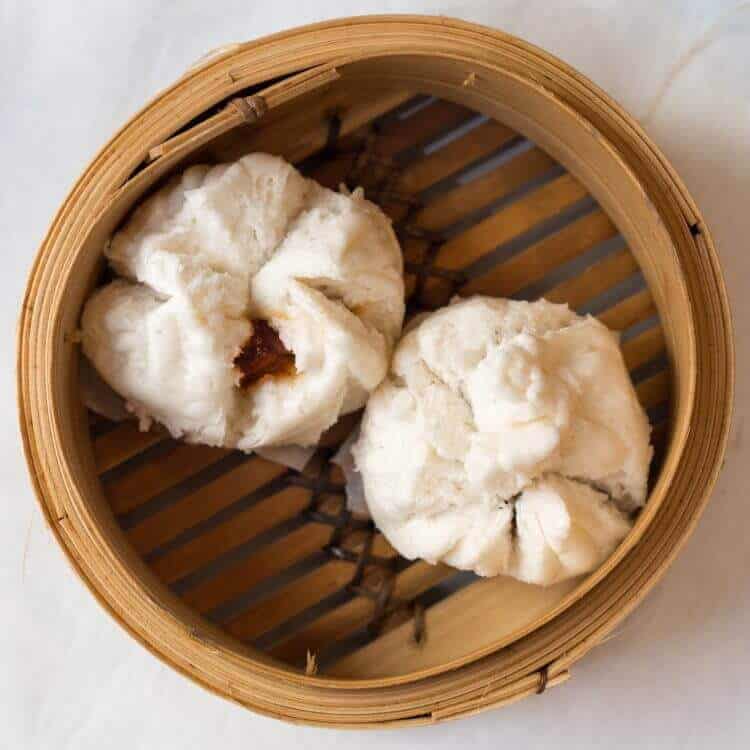 When you find a food that you simultaneously want to lay your head on and scoff down, you know you have found foodie heaven.
Manapua are magical, pillowy soft steamed buns, filled to the brim with sweet pork, teriyaki chicken or even smashed up purple yam.  These Chinese inspired delights are so popular that when the traveling Manapua man would come into town – kids would run screaming from the front door to swarm him with outstretched hands.
This is one of Hawaii's most popular finger foods. They aren't the easiest to make and require knuckles of steel for perfect kneading, but, if you get the dough and the steaming time right, you will literally fall down your own Manapua hole of joy. Make sure that you find a good Manapua recipe and stick to it.
Butter Mochi
OK, we aren't going to lie – butter mochi won't turn you into a lean, mean Polynesian queen.  It's more likely to make you resemble the stuffed seal we were trying to avoid.
But it is absolutely worth gorging yourself on the clotted coconut butter combo, because sometimes when life gives you coconuts you need to make mochi. Also, for those with kids at home; get them to roll up their tiny sleeves and throw down in the kitchen with you.
It's the perfect way to earn best babysitter / parent / guardian / weirdo who stole some kids, points. OK, scrap that last one, just stick to the mochi – it's less offensive that way.
For all those that are puffing up their chests and preparing to leave angry comments about suitable jokes in context, here is a lovely butter mochi recipe to soothe your nerves.
Lomi Lomi Salmon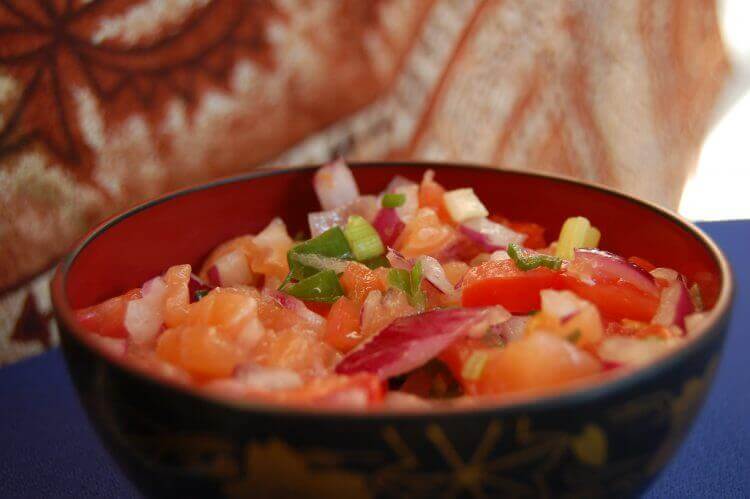 When you translate the name of this signature dish, it actually comes out as massage therapist salmon. Straightaway, this conjures images of a massage therapist rubbing your back with a floppy fleshy piece of fish, to the soothing sound of birdsong.
Let's clear that image up.  Llomi lomi salmon borrows that name because you take all the ingredients and rub them together. This means that you get some incredibly high quality, raw and salted salmon, cut into cubes.  You chop up some white or sweet onions, you dice a bunch of tomatoes and spring onions and you get your hands messy.
I know what you are thinking – wait – salmon doesn't come from Hawaii so how can this be a local dish?!? Well, sometimes explorers do good things, sometimes they land and wipe out your whole heritage, national sport and way of life. But, on the plus side, they do bring cured salmon from far flung lands – so let's say bygones?
Whip up a wonder of lomi lomi salmon and serve it alongside some killer kalua pork.
Acai Bowl
For our final dish, we are hitting up something to help you start the day and something that actually falls under the fabulous name of superfood. The humble acai bowl.
While the acai bowl may not BE from Hawaii originally, it IS the epitome of Hawaii. This was one of the first places to fall in love with the little bowls of beautiful goodness. We are talking a sublime acai puree blend, a bunch of fresh berries and fruits, a dollop of honey and some crunchy granola. Mmm, this is one of those Hawaiian recipes for when you feel like tapping into those extra powers of the universe.
We aren't going to talk about loco moco, because it looks like a delicious heart attack on a plate. We also aren't going to talk about Mahi Mahi, because you know – dolphins are cute and we are afraid of PETA and all that.
We also aren't going to mention Huli Huli chicken, because unless you have the patience of a saint and a well-stocked cupboard, you will just end up with chicken.
So there you have it- some of the most glorious-delicious-melt-in-the-mouth-fall-fast-in-love-or-die trying Hawaiian wonder dishes that you could ever wish to taste.