Someone once said that happiness is no white bits.
Nudists get a bad rap – but they aren't all overweight weirdos with shaved scrotums, playing bat and ball on the beach and speaking in a German accent.
The truth is that nudists are actually human…only sans clothes. Nudists are probably way happier than those of us who painstakingly stare at the wardrobe every day. They have successfully managed to demystify the human body, to feel mostly comfortable in their own skin and, of course, they get the pleasure of skinny dipping.
PS anyone who hasn't plunged into the salty sea without a stitch between them and the ocean is certainly missing out.
Those who dare to go bare on the beaches of Hawaii are probably having a blast, apart from those who didn't grab the best beach blankets to cover up or put enough sunscreen on – they are probably crying in a bath of cold tea. Yes, cold tea is actually a sunburn remedy. 
Despite Hawaii being one of the most chill islands in the world where swimming with turtles is commonplace – they actually have a rather conservative attitude, when it comes to whipping it all out. Sure, letting your coconuts hang free certainly won't land you behind bars, but stripping down to your birthday suit on private (ahem) resorts and populous public beaches may get you glares.
Then again, consuming alcohol on Hawaiian beaches is also technically illegal, so make sure that you don't get caught with a mai tai and no tie.
Basically, if you want to chill on the beach and go bare on the paradise islands of Hawaii, then you need to know the right spots to go. On the pure white sands, you will find flesh aplenty shimmering in the sun and no one will be batting an eyelid…
Kehena Beach, Big Island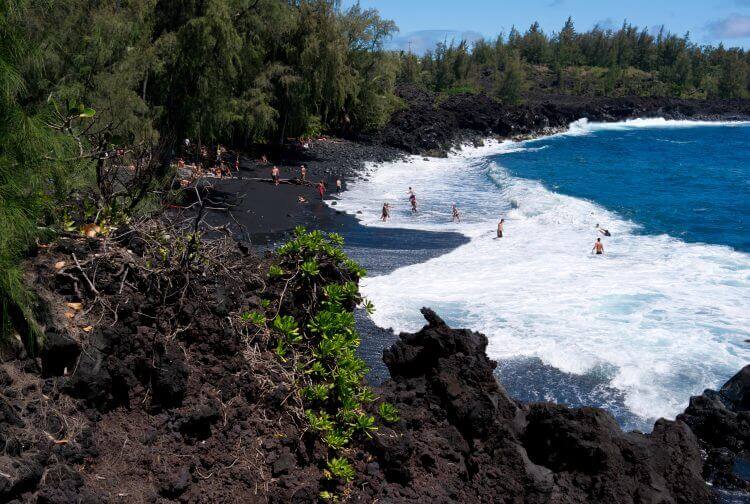 Hidden behind a veil of gauzy green trees and rocky ledges that spill down into the sea – it's no wonder everyone falls in love with the lure of Kehena Beach. The sand is dark and delirious, with its volcanic black grain and the white water rushes to shore.
This is one of the popular Big Island beaches for those who like to go nude as it is shielded from prying eyes unless somebody parasailing nearby can spot you. Sunbathing is bountiful – especially when you are stretched out on a soft towel with a good book in hand.
However, the currents here are strong, the waves overhead and high and the white water louder than bombs. Not that you have a swimsuit to lose, but swimming conditions can certainly be extreme.
Also worth noting- last year a nude swimmer came across a shark who was pretty pleased to see lunch laid out bare. Fortunately, the guy made it out alive and, despite his ankle being lacerated, put his pants back on before the ambulance arrived.
Little Beach, Maui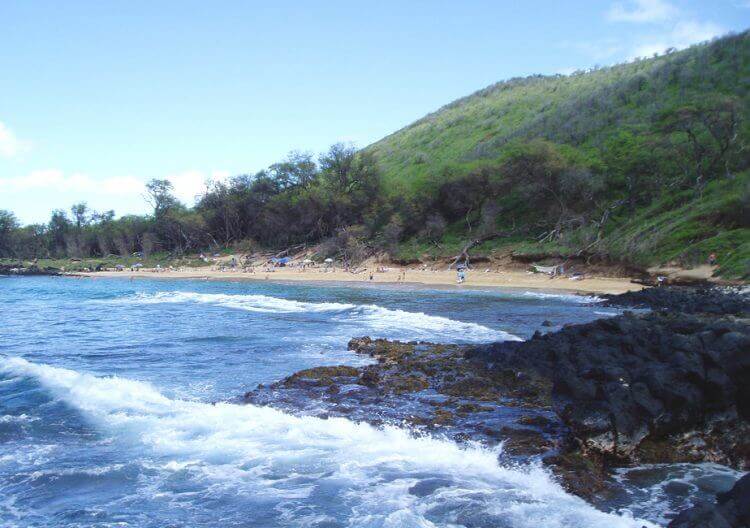 Little Beach is every bit as adorable as it sounds and is also a clothes-optional spot beside the sea. They say that good things come in small packages (no, this is not a tongue in cheek adage attesting to the size of the clientele) and, despite its modest stretch of sand – it is every bit the picture perfect Hawaiian paradise.
It has a gentle shore break, soft apricot colored sands and gentle rolling hills that hide you from curious eyes. Boogie boarders ride the rollers with a laugh that echoes around the headland and snorkelers send up bubbles, as they explore the southern rocks at the end of the beach.
On the weekends, you can even find fire dancers and drum circles invoking spirits down on the sands. For those who want to totally embrace their free-spirited side, then Little Beach seems the right place to do it –if Ken Kesey was still alive, we wouldn't be surprised to see him screeching and dancing around the flames on a Sunday night.
Donkey Beach, Kauai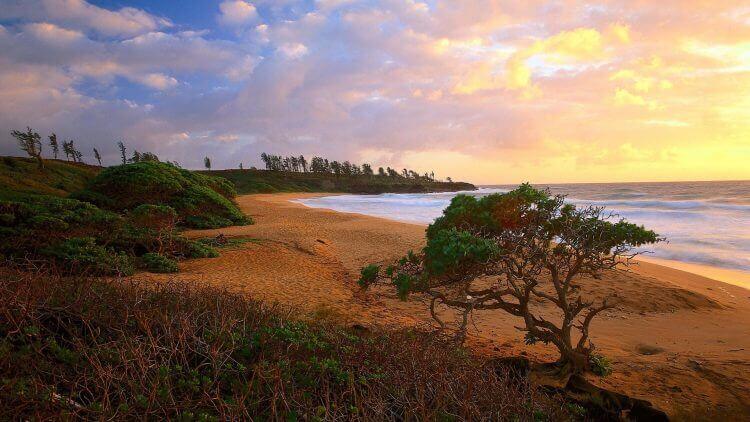 Rugged barefoot beauty seems to pulse in every step along the way of Donkey Beach in Kauai.
Here, the water seems to breathe and spit and foam and remind you that the ocean is fully alive. Glorious to look at, refreshing to dip in, but it does come with the kind of current that can sometimes carry you away.
This is another fun place to play without a stitch to keep you from the sun. Do be warned that this is also a firm favorite with monk seals who also like to lounge in blubbery bliss on the parched pale sands. If you feel a little vulnerable, having all of your bits on show that close to a monk seal – then you may want to keep the board shorts on.
It's also worth noting that there are no lifeguard towers on this beach. Yet, she is a dazzling spot for those who want to feel at ease in Mother Nature. The colors of green and blue blaze in every direction, the sun splashes over every inch of your body and the delightful floral lined path that leads down to the sands is even home to bathrooms, showers and a scenic pavilion overlooking the shore.
Secret Beach, Kauai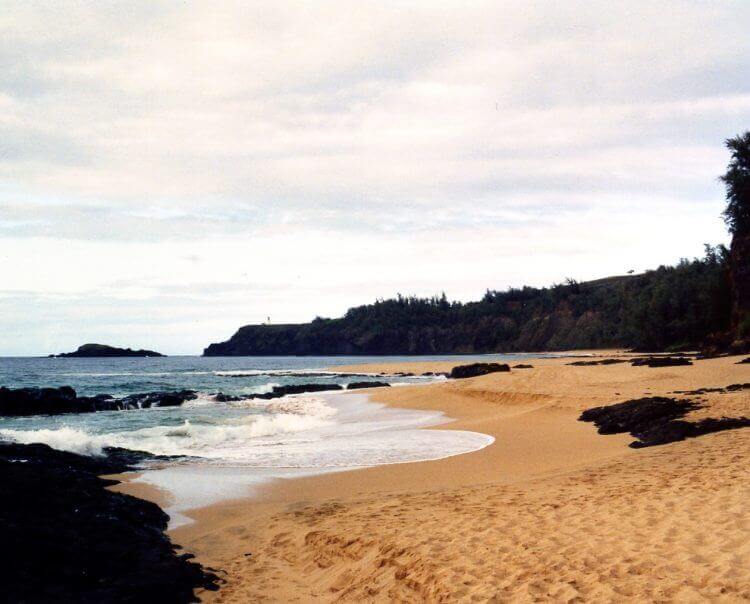 The name may offer some kind of clue or suggestion as to why this is such a sacred place and one of the best nude beaches in Hawaii. Hidden at the end of a dirt road, you will feel as though you have entered a members only club – and that your name was definitely on the list!
This beach stretches on a fair bit and the further you follow the footprints in the sand – the more likely you are to stumble across the naked zone. Getting to this beach is no easy feat – you have to stumble wildly and blindly down a dirt track, pushing through hanging boughs and kicking up dust, wondering, at times, if you have gone mad.
But, once you get there, you will see soft golden sands flanked by scented trees and shades as blue and white as a watercolor painting. Everyone is super friendly and you are sure to feel completely at ease dropping the towel and letting the salty breeze whip through your hair (no, not that hair!).
"back to Live Your Aloha's homepage"