Who doesn't love swimming? Whether you're a training athlete or just a casual swimmer, diving underwater is relaxing, fun and even good for your health.
List of Nose Clips for Swimming – LiveYourAloha.com
Unfortunately, you may find yourself with a heavy dose of chlorinated water in your nostrils. Not only is this uncomfortable, it can ruin your swim altogether.
The best investment you could make for yourself is to invest in a pair of nose plugs and/or earplugs. Wearing a nose clip is also the best option if you want to avoid any irritation in your nasal passages or sinuses due to chlorine and bacteria.
Best Nose Clips for Swimming – Comparison Table
IMAGE
NOSE CLIPS
FEATURES

Offers:

Maximum Comfort

Made of: Soft

Silicone

Cost:

$

Check Price

Offers:

Low Profile Fit

Comes with:

Adjustable Stainless Steel Frame

Cost:

$

Check Price

Comes with:

Flexible Nose-Pads

Recommended For:

Beginners and Professionals

Cost:

$

Check Price

Comes with:

Soft Cushioned-Pads

Perfect For:

Whitewater Kayakers

Cost:

$$

Check Price

Comes with:

Stainless Steel Frame

Includes:

Handy Carry Case

Cost:

$$

Check Price

Material:

Silicone

Good For:

Kids and Adults

Cost:

$$

Check Price

Item Weight:

0.2 ounces

Recommended For:

Active Water Sports

Cost:

$$

Check Price

Material:

Silicone

Great For:

Young Swimmers

Cost:

$$

Check Price
If you're looking for the best nose clips for swimming, then we have some recommendations to pick from.
The Advantages and Disadvantages of Wearing a Nose Clip
Although they're little, nose plugs are useful tools to have. They are made out of wire and rubber. If they fit properly, they prevent water from going up your nose while you're swimming.
Water can consistently seep into your nostrils, especially if you're a beginner. Besides being uncomfortable, this could even cause sinus infections. If you're a competitive swimmer, wearing a nose clip is a great investment to make and it will help eliminate many discomforts.
For example, if you're doing front crawl, the nose clips can keep water out of your nose and you can focus on breathing properly. If you're doing backstroke, a nose plug is useful if your head is submerging often or you're splashing yourselfoften when you raise your arm.
When it comes to butterfly, nose clips are the only way to protect your nostrils. Finally, if you're learning how to flip-turn correctly, a nose plug will help you focus on learning the motions instead of the water going up your nostrils.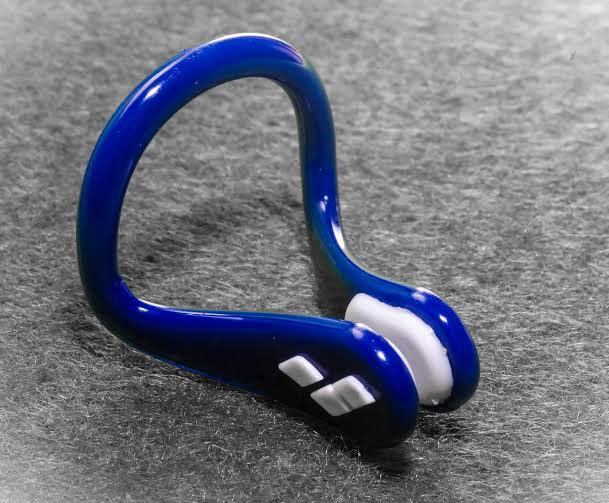 These next two instances are a bit rarer, but they still occur. If you're allergic to chlorine, a nose plug is a solid barrier against allergic reactions in your nose. Nose clips are also a good barrier against bacteria and amoeba going up your nostrils.
A swimming nose clip, however, is not foolproof. It's not often that you'll see an experienced swimmer wearing it. That's because, for starters, breathing becomes less efficient, which will affect your performance.
Also, you risk picking up the habit of holding your breath while swimming. Exhaling helps keep your motions fluid and your body more relaxed.
If any water gets trapped in your nostrils, it will create obstructions in your nose and make for an uncomfortable swim. Another habit you may pick up is swimming with your head lower and not at the proper height.
This is because you don't realize that water could seep into your nose. It can take some time to retrain your breathing-pattern.
Nose Clips For Competitive Swimming
Although most of them outgrow it, nose clips are prevalent within the competitive-swimming world. Like we mentioned earlier, it helps with mouth breathing control and technique.
Now, this doesn't mean that they shouldn't be practicing and training this aspect of their craft on their own. Nose clips just give them one less thing to worry about.
In most cases, nose clips help competitive swimmers and casual swimmers alike. However, there are a few instances that are specific to competitive swimmers.
First of all, nose clips can keep a swimmer's airways clear when they initially dive into the pool. This can cause less of a shock to their noses and allow them to focus from the outset.
Also, when divers initially enter the water, they have 15 meters of pool length where they're allowed to stay underwater. After that, they need to surface.
This means that holding their breath is key. Nose clips, as counterintuitive as it sounds, can help in this case. It allows them to stay under-water longer and use their kicks to full advantage.
Different Types of Clips
There are two main types of nose clips. The basic build is often in a u-shape. They have nose-pads to avoid cutting yourself, and they're usually made out of latex or silicone. Most often, the nosepiece is made out of stiff wire or nylon.
The second type includes a latex strap. Not only does this keep the nose plug in place, it prevents you from losing it in the water.
When it comes to choosing the right nose plug, it all depends on what you're comfortable with. Some swimmers prefer the basic model because they tend to stick to the nose better. The latex strap may become distracting or a nuisance. They have also been known to break.
Others prefer the latex strip when wearing a nose plug because it holds the swimming nose clip in place. If you're a swimmer who worries about losing your swimming nose clip in the water, a latex strap might serve as a comfort measure.
Fitting Nose Plugs Properly
This makes for a very easy process. All you have to do is push the device up the bridge of your nose. You then pinch the ends of the plug against your nostrils.
If you have the model with a latex strap, follow the above instructions. After the nose plug is secure, pull the strap over your head. It's recommended that you first slip your swim cap and goggles on first before you attach the nose clip and strap.
If the nose clip is on properly, no air should come out of your nose. If there's any air escaping, then you must reposition the plug or find a different size.
When it comes to maintenance, nose clips are very easy to take care of. Simply wash them after each use in warm soapy water. We recommend a plastic storage bag. Quite a few nose clips come with a carrying case.
Swimming and Your Sinuses
Like we mentioned earlier, pool water is rife with bacteria. When you're swimming in a pool, they can freely enter your nose. This could lead to nostril and nasal passage inflammation, as well as infections.
The other danger is chlorine. They can cause the nasal passages and sinuses to become inflamed. These conditions are known as rhinitis and sinusitis respectively. Though not life-threatening, it can keep you out of the pool for up to two weeks.
Another issue that you can face when swimming is pressure changes. While very uncomfortable, these are the results of your body equilibrating itself with the water pressure. Add in chlorine and other pool chemicals, and you have a recipe for a lot of excess mucus.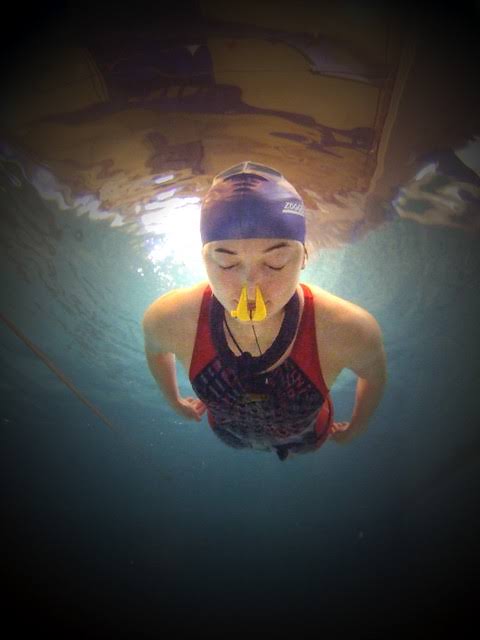 When your sinuses are blocked and can't regulate to outside pressure, you risk developing sinus headaches. Block sinuses can also lead to sinus infections because they can't evacuate any accumulated bacteria. This is why, when you have a cold or infection, swimming is not recommended.
Nose plugs are the best and easiest way to avoid any sinus infections or congestion headaches. If you need to take care of your nose, a saline spray and saline irrigation are important additional tools to use.
If your nose is chronically irritated, it might be wise to find a chlorine-less pool. Saline irrigation can clear out your sinus cavities and evacuate any irritants that are trapped there.
Some additional steps to take are to monitor the duration and frequency of your swims. You may also want to avoid diving or swimming at too deep a level. If you're passionate about swimming and, if it's possible, head to the ocean. The saltwater will clear out your sinuses naturally.
Alternately, you can take an over the counter pain reliever if you suffer sinus or pressure headaches after a swim. Make sure that you wait for the headache to subside before you head back out for a swim!
Outgrowing The Nose Clips
If your child is becoming more comfortable in the water and you think it's time for them to lose their nose clips, here are some tips.
First, demonstrate for them how to breathe underwater. Start by blocking your nose with your index finger and thumb. Fill up your cheeks with air and then go underwater for a second. If your child is comfortable, have them try that.
Over time, give your child the challenge of holding their breath underwater for longer periods. If your child is struggling with water going up their nose, have them blow bubbles or hum underwater. These are two easy techniques for them to expel air from their nose.
The next step is learning how to blow bubbles under-water through their nose. Have them practice humming under-water.
Over time, they'll develop their method for holding their breath underwater and keep water from going in their nose. When they're ready, you can remove the nose clip and let your little swimmer paddle free!
Best Nose clips for Swimming
If you're a beginner swimmer, getting water up your nose is an unfortunate side effect. If you're on the hunt for nose clips, then these Cressi nose clips and earplugs for swimming are a perfect fit.
They effectively protect your nose and ears from water, chlorine, and anything else uncomfortable that might enter your ears.
They're also built to last, so you don't have to go shopping for a new pair every month. The best part is that they can fit over different types of noses, so everyone can benefit.
These nose clips have gotten positive ratings. It will fit over most nose types without feeling too loose or too tight. If you're a beginner swimmer, this is a good pick.
You'll be able to master your cannonballs without worrying about getting water in your nose or holding it when you jump in!
Unfortunately, no product is perfect. While it's effective on most nose types, there are a few that fall under the radar. You may need to test them before buying.
If your nose is slick with sunscreen or oil, the clip risks slipping off. You may have to resort to holding your nose while you're swimming! In this case, you might want to give your face a thorough washing before you put on the nose clips.
Keeps out water from going up your nose
Durable
Comfort nose clip
Includes a carrying case
May slip off with sunscreen
Not suitable for all nose types
Not kid-friendly
Issues with the color
---
If you're gearing up for a swimming competition, then the Speedo Competition Nose Clip is the best choice for you. For starters, Speedo is the go-to brand for competitive athletes, particularly competitive and synchronized swimmers.
This waterproof nose clip has nose pads for comfort, and, after a while, you'll forget that it's even on. It's waterproof and has a low-profile fit. It even includes a storage case, which makes it easy to store and prevents any losses.
The Speedo Competition Nose Clip is a game-changer. It adjusts easily to your nose and it fits snugly, but not uncomfortably so. You can wear it in the pool, ocean or any body of water.
Best of all, the clips stay on in spite of sunscreen.  Even if you're prone to oily skin, these Speedo nose clips will stay on. They will stay on and they are very comfortable. You'll want to buy another pair in a heartbeat!
In certain instances, unfortunately, the Speedo Competition Nose Clip might not stay on. You have to be careful that it's not too tight or hurt to wear. If they're uncomfortable, then you'll need to consider another brand of nose clips.
The design and color might also be a deal-breaker. They're the same color as the water, which means that finding them in the water will be difficult. You'll need to be very vigilant and make sure that the clips don't fall off.
Low profile fit
Waterproof
Includes a plastic carrying case
Very inexpensive
Rubber Coated Stainless steel
May not stay on
Uncomfortable
Only comes in two colors
---
TYR Ergo Swim Clip is the best choice for both athletes and casual swimmers. It has a flexible-frame made out of polyurethane, so you know that it's built to last. The nose-pads are built for fit and comfort and are hypoallergenic as well.
As a bonus, it's been tested for performance. Additionally, it is available in five different colors, meaning that you can prevent any losses, as well as stand out in the water. This nose clip works the best if you're using a front mouth snorkel, making it the ideal clip for your snorkeling aficionado.
The reviews have been predominantly positive. These clips have excellent functionality and value. Not only will it be your favorite, but it will also be your child's favorite. Your family will be able to enjoy a swim without anyone worrying about getting water up to their nose.
The main issue is that the nose clips don't fit universally. In addition, the quality of the materials is not guaranteed. These TYR swim clips might require a little bit of trial and error.
Flexible
Available in multiple colors
High-quality materials
Tested for accuracy
Very affordable
Won't stay on
Short life span
---
Nothing spells quality than knowing that your clips are designed by a former world champion. Harmony Smiley's Nose Plugs are designed by Eric Southwick. Its cushioned nose pads have the comfort element covered and its malleable metal frame makes for the best fit.
It is ideal for white water rafters and kayakers. It's been worn and tested by the top performers in the sport, which further speaks volumes about the quality. If you're worried about losing it in the rapids, it is equipped with a nylon cord to loop around your helmet.
The positive ratings for these nose clips are staggering. You can bring these clips surfing in rough water and they will stay on. The days of having to drain your nose after surfing are gone!
If you use the clips during white water rafting, they are very durable. If you're worried about your child struggling with swimming lessons and getting water up to their nose, this pair of clips is for you. They'll be progressing and become a little fish in no time. Best of all, they won't lose it!
This product does not benefit everyone, unfortunately. A select few might slip off in the water. In addition, the material used doesn't stick as well and that the nose pads risk putting pressure on your nose, greatly reducing the comfort. This Harmony item might require some testing to see if they work for you.
Offer comfort
Cushioned pads
Malleable frame
Proper fit
Includes a nylon cord
Wouldn't stay on
Not durable
Not comfortable
Ineffective material
---
If you're an aspiring athlete, then you're best bet is the Speedo Core Competition Swimming Nose Clip. Their adjustable stainless-steel frame can mold around many face shapes, so no one's left out. It's made with soft pads for comfort and are a great choice if you're training or racing.
Additionally, it's made out of a synthetic rubber that doesn't contain any latex. If you're allergic to latex, you won't have to worry about a reaction!
The ratings are overwhelmingly positive. It will fit perfectly without any discomfort. You'll no longer have to worry about chlorine in your nose and swimming will no longer be an issue.
If you're dealing with painful sneezing and congestion due to swimming, then these clips are the right choice for you. You'll be back to enjoying the water in no time!
There are only two small potential setbacks with this product. It is only available in grey and, in the off chance that they fall into the pool, recovering them will not be easy.
In addition, the fit isn't universal. If you buy the Speedo Core Competition Swimming clips, you'll need to be cautious and make sure that they don't slip off.
Comfortable Fit
Great for racing or training
Adjustable stainless-steel frame
Cost-Effective
No latex
Only one color
Doesn't fit all nose types
Not anti-slip
---
BLUPOND Swimming Nose Clips are the best option if you're a water aficionado. Their anti-slip design makes them perfect for different sizes. They're made out of a soft silicone material that is non-toxic and allergy-free. This makes it the best option for kids. It even comes with a carrying case and in multiple colors.
The reviews are glowing for this nose clip. Not only do they look good, they fit very easily. Even if you have a nose piercing, you won't have to worry about pinching or discomfort.
These clips are ideal for synchronized swimming. The colors are greatly appreciated and greatly reduce the chance of your losing them. Every routine needs a little color!
There were a few issues with the product, unfortunately. The fit isn't universal, and it works better for people with a smaller nose. If you have a slightly larger nose, it may be too tight.
These nose clips may require some testing. However, if you do have a smaller nose, you should be on your way to a seamless swim!
Anti-slip design
Soft silicone
Non-toxic and allergy-free
Fits well
Includes a carrying case and earplugs
Comes in multiple colors
Falls off
Didn't fit all nose types
---
The Sinus-Saver Water Sports Nose Plugs are the brainchild of a California surfer who wanted a cure for his chronic sinus infections.
It is made out of medical-grade silicone material so that it is comfortable and malleable. It's also built to withstand the elements and not dissolve, break or shrink when exposed to them.
Its low profile makes it inconspicuous and reduces the chances of it detaching and getting lost. Best of all, it comes in 4 different sizes. This allows for more swimmers and water lovers to benefit from it!
The ratings are in and they are positive. It will fit your nose properly and keep chlorine out of your nose. Chronic sinus infections are a thing of the past!
In a few rare cases, unfortunately, these clips were not as effective a barrier against water as they could have been.
Medical Grade Silicone
Durable
Comes in 4 different sizes
Low profile
Pliant
Not effective
Too little
Not cost-effective
---
If your kid is passionate about the water, the Wolf Moon Earplugs and Nose Clip is the best choice for you. Your kids will love their bright colors. They're made out of comfortable waterproof silicone which is safe for kids.
It is made for very satisfied customers. It will fit your kid's nose perfectly, especially if they have smaller noses. Not only are the colors something that kids will love, but they are also useful in differentiating individual sets.
Additionally, the extra plugs in the pack are an effective backup in case the originals get lost. The material, unfortunately, is not the most comfortable. You may need to get used to the rigidity of the clip.
Colorful
Waterproof silicone
Great for kids
---
And The Best Nose Clips For Swimming Are…
If you want the best nose clips for swimming, then we have two recommendations to invest in: Sinus Saver Water Sports Nose Plugs and the Wolf Moon Earplugs and Nose Clip.
The Sinus Savers are made out of medical-grade silicone for guaranteed comfort. It's pliant, so it's both inconspicuous and a perfect fit. A bonus is that they come in 4 different sizes.
If you have kids or younger swimmers, then the Wolf Moon Earplugs and Nose Clip are a better investment. They come in multiple colors, which makes them hard to lose and are also stimulating for kids.
They are also made out of waterproof silicone which means that they will survive in the water for long periods.
Compared to the other nose clips on this list, they cover multiple areas of protection for a swimmer. Compared to the Speedo Nose Clip, the materials are more comfortable and gentler to a swimmer's face. The Speedo Nose Clip is made out of stainless-steel and it can be uncomfortable.
The Cressi Swim Accessories were criticized for slipping off easily due to sunscreen or even oily skin. With the Wolf Moon and Sinus Savers, their materials allow for them to stay in place more effectively. Also, because their materials are of higher grade, they won't slip off.
Live Your Aloha Nose Clips Review
Nose Clips
★★★★★
"

I had so many options on my table that I was unable to choose the right one. Thanks for making my life easier with this valuable information
"