Your Zero Effort Guide to Hawaiian Entertainment This Winter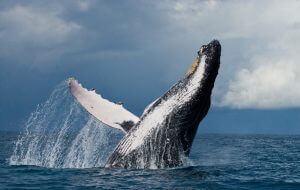 Ahhh Hawaii, the gift that just keeps on giving, regardless of the time of year. Well known for being the best winter escape, Hawaii still peaks at 85 degrees, Fahrenheit, even in January! Just imagine what a reprieve that would be from the freezing cold of North America.
[mc4wp_form id="1051″]
Of course, this is a no effort guide, too. A (kind of) how to entertain yourself on the cheap and being in full lazy mode, while on vacation in Hawaii.  Because, while day trips are all well and good, sometimes you just want to knock about in your hotel room, wearing yesterday's pizza encrusted pajama bottoms, saving your hard earned dollars for something (more alcohol) or someone (you) that you will actually enjoy.
(P.S Christmas and New Year, like anywhere in the world, are mega expensive. Avoid, avoid, avoid!)
The Big Waves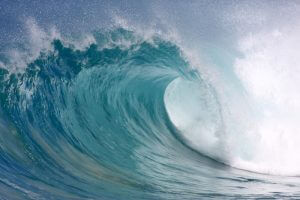 If there is a "downside" to visiting Hawaii in winter, then it's that the island can receive more rain, compared to summer months. Typically, spurts of rain are short-lived in Hawaii, but they do happen.
The plus side to this, though, is that the mega waves come calling.
What do I mean by mega waves?
Well, I'm talking about waves that can hit peaks that are higher than 30 feet. Oahu's North Shore is the place to be to witness these amazing waves and watch the skilled surfers carve their way through Mother Nature herself. 
Also in Oahu, depending on when in winter you're visiting, the Vans Triple Crown of Surfing may be on, one of the world's most prestigious surfing competitions. Two of the best wave watching spots are the Banzai Pipeline at Ehukai Beach and Waimea Beach.
On Maui, check out Peahi for all the big waves.  If you're lucky, you might even spot Jaws!
Deck chairs at the ready!
Humpback Whale Watching
This takes no effort at all.
If you're visiting during January, February or March, then you're in luck! 
Did you know that each winter, between four to six thousand humpback whales migrate to Hawaii to mate and give birth?
No? Then you need to get your butt down to the Hawaiian Islands of Maui, Lanai and the Big Island, all tipped to be the best places to observe humpback whales.
Open a can, grab the binoculars and relax. You now have every excuse you need to sit on your bum all day!
Beach Hopping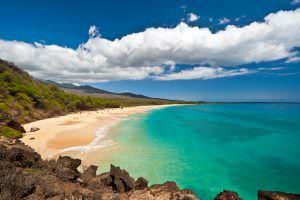 The number one reason you're visiting, right? Everyone wants to return home from Hawaii with a tan.  And, even in the winter months, this won't be a problem.
There are hundreds of different beaches to choose from.
Secret Island Beach in Kualoa Ranch is a must, if you like secluded views and it also gives you the options of kayaking, snorkeling and volleyball, if you do fancy doing a bit of somethin' somethin'.
For zero drama and flat seas, visit Kailua Beach or Haunama Bay on Oahu. These are the ultimate lazy boy's beaches, where everything is on hand, if you suddenly desire it.
Bliss.
Local Festivals
If you like chilled out days full of culture, then have a gander at some of these local favorites:
The annual 'Iolani Luahine Hula Festival is held at the end of January. If you like watching street dancing and other hula-based performances, then this is the carnival for you. This little gem offers a sneak peak into the Hawaiian dance culture, offering authentic performances by local groups.
The Annual Kona Surf Film Festival is also held at the end of January and is hosted by the Big Island. Famed for raising money for a bunch of local good causes, the event pools together two of Hawaii's greatest passions- surfing and the arts. This festival howcases a range of shorts, feature-length films and documentaries, all based on the ocean and its supreme sport.
The Chinese New Year Celebration is held in early February, in Honolulu at the Chinatown Cultural Plaza. Don't be mistaken into thinking that this will be similar to other festivals you've attended. It won't be! Hawaii has a very strong Asian heritage that makes this festival that extra bit special.
Waimea Cherry Blossom Heritage Festival is another to check out, held the first Saturday in February. Showcasing the beauty and history of the fragrant blossoms in Church Row Park. Make sure that you visit the park regardless.  It's mind-blowing, as the cherry trees only bloom for a very limited time. It's a treat. 
Take a Hike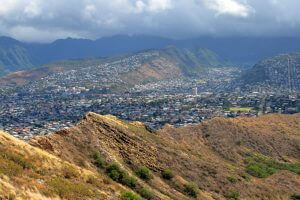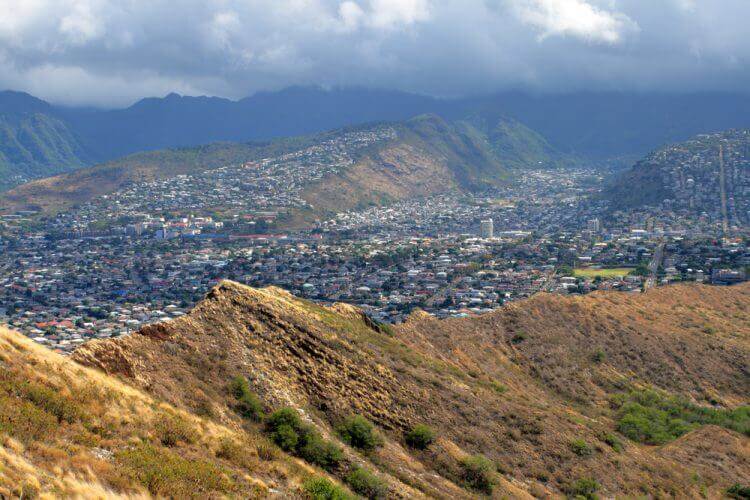 (Not worth it, if you don't like walking, obviously.)
Lace up your hiking boots or, if you're a real local, grab your "slippahs" and get ready to explore some of Hawaii's stunning trails.
Not only is the winter a tad cooler, but the wildlife and plant life are stunning.
Make sure you visit Hawaii Volcanoes National Park. Offering 150-miles of trails, you'll never get bored with the beauty that is Hawaii.
One that was recommended to me was Pu'u Konahuanui Park. It's a great hike and only takes around two hours to complete- perfect if you're a bit of a layabout, like me.
It isn't dangerous and there are two routes that you can take, depending on how "athletic" you feel on the day. Look out for the reservoir.  That's the start and, after five minutes, you'll come to a fork in the road. The left side is a little more challenging, as it takes you up the ridge line. Be prepared to witness the odd mudslide or fallen tree.   
[mc4wp_form id="1057″]
The right side is the easier trail, but that doesn't mean the boring one, unless you count a couple of secret waterfalls and soft streams as boring, that is.
There really is nothing like Hawaii in the winter. Come over now and experience it for yourself.