Call it primness, call it a case of the lames or call it having an intellectually curious mind, but sometimes kicking it on the beach isn't as appealing as those Corona commercials would want you to believe.
You're in luck, you impeccable urbanite, you.  There's far more to Hawaii than golden sand beaches and bathwater waves.
Whether last night's luau has left you too bloated to squeeze into a bikini or you're desperate for more mental stimulation than watching a sand crab eat an orange peel, here are 7 Hawaiian activities that require neither a belly flop nor a beach umbrella:
Warren and Anabelle's Magic Show, Lahaina, Maui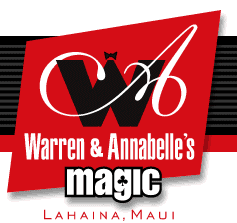 Get trashed somewhere besides those luau grounds at this four-hour rowdy bash, where a ghost of a piano player serenades tipsy Midwesterners and a redneck of a comedian steals watches without chumps even noticing.
Warren's history in Vegas and disturbing obsession with The Andy Griffith Show pays off in spades: this dude is actually funny without veering into Tosh-like territory. (In other words, you can take your mom and pops here without feeling like an a-hole.)
Ladies: show some nips if you're dying to get on stage.
Gents: don't bother trying to hide your thinning hair—Warren will find something to ridicule anyway.
Best part yet? Libations aren't restricted to the lobby. Meaning, you can get progressively plastered throughout the entire shebang.
Iolani Palace, Honolulu, Oahu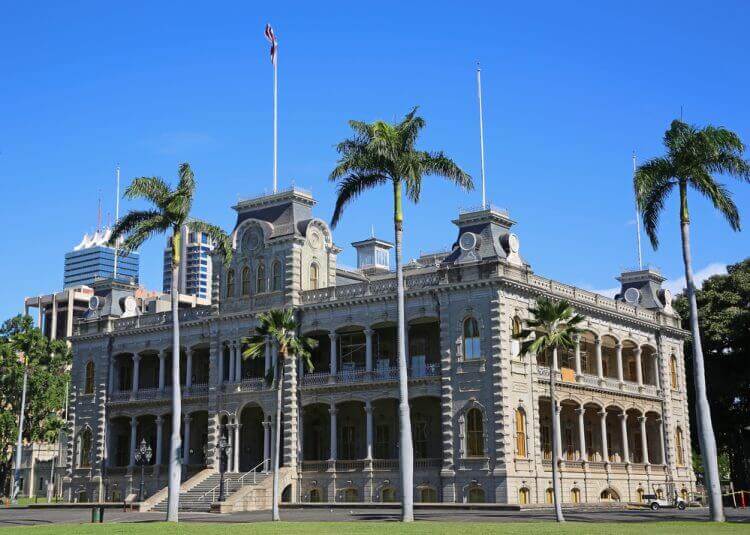 Millennials fortuitous enough to have avoided the coke epidemic, crimp irons and the Reagan administration tend to forget that Hawaii wasn't always part of the U S of A.
Take a trip into its storied past at the Iolani Palace, where King David Kalakaua and his sister Queen Liliuokalani once ruled the islands, before succumbing to sinister Western influences (truly).
Walk the palace's lavish halls, listen in on stories that veer from life-affirming to mad disturbing and ponder what it might have been like to deal with arrogant white fucks, two hundred pounds less than you, telling you what to do in all matters of government.
Waimea Canyon, Waimea, Kauai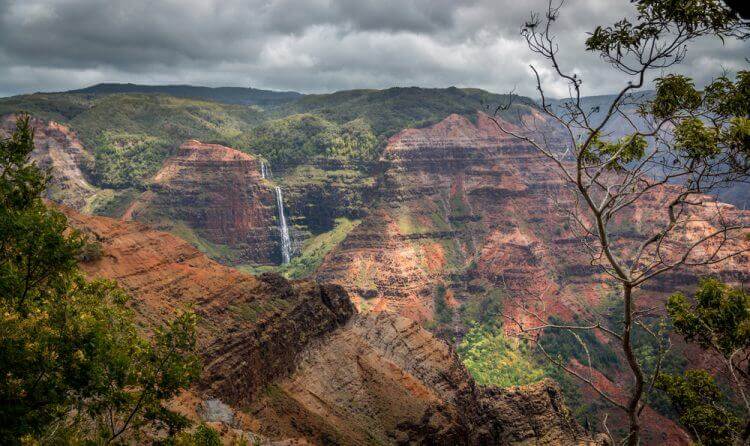 Superlatives indiscriminately abound, when describing Hawaii's majesty, but calling Waimea Canyon the Grand Canyon of the Pacific is actually deserving.
Ten miles wide and more than 3,000 feet deep, the Garden Island's crown jewel makes the vividness of rubies look paltry.
Hikes range from strenuous to get-out-of-your-rental-car-and-stretch-your-legs, but the views are unilaterally amazeballs.
Ni'ihau shimmers in the distance, like the islands' exiled black sheep, the erosion in the cliff walls makes your acne-scarred face seem baby-bum smooth and Waipo'o Falls reminds you why Hawaii is so often called heavenly, no matter where you stand on the whole "God" thing.
Sound a bit dull for your tech-addled, ADD skull? Score some pakalolo in Poipu before heading up. It'll make the trip that much more, um, staggering.
Maui Escape Rooms, Lahaina, Maui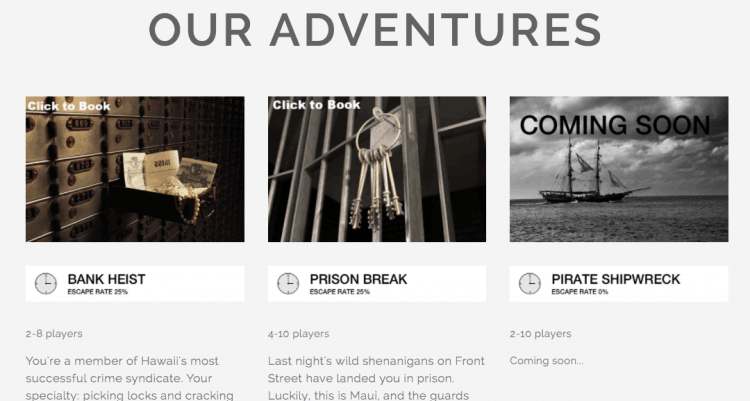 GTFO (that's Get the Fuck Out to you, smug Luddite) takes on a whole new meaning at this interactive adventure on Maui's West side.
Participants are locked in a room—a mock jail cell, on a shipwreck, or in the midst of a bank heist—and given a list of clues to weasel themselves out.
True, true, this is no Race to Escape (keep in mind that Hawaii's not exactly known for being cutting edge), but the clues are clever—with Salinger even making an appearance—and the ticking time on the room's flat-screen TV adds to the hilarity and urgency.
And true again: this game is far more entertaining if you're good and lubed up.
Lucky for you, jail bird, there's a first-rate brewery right across the street. Go there, first to get the party properly started and return once you've escaped, bail money in hand.
'Akaka Falls State Park, Hamakua Coast, Big Island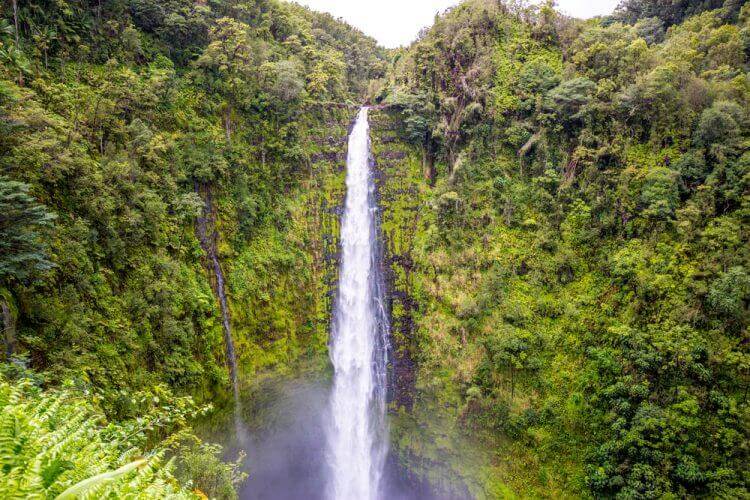 More of a keep your feet clean and see something green kind of "eco" kid?
Prove to those Insta followers that you do more than troll indoor malls and camp out at Starbucks: hit up 'Akaka State Falls on the Big Island's stunning northeastern coast.
Here, Eden gets a tropical twist with a bamboo-lined trail to a 442-foot waterfall gushing more dramatically than the fountains at the Bellagio (which, let's face it, is your only FB pic of "nature").
And since sweating's not really your thing, considered yourself blessed. The loop is less than a mile both ways. (Sorry, FitBit.) Just steer clear of the mist if you're the kind of gal who prefers to get wet only in the bedroom.
Kualoa Ranch Zipline, Kaneohe, Oahu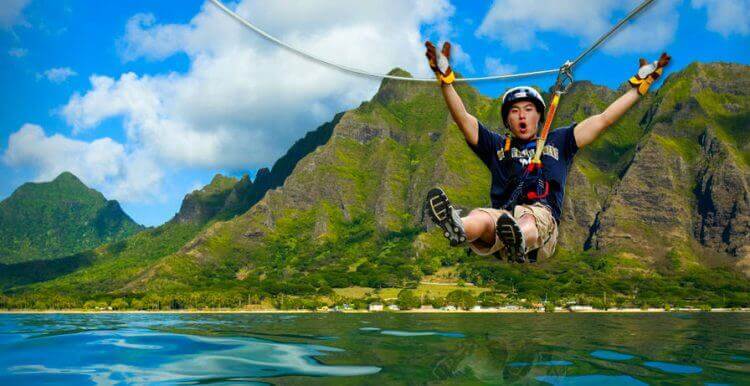 Landlubbers who are steering clear of ocean thrills may think their last shot at adrenaline was rolling onto the runway at HNL. (Good god, what do they put in those complimentary mai tais?)
Fret not, sidewalk dweller: centuries ago, mountain men began using pulleys to traverse gorges before someone got the bright idea to build bridges. Now, their genius enables you to act like a modern incarnation of Tarzan without having to use a single brain cell.
Kualoa Ranch's zipline is one of the sickest adventures on Oahu, zooming peeps over lush jungle floors from the top of Ka'a'awa Valley, where, Oh Em Gee, parts of Jurassic World were filmed.
Newlyweds can go tandem; solo travelers can pretend they're Charles Lindbergh without having to tamp down their childlike grins.
And this is no slam-bam-thank-you-ma'am type of buzz: rides go for a quarter of a mile, lasting far longer than most "hubbies" on tiki-drink-heavy honeymoons. (Is there any other kind?)
Makena Stables, Makena, Maui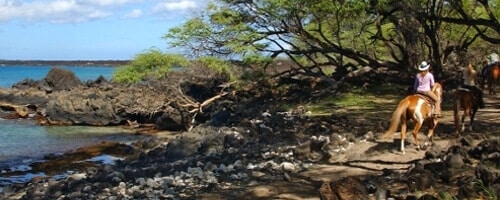 Bareback more your style, cowgirl?
Say screw it to all those cheery promotions advertising surfing on a giant foam board and saddle up instead.
Truth be told, horseback rides on Maui's south side are dry, hot and dusty. But, they're also wonderful in a way few things are anymore in this concrete jungle world of ours.
Leisurely rides take travelers past parts of old Hawaii that have been decimated by modern expansion: ancient burial grounds, the footpath constructed by the former King of Maui and his son, and untouched fields of otherworldly kiawe trees.
From this vantage point, the neighboring islands of Kaho'olawe and Lanai slumber in the distance like sleeping giants and the water is so blue you'll think there's LSD in your bottled water.
What's more? This whole trip traverses the most recent flow of lava from Mount Haleakala. In other words, it's the closest thing you'll get to the moon unless you sleep with Richard Branson. (Sorry, mate, I meant Sir.)