Are you tired of laying on the hot sand or some rinky dink towel that constantly has sand all over it? There's nothing quite like spending time at the beach with friends and family. Basking in the sun, catching some waves, and building sand castles never gets old.
However, one thing that does get old real quick is dealing with the hot sand. It's uncomfortable, gets all over you, and can turn any great day at the beach into an unpleasant one. That's where a quality beach blanket comes into play. While bringing sunscreen with you should be at the top of your list of items, not far behind should be a beach blanket.
Our selected favorite Beach Blankets you should buy:
Ricdecor Mandala Microfiber Beach Blanket
Songmics Outdoor Waterproof Picnic Blanket Large Beach Blanket
Cgear The Original Sand-Free Outdoor Camping Mat
All blankets are not created equal though, which is why today we're going to show you the best beach blankets in 2020. Whether you're looking for something big or small, light or heavy, we'll give you the best options on the market to choose from.
While there aren't a ton of different blankets to choose from, there are certain ones that are made with sandproof and waterproof materials. So, we have selected 14 different blankets made from several types of materials, with different dimensions and merits.
Reviewing the 13 Best Beach Blankets
Wildhorn Outfitters Beach Blanket is a great option if you are shopping for your family. The huge beach mat is made from parachute nylon which is very strong, lightweight and its durability will last for years, even if you plan on using it frequently.
It comes with a quick dry system that is integrated straight into the fabric, which makes it ideal for the beach, or other outdoor activities like camping. Coming in at 63 sq ft., you'll easily be able to fit your entire family on it. Plus, this blanket comes equipped with four sand anchor pockets that you can use to weigh the blanket down.
Also, you don't have to worry about the portability, because it comes with a sack to carry it in that uses compression straps to make it small and easy to carry.
One thing we really liked about this blanket is that it has built-in pockets to store your valuables. If you go to the beach a lot, you know how easily you can misplace your keys, so this is a nice little add-on.
The one downside we noticed with this blanket is that the texture of this beach blanket is pretty thin, as with other similar products. So, while the parachute nylon material is durable and lightweight, it's also thin, so it can get pretty hot at times when sitting in the sun.
Overall, this is a great oversized beach blanket for families or those who just want a lot of room to spread out. With its durable material, and quick dry system, this is a great choice that will last.
Pros
Lightweight and durable
Sand anchor pockets
Very large at 63 sq ft.
Cons
Soaks up water
Thin texture
Check Price
The texture of this beach blanket is very thin, as with other similar products. The parachute nylon material is a bit too thin. The fabric it is made from is only a single layer.
The Fylina beach blanket is highly recommended if you want an extremely large beach blanket that won't blow away. The blanket is perfect if you are going to the beach with family or friends, or spending a weekend trip in the mountains.
It is made from premium grade parachute nylon, which is waterproof, sand proof, resistant to heat, skin friendly and durable. It is lightweight, and can be folded into a compact size and fit into a small pouch that comes with it.
The great thing about this blanket is that it comes with four metal stakes that are used as anchors to secure the blanket to the ground. It also four pockets that you can fill with rocks or sand, just to make sure it's not going anywhere.
The Fylina Beach Blanket is highly versatile, and a great addition to any beach trip. If you want a blanket that's sturdy, durable, and waterproof, this is an excellent choice.
Water resistant nylon material
Compact carrying pouch
Metal stakes to anchor the blanket
Check Price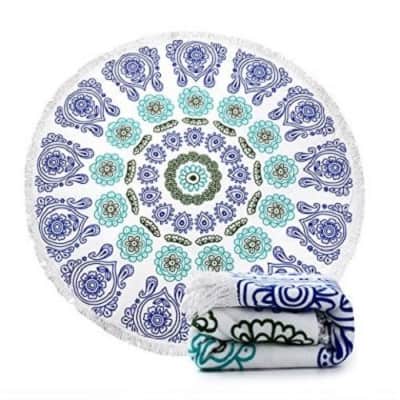 In the market for a beach blanket that your family would gush over?
The Ricdecor Mandala Blanket Is a gorgeous round beach blanket that doubles as a towel on the beach. It is adorned with aesthetic patterns of different colors and complimented with beautiful hems, making it one of the more aesthetically pleasing beach blankets on our list.
The Ricdecor is made from a synthetic fiber referred to as microfiber.  The fabric is thicker than standard best beach blankets or umbrellas, yet still is super absorbent and dries fast. The microfiber is an incredibly soft material and it provides adequate comfort when laying down.
The Ricdecor beach blanket is quite small and will only contain two people comfortably, making it ideal for couples or solo beach goers with a pet.
While we love this blanket for beach use, mainly because it can also be used as a towel as well, it's also good for other things such as picnics, yoga, and meditation. Some reviewers have even hung it up on their walls as bohemian tapestry for home decor.
Overall, this if comfort is at the top of your list, and you don't have a big family to worry about, this is a great choice. The fact that it can also be used as a towel is an added bonus.
Pros
Beautiful Mandala design
Made from microfiber; ultra-thick and dries incredibly fast
Soft and comfortable
Check Price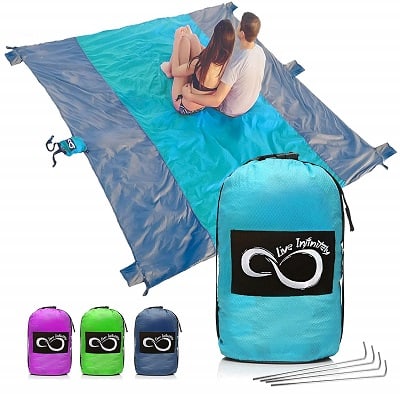 The Sand Escape compact outdoor beach Blanket is a large beach mat of 9' x 7' dimensions, made from soft quick-drying ripstop nylon which is sand resistant and water repellent. This ultra soft blanket is 90 square feet, creating ample room for the whole family of up to 7 people.
It has five integrated sand anchor pockets and four anchoring posts with metal stakes that helps to keep the blanket on the ground when the winds pick up.
Attached to it is an integrated stuff pouch and compressed straps where the blanket can be stuffed for easy storage. Its best feature is that sand brushes right off this beach blanket, offering you with a sand free beach day.
Overall, this a dependable blanket that is great for large families or get togethers. If space is your primary concern, you can't get much bigger than this beach blanket!
Pros
Extremely large blanket
Four anchor posts
Quite soft
Cons
Not completely sand free like it states
Check Price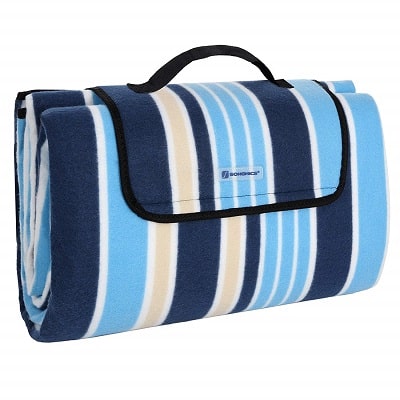 The Songmics Waterproof Picnic Blanket offers ample comfort you desire from a beach blanket with its soft flannel surface that is designed with waterproof EPE and foam, that allows it to repel water and sand, making for a dry and comfortable day at the beach. 
Attached to it are flaps and velcro tips that make it possible to fold the blanket into a portable 16"x 10" x 5", briefcase- style design. To top its portability up with ample convenience, it comes with a strap to carry it on your shoulder while transporting.
When you unfold the special briefcase design, you get a 6"X 5" beach blanket, not big enough for the whole party but ideal for smaller families.  The Songmics is also light, weighing just 1.2kg.
The great thing about this blanket is that it's waterproof. So, whether you're at the beach, on a picnic, or going camping, if you spill on it, or get it wet, it's easy to take care of. Also, it has a fleece cover, so it's one of the more comfortable blankets on this list.
Overall, if you want a medium sized blanket that is comfortable and moisture free, this is a safe bet. Plus, it's one of the cheapest beach blankets there is, so if price is an issue, you can't get much lower than this one.
Pros
Made with Thick, Layered Fabric
Velcro tip to fold into carry case
Waterproof and soft fleece material
Cons
Difficult to fold back up
Check Price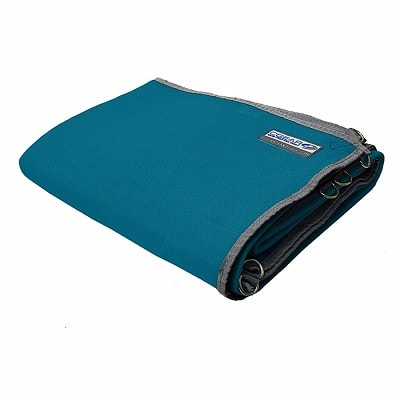 The CGear mat is your ultimate beach blanket. The sand-free revolution started with this mat. In fact, it was originally designed for military use, basically for helicopters to land on. The CGEAR is woven with high density material that is made from 100% polyurethane.
The material quality is extremely high grade which assures you of an ultra- durable, fast drying, water repellent blanket. This is coupled with UV stabilizing that keeps the color of the blanket, no matter how long it is exposed to sunlight.
The CGear comes in various sizes to suit the number of the people you are going to the beach with. It has the small (6 x 6 ft.), medium (8 x 8 ft.), large (10 x 10ft.) and the extra-large (12 X 12 ft.). Depending on which size you choose, you can fit up to 14 people on this blanket alone, making it one of the largest blankets on the list.
The material makes it easy to clean and easy to dry, with dirt, sand and dust able to fall through the blanket without coming back up. 
One thing we really like about this blanket is that it's extremely durable, so you're able to put beach chairs and other things on it, without worrying about it tearing. Also, it comes with D-rings that you can use to hold the blanket in place.
Overall, this is a great blanket for those who plan on putting a lot of wear and tear on their beach blanket. While it's one of the more expensive blankets on the list, it's worth shelling out the extra dollars for something that will last for years to come.
Pros
Military grade beach blanket
Variety of sizes
Sand and dust fall right through
Check Price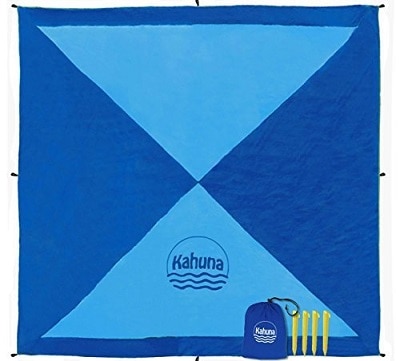 The Kahuna Parachute Beach Blanket is an extra-large blanket measuring 8 x 8ft. in size. It covers 69 squared ft. space, big enough to accommodate 4 adults. It is an ideal blanket for big families or beach parties. 
It is made from parachute nylon which has ultra-light weight and highly durable.  The parachute nylons make it resistant to sand, providing you with ample comfort on the beach. It comes with 12 sand pockets and four stakes that will secure the blanket in place even in very windy times at the beach. It also comes with built- in zippered pockets to keep your valuables safe.
It's also easily transportable, able to fit in a pouch that measures 6" x 8", which makes it highly compact and portable. Add on to that the fact that it only weighs 1 lb., and you have a lightweight accessory you can take with you anywhere.
Apart from being a beach blanket, it can be used as a camping mat, travel blanket, or as a seat liner. It has a tetra triangular design with four different color options to choose from.
Overall, this is a very dependable, lightweight blanket that is great for a variety of occasions. If you want a large beach blanket with a little bit of flair added into it, this is the one for you.
Pros
Zippered pockets
Lifetime warranty
4 different colors to choose from
Cons
A little too light for windy conditions
Check Price
The Wekapo beach blanket is made of ripstop nylon which is extremely soft and comfortable. This oversized blanket measures 9x10 feet and is capable of accommodating up to 7 adults.
You don't have to sweat about the size of the blanket though. It has an integrated 4 x 8 pouch where you van fold the blanket into for easy storage and portability. The material is water and sand repellent, and also heat resistant as well.
As far as keeping it on the ground, it comes with six metal stakes and four anchor points in order to hold it down. Meaning, you have two extra stakes just in case.
Overall, this blanket is just what you need if you're in the market for a large, durable beach blanket. Plus, with the two additional stakes they provide, you won't have to worry about it going anywhere when the wind picks up.
Pros
Strong, breathable fabric
Lightweight at only 14 oz.
Comes with 6 stakes to hold it down
Check Price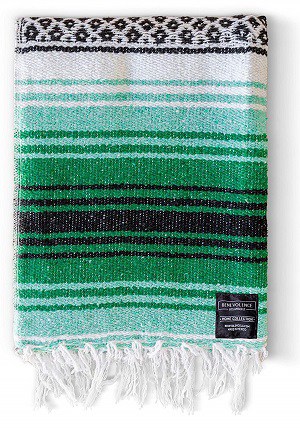 This Mexican blanket by Benevolence LA is hand woven and stitched to perfection. The blanket is woven with variety of colors, so you're able to pick a color that tickles your fancy.
The blankets are made with tassels and measure in at 70 -72 inches long and 48-51 inch wide, weighing approximately 3lbs.
The great thing about this blanket is that you can use it to lay on, or to wrap up with on those cooler beach days as the sun sets.
The Rolling stand is made of lightweight material having cotton, polyester and acrylic. It is easily machine washed an dried at a low temperature.
Built for one person, this is an ideal blanket for those living in cooler climates.
Pros
Machine washable
13 colors to choose from
Perfect for cooler climates
Check Price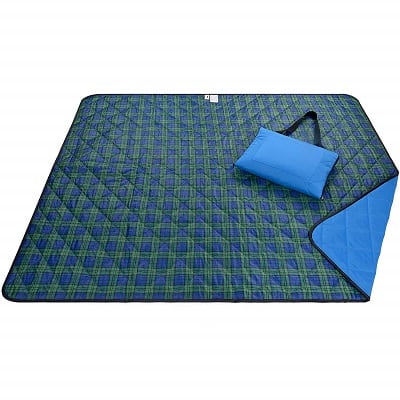 The Roebury blanket measures 55 by 70 inches, which is perfect for small families. The beach mat does not only serve a purpose at the beach though. It can also be used for outdoor picnics, concerts, festivals and indoors as a playing mat.
The mat is phthalates and BPA free which makes it baby and kid friendly. It has water resistant backing and padding which makes the blanket durable as well. Plus, it is machine washable, so you don't have to worry about any spills messing up your blanket.
As far as storage and transporting go, the blanket can easily be folded into a compact tote bag which also serves as a travel pillow, or if you have a beach cart, it can go in there as well. It is also is equipped with a strap, making it comfortable to carry on the shoulder.
Pros
Ultra- Thick Microfiber Fabric
Machine washable
Baby and kid friendly
Cons
Not as durable as some other blankets
Check Price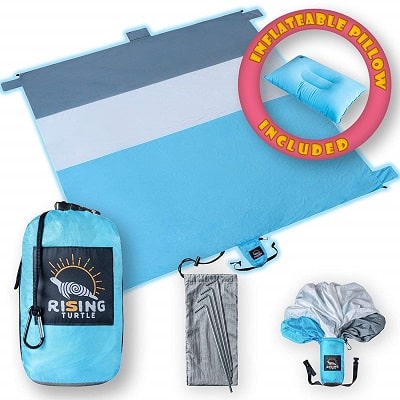 Since this material is made from 210T Ripstop Nylon, it is not only durable, but also sand, water, and heat resistant. You won't have to worry about feeling the sand under your body when you're lying on this blanket. Sand won't stick to the fabric either.
All you need to do is simply brush it off. The material also creates a soft place to rest after time in the water. What is possibly the best part of this blanket is that it's completely machine washable and won't bleed its color into your other clothes.
In total this beach blanket is 9 feet by 10 feet which can comfortably seat up to 7 adults. Like some other beach towels, this one has 4 anchoring loops and 5 weightable pockets ensuring it stays where you put it.
This beach blanket also folds into a small 4 x 8 inch included travel pouch making it easy to transport it. The pouch also turns into a great place to store all of your valuables while you're swimming or playing on the beach.
Live Infinitely also includes a 1 year unlimited warranty. This means that no matter what happens to your blanket you are covered. It shows their faith in their products durability and faith in its longevity. We noticed they have excellent customer service and will be able to answer all of your questions about their products.
Pros
Extra large size
Ultra lightweight
5 anchor pockets
Check Price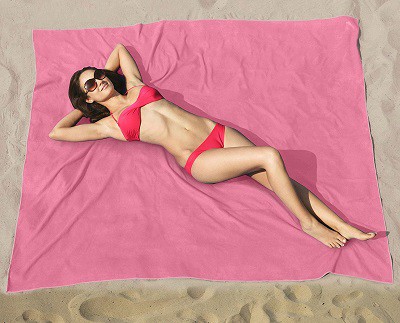 This blanket is made of 80% polyester and 20% nylon, with ultra-thin microfiber that packs tightly, which allows you to easily fit it in a beach bag, making it easy transport to various places. The microfiber is ultra-absorbent and it equally dries fast, so there's no issue when it comes in contact with water.
The blanket also serves as a beach towel, measuring in at 64 x 76 inches. So, you can cancel beach towel from your list, if you getting the microfiber beach blanket.  It also comes with four integrated anchor pockets. These anchor pockets can be filled with sand or pebbles, which will allow the blanket to stay on the ground when the wind blows on shore.
The nice thing about this blanket is that the microfiber does not trap sand, so you're able to easily shake off any sand when you're leaving for the day. Coming in a variety of colors, the blanket can also be taken to the pool, gym and for camping as well.
Overall, this is a great blanket that also serves as a towel. With soft material that dries fast, this is a safe choice for any beach goer. Considering it is the official towel of the Los Angeles Lifeguard Association, you know it must be pretty good!
Pros
Soft and comfy
Dries quickly
Easy to wash
Check Price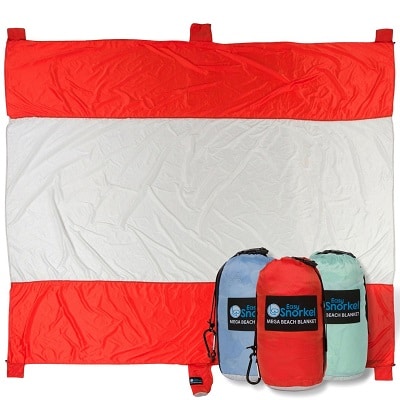 If you plan on making a party of your day at the beach, this is the blanket for you. Just from the name, you can tell that this is massive. It can accommodate up to 12 adults sitting, or 7 all comfortably lying down, measuring an oversized 9ft by 10ft.
This giant comes with a special carry bag for easy portability, with the carry bag affixed to the blanket so you don't lose it. It has a set of 5 sand anchors so that your fun time is not interrupted by the blowing breeze, and is made from high-quality parachute nylon that makes it dry quickly and does not trap sand and dirt.
Overall, this is great for big families, camping, or going to music festivals. With its versatility, if you love the outdoors, you'll find many uses for this giant of a blanket.
Pros
Large in size, ideal for family beach outings
Very easy to clean
Sand proof and dries quickly
Check Price
How to Choose a Unique Beach Blanket – Buying Guide 2020
MATERIAL
The most crucial thing to look into when buying a beach blanket is the material of the blankets. This is one of the main characteristics that distinguishes a beach blanket from a regular one. Not only will you seek the comfort of the blanket when you lay on it, you might also want to use it to protect you from the wind or sun.
Some of the prominent blankets we have selected are made from nylon, particularly the parachute nylon. Skydivers use the parachute nylons for parachute canopies due to its elasticity and strength. The material is extremely durable, able to handle spilled drinks, rough weather, scratching, and pulling.
While the parachute nylon is the most popular material, there are others available as well. Materials like fleece, microfiber, plastic weave, etc. are also available on the market, but they aren't the strongest.
THICKNESS
The thickness of the blanket is a vital feature to consider while choosing a blanket. A thick blanket is very comfy when you sit on it. The demerit of it however is, the thicker the blanket the heavier it is. If you are someone who fancies oscillating different spots on the beach or someone who likes to explore, you might want to rethink buying a thick beach blanket.
A huge merit of getting a thick beach blanket however, is that it can protect you and your loved ones from the heat of the beach sand, crawling insects or sharp objects in the beach sand.
STYLE
Pattern, color, and shape are all things you should take into consideration.  Whether you want an aesthetic pattern or a variety of beautiful colors on your beach blanket is completely up to you. There are varieties of colors to choose from. Choosing one, solely depends on your taste.
One thing to note though is that you should only consider selecting from brighter colors, as darker colors tend to absorb the heat of the sun, which is something you'll want to avoid.
The shape of the blanket should not be overlooked when choosing a beach blanket. A square or rectangle shaped blanket will be suitable for most people. However, if you fancy something aesthetically pleasing, a circle beach blanket is recommended. The only issue with this is that it limits the number of people who can sit on the blanket at one time.
SIZE
While considering the shape of your beach blanket, it is also important to consider the dimensions as well. The amount of people you are going to the beach with, coupled with type of beach you typically frequent, will influence the size of the blanket you want to buy. You wouldn't want something too large if you're going to a beach that is often busy or crowded, where creating sufficient room might be an issue. Usually though, if you're headed to the beach with a crew of 5 or more, you'll want a beach blanket that is roughly 6'x7'.  
If you think you will have plenty of space at the beach though, an oversized blanket is an option. These blankets fit more than 10 people and are great for large families or groups of friends.
PRICE
That stereotypical thought that an expensive product is of a better quality than a cheaper one should be put off your mind when shopping for a beach blanket. The durability of a material is not a function if the price tag put on it. While, going to shop for beach blanket and of course other supplies, be sure to have a budget and ensure the beach blanket you are getting suits your budget. You shouldn't let luxury sway you. Well, if the dollar, why not?
COMFORT
When shopping for a beach blanket, comfort is a key feature to keep in mind. Finding one that is soft and skin friendly, especially if you have kids, is important. Your beach blanket should also be sand proof, meaning that sand should easily be able to come right off when shaken or cleaned. The size of the blanket also matters a lot. When selecting a beach blanket, make sure you choose one that is big enough for your belongings as well as the number of people that will be on the blanket. The last thing you want is somethat will contain the people you are going with to the beach to keep everybody form the heat of the sand. Beach blankets comes in different sizes, so you can be sure to get one that will suit your needs. You should also make sure the blanket can fold into a comfortable size for easy movement from one spot to another on the beach.
FUNCTIONALITY
When you are selecting a beach blanket, select one that can be used for other purposes as well. Most beach blankets can be use used for other outdoor activities like camping, hiking, picnicking and or your kids soccer game. So, if you plan on using the blanket for more than just the beach, factor that into your buying decision.
PORTABILITY
We all like out things portable, that's why nanotechnology is sipping in to the world's technology today. Well, that's by the way. Back to beach blankets. Most people would prefer a have a beach blanket that can be easily taken from one place to another within the beach. You should look for beach blankets with integrated circuit, if portability is something important to you. Some of them are made into small pouches from the manufactures, capable of folding up to one tenth of its original size. Few of them are designed to fold up like a suit case.
CLEANING
A beach blanket should be very easy to clean. Manufacturer not employ special biomimetic technology, such as imitating the lotus leaf that has a self-cleaning roof.  That's where wicking comes to play. Companies use wicking to make the blanket stain free, dry and cool.
It is also not a bad idea to look for blankets that are machine washable even as most highly quality blankets have integrated the self-cleaning technology. If not, you should at least be able to wash with and water and get a nice clean.
STABILITY/ ABILITY TO STAY ON THE GROUND
Any blankets you get should be able to stay on the ground when the beach is windy. That's why most blankets come with integrated anchor pockets which you fill with sand or pebbles. Also, any beach blanket you are buying should be sand proof and heat repellant. Nobody wants to be pricked by sand that has fallen on the surface of the blanket and wants sit on a hot blanket while chilling on a hot day in the beach.
FAQ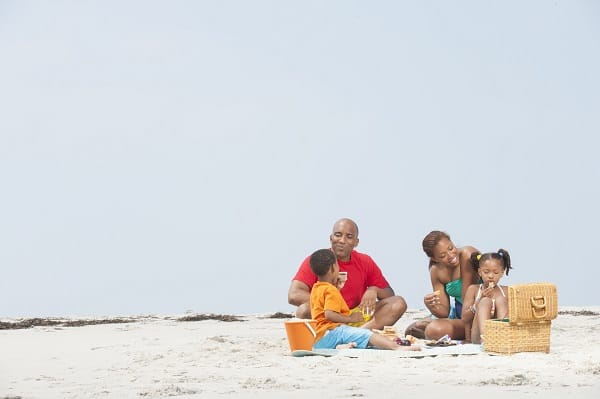 BEACH BLANKET VS. REGULAR BLANKETS
Regular blankets shouldn't be taken to the beach. Beach blankets and regular blankets are two different products made for different purposes. The beach blanket was made specifically made to hold up the condition of the beach. There are clear differences when both are compared and contrasted.
Most regular blankets are made from silk. They are not water resistant, sand resistant or UV resistant unlike most beach blankets that are specifically designed for the purposes aforesaid.
Regular blanks also are not made to dry fast. In fact, once they absorb water, the sun as to be at its best for them to dry in a short period. Nobody wants to be laying on a wet blanket.  The regular blanket that we use in our homes is purely to serve us comfort while a beach blanket as its various other functions.
Portability is a merit of beach blankets over the regular ones. They come with small pouches or tote bag where they could be tucked in for a trip.
With these facts, a beach blanket will serve you better with a price as low as it is, especially if you love to involve in off- shore activities.
BEACH BLANKET VS. BEACH TOWEL
People contemplate just getting a beach towel instead of getting a beach blanket. There shouldn't be contemplating here. The primary purpose of a beach towel is just the direct opposite of that of the beach blanket. Beach towels are made to be absorbent. They are basically supposed to dry you up after an off-shore activity. So, it is quite essential to get both the towel and the blanket. Do you want to lay on the damped towel you use in drying water from your body? Not a good picture, is it? So, be sure to pack both next time you hit the beach. You know, just so you can enjoy premium comfort while having the time of your life.
WHERE ELSE CAN I USE IT?
Beach blanket is not exclusively used for the beach as the name might imply. Below is list of several other places you can use a beach blanket
Camping – most beach blankets can also be used when you go camping.
Picnic-  A beach blanket is perfect for a picnic in the park.
Gym- You can use only a few beach blanket when you go working out in the gym
Yoga- Few beach blankets can use be use for yoga and meditation.
Hiking- you can take your beach blanket on hiking,
Beach blankets are versatile and can serve a variety of purposes, making them the perfect accessory for any outdoor enthusiast.
Conclusion
The blanket that lays on the iron throne of all the beach blankets we have listed here is the 'CGEAR The Original Sand-Free Outdoor Camping Mat'. The CGear is made of 100% polyurethane with military grade quality, with a variety of sizes to choose from. It is highly durable, capable of holding your beach chairs without getting it punctured, as well as all your belongings. It is also water repellent and has UV stability to keep the color of the blanket when exposed to sunlight for long periods. This is our top choice because it will stand the test of time for years to come.
However, with this list of the best beach blankets, you shouldn't encounter any more difficulties in selecting the right one for your needs. No matter what you're in the market for, you can't go wrong with any of the blankets listed above. So, hurry and get that blanket that tickles your fancy the most. Summer is coming!