You didn't expect to visit Hawaii and not find the farmers markets Oahu stacked to the roof with delicious, mouth-watering tropical fruit, did you?
Well, it's a good thing you didn't because Oahu has plenty of traditional farmer's markets to offer you fine fare, especially on a Saturday morning. You can find local fresh fruits and vegetables, fresh fruit juices, and lots of great places to eat along the North Shore and beyond.
Hawaii is the land of plenty. The rich volcanic soil, the sweet sea breeze, and the balmy bright temperatures make Hawaii a natural grower's paradise. Expect amazing fruit and vegetables! From blazing rainbow fruit and vegetables to the fattest fish, vendors at these farm bureau markets really know how to appeal to your hunger levels.
Anyone visiting Hawaii should be sure to take some time out on a Saturday morning to witness the edible wonders and fresh produce of the farmer's markets in Oahu. Discovering foods like baked goods to vegetables – a visit to the farmer's markets of Oahu delivers divine understanding into the richness of Hawaii's fertile lands.
Are you ready to find out more about the food of Hawaii and how to find the best open markets?
What are the Top Farmers Markets Oahu?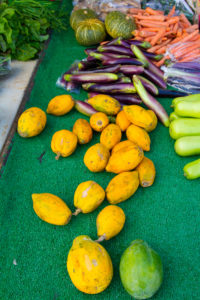 KCC Farmers Market
4303 Diamond Head Rd, Honolulu, HI 96816
Tuesdays 4:00pm-7:00pm
Saturdays 7:30am-11:00am
On Saturday mornings, the parking lot of the KCC farmers market near the Kapiʻolani Community College is buzzing with visitors. Delve into vendors stalls stacked with tropical fruits, fresh cut flowers, and lashings of local produce.
The KCC farmers market is the largest traditional market in the whole of Honolulu –  which can make the parking lot a tough place to be. However, to avoid the parking lot you can also take the Waikiki Trolley and hop off right at the market site. As with all markets, the KCC is best in the a.m. when the baked goods are fresh and warm, and fruits like mangoes and pineapples are still stacked high on the vendor's tables.
The famed Diamond Head is also right opposite the KCC parking lot and the community college, which means you can peruse the vendors stalls and pick up fresh fruits and vegetables before heading out for your hike. The prices are sure to be better than the grocery store and you get the authentic local experience before heading out on Hawaii's famous Diamond Head trail.
Farm Lovers Farmers Markets
59-864 Kamehameha Hwy, Haleiwa, HI 96712
Thursdays 2:00pm-6:00pm
At the other end of the island, on the North Shore, you'll find Farm Lovers. There's plenty to eat at this local North Shore favorite Saturday morning market. Along with fresh produce, ripe fruits, and delicious vegetables, you can also get your hands on traditional crafts like hand carved masks, jewelry, and clothing that are sometimes incorporated into the luaus in Oahu. There's so many beautiful and exotic things that you might need to purchase extra baggage on your trip home!
The Farm Lovers vendors are often locals who grow their own food and fresh produce on their land before making the journey to the open market to sell them. This is exactly what you want when it comes to delectable home grown and local food from Hawaii's North Shore and beyond.
King Village Farmers Market
131 Kaiulani Ave, Honolulu, HI 96815
Mondays, Wednesdays, Fri-Sat 4:00pm-9:00pm
The King Village Farmers Market is another fine place to find food (aside from Oahu's famed dinner cruises of course). King Village isn't as large as some of the other markets on our list but this makes it feel even more local and charming. There are only a few tables, but all the vendors load their stall to the brim, making for a photogenic scene, especially when the sun is shining.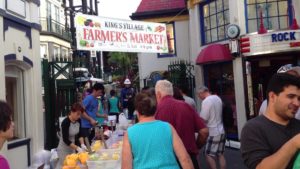 While most farmer's markets in Oahu tend to open their doors only on Saturday mornings or Wednesdays, the King Village Farmers Market tends to run four days of the week. The open market is a great place to swing by on the way back from the beach to pick up local fresh produce from the hardworking local vendors who make their living here.
Aloha Flea Market
99-500 Salt Lake Blvd, Honolulu, HI 96818
Wednesdays, Saturdays 8:00am-3:00pm
Sundays 6:30am-3:00pm
Near the Aloha Stadium and only twenty minutes out of Waikiki you will find the Aloha Flea Market. This shopping haven is a great place to visit, not only for a plethora of local baked goods, fruits and vegetables from local vendors – but also for a savvy swap meet.
The Aloha Flea Market is a local food lovers and shopper's paradise, you can find everything from handmade crafts to second hand clothes, Hawaiian jewelry, and even surfboards. Like the rest of the farmers markets -the local farmer produce is jaw droppingly beautiful, both to taste and to look at.
Wednesdays, Saturday mornings and Sundays are the days to visit this little gem close to Aloha Stadiums. As the vendors stalls can stretch for over a mile long you should aim to arrive early in the a.m.
Don't worry about getting breakfast before hitting the swap meet as there are tons of places to get local farmer foods. Let a vendor use their machete to swipe the top of a coconut so you can drink the cold cloudy sweet water inside. Fresh produce and charming conversations with an array of local vendors – this is the only way to kick start your Saturday.
Ala Moana Farmers Market
CLOSED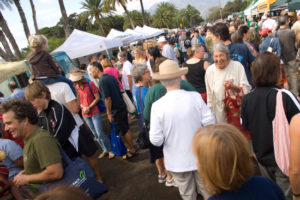 If you want to sample the decadent food delights of the North Shore then you need to stop by the famous Ala Moana Farmers Market. As soon as you step off the parking lot you will be greeted with delicate baked goods like pretty pastel macaroons and mountains of mangoes and avocadoes from the friendly local vendors.
Poha Jam and Poke are perfect a.m. foods, and are just two of the ways you can choose to start your day at Ala Moana. North Shore Farms also has a big following at their local produce food shack. Their vendors boast farm bureau to table produce. They are especially famed for their fabulously fresh hand pulled pesto pizzas.
After wandering around the various local vendors stands and sampling Hawaiian delicacies you can fill a paper bag with fresh fruits and vegetables to keep you satiated throughout the day. This open market is also great for guests staying in private villas who want to buy fresh produce like fresh fruits and vegetables to cook in the comfort of their own home.
Roadside Stands
Throughout Hawaii you will find tons of simple roadside stands where vendors rock up and sell their fresh produce, fruit and vegetables. You can be sure that the fruits and vegetables are fresh and come straight from the local farmers too. Rather than hit up the grocery store, support the local economy and vendors by buying from these roadside stands and open markets.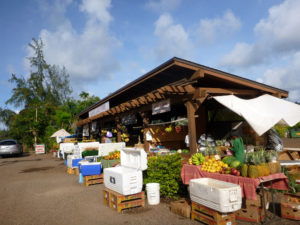 When Should I Go to These Markets?
You can visit at any time of the year, but try to be aware that some fresh fruits and fresh produce will only be in stock when it's in season.
You can visit KCC Farmers Market on Tuesdays between 4 pm and 7 pm and on Saturday mornings between 7 am and 11:30 am.
You can visit Farm Lovers Farmers Markets between 2 pm and 7 pm on Thursdays.
What are the Best Places to Eat & Snack?
Funlocity recommends The Pig and the Lady at KCC as well as Sushi Sliders for great fresh food that will leave you hankering for more.
We also recommend trying the sweet and delicious pineapple juice and fill your basket with the fresh, red tomatoes and other local fresh food available at Farm Lovers and the other markets. Take a look at these serious local eats to try on the island of Hawaii, most of which you can find at the farmers markets.
It's not only the markets that boast brilliant eats, food tours of Hawaii are a great introduction into the art of island dining.