So, you like to call yourself a foodie.
This probably means that you have a million food photo apps on your phone, that you correct people who pronounce French cheese names wrong (I think you will find it's gru-yeah), and that you love to lure your friends into so-called authentic restaurants that end up giving everyone food poisoning.
We get it.
Food is a fabulous thing, even if you're not a food writer – we have all drooled over a Vietnamese bahn-mi, we have fallen head over heels with buttery soft huli chicken and we have all pinched ourselves to check the poke we are eating is in fact the real deal.  If you want to try cooking them at home then check out these recipes. 
For those who like to take it one step further and who think nothing of plastering their social media accounts with orgasmic face pulling pouts, whilst holding up a platter of seafood, then we have got the perfect solution for you. These (insert a ton of adjectives here) Hawaiian food tours will have you breaking your thumbs on snapchat…
Hole in the Wall Food Tour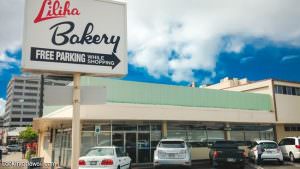 If you are the kind of person who loves to eat while standing, who believes that the best chefs come in 2 x 4 rooms and who doesn't have a problem wiping their knife and fork clean on their jeans before eating -then the hole in the wall tour will turn your knees to jello (actually, I think you will find it comes from the French word "gelée).
We all know that the best food doesn't come from five star places, but from local haunts that charge a small fistful of dollars for something simple and jaw droppingly delicious.
Start your day being trekked from shack to shack on this Hawaii food tour of Honolulu. Let the oriental baked Manapua filled with kalua pork turn to a delectable mash up of butter and shredded meat on the tongue. Let all your senses be cloyed by the cocoa puffs at Liliha Bakery and wander through Oahu's Chinatown, chowing down on crispy pork skin, tiny pot pies and Hawaiian candy apple bananas.
Aloha Food Tours
Why bother trying to choose one place to enjoy Hawaiian culture and cuisine, when you can have a taste of seven different places? It's not greed, its keeping your Hawaii options open.
The Aloha Food Tour is a fabulous way of sticking your fingers in several Hawaiian food tour pies. Metaphorically of course, literally would be a waste, super messy and more than a little weird, unless you're eating poi.
On this tour, you will traipse around Ala Moana, sampling the best local delights on offer. We are talking sticky taro lattes, crazy loco moco, stick to the roof of the mouth spam musubi and the infamous shave ice dessert. We have already penned a piece about the best Hawaiian food here…
Not only will you get to explore the area on foot with a highly knowledgeable local, but you will also get to tempt your taste buds over and over again. This is one of those things to do in Hawaii that will make you fall in love with paradise.
Check out our dinner cruise tours in Hawaii, Oahu dinner cruise tours, and Maui Luau
Cacao Chocolate Tours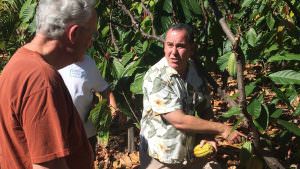 For sugar junkies you may want to skip the loco moco and musubi, in favor of lashings of the sweet stuff.
The tour of Kokoleka Lani farm isn't your usual pet pigs and wade knee-deep in animal feces type of tour, but is more geared towards picking cacao pods from the pretty trees and nibbling on dark and delirious bars of Madre chocolate while you learn a thing or two about Hawaiian culture.
Nope, no loco moco here.  You can grab that on the Food Court at Ala Moana Mall.
Not only can you take a tour of the cacao plantation and learn all about the roasting process.  But, after all that exercise (umm, yeah walking is exercising), you can fall apart at the seams as you scoop up farm to table chocolate fondue with island-fresh globs of fruit. Throw in some organic locally grown coffee and you have a day that the God's couldn't have planned better themselves- like pure liquid gold!
Maui Pineapple Tour
Ah, the humble pineapple, most underrated of all the fruits, yet so connected to the Hawaiian islands. Spiky on the outside, a party of flavor on the inside. There are a zillion and one reasons to get perky about pineapple, not only does it strengthen your bones and boost immunity – but apparently it also makes oral sex better.  Forget that last part.
If pineapples don't float your boat, then think again and head to Maui for the golden pineapple tour. You will get to wander the fields and learn all about cultivation and perfect pineapple growing techniques. Here are some interesting recipe ideas for pineapple. You can watch the workers pull the sweet and juicy fruits.  And, best of all – at the end of the day -drum roll please – YOU GET YOUR OWN PINEAPPLE.
We know, there is no greater gift than your very own pineapple.
The tour even throws in lunch and a peek at the distillery, if you fancy huffing alcoholic fumes that early in the day. For lunch, you can chow down on crab pizza, pick through a tropical shrimp salad or stuff your face with a BBQ pork sandwich with creamy basil slaw and all of the trimmings. This is the most magical of all Hawaiian food tours. 
Oh, and what should you do with your new pineapple friend?  We've got you covered here.
Koloa Rum Tasting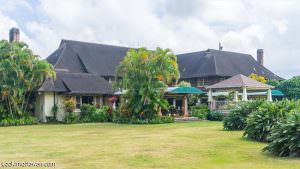 If you need an excuse to get blind drunk in the morning while visiting Hawaii, then the Koloa Rum Tour is the tipple for you.
Start by exploring the grounds of the gorgeous Kilohana Plantation in Lihue, before ducking into the distillery to see how the rum making process goes. After hearing all about the history of this deliriously dark and decadent rum, you can finally cut to the chase – the tasting.
The tasting room is the place where you can finally sip and swirl to your hearts delight. We are talking wonderful white rum tempered with fresh juice and delicious coconut and vanilla inspired dark rum served with a splash of cola.
You can even go all out and try the rum cake and rum coffee. Sure, you'll leave unable to walk in a straight line, but this is vacation, after all and you can at least open the app and call a Lyft. Finally, for those that opt for the simple tour – the cost comes with that glorious word: gratis!- Meaning that you can save your money for those Michelin starred restaurants we know every foodie will bankrupt themselves for in Oahu.
And, if you're going basic, don't forget to grab a shave ice.  This Hawaiian culture phenomenon shows just how wrong snow cones really are.  And, if you absolutely must have loco moco, you can grab it at any neighborhood 7-11.