Pretentious, self-satisfied foodies—you know who you are—like to credit themselves as being the first to know about the locavore craze, now widely known as farm-to-fork. (Get with it: "farm-to-table" is so 2013.)
These ladies and gents have pushed the concept into such smug territory that Portlandia satirized the trend in one of the show's most epic episodes.  On the show, a server tells the table that their sage-braised ribeye was raised in a Cape Cod cottage, fed grass flown in from Switzerland and given two hours of PBS per night.
We're paraphrasing Portlandia's parody here (paraphradying?), but surely you get the point. Like most fads, "farm-to-fork" has become so misused and overused that it's reached the point of caricature. Indeed, the idiom is now so trite and distorted that it's virtually banished in some of the world's leading kitchens.
What few pretentious, self-satisfied foodies realize is that they're woefully behind in the trend department. While everything we eat is farm-to-fork, when you think about it, the slow food movement to which the concept is applied got its start in the early 70s when a fine young woman by the name of Alice Waters pulled together a coterie of environmentally conscious homies to open Berkeley's inimitable Chez Panisse.
The impetus was simple and the menu reflected it. Collaborate with local farmers. Eat fresh from the land. Serve what's around and what's in season, rather than shipping in produce that peaked two months ago in Arkansas. As we say in Hawaii, it was all about respecting the 'aina.
Bay Area foodies—who put the P in pretentious—ate it up (literally) and paved the way for the slow food movement we see today.
But, somewhere along the line, marketing execs in nylons and JC Penney slacks used the cunning bravado for which they're known to sneak "farm-to-fork" into every motto and menu in America, its original intent be damned. (But, the tomatoes at Taco Bell gotta be local somewhere, right?)
Several Hawaiian restaurants are changing that, going back to farm-to-fork's roots, with conviction and panache. Here are five of the best spots and why you should score a seat at their bar:
The Mill House, Waikapu, Maui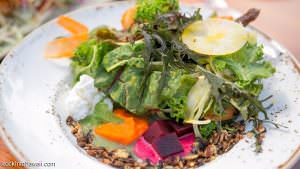 Flip open a menu at The Mill House and you'll likely see a slogan claiming, "We are the Farm."
This ain't no marketing ploy, Michael Moore: the restaurant is indeed situated on a farm.
Or, rather, on the Maui Tropical Plantation—a working plantation, complete with 65-plus crops, that's been an iconic tourist destination since it opened its doors to the public in the 1980s.
Now, the plantation serves as the backyard to Executive Chef and 'Ai Pono award winner Jeffrey Scheer's acclaimed kitchen, where his inventive, rotating menu reflects what's in harvest.
From garden-fresh beets marinated in Maui-grown coffee to imaginative deserts with the plantation's own jackfruit, everything here is crisp and inspired.
Pro tip: come for the eats, but stay for the drinks. Cocktails range from an agave-infused Down Mexico Way to their contemporary, tropical take on spiked punch. Just be sure to Uber it: this baby is located in the middle of nowhere (remember, bro: it's a farm).
Kahumana Organic Farm & Café, Wai'anae, Oahu
Why leave town when it's got Town?
Macadamia nut pesto and lilikoi cheesecake, for starters.
Farm-to-fork has never been more transparent, than at this sweet little café, which sits on a certified organic farm with over 40 varieties of fruits, veggies and herbs. In other words, the vast majority of what they serve up was picked in the last several hours, giving it its sterling reputation as same-day plantation-to-plate.
Just don't expect to wander into this leeward coast eatery at any old time of day: lunch is from 11:30-2:30 Tuesdays through Saturdays, giving you only a small window of time in which to feel like a true yippie. (That's yuppie+hippie to you, slacker.)
Oasis on the Beach, Kapaa, Kauai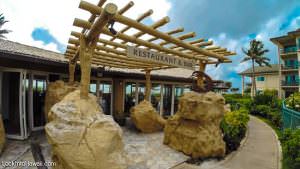 Ponder this, dear tourist: Hawaii imports approximately 90% of its food, explaining why some of our diets are comprised primarily out of SPAM and Funyuns.
You won't find SPAM on the menu at Kauai's Oasis on the Beach, but you will find culinary delights that are even more delightful, once you consider that 90% of its selections are harvested locally—rendering it the purest farm-to-fork venue on the Garden Island.
Discover a small slice of Eden at this ocean-side splendor, where chefs work closely with farmers, fishermen and ranchers to deliver dishes that range from Makaweli Ranch grass-fed burgers with crispy tobacco onions to grilled kale with whipped brie.
And, don't let their fancy-pants adjectives turn you off: this is a slippah-wearing bistro that also pours $3 beers for pau hana.
Sweet Cane Café, Hilo, Big Island
Given all those lava fields, it's a wonder the Big Island has anything fresh besides hot magma.
Think again, Anthony Bourdain: the Big Island—which is indeed immense—boasts more than pakalolo farms and moonscapes so desolate you'll wonder if you landed on Mars.
Keep in mind that this is where Kona coffee was born.  On top of that, the island is home to a number of organic, sustainable plantations.
Sweet Cane Café offers an excellent taste of this homegrown goodness: owned and operated by a local farmer and her daughters, this tiny Hilo gem is huge on aloha and even bigger on flavor.
Acai bowls with freshly toasted coconut compete for attention with taro burgers, fruit smoothies and their beloved ulu poke with mac-nut sauce and limu.
Sound too healthy for a vacay? Come off it: you'll feel fabulous in your Speedo.
PRO TIP- Leave the Speedo at home.  You'll scare the sharks.
Hana Ranch Provisions, Paia, Maui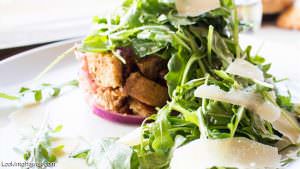 Attention all wealthy vacationers who feel uncomfortable around pan-handlers and veritable beach bums: the peeps loitering in Paia might prompt you to rush to the nearest washroom to suds up, so you best hide out at this glam little spot right off of Baldwin Ave.
This Hawaiian restaurant is the brainchild of the ohana behind Hana Ranch, a 3,600-acre organic farm and cattle ranch on Maui's eastern slopes.
Chef Gary Johnson takes mad inspiration from heavenly Hana's bounty, serving up Paniolo burgers with papaya BBQ sauce and house-smoked bacon and Kabocha curry soup with pumpkin seeds and pea shoots.
Considering that Hana is a mere 2 hours away (albeit 2 hours on a twisty, treacherous highway), this is a farm-to-fork restaurant with some serious integrity.
Best part yet? You can people-watch the Paians, but with a thick pane of glass between you and, um, them.