Scuba diving is perhaps one of the most popular ways to explore and get up close with the fantastic underwater realm. The use of self-contained underwater breathing apparatus (scuba) allows divers greater independence, freedom of movement and underwater endurance compared with surface-supplied divers and breath-hold divers.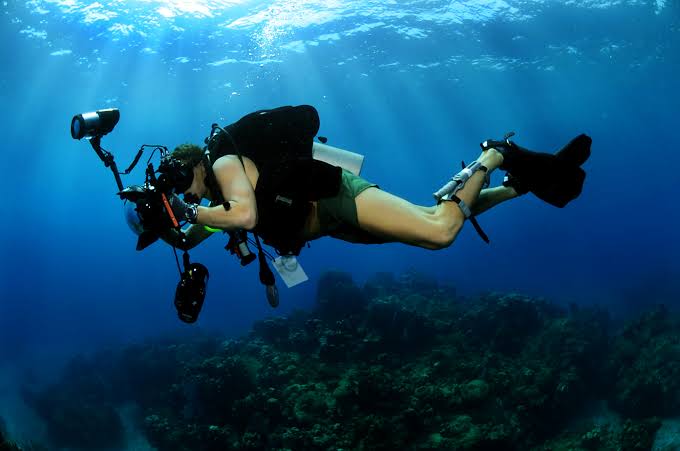 The right diving equipment is crucial for your overall experience underwater. In particular, decent diving provides you with an incredible view underwater so you may explore places where natural light can't go. It will also guide you to safety in deeper and darker waters. Moreover, you could use your light for underwater communication.
Comparison Table – Best Dive Lights
IMAGE
DIVE LIGHT
DETAILS

Lumen/Watt:

10W

Ideal For:

Night and Daytime Diving

Price:

$$$

Check Price

Lumen/Watt:

350L

Ideal For:

Cave and Wreck Diving

Price:

$$$

Check Price

Lumen/Watt:

1000L

Ideal For:

Crevinces and Caves

Price:

$$

Check Price

Lumen/Watt:

3000L

Ideal For:

Night Diving

Price:

$$

Check Price

Lumen/Watt:

1100L

Ideal For:

Daytime Diving and Fishing

Price:

$$

Check Price

Lumen/Watt:

1200 Lumens

Ideal For:

Daytime Diving and Exploration

Price:

$$

Check Price

Lumen/Watt:

1000L

Ideal For:

Recreational Diving

Price:

$$

Check Price

Lumen/Watt:

165L

Ideal For:

Daytime Diving

Price:

$$

Check Price

Lumen/Watt:

2000L

Ideal For:

Day and Night-Time Underwater Diving

Price:

$$

Check Price

Lumen/Watt:

400L

Ideal For:

Secondary Daytime Diving

Price:

$$

Check Price
Having the best scuba diving light can make a big difference in your experience. However, the choices can be overwhelming as there are numerous brands and models of lights to choose from, but these three are my favorite:
UK Light Cannon eLED Scuba Diving Light – This is our top choice as it is one of the most durable and longer-lasting dive lights. We also like the fact that it has interchangeable grips and two power options.
Ikelite Gamma LED Dive Light – We like this light because it is stylish and compact. It also has one of the longest runtimes of 10 hours.
VOLADOR Diving Flashlight – This is also an incredible option you can use. It has a long lifespan of over 50,000, has the brightness of up to 1,000 Lumens, and has 4 work light modes.
How to Choose the Best Dive Lights
In choosing the best scuba dive light, there are several factors that you need to consider before picking. Knowing and understanding how these factors can affect the performance of light, can help you make a better decision.
Types of Dive Lights
Primary dive lights – If you are buying a primary scuba diving light, it needs to be powerful (power settings up to 500 feet) and can be used for daytime and nighttime diving. It should also offer at least 8 hours of incredible underwater output at full power.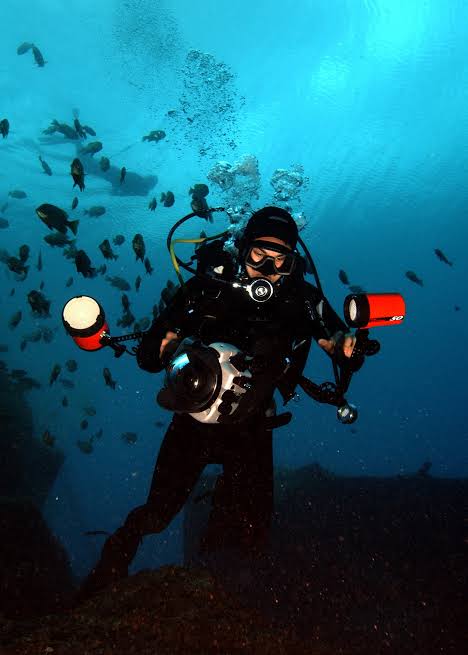 Primary dive lights are typically powered by rechargeable batteries or disposable ones. Those powered by rechargeable batteries are considered nature-friendly and are more economical in the long run. And they can offer a high level of performance.
If you're concerned about choosing an ideal product, you must look for the ones that are designed to offer more power and a high level of performance.
Backup dive lights – A backup dive light is there to ensure that you still have a source of light in case your primary source fails during a dive. This type of dive light is an essential part for your diving gear. It should be something you can fit in your pocket and take out easily when needed. An ideal secondary dive light is one that features a narrow beam light.
Photo or video dive lights – If you'll be taking photos or videos underwater, you also need a different dive light designed for that purpose. A good photo or video dive light is one that can consistently provide an even beam for hours. It should have a beam angle of at least 90 degrees with a high lumen power. Thus, you'd be able to enjoy a great photography experience underwater.
Beam Angle
Beam angle refers to the measurement of how the light is distributed. The beam angle affects the level of brightness (measured in lumens) that the dive light produces. The ideal beam angle for your dive light depends on your intended purpose.
Wide beam angle – A dive light with a wide beam angle and high lumen rating is best for nighttime diving. A wide beam angle gives you more area of coverage as the light is more spread out. The downside though is that it will not go as far and the brightness is not as intense. You can compensate for the brightness by getting a light with a high lumen rating.
Narrow beam angle – This type of dive light can pierce through water and illuminate long distances better than a wide beam. That is why it is more suited for when you want to see a long-distance ahead. You can use it in cloudy water or when looking into cracks and crevices.
Adjustable beam angle – Some dive lights have an adjustable beam angle which makes them more versatile. But typically, this feature comes with an expensive price tag.
These are the ideal beam angles for a particular purpose:
7 to 12 degrees – Cave and wreck diving or limited visibility diving
13 to 20 degrees – Best for any type of recreational diving, whether day or night
21 to 75 degrees – Works for all types of recreational diving
Higher degrees – Generally used for underwater photography or videography
Types of Batteries
Disposable batteries – Disposable batteries (most alkaline batteries) are inexpensive and they are widely available anywhere. Dive lights powered by disposable batteries are a good choice if you are diving in remote places where there is no electricity to charge your light.
You could always get additional spare batteries for extended stays underwater. However, these dive lights typically have low light emissions and the battery life is short. The Lithium Batteries can offer an incredible output but they are quite expensive as compared to the regular ones.
Rechargeable batteries – Dive lights, that have rechargeable li ion batteries, have high emissions and they work for extended hours without recharging. However, once the batteries are drained, you need to recharge them. This can be a disadvantage if your destination has no electricity to tap into which is true in many remote places.
Xenon, LED, or HID?
Xenon, LED and HID are light technologies that power a dive light. Each of these has its own advantages and disadvantages.
Xenon (incandescent) – Xenon dive lights are not that common nowadays because most prefer an LED or HID light. Xenon bulbs are the least expensive but they are not as bright as LED or HID. They also use up your battery faster, but may be an option if you want to save money.
Because of the consistemt levels, the Xenon bulbs are commonly used for underwater photography.
LED (light-emitting diode) – LED bulbs are energy efficient as they don't easily drain your battery power. They also produce a powerful light blue beam of light that penetrates murky water. In fact, LED lights have a higher lumen rating than traditional bulbs.
Most importantly, they are durable and have an expected lifespan of 10,000 working hours. These advantages make LED dive lights one of the best and most preferred types of dive lights among divers.
HID (high-intensity discharge) – These are powerful bulbs that emit nearly white light while consuming less power. Their high-intensity light is considered the best quality light. However, this type of bulb requires about 20 seconds to reach the full power setting.
If you turn this bulb off, you will have to wait about 10 seconds to cool before you can turn it back on. HID bulbs are also delicate and generally more expensive than their xenon and LED counterparts when it comes to scuba gear.
Pistol Grip or Lantern Style?
Pistol grip – These dive lights are held in the hand like a pistol, with the light on top of your hand. This style makes it easier to hold the light in front of you. It enables you to highlight several objects underwater. Moreover, it puts your wrist in a more natural position, avoiding strain.
The drawback of this style is that it is a bit tiring to carry. Also, you lose the use of the hand that carries the light.
Lantern style – With this style, the light is under your hand rather than on top. It is also less tiring to carry than a pistol-grip light. Unlike pistol-grip style, you'll not totally lose the use of the hand holding it, but you can have limited use.
One disadvantage of a lantern style is that it is difficult to hold in front of you.
With the above considerations, here are the top scuba diving lights you may want to check out before your next trip:
The Best Scuba Diving Light Reviews
Ideal for: Night and daytime diving
The UK Light Cannon eLED is extremely tough as it is made from non-corroding ABS polycarbonate plastic, one of the most durable materials for dive lights. It delivers up to 10 watts of power.
Using a unique LED water cooling design, it provides a powerful white light underwater than in air. With this dive light, you have the option to switch the output to half-power to extend the battery life.
It also comes with other standout features including a dovetail slot for pistol or lantern grip. You can also use it as an attachment point for a photo arm. It also has a heavy rubber boot that provides drop protection for the lens and a non-breakable locking switch. The set also comes with a rubber sleeve lanyard for accessories.
With a dovetail slot for pistol grip, lantern style or photo arm
Two power options: disposable or rechargeable battery
Ideal for: Cave and wreck diving
If you are looking for a lightweight and compact dive light, this is one of the best options on the market. The compact design of Ikelite Gamma enables you to hold it firmly into your hand.
It emits 350 lumens of brightness concentrated at a 10-degree beam with the light measuring 5.6 x 1.4 inches. It is corrosion-resistant and waterproof in up to 120 meters.
The Ikelite Gamma LED is easy to operate. You can switch between continuous and momentary modes with just a push of a button. It comes with two CR123 batteries with a run time of about 10 hours.
Easy to use with the push of a button
Easy and convenient to carry because of its lightweight and compact design
Batteries can be hard to find in local stores
Ideal for: Backup light, and great for looking under crevices and caves
Equipped with XM-L2 LED, this dive light emits up to 1000 lumens underwater with a 9-degree beam angle output. It is one of the best dive lights to choose if you're looking for the perfect bang for your buck due to its great features and over 50,000 hours lifespan.
It is made of aircraft-grade aluminum with a hard-anodized finish that resists abrasion and seawater corrosion. It is also waterproof in up to 150 meters and with underwater lighting distance reaching up to 80 meters. With its four different modes (strobe, low, medium and high), it offers more versatility for different situations. It's going to be one of the best gifts you can offer a diver.
It can continuously run up 1.5 hours if it's fully charged. This product comes with one 18,650 mAh Li-Po battery and a battery charger.
With a long lifespan of over 50,000 hours
Light reaches a far distance of 80 meters
With four lighting mode options
A rechargeable battery may not be ideal in locations where there are no electricity for recharging
Ideal for: Night diving
Made from aluminum alloy, this dive light is quite versatile and can handle extreme conditions on land and underwater. It is shockproof, scratch-resistant and abrasion-resistant. You can use it underwater up to 80 meters.
It comes with an LED bulb that produces white light of up to 3,000 lumens and has a lifespan of more than 50,000 hours.
This dive light has five switch modes (SOS, strobe, low, medium and high), allowing you to adjust the brightness according to the environment, making it ideal for night dives. When fully charged, it runs up to 2 hours on high and 13 hours in low mode.
Long lifespan of more than 50,000 hours
5 switch modes
Waterproof for up to 80 meters only. Many dive lights can go more than 100 meters deep
There are negative feedback from users about it not being at par with its advertised 3,000 lumens
Ideal for: Daytime diving or fishing and photography
This BlueFire has an aluminum alloy head (extra durable to protect the bulb) with a fluorescent ABS body design (fluorescent coloring makes it easy to find if it gets lost).
The LED light can be adjusted to bright or dim, with an option for strobe light. The maximum brightness can reach up to 1,100 lumens with a runtime of over 50,000 hours. It is also resistant in up to 80 feet of water.
Each set comes with a lanyard and hand strap for carrying the light underwater. It uses an 18,650 mAh Li-Ion rechargeable battery or three AAA batteries (battery and charger sold separately).
Long lifespan of over 50,000 hours
Durable construction
Batteries and charger not included
Ideal for: Backup, daytime diving, and exploration
This waterproof LED light is versatile and you can use not just for underwater activities but also on land. It comes with three working modes – bright, dim and strobe. It has a runtime of up to 60,000 hours with no need to replace the bulb. This is one of the longest lifespans for the products in this review.
The HeCloud 2 Pack LED XM-T6 set comes with two flashlights: 2 rechargeable batteries, 2 USB battery charge, and 2 wrist straps. The velcro straps conveniently hold the light while you are exploring underwater.
Long lifespan of 60,000 hours
With a 12-month warranty and 30-day money-back guarantee
The on and off mechanism is not very reliable. The manufacturer recommends turning on the light before hitting the water.
Uses a single LED which is not bright enough as a primary light
Ideal for: Primary light for recreational underwater activities and backup for deep diving
Utilizing high-quality Cree LED, the ORCATORCH Upgraded Version D550 is another great option for scuba. This dive torch is waterproof for up to 150 meters deep and with a maximum lifespan of 50,000 hours.
It is powered by one 18,659 mAh battery that when fully charged can run up to 2 hours and 5 minutes in high mode and 5 hours and 45 mins in low mode, making these underwater flashlights pretty reliable. High mode is up to 1,000 lumens while the low mode is as low as 367 lumens.
It comes with a wrist strap that fastens the underwater flashlight to the back of your hand, allowing you to dive freely without holding it.
Lightweight and highly portable.
Long runtime of up to 50,000 hours.
It can go as deep as 150 meters which is higher than many of the dive lights in this list.
With only two brightness options – high and low, and no medium light.
Ideal for: Backup, daytime diving
Small and lightweight, the ORCATORCH D560 makes an excellent on-the-go dive torch. Measuring just 92 millimeters long and weighing 47.5 grams, this diving torch uses the newest CREE XM-L2(U4) LED bulb with 50,000 hours lifespan.
It is powered by two AA alkaline batteries and can emit up to 165 lumens brightness with a runtime of 1 hour and 25 minutes.
It's made of aircraft-grade high-strength aluminum material, making it resistant to water, pressure, corrosion, and scratch. It can also go as deep as 150 meters.
Long lifespan of up to 50,000 hours
Lightweight and compact
Powered by two AA batteries which are widely available
Only single mode – no option to adjust the brightness
Clip is not very secure and could easily fall off.
Ideal for: Day and night time underwater diving, fishing and photography
Boasting its solid construction, this professional dive light is made of military-grade aviation with overheating protection. It is abrasion and corrosion-resistant.
Moreover, it can go to a maximum depth of 150 meters, with the light able to reach up to 236 meters. It is equipped with the original XPH50 CREE LED bulb with a maximum lifespan of over 50,000 hours and a maximum brightness of 2,000 lumens. The light color is neutral white.
This diving light adopted a mechanical rotary switch for safe and reliable underwater operation. It is powered by two 18,650 mAh batteries with a maximum runtime of one hour when fully charged.
Long lifespan of over 50,000 hours
Waterproof up to 150 meters, one of the highest in this list
Light reaches a far distance of up to 236 meters
Single-mode only with no option to adjust the brightness
The fully charged battery only lasts 1 hour. Many rechargeable batteries in this list last longer than that.
Ideal for: Secondary daytime diving in cakes or when looking into corals or crevices.
With a maximum runtime of 10 hours and brightness of up to 400 lumens, this high intensity LED light is one of the remarkable daytime lights. It is lightweight and compact in size which makes it very portable to carry anywhere. Underwater, you can also easily turn it on or off by switching the button with your thumb or index finger.
The Underwater Kinetics SL4 eLED (L1) is powered by four C-sized batteries. It produces a powerful beam which is ideal when you are looking into corals and crevices.
High runtime of 10 hours. Others can last for only 1 hour or a little more.
Lightweight and compact, making it ideal for traveling.
It only produces up to 400 lumens which are considerably lower than many of the options in this list.
Ideal for: Spotlight (as it has a narrow beam)
The Dorcy 220-Lumen LED dive light is one of the ideal options for those who want to use the torch for longer hours. It uses a K2 Super Flux LED that produces 220 lumens of light.
Underwater, the lights are concentrated into the beam, proving superior brightness. Powered by 6 AAA alkaline cell batteries, it could last up to 8 hours and can go as deep as 100 meters.
The 220 Lumen LED Submersibleis made of anodized aluminum with a hardened anti-corrosion finish. It comes with a nylon wrist lanyard and a 1-year limited warranty.
Long runtime of up to 8 hours
Made of a quality material that resists corrosion
No option to adjust the beam and brightness
Ideal for: checking crevices in the reef and for night dives (using the 60-degree beam)
This is an ultra-compact dive light as it weighs just about 285 grams, making it perfect for traveling. It produces up to 1,200 lumens for floodlight and 500 lumens for spot output.
With its regulated output and custom firmware, you can be sure that the brightness remains consistent. You can easily toggle between 60-degree flood and 12-degree spot beam angles with a one-touch switch, making it very convenient to use during dives.
The Light and Motion SOLA Dive has a factory-sealed body to ensure flood-free performance. It comes with a universal hand strap that will mount the light securely on your wrist for hands-free mobility.
Lightweight and small, making it travel-friendly.
WIth powerful flood and spot beam.
With three settings for spot and beam
Conclusion
A reliable diving light is a must for every scuba diving adventure. Since there are thousands of products to choose from, you can make a better decision by knowing the different features and how they relate to the kind of underwater environment that you want to explore. For instance, if you want to explore caves, you should get a powerful narrow beam light.
Our top choice
for best scuba diving light is the
UK Light Cannon eLED
. It has some great features, yet, is not too expensive. One of its best features is its dovetail slot, giving you three options to hold this light – pistol grip, lantern and photo arm.
You may also power it using either disposable or rechargeable batteries. Most importantly, it has a solid construction, allowing you to confidently use it underwater.
Live Your Aloha Dive Lights Review
Dive Lights
★★★★★
"

Finally, found an ultimate solution to explore the stunning underwater world. Gonna share this Informative guide with my Scuba Diving Squad
"