Dinner cruises are some of the most relaxing tours in the world. Especially if it's a Hawaiian dinner cruise that offers a majestic panorama of Hawaii's coastline during "golden hour," when guests stroll around breezy observation decks while sipping on premium cocktails, and master chefs prepare an exquisite feast of authentic Hawaiian cuisine for the festivities ahead.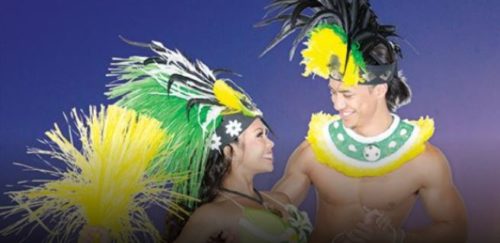 Having said that, every cruise is going to be a bit different. Some are going to have more exclusive features and entertainment (such as jazz music and private tables). Others may have formal receptions to host special events such as honeymoons, weddings, or anniversaries.
But just about all Hawaiian dinner cruises are going to have a casual and festive atmosphere that captures the allure of Hawaii's laidback island culture. That means forget about the elegant business attire, tuxedos, and ultra-fancy dresses. It's a celebration of life (not a haute couture fashion show)! 
Other evening cruises might have "chic nights" when guests dine out in stylish and fashionable clothing. But that's not what a Hawaii dinner cruise prides itself on. Instead, it's about romance and unforgettable sights, sounds, and flavors.  
Whether it's Oahu or Maui, traditional Hawaiian style always looks cool on a dinner cruise with a sunset backdrop.
Just Relax
Hawaiian dinner attire is all about effortless style, comfort, and bright colors. Whether it's a day cruise or dinner & sunset experience, your Hawaiian cruise should be as relaxing (or exciting) as you desire.
Remember, you are probably going to be catching the warm breeze aboard some giant yacht or catamaran, overlooking the stunning Waikiki coast as the sky is melting in a kaleidoscope of radiant blue, purple and pink hues.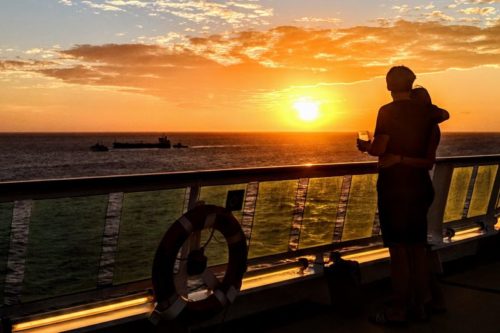 There's a hula performance going on somewhere in the background and you're going to be surrounded by exotic food, drink, and music. You could lay on the deck chairs all evening and never get up (but that would be such a waste of great food).
So let's assume you book a cruise to just lounge in one spot all night. You came to eat, drink, mingle with happy people, and possibly dance! You'll need to wear something that fits in with the crowd.
Keep in mind, there is a difference in what you should wear for a Hawaiian dinner cruise compared to a daytime sightseeing adventure. Let's go over how to dress appropriately for your particular sunset getaway of food, drinks, and dancing:
Island Casual
Casual attire is the most relaxed dress code with very few rules (if any). It's what you might wear to a beachside bar. It's going to include the usual shorts, jeans, sneakers, sandals and t-shirts. But anything is possible, including colorful dresses and breezy collared shirts.
Light jackets and long sleeve sweaters are typical when the weather is cold, rainy, or windy. Sunglasses, hats, and sunscreen are recommended on bright, hot days.
Some casual dinner cruises don't make a big deal about casual attire such as a non-collared shirt with a pair of sandals. In fact, they may embrace the "island casual" style. But many have restrictions against tank tops, cutoffs, flip-flops, and swimwear for casual dining environments.
Generally, most casual cruises expect families with children to have fun and even get wet in playgrounds (or sprayed by waves). So it's advisable to dress comfortably in clothes that you don't mind getting wet.
But even if it's the most casual dinner cruise in Hawaii, it's still best practice for evening dinner to cover your feet (at least with sandals), torso, and part of your legs, out of respect for other guests who don't want to feel as if they're lounging by the poolside of their neighborhood recreation center while they enjoy their meal.
However, some dinner cruises are okay with guests being barefoot, as that reflects the traditional Hawaiian seafaring style.
Resort Casual
Resort casual is what most seasoned jet setters and cruise-goers want to wear when they aren't swimming, hiking, or going to some formal event. It's the comfortable go-to style for tropical tourists who feel inclined to exhibit a sense of relaxation, affluence, and an appreciation of nature (especially at adult gatherings involving premium cocktails and festive entertainment).
It's the kind of attire that captures the natural essence of the resort-style environment in a tasteful and versatile manner. Not too dressy or laid back, but still functional and stylish.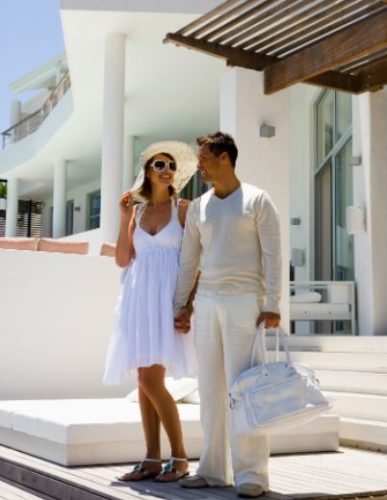 Resort casual is something you would wear while shopping at a high-end outdoor mall, enjoying the afternoon under shady pavilions, and visiting cultural centers before getting aboard your Hawaiian dinner cruise for sunset and Mai Tais.
In a sense, resort casual is a formal style of apparel that signifies style and affluence, but it still has a casual, laid-back vibe.
Resort casual attire is light, breathable, and easy to pack. It's made of cotton, silk, denim, light linen, microfiber, and popularized by many high-end mainstream fashion designers. 
Often influenced by a "nautical" style with bright design prints that characterize a specific region (palm trees and hula), resort casual strikes the ideal balance between being relaxed in your environment and elegant enough for fine dining events (such as on a dinner cruise).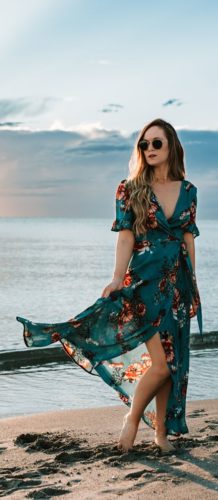 For women
Resort casual for women will include comfortable capris, linen pants, khakis, bright sundresses, open-toe shoes, and colorful medium-length skirts. Cardigans and pullovers will keep you warm in the cool breeze.

For men
Men will look good on dinner cruises wearing polo shirts, khakis, slacks, linen pants, boat shoes, loafers, or bright collared shirts (button-up or down). 
Once again, going barefoot might be totally acceptable depending on your dinner cruise.
Semi-Formal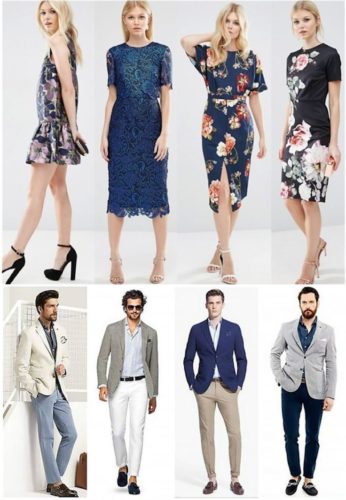 Semi-formal attire may be required for some "5-star" Hawaiian dinner cruises that provide a luxury experience with 7-course meals, live performances, jazz music, and private seating. These cruises are perfect for special events.
This traditional type of dress code is what you'd expect to see at a church gathering or classy restaurant. It's a flexible attire for both women and men, allowing them to wear a range of cocktail dresses, dress pants, or collared shirts.
Long pants and close-toed shoes are required for men. Basically, try to dress a step up from business casual, but not as dressy as a formal wedding or black-tie gala.