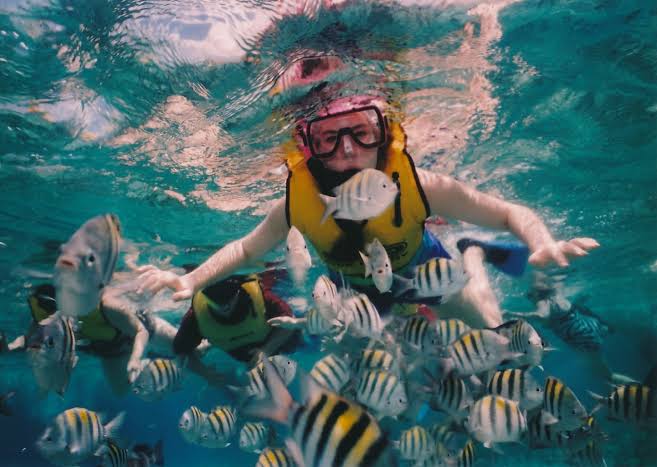 Kids nowadays have more access to fun water activities than we ever had at their age. All this has been made possible by the powerful growth of sophisticated technology. One of the most fun activities kids absolutely love is snorkeling which feeds into their curiosity and their constant need to explore.
List of Quality Kids Snorkel Sets
The ocean provides a unique environment to explore due its diverse and absolutely breathtaking creatures from the multitude of colorful fish, to corals, to crustaceans and so on. Snorkeling is educational, fun and also helps keep the kids physically active by swimming and moving around the ocean.
While we encourage kids to go into the water, it is also extremely important that we ensure safety and comfort so that our kids can have the best memorable experience.
Top Kids Snorkeling Sets – Comparison Table
IMAGE
SNORKELING SETS
FEATURES

Known For:

Ergonomic Design

Price:

$$

Check Price

Suitable for:

6+ years old

Price:

$$

Check Price

Best for:

Swimming & Snorkeling

Price:

$$

Check Price

Offers:

Amazing Comfort and Stability

Price:

$$

Check Price

Suitable for:

6 – 12 years old

Features:

Easily adjustable Straps

Price:

$$

Check Price

Offers:

Amazing Safety

Price:

$$

Check Price

Material:

Food Grade Silicone

Price:

$$

Check Price
When taking your kids to snorkel, having the right gear is very crucial. Every gear is slightly different than the other and might serve a slightly different purpose.
Before you purchase your child's gear, you need to be aware of what it is exactly that you're looking for and the kinds of snorkeling activities your child will take part in so as to make the best decision possible when acquiring a kit for your child.
After thorough research and revision, we have created a guideline on how to go about shopping for your kids' snorkeling gear and have also included a list of the best snorkeling kits recommended by us to make your shopping experience as effortless as possible.
Snorkeling Kit Buying Guide
There are several factors to consider when purchasing a snorkeling kit for your child and it all depends on child's needs and the activities that they are going to participate in. The following are some of the most crucial things to put in mind:
a) Fins:
Having fins isn't as essential as the mask and snorkel when it comes to snorkeling for the kids. But it does add to the fun and also allows your child to experience using them at an early age.
When selecting fins for your child, you have to keep in mind their size, the age of your child as well as the rigidity or flexibility of the fins. Older children can effortlessly handle rigid fins which have more power when propelling but a bit tough to move in around the water whereas younger children are more likely to enjoy flexible fins because they are lighter.
b) Snorkel:
Snorkeling cannot happen without the snorkel, an essential part in this activity. You have to make sure that the size of the mouthpiece of the snorkel is small enough for your child to comfortable bite on and hold for a longer period of time.
Apart from size, you should also consider getting a snorkel that has a dry valve which allows air to go into the snorkel but immediately closes once water accidently gets into it which keeps the water out of the snorkel should the child accidently splash water into it or breathe while under water.
c) Mask:
When purchasing a mask for your child, things such as strap quality and adjustment, skirting around the mask, and the mask's lenses are essential. You need to ensure that the strap fits well and can be easily adjusted according to the child's head size.
The rubber skirting around the mask should be good enough to prevent leakage. You should also consider choosing a mask that offers panoramic or peripheral vision so that the child can easily get to see everything around his/her vision circle.
d) Gear Bag:
Having a gear bag allows your kid to feel responsible for their own snorkel equipment. Some gear bags come with the snorkeling sets, others you'll have to purchase separately. When getting one for your kid, always ensure that it is fast drying since most of the time the snorkel equipment would be wet.
A fast drying bag reduces mold and bad smell that may occur if you end using a non-fast drying bag. A bag with a drain plug or several tiny holes in it adds to the fast drying process and should definitely be a plus when getting one.
FAQ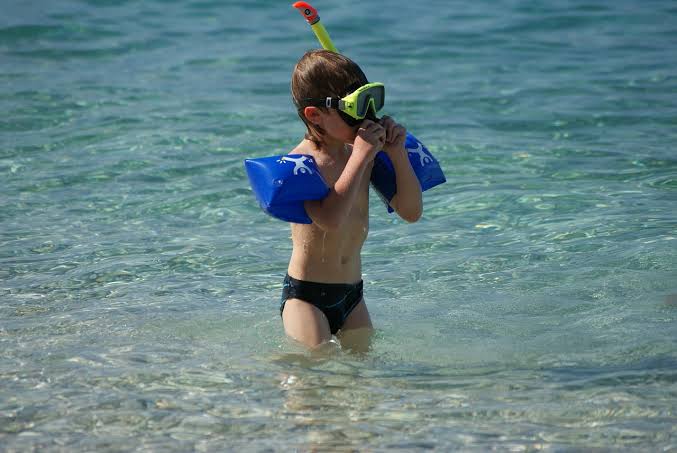 a) At what age can a child snorkel?
A typical age for a child to snorkel is about 5 to 6 but you can also teach a 3 year old how to snorkel. It's important to practice with your child in a home pool or public pool so that they can be confident enough when they get to the sea.
b) Do kids need fins to snorkel?
Kids do not necessarily need fins to snorkel but they are a great addition to the snorkeling kit which adds to your child's snorkeling experience. If you are going to be swimming around to various spots while snorkeling, having a pair of fins would be advantageous.
c) What is a dry snorkel?
A dry snorkel has a valve mechanism on the top of the tube which is called a float valve. When the wearer of the snorkel submerges the snorkel below the waterline, the valve closes and seals water and air from making their way into the tube which keeps the tube dry.
When using a dry snorkel, you can just breathe in as soon as you get the top of the tube above the waterline as opposed to regular snorkels where you have to blow the water that made its way into the tube out before inhaling. A dry snorkel is recommended for children and beginners at snorkeling.
d) Is snorkel gear safe for children?
Provided the snorkel gear used is of great quality and fits the child perfectly, then it is safe for children although it's much safer if your child can swim. But then again, it is always advisable to supervise children when snorkeling. It is normal for the child to run into some trouble with their gear especially if they are a beginner and your presence there will highly reduce any chance of an accident.
Top Snorkeling Kits for Kids Reviews
This set consists of the mask, snorkel, fins and gear bag. The mask has a 2-window tempered glass lens which features a hypoallergenic PVC skirting around it that is anti-leakage. It is topped off with a strap that has 3-Way Pro-Glide buckles that allow for easy fit and adjustment.
The snorkel uses Dry-Top technology to keep the tube dry should the wearer choose to go under water. For comfort during long hours of snorkeling, the mouthpiece is ergonomically shaped to allow the child to grip on it well and not allow water in.
The fins were made using Pivot-Flex technology which makes them flexible and friendly for beginners. Fast propulsion is an effortless task when it comes to this pair of fins while also eliminating leg cramps that could occur when using other traditional fins.
The gear bag is styled as a backpack bag and allows for easy storage and transport of the snorkeling set. To protect the mask lens from scratches, there is a separate pocket in the bag for it.
This snorkeling kit is suitable for children who are looking to constantly use it due to its durability. The fact that it features all components of snorkeling set also makes it suitable for kids whose one of their top hobbies is snorkeling.
The manufacturers have put a lot of effort into ensuring that the snorkeling set is of high quality and durability
Ergonomic mouthpiece one the snorkel makes it a win
The 3-way Pro-Glide buckles on the mask sets it apart from other snorkeling sets in the market
Suitable for snorkeling enthusiastic kids, the snorkeling set comes with a mask, fins, snorkel and a bag to store and carry the set around.
The 2-window mask offers a wider view and comes with pro-glide buckles for easy adjustment. To ensure comfort and safety of the child wearing the mask, it is equipped with PVC skirting around that prevents entry of water and provides a secure snug fit.
The snorkel has an ergonomically designed mouthpiece to ensure that the child can easily grip onto it without fatigue after a short while of use. It also has a splash guard top that uses Hydro-adhesion Technology that prevents water from entering the snorkel tube.
To further enhance the snorkeling experience, the set comes with dual composite vented blades that provide maximum propulsion speed while using less energy compared to other fins out there in the market. The fins are designed to fit a range of foot sizes and have soft and comfortable foot pockets with easy-to-adjust buckles.
Comes with a lightweight portable gear bag
Fins are designed to fit a wide range of foot sizes
Snorkel comes with a splash guard
Needs to be handles gently or parts of it may break
Available in various colors and beautiful designs, this snorkeling kit is suitable for kids with a creative and fun side while also involved in fun physical activities.
It's a full set that comes with an ultra-clear tempered glass lens mask, a snorkel that has a dry top guard to protect against splashing as well as a purge valve for effortless clearing out of water.
To top off a wonderful snorkeling experience, the fins have adjustable straps and a quick release system that disconnects the strap without altering the custom adjustments made.
The colorful carry-on bag that comes in various animal designs such as fish, turtles, whales, etc, makes it a good birthday gift to a child interested in snorkeling.
Available in variety of colors and designs
The snorkel mouthpiece offers a secure and comfortable fit
Fins have a quick release system
The dry top design of the snorkel might be faulty although that is a rare occurrence
Suitable for kids aged 5 to 11, this snorkel set comes with a dive mask, fins and dry snorkel.
The dive mask is made of tempered glass that is scratch and shatter resistant therefore, safety is ensured if your child wants to dive into the water while having the mask on.
For easy adjustments, the mask's straps are made from silicone which makes it customizable to fit any face shape. The skirting around the mask is also made from silicone hence ensuring a tight and comfortable seal.
The snorkel has a one-way purge valve, a dry valve, as well as a splashguard to provide maximum protection against water making its way into the snorkel tube.
To complete the snorkel set, are the short trek fins with vented blades. The straps are easily detachable and adjustable for a secure and comfortable fit.
The manufacturer offers a No-Hassle 90-Day money Back Guarantee and a 1-year manufacturer's warranty which makes it suitable for the parent who is worried about the quality of the product.
Generous warranty and money back guarantee
Durable snorkeling set
Scratch and Shatter Resistant mask is a plus
Not suitable for narrow or small faces
Even though the mask is advertised as shatter resistant, it tends to break on impact in some rare cases
The Wacool snorkeling kit is suitable for kids aged 6 to 12 years old. The set comes with a snorkel, mask and a tiny mesh bag for easy storage.
It comes with a fully dry snorkel that has a purge valve for easy clearing and drainage of water out of the snorkel and an anti-splash system to prevent water from entering the snorkel. The mouthpiece is made from top grade silicon for maximum comfort and long lasting usage.
For maximum under-water visibility, the mask is made with anti-fog tempered glass with a silicone skirting around it for a tight seal and extra support.
This snorkel kit is full tested and the manufacturer offers a lifetime hassle-free guarantee which makes it suitable for parents who don't want to end up losing money in case the kit doesn't work out.
Lifetime hassle-free guarantee offered by manufacturer
Snorkel kit is made from top grade materials
Mask has an anti-fog coated tempered glass
On some instances, the tempered glass on the mask tends to shatter if dropped, so for your child's safety, they should avoid diving with it
Suitable for children aged 4 to 12 years; this snorkel kit consists of a mask and snorkel and comes in a wide variety of colors to choose from.
The snorkel has a full dry top that eliminated entry of water when fully submerged. Its mouthpiece is made using a food grade silicone which makes it safe for kids as well as offering a comfortable grip.
The mask offers a clear and wide vision due to its anti-fog and tempered glass qualities all while withstanding deep-water pressures. The skirting around the mask is made from soft silicone which makes it comfortable and flexible enough to fit a child's face well.
Parents worried about value for money need to worry not because the manufacturer offers to replace or refund any parts that could be found to be defective.
Guarantee on replacements or refunds available
Made using safe material such as food grade silicone
The snorkel kit is durable
The snorkel might come with some faulty issues but you need not to worry because the manufacturer offers replacements and refunds
If your kid is within the age of 4 and 12, you can get them this snorkel kit that comes with a mask, snorkel, nose clip, earplug and a carry bag.
Clear vision with of 180 panoramic view is guaranteed due to its mask's anti-fog quality and tempered glass lens that is also scratch resistant and can withstand underwater pressure.
The headband comes with an adjustable strap with a range of 49 to 54 cm. Its silicone skirting is non-toxic and has a width of about 11cm and can be stretch to about 13cm.
The snorkel comes with a dry top to prevent entry of water when it is fully submerged as well as lower purge for quick expulsion of water. Its mouthpiece is made using food grade silicone which makes it a
safer option
as well as comfortable to grip on when snorkeling.
Made using non-toxic silicone
Set comes with nose clip and earplug
Manufacturer offers 100% satisfaction guarantee
The snorkel might be faulty and leak but it can be easily replaced once you contact the manufacturer
CONCLUSION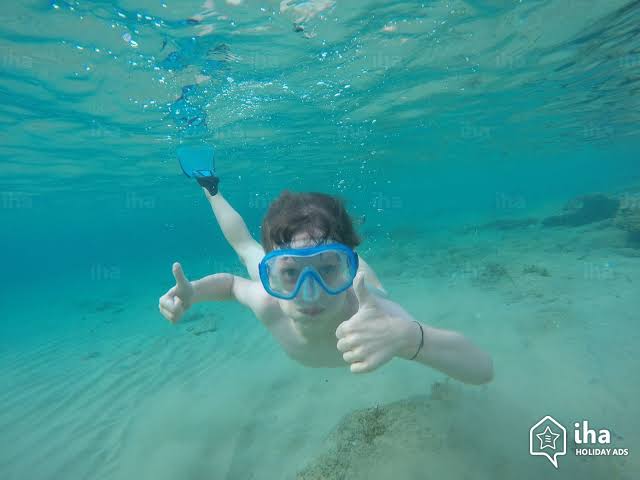 Now that I've mentioned the top best snorkeling kits for kids in 2020, the best of the best out of the list of 7 snorkeling kits is the Elementex Dry Kids Snorkel Set.
It has all the best qualities to look for in terms of fins, mask, snorkel and gear bag. The manufacturer of this kit has gone out of their way to ensure maximum protection from water entry into the snorkel by incorporating a one-way purge valve, a dry valve, as well as a splashguard.
A clear vision and safety when wearing its mask is guaranteed due to its anti-fog, and anti-shatter qualities. And let's not forget about the short trek fins with vented blades that have easily detachable and adjustable straps for a secure and comfortable fit.
As if that's not enough, the manufacturer offers a No-Hassle 90-Day money Back Guarantee and a 1-year manufacturer's warranty. This way, you get to acquire the best snorkel kit in the market without having to worry about losing your money.
Live Your Aloha Kids Snorkel Sets Review
Snorkel Sets
★★★★★
"

I always wanted to bring my 10 year old son with me for snorkeling but didn't have any idea of where to find the right equipment. My friend shared this guide with me and it's quite informative. I can now enjoy amazing moments with my son.
"