A diving knife is essential when it comes to  diving equipment. This tool comes in handy when you have to cut a bundle of rope or line to save an entangled animal. You can also use it for other tasks such as for prying. hammering or digging underwater.
Some divers may consider it unnecessary to bring a diving knife, but having a reliable one can make a huge difference in your diving experience.
QUICK ANSWER – THE BEST DIVE KNIVES AVAILABLE
There are hundreds of brands and models of diving knives available but you can't just choose any knife you want. When you don't know what to look for in a diving knife, you can easily get confused and might end up making the wrong decision.
Comparison Table – The Best Dive Knives
IMAGE
KNIFE
FEATURES

Material:

Titanium

Great for:

Recreational Diving

Price:

$$

Check Price

Material:

Titanium

Great for:

Recreational Diving, Cutting Ropes

Price:

$$

Check Price

Material:

Austenitic Steel

Great For:

Cutting Plastic Sheeting and Ropes

Price:

$$

Check Price

Material:

Stainless Steel

Great For:

Cutting Fishing Nets and Threads

Price:

$$

Check Price

Material:

Stainless Steel

Great For:

Scuba Diving and Snorkeling

Price:

$$

Check Price

Material:

Japanese Stainless Steel

Great For:

Cutting Lines

Price:

$$

Check Price

Material:

Stainless Steel

Great For:

Cutting Lines

Price:

$

Check Price

Material:

Titanium

Great For:

Cutting Lines and Fishing

Price:

$$$

Check Price

Material:

Titanium

Great For:

Cutting Lines and Ropes

Price:

$$

Check Price

Material:

Titanium

Great For:

Cutting Ropes and Thin Lines

Price:

$$

Check Price
For recreational diving and general purpose underwater use, here are our top 3 favorites:
1. Promate Scuba Dive Snorkel Titanium Knife – This is our top choice because of its unique construction and versatility. All its components, which include a two-edged titanium blade, non-slip grip, titanium handle bottom and blunt or drop point tips, are engineered to provide the best experience for the user.
2. Atomic Aquatics Titanium Ti6 Scuba Diving Knife – This is another titanium multi-purpose diving knife worth considering. It is lightweight, compact and comes two types of edges and a notch for cutting lines. It is ideal for general purpose recreational diving.
3. Spyderco Atlantic Salt Rust Free Serrated Edge Knife – What makes this stainless steel diving knife unique is its use of H-1, an extraordinary Japanese steel that is considered more resistant to rust than regular stainless steel. The total length of the knife is less than 9 inches which makes it more compact for greater portability.
How to Choose The Best Dive Knife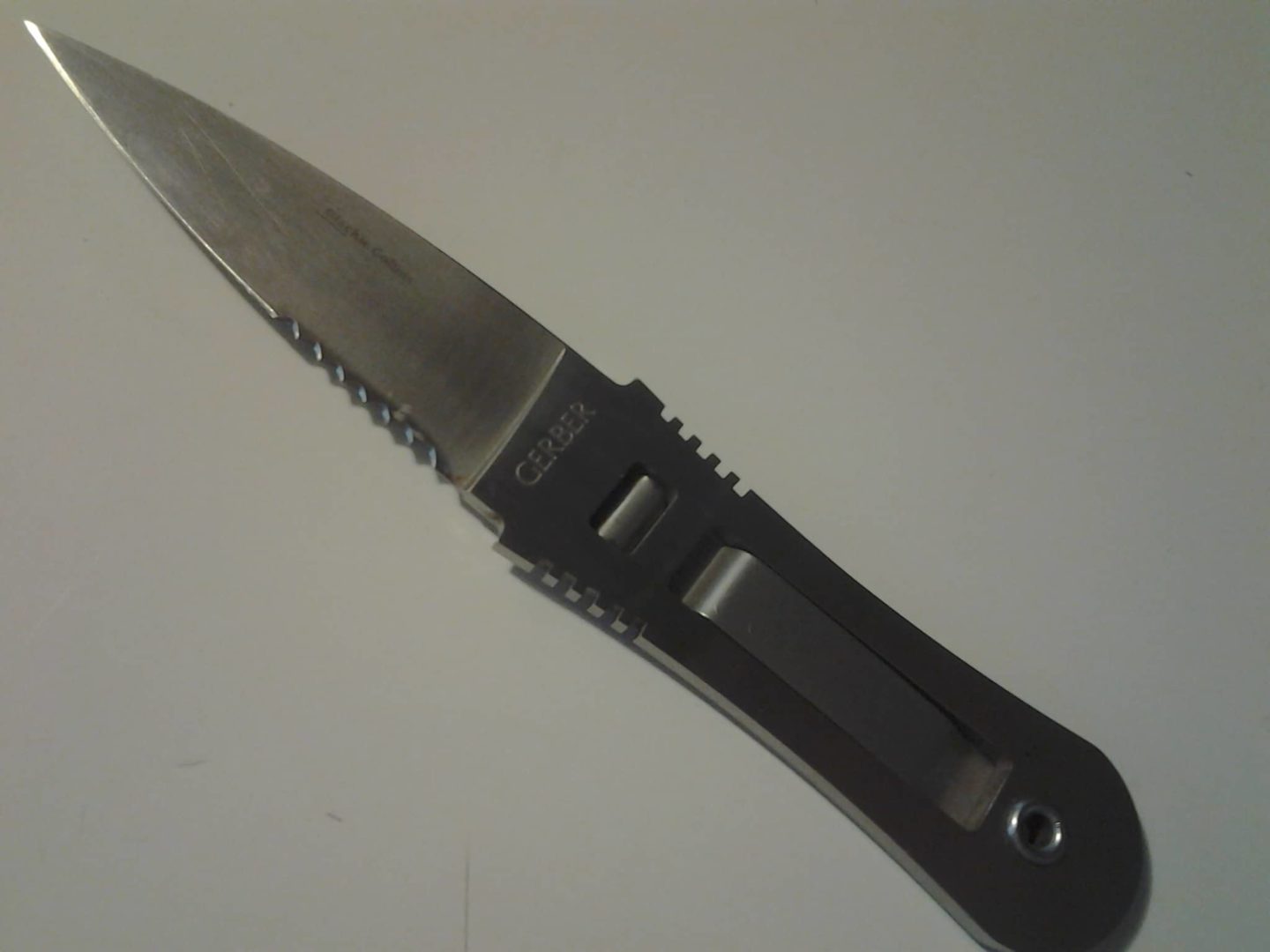 When comparing most diving equipment, your kind of dive knife and the type of diving you normally do are important considerations. The best dive knife should have features that suit your needs and preferences.
Size of the Blade
A bigger knife does not necessarily mean better. In recreational diving where you won't be using a knife very often, a large and bulky knife is not a practical choice. Most of the time, your knife will remain in its case, putting additional weight on top of other diving equipment you carry. A dive knife long enough to cut through the net and small enough to fit in your BC pocket is an ideal option.
Mini Dive Knives – These knives have 2 to 3 inches of blade. They are very compact that you can fit them just about anywhere. Some knives are even designed in a way that you can clamp them on your hose for easy and quick access. One drawback for mini dive knives though is that some models have very short grips, not long enough for you to have a firm grip of the knife.
Medium Dive Knives – Medium knives have a blade that is about 4-5 inches long. They are considered the most practical option for recreational divers. These knives have the heft and strength that you need for a variety of purposes. Medium knives are generally lightweight and you can strap them in many easy-to-reach locations.
Type of Blade
Fixed Blade – Diving knives with a fixed blade are considered easier to use than foldable knives. You can easily take one of these knives out of its case and use it immediately.
Folding Blade – A folding knife has the advantage of being smaller in size and more compact. Most of these knives lock into place, making them safer to carry. However, one of the common issues with folding diving knives is that they are hard to open with one hand. It matters when you are underwater and you have the other hand holding other equipment such as a diving light.
Material
The material of your diving knife determines its longevity.
Stainless steel – Stainless steel is sturdy, durable and rust-resistant. However, it is not rust proof. This means that they also rust, but not as quickly as regular steel. It is important to keep this in mind since you will be using it around water.
Many diving knives are made of stainless steel due to cost factors. They often come with a number series between 300 to 400. The lower the number, the more corrosion resistant the blade is. However, a lower number also means that the knife can lose its edge faster. For instance, a 320 knife will not rust as fast as a 420 knife. But the 420 series knife will be sharp longer.
Repetitive exposure to the sea makes stainless steel diving knives susceptible to rusting. To prevent this, rinse your knife with fresh water after each dive and let it dry before storing.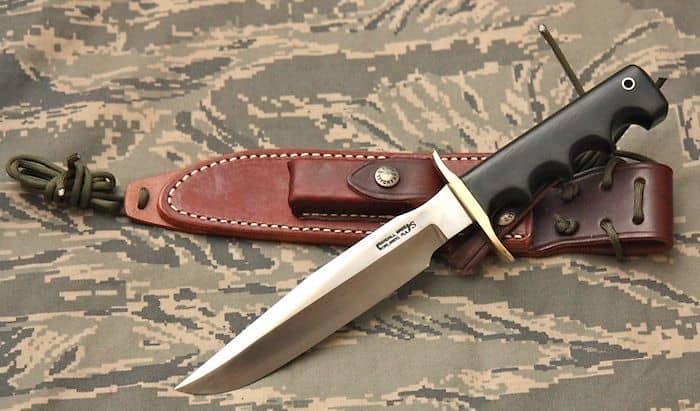 Titanium alloy – Titanium has a high tensile strength and toughness than most metals. They are lightweight and more flexible than steel. Diving knives made from titanium are almost completely rust-proof and resistant to corrosion. They also hold a great edge longer than stainless steel. However, titanium dive knives are pricier than their stainless steel counterparts.
Shape of Blade (edge and tip)
The edge of the knife determines its functionality. Common types of edges are serrated and straight.
Serrated edges – These are blades that are jagged similar to bread knives. This type of blade is effective in cutting through thick materials such as ropes. They also typically stay sharper longer than straight edged knives.
Straight edges – Straight-edged blades are more effective in cutting thin materials such as fishing lines.
Combination – If you can't decide between serrated and straight edges, you may also consider getting a knife that comes with both blades. Newer models even come with hooks or notches in the blade which makes cutting even easier.
The tip of a diving knife also determines its use. The tip of a diving knife can be blunt or pointed.
Blunt tip – A blunt tip is ideal for digging, prying, chiseling and hacking. It is considered as a safety-first type of blade. With this kind of tip, there are lesser chances of accidentally puncturing your wetsuit or air hose.
Sharp tip – A knife with a sharp tip is a popular choice among spearfishermen and is great for puncturing. However, this type of tip is also more likely to cause accidental cuts or injury. Moreover, it can also break when used against a hard surface.
Tanto tip – This is a hybrid between a blunt and pointed tip. A tanto tip has a sharp angle for cutting but with a spot of bluntness on the very tip.
Attachment
The attachment is more of a personal choice. One option is to strap the knife on either your arm or your leg for quick and easy access. However, this kind of attachment puts you at risk of getting caught by something like a fishing line. A second option is to keep the knife where you most prefer it to be, such as in your BCD pocket.
Dive Knife Reviews
Great for: Recreational diving, cutting ropes and thin lines
Ergonomic design and multi-functionality. These are the features that make the Promate Scuba Dive Snorkel Titanium Knife stand out. This medium-size knife has a 4.45″ (11.3 cm) long blade and an overall length of 9.45″ (24 cm), and made of corrosion and stain resistant titanium material.
What's great about this knife is that it has two edges. One edge is a straight full tang blade while the other is partially serrated with a line cutter. To ensure a firm grip, it comes with a rubber grip with finger ridges.
Aside from its blades, its other parts also have a purpose. The bottom of the handle is constructed using titanium and is strong enough to be used as a tank banger or for hammering.
You can also choose between a blunt and a drop point tip. A blunt tip can double as a screwdriver. Lastly, when you buy this knife, it comes with a sheath and rubber leg straps.
Overall, this is a solid titanium diving knife by Promate that is built with strong materials and a great addition to your scuba gear arsenal.
Made of titanium material which is almost rust proof and requires less maintenance
Lightweight
Has two edges
Multi-functional
Sheath has only two straps, which is not very efficient as attachment points
Great for: Recreational diving, for cutting ropes and thin lines
If you are looking for a medium-sized diving knife, the Atomic Aquatics Titanium Ti6 Scuba Diving Knife is a good choice. It features a corrosion-resistant full-tang titanium blade with elegantly curved 4-inch straight and serrated edges, and a large notch for cutting lines. One thing I like about this blade is that whether you want a pointed or blunt tip, both options are available.
It is important for a knife to have a handle that allows for a firm grip. To ensure a firm and secure grip, this knife features a molded handle with finger grooves. Moreover, for easy maintenance, you can simply remove the titanium cap and disassemble the knife for cleaning. Another thing that's nice about this blade is that it comes with a push-button release to make it easy to get out when you need it, and a sheath with quick-adjust straps.
Overall, this is a great dive knife for recreational divers looking for something that isn't too overbearing in size. The serrated blade is extremely sharp for titanium, and ranks up there as one of the best dive knives on the market.
Blade is made of titanium which is almost rust-proof
With two edges, one serrated and the other straight
Comes with a notch for cutting lines
>Compact
Great for: Cutting plastic sheeting and ropes
H-1 is an extraordinary Japanese steel and that is what this knife is made up of. Instead of using carbon to create a steel matrix, H-1 uses nitrogen and this results in an austenitic steel that gets harder and tougher with use. Plus, it's rust resistant due to the fact that all of its steel components are treated to make them rust resistant.
The Spyderco Atlantic Salt Rust Free Serrated Edge Knife has two serration patterns composed of one large and two small serrations. This design increases the surface area of the cutting edge by up to 24 percent. The blade is 3.68 inches long, while the overall length is 8.27 inches. Moreover, this knife allows for one-handed opening with its 14-mm round hole. It also has a black fiberglass-reinforced nylon handle with volcano grip texturing to ensure a firm grip. You can conveniently carry this knife underwater by attaching a lanyard to a hole through its clip attachment screw.
Compact and lightweight and convenient to carry around
Very sharp
One-handed opening
No mechanism to lock the knife down when closed
Great for: Cutting fishing nets and threads, spearfishing
Cressi is an Italian brand that has pioneered making scuba diving, swimming and snorkeling equipment since 1946. This diving knife is one of their best sellers. It is a long knife with the blade alone measuring 7 inches while the overall length is 11.82 inches and it weighs 1.32 lb. The blade is made of steel and it has a serrated edge on one side and smooth edge on the other. The handle is soft and non-slip with finger molds for a firmer grip. The handle bottom has a chromed knob that you can use as a mallet.
The Cressi Long Stainless Steel Diving Knife also features a sheath made of plastic material with a traditional elastic closure. It has loops and straps for attaching to a thigh or belt.
Overall, this is a good dive knife if you prefer a longer blade and want to use it for things like spearfishing , snorkeling, or treasure hunting. One thing to keep in mind is that you do need to take care of this knife because it isn't rust resistant. As long as you do that, you'll have a great knife that will last for years to come.
Very sharp
With serrated and smooth edges
Non-slip handle
Covered by a limited 2 year warranty
This is a long knife which may be cumbersome to bring
Great for: Scuba diving and snorkeling
This is one of the best budget dive knives we were able to review due to the quality materials combined with affordable price. Made from grade 304 stainless steel, this diving knife is extremely durable and highly resistant to rust. The blade on the Promate Barracuda is 5 inches long with an overall length of 10.5 inches. It has two edges, one straight and the other a serrated blade. Moreover, it comes with a stainless steel cap at the bottom of the handle which you can use for hammering.
When it comes to maintenance, maintaining this knife is a breeze as you can easily disassemble it for cleaning.
The handle of this knife has a lanyard hole while the sheath has quick-release adjustable straps. These give you more flexibility for attachment, and I was impressed by the material and how good the handle felt in my hand for the price.
Overall, the Barracuda is a great budget knife that is compact and lightweight, but still gets the job done. As long as you clean it regularly, this knife will last for a long time.
Highly resistant to rust
Has two edges
Easy disassembling for maintenance
With stainless steel hammer at the bottom of the handle
304 stainless steel series which means that it may lose its sharp edge faster than those in the upper series
Great for: Cutting lines
As Cressi is an established and pioneer brand in diving equipment, it's not a surprise that they have a wide array of diving knives with some of the best features. This Cressi Borg product is no exception. Cressi Borg is a large knife with a modern design. Made of 304 grade Japanese stainless steel, this knife is about 10.43 inches long. The 5.51 inches blade has two edges, one is straight while the other is serrated. Both edges are very sharp and are great for cutting lines.
To ensure a firm grip even while wearing gloves, this diving knife has an ergonomic non-slip handle. The handle is separated from the blade by a small technopolymer thumb tab. As for accessories, the knife comes with a sheath with a locking mechanism to allow one-handed release. The sheath also has two straps for attaching to your leg.
Another great budget pick, if you wanted a longer blade but don't want to spend too much, this is one of the best options out there, especially if you need to cut lines frequently.
Sharp knife
With two edges
With a thumb tab that protects your hand from the blade
Some users reported having issues with rust
This is a long blade which others find inconvenient to carry
Great for: Cutting lines
If you prefer a medium sized knife that is truly low cost, the Snake Eye Tactical Dive Knife ll is worth considering. It is a stainless steel dive knife with a blade that measures just about 4 inches long and has a 4.5-inch stainless steel handle to cut through lines with ease.
You can choose between its two edge and single edge designs. The two edge design comes with two straight edges while the single edge design has a combination of straight and serrated edges. Both designs come with a sharp tip.
This product comes with an adjustable leg strap sheath. Keeping your knife beside your leg allows for quick and easy access, especially in times of emergency.
Overall, this is the best choice if you tend to lose your dive knives frequently. The materials are strong for the price, and as long as you rinse it with water after each dive and take proper care of it, it'll be a great addition to your scuba gear.
Small and lightweight, easy to carry around
Very sharp
Getting the knife out from its case takes more effort because of the double locking system
Great for: Cutting lines and fishing
For those who prefer an aluminum diving knife, the Audeamus Titanium No Rust Dive Knife is another good option available. I was impressed with the accessories for this knife because the leg straps are heavy duty, which you don't find often in a dive knife. This dive knife locks into the sheath with one easy click, keeping it secure while not in use.
This diving knife has a 5-inch blade with straight and serrated edges and a sharp tip. It also features a non-slip grip and a titanium handle bottom that you can use to pound on something.
A great companion if you go fishing a lot, this dive knife is built on high quality materials that will stand the test of time. If you're ok with spending a bit more, you won't regret it with this pick.
With 60-day money-back guarantee
Made of extra strong and rust-resistant aluminum alloy
Lightweight
Sturdy and durable
Has both serrated and straight edges for versatility
There's a reported issue that it will not open from the left. This can be a serious issue for lefties
Great for: Cutting lines and ropes
The TUSA FK-940 X-Ppert II Titanium Dive Knife is a very lightweight diving knife with a 4.5-inch blade and a total length of 10 inches. Made from 6-4Titanium, it is highly resistant to corrosion. This knife comes with a serrated edge, straight edge and a line cutter. Moreover, it also has a sharp tip for puncturing.
To ensure a firm grip on the handle, it comes with a non-slip grip with counterweight and has an ergonomic design. For longer-lasting use, you can easily disassemble this knife for easy maintenance and cleaning.
For your safety and convenience while exploring underwater, this knife comes with a single button sheath lock release where you can keep the knife. Along with the sheath are leg straps for securing the sheath.
Made of titanium that is highly resistant to corrosion
Easy to clean and maintain
Lightweight and easy to carry
The leg straps are not long enough to be used in the thigh
Great for: Cutting ropes and thin lines
The Underwater Kinetics Dive Knife may be last on our list to review but it is definitely worth checking out. One of its standout features is its solid 5-inch titanium blade and pommel that are non-magnetic and corrosion resistant. It comes with both a curved-straight edge and a serrated edge for all types of cutting. You could also choose a tip as blunt, and drop point tips are available for this product.
To ensure a powerful grip, this knife is fitted with a contoured handle and a large choil. For safekeeping while not in use, it does come with a sheath with a locking mechanism so the knife won't easily fall. The adjustable rubber quick-release straps for your leg allow you to have quick access to the knife.
Made of extra durable and corrosion resistant titanium material
With both serrated and straight edges for versatility
Sheath has a reliable locking mechanism
Knife can be difficult to remove from the sheath
Conclusion
One of the accessories no diver should ever be without, the best dive knives are durable, sharp, easy to use, and long lasting. They're also there when you need them. It's important to always be prepared when you dive, and arming yourself with a dive knife is no exception.
Our comprehensive guide above should help you choose the best diving knife for your needs. Before choosing a knife, don't just check the cost but also check the features and see if it matches your intended purpose.
Live Your Aloha Dive Knives Review
Dive Knives
★★★★★
"The article is quite interesting and it shares perfect information one needs to buy the dive knife.
"