When it comes to scuba diving equipment, scuba regulators are perhaps the most important. They act as your life support system, allowing you to explore the vast ocean depths at your leisure. As such, buying the right scuba regulator is crucial for your safety and enjoyment.
To help you choose the right equipment for your underwater excursion, we've reviewed some of the best scuba regulators money can buy. We've also written a comprehensive buyer's guide to lead you to the right purchase.
Let's dive right in!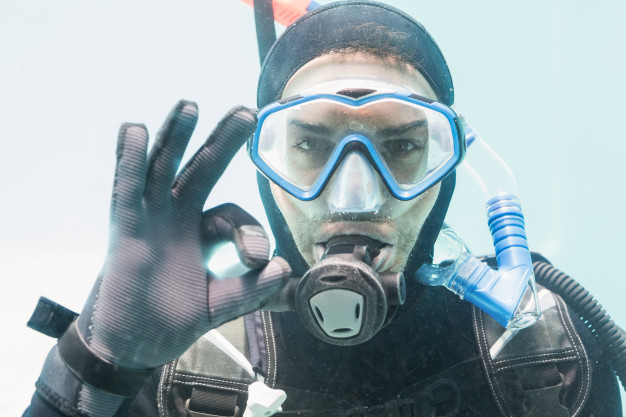 Top 7 Scuba Regulators for Beginners and Avid Divers
Chosen for their functionality, longevity, and overall user comfort, here are some of the best scuba regulators you can buy today!
Specs & Features
First stage: Balanced diaphragm
Ports: 5 LP and 2 HP
Nitrox compatible: Up to 40% O2
Weight: 2 pounds
Configuration: YOKE
Suitable for cold water: Yes
Environmentally sealed: Yes
Other features: Anti-freeze protection, patented XTIS (Xtended Thermal Insulating System), external intermediate pressure adjustment
Scubapro has built a solid global reputation in the scuba diving industry thanks to its high-quality marine equipment, and the Scubapro MK25 A700 further solidified its place.
The MK25 A700 is a favorite among professional divers, and it's easy to see why. With its chrome-plated brass body, adjustable intermediate pressure, and anti-freeze protection technology, underwater exploration has never been more comfortable—or convenient.
Unlike regulators with a diaphragm first stage, the EVO's piston-style first stage comes with fewer moving parts. And with the addition of the Extended Thermal Insulating System (XTIS), it's more responsive to on-demand air delivery even in low tank pressure ranges.
This regulator works well in high water pressures of up to 350 feet. The venturi control can be a bit stiff at times, but the regulator provides consistent airflow regardless of tank pressure, depth, or breathing rate.
The patented Black Tech coating protects the regulator from saltwater corrosion and rust while maintaining a sleek, scratch-resistance appearance. As such, it's best suited for no-holds-barred divers that tend to be a bit hard on their gear.
Pros
Rugged, full-metal construction withstands years of aggressive diving
Automatically balances inhalation effort when diving at varying depths
High cold water resistance
Premium look and feel
Cons
Above-average price point
Venturi control can be a bit stiff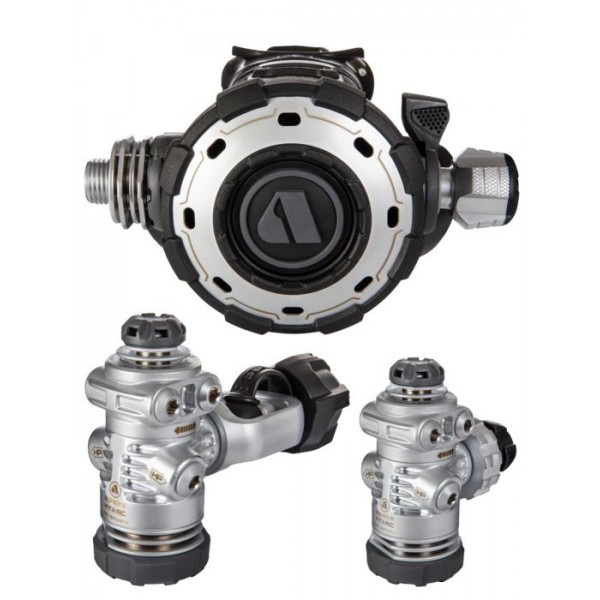 Specs & Features
First stage: Over-balanced diaphragm
Ports: 5 LP and 2 HP
Nitrox compatible: Up to 40% O2 outside the EU, 21% O2 within the EU (can be increased with M26 Connection)
Weight: 2.63 pounds (DIN), 2.95 pounds (YOKE)
Configuration: DIN and YOKE
Suitable for cold water: Yes
Environmentally sealed: Yes
Other features: Ribbed diaphragm clamp, Double swivel hose, ergonomic venturi lever
The Apeks MTX-RC Scuba Regulator is a no-brainer choice for most professionals, as it features everything you need in a scuba regulator regardless of the diving environment.
The MTX-RC Scuba Regulator is the civilian version of the military-spec MTX, but it still retains most of its military-grade engineering. With its clean-cut lettering—which contrasts wonderfully with the brass finish and white elastomer—it's not only beautiful but also functional.
As you'd expect from a regulator made for the military, it's rugged, rough, and high-performance. It works in nearly every environment, regardless of temperature or water pressure. After all, it's built to fulfill NEDU military requirements for diving in rough waters.
The first stage body features five medium-pressure ports and two high-pressure ports angled for optimal hose routing. It also comes with a ribbed diaphragm clamp for improved heat exchange in cold-water conditions.
The second stage is covered in large elastomer bumpers to protect it from scratches and impacts. The valve mechanism is surrounded by a patented heat exchanger, which dissipates cold by drawing warmth from the surrounding water.
Pros
Provides effortless breathing
Comfortable ComfoBite mouthpiece
First stage is over-molded and sealed, protecting it from impact damage
Rugged design for aggressive diving
Cons
Isn't Trimix ready
A bit on the heavier side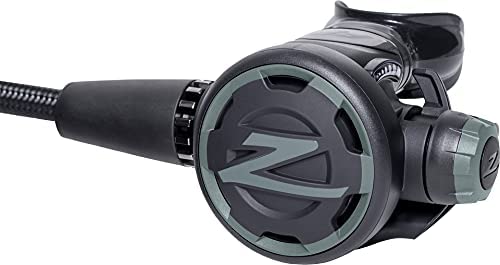 Specs & Features
First stage: Balanced diaphragm
Ports: Five LP and two HP
Nitrox compatible: Up to 40% O2
Weight: 2.8 pounds
Configuration: YOKE
Suitable for cold water: Yes
Environmentally sealed: Yes
Other features: Pneumatically balanced demand valve, threaded covering for improved safety, seat saving orifice
The Oceanic Zeagle F8 Scuba Regulator is a yoke regulator with a dry-sealed spring chamber. This not only makes it suitable for water temperatures below 40°F but also prevents salt, sand, and contaminants from getting into the regular's internal mechanisms.
Compared to its predecessor, the F8's inhalation diaphragm uses a soft silicone mold over a low-friction disk. This design increases tear strength, improves breathing response time, and enhances airflow regardless of the tank's remaining pressure.
To further extend the longevity of the breathing tube seat, the seat-saving orifice automatically retracts when not in use.
Unlike most scuba regulators, the F8 uses proprietary alloy on its valve springs. As a result, the alloy valve spring offers greater tensile strength and improved resistance against corrosion.
Pros
Easy-to-adjust breathing resistance
Performs well in both cold and warm water temperatures
Balanced diaphragm design ensures top performance in any condition
Well-designed diaphragm membrane
Cons
Heavier than most regulators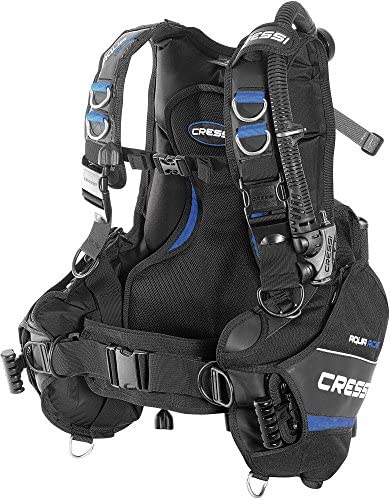 Specs & Features
First stage: Balanced diaphragm
Ports: 4 LP and 2 HP
Nitrox compatible: Up to 40% O2
Weight: 1.3 pounds (YOKE), 1 pound (DIN)
Configuration: YOKE and DIN
Suitable for cold water: Yes
Environmentally sealed: Yes
Other features: Antifriction lever, anti-scratch surface, removable exhaust tee
The Cressi Aquaride Scuba Gear Package is one of the best value diving gear packages you can find. Alongside the MC9 compact regulator, it comes with an Aquaride BCD, a Leonardo C4, and a dedicated GUPG regulator bag.
The Cressi MC9 compact regulator is a balanced diaphragm regulator. Thanks to its hyper-balancing system, it's highly sensitive to pressure changes. This makes it suitable for deepwater divers and ocean explorers.
Since it's environmentally sealed, the MC9 can cause problems in waters below 50°F. You can opt for YOKE or DIN connections based on your tank requirements.
The first stage is made with a combination of stainless steel, chromium-plated brass, and thermoplastic resins. Still, the regulator manages to be decently lightweight and compact at less than 1.7 pounds. If you opt for the YOKE valve, it'll weigh less than 2 pounds.
To improve the regulator's durability, it features an anti-scratch surface and technopolymer structure, which protects it against abrasion. It also includes an adjustable venturi system, giving you the chance to control the airflow to your liking.

Pros
Decently lightweight and compact
Suitable for cold water temperatures
Orthodontic mouthpiece reduces jaw fatigue
All-in-one diving package
Cons
Mouthpiece can be a bit small for some users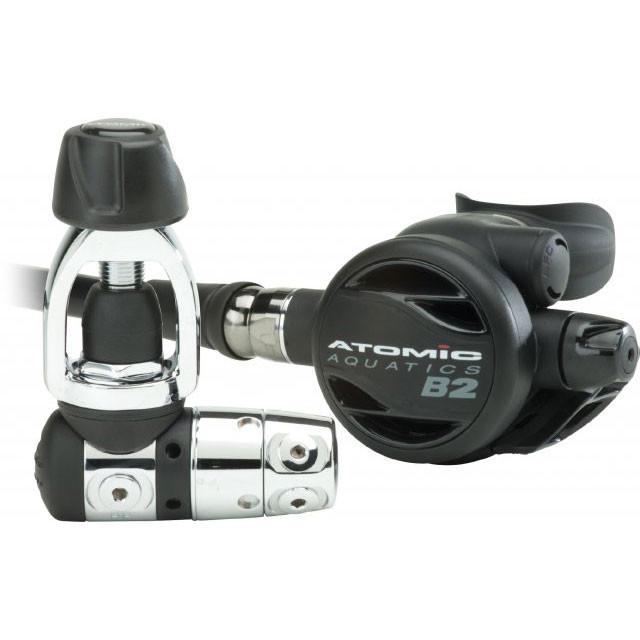 Specs & Features
First stage: Balanced diaphragm
Ports: 5 LP and 2 HP
Nitrox compatible: Up to 40% O2
Weight: 2.5 pounds (YOKE)
Configuration: YOKE
Suitable for cold water: Yes
Environmentally sealed: Yes
Other features: Automatic flow control, comfort swivel, pneumatically-balanced poppet
The Atomic Aquatics B2 Regulator perfectly balances price and quality. It looks fantastic and performs like a champ, plus it doesn't make too much of a dent in your bank account!
Straight out of the box, the Aquatics B2 is Nitrox ready up to 40%. Thanks to its orthodontic mouthpiece, the Aquatics B2 Regulator is so comfortable that you'd forget it's in your mouth.
Made from titanium, the second stage features a high-flow stage case to reduce breathing effort. It also comes with a quick adjustment knob for special situations like surf entry or octo use.
One of the best things about this regulator is that it has a two-year/ 300 dive service interval and lifetime warranty. As such, you won't have to worry about costly repairs if it somehow malfunctions. But considering that it's engineered from chrome-plated brass and 316 stainless steel, that's not something you'll face for a long time.
Pros
Comfortable second stage
Comes with a low-pressure swivel hose
Fully sealed and doesn't come with plastic internal parts
Easy breathing even at a depth of 140+ feet
Cons
Doesn't work well with a wireless transmitter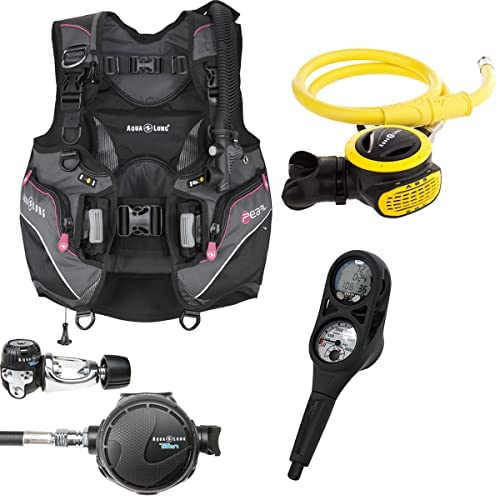 Specs & Features
First stage: Balanced diaphragm
Ports: 4 LP and 2 HP
Nitrox compatible: Up to 40% O2
Weight: 2 pounds (YOKE)
Configuration: YOKE and DIN
Suitable for cold water: Yes, but not under 25

°F

Environmentally sealed: Yes
Other features: Durable polyurethane purge cover, open-YOKE screw, Comfo-Bite mouthpiece
The AquaLung Pearl Regulator Pack is a scuba diving pack made specifically for women.
The BC features an adjustable shoulder strap and waistband to accommodate women of all shapes and sizes. It also comes with an integrated sports bra for added stability, security, and comfort.
The Pearl features AquaLung's ever-popular Titan Regulator, which is often dubbed as one of AquaLung's best regulators.
With the venturi knob set to "dive" and cracking resistance fully open, inhalation is silky smooth and effortless. The knob itself is ergonomically designed and placed in an easy-to-reach area, allowing you to adjust the orientation even with gloves on.
The Titan's compact and balanced diaphragm allows easy breathing even in depths of over 250 feet. And since it uses a conical filter, it offers better filtration.
The second stage is as functional as the first stage. It's equipped with a "Comfo-Bite" mouthpiece that reduces jaw fatigue and a unique palate bridge that's not only sturdy but soft.
If the mouthpiece is too big or too small, fret not; it's removable so you can quickly and easily switch between different mouthpieces. AquaLung sells multiple sizes that can be purchased separately.
Pros
Noise reduction due to bubble splitting
Heavy-duty purge cover
Corrosion-resistant build material
Removable mouthpiece
Cons
Can't handle extremely cold water
Without external tweaking, the first stage may leak after extensive use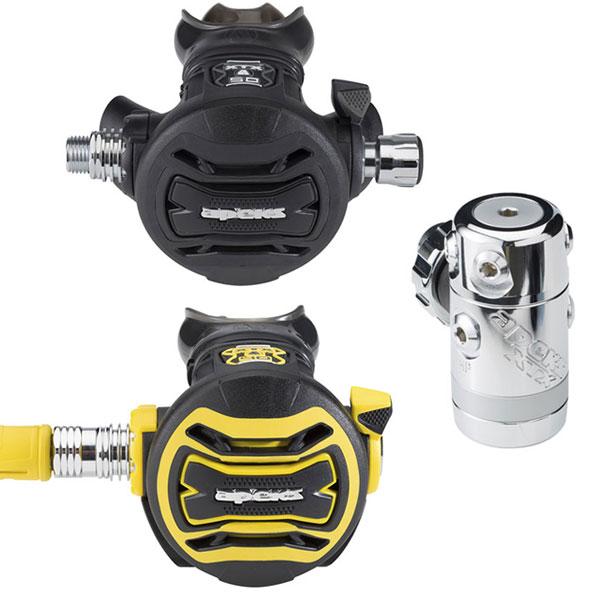 Specs & Features
First stage: Over-balanced diaphragm
Ports: 4 LP and 2 HP
Nitrox compatible: Up to 40% O2
Weight: 2.7 pounds (YOKE), 2.5 pounds (DIN)
Configuration: YOKE and DIN
Suitable for cold water: Yes
Environmentally sealed: Yes
Other features: environmental dry system, Reversible Venturi System, Diver Changeable Exhausts system
The XTX50 Regulator is yet another entry from Apeks and a worthy contender for first place, if not for a few minor issues.
Fitted with a DIN valve, this regulator is nitrox compatible with up to 40% out-of-the-box. The pneumatically-balanced first and second stage provides smooth, easy breathing, and the easy-to-grip opening effort control knob ensures optimal control underwater.
The venturi lever reduces grit ingress, resulting in smooth and constant operation. It also features a Reversible Venturi System (RVS), allowing you to convert the right-handed hose configuration to a left-handed one if you so desire. However, the conversion must be done by an Apeks Authorized Service Technician to ensure optimal function after the change.
Like some of the newer Apeks models, the XTX50 regulator has a function called Diver Changeable Exhausts system (DCE). The DCE gives users the option to switch from a large exhaust tee to a small exhaust tee, depending on the environment.
The large exhaust tee offers reduced bubble interference, which makes it suitable for underwater filming and photography. On the other hand, the small exhaust tee can function as a reliable backup air source should you or your diving buddy need emergency air.
At an additional cost, you can replace the standard XTX50 hose with a swivel hose. This switch not only allows you to move your head more easily during a dive but also grants you greater freedom of movement.
Pros
Reversible Venturi System allows right-handed and left-handed hose configuration
Exhaust system can be switched from large tee to small tee and vice versa
High-strength plastic front cover improves durability
Environmental dry system prevents water from seeping into the main spring chamber
Cons
Swivel connection comes at an extra cost
Mouthpiece can cause fatigue if used for extended periods
Factors to Consider When Buying a Scuba Regulator
With hundreds of scuba regulators to choose from, buying the right kind for your diving excursion can be a bit of a challenge. Here are some factors to consider when buying a scuba regulator, depending on your diving environment:
Valve Type
Scuba regulators come in two different valve types: DIN valve and YOKE valve. Both work in more or less the same manner, so your choice mostly depends on where you're planning to scuba dive.
DIN
DIN regulators are screwed directly into a DIN-compatible tank with an O-ring, making it more secure than traditional yoke systems. It can handle pressures of up to 300 BAR/4300 PSI, as opposed to YOKE systems which can typically handle up to 230 BAR/3335 PSI.
DIN tanks are most common in Europe, so if you're planning to go diving in Europe specifically, you might want to opt for a DIN regulator.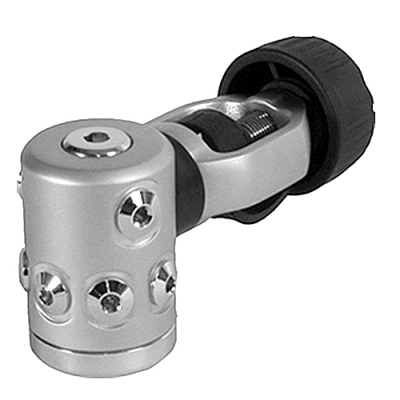 YOKE
YOKE regulators, also known as A-clamps, international regulators, or simply INT, feature a clamp rather than an O-ring. It's placed around the cylinder valve and screwed with a clamp.
Though easier to mount and dismount than a DIN valve, YOKE regulators are more vulnerable to knocks than their counterparts because their external screw is tightened with a clamp rather than sealed with a screw.
YOKE regulators are the most common type of regulator valve. It's the standard type of valve in the US and most other diving destinations, including parts of Asia.
Interchangeable Valve Regulator
Most modern scuba cylinders are equipped with interchangeable valves. With the help of a valve converter, you can actually unscrew the yoke valve and change it to a DIN valve and vise-versa.
If you're one to dive into multiple parts of the world, it's worth investing in a valve converter. Just make sure the pressure of the tank doesn't exceed 232 BAR when putting a YOKE clamp into a DIN tank.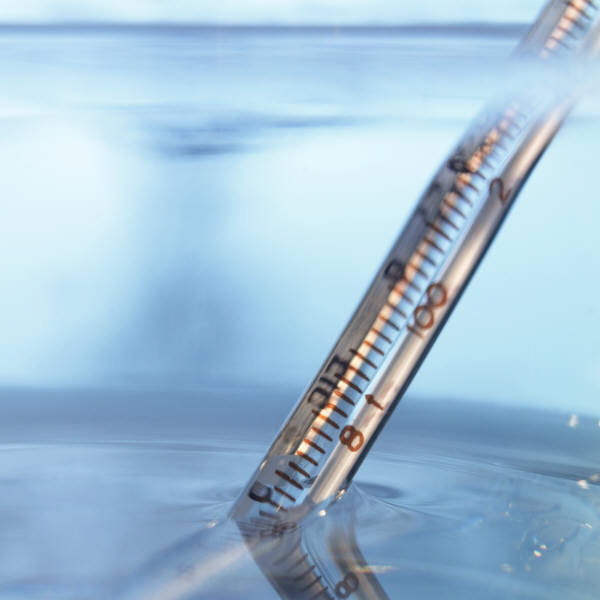 Water Temperature
If you're planning to go diving in waters below 57°F, you need to invest in a cold water diving regulator. This type of scuba regulator ensures that the first stage won't freeze up during low temperatures. Since they're environmentally sealed, they won't seize up in cold environments. You should also consider some of the best wetsuits that are comfortable in cold, deep water.
Cold water scuba regulators feature a metal second stage because it has higher thermal conductivity than plastic, which is what you'd commonly see in traditional scuba regulators. Some also feature extra-large purge buttons, making them easier to use in cold water.
For those diving in warm waters above 57°F, any standard regulator should work just fine.
Portability
If you're one to travel a lot, you might want to go for a portable scuba regulator that weighs no more than 2.5 pounds.
Scuba regulators specifically made for travel are usually constructed of lightweight hose materials. They're also slightly smaller than traditional regulators so they don't take up a lot of bag space.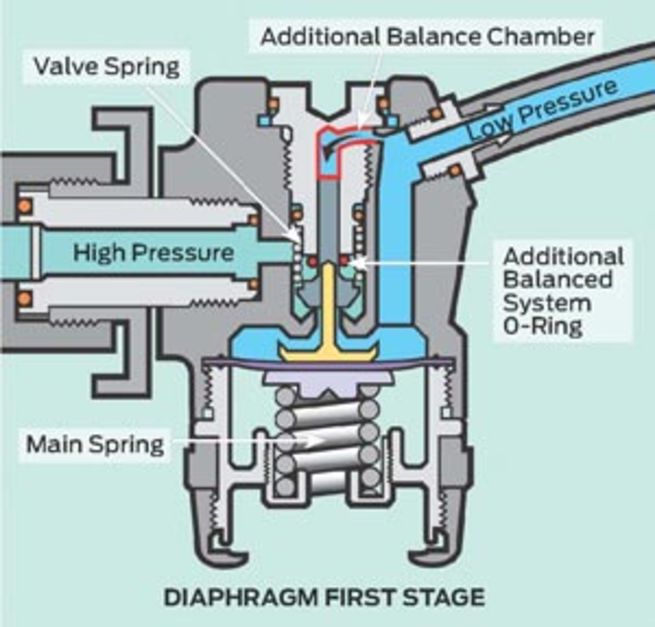 Pressure Balance
Pressure balance refers to the way a scuba regulator manages gas. It comes in three options: unbalanced, balanced, and overbalanced.
Unbalanced
Unbalanced regulators are suited for shallow recreational dives where water pressure is low. The deeper you go the harder you'll have to breathe.
Balanced
Balanced regulators are the go-to choice for most divers, as they use environmental pressure to adjust the regulator's interstage pressure. They're designed for dives deeper than 130 feet.
Balanced regulators neither assist nor resist air flow, but they deliver air to the second state at a constant pressure regardless of tank pressure. This means that you won't have to breathe any harder throughout the dive even at high pressures.
Overbalanced
Overbalanced regulators work much like balanced regulators, but they can handle even higher pressures than the latter. They're mostly used by professional divers that dive deeper than 250 feet.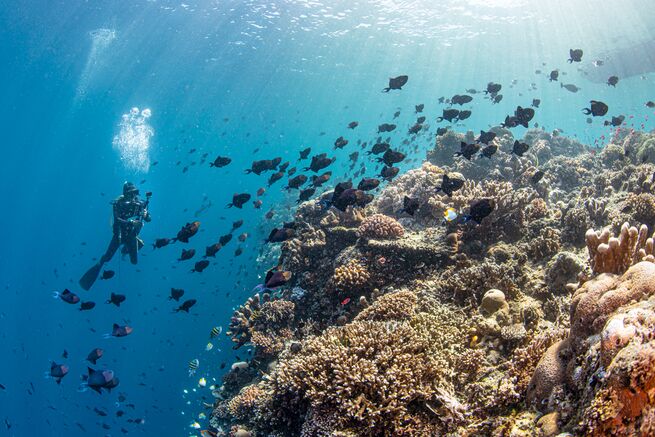 First Stage: Piston vs. Diaphragm
First stage regulators balance high-pressure air to consistent, intermediate pressure. depending on the mechanism used to control the valve, they generally fall into one of two categories: piston or diaphragm.
Piston first stage regulators are the most common type of regulator. They're built with a simple yet high-performance design. Since they have fewer moving parts, they're easy to clean, maintain, and replace.
Diaphragm first stages operate the valve with a rubber diaphragm and a heavy spring. They're the preferred choice among cold-weather divers as most of the regulators' parts are protected from water. This makes them less likely to malfunction due to low temperatures.
First Stage: Number of Ports
For recreational diving, the first stage should have a minimum of three low/medium-pressure ports (marked LP or MP) to connect your second stage main air supply, OCCY, and BCD inflator hose. Drysuit divers need an extra port to add air to the suit from the tank.
The first stage should likewise have at least two high-pressure ports (marked HP) for your gauges and dive computer transmitters.
Hose Length
When buying a scuba regulator, make sure the hose length is at least 28 to 30 inches.
For recreational divers, a high-pressure hose length of roughly 32 inches is optimal, as it'll be long enough to run under the left arm and across the chest, and clipped off on the D-ring on the right shoulder.
If you have a wide chest or tend to hold your instruments away from your body when reading, you might need a hose length of up to 40 inches.
Final Thoughts
There you have it; folks; some of the best scuba regulators you can purchase today! All of the regulators above have been tested for quality, performance, and comfort, so you can't go wrong with any of them.
If you plan on getting your scuba certification in Oahu, you will get first hands experience learning how to equip and utilize a regulator in a safe and effective manner.
If we had to choose a favorite, we'd say the best regulator is the Scubapro MK25 EVO/A700 Regulator.
The A700 offers excellent resistance to low temperatures and superior inhalation sensitivity, resulting in an ultra-fast breathing response. And at only 2 pounds, it's a functional choice for travelers.
Our essential guide to scuba diving in Hawaii will help get you started on enjoying this incredible underwater activity.