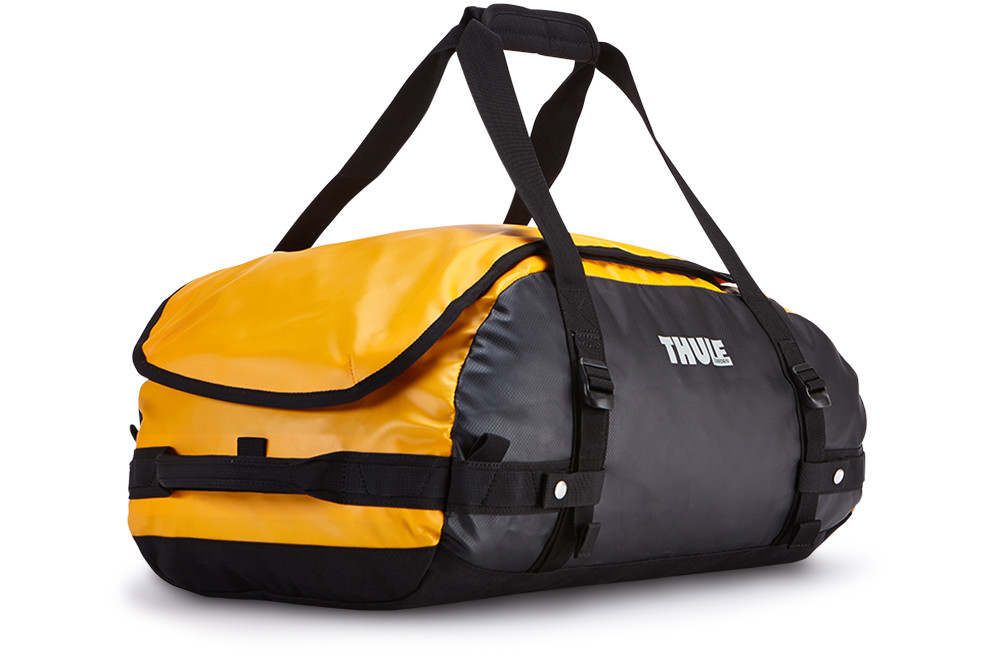 What can be better than a sturdy, waterproof duffel bag that would help its contents stay dry as you stand shivering in the rain? Of course, we don't want you to get wet, but even when you've forgotten your umbrella at home, these bags will protect your gear from getting soaked.
List of Best Waterproof Duffel Bags
Compared to their standard counterparts, the best waterproof duffel bags have a design that lets you easily pack, organize and locate the stored gear. Also, despite having a large capacity, these bags are incredibly lightweight when empty to let you easily carry them around.
Best Waterproof Duffel Bags
IMAGE
Duffel Bag
Bag Features

Material:

Heavy Duty 500D PVC

Weight:

2.2lbs

Price:

$$

Check Price

Material:

Oxford 420D RipStop fabric

Weight:

1.8 – 2.7lbs

Price:

$$$

Check Price

Material:

Heavy Duty Vinyl/Polyester

Great For:

2 – 3 pounds

Price:

$$

Check Price

Material:

Nylon

Weight:

4.4 pounds

Price:

$$$

Check Price

Material:

Ultra Tough Vinyl

Weight:

3.9 pounds

Price:

$$

Check Price

Great For:

Surfers and Kayakers

Weight:

2.85 pounds

Price:

$$

Check Price

Material:

Ripstop Nylon

Weight:

2.6lb

Price:

$$

Check Price

Material:

Waterproof 500D PVC Tarp

Weight:

4.5 pounds

Price:

$$

Check Price

Material:

Marine Grade Vinyl

Weight:

3 – 3.5 lbs

Price:

$$

Check Price

Material:

Genuine Horse Leather

Weight:

3.2 pounds

Price:

$$

Check Price
All of that being told, waterproof duffel bags have one shortcoming: too many of them are available on the market, a fact that makes pinpointing the one bag which meets your requirements a difficult task. That's exactly why we have come up with this guide to save you from the hit-and-trial method.
Read on to know more about the best waterproof duffel bags
There are three types of waterproof duffel bags on the market: those which aren't waterproof but have a label which claims that they are, those who are actually waterproof, and those who come with the Ingress Protection (IP) rating. The Skog Waterproof Duffel Bag belongs to the third category and is therefore a must-have for all your wet outdoor activities.
Features
First things first, the fact that it's IPX6 rated means you won't have to worry about water making its way inside the bag. That's mainly because of its tighter roll-down top, which you can roll 3-4 times before clipping it shut to get maximum protection against water ingression.
It isn't only the roll-down top which makes this duffel bag waterproof. Equal credit has to go towards the way of its high-frequency welded seams. They are made of 500D PVC fabric and can withstand whatever you or the Mother Nature might throw at them.
Equally impressive is the storage options which this model provides. You can pack everything from phones and cameras to clothes and swimsuits in the main compartment. That's mainly because it makes full use of its 40L size by offering 2 interior zip-pockets and an equal number of splash-proof pockets on the outside.
Aside from that, you have three ways to carry this dry bag. Our favorite among them is also the one that's the most comfortable, as you can simply grab the padded double haul handles and go. Or you can simply throw the cushioned strap over your shoulder, failing which you can use its D-rings to latch it to your luggage.
Lastly, while we don't know why anyone would want to avail that option, this waterproof duffel bag still comes with a money-back guarantee. You can avail it within 90 days of the purchase if for any reason the bag has made you unhappy, and get a full refund.
IPX6 rated waterproof
500D PVC welded seams
Easily latches to your luggage
Outer pockets can only hold smaller items
The Aqua Quest White Water duffel offers you an excellent way to carry your gear. It doesn't matter whether you're paddle-boarding or scuba diving, the added storage space which this dry bag offers will allow you to transport everything you might need during the journey.
Features
What's better than having a waterproof bag in your luggage? A waterproof bag which is also dirt, dust, sand, and even snow proof! Hence the reason why no matter where in the world your schedule is going to take you to, you'll find this bag to be a useful companion.
As you do that, its meager weight of 2.2lbs won't over-burden your shoulders. That's mainly due to Aqua Quest foregoing heavier fabrics in favor of the abrasion-resistant Oxford 420D RipStop fabric – whose DWR coating and TPU lamination make this bag incredibly lightweight
To help it withstand the abuses of traveling, its manufacturer has provided this duffel bag with a double bar tacked system and welded seams. The former reinforces those areas of the fabric which will be subject to additional wear or stress. The latter, meanwhile, makes this bag abrasion-resistant.
All these features would amount to nothing if the bag is a painful one to carry, which it is not. Its shoulder strap contains wide padding and does brilliantly to complement your body shape and size. You also have 6-D rings which you can use to hook this bag to your other luggage items if you don't feel like carrying it.
Lastly, in addition to being lightweight and easy-to-carry, this bag provides loads of storage. It's available in three different capacities – 50L, 75L, and 100L – to let you choose the one which you think can easily store all your gear. Also on offer are external mesh pockets that are small enough to store your keys.
Design allows easy access to the stored gear
Keeps dirt, dust and even snow away
Loads of storage options
With its 110L carrying capacity, the Dry Pack Waterproof Duffel bag is one of the biggest in this review as far as its volume is concerned. Thankfully, despite being such a huge specimen, its incredible construction and compact design make this duffel bag easy to carry.
Features
Two features deserve a mention if we're to discuss what makes this bag truly waterproof. The first among them is its roll-top, which you can roll down a few times to prevent any ingress of water. Then there are the side-release buckles which you can snap together to make the entire structure watertight.
Though not waterproof, the zippered pocket which you see on the outside of the bag has water-resistant storm flaps to protect your gear from splashes of water. Also, its heavy duty polyester/vinyl laminate seams are electronically welded to prevent any water leaks.
Not many waterproof duffel bags can maintain their structure under the weight of your gear, but this one is different. Its molded bottom makes sure that even when you've packed it to capacity with your gear, this bag won't deform its shape and protect your contents.
As long as the bag hasn't gone too heavy due to the weight of your gear, you can sling its padded shoulder strap over your shoulder to carry it around. However, if the weight has got too heavy duty to your liking, you also have the option to remove the shoulder straps and tie it to your luggage or any hook.
On top of everything else, the versatility of this bag is on display with its availability in multiple colors. The one which you're seeing here contains a blue top and black bottom, though you can also go for a see-through design if you want to always be aware of what's inside the model.
Huge 110L capacity
Maintains its shape
Electronically welded seams
The side zipper isn't waterproof
Coming from the one of the leaders of the outdoor gear, the North Face Base Camp duffel bag is made for those of you who can afford to pay the big bucks in exchange for a model that will last years no matter how much abuse you or Mother Nature throw at it.
Features
In case you're wondering, it's the oodles of storage options that make this duffel bag one of the best on the market. It puts your average duffel bag to shame by offering separate interior pockets for everything, including dirty clothes, wet shoes, and clothes that require a spin in the washing machine.
And that's not all as far as its storage options are concerned. You even get a zippered flap that provides the perfect storage area for your toiletries. Also, apart from having a zippered mesh pocket in the main compartment, it contains a mesh sleeve pocket in the end-cap compartment as well.
What's more, the North Face Base Camp Duffel bag features adjustable, alpine-cut shoulder straps that let you carry it around for a long distance without any fatigue and sore. However, if you feel like your arms can do with some rest from lifting the bag around, you can convert this bag into a backpack.
Simply place it on a flat surface, attach the straps on its rear side, and wear this model on your shoulders like a backpack. Doing that will help in the even distribution of this model's weight around your body, thereby letting you carry it for hours without any fatigue.
Lastly, since it is made from 840D Jr. ballistics nylon and is covered with a 1000D TPE fabric laminate, you won't have to worry about this bag giving way anytime soon. Also, with its capacities ranging from 31 liters to a back-breaking 150 liters, you can find an option that can hold all your gear.
Incredibly durable
Available in multiple capacities
Can be worn as a backpack
Oodles of storage options
As a mere glance would confirm, the Wolfman Luggage EX805 is a waterproof duffel bag built to be used as a motorcycle touring bag. It has a sturdy construction that will let it ride with you through a hail storm and come out the other side with its contents as bone dry as when you packed them.
Features
What's it about this bag that makes us so confident about its ability to keep your gear dry? It is made of a ripstop vinyl fabric that needs no introduction insofar as its ability to keep water at bay is concerned. Its roll-top closure system is extremely effective to keep everything, including dust, mud, and water, out.
You cannot ignore the importance of its radio-frequency welded seams, either. They aren't only rip-resistant but also does well to handle abrasion and friction when the bag is skidded along a rough surface. As long as you don't get after them with a pair of scissors, the seams won't give way.
Provided you have decided to discover the countryside on your feet, this bag provides two carry options to make your journey more enjoyable. They include a removable shoulder strap – which you can detach to fling this model over your shoulder, and two permanent carry handles.
Conversely, if you're on a motorbike, you can use its 2 mounting straps to secure strap this model onto your bike. Though there's also the comprehension compression straps if you feel comfortable if this bag 'sits' behind you with its straps secured around your stomach area.
On top of everything else, you can also adjust its height to make this bag more amenable to your carrying method. It can store up to 47 liters of your gear and contains four mounting straps, two of which help you secure the bag to the vehicle whereas each of the remaining two serve as a carry strap.
Has four compression straps
Deluxe carry handle
Removable shoulder strap
Adjustable height
Available in two color patterns, the COR Waterproof 60L duffel bag isn't for the gym or the weekend. Rather, this bag's huge capacity means it would work best on long trips where you have no choice but to pack innumerable items to avoid getting shortchanged along the way.
Features
Starting with a glance at its construction, this duffel bag has been very user-friendly in this respect. It has a click design that lets you open/close its storage area at will. Equally handy is the roll-top mechanism which gives you the option to make the entire structure as watertight as is practically possible.
As for its comfort, the padded and removable shoulder strap goes a long way in making this bag a cinch to carry. The padding, in particular, is just thick enough to reduce the pressure points on your carrying hand, though it isn't too thick to cause sweaty palms on a hot sunny day.
Unless you regularly lift weights, you might not want to sling it over your shoulder when the bag is filled up to its capacity. Instead, what you should do is use its reinforce haul handles. They do a fine job of evenly distributing their weight regardless of how empty/full the bag itself is.
If you have placed some valuables inside the bag – and are worried about their protection, use the two compression straps to secure them as tight as you want. Provided the valuables are on the smaller side, like keys, smartphone chargers, etc., you can easily secure them in the inner zip pocket.
For the larger items like your shoe, there is a large exterior pocket. It isn't waterproof but resists water easily, so you can count on it to keep its contents secure in the face of minor outdoors splashes. That means that you can store your socks, handkerchiefs or other less-valuable items inside the pocket without any issue.
Easy-to-use click design
Padded and removable shoulder strap
Has two compression straps on each end
Interior zip and an exterior water-resistant pocket
Quality of the shoulder straps is suspect
At the cost of sounding biased, we can say with confidence that the Mier Waterproof dry duffel bag is the most stylish product in this review. Provided you want a bag that could attract eyeballs, this one might be worth a shot.
Features
Does this bag's style statement means it has compromised on its durability? Of course not. Its ripstop nylon fabric and thick TPU lamination coating have made the entire structure puncture- and abrasion-resistant. You can throw it anyway – and on any surface – you want and it would come out of the ordeal intact.
Thanks to its heat-welded seams, you can rest easy knowing that the rainstorm that has soaked you won't be able to do the same to your gear. Equally dependable is its hydrolock zipper which seals shut the entire structure to not allow anything besides air get past it.
One thing which we don't normally see with duffel bags is the ability to withstand wide temperature fluctuations. The Mier Waterproof travel duffel bag is different as its high-grade ripstop nylon webbing helps this unit perform well in temperatures ranging between 3.2*F and 194*F.
What's more, you'd never run out of storage space with this waterproof duffel bag. Apart from having an extra-wide main compartment, it has 1 mesh zipper pocket on the inside and another water-resistant zipper pocket on the outside. Both of them run small so you can store your similar-size valuables in them.
On top of everything else, you get two major and several minor carrying options. Its removable and adjustable straps can be adjusted anywhere between 42* and 59* to give you the angle of your comfort. Also on offer is a 2-side haul grip handle if
the bag
is packed up to its capacity.
Compresses down for easy storage
Multiple carrying options
Wide temperature resistance
Easy access to inner pocket
Who says all gym bags have to come in reserved colors? The Friendly Swede Duffel bag is your gentle reminder that even when you're lifting out the weights and sweating yourself crazy, there can still be something about your gear (this bag) which can make those nearby notice your presence.
Features
One of the reasons why this bag is a must-have for gym-goers is its rugged construction. Its 500D PVC tarp is not only abrasion- and puncture-resistant but also keeps your gear safe from dirt, dust, rain and (yes) snow. That's what makes this bag a worth-having option for 12-months a year.
Depending on how much gear you usually pack in your gym bag, you have the choice to either go for the 60L or the 90L option. Both of them feature chest strap which, if you have a knack of lifting weights, would help load the bag on your back to convert it into a traveling bag.
Conversely, if you like to go about your things in an elegant manner, you can use the padded handles on the ends to carry this waterproof duffel bag around with grace. There's a third-carrying option in the form of backpack straps which might prove attractive to students who are used to hauling their weight that way.
Even when you have loaded it beyond capacity, the reinforced bottom of this waterproof duffel bag would help maintain its shape. Also, to doubly-secure its contents, this bag has a roll-down over the zipper. You can lock the zipper by attaching a small key lock if you want to be on the extra-safe side.
Lastly, of all the holes that you can nitpick in this bag, its versatility cannot be one. That's simply because it's one of the few duffel bags on the market which comes in as many as 18 colors. Whatever your choice, you'd most likely find a color that would complement your personality.
Available in multiple colors
Has a toxic-free tarp
Keeps dirt, dust, and snow at bay
Reinforced bottom helps it maintain its shape
30L model doesn't have a chest strap
You won't guess by looking at its features that the Leader Accessories Deluxe Duffel Bag is one of the most inexpensive on the market. That's mainly because no corners have been cut to slide this waterproof duffel bag into the budget-range of most users.
Features
As stated in the previous paragraph, there aren't any loopholes in this bag's design which justify its meager price tag. It has waterproof and heat-sealed seams which, like those of premium models in this review, will protect your stuff from dust, dirt, snow and even rain.
As long as you it isn't submerged in water, it would keep your contents bone-dry. Part of the reason why that's the case is because of its marine-grade vinyl fabric, whose high-frequency welded construction makes it almost impossible for environmental irritants to get face to face with your gear.
Additionally, despite being on the rough side, the exterior of this bag can be wiped clean. It compresses down for easy storage and contains an ID pocket on top. Two twin handles on the ends, as well as the padded and adjustable shoulder straps, make this waterproof duffel bag extremely easy to carry.
Unlike other inexpensive models that you normally see on the market, this bag won't bog down under the weight of its contents. It has a tough and durable base that reinforces the bottom and helps the entire structure maintain its shape when under pressure.
Other than that, you get mesh pockets on the side to store small size items. You also have the option to choose from six colors that this waterproof duffel bag is available in, and there's also the not-so-minor point that it comes with a warranty to assure you that the money you'd spend on this bag won't go to waste.
Made of marine-grade vinyl
Waterproof, heat-sealed seams
Twin handles on both ends
Durable exterior for rough usage
The zipper might require some force to pull
In the good old days of bags when synthetic substances like plastic and nylon were rare commodities, travelers took pride in having bags made from natural materials such as leather and canvas. The Newhey oversized duffel bags harks back to those days with its classic-but-rugged appearance.
Features
If there's one thing we can assure you about this bag, it's that it would attract lusty appearances from your fellow travelers. Such is the classy appearance of its rugged exterior that nobody could guess the actual price of this waterproof duffel bag.
Its functionality isn't second-best to this bag's appearance though. Apart from the main compartment, it contains various pockets to store your clothes and other traveling necessities. There's also the buckle pocket on the outside which, when secured, can securely hold your valuables.
Everything from the rivets right down to the buckle which secures the outer pocket are made of solid-zinc alloy. Together with the tensile stitching, all these connections make this bag strong enough to carry everything you fit inside it.
Aside from that, you get 1 zipper pocket that can only hold small-size items like keys, 2 equal-size small pockets for coins or smartphone, and 1-small zipper pocket on the side. All these storage options combine to make this bag the final destination for all your travel-related gear.
To make sure it lets everyone know that it's a genuine leather bag, Newhey has equipped this model with rounded handles. Despite having no padding, they let you easily carry this waterproof duffel bag by turning it into a handbag. It also has an adjustable shoulder strap if you feel like giving some rest to your tired hands.
Made of genuine leather
Lot of pockets
Rounded shoulder straps
Sturdy zinc-alloy hardware
Might smell a little at first
The Loboo Waterproof 66L dry duffel is among one of the more expensive bags on the market. Part of the reason why that's the case is that its intended audience, the biking crowd, usually opt to pay a little extra upfront to have a bag which could withstand the rigors of their lifestyle.
Features
How does this bag justify its slightly high asking price? For starters, it has an air-release system which isn't common among dry duffel bags. What this system does is to help its users utilize the maximum capacity of this bag. Additionally, apart from being waterproof, this bag is also hail- and snow-proof.
One particular benefit of the PU leather, the fabric that this bag is made of, it that it's incredibly easy to clean. Some of the fabrics which we normally encounter in our lives require rigorous swipes of the dirt-cloth to retain their shine. Not this one; as you can just wipe it clean.
Turning our attention to its carry options, and it offers carry handles with a Velcro closure, as well as a removable shoulder strap. It is also equipped with 2 dismantling belts, which can carry the weight of around 200kg, so you have no need to leave any gear at home as there's lot of space available.
Furthermore, while the bag isn't too rigid, it won't bog down under the weight of your gear, either. You can count on it to provide decent stability without the need for an additional panel bottom or cardboard. Similar is the case with its plastic hooks which are borderline sturdy.
One area where we think this dry duffel could have done a bit better is the exterior storage options. Unlike all the other bags you see in this article, the Loboo Waterproof Bag doesn't have any front-storage compartment.
Incredibly easy to clean
Bag features air-release system
Effective roll-top design
Compact dimensions
Waterproof Duffel Bag Buying Guide
Here are a handful of key features to consider when buying the best waterproof duffel bags (named after the town of Duffel in Belgium whose residents invented the classic duffel bag).
Material/Durability
When deciding how durable a bag is going to be, check its material of construction. The best waterproof duffel bags are made of fabrics that have a dual-waterproof coating – both on the inside as well as on the outside.
Additionally, all the best waterproof duffel bags you see in this review have their seams either heat-taped or welded. That's because both these stitching mechanisms increase the bag's water resistance. Once you've made sure your bag has these features, check out its material:
– Polyurethane: Considered the most water resistant material, polyurethane is also the burliest. So you need to be prepared to lift some pounds if you want to enjoy the strength and durability of this material.
– Honeycomb polyester: Researchers inform us that honeycomb polyester knitted fabrics display excellent moisture absorption and display brilliant anti-fuzzing and anti-piling properties. However, their abrasion properties could be better.
– Nylon and Polyester: Duffel bags that use a combination of both these fabrics tend to be extremely durable. Also, with both these fabrics equally hydrophobic (which means they expel water), most waterproof bags you see on the market employ a nylon and polyester combo.
– PVC Tarpaulin: As you saw with the Leader Accessories Deluxe Bag, PVC tarpaulin protects your gear from now only water but also from dirt, dust and snow. Also, bags that are made of this fabric are easy to wipe clean and tend to be heavy duty.
Weight/Capacity
In contrast to what some of you might have believed before coming to this article, the weight of your waterproof duffel bag shouldn't be a major factor in your selection. That's because heavier bags are made of materials which generally last longer – so you shouldn't be bothered to carry a few extra pounds.
That isn't the case with capacity, though. You definitely need a bag that can store all your gear, but you should sidestep models that would weigh a ton once they're full. That's why most manufacturers measure and list the capacities of their bags in liters.
Before choosing the capacity of your bag, ask yourself what you're going to use the bag for. If you're going to store your gym gear in a bag – which means you'd use your bag daily, so anything from 15-30 liters capacity might be enough to store all your gear.
Conversely, if you're planning a long vacation and need a waterproof duffel bag for the same, there are models in this review that offer as much as 100 liters capacity. You shouldn't opt for extra-large capacity, though, as it would make it difficult for a single person to carry the bag.
Waterproof Vs Water-resistant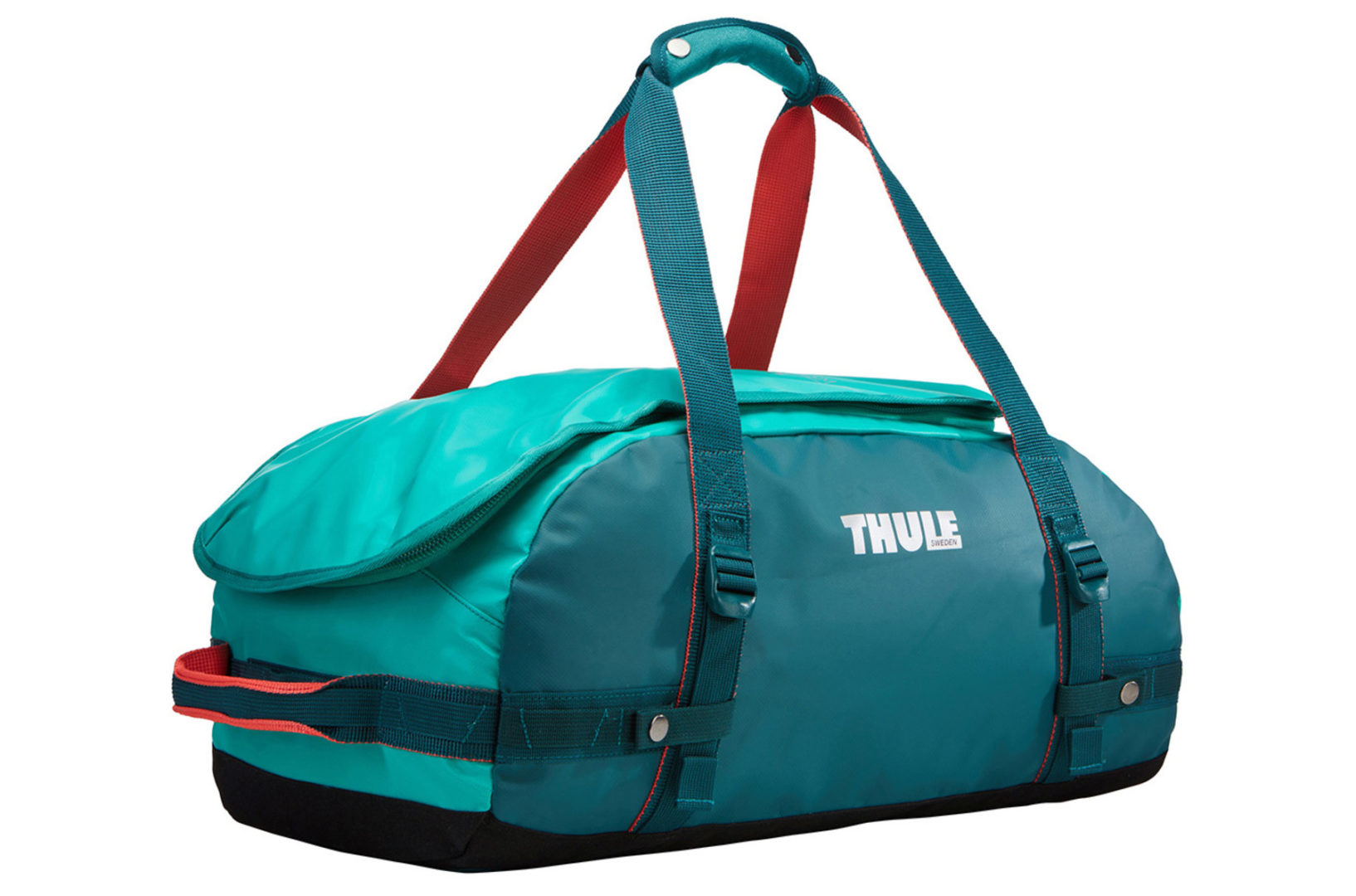 What's the difference between waterproof and water-resistant bags? To answer this question, let's have a brief look at water-resistant and waterproof bags.
Waterproof duffel bags
Let's say for whatever reason you decide to drop your duffel bag into a swimming pool. Okay, we know you won't ever do that, but let's assume you do. If the bag was waterproof, it won't let a drop of water on the inside even when submerged in water. All your stuff would stay dry
Unfortunately, as outdoor activities gear becomes more sophisticated, you see more stuff with the "waterproof" stamp. While we can't tell you which claim's legitimate and which is hokey, what we can tell you is that reputed brands, like the ones whose names you see in this article, are known for keeping their word and won't pose an issue on the wet outdoors.
Water-resistant duffel bags
Generally, it's the density of the fabric the bag is made of which helps the latter resist water. Fabrics that are water resistant won't keep the water out forever. However, the denser they are, the more time they'll take to let the water seep in.
Polyester and nylon are the two fabrics which are known for their water resistant properties. Cotton, on the other hand, is delicate and acts like a sponge. Also, in comparison with their waterproof counterparts, water resistant duffel bags, since the density of their fabric is low, are lightweight and boast compact dimensions.
Live Your Aloha Waterproof Duffel Bags Review
Duffel Bags
★★★★★
"

Well, that's exactly what I was looking for. I'm feeling very delighted to find such an informative post. This Duffel Bag is going to be my perfect travel partner.
"