Some people have a sweet tooth. These are the type of people who eat sweet potatoes for breakfast, who believe that chocolate is actually a proven cure for misery and who can polish off a baker's dozen cupcakes in a day flat.
These are the people who believe that those who order wedding cakes made of cheese should literally be wrapped in a strait jacket and shoved in a padded cell.
By now you will have heard all about the wonders of Hawaiian cuisine. You know about the salty, spicy and slightly tangy kick of Poke. You have nommed your way through beautiful melt-in-the-mouth shredded Kalua Pig. And, you have debated over the gooey glue-like texture and (debatably) delicious taste of purple poi. Yep, this is la crème de la crème of Hawaiian food.
But, all this time, you were thinking – what about the freaking desserts? We know you're trying to keep the sugar rage from fully kicking in. Fear not, we are here to be sweet tooth saviors and to tell you which five Hawaiian desserts are worth turning into a human bowling ball for…
Haupia and Pineapple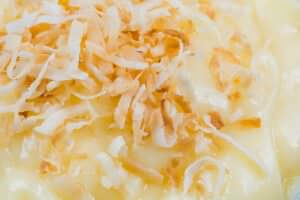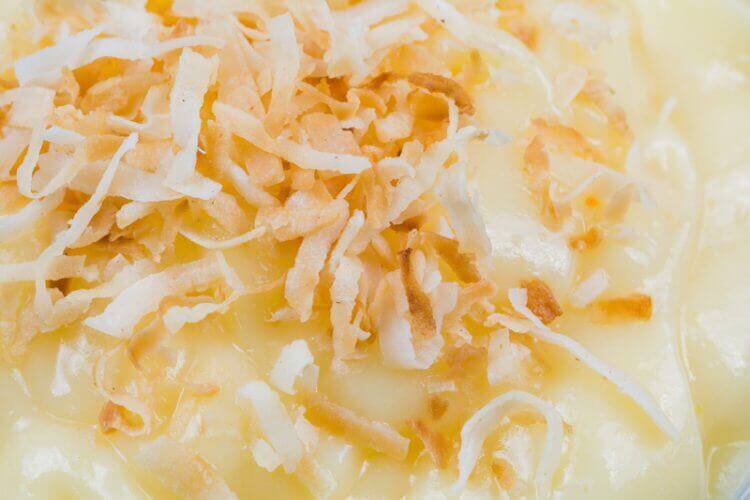 Imagine a dessert that can wobble like jelly, or can be a glorious gooey mess that you can scoop from the bowl, while curled up watching a storm pass overhead.
Haupia is a lovely cream custard-like dessert that leaves the custard behind for a sweet fling with coconut. Throw some pineapple in there and you have a tantalizing tropical concoction that will leave everyone weeping with joy.
Spoon six tablespoons of sugar into a bowl with the same amount of cornstarch, add three quarters a cup of water and whisk together.
Chuck in a can of coconut milk, a splash of vanilla extract and let it simmer on a low chilled-out heat until thick. At this point, you can smash up an overly ripe pineapple (messy fun) and add that to the mix. Pour the whole thing into a square tin and pop it in the fridge overnight or until firm and fabulous.
Cut into squares and go wild. Or, simply serve as part of your luscious luau menu!
Malasadas
OK you may be wondering how a Portuguese dream became a Polynesian icon, but this is Hawaii and anything is possible.
Malasadas are technically donuts. Only, donuts without the hole and made richer with lots of fluffy eggs, butter and evaporated milk.  But, they really get good when they're stuffed full of goodies, like coconut Haupia or sweet custard. After being fried to a gorgeous golden brown, they are then rolled in sugar.
If you aren't drooling by now, then you must certainly be dead inside.
The magic of Malasadas found their way across the oceans and onto the velvet draped islands of Hawaii. This was after immigrants from Madeira and the Azores were invited to come and work on the sugarcane plantations. It's no wonder, then, that they are adorned with a sugary exterior.
We would tell you how to make them, but its simpler to just to hit a Hawaiian bakery and concentrate on eating rather than cooking.
Mochi Ice Cream
This is another dessert not to bother poring over the recipe book for, but instead to just grab your purse and scour the streets. Not just any ice cream, but magical, marvelous, may I have another gazillion scoops of this shizz – mochi ice cream.
Imagine gelato, if Italians didn't make gelato and instead the Japanese had the monopoly on it. Mochi ice cream isn't gelato, its light as air glorious globs of ice cream wrapped in pretty pastel colored rice cake shells.
It's so oriental that you'll be instantly transported to the geisha and blossom-lined streets of Kyoto, rather than the blue bliss of Hawaii.
We suggest heading over to Oahu and hitting the finest mochi shop there is – Bubbies. Down at Bubbies, you can go Zen with a green tea mochi or opt for the all American inspired experience with the peanut butter mochi. Those who want to embrace the tropical weather outside can lose themselves in the fresh hits of mango and guava.
Lilikoi Chiffon Pie
If you are British, then this dessert name could be kind of confusing. You may think we are referring to a French cloth savory pastry. Yes, that is exactly as weird as it sounds.  Across the pond, they move to a different beat as the following link would imply – spoiler alert; this list is RUDE…
The Lilikoi Chiffon Pie is a dream of dreams. We are talking perfect zingy passionfruit whipped up into a pretty pie and served with a generous dollop of Chantilly cream or something closer to the whipped variety. In short, we are talking heaven.
Those who are passionate (whoa) about baking will find this a walk in the park. Those who think baking is a punishment from the gods sent to test your mathematical knowledge and your hand eye coordination will be breaking whisking bowls and throwing scales across the room.
Yep, there is a whole host of Martha Stewart inspired instructions that will make you tear your hair out. Things like separating eggs, gelatin sheets and making stiff peaks, formed by whipping sugar and eggs as the tip of the iceberg.
And, may we ask – what the hell is a double boiler?
Chocolate Haupia Cream Pie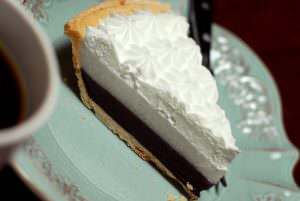 Umm, remember way back (like 600 words ago) when we started raving about something called Haupia pudding and how it was the best thing ever.
Well, we were kinda lying.
There is something that outshines the coconut jelly and it's called chocolate Haupia cream pie.
It's when you take that coconut jelly and layer it with dark chocolate custard cream on top of a buttery flaky crust, before topping the whole thing off with extravagantly whipped white cream.
We know…deep breaths everyone please.
Chocolate, coconut, cream…the three c's that make life worth living.
Again, you could slave over a stove trying to make your Haupia thick enough or seeking the right brand of high cocoa infused chocolate. Or, you could just drop everything, like right now and run down to Ted's Bakery in Maui. Trust us, Hawaiian treats do not come any better than this.
So, there you have it- your sugar-coma inducing dessert report of the day.  Enjoy.