Get Your Scuba Certification on Oahu
There's nothing quite like admiring marine animals and coral reefs first-hand. It's even better if you can get a scuba certification to enjoy the ocean's treasures any time you please.
Oahu is a tropical paradise with plenty of water activities, one of them being scuba diving. Whether you're a local or a tourist, you can still get a scuba certification in Oahu in as little as two days.
Interested in getting certified? Then, read on.
What to Expect When Getting a Scuba Certification
Before diving into the nitty-gritty details of scuba certification, you should know what you're getting into.
The great thing about this scuba certification is its global recognition. So, you won't be just limited to Oahu. You can go scuba diving anywhere around the world.
Type of Course
Depending on what type of certification you're aiming for, the course type is different according to the difficulty level.
The most basic certification is the Open Water Diver. This course teaches you all the basics of going underwater, from the gear to the signals to handling water pressure.
If you're looking to master specific skills or want a refresher course, you can also find more advanced classes.
Also, different courses have distinct minimum requirements for divers. For example, in Oahu, many dive shops offer scuba diving courses that don't require any prior experience. So, you can start your scuba diving journey from scratch.
Still, you should gauge how comfortable you are with being underwater to decide which certification is right for you. That's because even the most beginner courses will push you to swim as deep as 60 feet underwater.
Another thing to consider is whether you want to get certified alone or in a group. Of course, it's better to have a scuba buddy to share skills with. However, a private class can benefit you more if exclusivity and focus are your priorities.

Duration
Oahu is a popular destination for beaches and water activities. That's why it's so easy to get a scuba diving certification there.
Some dive shops offer short courses, catering to those with limited time on the island. Yet, they're mainly designed for those who already have a solid grasp of diving.
For local divers or those who prefer more in-depth lessons, the courses can also last from 4 to 7 days. The longer the course, the more skills you can develop.
Either way, a scuba certification shouldn't take more than a week.
Materials and Equipment
As with any diving activity, you'll need specific materials and equipment. Typically, your driving instructor will provide you with everything you need.
Buoyancy Control Device
A buoyancy control device (BCD) is one of the most crucial pieces of equipment you need for scuba diving. This device gives you the proper control under the water.
For instance, if you want to stand on the ocean floor, BCD is your friend. You can also use it to float on the surface or swim effortlessly underwater.
A typical BCD includes a bladder and a tank. The bladder usually contains air that you fill using the tank or by blowing through the mouthpiece. By adjusting the air volume in the bladder, you'll be able to control the amount of buoyancy you get from your BCD.
Two of the most common BCD styles are jacket style and wing style. Women and beginners mostly use the jacket design, and it's what most scuba certification programs provide.
On the other hand, the wing style is more customizable. Yet, it's better suited for technical and more experienced divers.
Mask
A snorkel mask protects your eyes from the harsh salt water. Without it, your eyes may suffer from irritation, especially if you're spending a long time with your eyes open under the water.
Another reason for wearing the mask is to provide a gap between your eyes and the water, so you can fully take in all the beautiful aquatic scenery around you.
Masks also have a small pocket for your nose. As a result, you can remove the collected water in the mask and equalize the pressure. In other words, when you exhale through the pocket, you add air to equalize the pressure inside and outside the mask.
Snorkel
Snorkels are tubes that help you conserve air on the water surface. They come in a variety of designs, from dry snorkels to folding ones.
You can also find a combination of masks and snorkeling equipment. Whether on their own or with its full set of accessories, snorkels are important when you're first getting used to free diving.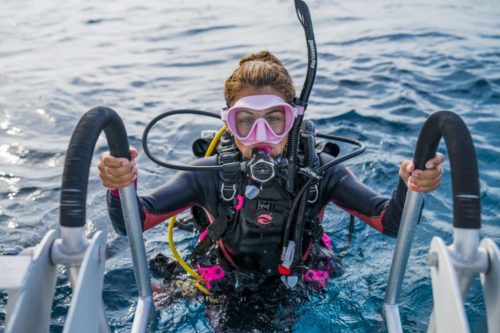 Fins
If you're already familiar with underwater activities, you'll know that fins help you move effortlessly in the water. They do this by increasing your range of motion and speed under the water.
Aside from helping you move, fins also reduce muscle fatigue during and after the dive. It's all thanks to their design that mimics webbed feet, allowing for smoother movement through the water and less effort on your part.
Course Materials
Aside from physical gear, you can also expect to receive some reading material, depending on what program you applied for. You can choose from digital files or actual books to help get you through the course.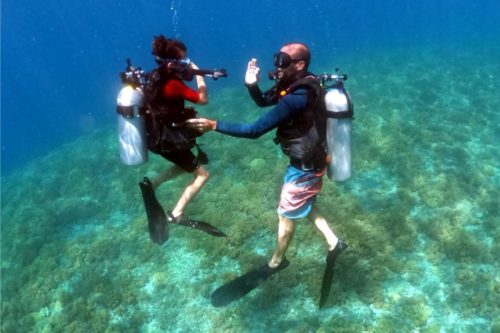 How to Get a Scuba Certification in Oahu
The great thing about scuba certification is that it's valid anywhere in the world, regardless of where you get it. The reason why so many people opt to get certified in Oahu is that it's a popular destination known for its numerous water-related activities.
So, let's get started. Here's how to get certified in scuba diving in Oahu:
Step 1: Search for Instructors
A quick search on Google can give you an extensive list of dive shops that can give you a  Professional Association of Diving Instructors (PADI) scuba certification. Most scuba diving companies are in Honolulu, the capital city that stretches along the shores of Oahu.
You can also narrow your search by determining your budget. In general, you can expect a 3-day course to be around $500.
Shorter classes or those done in groups will cost slightly less. However, if you're booking a private course, you can expect the price to go up quite a bit.
Step 2: Enroll in a Course
The next thing to do is to enroll in the course. For beginners, the Open Water Certification is the best one to start with. That's because it builds the foundation you need for more advanced water courses.
By enrolling, you'll get free use of scuba equipment and access to various learning materials, both online and in hard copies.
Step 3: Follow Through
Now that you have your course materials, it's time to go through the lessons. Most instructors use the first day as orientation through online modules or an in-person meeting.
In an online setting, you'll have to read learning materials and answer exams. This setup is perfect for those who want a more flexible arrangement. Keep in mind that you still need to complete in-person lessons, such as pool sessions and ocean dives.
Instructors use pool sessions or shallow-water training to get their students more accustomed to diving and breathing underwater. On the other hand, ocean dives are when you're ready to put your skills fully to the test.
Instructors usually conduct open water sessions on dive boats. Depending on how long your chosen program is, you may perform at least four dives.
Step 4: Get Certified
Once you're done with all the lessons, training sessions, and other course requirements, that's when you can expect to get your Open Water Certification.
You're now a certified scuba diver for life!
Popular Spots to Get a Scuba Certification
The most popular spot for scuba certification is Kahe Beach Park, also known as Electric Beach.
Located on the west shore of Oahu island, Electric Beach is a beginner-friendly site with a maximum depth of 30 feet and visibility ranging from 40 to 60 feet. Thus, it's one of the best spots to explore coral reefs.
The water in this area is also relatively warm because of the constant flow of hot water from the power plant across the street. It's also how the beach got its name.
Many dive shops conduct their open water sessions at Electric Beach. The shallow water is a definite advantage, but it's because of the sea turtles and dolphins that usually appear in this area.
Unfortunately, these factors bring in a large crowd to the beach. Luckily, one way to work around this is to schedule your lessons early in the morning, so there will be fewer people on the beach.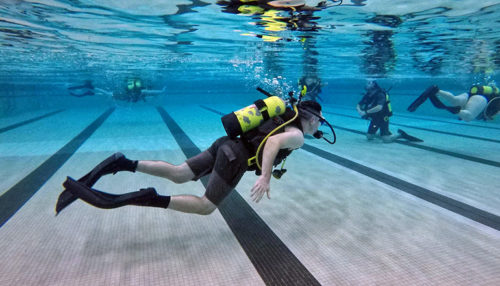 In Summary  
Learning how to scuba dive can be an excellent skill to acquire. However, it's even more impressive if you get certified and get to go scuba diving all over the world!
So, as long as you have the determination, patience, and a little bit of time, you can get a scuba certification in no time, and where else can you get one if not from Oahu?