Electric Beach Snorkeling Adventures: Ultimate Guide
Located in the southwestern parts of Oahu, Hawaii, Electric Beach is one of the best spots to visit if you're a diving enthusiast.
The surrounding area is surely attractive to the eyes with a mountain at your back and blue water in front of you, but what makes Electric Beach special is what lies underwater!
In this Electric Beach snorkeling guide, we'll go through everything from the different Oahu snorkeling spots like to frequent to guidelines to keep in mind before hitting this beach for diving.
Let's hop right in!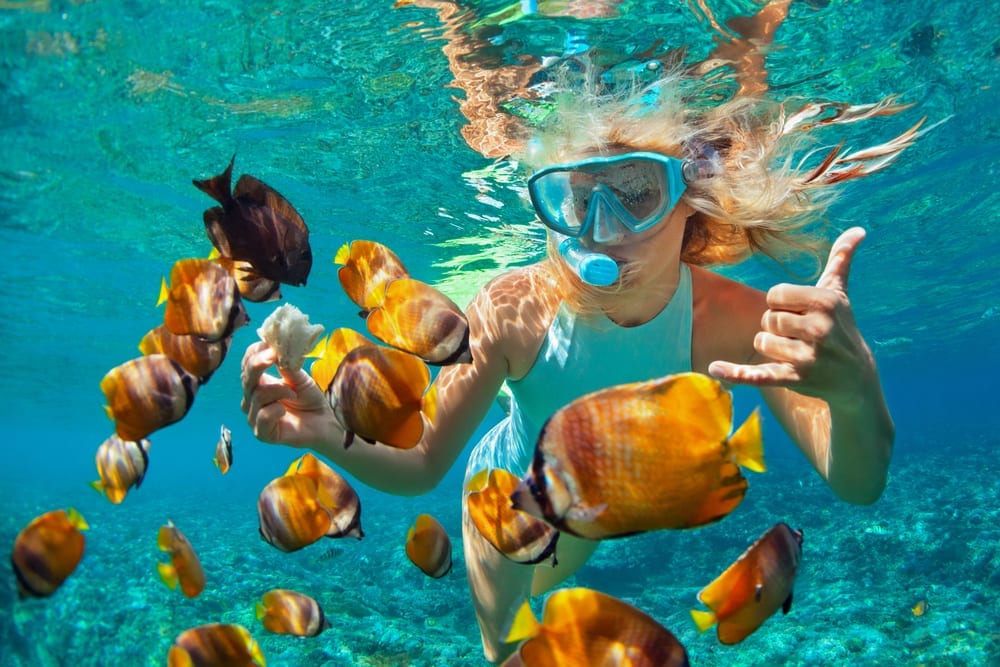 Why Electric Beach Is Perfect for Snorkeling
Ever wondered why Electric Beach is a hotspot for snorkeling despite being on the smaller scale of things? Here's a section that'll answer your question!
A Wealth of Marine Life
Well, we all know that Electric Beach's shore is teeming with various species of wildlife, but what exactly attracts them to this place?
As it turns out, this richness in wildlife is all thanks to the power plant that sits atop the mountain adjacent to the tiny beach park. This power plant has a huge pipe that sticks out into the ocean, extending around 20 yards offshore.
The main purpose of this pipe is to release the water used in cooling the power plant to prevent overheating. When this water goes out into the ocean, it's a lot warmer than the ocean's water, which draws fish, turtles, and many forms of marine life to it!
Various Snorkeling Hidden Gems
Another cool thing that marks Electric Beach as an awesome snorkeling spot is that there are different areas to explore underwater.
For example, you can take a good dive by the power plant pipeline to have a closer look at the coral that almost covers it entirely or the schools of fish that swim in the warm water around it.
Or, you could swim a little further to reach the North Reef or South Reef to meet sharks, sea turtles, and more.
Plus, if you're a beginner at snorkeling and don't want to risk going in too deep, there's a reef that's only a few feet off the sandy beach.
The shallow site can still give you some insight into an underwater environment without leaving you stranded in the ocean with a countless number of feet between you and the sea floor.
If you're not a skilled diver, this scenario can definitely pump up your anxiety!

Electric Beach Snorkeling-related Details That Everyone Should Know Before Diving
Now, let's go deeper into some diving-related specifications that you may want to have an idea about before visiting this lovely place. Here are a few quick facts to keep in mind about snorkeling in Electric Beach:
Diving difficulty: 

Beginner (in mild conditions and shallow reefs), but mostly intermediate and skilled divers (in the deeper parts of the water, a.k.a. North Reef and South Reef)

Depth: 

20 to 30 feet on average

Dive type: 

Reef and shore dives

Entry point: 

Through a sandy beach where you'll have to go down a few rocks to get to the water

Best wave height for snorkeling: 

2 to 3 feet (any more than that, entering the water can be more challenging)
With all of this in mind, why don't we take a closer look at the details concerning the area itself and what you'll find there upon arrival?
Parking: 

Free and not usually crowded, the parking lot only sits about a hundred yards from the beach

Amenities available: 

A rinse shower, bathrooms, and a gazebo (no restaurant or snack bar, so make sure you're prepared!)

Lookout spot: 

There's a perfect lookout spot that lets you assess the height and strength of the waves before you go into the water
Electric Beach Snorkeling Spots and Their Features
Now, you know that there are three main underwater spots in Electric Beach that have a huge collection of wildlife. These are the North Reef, South Reef, and the area around the pipeline that pumps warm water into the ocean.
It's time to get to know the features of these places a bit better, don't you think so?
North Reef
As the name suggests, the North Reef extends toward the northern parts of the beach, and it's a good place to start your snorkeling adventure. You can easily get there by swimming to the west, then changing directions and moving to the right.
In action, things may not seem so straightforward, which is why you'll need to mark your position using locations and objects you'll find in the area. Start by dropping down at the second bubbler (you'll identify it once you see a round pylon that releases bubbles into the water!)
From there, shift your direction so that your angle is 305–315 degrees and keep swimming until you come across an underwater buoy that boats use to tie off to. This is usually easy to notice at around 20 feet of depth.
Once you get there, you'll know that you've reached the North Reef. Now, you can relax and explore the shark caves. Usually, white-tip reef sharks are friendly just as long as you don't get too close to them or get in their way.
Better still, you can go looking for the secret Buddha statue that rests peacefully underwater. We've always wondered about the story behind this little guy!
Another thing you should keep in mind is that this area is a popular spot for tour boats and private boats to anchor in. That's why you'll always need to stay low.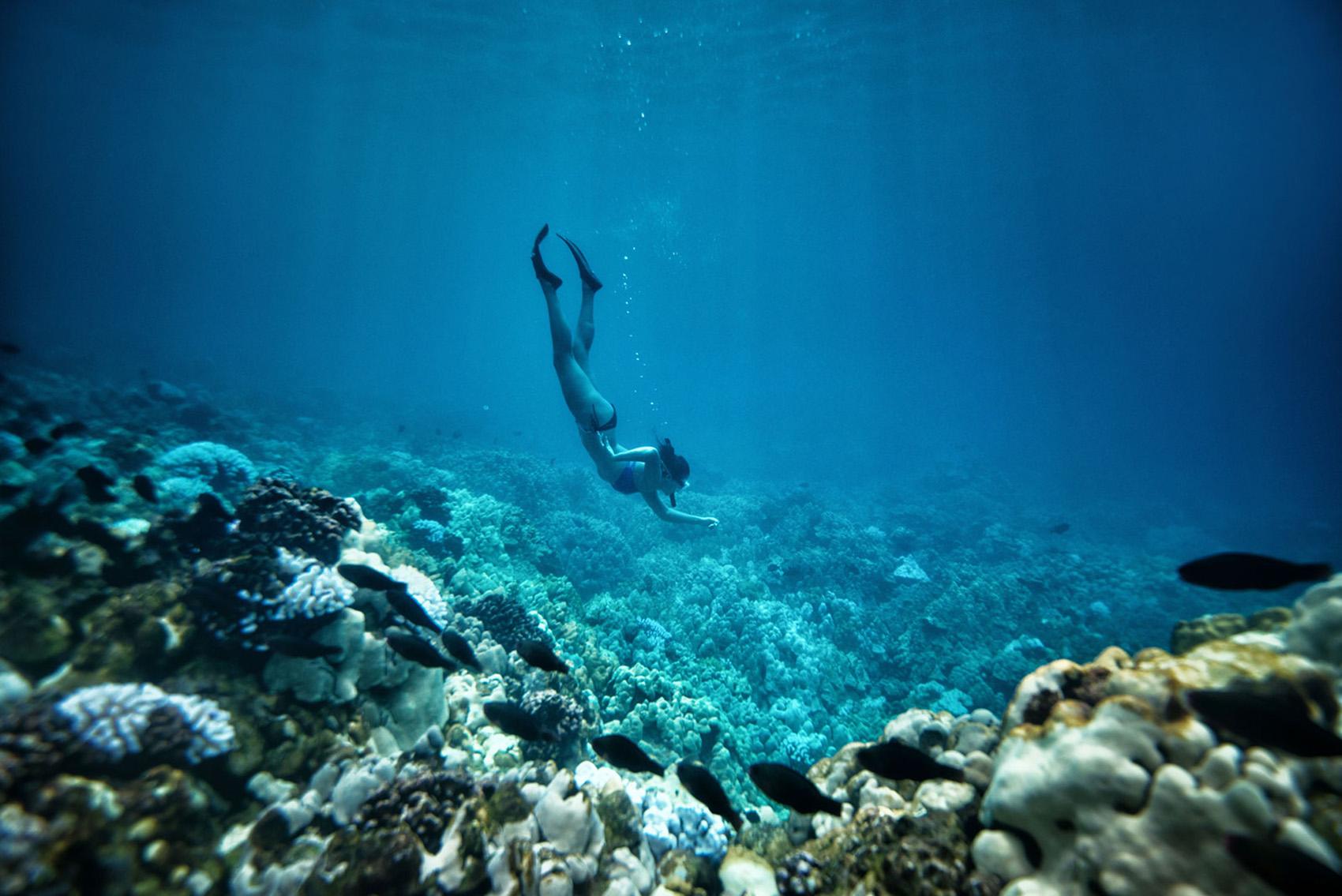 South Reef
The South Reef is also easily accessible by swimming for a few minutes offshore, then heading to the left. It's even a better option for beginner divers, especially when the waves are mild-tempered!
Our advice here, when swimming to this spot, is to stay at a depth of around ten feet and go up to the surface occasionally. This will allow you to mark your surroundings and stay away from the rocky cliff where the waves tend to crash with so much force against the shore.
No one wants to get caught in the action!
Also, coming up every once in a while will keep you from going too far west, where you'll meet an open sandy area. Nothing is fun over there, so it won't be worth your time or effort.
Once you reach the shallow South Reef, you'll be greeted by sea turtles, schools of fish, and other wildlife.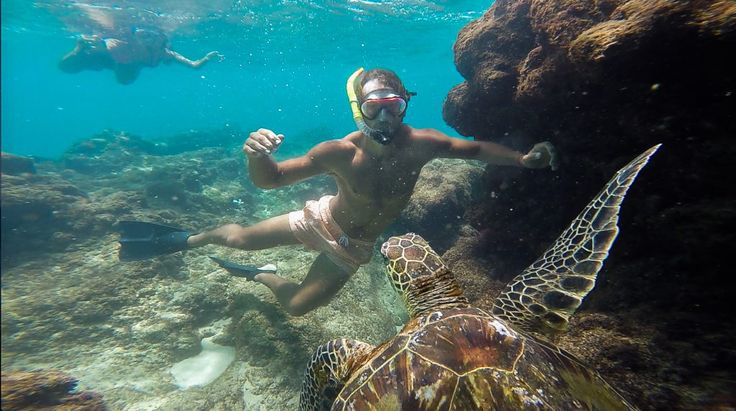 Pipeline
The pipeline isn't that tough to find, either. It's just offshore from the beach, and you can follow the coral strip that extends from the entry point and all over the pipe until you find its opening.
As we've previously pointed out, the area around the pipe is teeming with all sorts of wildlife. You can witness anything from different fish species to starfish and turtles. At night, you might even see lobsters and crabs over there.
The entire place above, around, and in front of the pipe's opening is simply filled with wildlife that keeps close to the discharge for warmth.
Despite how irresistible it may be, try your best to stay clear of the pipe's opening. The discharge is very strong, and it'll push you with great force if you get in front of it.
Instead, if you want to get closer to it, a better idea would be to position yourself next to the wall before it. That should keep you protected from the powerful force of the water released through the pipe.
Guidelines for Snorkeling in Electric Beach
Now that you have all the information you need about what snorkeling in Electric Beach is like, let's give you a few expert tips to help you enhance your overall experience!
Try to visit the beach as early in the day as possible (after sunrise) to see more wildlife that usually hides during the day, like dolphins, seals, and rays.

Consider diving in the dark around the pipeline (the pipeline makes it easier to navigate the waters at night).

Always watch the entry point carefully before you dive in to ensure that the waves aren't too strong for you.

Stick to the northern part of the beach when entering the water to steer clear of the large rocks that pepper the entry.

Make sure not to pack any valuable items in your car, as this area has had past issues with theft.

The beach is family-friendly, but going into the water isn't recommended for children or people who don't know how to swim.
To Sum It All Up
An Electric Beach snorkeling experience must be on your to-do list if you ever go to Hawaii on vacation. With everything from glorious sharks to colorful schools of fish waiting for you, it's one of the best snorkeling and scuba diving spots.
Hopefully, our guide was able to offer you some insight into how your adventure will play out. So, have fun and take a lot of pictures!