Maui was built for romance. Of this, I'm sure.
Eons ago, God smoked some arugula, considered all those warring, hormone-ridden dinosaurs that "happened" after a particularly fearsome experience with psilocybin and wondered, "hmmmm, how can I make a place where everyone doesn't just get along, but makes love three, four times a day without my having to answer another me-damn prayer?"
With that, he made a volcano erupt.
And then another. And then, several more.
And, when that land mass got far too large for his liking—he was trying to foster intimacy here, people—he incited an ice age that ultimately filled Maui Nui with water and left the sexiest place on Earth in its wake. A place where the water is warm and clear, the beaches beg for nudity and the trade winds come at just the right time to blow sultry breezes into open-air hotel rooms.
Condé Naste caught on.  Then, The Knot, followed by every Kansanite and Floridian who had the cajones—ill-informed or otherwise—to say I do under a chuppah.
Now, Maui—aka the Greatest Island in the Universe—is a veritable advertisement of Everyone's Perfect Honeymoon.
And, while it's cute to compare reception and how-we-met stories with other newlyweds at Fred's—chances are mine would blow the rest of yours out of the water—what you really want to do on your honeymoon is ravish each other and build memories strong and beautiful enough to get you two through the utter tedium that is actual marriage.
While getting it on in your suite is sweet on its own, you haveta agree that going for the O in public is tantalizing beyond measure. And, really, if not now, when?
With that in mind, ditch canoodling on your covered lanai and set out for these 5 public places that'll keep that ring in place for at least a decade—and make God proud while you're at it:
Waihe'e Ridge Trail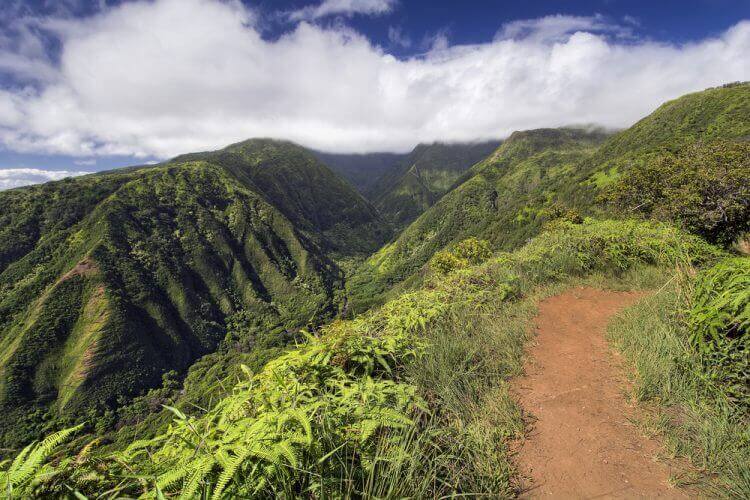 Before you shake your pretty little "butter" highlighted head and call me a fraud, let's think this through, shall we?
Rainforests are moist. Hiking uphill gets the heart racing and provides your man with first-class views of your CrossFit ass (or the other way around). The taste of sweaty lips is sorely underrated. And, despite all those at-home laser treatments, you and me both know you look best under a veil—of clouds, that is. Are you with me?
Waihe'e Ridge Trail offers all of this and more.
Located in the gorgeous cradle of the West Maui Mountains, this place kinda makes you feel like you're on the edge of the world—or at least above it.
The hike is about two and a half miles—enough to generate some heat and deep breathing but not enough to leave you bushed by the end of the sesh. (Hello, innuendo.)
The peak of the trail provides panoramic vistas that'll get your pulse soaring. Which is precisely where I—er, your wife—wants you.
Picnic tables supply some respite, but it's the aloneness here that truly inspires. Keep one ear out for footsteps and show your spouse what it really means to take it to the top.
Wailea Coastal Walk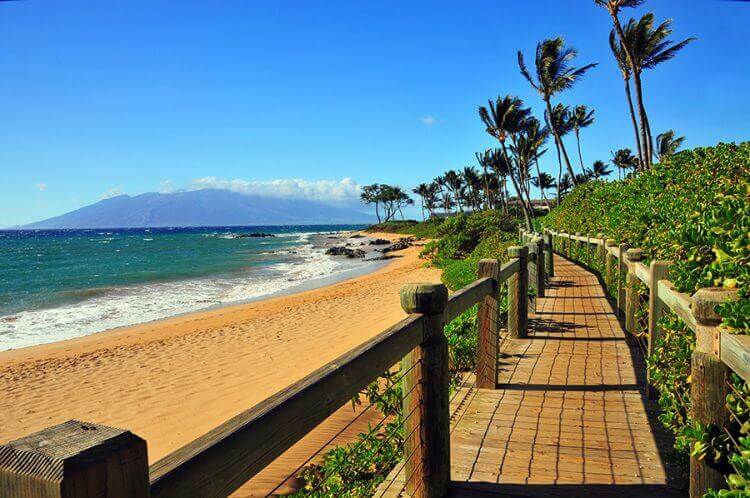 Chances are, if you're honeymooning on Maui, you're either staying at a posh spot in the silky enclave of Wailea or roughing it way over on the West end in oh-so-lush Ka'anapali. And, if you're staying in Kahului—well, um, good luck?
Regardless, Wailea Coastal Walk is one of the loveliest ways to ramble on the island. Passing four unbelievably exquisite beaches and offering views of nearby Pu'u O'Lai, this hike is less "exercise" (yawn) than pure elegance.
Mind you, I don't follow rules. And. since you just signed a contract that obliges you to throw dinner parties for your husband's dull AF colleagues and sleep with one person—ONE!—for the rest of your life, I'm here to say: Dear God, break them, lest you go crazy before this whole "marriage" charade officially starts.
Begin off the boardwalk at the south end of Keawakapu after dark. Why? Most people are sheep with shiny epidermises instead of fur and will be on that very coastal boardwalk I've been praising.
You, however, will be getting a head start to take frequent breathers near the kiawe trees. Between the moonlight and the crashing waves, this is the kind of closeness and affection you were hoping for at your overpriced, Elvis-themed wedding.
Sis tip: Wear a sundress. Trust me.
The Caves at the Grand Wailea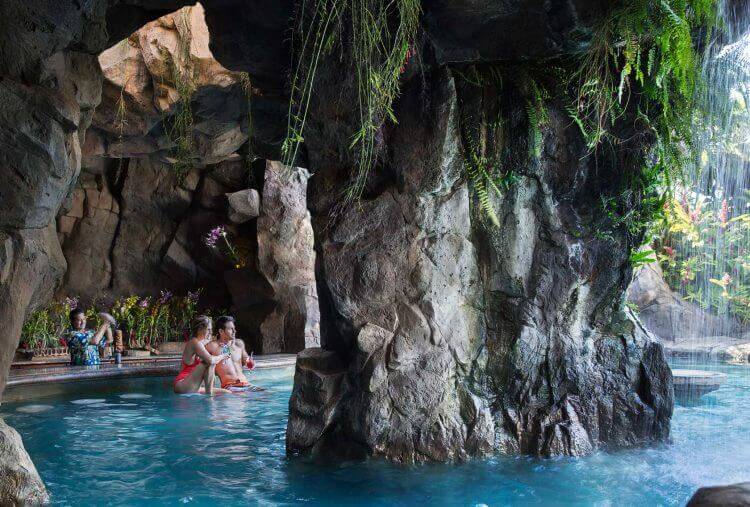 Staying here, fancy pants? Then you don't need to sneak into the pools, but you shoulda probably thought about a prenup.
Those less fortunate—sorry, this really is one of the dopest resorts on the island—need not fear: Spending an evening playing in the Grand's pools as easy as rocking a La Balenciaga bikini and putting on your best douchebag-I-own-this-motherfuckin'-place behavior.
Stroll up to these cascading pools from Wailea Beach (told ya befriending that Coastal Walk would come in handy) and acquaint yourself with Maui's version of Wet & Wild.
When the crowd thins out, hang back, preferably with a cocktail and venture behind the waterfall on the first "floor" of pools. There, you'll find a Jacuzzi often overlooked for the flashier attractions.
The rest should come…naturally. And, if it doesn't? Well, hon, WTF are you doing married?
La Perouse Bay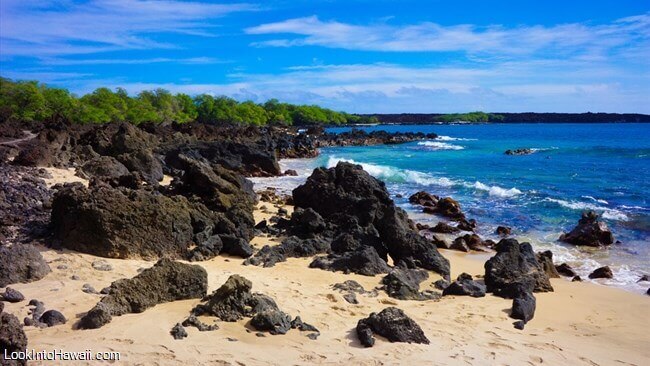 Hold up there, Jenna Jameson—I didn't mean on the lava rocks at La Perouse. That would be kinky, sure, but it'll also leave you more than a little worse for wear. And, since you're heading there already—thanks, online-accredited minister!—you might as well delay it.
No, I'm talking about your car parked at La Perouse Bay, baby girl, so you can get the most out of your $149.95 per day.
Situated on the far south side of Maui—it's literally the end of the road—and offering kick ass views of the sexy-ragged coastline and outlying islands, this spot is damn near deserted at night.
Watch the sun set from the rocks to get you in the mood, power up some tunes and turn "hands-off" technology on its…um, head.
'Oheo Gulch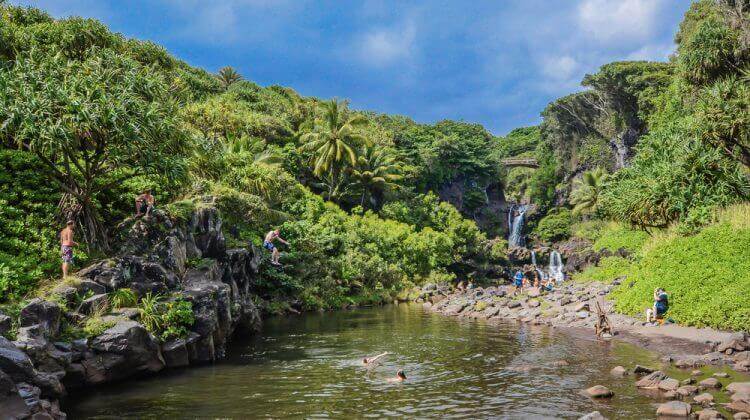 Paris has got nothing on Maui, in terms of sex appeal.
Don't believe me? Hop in that rental car (Jeez, Febreeze it first) and take you and your loose-limbed spouse to Hana.
This is where heaven begins—at least outside the bedroom. (Note: I said to get hot and bothered in the places listed above, not get nasty.)
56 miles have never taken so long, but the visual foreplay is well worth every foot forward you travel. Verdant forests climb towards the sky on your right, while sheer, two-hundred-plus-foot drops on the other will let you squeal like a school girl without having to wear knee socks (unless it's play in costume night).
Past Hana town is Kipahulu, part of Haleakala National Park and a favorite perch for lovebirds. Picture it: Pool after pool spilling rainwater into the ocean while waterfalls boom and whistle and coconuts actually fall from palms.
Hike up to one of the calmer waterfalls, and slip behind the rushing water to feel another type of urgency and blast entirely.
Still swooning, and ballsier than when you first landed?
Get your groove on at Little Beach's Sunday evening drum circle and fire show. No need to hide out in the bushes here—even eighty-year-olds do it openly. (I meant the bongos, you deviant.) Now, stop staring; you've got a spouse. Go treat 'em to a Maui activity they can never, ever write home about.