Exploring the underwater world will forever remain one of the most wondrous adventures you can have.
When it comes to listing the best places to scuba dive in the world, the job is nearly impossible! Our planet is simply too giant with too much beauty to offer!
What's more, not all scuba divers are in it to see the same things. From colorful coral reefs, massive fish schools, and rare flora to eras-old shipwrecks, mesmerizing caves, and mighty sharks, there's a whole lot to look at once you venture beyond the ocean's surface.
Today, we've put together a guide to the top 15 scuba diving destinations you don't want to miss out on!
To help you plan your trip depending on your diving preferences and experience, we'll discuss what each spot has to offer and the best time to go visit. Let's get started!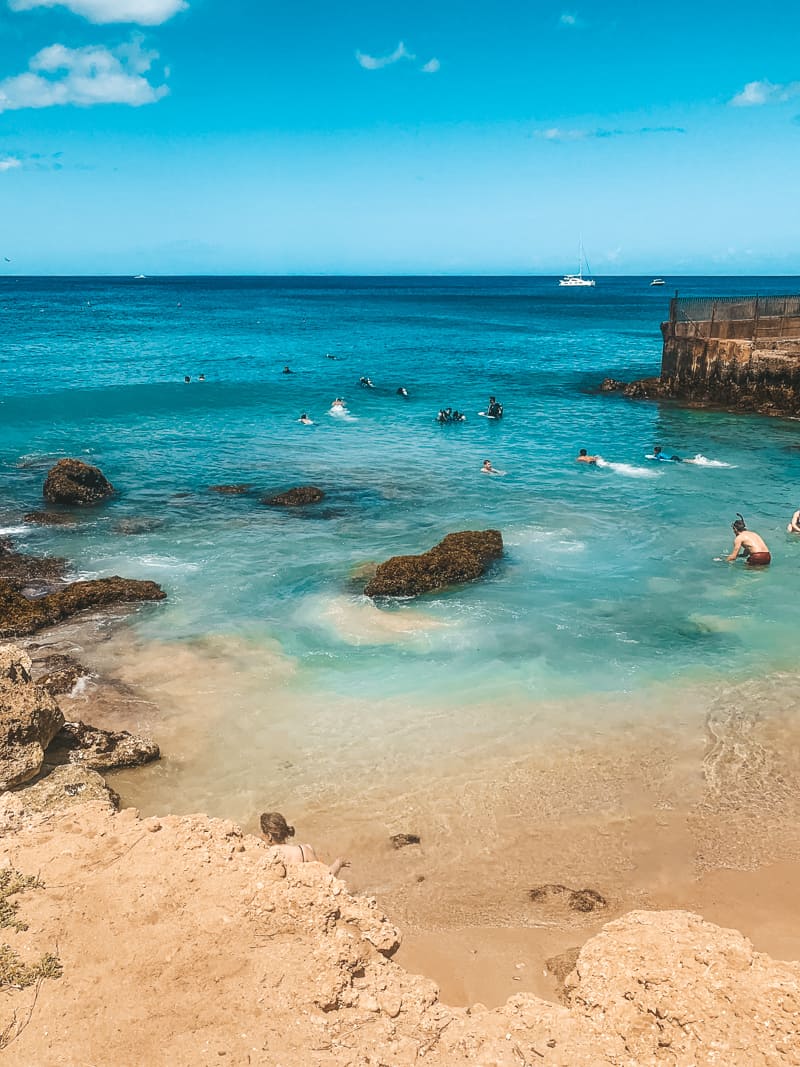 Electric Beach (Kahe Point Beach Park) – Oahu, United States
Located in the Central Pacific, Oahu belongs to the Hawaiian island chain and is where you can find Honolulu, the state's capital. On the southwest coast of Oahu, you'll come across Electric Beach with its abundance of diving opportunities and stretch of white sand.
Electric Beach Oahu is also referred to as Kahe Point Beach Park, however, its common "electric" nickname is a tribute to the presence of a power plant nearby on the opposite side. Sometimes, it's also called Tracking Beach because multiple old railroad tracks are extending parallel to the beach.
So what can you expect to see when scuba diving at Electric Beach, Oahu? Well, a wide variety of marine life is waiting down there, including:
Jackfish
Squirrel fish
Mackerel
Butterflyfish
Reef triggerfish
Snapper
Perch
Cornet fish
Wrasse
Parrot fish
Green sea turtles
Hawkfish
Spinner dolphins
Tang
Surgeonfish
Needlefish
Damselfish
Goatfish
The reason why Electric Beach is a famous spot for scuba diving and a great attraction for wildlife is the warm water coming from the power plant.
You see, around 200 yards offshore, a pipe that runs from the power plant along the sea floor opens and discharges water. This water is used for cooling purposes at the power plant, and when it's discharged, it's warmer than the ocean water.
To scuba dive at Electric Beach, you should be at least an intermediate-level swimmer. You need to swim through a somewhat rough shore break and against an often strong current to get to the area with all the magic. Check out this guide to scuba diving in Oahu to learn more.
Best Time to Visit:
Electric Beach is a fantastic scuba diving destination any time of the year as rich marine life is always sticking around. On the day itself, we recommend scuba diving in the morning when the waters are the calmest.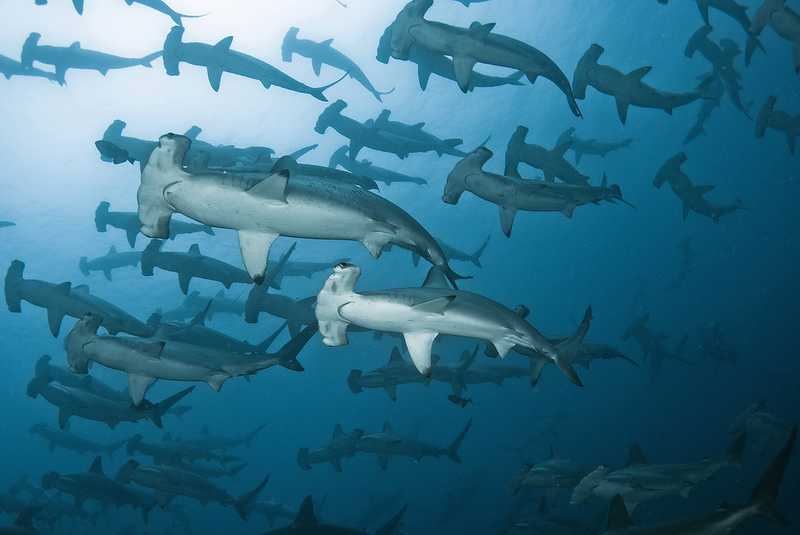 Bajo Alcyone – Cocos Island, Costa Rica
About 342 miles from the Costa Rican coast lies a tiny island known as Cocos. It's a 10-square-mile land with an exclusive human population of National Park rangers, so if you want to explore its waters, you'll need to go on a diving cruise by boat.
The diving sites around the coastline of Cocos island are made up of underwater seamounts, consisting of enormous drop-offs and archways. These are particularly suitable for viewing the island's exquisite pelagic marine life.
The island is consistently regarded as the best place to go hammerhead diving where the Bajo Alcyone seamount is considered a regular home to these sharks.
Typically, the visibility is excellent down there with an average depth of 115 feet. Still, this can differ depending on the weather conditions and the plankton blooms.
As for the condition of the water at Cocos island, it varies according to the season. But keep in mind that it gets choppy with strong currents, especially during the wet season.
So what can you expect to see when scuba diving at Bajo Alcyone, Cocos Island?
As we mentioned above, shoals of scalloped hammerhead sharks are one of the main diving attractions of this spot. Additionally, you'll get to see silky sharks, black and white-tipped reef sharks, and tiger sharks.
Also, if you're aiming to watch marble rays, Mobula rays, giant mantas, and sailfish, then Bajo Alcyone is also the location for you. Who knows, you may even be lucky enough to come across some of the larger marine life on the island such as dolphins and whale sharks!
Best Time to Visit:
You can visit Cocos island any time of the year and you'll be in for an epic adventure.
That said, the period from June to December is the wet season during which marine life is at its prime thanks to the blooming of the plankton that attracts schoolings of sharks, mantas, and more.
As for the period from December to May, it's the dry season during which water conditions are the best.
While the wildlife won't be as thriving as in the wet season, the calm sea conditions of the dry season will allow for improved visibility (up to 100 feet) and less challenging dives for less skilled divers.
Not to mention, reaching the Cocos is a lot easier and safer during the dry season thanks to the surface conditions not being as rough and the currents not being as strong.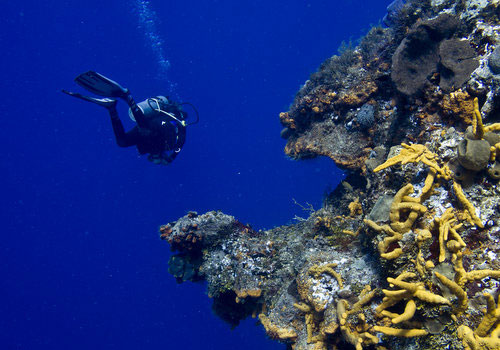 Santa Rosa Wall – Cozumel, Mexico
Located in the Caribbean Sea, Cozumel is a crude Mexican island that serves as a popular port of call for cruise ships. It's globally famous for, you guessed it, scuba diving!
Many reasons make Cozumel a crowd-favorite among scuba divers. Possessing the Santa Rosa Wall dive site is the main one. This structure features coral formations reaching a height of up to 40 feet, with plenty of rock overhangs, numerous narrow tunnels, and a deep drop-off.
The first portion of the Santa Rosa Wall is relatively shallow, standing at a depth of 50 feet. Beyond that, the wall descends into vast depths with a dramatic outline and strong currents.
Swimming and driving across Santa Rosa Wall, you'll feel like you're flying over a mountain cliff — minus the fall.
So what can you expect to see when scuba diving at Santa Rosa Wall, Cozumel?
A lot of sea creatures and coral species make a home at this diving site, including giant sponges in bright colors, enormous sea fans, sea turtles, French angelfish, queen angelfish, barracuda, scrawled filefish, manta rays, giant parrotfish, jellyfish, toadfish, and nurse sharks.
Whether you're a beginner or an experienced scuba diver, you can enjoy Santa Rosa Wall. But keep in mind that participating in a certified dive will require you to present evidence of your scuba diving certification.
Best Time to Visit:
If you're worried about the water temperature at Santa Rosa Wall, you'll be glad to know it stays warm throughout the year. In the summer, the average is 85 degrees F, whereas it's 75 degrees F in the winter.
The one thing you should avoid, though, is storm season which hits the island during the period from June to November. So unless you have plenty of experience diving in such harsh conditions, schedule your visit within the period from December to May.
Heads up though, this dive spot can get pretty high traffic, so we recommend that you plan your visit in the afternoon to avoid the crowds.
Other than drift diving along the Cozumel wall, you can opt for a different strategy where you plan for Santa Rosa to be your second dive stop of the day. This will help you avoid more traffic.
Also, you may want to consider gliding along the top part of the wall as divers are usually less concentrated there.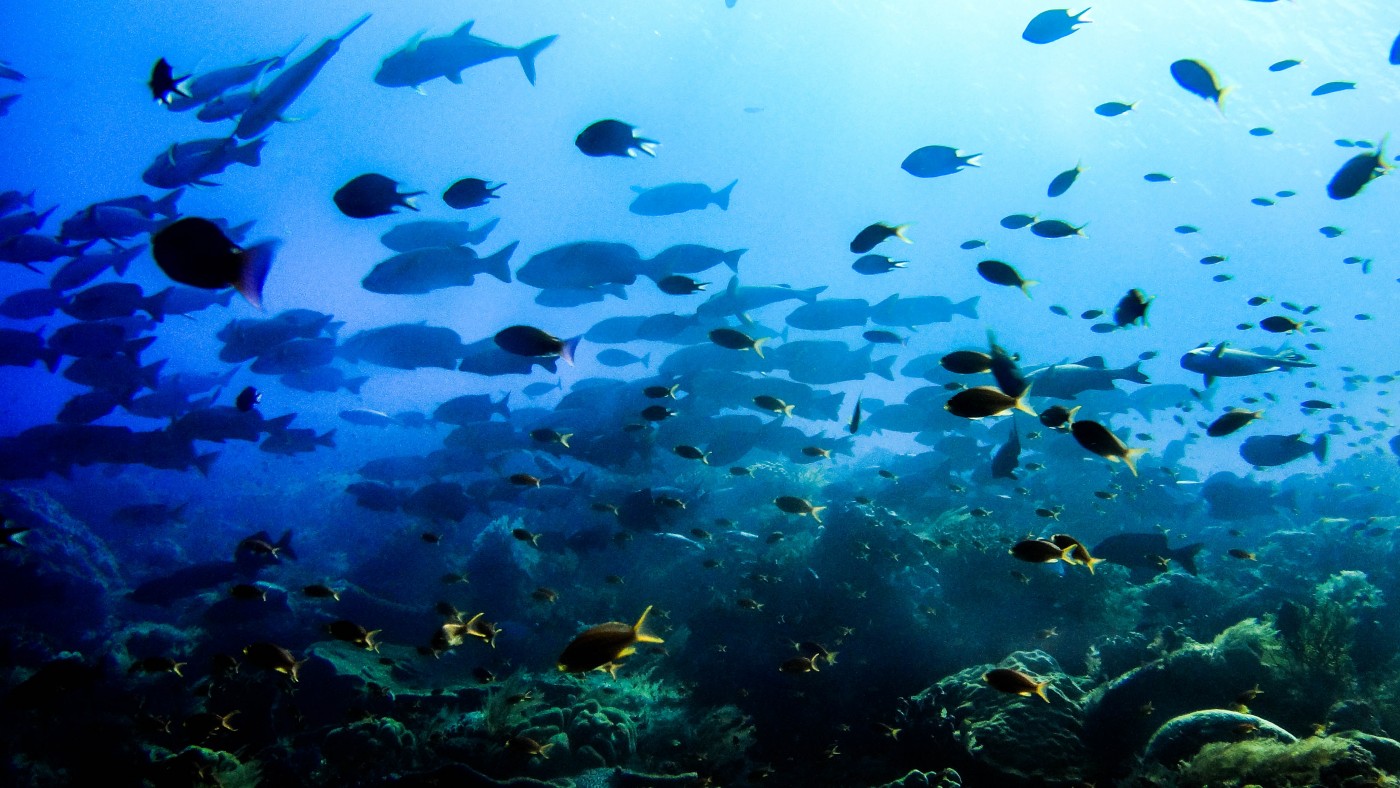 Cape Kri – Raja Ampat, Indonesia
Have you ever wondered what's the most diverse dive site in the world when it comes to tropical fish life? Here's your answer; it's Cape Kri in Raja Ampat, Indonesia.
In fact, Cape Kri is so biodiverse that it's the location where Dr. Gerald Allen set the world record for counting the largest number of fish species in a single dive. This happened back in April 2012 when the renowned ichthyologist documented 374 different species of fish.
So what can you expect to see when scuba diving at Cape Kri, Raja Ampat?
Well, aside from its famous colorful corals, Cape Kri is a place where you'll see dense schools of multicolored fish as well as strange critters and rare species. These include bobtail squid, wobbegong sharks, pygmy seahorses, manta rays, whale sharks, and epaulet sharks.
Best Time to Visit:
The best time to visit Cape Kri for a dive is the period from October to April. Not only will you get the chance to spot manta rays, but this time is when you'll encounter less rain and smoother waters compared to summer, so your scuba diving experience will generally be more comfortable.
If you're not free during these months, then your best bet is either May or June. We don't often recommend scuba diving in Cape Kri between July and September because of the strong winds and heavy rain that rile up the sea.
As for the visibility in Cape Kri, it doesn't change much throughout the year, remaining around 80 to 100 feet. The same goes for the temperature of the water, averaging at warm 80 to 86 degrees F.
Barracuda Point – Sipadan Island, Malaysia
Located in a region of Malaysia that stands inside the Coral Triangle, Sipadan island is a popular dive site thanks to a neat little spot known as Barracuda Point. This coral reef is an incredible occurrence in itself as it was formed around a non-active underwater volcano!
The result? A very rich, biodiverse ecosystem with thousands of fish species living across hundreds of types of coral. The water is just as beautiful — super clear and inviting.
When you begin your dive at Barracuda Point, you'll tackle it as a wall dive then it turns into a channel with a strong current as you keep moving deeper. As one of Sipadan's most sought-after dives, you should be ready to witness the gigantic tornado of shining silver.
This will happen at the far end of the dive where a tremendous school of barracudas put on a swimming show that you need to see to believe. It's not just divers that flock to experience the gorgeous sight, but also underwater photographers can't get enough of it!
So what else can you expect to see when scuba diving at Barracuda Point, Sipadan Island?
Other than the barracudas, you're in for a treat at Barracuda Point thanks to the dozens of turtles, various types of reef sharks, groupers, humphead parrotfish, jackfish, and a lot more.
Best Time to Visit:
You can book your trip to go scuba diving in Barracuda Point, Sipadan whenever you want year-round and you'll get to see all the island has to offer.
However, if you want the absolute best when it comes to water conditions and visibility, stick to the period between April to June or even December. That is if you don't mind diving when there's higher traffic.
Alternatively, you can aim for off-season dives during the period from January to March. But only if you're more experienced in dealing with heavy downpours and reduced visibility.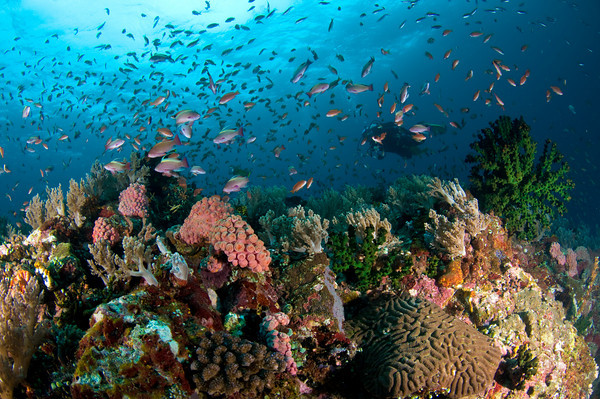 Mainit Muck (Secret Bay) – Anilao, Philippines
Mainit Muck, also known as Secret Bay, is one of the most phenomenal muck diving sites on earth with its sloping sandy bottom and a vast population of small marine life. It's also a dream destination for underwater photographers interested in macro diving.
Located in Anilao (at the southern edge of Calumpang Peninsula), Secret Bay black beach continues beneath the water with a depth of almost 10 feet at the top and a little over 65 feet at the bottom.
So what can you expect to see when scuba diving at Mainit Muck, Anilao? Oh, just about a ton of sea critters!
These include fire urchins, mantis shrimp, zebra crabs, rare nudibranchs, all sorts of gobies, frogfish, wunderpus octopus, Coleman shrimps, pipefish, Ambon scorpionfish, dragonets, Bobbit worms, thorny seahorses, demon stingers, and a lot more species that come alive after dark.
If you're into it, Secret Bay makes for a truly amazing night dive.
Best Time to Visit:
The best time to go scuba diving at Mainit Muck in the Philippines is anytime you're free!
The peak season, however, is all year except the summer months. So, plan your visit within the period from October to May to get the full experience.
Oh and if you're worried about this dive being difficult, don't be! Thanks to its generally mild current, Secret Bay is suitable for divers of all levels.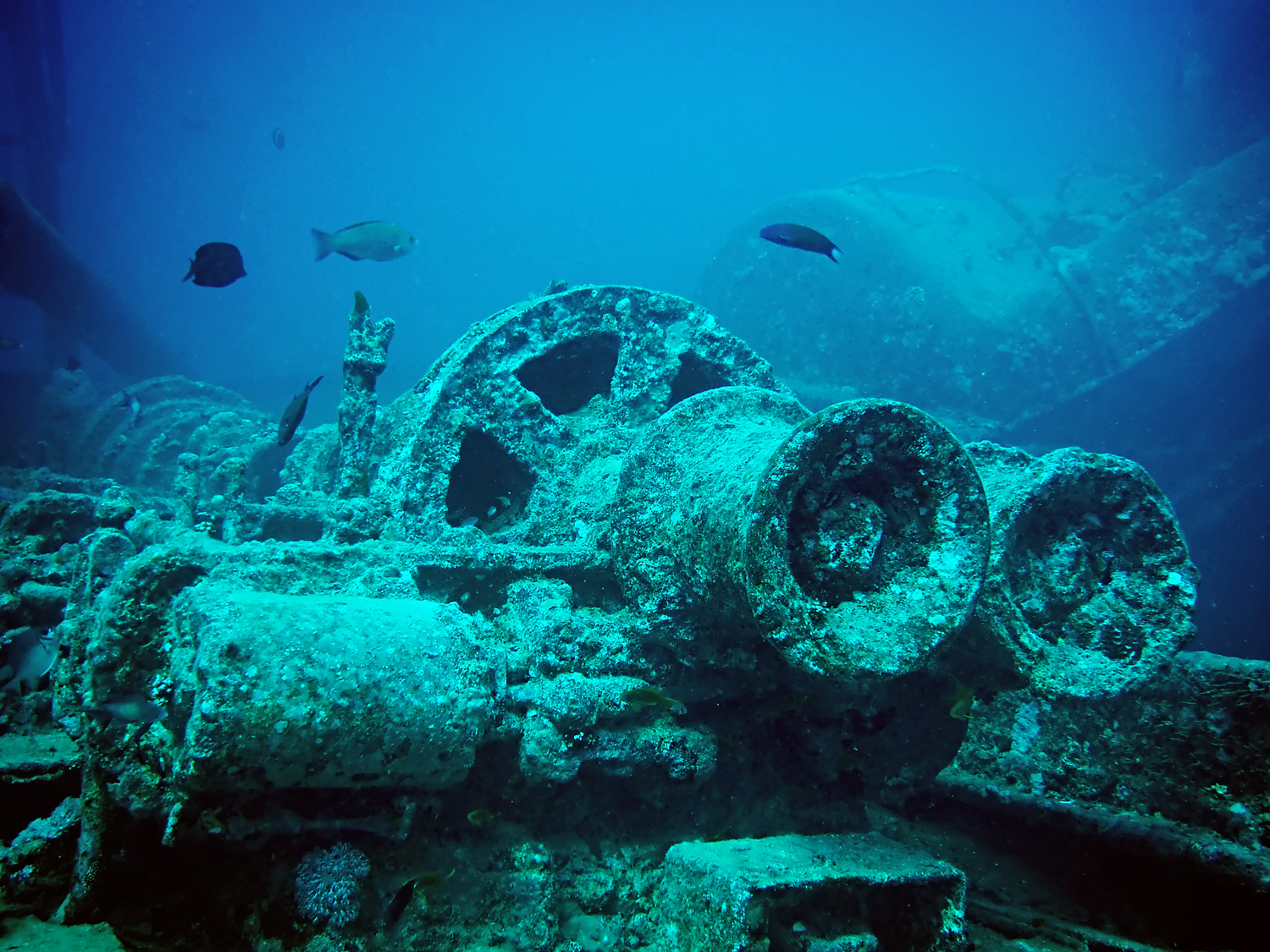 SS Thistlegorm Wreck – Sharm Ash Sheik, Egypt
A must-visit location for folks interested in wreck diving will take you to beautiful Egypt and the northern portion of the magnificent Red Sea.
The SS Thistlegorm wreck lies in Ras Mohammed in Sharm Ash Sheik at the southern edge of the Sinai Peninsula. It's widely considered the best place for a wreck dive in the globe, and we can't help but agree!
The iconic SS Thistlegorm wreck is simply stunning to explore. It's one of the most liveaboard stops and popular day trips in the area with a heavy history to match its elite status.
Setting sail for the first time back in 1940, the Thistlegorm was a 415-foot-long British steamship that wasn't originally intended for war. However, not long after its launch, the ship was pushed into the war scene to deliver supplies all over the world with outdated weapons on board.
In October of 1941 -just a year after its debut- the Thistlegorm was sunk by the Luftwaffe (a German air attack) into the Red Sea in Egypt. The exact culprit was a bombing that managed to split the watercraft into two!
Despite being divided into two parts (about two-thirds and a third), the structure of the vessel is one of the most well-preserved you'll witness in a wreck dive. Everything that was on the ship is also in great condition including the tanks, trucks, trains, and weapons.
So what can you expect to see when scuba diving at SS Thistlegorm wreck, Egypt?
Well, you'll explore the wreck at two different depths as follows:
The shallower 52-foot depth has the bow of the steamship. It sits upright and features 3 intact cargo storage units where you can see vehicles and supplies such as cars, motorcycles, trucks, grenades, mines, old radio gear, vintage boots, old hospital tools, and much more.
The more profound 105-foot depth has the stern of the steamship. It lies on the port side and features gigantic anti-aircraft guns on the deck, a massive propeller, and a huge pile of debris and rubble, as well as Mark II Bren carrier tanks.
As for marine life around the Thistlegorm wreck, there's a chance you'll come across hawksbill turtles, tuna, soldierfish, barracuda, scorpionfish, sweepers, batfish, lionfish, moray eel, stonefish, crocodile fish, and more.
Best Time to Visit:
Planning to visit the SS Thistlegorm wreck for a once in lifetime scuba dive? There are two periods during which you'll make the most out of the dive as follows:
The autumn months from September to November: this is when the temperature of the water cools down after the summer heat so you can swim comfortably. It's also a good chance to spot thresher sharks and

manta rays

.
The spring months from March to May: this is when the temperature of the water and the air is pleasantly warm; before the summer heat kicks in.
That said, you can go down there during the period from December to February if you don't mind some choppiness on the surface of the water. You'll still enjoy wonderful visibility underwater and you may even end up encountering the oceanic whitetip shark or the hammerhead shark.
SS Yongala Wreck – Great Barrier Reef, Australia
On the hunt for more wreck diving? Then the SS Yongala wreck located down at the Great Barrier Reef in Australia should be on your bucket list of scuba diving sites.
Back in 1911, the SS Yongala steamer sank near the Cape Bowling Green lighthouse, which is still active to this day.
The culprit was an encounter with a cyclone that left all 350 feet of the massive ship resting on its starboard side at a depth of about 108 feet. That's around 12 nautical feet away from Alva Beach.
Despite its size, the SS Yongala wreck wasn't found until 47 years later.
So what can you expect to see when scuba diving at SS Yongala wreck, Australia?
This wreck is in extremely good condition thanks to the dire efforts put into preserving it.
Not only does this allow divers to explore a structure that's been underwater for more than a century, but it's an opportunity for them to look at one of the ocean's most vibrant ecosystems that attract an incredible variety of marine life roaming for food or shelter.
Besides the fascinating landscape, you can spot bull sharks, marble rays, loggerhead sea turtles, giant trevallies, spotted eagle rays, chevron barracudas, hawksbill sea turtles, Queensland gropers, small eye rays, and more.
Best Time to Visit:
If you're planning a trip to the Cape Bowling Green area, your best bet is sometime during the period from June to August. The winter months in Australia offer improved visibility, but the average isn't great — about 50 feet throughout the year.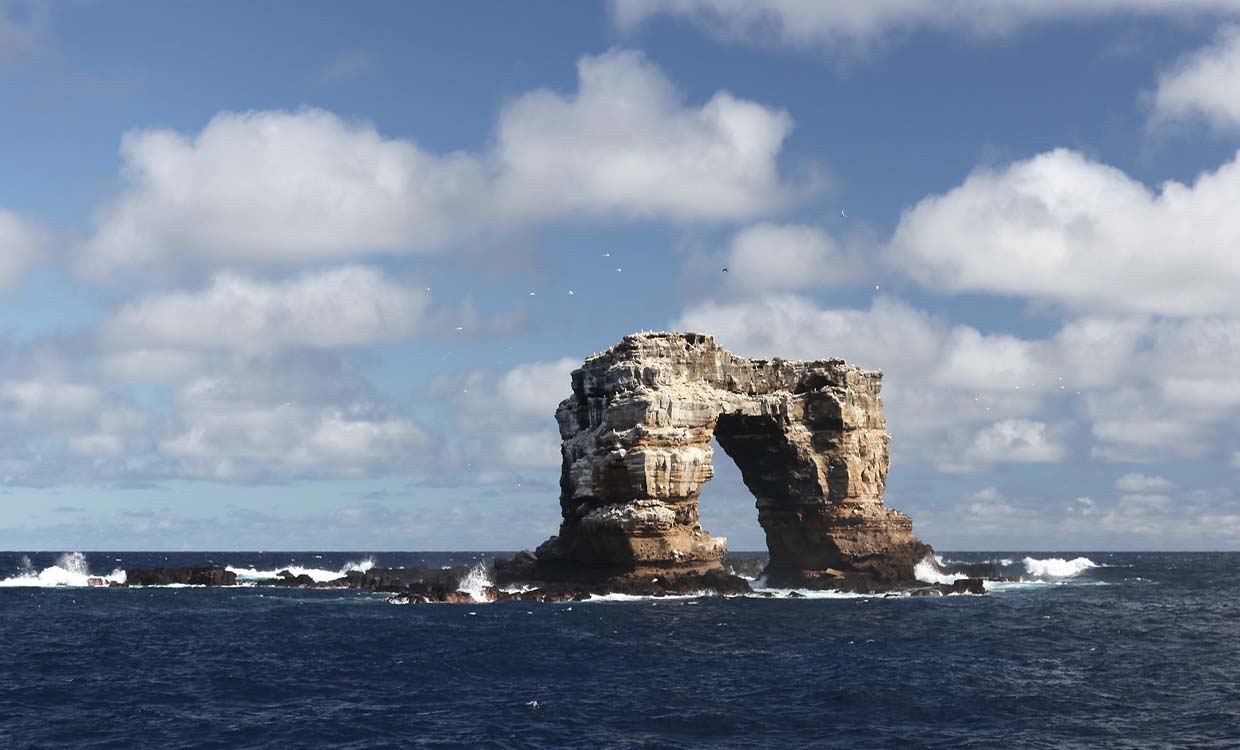 Darwin Island – Galápagos, Ecuador
Can you guess who this remote island is named after? If you thought about Charles Darwin, the infamous evolutionary biologist, then you're right!
Darwin Island is part of the Galápagos archipelago. It's among the smallest of the islands, with an area of just 0.4 square miles.
While most people are familiar with Darwin island thanks to Darwin's arch, this structure is no longer present as it, unfortunately, collapsed in 2021. With the horizontal bridge portion now gone due to natural erosion of the rock by waves and wind, what's left at the most northerly edge of the Galápagos is two towers.
About 25 miles North of Wolf Island, Darwin's pillars stand around 140 feet tall. The towers share the same grounding, which is the mid-ocean ridge. This makes for a unique stream of currents and special bottom topography around the island.
So what can you expect to see when scuba diving at Darwin island, Ecuador? We have one word for you: everything.
If you think we're exaggerating, just go there and you'll see!
Darwin island offers divers one of the richest and most diverse ecosystems they can hope to explore. Various species that are rare to find in other diving sites are common marine life in this area.
The reason for this vast population is the current channels that bring in creatures from every corner of the ocean,
Examples of animals you can spot underwater include all types and sizes of rays and enormous schools of shark species.
In fact, hammerheads are so abundant across Darwin island's underwater that you can easily have an encounter with them. Juvenile hammerhead sharks are pretty curious and are likely to get close to you.
You can even see hammerhead babies if you move lower towards the sandy bottom. But don't try to get too friendly as older hammerheads will be lingering around for protection.
A bit away from the current, you can watch reef fish working in hammerhead cleaning stations. The sharks there are a lot less shy and you have a better shot at getting close for a better look.
Additionally, you'll see galapagos sharks, bar jacks, sea turtles, whale sharks, barracudas, and tiger sharks. You may also cross paths with sea lions, orca whales, dolphins, moray eels, and eagle rays.
As we mentioned earlier, Darwin island gets strong currents (1 to 3 knots), so it may not be a very good site for beginner divers.
The water is comfortably cool with a visibility can between 10 to 100 feet.
Best Time to Visit:
If you're wondering about the best time to go to Darwin island, you'll be happy to know that anytime throughout the year will give you a terrific scuba diving experience around the island.
That said, if you're aiming for the warmest months, then stick to the period from January to the end of June. The temperature of the water during this time is usually between 68 and 82 degrees F.
If you prefer cooler waters, plan your trip during the period from July to December when the temperature drops to between 64 and 75 degrees F. Keep in mind, however, the colder months are the dryer of the year.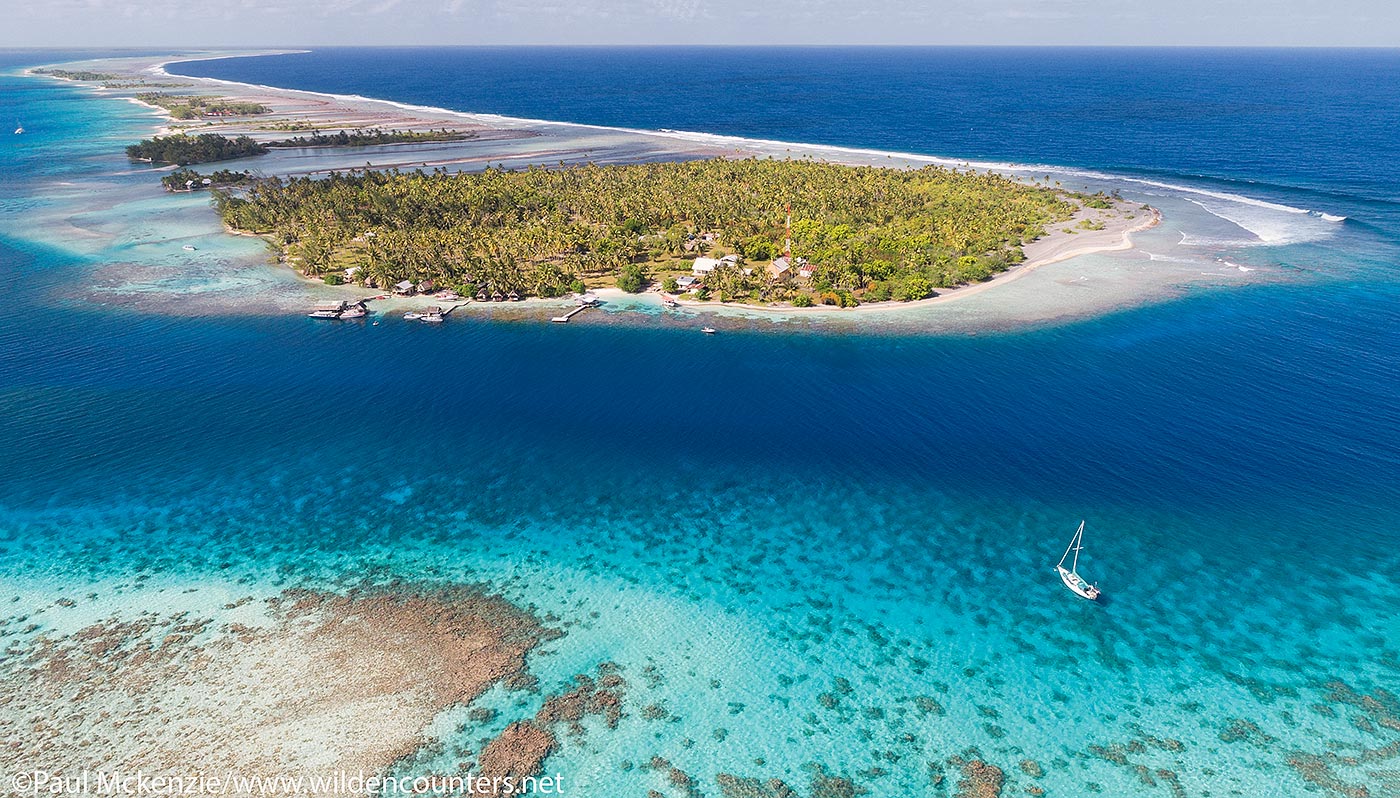 South Pass – Fakarava, French Polynesia
If you love sharks and are searching for the perfect destination to satisfy your shark diving need, look no further than the south pass of Fakarava in French Polynesia. This place offers divers the ultimate shark experience and will definitely leave your adrenaline levels fully recharged.
The entire French Polynesia is globally recognized as a shark diving paradise and the south of Fakarava is where you'll have the highest possible chance of seeing the wall of sharks.
You don't need to bait or feed the sharks for this to happen. In fact, French Polynesia has a legal ban on any form of shark baiting or feeding.
What's more, you don't need a lot of experience diving to access south pass dives and have an exciting time. Once you feel comfortable with the current, you can go ahead and start your dive (no more than a 65-foot depth).
So what can you expect to see when scuba diving at the south pass of Fakarava, French Polynesia?
Also known as Tumakohua Pass, you can spot gray sharks. lemon sharks, hammerhead sharks, whitetip sharks, humpback whales, and marbled groupers.
Best Time to Visit:
Generally speaking, any time of the year is a good opportunity to see sharks in Fakarava. The temperature of the water averages between 78 and 83 degrees F, so a 3mm suit will do the trick.
That said, if you want to target warmer weather, plan your visit during the period from April to November. Otherwise, you'll go during the rainy season.
Also, some special fish seasons you may want to consider include:
From February to March: the hammerhead shark season.
From mid-June to the start of July: the mating season of marbled groupers.
From August to October: the humpback whale season.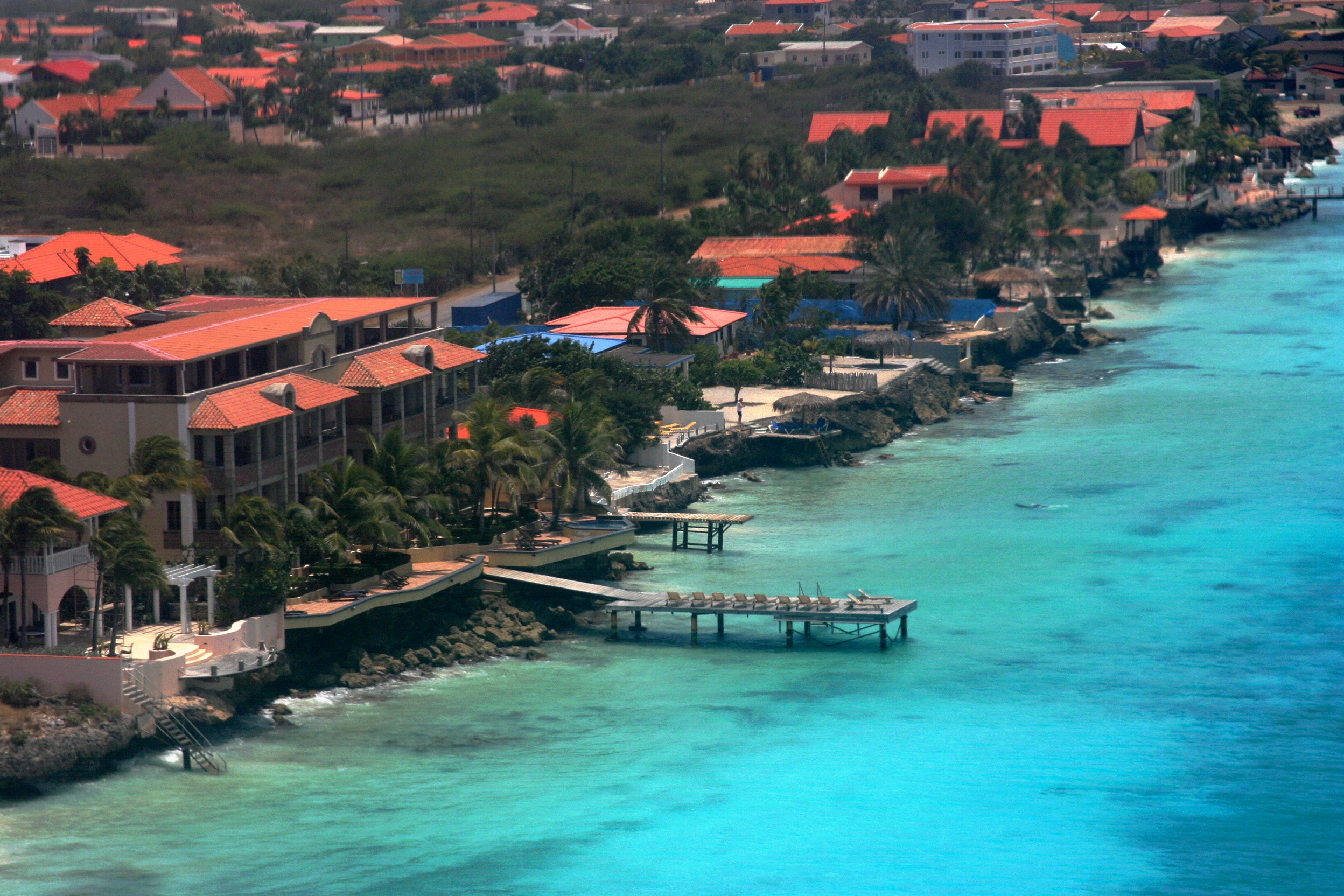 Bonaire Island, United States
Bonaire Marine Park or Bonaire island is located in the Dutch municipality in the Caribbean Sea.
So what can you expect to see scuba diving down there?
Bonaire island has almost 100 diving destinations that you can enjoy exploring, featuring everything from astonishing bright corals to a vast population of more than 350 species of fish.
The island itself is a sight to behold with white sandy beaches and pristine turquoise waters.
Best Time to Visit:
The ideal time for you to make your way to scuba dive in Bonaire island is late winter throughout mid-spring. As such, it's best to plan your trip from December to April.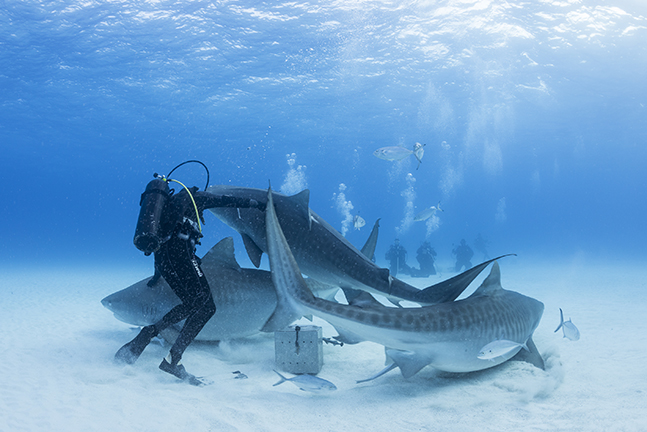 Tiger Beach – Grand Bahama Island, Bahamas
Tiger Beach gets its name from its star population of a certain species of sharks; have you guessed it yet?
That's right, if you want a guaranteed encounter with tiger sharks, just head over to the Grand Bahama in the Bahamas and knock yourself out!
So what else can you expect to see at Tiger Beach, Bahamas?
Well, get ready to swim with a wide range of sharks such as lemon sharks, oceanic whitetip sharks, reef sharks, nurse sharks, and hammerhead sharks. Don't forget to bring your shark repellent just in case.
Best Time to Visit:
The peak time to go scuba diving at Tiger Beach is during the period from October to January.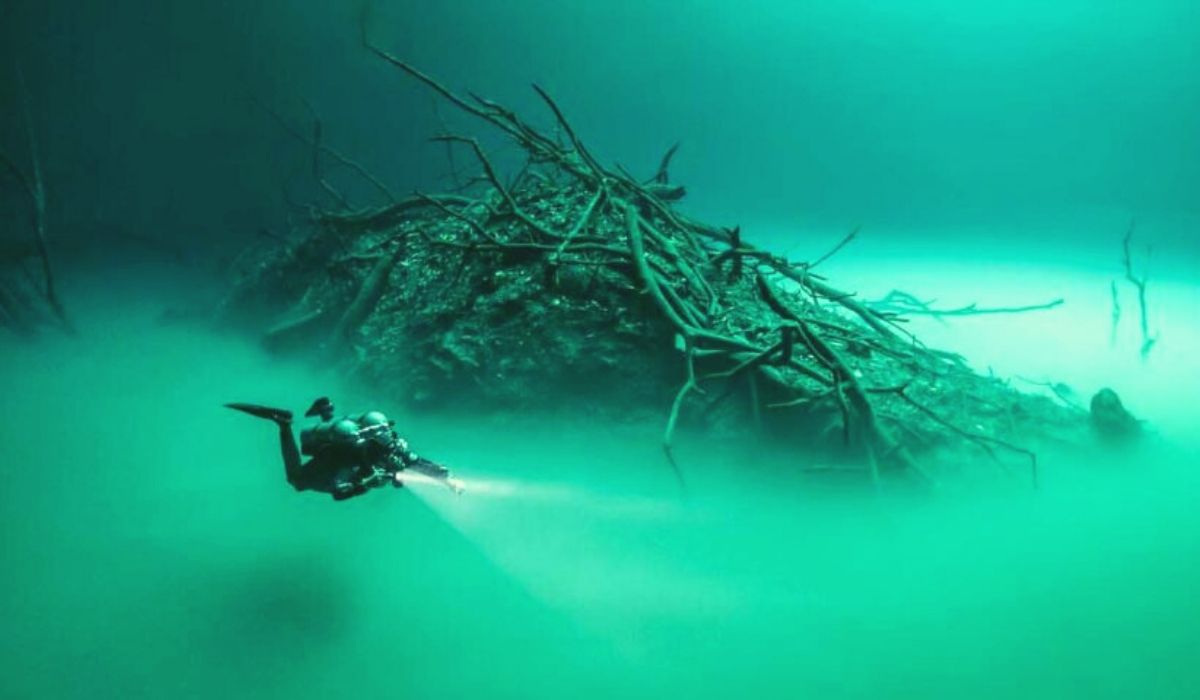 Cenote Angelita – Tulum, Mexico
There's an undeniable magic to cave diving. It could be the thrill of exploring the unknown darkness or the anticipation of what type of aquatic life you'll encounter, but either way, there's no better place for such an adventure than Cenote Angelita in Tulum, Mexico.
Out of the thousands of cenotes in the Mexican Yucatan Peninsula, Angelita has an extra dose of mystic beauty that makes it a hot destination for divers from all over the globe.
You'll literally feel like you're entering another world at a depth of about 100 feet where a hydrogen sulfate wall separates the saltwater at the bottom from the clear fresh water above.
Best Time to Visit:
Make sure you plan your scuba dive in Cenote Angelita during the period from May to September to get the most out of the experience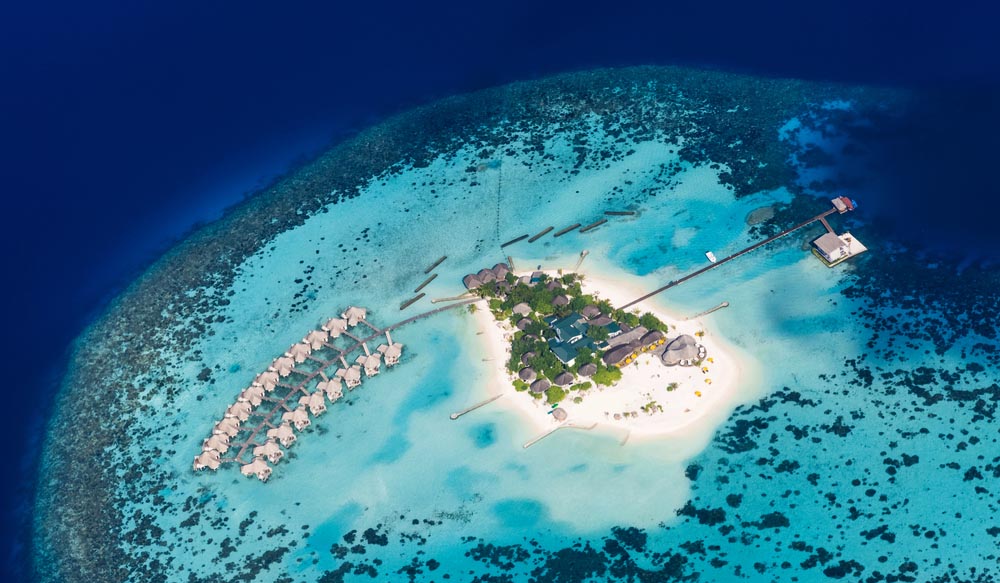 Maaya Thila – South Ari Atoll, Maldives
 No one can argue that the Maldives are a sight for sore eyes. The surface of the islands is known for its charm, but their underwater offers just as much beauty that has been luring in divers for many years.
Maayala Thila is one of the locations you can't miss while visiting the islands. It's small in size, but it's huge in value.
So, what can you expect to see when scuba diving in Maaya Thila, Maldives?
The caves and corals spread across the Maaya Thila area are home to a wide range of marine life. You can see white tip sharks, manta rays, clown triggerfish, blue-faced angelfish, wrasse, shrimp, giant sea turtles, dog-toothed tuna, parrotfish, and a lot more.
Best Time to Visit:
Wondering when's the perfect time to scuba dive in Maaya Thila?
Well, anytime of the year is fine, but the period from January to April provides the best conditions since the weather is dry and warm. Not only will you get amazing visibility, but the population of whale sharks and mantas is at its peak.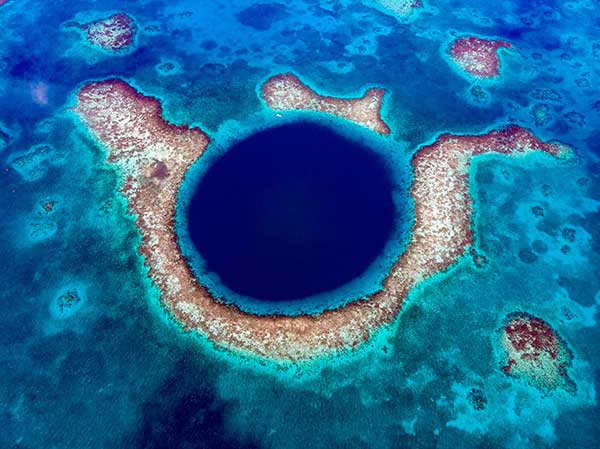 Great Blue Hole, Belize
Belize is a Caribbean country in Central America that houses the largest ocean sinkhole on the planet. It's so big, you can see it from space!
The Great Blue Hole lies at Lighthouse Reef off the country's coast. It offers divers a chance to experience what exploring the deep, dark waters of the sea is really about.
You can encounter many aquatic creatures in this dive site including blacktip tigers, bull sharks, nurse sharks, Pederson's shrimp, hammerhead sharks, angelfish, and purple sea fans.
Best Time to Visit:
Belize is welcoming for divers year-round, but the period from April to June has the best conditions.
Final Thoughts
There you have it, our top 15 recommendations for the best places to scuba dive in the world. As you can tell by now, our beautiful planet has plenty of mesmerizing diving sites to fulfill your adventurous needs.
So, if you can't fit all of the spots we discussed today in your schedule? How do you choose?
Well, we believe that the best approach is to determine what you want to see most and browse through the list to pinpoint which locations offer what you see.
For example, if you're into shark diving, the south pass of Fakarava in French Polynesia would be a fantastic match. On the other hand, if you're more interested in an all-around experience, a visit to Electric Beach, Oahu is a safe bet.