Electric Beach, Oahu: All You Need To Know
Also known as Kahe Beach, Electric Beach is one of Oahu's best spots for snorkeling, swimming, and simply enjoying the sight of the sparkling water while sunbathing. If this is your first time in Hawaii and you're ready to explore its beautiful beaches, Electric Beach is a must-visit!
Yet, before you put on your sunglasses and prepare your swimsuit, why don't you take a few minutes to learn more about this wonderful Hawaiian spot?
In this article, we'll be your faithful guide to Electric Beach, Oahu. We'll dive deeper— pun intended! —into its location, natural features, the activities you can try while you're there, and more.
Electric Beach Location
Electric Beach refers to Kahe Point Beach Park, which sits on Oahu's southwest coast. It's an easily accessible area that lies north of Ko olina, a few miles after the H1 shifts into a highway.
If you look at a satellite view of the beach, you'll notice that it's backed by a mountain, upon which the Farrington Highway meanders. On that mountain, there's a power plant that feeds electricity to the surrounding area, which is why Electric Beach has that interesting name!
Sure, it's by no means a large public beach. Yet, this small spot is teeming with attractions and activities that a lot of tourists go out of their way to spend a day in this beautiful area.
You'll soon understand why!
Natural Characteristics
One of the first things you'll notice about Electric Beach is the lack of tall palm trees, which are often associated with a vacation in Hawaii. Thankfully, other breathtaking natural features make up for that, as you'll discover right below.
Surrounding Landscape
While simple, the landscape around Electric Beach is surely Instagram-worthy! The squat yet fascinating beach sits on the side of a mountain that has stretches of green on top of it. But that's not the only green thing you'll witness there!
The beach area itself has lush, green trees peppered here and there.
As for the sand, it's almost a beautiful white color, fine in texture, and always warm underneath your feet.
Of course, compared to other larger beaches, the patch of sand in Electric Beach doesn't go on for so long, but it can still be just perfect for sunbathing or enjoying a book with a cold, refreshing drink!
There's also an awesome lookout point only a short walk from the parking lot. Here, you'll get to stand on the rocks overlooking the vibrant blue water below where wildlife thrives. Remember to take several pictures in this exact spot with the beach at your back!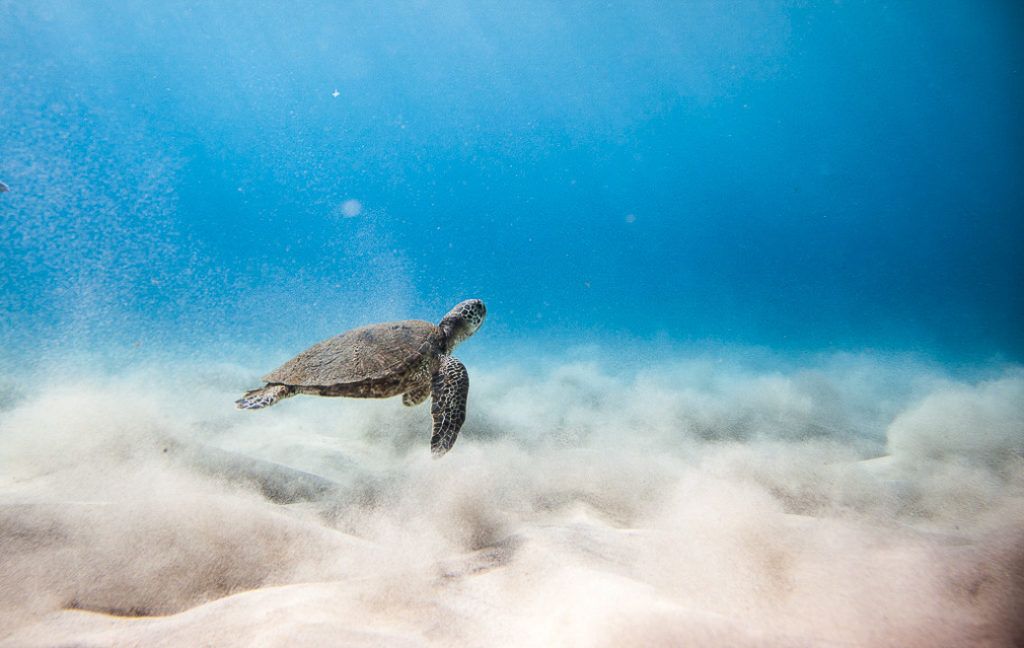 Wildlife
Everyone who's ever been to Electric Beach knows that the real charm of the place lies underneath the surface. Based on the spot you'll be snorkeling in, you can encounter anything from glorious sea turtles to coral reefs.
In fact, there's a pipeline that extends underwater to provide the ocean water with warmth. If you follow its direction, which extends further to the west, you'll find all forms of wildlife that prefer to stay near it to get some heat.
This includes coral— which usually covers the pipe itself, sometimes making it hard to identify it, different fish species, and starfish. At night, you might be lucky enough to see lobsters and crabs!
The North Reef is the way to go if you want to take a closer look at shark caves. There's even a secret Buddha statue lying beneath the surface — that's definitely worth checking out!
Other forms of wildlife in Electric Beach include:
Dolphins

Monk seals

Rays

Eels

Whales (during the winter)

Octopi
Weather
Just as you'd expect, the weather in Electric Beach, Oahu is almost perfect all year round. Sure, it's slightly chill in winter, but nothing a good full-body wetsuit can't handle!
To put everything into perspective, the highs are usually somewhere in the mid-80s or even 90s in summer, while the lows can be in the 70s.
In winter, there isn't a big difference since the highest temperature tends to be around 80 degrees. On the other hand, the lowest temperature is somewhere around the mid-60s. Not so bad, ha?
Electric Beach, Oahu Activities to Try
Now, here's the fun part! If the earlier descriptions of this little haven have tempted you to pack your bags and take the earliest flight to Oahu, just wait until you know more about all the cool activities you can do there.
Since this beach is best known for its unmatched snorkeling experience, this activity has to be the first item on our list.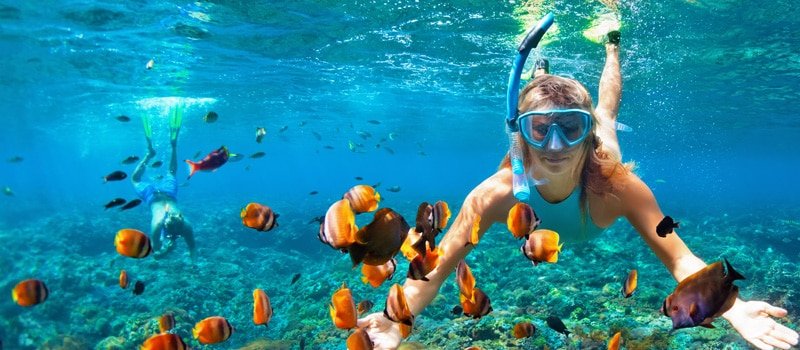 Snorkeling and Scuba Diving
Electric Beach, as we've previously mentioned, has a wealth of wildlife just a few yards off the shore. From reef sharks to schools upon schools of fish, this beach has a lot to offer. This is why snorkeling, scuba diving, and freediving are a must-try there.
However, you must be an experienced diver to go deep into these waters. That's because the current tends to pick up sometimes, so it needs someone with strong stamina to withstand its shifting mood.
Even people with some experience in snorkeling and scuba diving sometimes prefer to use a floatation device to be extra safe. Plus, it's always a good idea to go snorkeling with a friend in case of an emergency.
When you're ready to dive in, the small stretch of sandy beach will be your access to the water. Just keep in mind that it can be a little tough to swim farther from the shore as the currents tend to get stronger and stronger.
Still, when you reach the Pipeline, North Reef, or South Reef, you'll probably forget all about the challenging journey in exchange for the breathtaking sights that'll be waiting for you!
Peaceful Beach Swims
Even inexperienced divers or people who aren't very much into spending a long time underwater can have some fun at Electric Beach. Just one look at the sun's reflection on the clear, warm water will have you rushing to hop right in!
You can even do some light snorkeling close to the shore as a form of practice. The reef over there may be the right spot to start a mini adventure without going too deep into the ocean.
Alternatively, you could just lie on the sand to get a healthy sun tan. Another great idea is to have a delicious picnic with your family or friends, or grab a few drinks with your significant other and watch the sunset.
Exploring the Mermaid Caves
While they're not technically part of Electric Beach, the Mermaid Cove is located so close to the beach's northern parts. Judging by the name alone, you can tell they're worth visiting!
These sea caves are half submerged in water, and you can either look into their interior through skylights on the rocky coastline or descend into their depths yourself. On most days, you'll find these caves filled with water, the height of which tends to vary depending on the tides.
For example, sometimes, the water inside the Mermaid Caves will only reach your knees. Other times, they might get to your shoulder or even go above your head entirely!
Anyway, just keep in mind that despite their appeal, especially for adventurous people, going into these caves may be risky. That's why you should only enter them when the tide is low and the current isn't strong.
If not, the caves can quickly fill with water, which not everyone might be prepared for.
Surfing
Last but not least, surfing the waves of Electric Beach's Tracks surf break completes the list of all the cool things you can do in this beautiful Hawaii spot. The Tracks is a surf break that's mostly used by locals, making it an awesome spot if you want to mingle with the people of Hawaii.
Usually, the currents there are mild, giving beginner to intermediate surfers a chance to enjoy the waves without worrying too much about strong winds or tides. Still, you should remember that the currents and weather can sometimes be unpredictable.
That's why you should watch the waters and nearby trees carefully before and while surfing. Using your senses to detect the change in your surroundings can help you make quick decisions and avoid troublesome situations. So, listen to your instincts!
To Wrap It Up   
Spending a day in Electric Beach, Oahu will surely be a rewarding experience for everyone involved. Whether you're a seasoned diver, learning to surf, cave explorer, or just someone who loves the beach and marine life, Electric Beach can definitely entertain your needs!
Over there, you'll get to see anything from dolphins to large schools of fish to sea turtles. The coral is also a sight to behold, so make sure you get an eyeful of it.
By the end of the day, we're sure you'll be leaving the lovely Hawaiian spot with a lot of happy memories and your phone's camera gallery full of awesome pictures!