Do you enjoy snorkeling but your vision problem is hindering you from getting the best experience? Don't fret as there are cheap prescription dive masks available that can help those with poor sight. In fact, they are considered game changers for the customer who doesn't own contacts lenses and cannot find a dive shop that supplies his underwater activity needs.
Let's check out our reviews of the best full face snorkel dive masks for those who rely on prescription / reading glasses instead of contacts:
Best Prescription Snorkel Mask List
A prescription snorkel mask for snorkelers can help you see clearly underwater if you have vision problems such as nearsightedness or farsightedness. As water bends light differently than air, a prescription diving mask has lens specifically designed for underwater use.
Prescription Mask – Comparison Table
IMAGE
SNORKEL MASK
FEATURES

Nearsightedness:

-1.0 to -10.0 diopter

Farsightedness:

+1.0 to +5.0

Price:

$$

Check Price

Nearsightedness:

-1.0 to -10.0

Farsightedness:

+1.0 to +4.5

Price:

$$

Check Price

Nearsightedness:

-1.0 to -10.0

Comes with:

Unique Buckle Strap

Price:

$$

Check Price

Available Colors:

12

Farsightedness: +1.0 to +3.5
Price:

$$

Check Price

Nearsightedness:

-1.0 to -8

Farsightedness: +1 to +4
Price:

$$

Check Price

Nearsightedness:

-1.0 to -10.0

Farsightedness: +1 to +4.5

Check Price

Nearsightedness: -1.5 to -6.0
Comes with: Anti Fog Technology
Price:

$$

Check Price

Nearsightedness:

-1.0 to -10.0

Comes with: Hypoallergenic silicone skirt
Price:

$$

Check Price

Comes with:

Low Volume Design

Available Colors:

6

Price:

$$

Check Price
These cheap masks are the answer for the customer who wears glasses, does not own contact lenses, but don't want to miss exploring the beauty beneath the sea surface.
As a general rule of thumb, if you need prescription reading glasses for everyday use, then you need a way to correct your vision for snorkeling or diving. This is where a prescription diving masks come into play.
Here are our top 3 reviews for the best prescription snorkel mask:
Promate Optical Corrective Scuba Dive Snorkeling Mask Prescription Lenses – We love this due its lightweight design, good sealing, and the fact that it is available for a wide range of vision problems. It even has a camera mount.
Prescription Purge Mask Combo Set – It's a good choice if you want a complete set of snorkeling gear or diving gear that you can't find in a dive shop. This mask also comes with many remarkable features.
Scuba Choice Black Dive Mask NEARSIGHTED Prescription RX Optical Lenses – Easy to adjust, comfortable to wear and reliable seal – These are just some of the features that you'll love about this mask.
Top 9 Prescription Snorkel Masks
With corrective lenses for:
Nearsightedness: From -1.0 to -10.0 by increments of 0.5 (for near sighted)./OP250
Farsightedness: From +1.0 to +5.0 by increments of 0.5 (for far sighted)./OP250
Bifocal lenses (aka Gauge Reader): From +1.0, +1.5, +2.0, +2.5, +3.0, +3.5, +4.0./OP251
This ProMate Scope Scuba Dive Mask (MK245) is a great choice for those who frequently visit the underwater world for snorkeling or diving. Its half-face design allows you to equalize the air pressure as you go deeper. This brand offers masks fitted with lenses for individuals with farsightedness, nearsightedness and bifocal optical problems.
This mask measures about 4-1/2-inch wide and 3-3/8-inch long, which is ideal for the customer with medium-sized faces. If you have a bigger face, the frame may stick too tight which can be painful to your head and the root of your nose.
Moreover, this 2-window dive mask has tempered lenses in two parts: the upper part for distance vision (no prescription needed) and the lower part for nearsighted vision with adjustments for close-up view. This is a great feature as it offers versatility in terms of viewing ability.
With camera mount
Good seal – with minimal water leaks
With prescription lenses for farsighted, nearsighted and bifocal
Tempered glass does not easily scratch
Not ideal for those with bigger faces
With corrective lenses for:
Nearsightedness: from -1.0 to -10.0 by increments of 0.5.
Farsightedness: from +1.0 to +4.5 by increments of 0.5.
This relatively cheap snorkel mask with prescription lenses is another well-made product from Promate, one of the leading manufacturers of snorkeling and diving gear in the world. The Prescription Purge mask has a low profile just like the first one in this list, and it is also great for deep water snorkeling. However, it is more ideal for snorkelers with a slim face.
When it comes to the design, you can tell from its look that this mask is made with its glasses users in mind. It is made of soft silicone for optimum comfort. With a built-in purge valve and channel below the skirt, it keeps bubbles away from your view.
This means that you can clearly see your surroundings without any obstructions. It also has easy-to-adjust buckles for snug fit. This will ensure that the snorkel mask stays in place during the entire duration of your adventure.
What's notable in its design is the soft dimples on both sides of the nose pocket which is shaped to closely stick to the user's nose, making it easier for you to equalize the pressure. As a result, it makes breathing easier.
Comfortable to wear due to its soft silicone material
Tempered glass lens does not easily scratch
With prescription lenses available for farsighted and nearsighted visions
Allows for easy equalization
Foldable to fit a tight space
Purge valve allows for uninterrupted view
With corrective lenses for:
Nearsightedness: -1.0, -1.5, -2.0, -2.5, -3.0, -3.5, -4.0, -4.5, -5.0, -5.5, -6.0, -6.5,-7.0,-7.5, -8.0,-9.0, -10.0
If you suffer from nearsightedness with different prescription for each eye, don't own a pair of contact lens, and you also enjoy going deeper into the sea for a diving or snorkeling adventure, choose this pair of snorkel mask. It is designed to be extra comfortable since it is made of a very soft crystal silicone material with an easy-to-adjust buckle strap.
This mask with prescription lenses has a durable construction with a reliable seal. A reliable seal is vital to prevent water from leaking in and causing more pressure on your face especially when you are in a deep spot.
With its lightweight design, you can also conveniently wear it without any hassle. Nobody wants to wear a heavy mask that can hinder your movement and affect your overall experience.
Good seal
Comfortable to wear
Buckle strap is easy to adjust
Also available for those that require different corrective lens for each eye
Issue with fogging but you can fix this with an anti-fogging spray
With corrective lenses for:
Farsightedness: +1.0, +1.5, +2.0, +2.5, +3.0, +3.5,
This snorkel mask with prescription lenses can be your best friend if you are farsighted, don't own contact lenses, and love to spend a great deal of your time snorkeling or diving. The available corrective lens is up to +3.5 diopter, you may also order one with different diopter for each eye. Only some brands give you this option.
The Scuba Blue Dive Mask is lightweight and very comfortable to wear. Aside from that, its soft and clear material also allows you to have a better peripheral vision which is an excellent feature to see the vastness and vibrant colors of the underwater world. Moreover, because of its soft and lightweight material, you'll feel comfortable wearing it even for an extended period.
Also available for those that require different corrective lens for each eye
Buckle strap allows for easy adjustment
Comfortable to wear
Issue with fogging
Lens option is limited, for farsighted only up to + 3.5, while other brands offer up to +5
With corrective lenses for:
Nearsightedness: -1.0 to -8, by increments of 0.5.
Farsightedness: +1 to +4 by increments of 0.5.
Whether you have a problem seeing objects from afar or up-close, you'll have no problem seeing the subaqueous beauty if you use this snorkel mask with prescription lenses. It is available for farsighted and nearsighted glasses users, with lens options of up to -8 and up to +4 diopter.
Aside from a wide range of options for prescription lens, this mask is also available in different colors, which means that you can easily choose one that best reflect your personality.
In terms of comfort, you can tell from its polycarbonate frame and soft silicone material that it is quite soft and not painful to wear.
On top of that, it also has a wide split silicone strap to ensure a snug fit without the uncomfortable head squeeze. All the materials used are hypoallergenic, which is ideal for those with sensitive skin.
Suitable for divers with sensitive skin
Has a wide range of options for color and lenses
Comfortable fit
Issue with fogging
One-size-fits-all design
With corrective lenses for:
Nearsightedness: From -1 to -10 by increments of 0.5.
Farsightedness: From +1.0 to +4.5.
This is another prescription mask from one of the most popular brands in the world, Promate. The Promate Sea Slender mask is a perfect choice for deepwater snorkeling and if you have a medium-sized face as the frame is only 4-1/2-inch wide and 3-3/8 inch long.
There are prescription lenses available for both farsighted and nearsighted users as well as for those with an independent prescription for each eye.
Just like its other Promate counterpart, this dive mask also features lens made of tempered glass, which makes it extremely durable under pressure.
What's good about tempered glass is that it does not easily scratch unlike polycarbonate lenses. Moreover, it is also crafted with a crystal liquid silicone-injected skirt and strap as well as a double-edge comfort seal that offers optimum comfort. The buckles are also easy to adjust, so should have no problem achieving a custom fit.
Offers a broad peripheral view
Buckles are easy to adjust
Soft dimples on the nose pocket allows for easy equalization
Issue with size – It is a bit small
With corrective lenses for:
Nearsightedness: from -1.5 to -6.0 by increments of 0.5
Choose this full-face snorkel mask if you fancy recreational snorkeling near the sea surface. It is also one of the best snorkel masks for beginners who aren't comfortable breathing through the traditional tube snorkel for some reasons.
This prescription snorkel mask can give you a good experience despite your sight issue. You can even get one even if your eyes have different diopter requirements.
This prescription mask is unlike most full-face snorkel mask we have featured in this list since they are made of silicone material. This one is made of silica gel and plastic which also offers an equally comfortable fit.
It also has specially made breathing chambers inside the mask as well as an advanced dry snorkel to help you breath naturally. And to give you the best optical view, this snorkel mask is also fitted with large lenses with a curved window design that allows for good peripheral view.
Made of durable tempered glass
Allows for natural breathing
With anti-fog technology
Size is easy to adjust
Issue with fitting
Prescription lenses are only available up to -6.0 while many other prescription masks offer up to -10 diopter
With corrective lenses for:
Nearsightedness: from -1.0 to -8.0
It's good to have a versatile mask such as the Cressi Dive mask that you can use for a wide range of water activities. Choose this snorkeling mask if you do other activities, and wear glasses without contact lenses, such as diving and spearfishing.
It is for a reason that this product is considered as an ultimate versatile prescription mask. In terms of design, it fits well for a wide range of facial shapes and sizes. In terms of usage, you can use it for both shallow and deep water activities with no problem. It is lightweight so you can easily carry it with you without additional discomfort due to weight.
Moreover, this mask has many other standout features for snorkelers. On top of the list is its inclined glasses which is a patented technology of Cressi. It also has a low-volume design with minimum distance between the eye lens. These are great sight features as they give you excellent peripheral visibility.
Has hypoallergenic silicone skirt
Double-feathered edge seal for high level of comfort and fit
Revolving strap buckle design allows for instant adjustment
Inclined glasses give you good peripheral vision
With corrective lenses for:
TUSA MC-5000
The Tusa Liberator Plus Scuba Mask is one of the most popular snorkel masks in the market, in fact, you may find a number of counterfeits for this product. It is a great improvement from the original Liberator mask from the same brand. It has a more durable frame with a smoother texture and softer material for comfort.
This mask is a good choice if you have a standard to narrow face and prefer a low volume and simple yet ergonomic design. A low-volume design combined with big lenses allows for better visibility, not only straight ahead but also including your peripheral view.
It also features a double feather edge skirt design made from a high-grade crystal silicone, which provides this mask a water-tight fit.
Seals water out effectively
Good quality glass
No fogging issue
Issue with comfort for users with larger faces
Prescription Snorkel Mask Buying Guide
Nearsighted vs Farsighted
Nearsightedness and farsightedness are among the most common vision problems that can be corrected using prescribed eyeglasses or contacts to compensate for refractive errors.
Nearsightedness (myopia) or "shortsightedness," is a condition wherein you can view objects clearly when they are near but objects farther away may appear blurry. The opposite is true for farsightedness (hyperopia), wherein objects at a far distance appear clearly, but objects nearby may be blurry.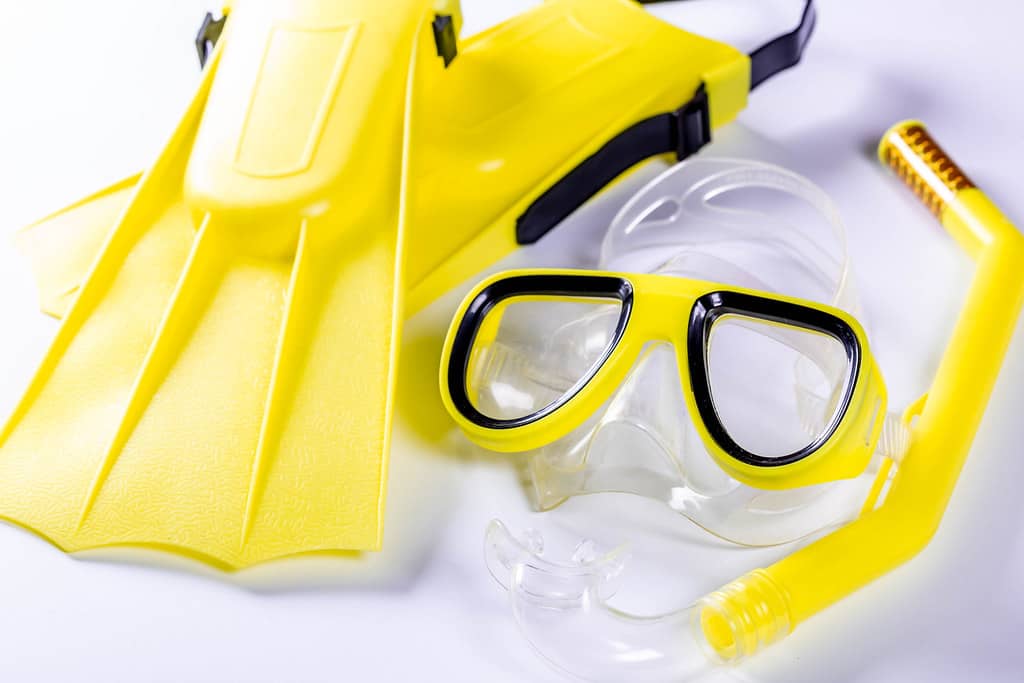 The degree of myopia and hyperopia is described in terms of the ideal correction you need. However, your snorkel prescription mask may be different from your eyeglass prescription because light behaves differently underwater than in air. An eye care professional that specializes in sports eyewear will adjust your eyeglass prescription for underwater use.
When you look at reviews for prescription masks for snorkeling, it's important that you pay close attention to its correction degree to match what you need.
They are typically expressed in minus or negative diopter (e.g. -1 to -10), or a plus or positive diopter (e.g. +1.0 to +5), typically in 0.5 increments. The negative diopter is for nearsightedness while the positive diopter is for farsightedness.
Cost
The cost of a prescription snorkeling mask vary greatly depending on the brand, integration and overall quality. For basic masks, the cost ranges from $15 to $30. The cost goes higher as more features are integrated or included, with costs ranging from $40 to $100 when you get closer to a 1.5 to 8.0 range. Generally, full-face masks are also more expensive than a regular low-profile dive mask.
Before you compare the cost, compare first the integrations and overall quality of the masks you are interested in. You'll be surprised to see that the cost can vary greatly between brands for a mask with the same integration and quality.
Can You Wear Glasses Under a Mask?
Masks typically don't fit over glasses. That's why people rely on their contacts lens if they have a pair. You may be able to find specially made over-glasses mask but they are a bit pricey for some customer. Wearing a prescription snorkeling mask is a more practical solution to correct vision problems underwater.
Full-face vs Regular Mask for Prescription Lenses
Your choice of prescription mask design depends on your intended purpose. A full-face mask is a great choice for recreational snorkeling near the surface. Full face masks have three advantages under this condition:
Better visibility – A typical full-face dive mask has a curved lens that extends behind your eyes, giving you a clear and uninterrupted 180-degree view.
Better water barrier – The mask seals around your entire face which in turn decreases the amount of water that can get into the mask which could affect your visibility and breathing.
Better breathing – With a full-face mask, you can inhale and exhale using your nose or mouth, allowing for natural breathing. Also, since it works without a mouthpiece, you can comfortably snorkel longer.
A regular snorkel mask, on the other hand, is more ideal for deep water snorkeling or diving. As water weighs heavier than air, when you dive down, the water creates pressure that pushes inward on your ears. This can be painful in your ear. Sometimes it can even cause serious ear problems. Also, if you're planning on snorkeling in deeper waters, make sure you're equipped with the proper snorkel fins, as well as a snorkeling vest.
The common way of equalization or clearing the pressure is by pinching the nose close and slowly blowing air out while your mouth is shut. You can only do this with a regular mask, not with a full-face mask.
Prescription Lens Integration
Many brands now sell custom prescription snorkel masks with corrective lenses that work for farsighted or nearsighted individuals. Before buying a mask, check the label if it has the integration that you need to see clearly while snorkeling.
How to Change Snorkel Mask Lenses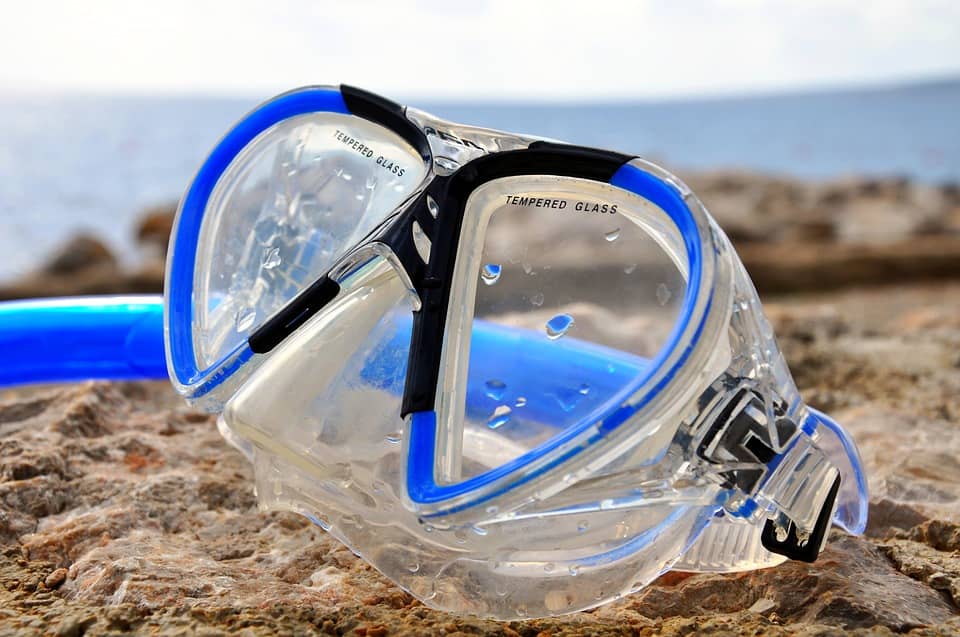 The steps involved in changing the lenses of your snorkel mask may slightly differ, depending on the brand or design. But these are the general procedure:
The first goal is to remove the mask top using any flathead screwdriver.
Once the top is removed, you can then remove the lens using a plastic wedge. Avoid using a metal tool as this may scratch the lens. It should not take much effort before you can pop the lens out.
To put the new lens on, simply push it down from the front until it properly sits on the frame.
Put back the mask top and you are done.
It may not be easy to find a suitable custom snorkel mask if you have issues seeing objects near or far. Not all brands offer prescription lenses especially if you need a different prescription for each eye. That is why we have rounded up some of the best prescription snorkel masks to help narrow down your options.
From the list of products above, our top choice for the best prescription snorkel mask is the Optical Corrective Scuba Dive Snorkeling Mask Prescription Lenses from Promate.
One of the unique features of this custom prescription snorkel mask is its high-quality tempered lens which has two parts to facilitate users that need far distance and near distance adjustment without prescription needed.
It also offers prescription lenses to aid those who are farsighted, nearsighted and with bifocal issues. Moreover, it has a camera mount which is also unique as many masks don't have this fittings.
Live Your Aloha Prescription Snorkel Mask Review
Prescription Snorkel Mask
★★★★★
"

I always wanted to enjoy snorkeling but didn't have any idea of how to solve this eyesight problem. I'm glad that my friend shared this post with me. I'm now going to enjoy my favorite sport with more fun and excitement
"