If you ask me, no seaside vacation is complete if you don't get to enjoy the ocean's beauty. I am not talking about swimming or surfing, but about going snorkeling where you get to swim with the fishes and view spectacular marine life.
I've visited quite a few snorkeling spots, and I find Kauai to be one of the most spectacular snorkeling beaches.
List of Best Kauai Snorkeling Spots
Kauai is one of Hawaii's oldest main islands and nicknamed 'The Garden Isle' for its abundant greenery. It's indeed a snorkeling haven with 50 of its 90-mile coastline of the white sand beach providing easy ocean access.
Besides, you can choose between beginner Kauai snorkeling spots and spots for the experienced; making it the ultimate dream and adventure destination. You'll be amazed at the ocean's glory and mysteriousness.
Hawaii's geographic remoteness presents you with fishes you can't find anywhere else in the world. This is why I've decided to share this beautiful snorkeling destination with you through this list of best snorkeling Kauai beaches like Lydgate Beach.
I've even divided them into spots that are better for beginners and advanced or intermediate snorkelers.
Top snorkeling spots in Kauai
For beginners
1.     Kee Beach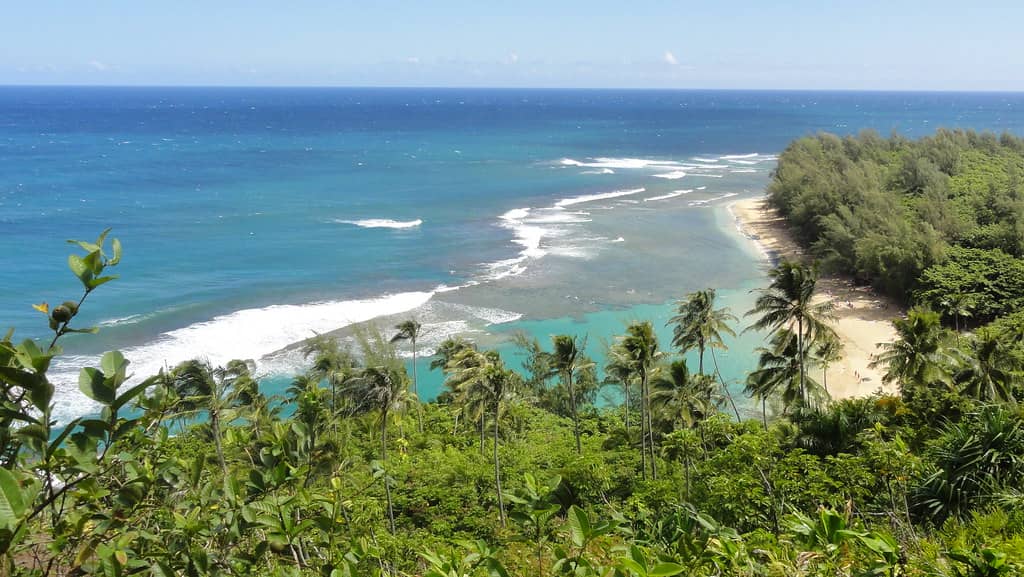 Kee Beach is the last Kauai snorkeling spot on the north shore accessible by car. It's a safe spot because of its more uniform seabed that lies in the protective reef.
You can go swimming and snorkeling in summer months in its calm seas but stay inside the reef and be careful of strong ocean currents for the rest of the year. There aren't many risky ocean hazards because the reef's quite visible most of the time.
The area is protected by large boulders towards Na Pali on the left, and sand down the coast. There are also some tall, stony plateaus blocking some wave power from reaching the beach under its surface.  You will enjoy the drive here because of the beautiful marine landscapes.
Snorkelers also enjoy watching the fishes here like parrotfish, sea cucumbers, surgeonfish and babies of so many fish species. If you are lucky enough, you may even get to see green sea turtles in the middle of the beach.
 As this is a relatively beginner-friendly spot, it can get rather crowded despite being in a secluded spot. This means its large parking lot fills quickly, especially in the summer months, so it's better to head out early in the morning.
There however are ferocious currents towards the left, so be careful if you venture towards it. It's even better if you avoid trying to enter the water from the left side at all, and instead go straight in from the sand into the shallows. Always talk with, and inform the lifeguards before you enter the water.
2.     Poipu Beach
 Poipu Beach on south Koloa side is one of America's best beaches with something for everyone. You can go swimming, snorkeling or body surfing and there's even a shallow, protected area for children.
Poipu beach on the south shore also offers fresh water showers, a restaurant, a convenient store, and Poipu beach park to meet all of your recreational needs. While there may not be much of sea marine life here, the beach does boast of a few fish and coral varieties and sea turtles.
Poipu beach park is a popular Kauai snorkeling destination for both beginner and advanced snorkelers. It comprises of two beaches separated by a sand split called a tombolo, something that exists in only a few places across the world. One beach is a calm and protected baby beach while the other offers various opportunities.
Poipu Beach in Koloa can, however, get dangerous in summer because of its southern swell. The swell even restricts underwater swimming. It's better to play safe and check with the lifeguard or local weather conditions before venturing into the water.
3.     Salt Pond Beach Park
 Salt Pond Beach is named after Hawaii's nearby salt collecting ponds. It's an excellent beginner Kauai snorkeling site with an offshore reef restricting big waves and protecting its crescent-shaped cove.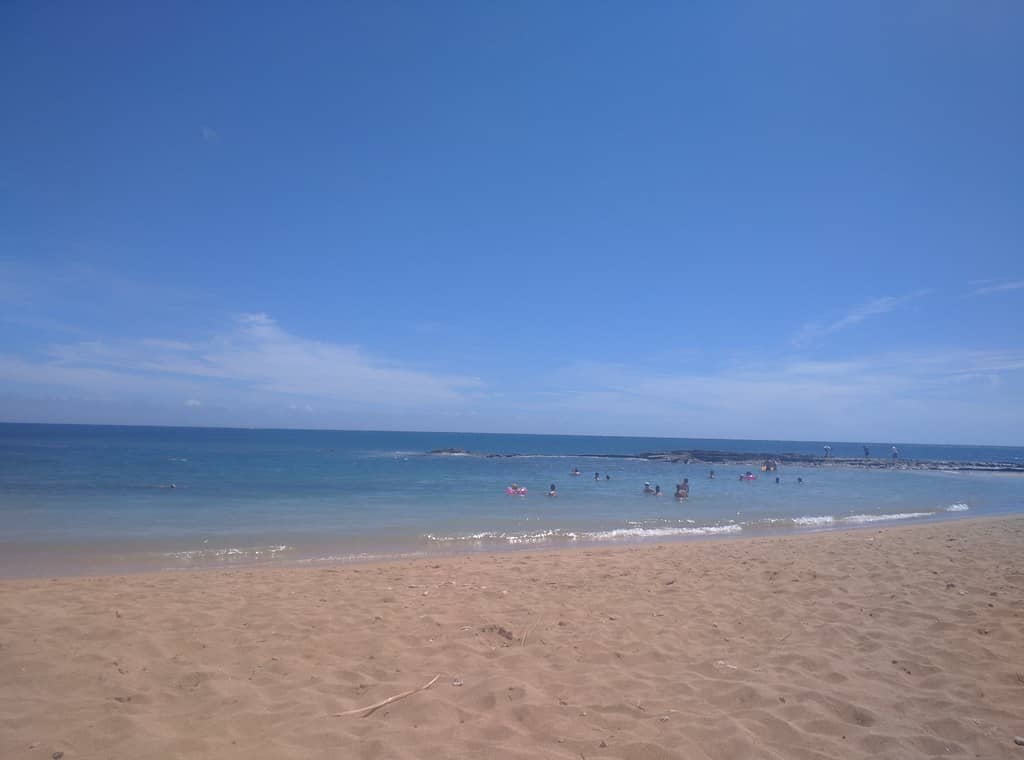 The spot is rather safe to explore the ocean, as long as you don't do it during high surf. Though there are lifeguards for your safety, you can save time and disappointment by first checking about the waves and currents before driving down.
 There's lots of parking here, so you don't have to worry about that. The beach facilities available here like public restrooms, outdoor showers, picnic tables, and outdoor BBQ grills make you spend a relaxed and enjoyable day here. It's also safe for kids to play on the lawn, sand and even in water.
While the beach entry's safe and simple, the squishy sand on the slopes tends to sink more than you think. Though the stones lining the cove edges are covered with algae, the center is all sand. There is however more fish among the huge rocks because of shallower water levels.
 You get to see an amazing variety of fishes here like baby goatfish, baby parrotfish, Moorish idol, and rainbow-colored wrasses. If you are lucky enough, you may even see the endangered Hawaiian monk seal. However give the mammal its space, and inform the lifeguards about your find if you do see one.
Intermediate or advanced snorkeling
 1.     Tunnels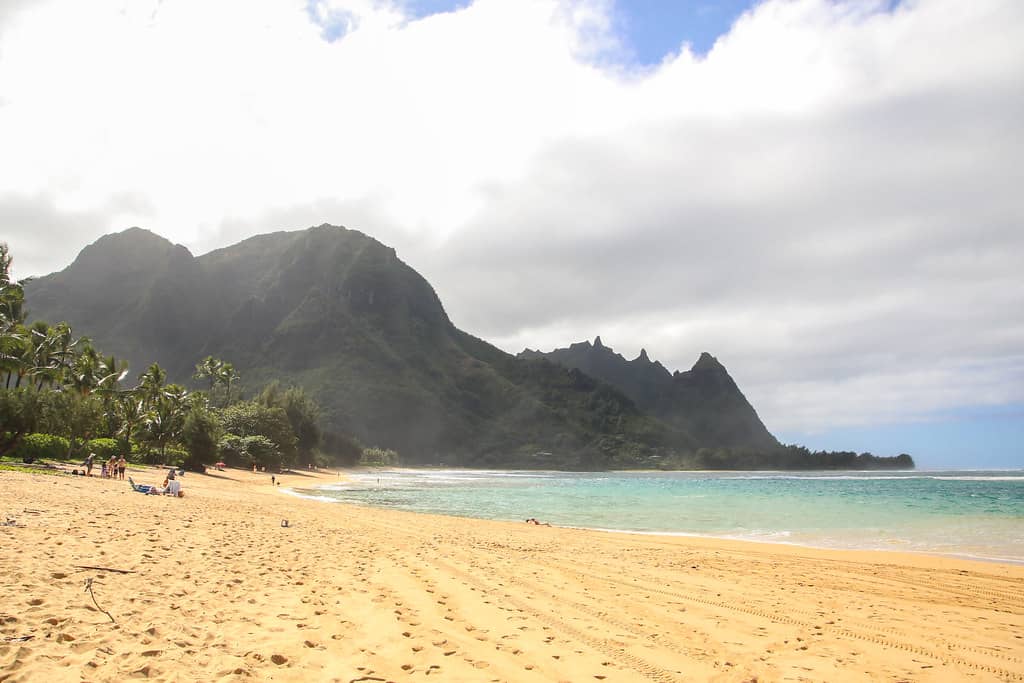 Tunnels or Makua Beach is on the north shore of Kauai and a famous spot for experienced snorkelers and scuba diving Kauai enthusiasts. It's the labyrinth of underwater canyons, tubes, and pathways supporting colorful sea life that gave the spot the name 'Tunnels'.
This is a horseshoe-shaped reef divided into a larger outer reef with lava tubes, arches and coral formations that protect the shallow reef. It's this large reef and strong beach currents that make this an advanced snorkeler's area.
 Though there aren't any restaurants or even bathrooms nearby, this picturesque and spectacular beach is usually very crowded with Kauai snorkel and Kauai scuba diving enthusiasts.
The parking is full most of the time, so it's better to reach here early in the morning with your own packed food. You don't want to go hungry and spoil your enjoyable day at the Tunnels.
2.     Nualolo Koi
 Nualolo Koi is located on the Na Pali Coast amidst an ancient fishing village and is perfect if you love challenges. It's one of Kauai's best locations boasting of lots of fish and healthy coral. However, reaching the Na Pali Coast is a challenge.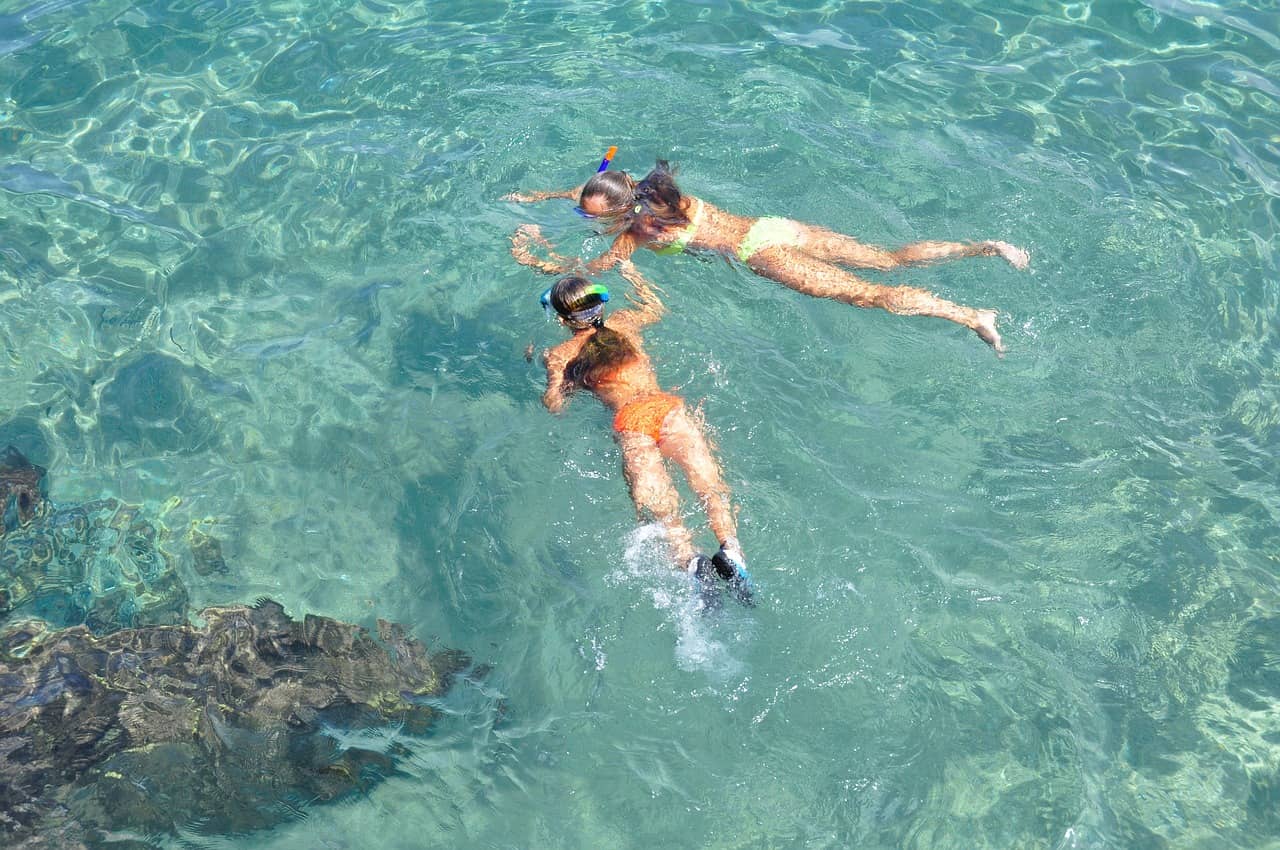 This is because there is only one way to reach Nualolo Kai, which is through an authorized boat ramp landing. Besides, you can't just head to Nualolo Kai anytime you want. A boat ramp landing can be done only during permittable conditions usually between April and September.
This means you can't visit Nualolo Kai in adverse water conditions. Besides, not all tour boats stop here, so do check and make bookings only with a company that does.  Not many can reach here by boat themselves, and not many are interested in going on paid guided tours here.
This minimal sea contamination and visitors and well-preservation may be why the water and corals are clearer here than in most snorkeling spots.
Any visit here at the right time is spectacular because I undoubtedly believe that this is one of the most beautiful spots on the planet. You find its reef sticking far into the ocean, and it's visible from nearly the entire north coast. You even get to see expansive mountain ranges with majestic 2000 ft cliffs towering over you.
You may want to know that there is no Wi-Fi internet or cellular network connection here for tourists. This may be disadvantageous to those who frequently do live streaming or who instantly upload pictures.
However, it also makes Nualolo Kai the ideal Kauai snorkeling spot if you enjoy snorkeling somewhere with minimal human activities.
 3.     Prince Kuhio Beach
 Prince Kuhio Beach is a rather busy underwater reef offering fantastic opportunities. You need to pay a visit if you want to catch a glimpse of the great Hawaiian Green Sea turtles.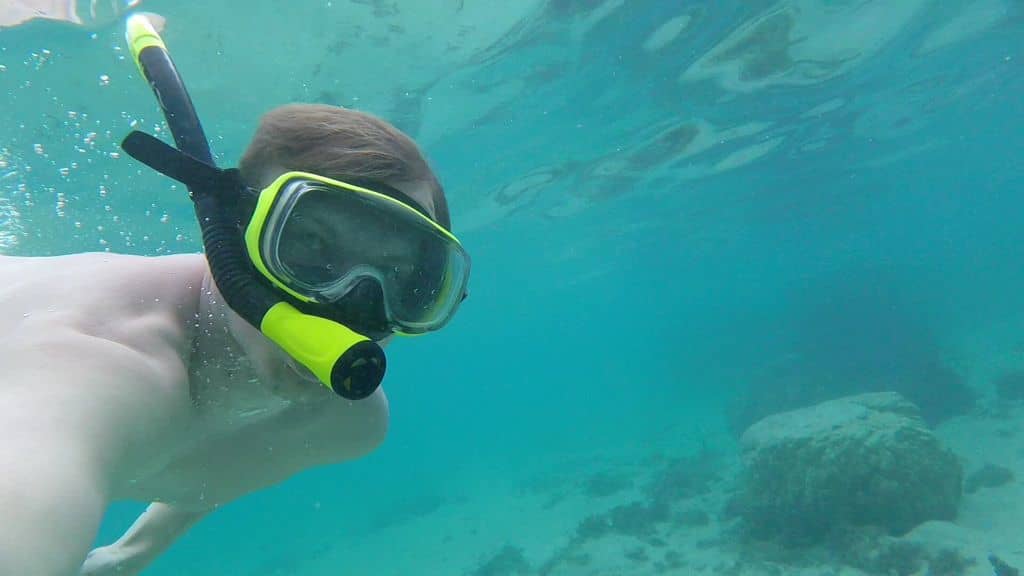 Prince Kuhio Beach is unfortunately not family-friendly because there's more of lava rock, and not sand here. If you wonder why this site is fit for intermediate snorkelers, it's mainly for its difficult entry and exit points.
 Prince Kuhio Beach, however, makes an ideal winter Kauai snorkeling site because of its calm waters. The only amenities available here are restrooms and outdoor showers. So while this isn't a good place for hanging out, it's perfect for water sports.
However, the tide tends to pull you westwards along the seawall front during high surf. Don't panic if this happens. Instead, stay calm and exit the water past the sea wall. Be careful to not step on sea urchins. Their sharp spines can puncture your skin and break off. While this is painful, it's not life-threatening.
It's better wearing protective water shoes here and be ready to float as soon as possible. However do not venture into the cove around its left side, because it's too shallow to be safe.
4.     Lawai Beach

 Lawai Beach is one of the more popular Kauai snorkeling spots on the south shore which is usually crowded. Unlike most snorkeling spots, it's rather easily accessible because it's located near Lawai Road, and there's enough street-side parking.
 The beach is protected by a barrier reef housing lots of fishes. Like most shorelines, you notice that the coral grows healthier, and visibility increases as you go farther out the reef. If you are lucky, you may even get to spot some green sea turtles in the evenings.
Experienced snorkelers and confident swimmers will enjoy exploring the area. However, beginners should first take a guided snorkel tour, and make sure you have the proper equipment such as a snorkel vest and fins.
It's after the guide teaches you some snorkeling basics will you be comfortable snorkeling independently against any swell currents. Besides there are no lifeguards on the beach to protect you from high wind or south shore swell currents.
The nearby Beach House Restaurant is the main reason for the spot's increased popularity. It serves delicious food, and you get a chance to watch the beautiful sunset as you devour your food.
There's even Lawai Beach Resort nearby, offering a lot to do if you get sidetracked. It also keeps you busy if you reach here at high tide when Lawai's small beach sometimes disappears.
 5.     Anini Beach
 Anini Beach is a great Kauai snorkeling spot for beginners located on the north shore. It has the largest Kauai reef protecting the wave action and relatively calm and shallow waters.
The various facilities like public restrooms, a large public park with picnic tables and outdoor showers found here to make your trip more relaxing. The beach is also kid-friendly towards the left, away from boats and where the water is usually calm throughout the year.
The coral reef here is full of sea turtles and beautiful fish like unicornfish, Moorish idol, and eels. You may even get to see a huge manta ray or some tiny seahorses, so don't forget your and your kids' snorkel sets.
The beach is also great for seashell collecting but be careful of strong currents during high surf. Just remember to respect wildlife and the reef they depend on, and to not touch anything while snorkeling.
The water off the campgrounds is beautiful, sandy and so shallow that you can see some fish here. It's so shallow that you can even touch the sandy bottom. The water gets deeper as you go further, but make sure you keep your limits and have enough energy for the return trip!
4.FAQs
 1.    Which side of Kauai is best for snorkeling?
 Most of Kauai's snorkeling spots are great. However, if you ask me, I feel that the North side offers the best spots in places like Kee Beach and Anini-Beach.
2.    Is it safe to snorkel in Kauai?
 While Kauai does have lots to offer in its spectacular beaches, fishes and sea turtles, it's better to be careful. It's because Kauai is more dangerous than other Hawaiian islands.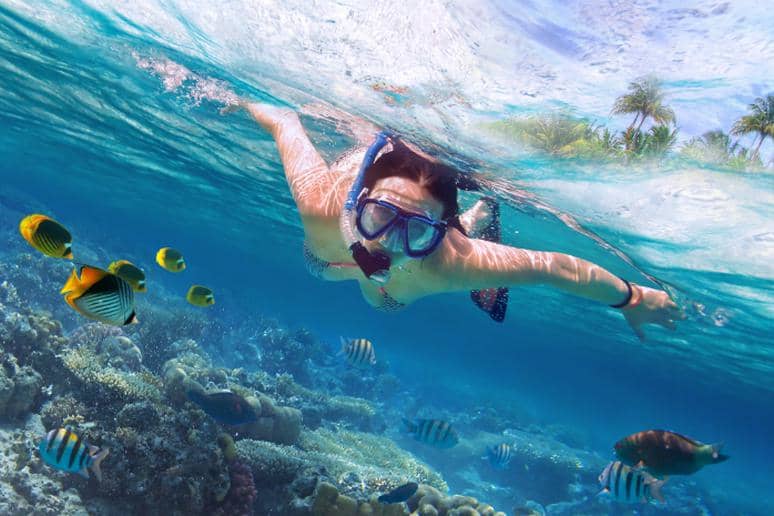 The spots are more exposed to trade winds and waves and produce strong ocean currents. Snorkeling is relatively safer behind protective barrier reefs. However, you may get caught in the outflow as the currents here flow into the reef back and sea.
 Besides, as Kauai is a mountainous island, only a few spots are accessible by road. You may have to hike down and back up some long, steep and slippery trails to reach some spots. Some other spots are accessible only by boat.
 3.    Is Hanalei Bay good for snorkeling?
 Hanalei Bay is not good for snorkeling because of its sand bottom meaning there's no reef supporting a variety of fish. Besides, Hanalei is directly exposed to winter surf through September to May and the currents are so strong that they can break sandbars. Snorkelers should be careful and preferably consult lifeguards before entering the bay waters.
 4.    Can you swim with turtles in Kauai?
 Yes, Kauai does offer some great opportunities along the South shore and North shore to swim with majestic Green Sea Turtles. It's a sight to behold watching them swim so gracefully despite their huge size.
However make sure you stay at least 10-15 feet away and don't chase, feed, touch, dance or ride them. You may end up fined as much as $100,000. Don't follow them too far away because you may end up in dangerous waters.
 Conclusion
 So you see, Kauai is a snorkeler's heaven. There are so many spots to choose from, offering spectacular landscapes and marine life to enjoy. Just make sure you select your spot right based on your level of snorkeling expertise and after learning what you will be getting yourself into.
The information I've provided here would help you out pretty well. I've mentioned which spots are perfect for beginner snorkelers and advanced snorkelers. I've also mentioned if there are any risks at the spot and the available amenities.
It's left to you to make a choice based on your experience and preferences. Just remember to be safe and respect marine life in whichever spot you select, and I assure you your vacation in Kauai will be one of the most memorable vacations in your life.
I especially like Lawai Beach because it's easily accessible, a beginner and intermediate snorkeling spot and has some amenities to make your adventure vacation more relaxed and memorable!