It is said that the late-stage volcanic eruptions here on Oʻahu were violent explosions that opened volcanic vents on the sea floor. This phenomenon involved wind-driven motion of dense, cooler, nutrient-rich water towards the ocean surface.
As this occurred, ocean water was vaporized and steam explosions shattered the sea floor – the coral reef and wave erosion eventually cut through the southeast wall of the crater to form the current bay.
Hanauma Bay has been a part of the Hawaiian history for a long time; the beach got its name from two Hawaiian words: "hana" which means bay and "uma" which means curved. This treasured landmark was traditionally a popular place for fishing, as the coral reef found in the bay is home to hundreds of different species of fish. In addition, the Bay provided a safe location for canoes and fishermen to protect and shield themselves against strong winds and large waves. They would often wait in the Bay until it was safer to continue on.
Hanauma Bay is not only known for its coral reef and fish, and a locale for several Oahu snorkeling tours; Elvis Presley brought waves of romance to the location with the filming of 'Blue Hawai'i'. John Wayne and Lee Marvin's film 'Donovan's Reef' was also filmed at Hanauma Bay.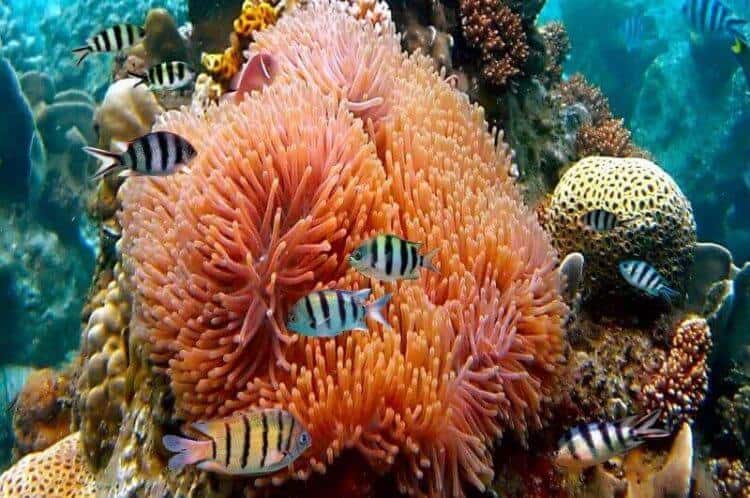 Today, this isolated state sanctuary is a favored snorkeling spot; tourists, locals, and visitors alike flock to this inlet of calm water to embrace the large coral reef and the bountiful species of fish.
Hanauma Bay is not without its legends. One popular variation speaks of Princess Keohinani and her father who was a mighty chief and protector of the bay. One day the chief was approached by Chief Koko and Chief Hana, two suitors that came to ask
for his daughter's hand in marriage. The Princess could not decide which of the chiefs she preferred, so her father commissioned them to an arm wrestling match. The victor would receive Princess Keohinani's hand in marriage.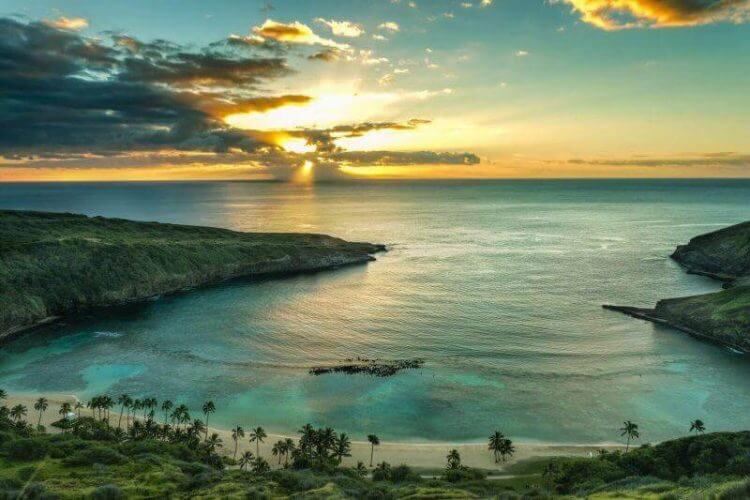 Surprisingly the two chiefs were an equal match; minutes turned into hours, and hours to days without a winner. Princess Keohinani loved them both and their impasse tortured her immensely. She begged her father to somehow end the standstill. So at his daughter's command, the chief went out, met the men, and ordered them to give up the match or face the consequences. Still neither man relented so the chief (who was also a gifted magician) used his magical powers to turn both Chief Koko and Chief Hana into mo'o (lizards), with their tails intertwined.
While the next sequence of events is described differently in various Hawaiian legends, the end result is that Princess Keohinani's love and devotion was so powerful that the gods heard her prayers and intervened. They transformed the two mo'o into huge mountains and assigned them to watch over the Princess and the bay she loved so much, Hanauma Bay. The two chiefs still face each other as they continue to fight for her love, their tails, now stone, but still connected.
Check out other great Oahu tours which include Hanauama Bay and Waikiki Beach.
[mc4wp_form id="1057″]
Useful Information:
Closed Tuesdays
Open: Wednesday – Monday 6:00 a.m. – 7:00 p.m.
State Park Entry Fee: $7.50
Military, Local Residents with ID and Children 12 and under: FREE