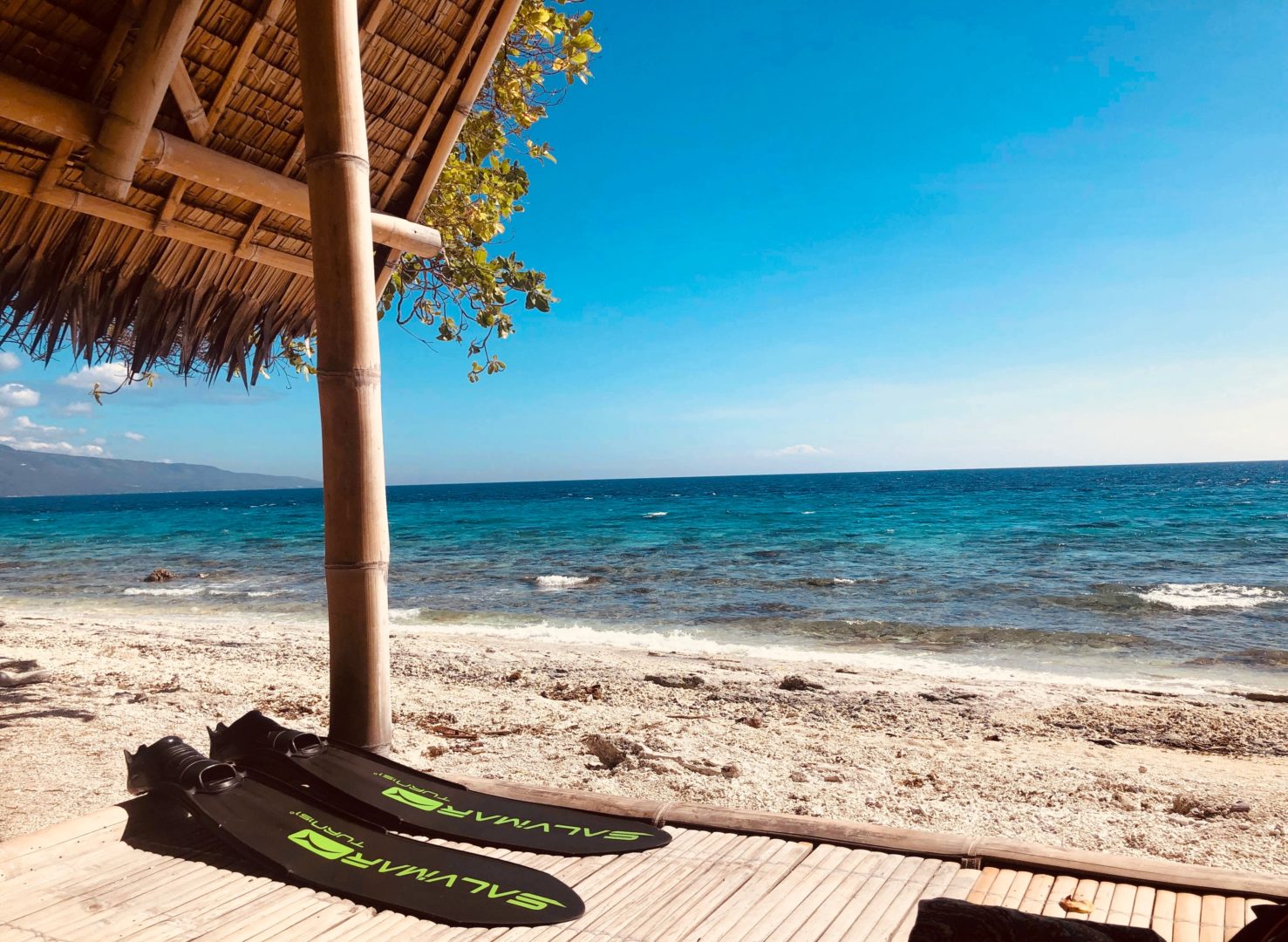 Freediving has a long history going back thousands of years. From pearl diving to military scouting against enemy ships, freedivers have relied on their stamina and speed to accomplish their tasks.
List of Best Freediving Fins
Today, free-diving can be done for pleasure or as part of a competitive sport. In either case, the best freediving fins often provide the best performance. What are the qualities to look for in the best freediving fins and which are the best freedive fins?
Take a look at our FAQ section for answers regarding how freediving fins differ snorkeling-fins, why they are so long, in you can purchase the foot pockets and blades separately.
Best Freediving Fins – Comparison Table
IMAGE
SNORKEL-FINS
FEATURES

Material:

Plastic

Great for:

Beginners

Price:

$$$

Check Price

Material:

Thermo-plastic Rubber

Great for:

Free-diving and Spearfishing

Price:

$$

Check Price

Material:

Unique Elastomer Polypropylene

Great For:

Newbies and Advanced Freedivers

Price:

$$

Check Price

Material:

3K Pre-impregnated Carbon Fibers

Great For:

Experienced Divers

Price:

$$$

Check Price

Material:

Hard Thermo-plastic Rubber

Great For:

Professional Divers

Price:

$$

Check Price

Material:

High-Quality Rubber

Great For:

Beginners and Experienced Divers

Price:

$$$

Check Price

Material:

Thermoplastic Elastomer

Great For:

Newbies and Occasional Divers

Price:

$$

Check Price

Material:

Polypropylene

Great For:

Experienced Divers

Price:

$$$

Check Price
But, when you need to choose the best freediving fins, read our freediving fins buying guide for the best eight choices and all of the info you need to make a .smart choice. You will be glad that you did.
Price
The Cressi Men's Gara LD long blade freediving fins are available on Amazon.com for $129.95 and the price includes a carrying bag.
Material
The Cressi Men's Gara 3000 is made of soft plastic and a great choice for beginning divers or those new to using long blade fins. With this blade, the freediver uses less energy with each kick which lets them be used for hours at a time.
Stiffness
This set of fins with its soft plastic construction requires less muscle strength and endurance and is ideal for diving in cold water where fins tend to stiffen and become less flexible.
Skill level
The Gara 3000 LD is ideal for beginners and for those who have not used long blades before. However, this diving product is perfectly fine for skilled divers as well.
This is especially the case when a diver will be in cold water for hours at a time. As a beginner's skill set improves they may choose to add an interchangeable blade to this item.
Price
The Seac Shout Camo S700 Long fins are available on Amazon.com for $129.95 although there is a nice discount to $68.95 for select options.
Material
This excellent blade is made of thermo plastic rubber which results in excellent propulsion. This is a professional-level set of fins with its full foot, composite, non-vented blade. Its anatomically correct 22-degree construction adds to its excellent performance.
Stiffness
Accomplished freedivers will appreciate the extra stiffness of this bland and the extra power that it provides with every stroke. Its exclusive anatomical design adds to the efficiency of this excellent set of freediving fins.
Skill Level
This blade is ideal for freediving as well as spearfishing. It is appropriate for those with a higher skill level and may be a little difficult to get used to for beginners. Nevertheless, it is a very comfortable set of fins that can be worn both with and without neoprene boots or socks.
Price
You can find Cressi Soft Full Pocket Long Blade Fins listed on Amazon.com for only $117.40. And, for selected options, this excellent set of freediving and spearfishing fins sells for a little as $48.60.
Material
The Cressi Soft Full Pocket Long Blade is made of a unique elastomer polypropylene that provides a long-lasting, fluid, softer and less demanding kick. This material makes diving less strenuous and lets you stay active for longer.
Stiffness
The elastomer polypropylene material in Cressi Soft Full Pocket Long Blade fins gives you a very flexible blade with an easier kick.
Skill Level
This blade is appropriate both for beginners as well as advanced freedivers. Newcomers to freediving will like this product for its ease of use and advanced users will enjoy the extended swim time extra distance that it provides by making each kick a bit easier and more efficient.
Price
Mares Pure Instinct Razor Spearfishing and freediving fins sell for $180 on Amazon.com but selected options are available for a low as $87.39.
Material
Made from 3K pre-impregnated carbon fibers, this fin is made to be used with a 3mm neoprene sock. It has variable side ribs that optimize and support both channel your thrust and optimize the flex of the fin.
Stiffness
The combination of a stiff and lightweight fin provides maximum thrust. Add its efficient design and you have a top of the line set of fins.
Skill Level
These freediving and spearfishing fins are ideal for experienced divers. They provide excellent thrust and maximum performance. They will be somewhat tiring and take some getting used to for beginners. The 22-degree blade extension angle is
ideal for use
with this 880 mm blade.
Price
You can find the SEAC Motus Italian Design Long Blade Fin on Amazon.com for $143.99 with selected options available for only $47.77.
Material
The SEAC Motus features a hard thermo plastic rubber foot pocket and has dual material density with its special techno polymer for maximum reactivity and flexibility. This is a professional grade material for a professional long blade fin.
Stiffness
This is a flexible blade that still delivers an impressive kick. It is ideal for both spearfishing and all forms of freediving. Its unique design minimizes the work of a freedive while still delivering maximum performance.
Skill Level
Professional level freedivers will love this long blade fin for its superb performance. However, this is a professional level blade that will not be as difficult as some for newcomers to start with. It is ideal for all forms of freediving as well as spearfishing and is so impressive that you will not want to use any other!
Price
The Rob Allen fins sell for $103.99 to $140 on Amazon.com.
Material
This is one of the most durable blades on the market with its molded rubber foot pocket that is engineered to avoid excessive flexing but still being comfortable and secure on your foot during the dive.
Stiffness
This is a moderate stiffness fin that is appropriate both for experienced freedivers and beginners. It works well both for spearfishing and all forms of freediving.
Skill Level
While this is a great fin for beginners, experienced divers will love it for its excellent transmission of leg force to create efficient propulsion.
These are comfortable blades that will not tire you out with long use and the side rails are excellent at preventing sculling. In addition, this blade is designed to never separate due to the co-molding of the blade and foot pocket.
Price
This excellent blade for beginners and occasional divers can be found on Amazon.com for $59.95 to $99.95 making these very affordable fins. If you are just starting out in this sport and want a decent price and a product that does the job, the Beuchat Mundial is for you.
Material
The Beuchat Mundial has a foot pocket made of thermo plastic elastomer and a technopolymer blade for excellent comfort and efficient but not tiring propulsion. It provides excellent comfort and good propulsion for beginning and occasional divers.
Stiffness
This is a very flexible blade that will not be tiring for beginners or occasional freedivers to use. Nevertheless, it provides good propulsion in all conditions including very cold water.
Skill Level
The Beuchat Mundial is a beginner's freediving blade with sufficiently good performance to make it totally functional for anyuser and their level of skill.
Price
You can find these excellent fins on Amazon.com for $164.95 to $168.00.
Material
This is modular, tough long fin with blades crafted of polypropylene and dual thickness foot pockets made of thermo-rubber.
Stiffness
This is a medium stiff blade that works well both for experienced divers as well as beginners or the occasional diver. Their 22-degree angle and ribbing with a fish tail tip prevent the kick from producing sideways movement.
Skill Level
This is an excellent all around blade that experienced divers will find efficient and not overly tiring during long swim times. Likewise, newcomers will appreciate its moderate stiffness and ease of use. This is a well-designed set of freediving fins that will be useful for any level of diving skill.
FAQ
Many of our readers have questions about freediving fins that they would like answers to before looking for the best freediving fins online. Many factors can go into choosing fins. In fact, the best freediving fins for an accomplished diver will not be the best fins for a beginner. Here are the three most common questions that we get and our answers.
Should I buy separate foot pockets and blades?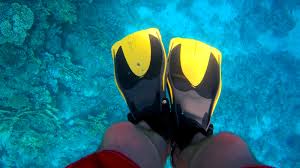 Most divers tend to purchase a set of fins that already have the foot pockets and blades assembled. However, if you dive in a variety of conditions, you may wish or need to have interchangeable blades with different features available to you.
As an example, you have a set of very stiff, professional grade fins that are ideal for warm water. Then you have a chance to do some cold water diving and discover that your stiff fins become too rigid and do not function well in cold water and at greater depths.
And, your closed foot pockets that are just fine in tropical waters do not allow you to wear a neoprene boot on your cold water dives.
Does this mean that you need to buy totally different fins? Let's say that you already have open foot pockets that let you wear a boot for cold water dives. Then you just need to to have interchangeable foot pockets and blade to switch when you need something more flexible and a material that still works well in colder conditions.
Having separate comfortable foot pockets and blades offer great flexibility for serious freedivers who want to dive in varying conditions, have more power, or have other legitimate reasons to be using various types of blades with either an open or closed foot pocket.
If you are going the separate foot pocket and blade route, make sure that your parts mix and match. Ideally, this means buying from the same manufacturer and having spare parts (like screws) hands.
And, it means that you should not wait until you are on the beach to start taking apart and reassembling your gear or you will end up going to buy plastic fins and compromise your dive experience.
Why Do Freedivers Use Long Fins?
When you first see a diver walking on land with extra-long fins you will think they look ridiculous and wonder why in the world they are wearing those things. Well, there are a couple of excellent reasons.
Because freediving blades are longer and have more surface area, they displace more water with each kick of your legs. For the same amount of expended energy, you will be able to go faster and farther in the water with longer fins.
When you want to go deep in a hurry and also get back the surface in one breath, long freediving blades are ideal. Likewise, if you simply want to cover more territory in a surface dive, long freediving fins are your answer.
The other excellent reason for using freediving fins is that they are tapered from rather thick by the foot to much thinner at the tip. It is the grading of the blade that creates an energy efficient level making propulsion extremely efficient.
With long tapered freedive fins blades, you get more propulsion for the same amount of effort. Think of this as a ratio of energy (and oxygen) expended to distance (or depth) covered.
Multiplying your propulsion as it related to your effort means everything when you want to dive deep and not immediately return to the surface while holding your breath the entire time.
Experienced divers who are in great condition will use stiffer blades that are most efficient in turning their energy into speed, distance, and depth. Less experience (weaker) divers will typically opt for a less stiff blade that is less energy consuming and not go as fast, far, or deep but enjoy themselves nevertheless!
How Do Freediving Fins Differ from Regular Snorkeling Fins?
This question is asked most often by folks who have tried snorkeling and purchased a set of fins. Do they really need to buy new fins for freedives? The answer is that yes, you do, if you want to get the most out of free-diving. So, how do these fins differ from regular snorkeling fins and why are the differences important?
The differences between snorkeling, freediving, and scuba diving fins have to with size, design, and what you expect the fins to do for you under water.
Snorkeling Fins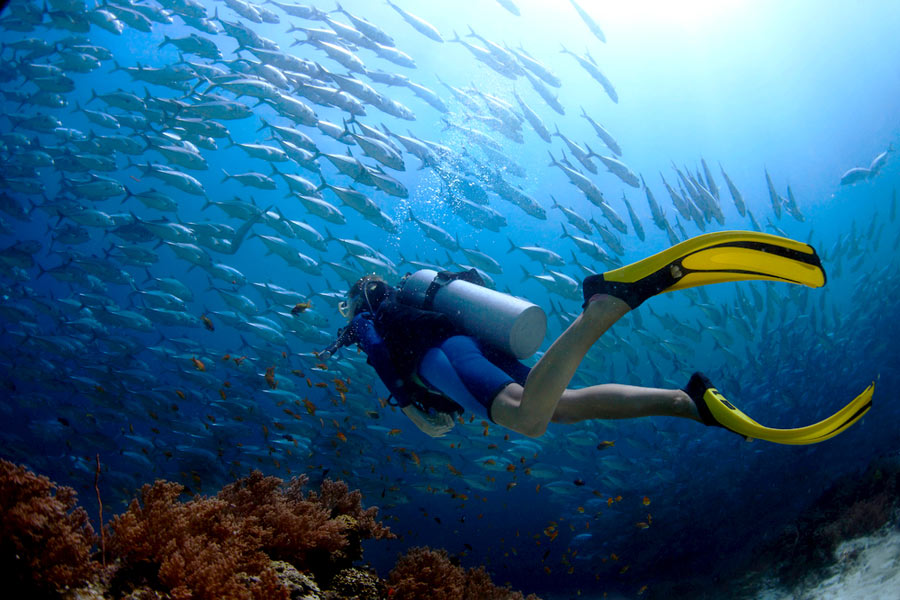 Snorkeling is something that you can do without a lot of expensive equipment such as plastic blades while swimming on or near the surface and observing things like brightly colored fish, coral, and other sea life.
The straightforward nature of snorkeling is reflected in snorkeling-fins. They come in shorter lengths like 15 to 20 inches to be easy to pack for travel or the standard 24 to 26 inch variety.
They are just fine for paddling around in shallow water but are not meant to efficiently let you go fast, far, or deep. Thus you are more likely to encounter plastic fins or plastic blades rather then carbon fins when shopping for snorkeling fins.
Shorter snorkeling fins make it easier to paddle back and forth with flexible, small movements. And, the shorter fin makes getting in and out of a boat easier, not to mention walking back onto the land.
Scuba Diving Fins
Scuba diving fins are more like fins for snorkeling that freedives. Although scuba diving takes place at even greater depths than a freedive, there is not the urgency to return to the surface in a single breath.
Rather the diver will want more maneuverability fins that accommodate neoprene socks as scuba diving is typically a colder and longer experience.
Power is not so much an option as efficiency and comfort and a softer set of fins. Nevertheless, scuba divers will routinely buy a high quality interchangeable blade, a softer one and give away power for safety and quality.
Freediving Fins
To understand freediving fins, you need to think of snorkeling and then getting rid of the breathing tube and diving a lot deeper in one breath. You get to see more than you would not get to from the surface but you only have a minute or two to accomplish that task. Freediving fins are designed to make that possible.
What a freediver needs is a way to multiply the propulsion he or she obtains and at the same time reduce energy and oxygen consumption. The freediving fin does this by being a lot longer and much more energy efficient. With an interchangeable blade, a freediver can navigate in various water conditions.
The reasons to use an interchangeable blade is that you may get better performance with fiberglass fins, carbon fins, or themo plastic fins suitable for different water conditions. If doing this will improve performance it may be worth the effort.
Freediving fins are thick at the base and progressively narrower toward the tip. They are generally more stiff than snorkeling fins but that stiffness is less as the fin thins out.
Thus, the fin has a pronounced flipping action that is substantially more efficient in transmitting muscle force to propel you through the water and uses less energy to boot. In other words, you can faster, farther, and deeper with less energy and oxygen used by swimming with long freediving fins than with shorter snorkeling fins.
The advantages of freediving fins are not just that you can go deep in a hurry and get back to the surface in one breath. If you want to travel over a reef observing the fish and other marine life, you can travel farther and faster while getting less tired if you upgrade to a stiffer, energy-efficient pair of freediving fins such as carbon fins or fiberglass fins.
While we get other questions from time to time, all of them revolve around the same issues covered by these three.
But if your only question is which are the best freediving fins, then read our reviews while taking into account if you need softer fins for a beginner or stiffer fins for the experienced freediver.
In the end, it is all about comfort, efficiency, and power whether you go with neoprene socks, carbon fins, plastic fins, or an interchangeable blade to improve performance in varying conditions.
Live Your Aloha Freediving Fins Review
Freediving Fins
★★★★★
"

Finally, found the answer to all the questions I had in my mind. Thanks for explaining things so deeply. Anyone who is looking to buy the freediving fins must take help from this post.
"