Before 2009, the word photobomb was almost unknown. Now known to mean an accidental or deliberate act of getting in someone else's picture, photobombing is something many of us have come to expect, when trying to take that "perfect" shot while on vacation.   
Named as the Word of the Year, by Collins English Dictionary in 2014 (sad, but true), photobombing is now so common, that there are numerous websites dedicated to just that! 
But, where the heck would you go if you wanted to star in other people's pics? Especially in Hawaii, the home of sun, sea, sand and SPAM?
Fear not, P-bomb fans. Here are thirteen ideal locations in paradise for you to scratch your comical photobomb itch.
On The Bus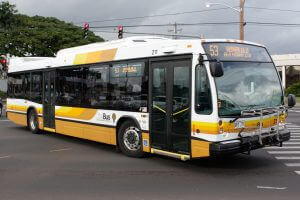 Ah, The Bus. The quickest and easiest way to get around Honolulu in a flash. Ranked as one of the best transit systems in the world, The Bus carries around seventy-two million people a year, making this the perfect location for a photobomb.
Vacationers everywhere are suckers for that perfect traveling selfie. Heads together, smiles plastered on (even if you're sat in front of the kicking toddler from hell), sunglasses lightly perched on the head (have to show its sunny) and snap.
Don't miss this. While boarding, scout out your most likely suspects. Think youngish couples, that perfectly made-up teen or that family trying to get just one shot of them all looking at the camera.
Once picked, bag the seat behind them and wait. Let's be honest, they're a sure thing. It's going to happen. A simple smile or peace sign from you will gain you a pat on the back from your fellow p-bombers at home.
Photobomb difficulty: 1/10 
In a Restaurant with the Stars
Only a five-hour plane ride from LA, Oahu is well known to host a celeb or two. Being a flourishing modern city offering world class dining with food to die for, it's no surprise that this beautiful city has found its way into the hearts of Hollywood's elite.   
There are just too many star-studded restaurants to mention, but for the ultimate celeb photobomb give these a try:
Nobu Waikiki at the Waikiki Parc Hotel. Numerous A-list stars, including George Clooney, Robert DeNiro, Alexander Skarsgard, Rihanna, and the cast of "Hawaii Five-0" have all dined here.
The Cheesecake Factory Waikiki at the Royal Hawaiian Center is always a hit with celebrities and all-star athletes. Kanye West often dines at the contemporary American eatery, when he is on Oahu recording. Other celebrity guests include comedian Chris Rock, actor Sean Penn and Pro Bowl athletes Walter Jones and Reggie Bush.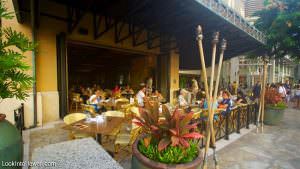 Ocean House, an open-air, beachfront restaurant, boasting a spectacular view of the sunset and Diamond Head, where Cameron Diaz has recently been spotted.
Pulling up a chair and whipping out your selfie stick isn't going to look odd here. Nor is diving behind an A-lister, while they get papped to within an inch of their life. Waiting for a crazed fan to snap her fave celeb after five hours of trying to muster up the courage to ask is just priceless. 
Photobomb difficulty: 5/10 
Laniakea Beach
Well any beach actually, but this one is literally the bomb.
Only an hour from Waikiki and on the North Shore of Oahu, Laniakea Beach is the queen of beaches.
It's also known as Turtle beach, because more than 20 Turtles can be found chilling out under the sun and paddling in the clear blue sea.
If you're looking to p-bomb a bunch of Turtles, then visit in spring, summer and fall between 10am and 5pm daily.  The Turtles sometimes stay until sunset, but they are mostly there for the warm sun, so they aren't as widespread on the beach at night.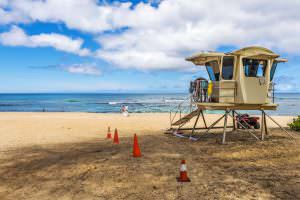 Pro tip- go around lunchtime or shortly after. 
Couples are rife here. Due to the bright green algae on the rocks and the beautiful outcropping of trees on the right side of the beach, romantic types can be found trying to capture that perfect pic, under the bright daytime shine or the soft orange sunset.
Attack. Quick. A good smoochy pout or goofy face would be ideal here. No one's going to be looking out for anyone on this secluded beach.
Watch out for those pesky Turtles, though. They aren't called ninjas for nothing.
Photobomb difficulty: 3/10 
While Diving with Sharks
Many a photobomb has gone viral, and none more than when a cheeky critter is involved.
So, if you really want to up your game, then this one is for you.
You can kill two birds with one stone here (horrible analogy). While ticking selfie with a shark off of your bucket list, you can also have your chance at going viral with this unique shot.
Based on Oahu's North Shore; North Shore Shark Adventures offer well-priced trips to shark infested waters.
Starting in a boat a mile from the beach, grab your snorkel and prepare to plunge into the watery depths beneath. 
There are plenty of cool opportunities to photobomb your fellow diver. That's a breeze. Trying to bomb a snap while having a shark's full attention and not becoming fish chum is quite another.
Photobomb difficulty: 9/10 
Valley of the Temples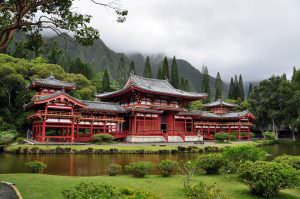 This beautiful location is well known for its architecture and landscape gardens. One of the most amazing buildings in the valley is the Byodo-In Temple, a Buddhist sanctuary modeled after a 900-year-old shrine in Japan.
Many a man (and woman) have popped the question here and what could be better than sharing the happy couple's special moment.
Of course, this is going to involve some patience and probably a pair of binoculars, as the chances of someone just getting down on one knee right next to you are pretty slim. (Unless of course, it's happening to you.)    
This location provides gorgeous buildings in manicured gardens, so hiding behind a well-maintained bush or water feature is also possible.
When the moment does finally come, I'd suggest the au-natural look. Nothing says gotcha like an I'm-so-happy selfie with an arse in the background.  They'll be the butt of all jokes for quite a while. (Sorry.) 
Photobomb difficulty: 9/10 
Of course, there are loads of easy opportunities for you to p-bomb throughout your vacation.  These all range from 1-4, on the photobomb scale of difficulty. 
Sea Life Park
Just Google Stingrays and the amount of photobombs these dudes have been in will blow your mind. To get one yourself, take a trip to Sea Life Park and check out their Hawaiian Reef Encounter. The Rays are waiting for you.
Luau
You'll find cameras everywhere. Trust me. Walking up behind a sweet couple or a bunch of drunken tourists is like taking candy from a baby. (Which weirdly, isn't easy at all.) 
Crashing a Party
Private parties are hosted everywhere. It's your ability to blag your way in that will determine how cool the party actually is. From drunken frats to hen-dos, p-bombing any of these is like a walk in the park.
So, there you have it.  The rest is up to you!!