There are few places in the world that compare to Hawaii when it comes to unforgettable beach and water activities. The Hawaiian Islands is truly a playground for travelers who seek a little adventure or fun in the sun.
The coastal areas of Hawaii are filled with breathtaking scenery—turquoise blue waters, white sands, lush rainforest, and volcanoes. One of the more exhilarating ways to catch a glimpse of these natural wonders is by going on a fun parasailing ride in the air.
Of all the sightseeing activities you can choose to do in Hawaii, parasailing is one of the quickest and most exciting ways to get a panoramic view of the surrounding landscape. You can even view the curvature of the earth.
For example, parasailing around Hawaii at establishments around Waikiki Beach offers spectacular views of Honolulu's downtown skyline and the Summit of Diamond Head Crater.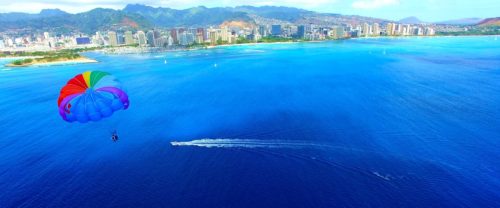 What is parasailing?
Parasailing, also known as parascending or paraskiing, is a recreational kiting activity where one or a group of people are attached to a parachute (called a kite, canopy wing, or parasail) while being towed in the sky behind a vehicle such as a motorboat.
The rider being pulled in the air (called the parascender) wears a harness attached to the kite, which is connected to the towing vehicle by a rope. As the vehicle drives off and picks up speed (15 to 30 mph), the parascender is lifted up to 500 feet in the air to enjoy a panoramic view of the landscape.
Parasailing is typically conducted over the water with the use of a boat. However, land-based parasailing has become a competitive sport in places such as Europe whereby the parascender is towed behind a 4×4 off-road vehicle.
The activity is mostly considered a joyride since the parascender has little control of the parasail (in contrast to paragliding or parachuting).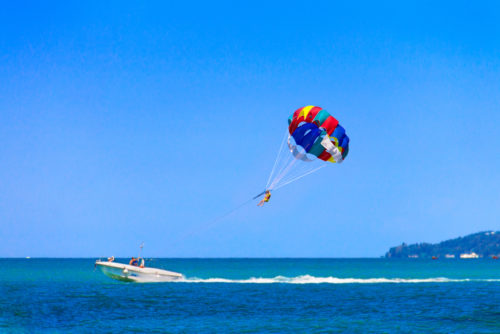 History of parasailing
The first parasail was invented in 1962 by Pierre-Marcel Lemoigne to provide training for parachutists. They would first ascend into the sky and then be released to practice their parachute landings.
In 1974, March McCulloh developed a hydraulic winch that would become the industry standard used by commercial parasail operations around the world for launching and retrieving the canopy from a vehicle.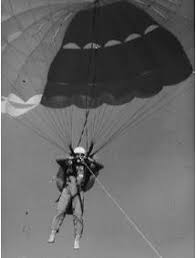 In 1976, the revolutionary 16-gore canopy design still in use today was invented by Brian Gaskin, which allowed parasails to operate safely over water.
How safe is parasailing?
Statistically, parasailing is very safe. That's one reason why millions of people parasail each year in the United States alone. But like many "extreme" recreational activities, people will naturally be concerned about safety. That's why it helps to know the facts.
According to the Parasail Safety Council, there were 1,800 injuries and 72 deaths due to parasailing accidents between 1982 and 2012 (or an average of 2.4 deaths per year). To put that in perspective, there are about 60 times more fatalities, or 150 deaths, caused by falling coconuts each year. There are also 41 annual deaths on average from lightning strikes.
Most deaths were due to people landing in water and getting entangled in the canopy or lines. Although drowning can happen to anyone, it may be slightly reassuring to know that being a strong swimmer could possibly save your life.
It's also true that the parasailing industry has been largely unregulated for most of its history, and quality assurance basically depends on the expertise and integrity of local commercial operators.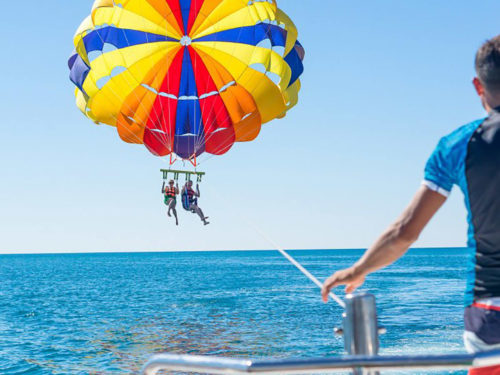 But some places, such as Hawaii and Florida, are known for having strict standards of safety (partly due to legislation).
After the NTSB released a report in 2014 highlighting the lack of regulation in the industry, consumers are more aware of the inherent risks and operators have taken extra measures to maintain equipment and enforce safety standards.
The good news is that parasailing is now safer than ever, with increased regulation every few years since the first parasail weather standard was approved in 2013.
When can you parasail in Hawaii?
You can parasail year round in Hawaii, but there are two factors to consider if you want the best (and safest) experience: the weather and the peak tourism seasons.
If you want to find cheaper rides and shorter wait times, it's best to go parasailing during the off-season periods from April to late June and September to early December.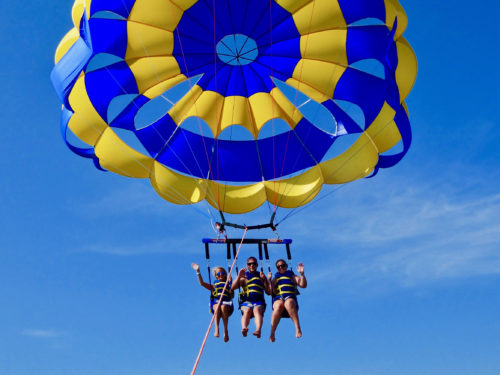 However, if you want the best chances of clear blue skies and minimal bad weather, you'll want to avoid the rainy season from November to March. 
Moreover, safe operators should not allow anyone to parasail in excessively windy conditions (over 15 to 20 mph). On average, the windiest months are from June to August and the calmest month is January.
Basically, you can go parasailing any day during the year if it's not too rainy or windy.
What you should wear for parasailing
This is probably the easiest thing to consider if you decide to go parasailing in Hawaii. It's best practice to wear comfortable, active clothing that you don't mind getting totally soaked in seawater. Swimwear is an obvious choice. A life vest is required in case of an emergency landing in water.

You don't want anything getting caught or tangled by the kite while you're taking off or landing. If you're forced to land in water, you don't want baggy clothes to weigh you down or jewelry getting snagged in the lines.

Use common sense, bring some sunglasses or sunscreen, and just be comfortable during your joyride in the sky.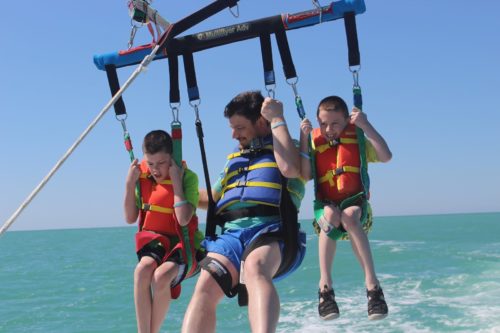 Safety tips
You may have learned for the first time that the commercial parasail industry is not the most regulated in the world (but parasailing is statistically very safe).
Accidents happen because of small equipment malfunctions, lack of proper maintenance, poor communication, or bad procedures. But mostly due to faulty equipment under poor weather conditions.
So we've provided you with these official safety guidelines directly from the Parasail Safety Council website, so you can monitor any commercial operators you encounter and decline their services if they've been cutting corners.
Visually inspect the boat and quality of the tow rope to make sure it's not weathered or frayed.

Choose an established operating site instead of a random beachfront location.

Make sure the operator has insurance and explains the risks associated with the release form.

Listen to the pre-flight safety briefing (if there is one).

Never fly in bad weather such as rain, fog, or storm fronts.

Avoid parasailing in winds over 15 to 20 mph.

Parasailing beyond 600 feet from the towboat increases risk.

Stay 3 times farther from the shore than the length they reel you out from the boat.