Beaches are undoubtedly the number one reason for everyone to head to Hawaii. It's not surprising with Hawaii having some of the world's most beautiful beaches.
No matter if it's gleaming white beaches or the best surf or turquoise waters you want, Hawaii has something for everyone.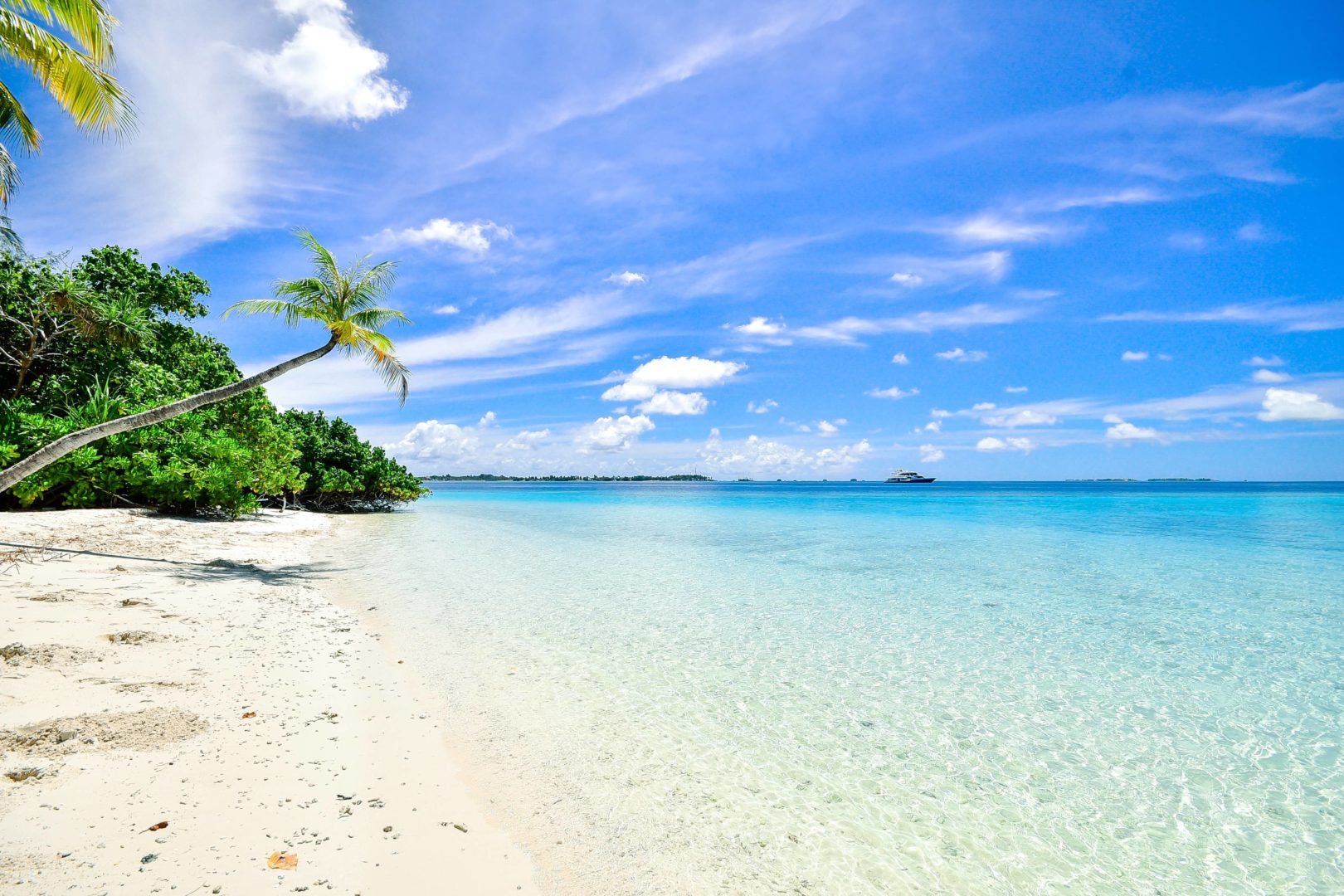 There are beaches of various shapes, sizes, colors and offering so much to do. There are kid-friendly beaches, beaches amidst secluded coves ideal for honeymooning couples and some perfect for snorkeling and swimming. There are also beaches with black, red and green beaches offering panoramic pictures.
What's better, all beaches are public. The only problem is that there are so many beaches, only those on a multi-island itinerary can visit all of them. With no two Hawaiian islands alike, your choice sets and even changes your trip's vibes.
Hawaii comprises eight islands where 6 are frequented by tourists- Kauai, Oahu, m,oMaui,Lanai, Molokai, and the Big Island. Each island has its personality with distinct adventures, sights, and activities.
I have here compiled a list of best beaches in Hawaii specific to each island and it's best activities. I am sure it will prove helpful in selecting the right beach to visit based on your priorities.
Oahu:
 Oahu is the heart of Hawaii and the busiest and most populous island. It is house to world-famous spots like Waikiki beach and some of the state's famous surf towns.
Oahu also offers lots of shopping and dining options, making it the ideal island for an activity-filled, high-energy vacation.
1. Lanikai Beach
 Popular activities- Swimming
Lanikai beach Oahu is said to be the most beautiful of Oahu beaches and one of the best in the world. It's practically heaven on earth with its endless miles of tranquil turquoise water, pristine sands, tropical plants, and calm waves. It's difficult for anyone to resist the urge to jump right in!
However, reaching Lanikai beach Oahu is no straightforward matter because there are no posted beach signs to guide you. The best way is to drive down. You will know you are in the right place when you see the words 'Lanikai' on its pillar entrance.
2. Waikiki Beach
Popular activities- Swimming, kayaking, standup paddle boarding, safe for beginners, shopping, restaurants, entertainment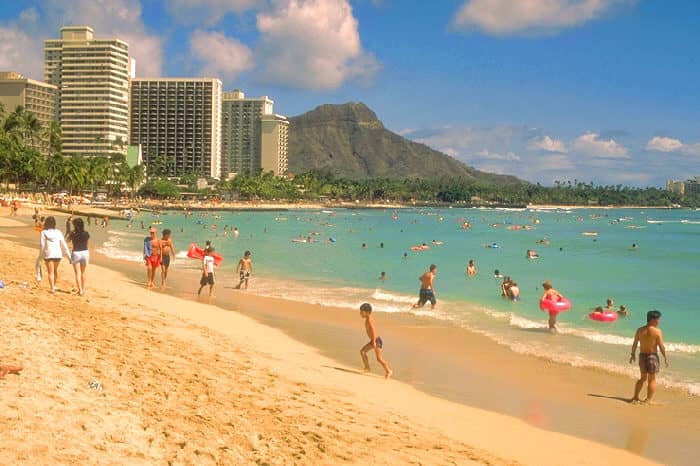 No visit to Hawaii is deemed complete without a visit to Waikiki beach Oahu. This calm, golden, crescent-shaped manmade beach is Honolulu's most popular and crowded beach offering something for everyone. There are also some sections safely walled-off from the waves for kids and beginner swimmers.
 How can I forget the iconic Diamond Head Mountain view that perfectly looms in the backdrop to create memorable pictures? There are also shops selling cheap shell jewelry to expensive handbags, and some restaurants and food trucks across the street.
 Waikiki beach Oahu has even more to offer, like the weekly Friday-night fireworks over the Hilton Hawaiian Village. All of this gives you the reason to visit the beach while in Hawaii.
3. Kailua Beach
Popular activities-Swimming, boogie boarding, surfing, sailing, snorkeling, kayaking, volleyball, windsurfing and shopping
Kailua Beach is about an hour from Waikiki beach. Its perfect turquoise waters and soft, white sand make this the best Hawaii family beach destination. The beach is huge but calm and offers something for kids and adults.
Kailua Beach is a favorite with families and kids thanks to the many ideal visitor facilities it offers. This includes lifeguards, showers, restrooms, parking, volleyball courts, and picnic tables.
The Kalapawai Market established in 1932 has everything a beachgoer needs, including food, wines, and soft drinks. There are also nearby retail services including windsurfing and kayaking rentals and lessons.
4. Waimea Bay
Popular activities- International surfing competitions, swimming, cliff jumping, snorkeling, fishing and body boarding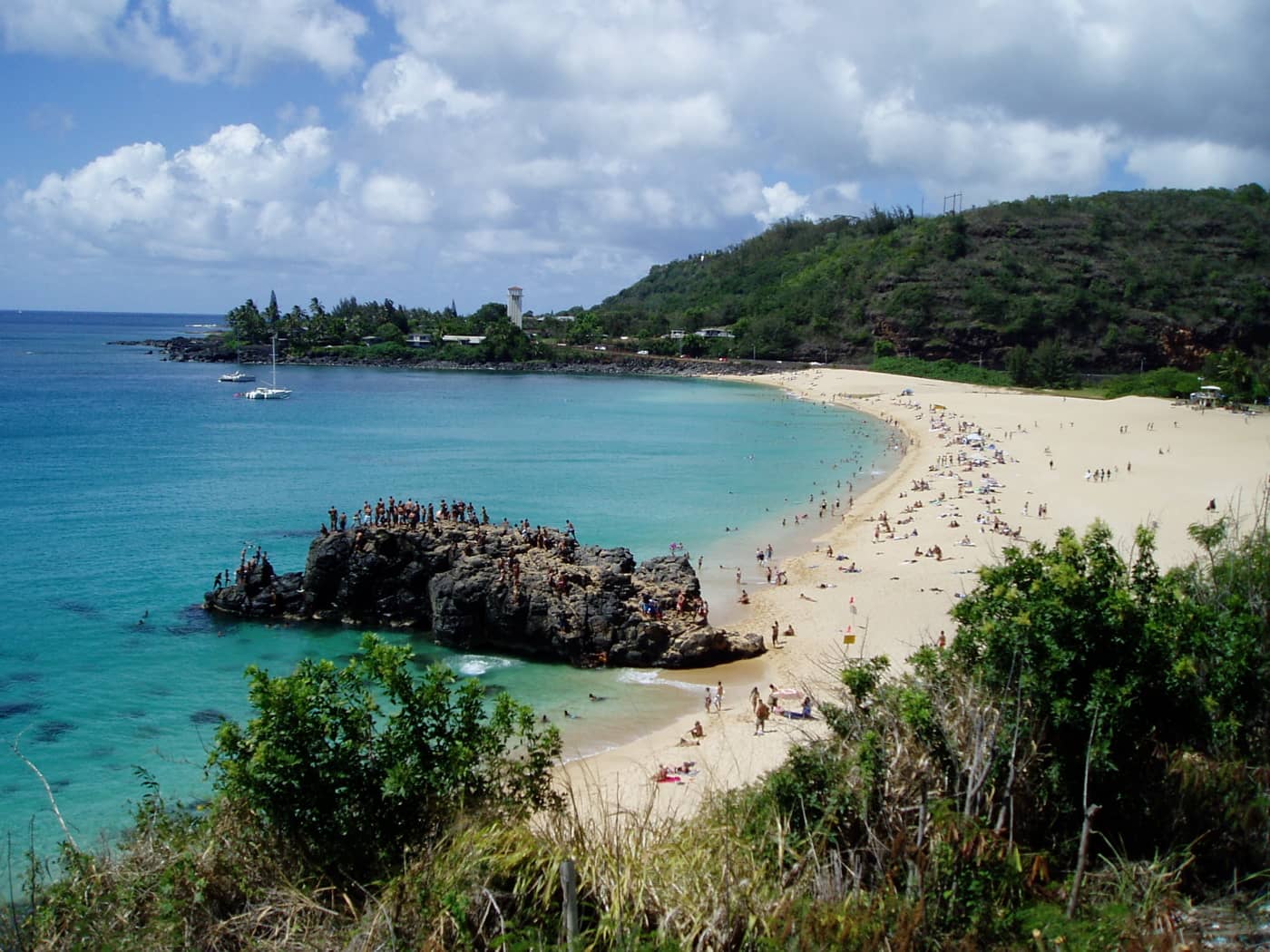 Waimea Bay, located on the North Shore of Oahu, is famous for its 30-feet winter waves. Waimea Bay plays host to the famous and most prestigious international event Quicksilver during ideal ocean conditions.
This is when you get an opportunity to watch some of the best surfers braving huge waves. The waves however practically disappear in summer, rendering it safe for tourists, even families, to go swimming.
 It's a wide and beautiful stretch of white sand surrounded by a lush valley that makes Waimea Bay the best beach day destination.
The presence of amenities like a lifeguard, parking, restrooms, showers, and picnic tables are a bonus.There's also an iconic rock cropping out in the middle of the bay, that's the beach's popular cliff jumping spot.
5. Sunset Beach
 Popular activities- Surfing, body boarding, swimming, relaxing, beach combing, snorkeling, sunset watching
Sunset Beach is another popular surf spot on Oahu's North Shore with waves reaching heights of 15-30 feet. It makes Sunset Beach a beautiful Mecca that surf enthusiasts cannot miss.
 The beach is also a family beach perfect, and safe for relaxing, swimming, body boarding, beach combing, and snorkeling. The highlight of the beach is its sunset, which is apparent with its name.   The breathtaking sunsets you get here are sights to behold and capture on camera.
The beach is also a great snorkeling spot offering a nice variety of colorful fish and Hawaiian marine life to explore. The Hawaii beach has a lifeguard on duty, free parking, restrooms, picnic beach tables, restrooms, beach showers, and some shady areas. It's just perfect for a relaxing beach day!
6. Makaha Beach
 Popular activities- Snorkeling, scuba diving, swimming, surfing, body boarding, privacy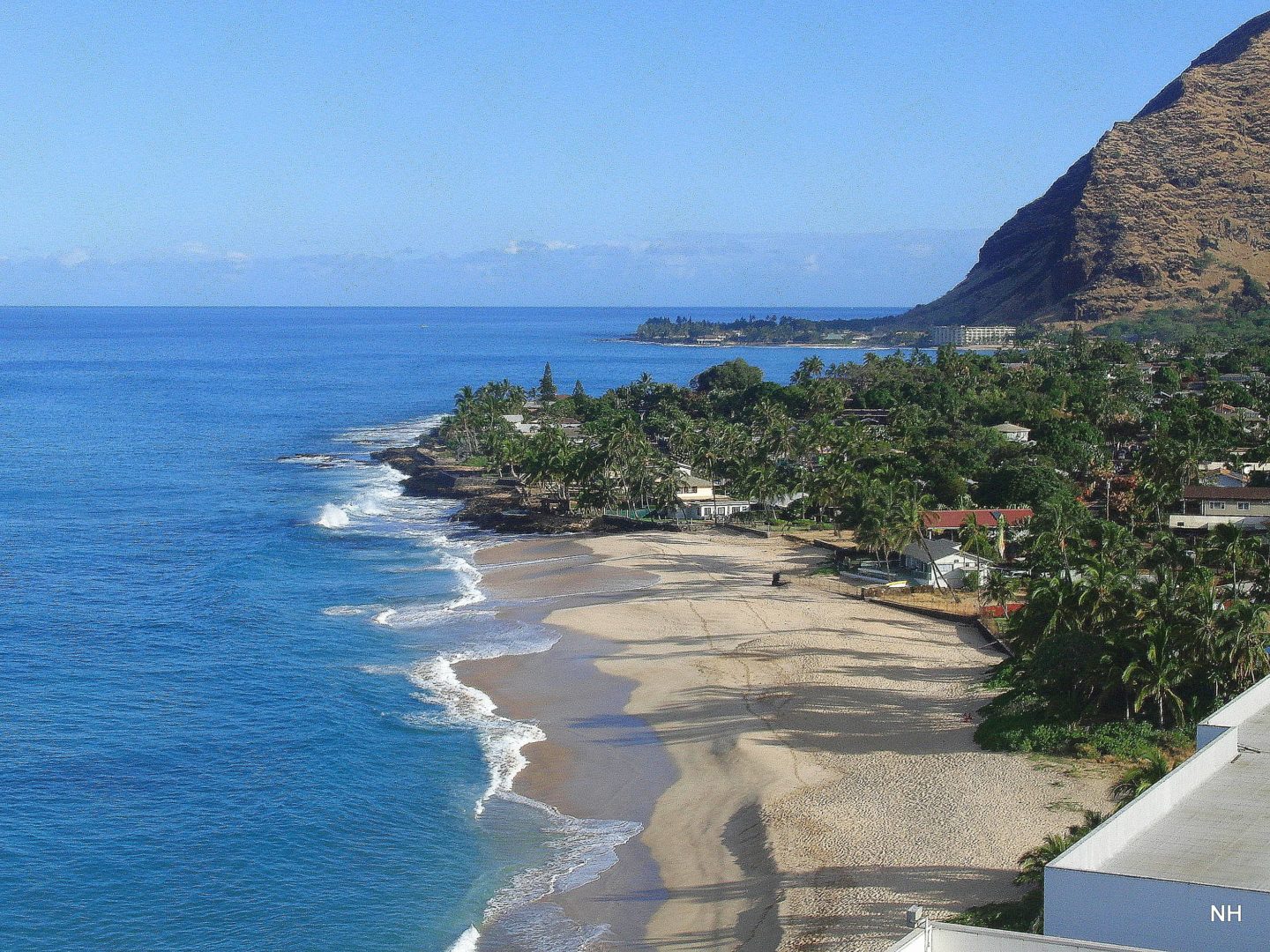 Makaha Beach is located on Oahu's west coast and can get hot and dry in summer. Carry along sufficient water, sunscreen, and even a beach umbrella because there's not much shade here.  The surf, however, times up with a strong shore break and rip currents during the winter months.
This renders the beach fit only for experienced surfers and not for swimming. Always read signs posted on the beach and ask lifeguards about the ocean conditions before entering the ocean.
Though a popular beach, Makaha Beach hardly ever gets crowded. The weekends are the busiest because locals head to the beach to picnic and relax. Yes, there also are a few picnic tables, showers, and restrooms here.
Maui:
 Maui is Hawaii's 'Famous Island' with world-famous beaches like Makena Beach Maui letting you mix up daily activities. You can relax one day at a Makena beach Maui resort and spend an action and adventure-packed next day. Renting a car is the best way to explore Maui and reach spots like Makena beach.
1. Ka'anapali Beach
Popular activities- Snorkeling, cliff jumping, swimming, scuba diving, stand up paddling, sunbathing
Kaanapali Beach Maui is a three-mile high-energy stretch of caramel-colored sand home to posh hotels, exclusive resorts and spas, and even rental beach cabanas.
Kaanapali beach Maui has beautiful water entry and swimming points while Black Rock is ideal for cliff jumping and to watch cliff-jumpers.
Black Rock is also an excellent snorkeling spot in Kaanapali beach. However, beginner swimmers should avoid going to Black Rock, which is also famous for its strong currents.
 If it's a world-class resort destination you seek in Maui Hawaii, then Kaanapali beach is ideal for you. You will be quite happy just unwinding and relaxing in the Kaanapali beach resorts as you watch cliff jumpers jumping off Black Rock.
2. Wailea Beach
Popular activities-Swimming, kayaking, watching dolphins, sea scooter snorkeling, golfing, art galleries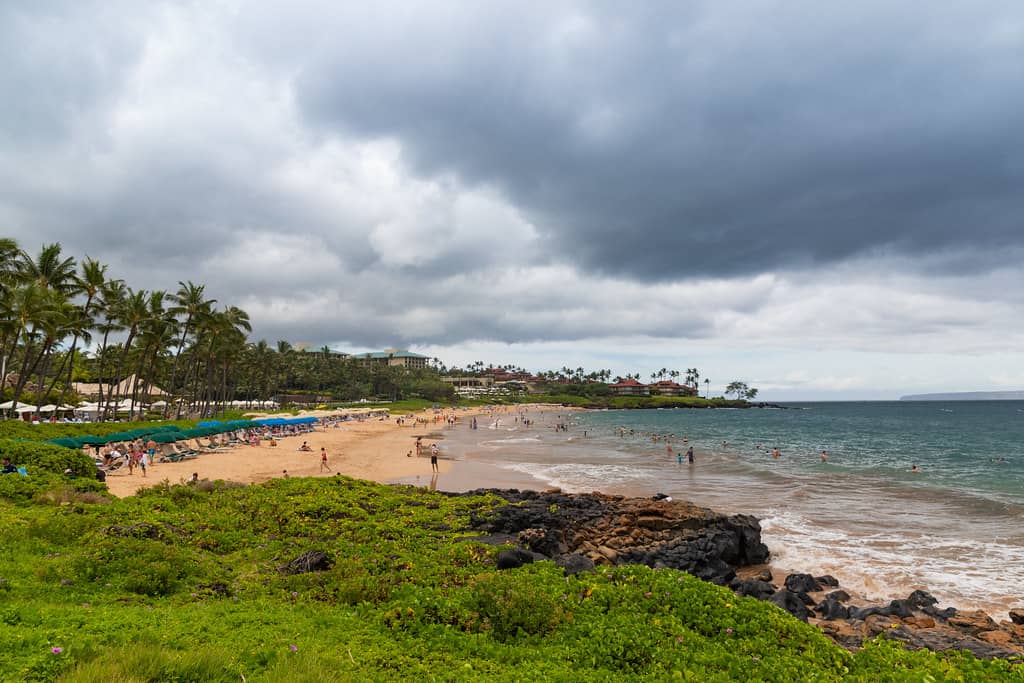 The soft sand, gentle waves, and clear waters make Wailea Beach Maui a picturesque beach holiday destination. It's a busy beach located near Makena, but if you are lucky, you may spot a celebrity or two at its impressive resorts.
The Maui beach is meant for water activities like sea scooter snorkeling. This is an innovative way of exploring tropical fish and marine life along with professional guides.
Wailea beach Maui boasts of lots of shopping opportunities, restaurants, tennis courts, art galleries and even a golf course.
3. Hamoa Beach
Popular activities- Swimming, snorkeling, relaxing, surfing, scuba diving
 Hamoa Beach Maui is a crescent-shaped, salt and pepper beach thanks to it white and black lava rock sand. This black sand beach Hawaii spans 1,000 ft long and 100 ft wide. It is surrounded by sea cliffs and jungle greens creating numerous shady spots.
This is a family white and black sand beach Hawaii best for your favorite sports. However, do monitor ocean conditions before entering and obey all warnings and postings. The Maui beach has large surf conditions in winter and when the East swells.
 The road to the Maui beach is twisty and curvy running past cliffs and waterfalls, giving an additional thrill and sense of adventure. There are no lifeguards on duty so be careful when in the water, especially in winter. There however are restrooms and showers.
4. Ho'okipa Beach
 Popular activities- Windsurfing, cliff jumping, swimming, surfing, kitesurfing, spotting green sea turtles

Ho'okipa Beach Maui is a popular windsurfing destination that hosts various international windsurfing competitions. Sightseers leave stunned after watching surfers play with the ocean from Ho'okipa Lookout, a cliff overlooking the beach's popular surfers' end.
 The waves are rather big in winter and safe for only skilled surfers and swimmers. However, the waters are safe and best for windsurfing and kite surfing in summer. I do suggest you enter the ocean from the eastern end to avoid rocks.
 If you are lucky you may even spot green sea turtles coming ashore at sunset. There are lifeguards at both ends of the Maui park and a large parking lot. Don't worry if it's not an adventure you seek. There's enough space to relax and lounge on the Maui pristine sand.
Kauai:
 Kauai is the oldest Hawaiian island located far north in its chain. Unlike any other island, Kauai boasts of valleys, cliffs, mountains, rivers, waterfalls and lush rain forests.
The top-notch resorts are inviting, but so are the various outdoor activities offered. Adventure lovers enjoy snorkeling, hiking, and kayaking in Kauai.
1. Hanalei Bay
Popular activities-Swimming, kayaking, paddle boarding, fishing, surfing, camping with permits, restaurants,
The Hanalei Bay beach is a stunning, crescent-shaped beach famous for its views with the 4,000-foot emerald mountain backdrop. Hanalei bay technically comprises of three beaches rolled into one magnificent 2-mile long beach.
Each bay beach has parking, bathrooms, grassy lawns and vibes. The picturesque Hanalei pier stretches out into the water offering stunning views and a spot kids love jumping from.
The waves are more visible in the winter months, and that's what attracts the surf crowd. The waters are however relatively tranquil enough for swimming in summer. The town also boasts of a wide range of restaurants, hotels, and guesthouses amidst a thriving nightlife.
2. Poipu Beach
Popular activities- Swimming, snorkeling, boogie boarding, scuba diving, surfing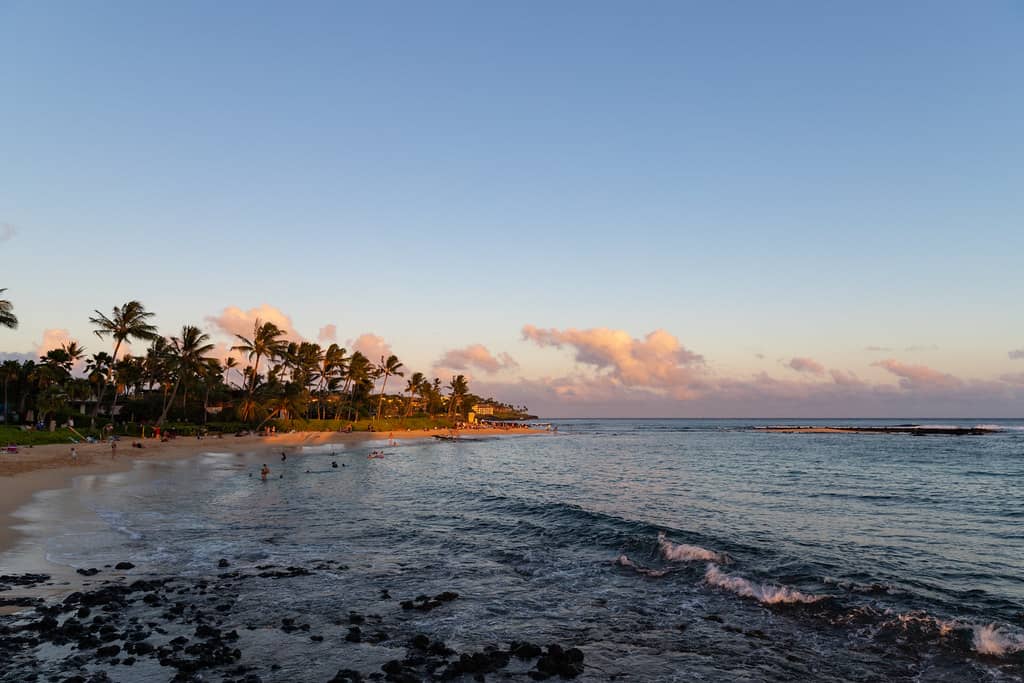 Poipu Beach Kauai is a wonderful stretch of a series of three crescents located on Kauai's south coast. It's the epicenter of Kauai's sunny south coast attracting families for its safe waters. Besides, there's a lifeguard on duty seven days a week.
 Besides swimming, the unique reefs and gentle waves make Poipu Beach Kauai the perfect spot for activities like snorkeling and boogie boarding. If you are here to relax, just watching the palm trees sway is rather relaxing.
There are also some great properties located nearby like Ko'a Kea and Grand Hyatt Kauai Resort and Spa worth visiting on Poipu Beach Kauai.
3. Kekaha Beach
Popular activities- Sunset watching, surfing, swimming
 If its peace you seek and want to enjoy the sunset, then Kekaha Beach is a perfect beach. It's located on the west side of Kauai Island, far away from resorts. This makes it usually quiet with more locals hanging out than tourists.
Kekaha Beach marks the start of the state's longest stretch of white sand beach. The waters are rough and waves can get really big, attracting more experienced surfers and swimmers.
With Kekaha Beach lying on the dry side of the island, there's always sunshine here even if there's rain elsewhere. This is the last west side beach with a lifeguard. Besides, as there are a picnic area and restrooms, it makes an ideal spot for a break before moving ahead.
4. Lydgate Beach
 Popular activities- Swimming, snorkeling, bicycling, playground, kite flying, sunset watching
Lydgate Beach is a family beach located on the east side of Kauai, near the Wailua River. Its two protected ponds are safe from ocean waves and are filled with tropical fish and calm waters.
Thanks to the protected calm waters, lifeguard and fish variety Lydgate Beach is popular with beginner swimmers and snorkelers.
There's an adjacent park with bike trails, picnic tables, a wooden playground and a grassy area where you can fly kites. Of course, if you are not the adventure type, just relax at the beach, and watch the beautiful sunrise and sunsets.
Big Island:
 Big Island houses Hawaii's only active volcano, in addition to some of the best beaches Hawaii and rich history. The island also boasts of beautiful resorts, waterfalls and sceneries and also the best snorkeling experience. It's also the only place in the United States with home-grown coffee.
1. Hapuna Beach
Popular activities- Swimming, boogie boarding, snorkeling, relaxing, picnics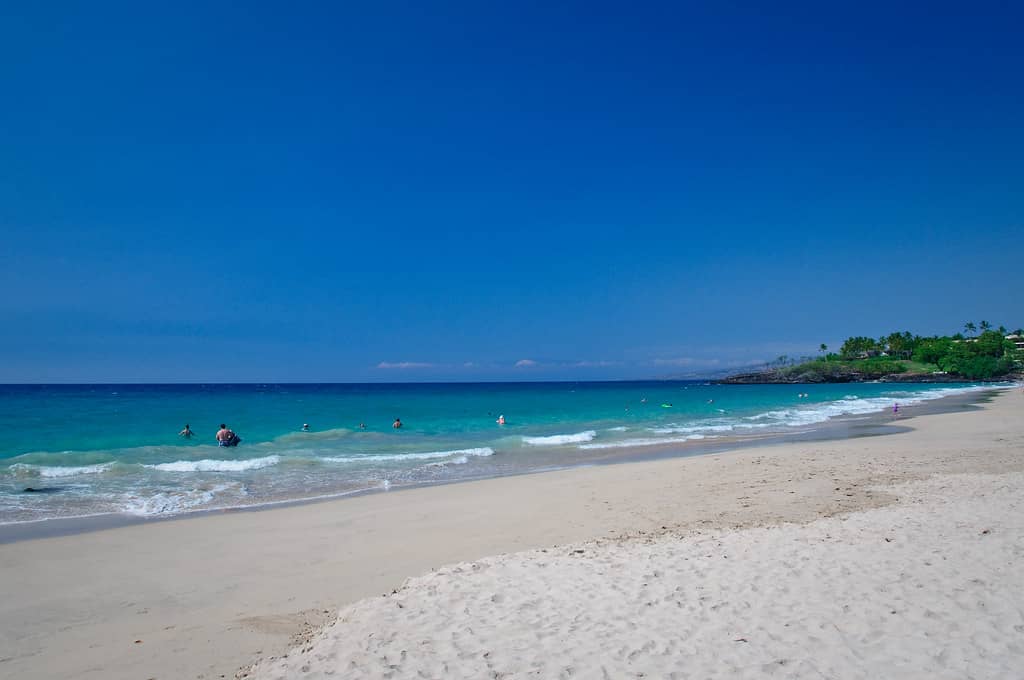 Big Island is famous for its impressive white-sand beaches, and Hapuna beach is one of them. It's the largest white sand beach on the island, spanning half a mile long and is located on the Kona-Kohala Coast.  The beach, however, is rather flat and not crowded, which is why it's perfect for families.
There are so many things you can do here like boogie boarding, swimming, and snorkeling. There's even a black lava tide and some shady trees on the south end if you just want to laze around.
Locals tend to frequent the beach to picnic or just hang around with friends. Families feel safe and enjoy the Hapuna Beach because there's always a lifeguard posted here.
2. Kauna'oa Beach
 Popular activities-Swimming, sunbathing, snorkeling
Kauna'oa Beach is also called Mauna Kea Beach and is a private, crescent-shaped family beach. With sparkling turquoise waters and fine white sand, this is easily one of Hawaii's pretty white sand beaches.
The waves are relatively gentler here, and with the two reefs make a fantastic spot for swimming, sunbathing and snorkeling. However, the higher waves and strong currents render the ocean dangerous in winter months.
 There's lots of marine life to explore, including turtles, monk seals and occasional manta rays. However as there's a limit of 25 people at any time, it's better to reach here before 9 am.
The parking is mainly for hotel clients. So the quicker you reach the higher are the chances of you're getting one of the 40 public parking spaces.
3. Papakōlea Beach
 Popular activities- Swimming, hiking
Papakolea Beach is a remote beach located at Big Island's southern tip. I was enthralled by its green sand derived from crystals in the eroding volcanic cinder cone.
It's surprising to first find the beach looking brownish. It's only after picking a handful of crystals do you realize its green glint shining in the sun.
Don't forget to take along a hat, some water, and strong shoes to the beach. There's about an hour's hike to reach the beach from the nearby parking lot.
If you are lucky there are locals with jeeps who charge to drive you to the beach. However the be ready for a turbulent ride because the roa d is really bumpy and down a slope!
Only strong swimmers can manage the waves here.  Don't take any risks if you are not a strong swimmer. There are no lifeguards to rescue you.
Even if you don't swim, you can always take a walk on the green cliffs around the beach. There are however no restroom facilities on Papakolea beach. While it's okay to take photos, it's illegal to pick stones or sand as souvenirs.
4. Waialea Bay
Popular activities- Snorkeling, lots of shady spots, scuba diving, hiking
Waialea Beach is a popular white-sand summer beach in Big Island for its sun, shade, and snorkeling. It's also called '69 Beach' because of the 69-numbered utility pole near its parking area.
While the beach is pristine in summer, the sand is eroded by strong winter surf in winter months. There's lots of shade around because of the lush tree cover. While there are no lifeguards on duty, the beach does have showers and restrooms.
It's the diversity of marine life found here that makes Waialea Beach a popular snorkeling and scuba diving spot. There's also a moderately difficult hiking trail following the coastline. The trail leads you to Hawaii's remaining pristine shoreline and anchialine ponds.
You can reach the beach on the road by reading the telephone pole numbers, and turning left between poles 69 and 70. There's paid parking available too.
Lanai:
Lanai is a tiny, rugged island with beaches like Polihua beach Lanai easily accessible by ferry from Maui. You get a firsthand experience of small island life because most of its population is plantation worker descendants.
The island has two famous resorts and a renowned golf scene at beaches like Polihua beach Lanai.
1. Hulopo'e Beach
 Popular activities-Swimming, snorkeling, picnics, spotting dolphins and humpback whales, cliff jumping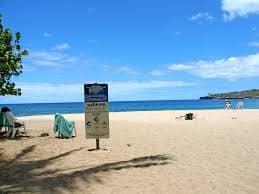 Hulopo'e Beach is located at the end of the winding Manele Road. It's a favorite with locals and the posh Four Seasons Resort tourists.
The crescent-shaped beach is safe for swimming and snorkeling while the eastern side has some large tide pools. There are also picnic tables, bathrooms, and showers.
I was lucky to see some friendly spinner dolphins playing in the beautiful waters but I learned that humpback whales are common in winter. The famous Sweetheart Rock, a freestanding cliff, is just a short walk away.
According to legend, it's named so because a lover threw himself from atop the cliffs upon finding his beloved drowned. Sweetheart Rock, however, is today a great spot for photos.
Molokai:
The sparse population and lack of modern amenities create a remote feel in Molokai, which is why it's called the Rustic Island. The island however also boasts of the highest sea cliffs and longest continuous fringe reef. Everything collectively makes Molokai the perfect holiday destination if you want to getoff the grid.
1. Papohaku Beach
Popular activities- Swimming, snorkeling, privacy for honeymoon couples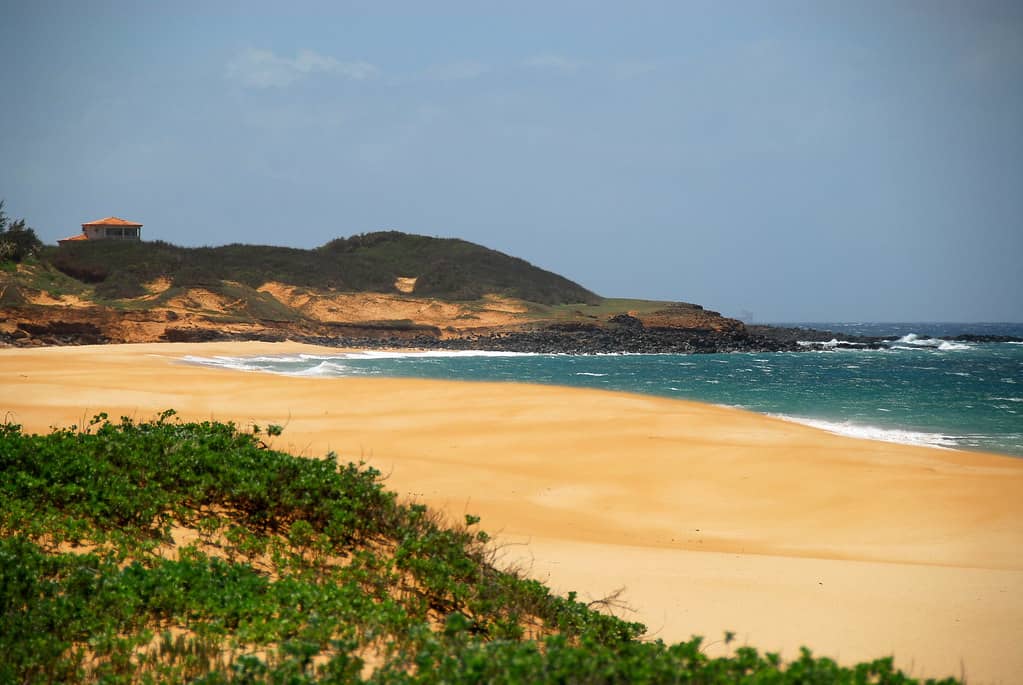 Papohaku Beach is located in Molokai's west and is also known as the three-mile beach. It's one of the largest white sand beaches with turquoise water. You even get to view Oahu across the channel on clear days.
As usual, the ocean may be rough in winter but calm for swimming and snorkeling in summer. While there are bathrooms, parking and picnic tables on the beach, there are no lifeguards or other facilities.
And as Molokai is sparsely populated, you may have the beach to yourself. If you plan to capture its spectacular sunset, I suggest you take along supplies for the drive back. It's a long after-dark drive back, and there's nothing much available.
  FAQ
Q: What is the prettiest beach in Hawaii?
A: While all Hawaiian beaches are beautiful and pretty, Lanikai Beach of Oahu is undoubtedly the prettiest of them all.
Q: Which Hawaiian island has the best beach?
A: Lanai has the best beach because it's exclusive, secluded and a famous spot for spotting spinner dolphins.
Q: What beach has the clearest water in Hawaii?
A: Hapuna Beach boasts of the clearest waters in Hawaii.
Q: Which Hawaiian island has the best white sand beaches?
A: The Big Island has the best white sand beaches.