Most people come to the islands to visit the beach, explore the warm waters, and enjoy the warm sunny days and cool breezy nights. For those who want to discover the waters, snorkeling is a must do on O'ahu. Snorkeling in Oahu is a fun activity that has risen to become a first-love attraction not just for locals but also for the thousands of visitors who tour Oahu and the Hawaiian Islands.  Similar to snorkeling in Maui, or molokini snorkeling tours, snorkeling in Oahu is a blast for both families and friends.
Now, before you pack your snorkeling gear and head out to this magnificent island, there are a few things you should note.
Safety Precautions To Note While Snorkeling In Oahu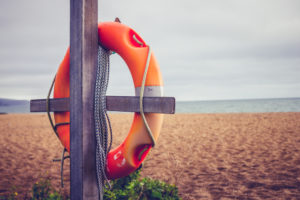 First, you must be very cautious of the ocean conditions so you will need to check them before jumping into the waters. Some beaches will have lifeguards, so it's best to check with them prior to starting your day of snorkeling. If you happen upon a beach with no lifeguard nearby you can always check out the Oahu water conditions online. Also, take a look at the ocean to study the patterns for yourself.
Second, familiarize yourself with the marine laws in this location so you will not end up violating local laws for disrupting marine life. This is especially true in Hawaii as sea turtles are not to be touched by ocean goers. Keeping your distance while enjoying the beauty of the Hawaiian Sea Turtles is a must. Please make sure to refrain from touching any plants or animals while snorkeling. Most of the beauty that you will see is endemic to the islands of Hawaii and therefore a natural part of the island's ecosystem. Standing, walking on, or touching the reef/coral and natural marine life causes damage and may destroy it. We want individuals for generations to come to be able to enjoy the beauty of the Hawaiian marine life – please help us keep it this way.
Thirdly, important to note is that you should gauge your skills and ability to the specific spot you intend to go snorkeling. Unless you are sure of your skills, it's best not to take any risks; however, keep in mind, there are several ways to enjoy snorkeling on O'ahu. There are some who will walk along the sandy ocean bottom and peek in to snorkel and see below the surface. There are others who will float along the top of the water and slowly move about and enjoy the beautiful fish and sea life below. There are the adventurous ones who will dive down to explore even further below the surface. Whatever your choice, to ensure a great experience, make sure you have the right snorkeling gear.
When it comes to snorkeling equipment there are many places to rent/buy from through the island. Key things to have are snorkel, mask, rash guard (to prevent from sunburn while exploring the ocean below), and fins. There's a highly recommended new innovative full face snorkel mask that makes snorkeling a lot easier (it has the snorkel and mask all-in-one). 
Now that we've discussed how to stay safe while enjoying a day of snorkeling, let's talk about where to snorkel.
Best Snorkeling Spots In Oahu
There many places to choose from on the island of O'ahu, so we'll just highlight some of the must-see places like Hanauma Bay, Kaiona Beach Park, Kuilima Cove, and Makaha Beach Park. This will allow you to select some destinations on the Windward, Leeward, and North Shore of the island.
Hanauma Bay: Whether young or old, novice or seasoned snorkeler, Hanauma Bay has a space for everyone. This is perhaps the reason why it attracts huge crowds of visitors, something that you may not enjoy if large crowds are not your cup of tea. Upon admission you will watch a video prior to entering the beach that will explain the marine laws here – mainly don't touch any coral, reef, fish, or turtles. Remember not to stand or walk on any coral – there are some places where you can stand on the sand and walk around as you snorkel.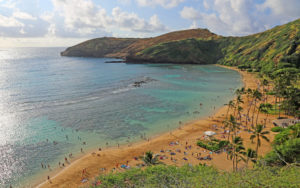 Hanauma Bay is a wonderful spot for snorkeling because it enjoys all year protection from waves and wind; it boasts colorful fish, exotic sea life, crystal clear waters plus a lot more. Hanauma Bay is closed on Tuesdays, so make sure you put it on your schedule on a different day. Hanauma Bay has some places on the beach where you can rent/buy snorkel gear – just in case you decide last minute you want to venture into the water for some snorkeling.
In addition to snorkeling and movie scenes, Hanauma Bay is rich with Hawaiian history including legends of Princess Keohinani and the quest for her hand in marriage.
Kaiona Beach Park: Should you find Hanauma Bay full or you wish not to snorkel there, the Kaiona Beach Park is just 10 minutes away. As you go to Kaiona Beach Park, you will relish the scenic backdrop characterized by the Rabbit Island and the gorgeous clear blue ocean. You will also come across fish, turtles, healthy reefs, a seahorse and if you are lucky, a box crab.
Kuilima Cove: Kuilima Cove sits on the island's north shore and it's shaped liked a cup. Parts of its perimeter are comprised of broad strips of white sand. If you are a novice into snorkeler, Kuilima cove snorkeling is just what you need. Thanks to a natural rock barrier, the cove is safe from waves and it's lined with both rocks and corals, which are an attraction to different species of fish.
Makaha Beach Park: At this park, you are guaranteed an exceptional snorkeling experience. If you wish to check out the turtle cleaning station, which lies roughly 100 meters away or take a closer look at turtles and other unique creatures of the sea life, this is where you should go.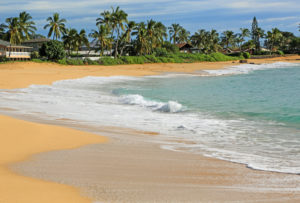 The snorkeling at this beach requires a bit of a swim out, so this is not for those who want to walk along the beach bottom and peek their heads in. This is a place to snorkel for those who want to swim on the top or dive down a bit further to explore the ocean floor beneath. Due to the waves on this side of the island in the winter months, it is advised to snorkel here during the summer months. In addition Makaha Beach Park has some gorgeous white sandy beaches to enjoy upon your return from your snorkeling adventure.
Kahe Point Beach Park: Some people, mostly the locals, refer to it as the electric beach because of its proximity to an electric power plant. If not for its crystal clear waters, the reef is relished for its extensive population of fish. Offshore you could run into Hawaiian spinner dolphins.  Like Makaha Beach Park, there is a decent amount of swimming required to get to some of the amazing sights and you will have waves from the open ocean to navigate. Due to the close proximity of the electric plant, there are some places in the ocean that feel like you are swimming in bath water – and are a great attraction to many of the fish. This location is totally worth the swim and cooler waters to explore.
No doubt snorkeling in Oahu is fun. Regardless of your skill level or age, there's a place for you. So if you haven't done it yet, make sure to use a SharkLens Full Face Snorkel Mask and jump into the ocean waters and watch Oahu leave you with excellent memories of its exotic sea life. Regardless if you plan to visit the North Shore, the Leeward coast, or the Windward coast, you will leave with one of the best snorkeling adventures in the world. Just another reason to come and visit the Hawaiian Islands – snorkeling you can enjoy all year round.