In a world that seems to focus on moving away from the traditional sustenance of meat and veggies, Hawaiian cuisine delivers. As a former vegetarian who now suffers anemia, I can tell you, first hand, that some people really need protein in their diet.
The Paleo Diet (also known as the Caveman Diet) has been a great help, not only in boosting my energy, but giving my body the rich iron it craves. Focused on lean meats, fruits and vegetables and fresh fish, Polynesian dishes and traditional Hawaiian foods are very close to the paleo ways of eating. Not only is this island style of food incredibly delicious, it's packed with protein and easy to whip up at home.
Tonga, Filipino, and Japanese influences also color the diet of Hawaiian fare. When you want to serve a meal rich in nutrients and full of flavor, go for tropical tastes. The following are some traditional and modern takes on plates that you can create, right at home.  You might even want to use some of these to plan an easy home luau menu.
Protein Packed Plates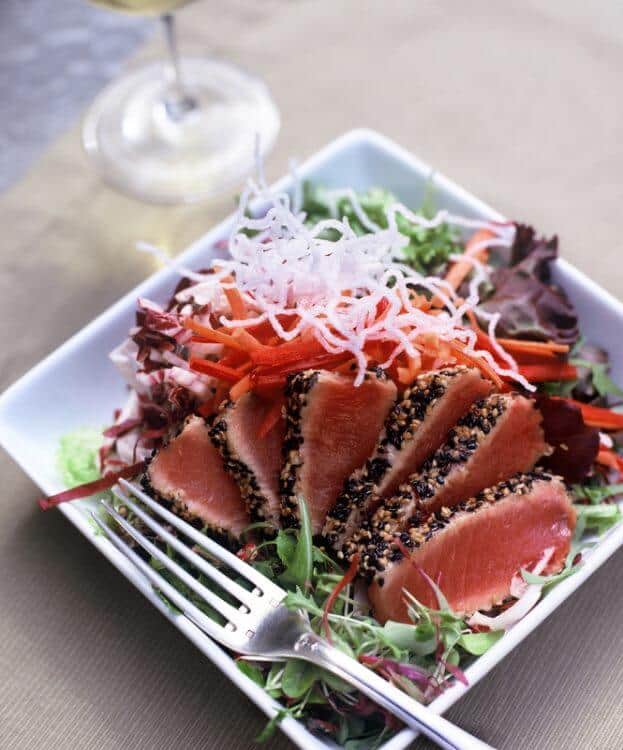 True Hawaiian dishes are inspired and infused with nutrient rich proteins that span far beyond anything to do with SPAM. Canned meat is not the true staple of their vibrant and inventive culture. Tender fresh fish and slow-cooked succulent meats are what the real Hawaiians are eating…and that's where it's at!
Lau Lau
This dish literally translates to "leaf leaf" in Hawaiian and that's because it calls for two different types of leaves in the cooking process. Lau Lau is basically comprised of pig and fish (two amazing proteins for a paleo diet) that are wrapped in layers of ti and taro leaves. The meal is then slow cooked in a rock oven known as an imu.
During cooking, the taro leaves will become tender and soft. These are edible with the dish, while the ti leaves are meant to hold in the flavor. Modern versions include other proteins, like beef and many people are now making Lau Lau, as an easy Hawaiian finger food recipe, at home in their crock pots.
Kalua Pig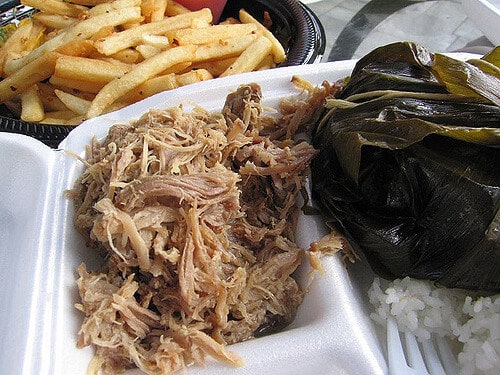 The term kalua means "to smoke in the ground" and that is exactly how this traditional Hawaiian dish is cooked, which you can find at some Hawaiian luau's. The entire pig is wrapped in ti leaves and cooked over many hours, in a rock oven. If you don't have time to dig a hole in your yard and bury a pig, you can still enjoy the same taste with this easy slow cooker recipe at home.
Lomi
Much like the Latin American dish ceviche, Lomi is made with cured raw salmon that is diced and mixed with tomatoes, onions and hot peppers. The word lomi means "to massage" in Hawaiian and the name is taken from how the dish is prepared. The ingredients are massaged together with the salted fish and served cold. Get the easy recipe here.
Pipi Kaula
You can never go wrong with Hawaiian-style beef jerky, even if you're not planning a luau. Pipi Kaula can be dried in a variety of ways and has a chewy texture. Many people fry or char-broil the meat and serve it with rice or poi.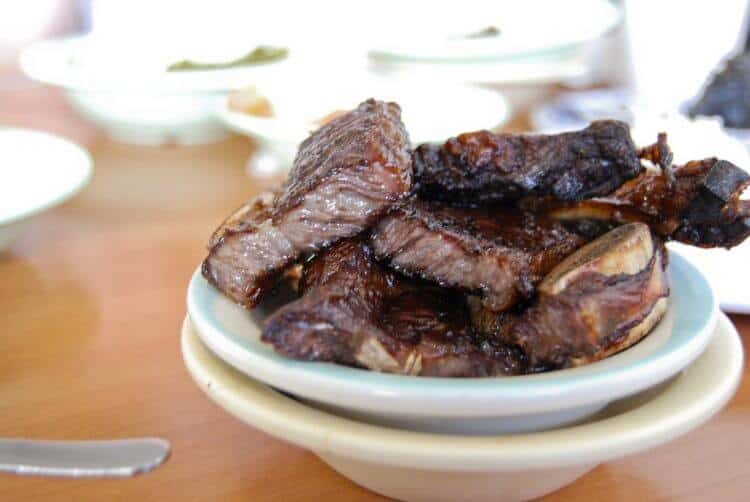 These days, the dish can come with a variety of condiments, from honey to garlic powder and sesame seeds. Drying methods include hanging over a stove, or roasting on low in the oven. 
Poke
Poke is prepared in a similar fashion to Lomi, in that you are dealing with bite-sized chunks of savory raw fish. It is generally made with ahi (tuna), but it can also be prepared with other types of saltwater fish, squid or octopus. The dish is flavored with a combination of garlic, salt, soy sauce, chili peppers and green onions. Poke is incredibly flavorful, packed with protein, and easy to make at home.
All of these meals are a great start to cooking protein rich, Hawaiian dishes, in your own kitchen. Do yourself a favor, and stock up on traditional Hawaiian salt, for a more authentic flavor.
Try This!
Part of a high protein diet also means a healthy helping of fruits and vegetables. If you've clicked on this article about cavemen and tropical meats, then chances are you have an adventurous palate. The following are a few local Hawaiian fruits that are worth a try and may be different from anything you're used to.
Rambutan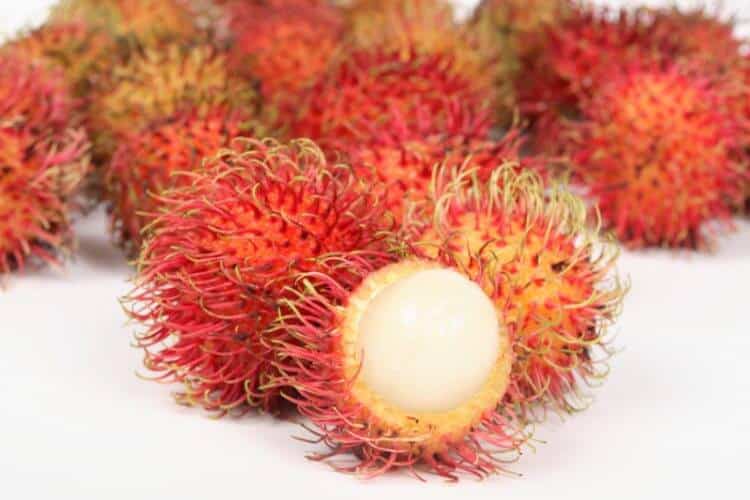 This popular exotic fruit grows quickly during the year and sells fast—if you see it, be sure to snatch it up. Brightly colored orange to red when ripe, they are easy to eat. You simply pull the skin apart, like an orange, and eat the white flesh off of the seed inside. Rambutans are delicious and packed with manganese, iron, calcium and potassium.
Dragon Fruit
This Hawaiian fruit can often be found in groceries stores across the country, if you look hard enough. Many people equate the taste to a combination of kiwi and pear. When ripe, the fruit is both crunchy and sweet (like an apple) and bright red in color. Dragon fruit is high in vitamin C, calcium, phosphorous and fiber.
Lychee
A very popular fruit to the region, Lychee has a relatively short season, from May to June, so stock up when you can. The fruit is bright red when ripe and, although the skin is thorny, it is easy to pull apart and eat. The meat is translucent, sweet and juicy.
And one Last Thing…..
No one can ever be a saint with their diet and even cavemen can get a craving. Hawaii is not only known for its exotic fruits, but what they can create with them, as well.
Haupia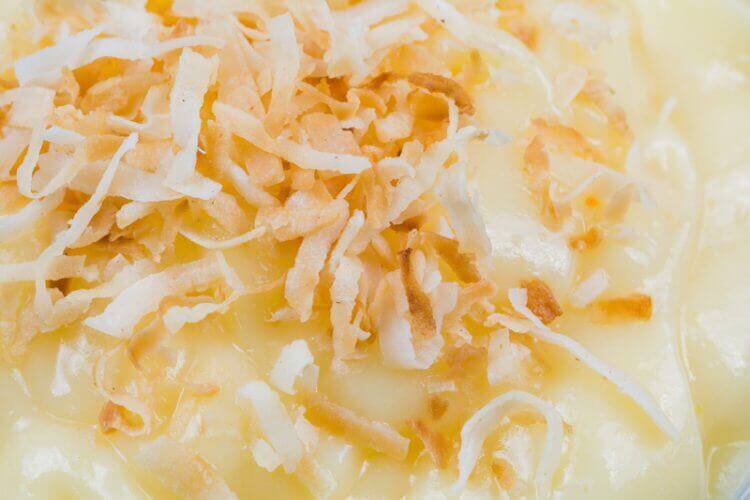 This traditional dish is like a coconut-pudding and is chilled and cut into squares before serving. This is truly a traditional Hawaiian dessert.  The old-school method involved mixing cream and Polynesian arrowroot, then wrapping it in ti leaves to be baked. These days, you can make the dish by whisking together coconut milk, sugar and cornstarch. Check out an easy way here.
All of these dishes would have the caveman stamp of approval and are perfect for a paleo-inspired diet. Whether you are serving raw, cured, dried or roasted meats, Hawaiian cuisine is always packed with protein. These tropical dishes offer a well balanced and nutritious meal that everyone will rave about!