Going to the beach and have no idea how you're going to carry all that stuff? We hear ya! When you factor in all of the towels, sunblock, beach toys, lounge chairs, and snacks for the family, going to the beach can become quite the hassle. This is where arming yourself with one of our best beach carts with the capacity for hauling your most important items comes in handy. You've already got enough mental baggage. Why burden yourself with actual baggage as you navigate from your parking space to the shores.
Having a quality wagon with a durable frame to lug your stuff through the thick sand is a necessity in order to maintain your sanity. Summer is supposed to be a time for fun and a time for those great family trips. These trips are all about having fun and spending great quality time together. In order to maximize all of that fun, you have to make sure that you are well-prepared and that you have everything that you need. This is especially true on those amazing day trips to the beach. Taking the family to the beach, or anywhere for that matter, is a lot of work.
So, with that in mind, we've done the exhaustive search to put together a list of the best beach wagons and carts in 2019 to make the decision an easy one. In this complete guide we'll break down all the features you need to know in our reviews so you can make a smart purchase.
The Best Beach Cart and Wagon – Top 9 Reviewed
#1 Mac Sports Collapsible Folding Outdoor Utility Wagon – Best Cart on a Budget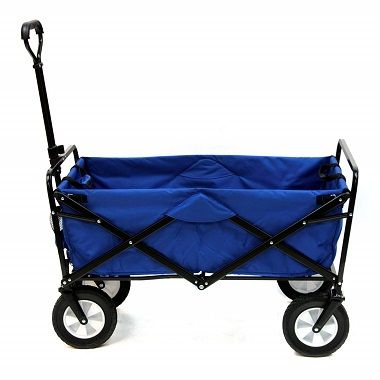 You can find these multi-use carts online pre-assembled and ready to use right out of the box. It is made of a durable fabric that is mildew and UV fade resistant, and washable. When folded, this wagon is 29.5" x 20" x 8" and it has a great carrying case to store it in. When unfolded, it measures 35" x 20" 23", giving it a large storing capacity for things like large beach blankets and other items.
This wagon weighs in at 24.5 pounds and it can carry upwards of 150 pounds. Its adjustable handle makes it easy for anyone of any height to pull and it has 2 mesh cup holders for those much-needed bottles of water and drinks. It also has 4 rubber wheel and the front two swivel, and the rear wheels are fixed.
Pros
Durability
Heavy-duty capabilities
Easy to use (foldable and lightweight)
Versatile (great for use around the house or for outdoor fun and events)
Adjustable handle height
Cons
Thin wheels can make fine sand slightly difficult to go through
There are other cart/wagon options that are lighter in weight
#2 Deluxe Wonder Wheeler Wide Beach Wagon by Rio Brands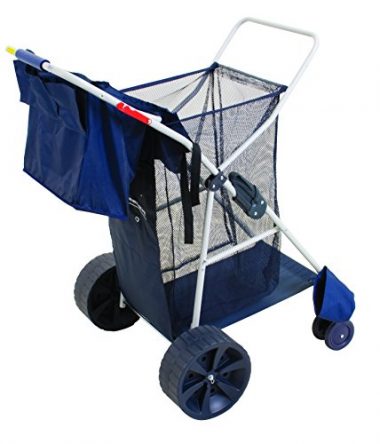 This cart-style wheeler by RIO Gear is perfect for those looking for a lightweight, yet spacious beach cart. These carts are versatile with a high front handle that allows for up to 4 foldable chairs to be carried at once as well as a bottom tray, removable tote bag, and a designated spot to hold your beach umbrella.
The back wheels are larger and perfect for all terrains and the front wheels are smaller and swivel for maneuverability. The large basket section of the cart comes with 15 cubic feet of storage space for all of your necessary beach items and it folds down with ease for storage when it is not in use or it needs to go in the trunk.
With the ability to carry up to 100 pounds of stuff loaded to the brim in a removable tote, this cart is quite durable at an affordable price. Plus, it has a stroller-like handle for easy pushing or pulling.
Pros
Rack on the front can hold up to 4 chairs
Removable tote creates more carrying space for small things like waters and sunblock
Collapsible
Wide Rear Wheels for going through sand
Small front wheels are maneuverable but not great on anything other than a hard surface. It is best pulled on the two large back wheels. It is not going to be able to be used on different terrains.
Non-adjustable handle height
#3 Tommy Bahama All Terrain Beach Cart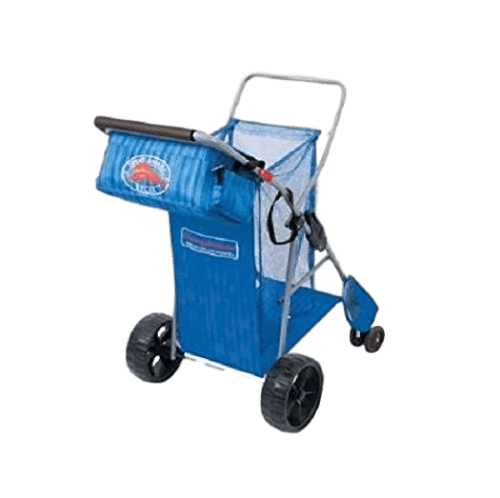 This cart by Tommy Bahama is great for a day at the beach. It can carry up to 100 pounds of items and it only weighs 13 pounds. It comes with a removable rack on the front for up to 4 chairs and you can fit a cooler in the 15 cubic feet of storage space in the cart, perfect for those hot summer days when you need a cool refreshing drink.
It is only 10 inches deep when it is folded, so you don't have to be too worried about it taking up a lot of storage capacity. When it's open, it is 27" wide x 40" long x 31" deep, with a mesh material that is perfect for getting wet and drying quickly.
This cart also comes with an insulated cooler attached for your drinks and other snacks that might not fit in the 48-quart cooler that can fit in it, meaning if you think you'll be bringing a lot of snacks and beverages with you, this product has reliable holder for the job.
Pros
Insulated cooler tote
Lightweight
Mesh material dries quickly
Sturdy steel frame
Fits a 48-quart cooler
Cons
Doesn't come pre-assembled
Small front wheels make it best to use on the back two wheels, unless on hard surfaces like concrete or asphalt.
#4 Rio Brands Wonder Wheeler Plus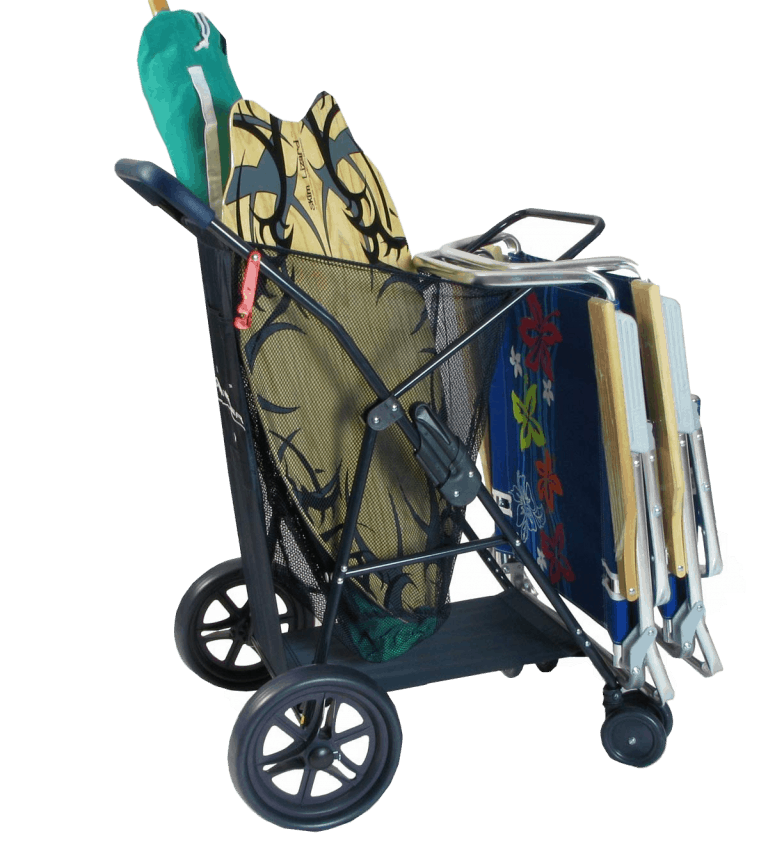 This collapsible cart is extremely sturdy and made of polyester, and easily able to roll through sand. It has great features like a comfortable padded handle and it is able to handle up to 75 pounds worth of beach fun and supplies.
The big front wheels are 8 inches in diameter with smaller front wheels that swivel for maneuverability. This cart has a rack holder on the front for your beach chairs and it can even hold a cooler up to 32-quarts in size.
It also has a convenient carrying pouch on the back for drinks, sunblock, a good book, and other small items can even hang from the side. One thing about this cart is that many customers use this cart in a variety of ways, such as for their laundry or for carrying laundry. So, if you're looking for gear that you can use for a variety of things other than just the beach, this is a great choice.
Pros
Made of sturdy polyester
Comfortable padded handle
Collapsible
Cons
Can't carry as much as other carts like it
Wheels are thinner than others making it difficult to pull through the sand
#5 Mac Sports Heavy Duty Collapsible Folding All Terrain Wagon Beach Cart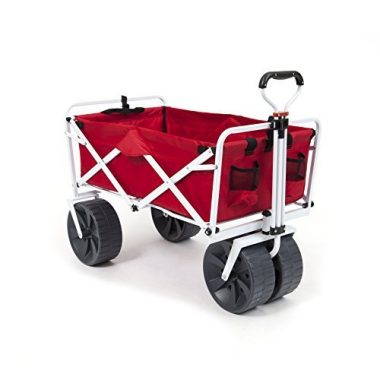 This heavy-duty wagon is great for all types of outdoor activities, including beach trips. It can carry up to 150 pounds of supplies, making it ideal for those who have a ton of stuff they want to bring with them to the beach. However, its' collapsible frame is only 10 inches deep and it is easily stored in a truck, garage, or even a closet.
When completely unfolded, the inside dimensions are 36.2" x 21.4" x 24.59". The soft material is easy to clean and there are 2 mesh cup holders near the handle for your drinks and snacks.
Also, the handle adjusts to various sizes to suit anyone that is using it. The steel frame and 4 large wheels make it great on all different surfaces and terrains, but especially if you're trying to get through soft sand.
Available in two colors, this wagon is great gear for lots of activities such as concerts, tailgating, and of course, the beach.
Pros
Sturdy construction
Telescopic handle
Washable material
Collapsible
Cons
2 front wheels are close together which can make it easy to tip over
#6 Outdoor Innovations Heavy Duty Collapsible All Terrain Folding Beach Wagon Utility Cart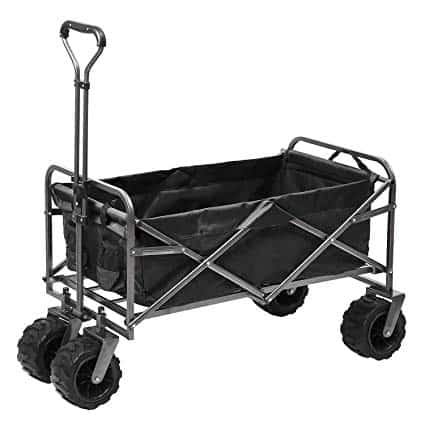 This heavy-duty, collapsible wagon can hold up to 265 pounds worth of stuff. The wheels are made of thick plastic, and able to maneuver through sand and other terrain with ease. The material is made of durable polyester and it can be removed to make washing it very easy.
There is no assembly required with this wagon and there is a convenient storage cover for when it is not in use. The handle can be adjusted for whoever might be pulling it, from 5'2" tall, all the way up to 6'6" tall. Plus, it also comes with an adjustable handle that you can lock in place at any point.
As far as storing it goes, the front and back wheels are offset, so it folds up nicely and is very compact. Overall, if you're looking for a wagon that is built to last and can handle almost anything you throw at it, this is the one.
Pros
265 Pound weight capacity
Strong/Durable
Washable material
Wheels are great for a day on the sand
Adjustable handle
Folds up nicely
Satisfaction Guarantee
#7 Timber Ridge Folding Camping Beach Cart/Wagon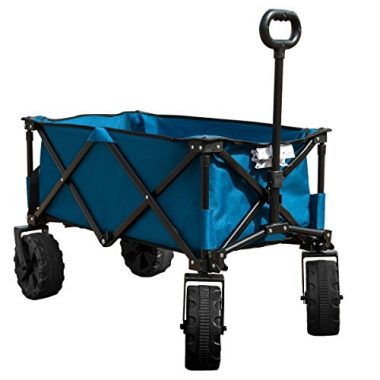 This heavy-duty, collapsible wagon can carry up to 150 pounds on a hard surface and up to 110 pounds on the beach, making it easy to maneuver and a favorite among users. It folds up in a standing position and is only 8 ½ inches wide. This makes it easy to store in the corner of a closet or in the trunk of the car. It also comes with a handy carrying case for easy transport.
The wheels of this wagon are 8 inches in diameter and just under 3 ½ inches wide, with the front ones fixed, and back wheels that rotate while pulling. The wheels also have a rubber tread that runs through the middle of the hard plastic which helps with the versatility of the surfaces that it can roll on.
This wagon is great for the beach and also for around the house or other trips the family may take. So, if you're looking for a versatile beach cart that is durable and compact, the Timber Ridge won't let you down.
Pros
Collapsible
Can be used on a variety of surfaces
High weight capacity
Manufacturer's warranty
Adjustable handle
Cons
Wheels are hollow plastic and can take some wear
#8 Super Ultimate Ultra Wide Wheel Wonder Wheeler Beach Cart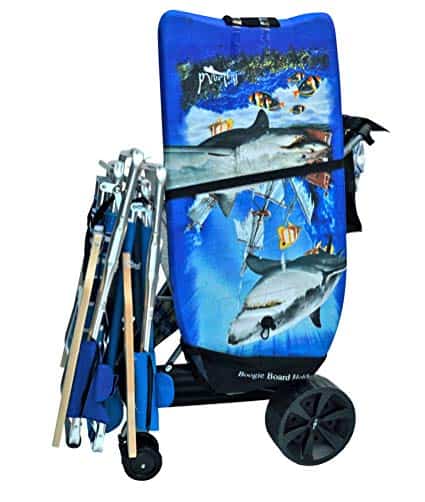 This beach cart folds flat and comes almost fully assembled. All that needs to be done before the first use is that the wheels have to be snapped on and it is ready to go. If you're looking for a beach cart that requires little to no storage space, this is a great choice, as it's able to fold completely flat which allows for easy storage and transportation anywhere that is convenient.
This cart is just under 13 pounds in weight and can carry up to 77 pounds of stuff including enough room for a large cooler. So, if you typically don't carry a ton of stuff with you when you head to the beach, this is a solid choice.
The front wheels pivot for maneuverability and the rear wheels are fixed, and they are 4 inches wide for easy pulling over sand. Also, it has a bar on the front to carry up to 4 chairs, along with a pouch for a body board and it also comes with an umbrella.
Pros
Body Board Pouch
Umbrella
Extremely lightweight
Collapsible
Additional storage pouch on the handle
Cons
Other Carts like it can carry more weight
Must be pulled on the back wheels to go through the sand
#9 Folding Utility Cart by YSC - Best Cheap Wagon Option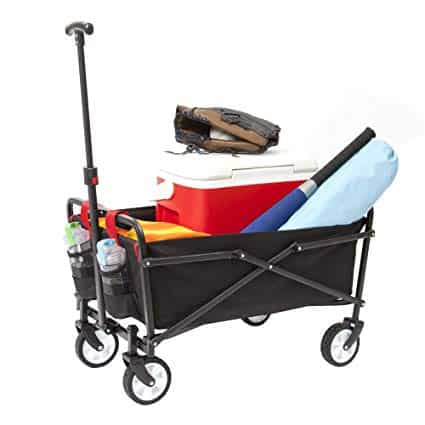 If you're hoping to find a low price beach wagon that still gets the job done, then the YSC is the product for you. This folding utility cart doesn't need to be put together and comes ready to unfold and hit the road right out of the box.
It's made out of durable materials for a solid frame construction and strong polyester that can hold up to a lot of abuse.
As far as storage goes, this collapsible cart folds flat so that it can easily be transported and stored wherever needed. Also, all four wheels are the same size and the rear wheels are in a stationary position and the front wheels swivel 360 degrees. This wagon was specifically designed for people with back pain or those who lack strength for heavy hauling, so if you want something that's light and easy on your body, this is a good choice.
Pros
Collapsible
Lightweight
Great price
Cons
The wheels are on the narrow side which makes it difficult to pull through the sand
What To Look For In a Great Beach Cart & Wagon
Just like when you are shopping for anything and reading reviews, you have to make sure that you know what type of gear you are looking for. You need to make sure that you know what features and qualities are going to make a particular product one of the best of its' kind on the market. You also want to try and figure out what it is that you want and what you don't want.
There may be wagons that are good for one shopper that is not going to work out well for you. Make sure time to do a little bit of research and reading customer reviews is a great idea. Before you hit up Amazon, you will need to figure out what you are looking for in a great beach cart.
Price
First and foremost, you are going to need a beach wagon or cart that is going to fall perfectly within your price range while still having the capabilities and features that you need. This is one of the first things that anyone has to consider when they go shopping. How much are you willing to spend?
Beach Wagon or Cart?
There are a couple of options to choose from when it comes to shopping for beach supplies. There are carts and wagons. Different ones are going to be better suited for different people and what they intend on using this for. You will want to decide if you are looking for a cart or a wagon by weighing the pros and cons of each below before making your purchase.
Storage Space
You will need a cart or beach wagon that is large enough for hauling all your items and that you want to bring with you. When buying a beach cart, you want to make sure that it can handle your umbrella, toys, towels, chairs, and have at least one holder, or multiple holders, for other extra supplies that you typically bring with you.
Storage capacity and extra holders are very important aspects to consider before buying a wagon or cart because if it isn't big enough to carry everything you need for the beach, then it kind of defeats the purpose of having one. However, the bigger the cart, the heavier and more difficult it will be to pull or push, so you need to take that into consideration as well.
Portability and Storage
You are going to have to fit it into the bottom of the trunk of your car and find a place to store it when it isn't being used, so taking into account its portability as well as how much space it's going to take up are important. A cart or wagon that is collapsible and light is going to make the transport and storage much easier when it is not being used.
Wagons can be big. You need to figure out where you are going to store it and make sure that you buy one that isn't going to be a pain when it's not in use. If you have ample garage space to keep a beach wagon, for example, and an SUV, you can opt for a large product.
Uses
You also want to consider if you are going to keep the product for anything else. Are you going to want something that is more multipurpose and able to be used around the house and on other trips as well? Or is this going to be something that is strictly going to be used for the family trips to the beach?
Beach Cart Features
When looking at the different models side by side, you'll want to look closely at the different features they offer. Depending on what your needs are, will determine what type of hauling gear you should aim for. Sometimes there are extra features that you don't need.
WHEELS
The wheels of the carts are going to be an important feature to consider. Flimsy wheels will make it difficult to navigate a beach wagon or cart. There are plenty of carts and wagons out there, but not all of them are going to have wheels that will be conducive for going through the sand. Four skinny wheels are not going to do the job.
Keep an eye out for the wheel material as well as how much weight they can support. This is going to be the feature that can make or break the product.
MATERIAL
The material and framework that the car or beach wagon is made of is important too. Being at the beach, it is inevitable that it is going to get wet. You want a material that is going to dry quickly, handle the abuse of the sand, salt, and sun, and (if possible) a material that is washable. If you're opting for a cart with fabric, make sure it is tear resistant and easily washable. You don't want the bottom to fall out.
WEIGHT
Who is going to be lugging the cart or wagon around? If it's too heavy, you aren't going to be happy when you have to lift it in and out of your vehicle or carry it up some stairs. Aim for a something around 15 lbs. that has removable parts and you should be good to go.
Now that we have gone over some of the most important qualities of a beach cart/wagon, let's take a look at some of the best ones out there on the market.
There are a lot of options out there and all of them have their pros and cons. Through our research of the best carts and wagons, one of the most important features is the wheels. You will want to take a good look at customer reviews to see what other people's experience was with the various cart and wagon options. There are those that are lighter than others, cheaper than others, and better suited for other uses besides going to the beach.
You will want to take a good look at all of the different options because your needs will dictate which direction you want to go in. If you are someone that has strength issues or back problems, you will want to look at the lightest ones. If you are someone who is going to have a lot of stuff to bring, you will want to get the ones that are the most heavy-duty and spacious. Regardless of what you need, you are definitely going to be able to find the perfect beach wagon or cart for you.
Other Posts You Might Like
Live Your Aloha Beach Cart Review
Beach Cart
★★★★★
"
We have a lot of stuff and needed a beach cart to handle it all and then some. Chose one based on this post and so far it's very durable and easily goes through the sand. Loving it so far.
"