'Iolani Palace is one of the must see landmarks while visiting Hawaii.
`Iolani Palace, a national historic landmark and the only royal palace in the United States, was built in 1882 by the last king of Hawai'i – King David Kalakaua. It was the official residence of King Kalakaua and his sister and successor, Queen Liliuokalani, from 1882 to 1893. They were the last two monarchs of the Hawai'ian Kingdom.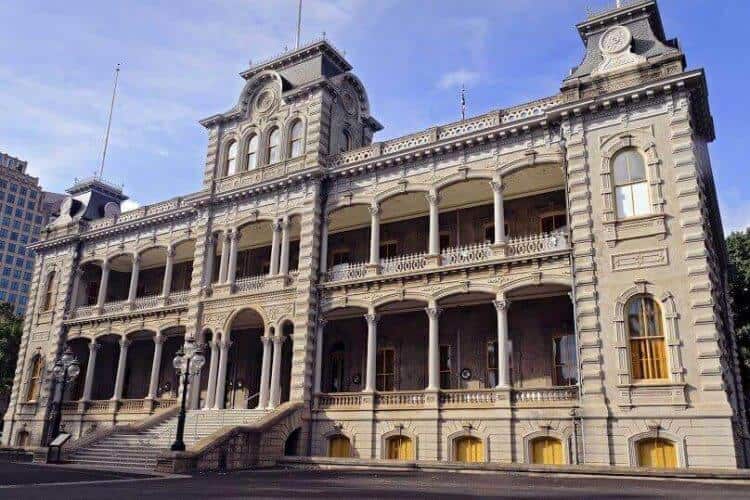 King Kalakaua was referred to as "the Merrie Monarch". He was a patron of culture and arts who enjoyed socializing and entertaining. He was educated at the Chiefs' Children's School, and during his first year of reign, he made history by being the first king to visit the United States. King Kalakaua once again distinguished himself in 1881 by sailing around the globe. Today, the Merrie Monarch Festival is a week-long festival of Hawai'ian culture and hula held every year in honor of this king.
The first royal palace in Hawaiʻi was originally known as Hale Ali'I, or House of the Chief. King Kamehameha V changed its name to `Iolani Palace in honor of his predecessor and late brother. "Io" is the Hawai'ian hawk, and "lani" signifies exalted, royal, or heavenly.

[mc4wp_form id="1051″]
The original palace had become worn down over the years and was deteriorating due to termites. It was knocked down in 1874. During King Kalakaua's worldly travels, he acquired a taste for the grand palaces held by other monarchs. This appetite inspired the construction and design of the `Iolani Palace that still stands today. The construction, costing $340,000, was started on December 31, 1879 and was completed in 1882.
King Kalakaua's successor, Queen Liliuokalani, was determined to strengthen her political power. Her attempt to put into effect a new constitution resulted in the overthrow of the Hawai'ian monarchy. In 1895, an attempt was made by Hawai'ian royalists to restore Queen Liliuokalani to power. However, it resulted in her arrest and she was forced to relinquish all future claims to the throne. She endured a humiliating public trial and was subsequently fined $5,000 and sentenced to 5 years in prison of hard labor.
Later, the sentence was reduced to imprisonment in an upstairs bedroom of `Iolani Palace. During this time, she was denied visitors with the exception of one lady companion. After her release from `Iolani Palace, the Queen remained under house arrest at her private home for five months. It took another eight months before she was allowed to leave Oʻahu.
In 1993, 100 years after the overthrow, President Clinton signed a Congressional resolution in which the United States government formally apologized to the Native Hawai'ian people.
The Friends of `Iolani Palace, founded by Mrs. Liliuokalani Kawananakoa Morris, grandniece of Queen Kapiolani, oversaw the restoration of the palace. Today, `Iolani Palace is a museum that continues to be a focal point in efforts to restore Hawai'i's authority and independence, and restoration efforts continue by the Friends of `Iolani Palace.
[mc4wp_form id="1057″]
Useful Information:
The ticket office is located in the `Iolani Barracks on the Palace Grounds. Tickets may be purchased there Monday – Saturday, 8:30 a.m. – 4:00 p.m. To make reservations, please call (808) 522-0832 or (808) 522-0823, or visit http://www.`Iolanipalace.org.
For pre-recorded tour information, call (808) 538-1471. Both guided and self-guided audio tours are available Tuesday – Saturday.
Holiday hours: Christmas Eve from 9:00 a.m. – 4:00 p.m, AUDIO TOURS ONLY.
CLOSED New Year's Eve and New Year's Day.