The Ultimate Buzz:
7 Hawaiian Coffee Shops That'll Make You Forget About Starbucks
Don't you wish your name was globally synonymous with something bad ass?
"You don't believe that Oxford University is older than the Aztec Empire?" Samantha it.
"You've never seen a rapping armadillo?" Oh My Gawd, you have to Samantha it!
"I like to Samantha and chill" (if ever there was a way to say you want to get laid without attachments).
[mc4wp_form id="4788″]

From Googling this to YouTubing that to forgetting entirely about the antiquated word "cinema" (that's Netflix to you, slow poke), we live in an era in which brands have become so ubiquitous they've turned into verbs.
And somewhere within the last decade and a half, "Starbucks" has replaced coffee, as if that Seattle java shop invented the cacao bean itself.
While some things are here to stay—sorry, Bing; God knows you tried—there's no need to hold onto your Starbucks addiction while on vacation in Hawaii.
Because while the (albeit posher) McDonalds of Coffee is good and fine—where do you think I'm writing this?—Hawaii is home to a number of homey cafes that serve a stellar drip. Wake up in style with a trip to one of these winners:
Belle Surf Café, Kihei, Maui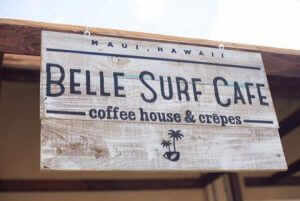 Kihei is every urban planner's worst nightmare, a place where a complete lack of prudence has turned the prettiest part of the Valley Isle into a hodgepodge of strip malls, condos, and parking lots.
Given that it's too late to look to Portland for inspiration, those who live here have sussed out a few pockets of brilliance. (Mauians are nothing if not resourceful.) You know, those block-long parts of a Chop Suey community that kinda, sorta, somewhat resemble the tropics' version of a real neighborhood.
Enter South Kihei.
This part of the sunny "city" straddles supercilious Wailea and the total squalor that is Central and North Kihei. Bathing suit shops run amok, shave ice stands keep standing despite the economy, and while there's a friendly Starbucks in the center of it all, traipsing into Belle Surf Café will give you the illusion that this town's actually got some swagger (I didn't say class).
Located in an otherwise forgettable outdoor mall, this bright little venue is best known for serving the best crepes—read: only—on the south side of the island.
Surf posters elbow beachy memorabilia and tables topped with vases of fresh flowers give guests a place to unwind and thumb through Maui Time.
All that aside, their coffee is topnotch, from hand crafted cold brews that are steeped just right to Ethiopian blends that put a kick in your okole.
Feeling fancy? Their Café de Flore puts the Frappuccino to shame by blending espresso with Goat Lava Sea Salt Caramel and topping it off with a chocolate mac nut brittle. Oh Em Gee, indeed. Or, rather, bon appetit.
Glazers Coffee, Honolulu, Oahu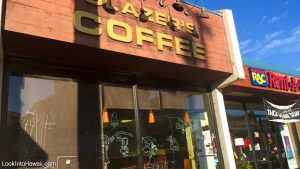 Once upon a time, there were words like Small, Medium and Large, a mug of "coffee" didn't set you back 375 calories, and not every cuppa joe was served with Bon Iver on repeat in the background.
Take a blast into the past—or at least the hipper parts of the mainland—at Glazer's Coffee in metro Honolulu.
The employees here are wholly deserving of the "barista" moniker: These are peeps who are eco-conscious and mad-serious about the brews they offer. (Think: fair-trade, organic, shade-grown beans that are roasted to perfection.)
Often referred to as "the living room of downtown Honolulu," this sweet little spot creates foam art worthy of Instagramming and offers a respite from "Town's" noisiness. Come in to chill out, and try an orange-infused Mocha Valencia while you're at it.
Sip Me, Makawao, Maui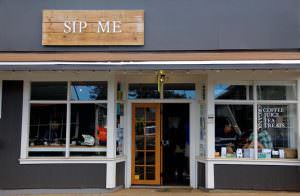 An often overlooked Maui activity is driving upcountry to experience the island's diversity.
Here, cloud forests give way to epic jungles and cows appear planted in fields specifically for our rustic adventures. The towns are tiny and cute, the pakalolo is pervasive, and the boutiques offer glass-blown bongs that'll make even your stoniest friend envious.
The only Starbucks in these parts is a grocery store kiosk in Pukalani, which means you best strap one on and trek over to Sip Me in Makawao.
This is no ersatz café peddling gas station-quality coffee (hello, Seattle's "Best"). Sip Me serves up seriously artisan caffeine cuisine—as well as gluten-free treats that are too decadent to describe and green juices so rich in antioxidants you'll have enough energy to charge a bull and run down the mountain.
Morning Brew Coffee House & Bistro, Kailua, Oahu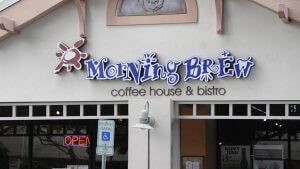 Some things in life are far better when paired: oil and vinegar, peanut butter and jelly, beer and cigarettes, cocaine and C-notes, blondes and navel rings.
The same holds true with coffee. While cream and sugar is fine and nice, real coffee experiences blend books with brews to give connoisseurs a truly inimitable experience.
Good thing the masterminds behind Morning Brew Coffee House & Bistro realized this irrefutable fact: Their upstairs loft supplies imbibers with a library of books to peruse while they sip their coffee. Bring your appetite—there's nothing quite like dining on a baco-waffle as you read Lauren Groff.
Aloha 'N Paradise, Waimea, Kauai
Books go well and swell with espresso brews, but what about art and an owner named Candy Barr? (For realz.)
Welcome to Aloha 'N Paradise, which, despite its ungainly name, is actually something to savor.
This is cottage charm at its finest, where cappuccinos are served with serious aplomb, computers are available for unconnected users, and the place still considers itself a Wi-Fi "hotspot."
Leave your slickness at the door and indulge in a silky-smooth macchiato and one of their legendary muffins—if for nothing else than this Garden Island fave supports local artists.
Island Lava Java, Kailua-Kona, Big Island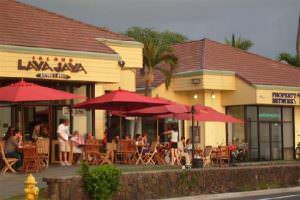 Got browbeaten into visiting the Big Island? Not to worry, Arabica aficionado: This is the state's home of world-class coffee.
While the Big Island's coffee farms are your best bet for flawless brews, few of us have the patience to go on a three-hour plantation tour for a 12-ounce cup of fuel—especially first thing in the morning.
Thank the stars for Island Lava Java, a sleek, cheery spot in Kailua-Kona (and a sister venue in Waikoloa). This café-slash-bistro has been in business for over twenty years, offering ocean side dining and a genuinely gracious feel.
Grab a mug of magic and sink into one of their "Pull-a-parts" (I swear it's an authentic Hawaiian staple). It'll make you forget that Oprah ever had the nerve to name a Chai tea latte after herself.
Morning Glass Coffee & Café
Locally sourced coffees are served with panache at this trendy Manoa bistro, where hipsters sidle up to the bar for Chemex-brewed drips and students inhale breakfast sandwiches.
Looking for something different for the palate?
You're in luck, Chuck: Morning Glass Coffee & Café offers Sweet Teas with sugar and fresh mint, crème brulee oatmeal, and the most inventive take on pancakes since blueberries (as in, macaroni and cheese with Vermont cheddar).
Take that, Starbizzles, and your oh-so-chic bagel balls. This is what it means to be actually inspired.