I have a confession.
I've been visiting strip clubs while on vacation for quite a while.
Why?
Well, before the kids, mortgage and the boring life stuff that came along with it, my husband and I were actually fun people who loved letting off steam.
I'm sure you've heard the "work hard play hard" saying a million times.  But, for us, it was true. We'd make money knowing full well we planned on blowing it all while on vacation; and anyway, beaches can be pretty dangerous places when you have fair skin!
Now, let me clear something up quickly. Ladies, you think that men or women that visit strip clubs go only to get laid, right? I'm not saying it doesn't happen; sometimes it does, sometimes it doesn't.  But, if you ever just pop your head in, I can guarantee you'd be pretty surprised at the different types of people you'd find there.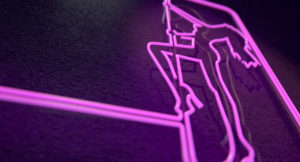 I've met doctors, teachers and lawyers, right alongside homeless men and pastors.
Think of it as a cheap therapy session, but where the therapist wears less gear and doesn't over-analysis everything. To be honest, most of the strippers and patrons just want someone to talk to, judgment free. 
This got me thinking. My man and I can't be the only ones who like to watch beautiful women undress while on vacation, could we? 
So, on my honeymoon no less, I asked a stunning stripper to give me some tips on the best strip joints to visit in Hawaii.
Doesn't matter if you're a hardcore enthusiast or a tittie bar first-timer, these venues will ensure that you have a banging good time with total strangers (Pun of course intended). 
(A quick note: There's a 'no lap dancing allowed' rule in the City and County of Honolulu. The local police decided, in the late '90s, that a woman wearing a thong grinding against your legs constitutes prostitution. It's a shame, really, as the lap dancing scene was apparently rocking back then.)
Club Rock-Za
One of the most famous; Club Rock-Za, is located on the mauka (inland) side of Kapiolani, across from the convention center, at Atkinson.
Club Rock-Za has one of the largest selection of dancers around. Remember to buy at least a couple of drinks and maybe a dance or two while you're there. Have fun, let your hair down a bit (if you can) and relax. Go with it and experience a night you sure won't forget!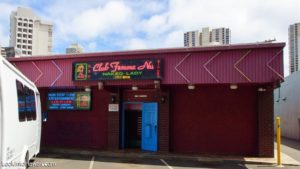 Club Femme Nu
Just half a block away from the Convention Center, Club Femme Nu is rad! It's been around since 1988 and boasts four stages, six private rooms and welcomes bachelor parties with open arms.
The one thing I liked and I know a few of my friends enjoyed too, was that the dancers and staff treated everyone like they were on a "pretend first date." It's a great place for both of you to live out your fantasy; but be warned, no touching means no touching!
Hawaii by Night
I kid you not, this club is actually in Waikiki. It's a little hole in the wall, a "ghetto," I suppose, but it's amazing fun. The women are hot, the music is great and everyone, including the staff, are just there to party royally!
The downside? You won't find a drop of alcohol here. Don't let that put you off, though. I was a bit skeptical whether I'd have a good time here without a hard drink, but a friend slipped the VIP host $30 and we were very well looked after!
Club 939
I've never visited this club myself, so don't shoot the messenger, but a few friends have and fu*king loved it! One did comment that he found it a tad expensive, but to me, a good time shouldn't be based on how much you spend.
It's just a few minutes walk from Waikiki, on the corner of King Street and Keeaumoku.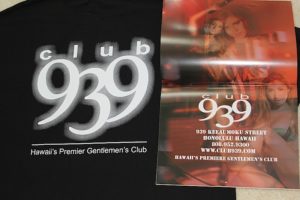 Another tip my friend mentioned; he stupidly thought he may have been in love with one of the dancers and repeatedly asked for her name. Just don't do it, especially not here. We all have alter egos and private lives. Crossing the line is a no no! 
These four clubs are the big guns, going in thinking that you're going to get laid just isn't going to happen.  Most of the women will tell you straight up that they don't hook up, though that won't stop them from emptying your cash and leaving you hot under the collar. 
If you're by chance looking for (ahem) something more, your best bet is to check out some of the smaller dive bars.
Asian Massage Parlors
If it's a certain type of itch you need to scratch, then check out one of the many Asian massage parlors.
Granted, most cities have a massage parlor that is well known for offering a little more tug and pull than the others.  In Hawaii, this is an industry, would you believe?!
So, if you've never graced an Asian Massage Parlor or are unsure what to do, then here's the low-down.
Once inside, most parlors will have the women lazing around in a communal area in lingerie. Most of the women will be South Korean, Japanese, Philippine or Chinese, with the odd white girl chucked in. 
The mamasan (the lady in charge) is your guide and will show you around and lead you to your private room. This is when she will ask for the house fee, normally around $40 to $70
.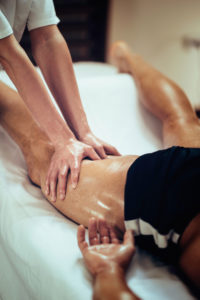 Don't panic if you've changed your mind or don't see anyone that interests you. The mamasans are polite and professional and, if you HAVE paid the house fee, will return it.
If everything is squared away and you're happy, the woman in question will come in and talk you through what will happen next. This normally involves a shower, a soapy rub, then back to the room where whatever happens happens. 
Obviously, the more generous you are with the tip, the more generous she'll be with her time.
Honolulu is scattered with Asian Massage Parlors, but the three that were mentioned to me by friends are off of Ward Avenue, not too far from Exotic Nights.
Roppongi, Golden Queen, and Pink have been recommended to me by friends. Something about the women being mega hot…. I'll leave you to decide that for yourselves….
All in all, Hawaii is the best place ever to have a great time! So what if a lot of these places aren't as high class as Spearmint Rhino? Who cares!
These clubs will take you back to the 90s; where dark neon lights and loud hip hop music were the bomb! Check 'em out, unless you're a neurotic that is….