The summer is near – it's beach day, and along with it, there will be vacations and poolside parties. If you're planning to have cool moments along the shores of Hawaii beaches, enjoying the tranquility of the sea breeze, then you and your friends & family need to start looking for some of the best beach umbrellas. The best beach umbrellas are resistant to the sun's harmful UVB and UVA rays , stylish, easy to set, and designed for effortless carrying. More so, they keep you and your family comfortable as you soak in the sun's shining reflection off the blue sea.
The dangers of UV rays like premature aging, immunosuppression, skin cancer, and eye damage are well-documented. It sums out why you should take a safe refuge under a sturdy beach umbrellas.
A trip to your favorite beach is the archetypal summer vacation. But be watchful of buying umbrellas that might go airborne. A flying beach umbrellas can hurt, turning your quintessential vacation into a painful occasion.
The only way to avoid this is by buying a robust and reliable umbrella. However, choosing the right product can be taxing, especially if you don't know what to look for. Fortunately, we have done the hard part for you.
Through in-depth research, experts' advice, and buyer reviews, we have compiled the list of the beach umbrellas in the market for 2019. The umbrellas are readily available at a competitive price.
Quick Look: The Best Beach Umbrella
Top 11 Beach Umbrellas According to LiveYourAloha.com
Sport-Brella Vented SPF Sun and Rain Canopy Umbrella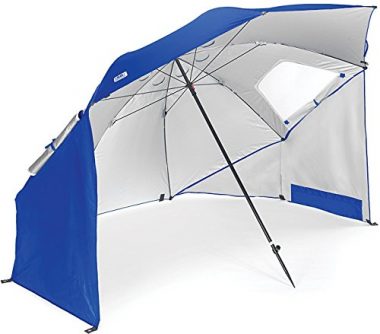 Why we like it: The rugged and durable cover is sturdy to give you long-lasting service. The umbrella is ideal for spending your days at the beach or in the field.
The UPF 50+ is ergonomically designed to keep your skin protected and safe from the harmful UVA and UVB rays. This umbrella by Sport-Brella comes with sturdy side panels for extra coverage. The wind flaps allow smooth airflow and ventilation.
Pros
Easy to store and transport
The inside of the umbrella does not heat up, keeping you pretty cool
It's large enough to provide pleasant shade for two
Painless, quick setup
Cons
It may not withstand extreme winds
Challenging to use large chairs under the umbrella
BEACHBUB All-in-One Beach Umbrellas System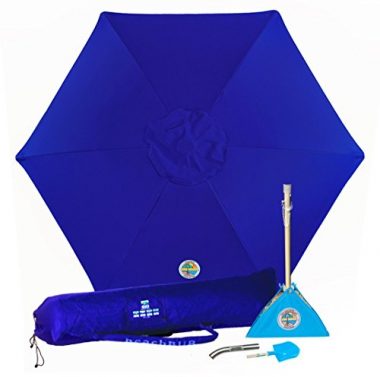 Why we like it: With this umbrellas, you don't need to get on your fours to twist the anchor. It has an endorsement by ALA (American Lifeguard Association) and highly approved for all beachgoers.
Nothing would be intimidating like when other beachgoers are giggling at you trying to twist the anchor or digging a deep hole to support your new umbrellas. BEACHBUB manufactured this tool with you in mind. It's designed with shoulder strap for added comfort when carrying the umbrella.
Pros
The umbrella can withstand reasonably high winds
The Skin Care Foundation endorses it
You can use it as a patio umbrella too
It comes with two hooks to hang towels
Cons
Great design but the overall quality is of great concern
It might not last for long without breaking
Tommy Bahama 7 Feet Sand Anchor Beach Umbrellas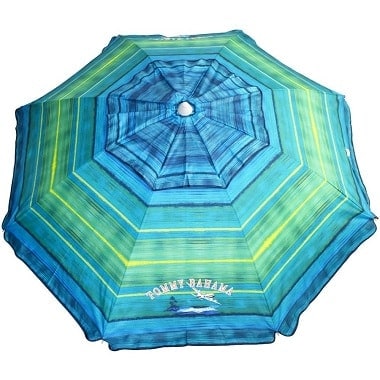 Why we like it: It's a sturdy umbrella designed and engineered to make your summer vacation fun. It also features UPF 50+ sun protection to keep your skin safe from UV rays.
This 7-feet sand anchor umbrellas by Tommy Bahama is designed with a fiberglass frame and a telescope aluminum pole which allows it to stand high winds and withstand sea breeze. It has a wind vent for airflow and ventilation. The bottom pole is engineered with a built-in sand anchor for easy anchoring. You, therefore, don't need to waste time digging a deep hole.
Pros
Lightweight for easy portability and storage
It has an adjustable height
Stable built-in-sand base
It has a vent for ventilation
It can handle strong winds
Cons
Some clients claim that the umbrella flips constantly
The lightweight material might make it feel a bit flimsy
AMMSUN Outdoor Patio 6.5 Feet Beach Umbrellas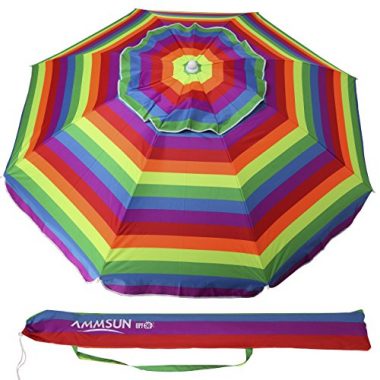 Why we like it: This outdoor portable beach umbrellas by AMMSUN is ergonomically designed to withstand strong winds and to keep you cool during summer months.
This sturdy AMMSUN beach umbrella is versatile with 6.5-foot-wide canopy design for backyard or beach. If you're visiting Hawaii beaches, you need to carry this umbrella since it's lightweight for portability. The rust-resistant steel tubing keeps the product looking great for long. the versatile fiberglass ribs prevent the canopy from flipping inside out.
Pros
It will entirely shield you throughout the day
Colorful, big, and stand up to the breeze
Excellent quality for a high price
Durable
Cons
Some users claim they got sunburns
The sand anchor is sold separately
AMMSUN 10 Panels 7ft Adjustable Height Outdoor Beach Umbrellas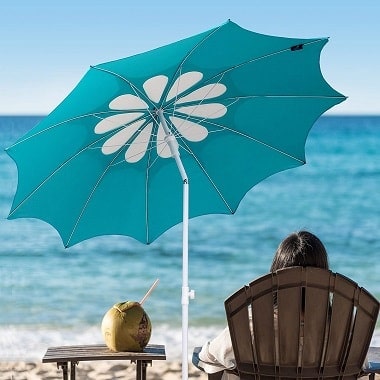 Why we like it: This portable beach umbrella has a hollow out design with excellent wind-resistant function. The flower shape air-vent mechanism makes the umbrella elegant and unique.
The Hawaiian Islands harbor several picturesque beaches that will make your vacation memorable. The wave action and erosion creates beautiful sand which brings about epic beaches especially along the Big Islands. If you want to have fun at Kohala Coast, ensure you have the best beach umbrella. In this case, AMMSUN beach umbrellas can be an ideal item to carry along with a chair or two.
Pros
Stylish and lightweight carrying case
Sturdy ribs for added support and stability
The canopy shields you from harmful rays
The tilt mechanism allows easy adjustment
Cons
The spring and pin hardware might break under extreme windy weather conditions
Some users claim that the product is pretty flimsy
AosKe Portable Sun Beach Umbrellas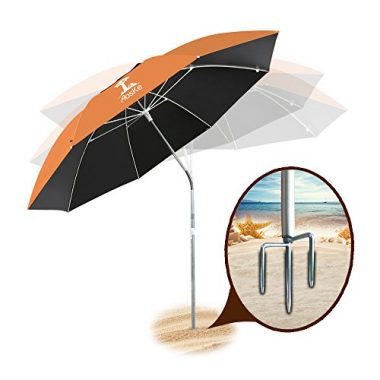 Why we like it: The beach umbrella is designed to block UV rays from any angle. It's characterized by no odor and anti-UV features as well as eight carbon fiber skeletons for adequate protection against fracture and wind.
If you want the combination of protection and class, then this umbrella by AosKe should be in your shopping list. Say no to premature aging and skin cancer by shielding yourself from UV rays. The rays can also cause metabolic disorder and necrosis in the dermal cell. Other adverse effects include loss of elasticity, wrinkles, folliculitis, yellowing, and sunburn. The damaged skin cannot manage to resist ailments leading to skin diseases that are hard to cure.
Pros
The air-vent allows smooth air flow
Provides 360-degree rotation for maximum sun protection
A very lightweight sunshade umbrella
It's easy to assemble
Comes with a carry bag and windproof base pin
Cons
Its durability is in question
It might flip over under extreme sea breeze
Sport-Brella Versa-Brella Adjustable Umbrella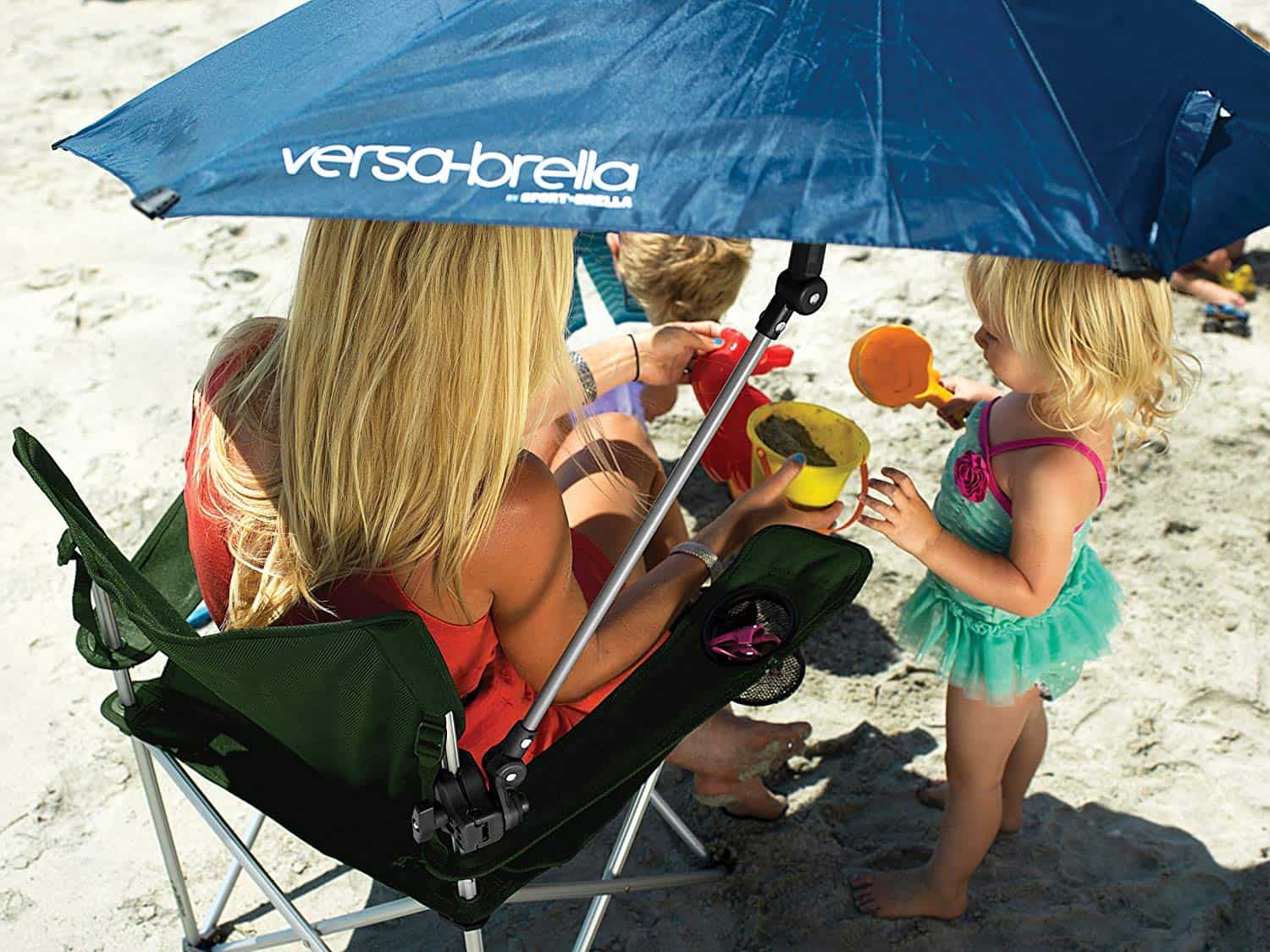 Why we like it: Sport-Brella adjustable beach umbrella strikes a balance between quality and affordability. It's a suitable umbrella for any outdoor activities.
There is no reason for you to get scorched by the sun while searching for the shade when you can bring one yourself. Having vacation on the shores means you will need time to relax after swimming as you enjoy the cool breeze. However, this cannot be possible if you don't have the best beach umbrella. Luckily, Sport-Brella created Versa-Brella with you in mind.
Pros
The universal heavy-duty clamp offers a secure hold on the ground
Lightweight for easy transportation
The canopy cover is built to last
Ideal for any outdoor activity
Cons
A few users claim that the claim isn't sturdy enough to withstand strong winds
Not height adjustable
Rio Beach Integrated 6.5 Feet Anchor Beach Umbrella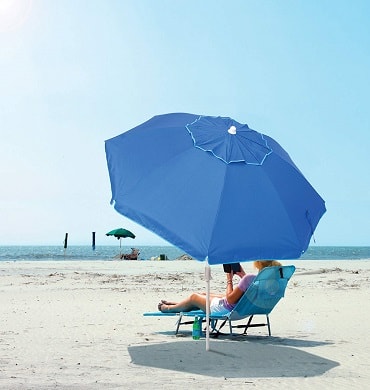 Why we like it: It's one of the most spacious beach umbrellas with sun protection of UPF 100+.
RIO Brands was founded in 1947 and for those decades, the company has continued to bring quality and fashion to backyard and beach. The team of designers does not shy away from showing the world their prowess. RIO Brands is dedicated to developing products that are accurately and innovatively aligned with the trendy fashion and style. With the creation of the RIO beach integrated umbrella, the company showcased its desire to create products of the highest quality across the globe.
Pros
Decent built
Sturdy
It has sun protection of UPF 100+
Spacious
Lightweight
Cons
It might flip inside out in the heavy wind
MOVTOTOP 6.5ft Beach Umbrella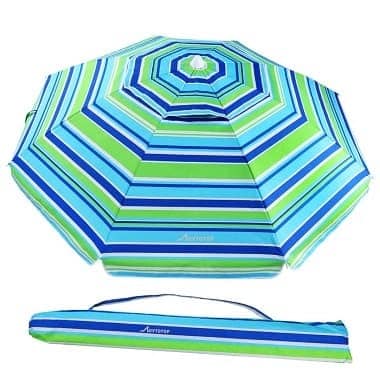 Why we like it: MOVTOTOP Beach umbrella is a collapsible product that is lightweight and portable. It comes with a lifetime guarantee with 90-days money-back guarantee.
If you want to blend beauty and class, we dare you to buy this ergonomically designed umbrella by MOVTOTOP. It gives you the comfort to enjoy the cool breeze at the beach or in your environment. It's created to provide you with maximum protection from harmful sun rays without restricting your view. Understanding the perils of UVA and UVB rays, the company manufactured the product with a UPF 100+ coating to protect users from adverse effects of these rays. the protection is brought by the silver coated polyester fabric which is also waterproof.
Pros
The wind vents facilitate air flow
Lightweight and portable
Height adjustable allows you to get more shade
100% UV protection
Colorful and stylish
Great quality and easy to assemble
Life is Good Beach Umbrella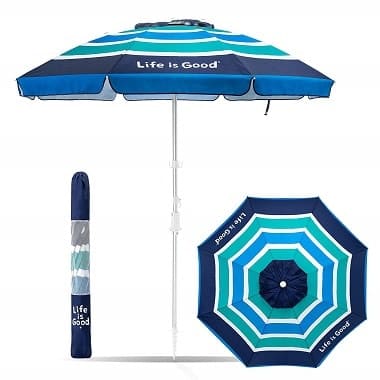 Why we like it: The umbrella has a heavy-duty auger to secure it against high winds. The built-in, flip-down handles enable the user to turn the auger quickly.
As its name suggests, your life/stay at the beach will be enjoyable. During the summer months, it becomes hard to withstand harsh sun rays. Nothing would make your skin look pale than sunburns. More so, you don't have to live in fear of getting skin cancer, wrinkles, and aging prematurely. With Life Is Good beach umbrellas, you're assured of protection against UV rays. If you have spent days looking for the best beach umbrella, then you need to invest in this product. The beautiful blue vented canopy offers maximum stability. It ensures the umbrella does not become airborne.
Pros
Lightweight for easy portability
Accessory hanger included
It comes with a carry bag
Easy to set
Built to last
Cons
You cannot unfasten auger
The sand screw doesn't have the cover so it might poke you if you're not keen when taking the umbrella out of the carry bag.
Steel Commercial Grade 7.5ft Beach Umbrella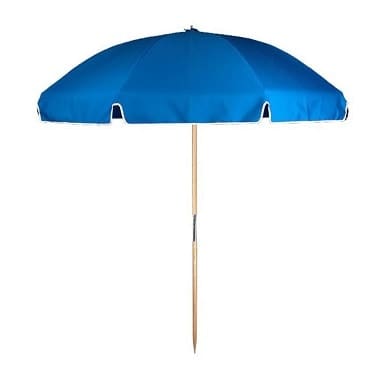 Why we like it: The Steel Commercial Grade 7.5ft Beach Umbrella by Frankford is durably constructed with steel ribs and an ashwood pole to offer incredible sturdiness and lasting longevity.
Closing our list of the beach umbrellas is this superior product by Frankford Umbrellas. the umbrella is made of 1.38-inch diameter. Heavy-duty two-piece ash wood pole and zinc-plated steel ribs to make it a sturdy sun shelter for your family. The rugged and durable cover makes the product a darling to many. More so, the fabric provides UPF 50+ sun protection. It also has a mildew and mold resistant which is much higher than the standard 6.3 0z. This means that the umbrella is rust-resistant.
Pros
It comes with a 10-year fading guarantee superior warranty
Heavy fabric with heavy-duty construction
Stands up against high winds
Excellent quality
Cons
Expensive
It's a massive beach umbrella
Sand anchor is sold separately
Beach Umbrella Buying Guide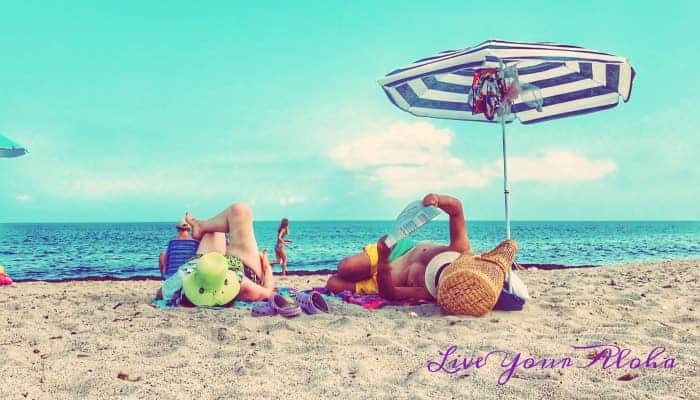 Summer months are great for tanning at the beach, exploring the outside world, allowing yourself to fade into the sand, and having enthralling moments snorkeling. It's okay to say summertime is the moment to spend a lot of time outside. But as you spend time outdoors, you'll need an item that will help you avoid severe sunburns and beat the heat.
While liquids and sunscreens can go a long way, these best beach umbrellas are of great help. However, buying the best product can be unnerving. You have to read lots of users reviews and consumer reports. The task can be more daunting if you don't know what to look for in the best beach umbrella.
Let's have a sneak peek with these reviews of the features you definitely need to consider:
Umbrella Features to Consider
Durability: Beaches are notoriously hot and windy. More so, the blowing wind can expose the umbrellas to abrasive particles, not forgetting the harsh sunlight. This combination can easily tear the umbrella, leaving you exposed to harmful rays and rain showers. Therefore, it's crucial to choose a product that's made of high-quality fabric that can withstand high winds. The ribs and poles should be equally strong.
UPF Protection: Not all fabrics are equal. Some materials offer more protection while some don't. UPF is the amount of UV radiation absorbed by any material before it reaches your skin. If the umbrella's fabric has a UPF rating of 50, it means only 2% of the UV rays will get to pass through the material. If the score is UPF 20, then 5% of rays will pass through.
Generally, UPF 20+ offers excellent sun-resistant protection, the ration of 24 -39 provide very good protection, while any rating above 40 is the best! Hence, a beach umbrellas with UPF 50+ of sun protection is an excellent choice for your family beach day. More so, if you want to pick up an activity like surfing or stand up paddle boarding, choose to wear protective clothing and a hat to shield you against UVA and UVB rays before getting back to your stunning beach umbrella.
Portability: Spending time at the Hawaii beaches is enthralling. But as much as you want to enjoy the cool breeze under a beach umbrella, ensure carrying your shade does not become a burden. Primarily, beach umbrellas tend to be bulky. However, pick a product that you can fold and disassemble easily for storage. Ensure it comes with a carry bag for easy portability.
Assembly: After carrying your umbrella to the beach, you would want to assemble it pretty fast and seamlessly. Your purpose at the beach is to enjoy your summer moments and relax and not to spend hours trying to fix and setting up umbrellas. Don't become a laughing stock as you try to drill holes trying to make your umbrella stable. Getting an easy-to-set product is essential so you can put your foot down in the sand and relax.
Venting: Air-vent design allows free and smooth airflow under the canopies. This drastically reduces wind force that might make the umbrella go airborne. According to a report done by Forensic Sciences, a 55-year-old lady succumbed to injuries inflicted in her chest by a windblown beach umbrellas. We are confident you don't want to be another statistic. Without venting design, gusts and breezes have nowhere to go but blowing the umbrella up. Ensure your beach umbrella has at least one vent and if you get one with two air-vents, the better.
Weatherproof: Weatherproof is not all about water, wind, and sun shelter. It's also about having ribs and poles coated with stainless steel to prevent rusting. This feature extends the lifespan of the umbrella and makes it ideal for everyday outdoor use.
Price: Pricing is also an essential factor to consider when it comes to buying the best beach tents or umbrellas. Price is affected by the brand, construction, the material used, and even UPF sun protection. But you can still get inexpensive umbrella infused with amazing features to give you comfort and helps you save a few bucks.
Who is Eligible to Use a Beach Umbrella
UV rays come with adverse effects like sunburns, wrinkles, itchy skin, skin cancer, premature aging, among many others. Everyone needs to get shielded against these rays to prevent unforeseeable effects. If you're planning to spend most of your time outdoors, especially in summertime, then you're eligible to use a beach umbrellas. This includes kids and seniors.
Beach Umbrella FAQ
What is the size of a beach umbrella?
A. Beach umbrellas come in different sizes, but 6 -7-foot umbrellas are considered small. Most of these umbrellas weigh between 5-7 lbs with poles measuring 1.25inches in diameter. If you want a bigger unit, go for 7+ inches.
What is the tilting beach umbrella?
A tilt beach umbrella is designed with a mechanism that allows the product to tilt at a given angle over your chair to offer maximum shade and protection from sun rays.
What is Air-Vent Design?
The air-vented beach is designed with an air vent at the top of the umbrella to allow free flow of air. More so, the vent allows hot air to escape at the top and lets fresh air flow in to cool the umbrella. This feature also prevents the umbrella from flipping over.
In Conclusion
Getting the best beach umbrella can take a toll on you if you miss some essential factors to consider. Luckily, we believe the above reviews will make your work easy by picking the best umbrella that will suit your needs. Our best pick is Steel Commercial Grade 7.5ft Beach Umbrella. Although the product comes at a high price, it's up to the task and comes with a good shipping policy. The umbrella comes in various colors to help you choose which accentuate your style and fashion. The USA-made product boasts of durable and rugged cover that offers exceptional UPF 50+ sun protection that won't fade. It's a broad umbrella suitable for giving two people maximum shade.
Furthermore, the unit is excellent in windy conditions. Despite weighing 13 pounds, the umbrella comes with a carry bag for easy portability. It quickly lifts up, thanks to the manual push-up device. We recommend it since it has the features of the best beach umbrella.
Live Your Aloha Beach Umbrellas Review
Beach Umbrella
★★★★★
"
Thank you! We go to the beach all the time here in Florida and have been burnt too many times. This review helped us in making a decision, so thank you :).
"