The scenic Na Pali coast, settled by Polynesian navigators in 1200 AD, is an incredibly breathtaking 16-mile stretch of rugged cliffs, rainforest, and river valleys along the northwest side of Kaua'i island from Ke'e Beach to Polihale State Park.
The high cliffs protruding up to 4,000 feet above the shoreline, the crown jewel of Na Pali Coast State Wilderness Park, highlight one of the most majestic natural landscapes in the world. They are the iconic image of the Garden Isle.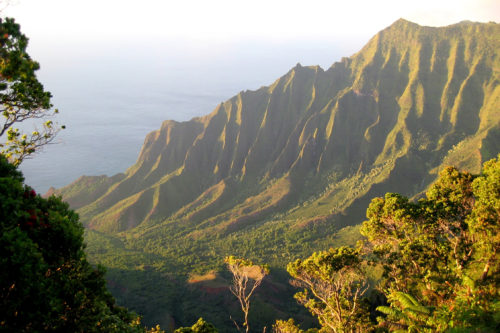 Why is Na Pali coast famous?
Featured in countless nature and geography magazines, the unmistakable sight of the jagged Na Pali cliffs (known for their dramatic beauty and spirituality) overlooking the lush emerald valleys below strikes a captivating image that attracts sightseers from all over the world to Kauai, the second-oldest inhabited island in Hawaii.
The world famous Na Pali coast is not only treasured for its imposing sea cliffs (na pali means "many cliffs" in Hawaiian), but also as the backdrop for numerous nature reserves, rivers, waterfalls, and beaches that make up Kauai's Na Pali Coast State Park.
For example, one of Na Pali's shoreline landmarks is Honopu Valley—known for a distinctive "conch shell-like" sound that's produced when northern winds sweep against its arch.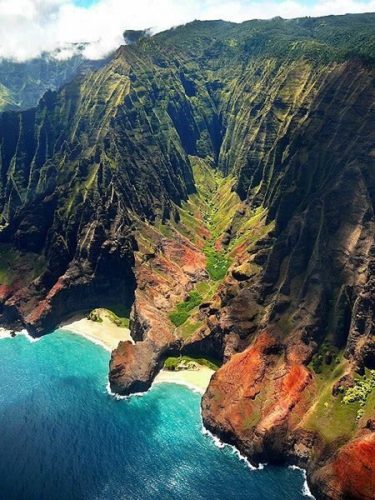 Waimea Canyon is situated further inland (known as the "Grand Canyon of the Pacific") and features Mount Waialeale, one of the wettest places on the planet. There are several hiking trails located around Waimea State Park that let you approach the Na Pali coast.
Boat tours are truly impressive given how the waters around Napali coast are some of the best in Hawaii for sightseeing, snorkeling, and kayaking. Travelers will have a chance to swim with Hawaiian green sea turtles, spinner dolphins, and explore magical sea caves.
There are several valley streams, hiking trails, and beaches tracing the Na Pali coast, providing visitors with an endless flow of ancient natural wonders that breathe life into Hawaii's majestic past.
What is the best way to see the Na Pali coast?
Although the best way to travel the full length of the Na Pali coast is by boat, there are actually several ways you can witness this legendary region's grandeur:
Boat tours
Napali coast tours by boat will really let you bask in the glory of Napali all in one unforgettable day or evening. They provide easy access to the coast and nearby natural wonders such as waterfalls, pinnacles, and sea caves.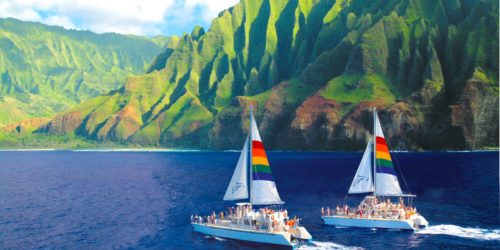 You can sail past the ancient 4,000-foot sea cliffs, up close and personal, while being able to snorkel with endemic marine life in places like Nualolo Kai Beach and Miloli'i. Looking up at this natural landscape off the coast is the best way to get a true sense of its magnificence.
Relaxing sunset dinner cruises are available if you feel like sightseeing in comfort and style. These chartered tours, usually aboard low-profile catamarans, offer travelers a unique sightseeing experience that includes cocktails, local food, and good vibes.
Hiking trails
Truly dedicated adventurers may want to consider some of the breathtaking hiking trails that branch off Hawaii Route 550 near the Ku'la Natural Area Reserve. Some of these hikes will certainly test your level of fitness if you're looking for a workout to accompany your spectacular views.
Along with accessing incredible views of the Na Pali coast, you'll have the opportunity to go trail running with your dog, observe the local flora, and meet other people along the way.
The Kalalau Trail (also known as the Na Pali Coast Trail) is a challenging 22-mile round trip excursion along the scenic Na Pali coastline. It's known for being one of the most epic backpacking hikes in Hawaii. You'll get to trek through the rainforest, visit Hanakapi'ai Falls, cross valley streams, and stop by Waiahuakua Sea Cave. Camping is allowed along the Kalalau Trail, at two authorized locations: Kalalau and Hanakoa. You also get access to beach sites.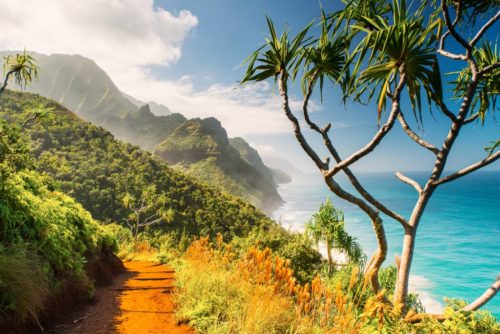 The Nu'alolo Cliff Trail is a challenging 7.5-mile round trip hike starting near Koke'e Natural History Museum just northeast of Waimea Canyon. It's a popular trail year-round, so you'll most likely encounter other fit travelers on their way to the Nu'alolo Trail Vista which overlooks the coast. It offers some of the best views of the Na Pali coast by foot.
The Awa'awapuhi Trail is a moderately difficult 6-mile round trip hike starting in Koke'e State Park just east of Kaunuohua Ridge. It's a popular area for trail running and dogs are welcome. The trail runs continuously downhill to the Nu'alolo valley rim from a starting elevation of 4,120 feet. The first mile can be a bit muddy after it rains, but the last mile features a pleasant grassy area for picnics.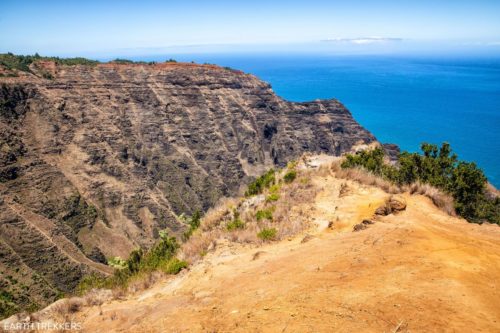 Helicopter tours
If you want to have an unforgettable experience of the Na Pali coast in an hour or less, then a helicopter tour is the only way to go. Aerial tours give you the opportunity to travel across vast expanses of Kauai in order to see things that are inaccessible by boat or land. 
Although a helicopter tour isn't on everyone's bucket list, you can rest assured that Hawaiian aerial tours are among the safest in the world. They are operated by highly experienced pilots in state-of-the-art touring helicopters.
What makes chartered helicopter tours unique is that, as a passenger, you get access to amazing vistas that are only possible by air (such as the inside of a volcanic crater or panoramic views above Waimea Canyon). Pilots are also traveling with guides since they tend to have expert knowledge of the surrounding area's history and geography.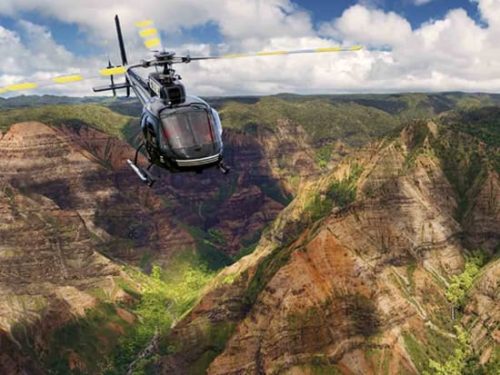 Kauai helicopter tours that cover the northern part of the island, such as the Ultimate Kauai Adventure Tour via Sunshine Helicopter tours, which includes the Na Pali coast in their travel itinerary along with other famous landmarks such as Waimea Canyon and Wailua Falls (since a helicopter ride can travel the length of the Na Pali coast in 15 minutes or so).
Do you need a permit to hike the Na Pali coast?
You do not need a permit to hike the Napali coast unless you plan on camping. There are three authorized camping spots in Na Pali Coast State Wilderness Park:
The Kalalau and Hanakoa campgrounds are accessible by the Kalalau Trail and are covered by the same permit. A limited number of overnight permits for camping and parking are available during the summer months from May through September.
Although you don't need a permit to go hiking, some popular trails require advance reservations for all visitors (such as the Kalalau Trail).
Can you drive to the Na Pali coast?
Yes, there are three main roads that provide access to the Na Pali coast:
Route 50 (east/west)

Route 550 (north/south)

Route 560 (east/west)
Hawaii Route 50 is a 33-mile road that begins in Lihu'e and stretches west to the Pacific Missile Range Facility near Barking Sands Beach in Polihale State Park. This highway endpoint marks the western part of the Na Pali coastline.
Hawaii Route 550 is a 14-mile road that branches off Route 50 in Waimea and heads north to Koke'e State Park (ending at the Pu'u O Kila and Kalalau Lookouts). This stretch of highway gives direct access to most of the Na Pali coast hiking trailheads such as the Honopu, Kaluapuhi, Awa'awapuhi, and Nu'alolo Trails.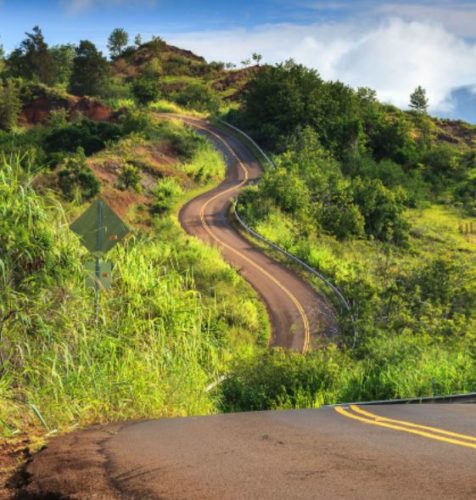 Hawaii Route 560 is a 10-mile coastal road running along the northern shore of Kauai. It branches off Route 56 near the Hanalei Valley Lookout in Princeville and heads west to Haena State Park and Ke'e Beach. This endpoint marks the eastern part of the Na Pali coastline and includes the Kalalau Trail Trailhead.