Dream of vacationing in Hawaii and chances are that you picture yourself sipping a mai tai at sunset, the trade winds dancing through the palms and fluttering your feathered hair while an ukulele strums quietly in the distance.
How cute.
Also: how pedestrian.
One: allow me to remind you that the sun isn't actually setting. Ever hear of a gent named Galileo, June Cleaver?
Two: that ukulele you hear in the distance isn't coming from some bare-chested local boy swooning at the moon, but is likely a paranoid alcoholic subsisting on EBT, half-smoked cigarettes and the $1.75 he makes per day returning your Bud Light Limes to recycling.
And, he may be screaming at the moon, but for a far different reason (meth).
Three: let's not get started on the feathered hair, Farrah Fawcett.
Four: mai tais are well and good, if you're the kind of gal who also likes cruise ships, van tours, indoor malls, ranch dressing, missionary, Friends reruns, Thomas Kinkade and Applebee's.
For those of us who have a bit more élan, there's more to the Hawaiian cocktail scene  and Hawaiian luau's than tired libations with the obligatory rum floater and slice of pineapple.
(P.S. Lily Pulitzer wearer: bartenders die a little each time you order this tedious excuse for a drink.)
So, screw the mai tai, start working on developing a palate and an opinion and join us for a real refined cocktail like a big girl.
[/box]
Here are 7 Hawaiian bars that make a mean drink that we at Live Your Aloha love and approve —and will only serve you a mai tai if you beg 'em:
The Pint & Cork, Wailea, Maui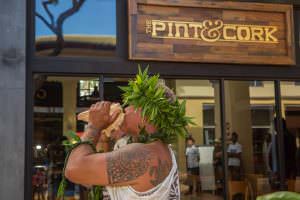 Industrial chic meets Maui-grown goodness at this hip little gastropub in The Shops at Wailea.
From their sleek walls, carved out of redwood from the Waikamoi Forest, to their menu of indulgent eats (think: charbroiled burgers that demand a bib), this sweet spot takes classic swills and turns them on their head.
Case in point: arctic-cold margaritas rimmed in salt might be heavenly on hot days, but they're a bit passé (and a recipe to ruin marriages—but, hey, if yours is on the rocks, go right ahead).
Instead, give The Pint & Cork's spin on this standard a try, by ordering their oh-so-orgasmic Smoke and Mirrors.
Bartenders mix Blanco tequila with charred agave, throw in some orgeat and lime juice for extra flavor and top it off with a steak salt rim to give this baby a bold, smoky flavor.
As for the mirrors: don't bother looking into one after you've had more than three of these bad boys, lest you fancy looking like Frida after a tequila-fueled fist fight with Diego.
Genius Lounge, Honolulu, Oahu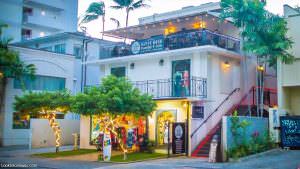 Bust out the Christian Louboutins and spend an evening chillin' at this sexy, airy venue in the heart of Waikiki.
Bar manager Rob Smith's foodie past makes itself known in his inventive craft cocktails, where everything from wasabi to ginger influence his sublime creations.
Pair ahi poke smothered in their special sauce with an Acai Berry Sipper, so perfectly balanced that you'll feel healthy even as you're getting hooched up.
Sake more your thing? You're in luck, little geisha: this sultry gem is packed with top-notch Japanese spirits.
Bar Acuda, Hanalei, Kauai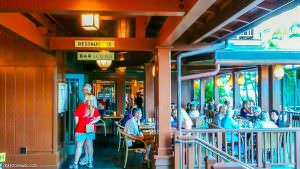 Otherwise known as the Garden Isle, Kauai is perhaps best known as the set for From Here to Eternity.
For millennials far less interested in the island's romantic past, head to Bar Acuda, before searching for the modern woman's equivalent of Burt Lancaster on Bali Hai.
Known as one of the finest tapas bars on Kauai, this Hawaiian restaurant puts the smack back into party punch with their One Two Punch! a luscious mix of dry vermouth, Basil Hayden bourbon, lemon juice and ginger beer. Mixed with bitters and served on the rocks, this tonic goes down like Patrick Swayze's fist in Roadhouse.
And, if you happen to hear some gussied up Valley girl yelling Bond, don't get your panties in a bunch, pretty girl: Pierce Brosnan's got a house in the area.
Monkeypod Kitchen, Wailea, Maui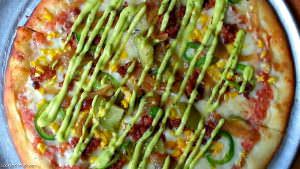 Mist on that self-tanning spray and give your Crocs a rest for the night: this happening hubbub on Maui's south side attracts hordes of lusty visitors dressed in their vacation finest.
Live music serenades this scene of lovebirds and desperate to get laiders (that's a play on "later"—get with it already, old gal) and drinks are prepared by hot surfers who much prefer "mixologist" to bartender.
Sidle up to their side during happy hour, when craft cocktails won't cost you the same as a full set of acrylics back in Baltimore.
One that's worth every pretty penny? Their Pod Thai (surely you get that play on semantics), where Old Lahaina rum is paired with crème of coconut, lime, Thai basil and lemongrass-cardamom syrup.
This libation is so good that you might just say "Phuket" to the rest of your night's plans and keep going until closing time, like a pre-Brad Angelina.
Hilo Bay Café, Hilo, Big Island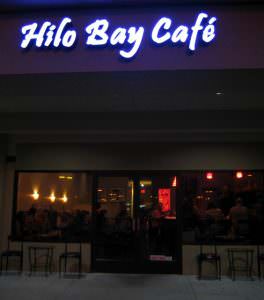 Let's face it, you rabid connoisseur of Gilmore Girls, you: you found yourself on the Big Island because crowds make you a little nervy and now you're all wth (like you would really say fuck!) because there's nothing to do but watch reruns in your dead-ass hotel's garden view room.
Well, perk up, buttercup and put down that Netflix-streaming iPad: Hilo Bay Café is here to turn you into a bona fide blotto so you can go home with some actual complexity (read: "problems" with alcohol).
Take their Apricot Smash, which artfully blends Knob Creek rye bourbon with orchard apricot liqueur and fresh basil.
Or, their oh my haw Hilo Town, where Maker's Mark dances in a splendid mix of Chambers Muscat, Bourdeaux Cherry and walnut bitters.
Or, try to be gangstah, for once and get beezy with a gc&t, which fuses gin with fresh cucumber, lavender bitters and tonic water. (That's what Lorelai would order, right, child?)
Actually, better yet, try every excellent drink on their kick-ass menu. Just plan ahead and get some Perrier and crackers at the gas station. I'm kinda doubting your oceanfront "inn" has much of a vista besides lava, let alone room service.
Bar Leather Apron, Honolulu, Oahu
Oh you sweet, innocent thing, I bet the name alone makes you blush, don't it?
Not to worry, preacher's wife hopeful: you can leave your S&M attire in the safe with your damp, tattered copy of Fifty Shades of Grey, but still get down and dirty at this dope Honolulu haunt.
Think: Old Fashioneds (fitting for you, no?) with a Hawaiian twist, where Makers 46 + Japanese Green Tea + Wasanbon Sugar + Mineral Water=You Skinny Dipping, For the First Time Ever, in Waikiki.
Or, if your spirit needs a little "there-there-ing," nourish it with The Soul, which takes a healthy dose of Johnny Walker and dashes it with Laphroaig Quarter Cask, honey, ginger, black pepper and just enough kiawe wood smoke to make you sizzle. (Yeah, gurll, you're on fire.)
Later, ask Justin—aka bartender extraordinaire—if he'd, um? Like to take off that apron? And maybe wants to see you in leather? Don't try to fool me, Peggy Prim: lady like you always says declarative sentences in questions.
12th Avenue Grill, Kaimuki, Oahu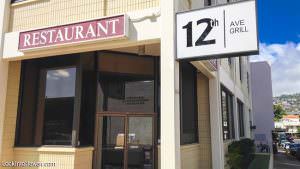 Droves of people come to this killer spot in Kaimuki to eat, which kinda makes sense and all—it's won some awards and stuff, like the Hale 'Aina, which means "nice house" or "land cottage" or something—but I know what's it like to have a proclivity for partying on the DL (I'm not a chip-carrying friend of Bill's for nothing).
Here's a secret: 12th Avenue Grill makes cocktails with such marvelously obscure ingredients that you can tell the ladies in the Safeway breakroom that you honestly had no idea what you were getting into.
Truth: The Benedict takes Buffalo Trace whiskey—innocent enough, yes?—and mixes it with Carpano Antica, Zucca, Lustau Sherry, bitters and orange oil.
Truth #2: Perfect Pair couples Rittenhouse rye with Belle de Brillet Pear, Cocchi Barolo Chinato and Absinthe—yes, that hallucinogenic that spurred van Gogh to take a pocketknife to his ear and explains that tattoo on my hip, thank you very much.
Best part yet? These cocktails are so smooth, it's like you're not even drinking. That's right, Selena Gomez, you tell 'em.
So, there you have it, Ms. Pretend I don't want to jump the bartender but I really, really want to.  Drop us a comment, or a selfie and let us know how it goes!!
To get some of these amazing drinks and capture breathtaking views of Hawaii, a dinner cruise might be just what the doctor ordered.