While most people turn to Omega for sheer glitz and Citizen for value, the best Seiko dive watches offer the best of both worlds. They are available in budget-friendly prices, offer a high-end feature set, and have the design that makes them look eye-catching on your wrist.
Our Favorite Seiko Dive Watch List
Throw into the mix their sturdiness and long shelf life – which Seiko makes sure of with its long warranty periods, and these dive watches become a must-have for those among you who want a solid, glitzy option which won't cost a fortune.
Best Seiko Dive Watch – Comparison Table
IMAGE
DIVE WATCH
FEATURES

Case Material:

Hardlex Crystal

Water-Resistance:

200m

Price:

$$$

Check Price

Case Material:

Stainless Steel

Water-Resistance:

200m

Price:

$$$

Check Price

Case Material:

Hardlex Mineral

Water-Resistance:

200m

Price:

$$$

Check Price

Case Material:

Stainless Steel

Water-Resistance:

200m

Price:

$$$

Check Price

Case Material:

Stainless-Steel

Water-Resistance:

200m

Price:

$$$

Check Price

Case Material:

Stainless-Steel

Water Resistance:

200m

Price:

$$$

Check Price

Material:

Hardlex Mineral Crystal

Water Resistance:

200m

Price:

$$$

Check Price

Case Material:

Stainless Steel

Water-Resistance:

200m

Price:

$$$

Check Price

Case Material:

Stainless-Steel

Water Resistance:

200m

Price:

$$$

Check Price

Case Material:

Stainless-steel

Water-Resistance:

200m

Price:

$$$

Check Price
Read on to know more about the ten best Seiko dive watches in 2020:
Sporting a black rubber strap, stainless steel case and luminous hands and hour markers, the Seiko Men's Analogue Automatic Watch is, without doubt, one of the most eye-catching divers on the market.
Features
Starting with a glance at its specs, the SKX007 has a 45.5mm case including the crown, measures 13.25mm thick, and boasts a lug width of 22mm. Granted, all these specs combine to make it a thick model – but our experience with this watch shows that it doesn't rest too high off your wrist.
This model has a soft case that has no hard lines, finishes or transitions between sections. Its top sports a fine-brushed finish whereas the sides are adequately polished. The large crown is surrounded by noticeable crown guards which are brilliantly integrated into the case's overall flow.
One could easily gauge by looking at the dial that it is purposefully designed. A matte black base rests against prominent white hour markers, making the latter large and legible. It is this prominence of the pointers which justify this model's credentials as a professional dive watch.
Lastly, as far as its movement is concerned, you get four moving parts inside the SXK007. They include a date/day display, a beat rate of 21,600 BPH, 21 jewels, and automatic bi-directional winding. You can adjust its movement to adjust the accuracy between the built-in range of -20 and +40s a day.
Final Verdict
The Seiko SKX007 might have a humble price tag but it has all the features to shame dive watches costing twice as much. You might want to consider it if you don't intend to break the bank for your next diver.
Stylish black looks
Extra-bright luminesce
Competitively priced
The automatic movement can be made better

Most people buy dive watches because of their long shelf life. Provided you count yourselves among them, you might want to consider the Seiko Men's SKX007K2.
Features
Seiko has never disappointed with the design of its watches, and the SKX007K2 isn't any different. Its black dial sits peacefully behind white bold hour pointers to make the latter easy-to-read, even in low light conditions, whereas the Lumbrite Technology illuminates everything underwater.
Sturdiness is one of the most notable features of this diver. Both its case and the strap are made of stainless steel to make sure that they last long. The display, meanwhile, is made of Seiko's Hardlex glass – which is one of the primary reasons why this watch is water resistant to 200 meters.
You don't have to do anything to make this watch run. It relies on kinetic movement and therefore powers itself with your hand movement, which also powers the winding system of the SKX007K2. This arrangement ensures that this watch's maintenance requirements are minimal.
Lastly, to ensure that the dial doesn't start moving backward, the SKX007K2 has a unidirectional bezel. Equally important is the presence of the luminous marker at the 12 o'clock position – which lets you see the elapsed time with a single glance.
Final Verdict
Provided you have no qualms about the dull-looking design of the Seiko SKX007K2, we see no reason why this automatic Seiko dive watch shouldn't be worthy of your attention.
200m water resistance
Stainless steel case and strap
Unidirectional bezel
Seiko's Prospex line comprises some cutting-edge technological advancements, including a titanium case, Japanese quartz movement, hybrid analog-digital timepiece with an alarm, and a ceramic shroud. These features help this best seiko dive watch to stand out from the rest of the Products.
Features
The Seiko Prospex SRPC91 is different from the other watches we have seen in this review. It doesn't feature a matte black case against white markers. Instead, to make the pointers easier to notice, Seiko has made the first 15 minutes light blue, whereas the remaining 45 minutes have a darker tone.
It has a unidirectional rotating bezel which stops the dial from moving backward and from posing a safety hazard. The watch's ISO-rating suggests that you can take it all the way down to 200m underwater. A mere twist of the hand will be enough to keep it ticking for up to 41 hours.
In low-light conditions, you'd find the Lumbrite material doing its job by making it easy for you to read the time. In fact, if you're fearful of sleeping in the dark, you can put the watch on your nightstand, and its light will emanate that nice glow to let you have a comfortable sleep.
Finally, Seiko has broken with its (recent) tradition by providing this dive watch with a silicone strap. Not long ago we had watches from this manufacturer whose rubber straps turned into hard plastic after some time. You won't experience this problem with the SRPC91.
Final Verdict
With its 200m water resistance, 41-hour battery reserve, and luminance in low-light conditions, the Seiko SRPC91 did everything to impress our reviewers.
Eye-catching dial
Power reserve of 31 hours
Has an alarm
Silicone strap collects dust
Seiko knows that legibility is the one factor that convinces users to choose one watch over the other. That's why it has provided this dive watch's dial with a combo of blue and red boundary to make sure that no matter how gloomy the conditions, you could easily see the time on this best Seiko dive watch.
Features
How does the Seiko SKX009 compare with the SKX007? They both have (almost) the same fundamentals. Both have the same movement, the same diameter and both come with either a rubber strap or a stainless steel bracelet. Only the red and blue coloring on the SXK009's bezel set these two watches apart.
The dual-colored bezel of this dive watch turns only one way, is made of stainless steel and has a ratchet mechanism which ensures that you hear audible clicks on turning it. Also, its ISO 6245 certification makes the SKX009K2 safe up to 200 meters, which is the depth scuba divers go to during their dips.
Like most models, this one too relies on the Japanese Automatic movement to power itself. This mechanism draws its energy from the movement of the wearer's arm, which means that you won't need any source of light or battery to keep it ticking.
You won't have to worry about the dive watch coming off in underwater. That's because its five-link stainless steel band features a fold-over clasp. Supplemented with safety closure, the clasp grips around your wrist tightly and remains there.
Final Verdict
With its 200m water resistance, 41-hour power reserve, and luminesce in low-light conditions, the Seiko SRPC91 did everything to impress our reviewers.
Hardlex dial window resists scratching
Fold-over clasp with a safety closure
Powered by hand movement
Is ISO 6245 certified
Silicone strap collects dust
The Seiko Padi SNE499 Special Edition is for those of you who are love those watches that have an 'in your face' kind of design. It comes with a dark blue casing and a blue-and-red dial – two aspects of its design which will make it hard to ignore on your wrist.
Features
In contrast to other Seiko Tunas, the SNE499's water-resistance rating stops short at 200m. That's pretty low once you consider that the S23626 delivers 1,000m of water resistance. Having said that, not many people are ever likely to go to that much depth, so we are happy with this model's rating.
Metal won't have been able to resist corrosion at that much depth, which is probably why this unit comes with a vented silicone strap. It also has a Hardlex crystal on the dial which doesn't resist scratches as brilliantly as it tackles pressure to keep this model ticking.
While most Seiko watches have their reserve measured in hours, this one comes with a massive 10-month power reserve. To make sure you know how huge that is, this dive watch will keep ticking even if you take it out after 9 months and 29 days in your drawer.
The V157 Solar Quartz movement of this model has an impressive +/-15s accuracy range. It also has Seiko's LumiBrite technology to allow you to easily see the time in low light conditions. And to top it all off, the screw-down crown and one-way rotating bezel prevent any safety hazards from surfacing.
Final Verdict
Overall, we're very impressed with the Seiko SNE499. Its competitive price tag opens the door for many budget buyers who want to get close to the Golden Tuna look without breaking the bank.
10-month power reserve
Vented silicone strap
Seiko Hardlex crystal
The dial is susceptible to scratches
Since you are interested in Seiko dive watches (we can guess that by your presence here), you might already be familiar with the Seiko Divers Automatic Men's Watch. This professional diver has received success beyond Seiko's wildest imagination, with its features playing a part in its fame.
Features
First things first, this model is loaded with the ISO 6425 standard which separates the professional divers from the also-rans. This is a certification which states that you can wear this watch up to 200m underwater, and it would still keep ticking.
The fact that this dive watch has a stainless steel dial and came comes across as a double-edged sword. On one end, stainless steel will keep corrosion at bay throughout its shelf-life. On the other, it has made this watch heavy enough to weigh down your wrist.
You get a small screw-down crown on this model whose notched edges empower the crown to provide an adequate grip. The two guards which surround the crowd on both sides empower it to take several severe beatings without breaking down.
Other than that, the Japanese Automatic movement of this dive watch makes it accurate and reliable. Its luminous hands and digits allow you to read the markets in low light conditions, whereas the resin strap's safety closure keeps ensures snug fit, even in times of activity.
Final Verdict
The Seiko Divers Men's Automatic dive watch is built for a purpose, and that purpose is to keep ticking under layers of water. Hence the reason why it is so heavy – as its heaviness allows this model to withstand abuse which might end up breaking the resistance of its lighter counterparts.
Spanish language option
Pressure-vented black strap
Long and well-made dial
Whether it is good looks that you are after or you want good value for money, the Seiko Men's SRP779K1 offers both with its elegant design and a budget price tag.
Features
Corners haven't been cut to keep this diver's price low. It contains the same stainless steel case with prominent crown guards which you see in its more expensive colleagues. Its curved lugs blend well with the overall appearance of the blue-and-red dial boundary, thereby giving the entire model a modern look.
Seeing day, date, and time is made easier by the blue base of this watch's dial. Sitting behind white points and luminous hands, it makes sure that you can easily get the entire information this watch has to offer, even in pitch dark conditions.
As it is the Japanese Automatic movement which keeps this dive watch ticking by drawing power from your wrist movement, the SRP779K1 has a power reserve of more than 40 hours. Unfortunately, it looks small once you compare it with that of other models in this review.
On the flip side, there's no danger that the crown would accidentally open up when you're diving. That's because it's securely screwed down and into the crown guards. On screwing it out, the crown offers three positive positions – the first two for day and date and the third for setting time.
Final Verdict
Despite its luminous pointers, ISO certification and water resistance of up to 200M, the Seiko Men's SRP779K1 watch is one of the most affordable to come out of the Prospex line.
Solid and robust
Easy to read
Luminous
Whether it is good looks that you are after or you want good value for money, the Seiko Men's SRP779K1 offers both with its elegant design and a budget price tag.
Features
What makes this watch tick? It follows the lead of other chronographs and relies on quartz movement to keep on providing the correct time. This mechanism counts on a vibrating material built-inside the watch, which draws power from solar energy to keep the SSC015P1 ticking.
Most people choose chronograph watches because they love their multi-functionality – and the same is true for the Seiko Men's SSC015P1. This watch has three mini dials that show elapsed seconds, minutes and hours, to save you from the trouble of manual counting.
What makes all these dials legible are white markers and white lubibrite hands. The watch is also resistant to up to 200m, which means it will suit everyone bar the most ambitious scuba divers. It also features the Kinetic Auto Relay mechanism which automatically resets the watch to correct time.
To further sweeten the deal, its 43mm stainless steel case features a hardlex dial window to protect itself against any impacts. Unfortunately, we cannot say the same about the stainless steel band which looks prone to getting scratches.
Final Verdict
The Seiko SSC015P1 Men's Chronograph is a dependable diver's watch which requires extremely low maintenance due to its solar-powered operation and doubles as a stopwatch.
Extremely low maintenance
Three sub-dials add to its appearance
Can also be used as a stopwatch
As is the case with all Prospex watches, the unique selling point of the Padi Solar SNE465P1 is its huge 10-month power reserve. Though it has other, equally appetizing features to convince professional divers to give this watch a try.
Features
In case you were wondering, it's its solar cell which keeps this watch powered for 10 months. And its utility doesn't stop there. Since it has no moving parts and draws energy directly from the sun, the solar cell also makes this model low maintenance.
Making sure that you fully appreciate what this watch has to offer is its blue multi-function dial. Containing a moving bezel, luminous dot and stick indices and a tiny date window against 3 o'clock, the dial has the ability to keep on delivering info even in low light conditions.
This watch is a lot of timepiece for the money at which it's available. Its stainless steel case and bracelet are comfortable and durable. The 43.5mm case, though thick, doesn't go overboard. And over its dial is a Seiko Hardlex mineral and a small magnifier to aid in the reading of the date.
Finally, while some expensive Seiko watches are water-resistant up to 300m, this one stops short at 200m, which is more than enough for most scuba diving activities. And to help it fulfill its water-resistance rating, this diver's screw down crown, and case-back screw down for added sturdiness.
Final Verdict
If we are to ever get a no-nonsense, durable and accurate dive watch – one which won't cost us to rob a bank – the Seiko SNE465P1 will be our first choice.
Practical solar quartz movement
Added stability due to screw down crown
Easy-to-read dial design
High-end watch wearers might miss finer finishing
When it first came out of Seiko's assembly lines, the Prospex line was only available in Japan. It was only after it received a massive response from the local audience that Seiko decided to take it global. Know what was the reason behind the massive applause that this line received? Watches like the SRCP93.
Features
As is the case with other 'Save the Ocean' edition watches, the SRPC93 too features a blue dial with a polished horizontal pattern which gives it a watery look. Look closely, and you'll notice that the lines are uneven, like waves or ripples, to further distinguish this watch from its competitors.
Turning our attention to its bracelet, and despite being solid and high-quality, it's anything if not bulky. We recommend that you quickly replace it (preferably with Barton bands Elite) if you don't want your wrist to get overwhelmed under the bracelet's bulk.
Since sapphire crystals are reserved by Seiko for its more expensive offerings, the Samurai gets a flat Hardlex mineral crystal. Supported by the LumiBrite-filled hands and indices, it provides more-than-decent legibility and will remain spotless after months of wrist time.
People who have used this watch insist that its minute hand resembles a samurai sword, but we aren't convinced. What we are sure about, however, is that this model's power reserve will keep it ticking for 41 hours with ease. So you won't have to worry about it going dead after a night in the drawer.
Final Verdict
As you have seen with the Seiko SRPC93 'Save the Ocean' Samurai, not all special-edition watches require you to spend a fortune to enjoy their excellent offerings.
41 hours power reserve
Screw-down at 3 o'clock
Mini date window
The Seiko Men's Analog isn't a recent watch as its previous iteration, the SKX001K, was released in the mid-90s' to an audience falling over themselves to see its orange dial at their wrist. While the orange dial might seem too odd to some people in 2020, it still has its admirers.
Features
Since we hadn't used it before, we were positively surprised by finding out that some versions of the SKX001J this model's day calendar offer English to Arabic translation. However, if you aren't interested in taking Arabic lessons, you can get the English to Roman language version.
Apart from its orange dial, there isn't much which differentiates the SKX0011J from other watches in this review. It comes with the same stainless steel casing, has automatic movement and is water resistant to 200 meters. And if you're planning on going overseas, you can take advantage of its int'l warranty.
Its hardlex crystal protects the dial in the face of impact whereas the one-direction bezel prevents any safety hazards from surfacing. One nice addition is its vented Nato strap which rests incredibly comfortably against your skin.
Final Verdict
Provided you are one of the traditionalists who always want to go back into the 90s, you can make the 90s come to your wrist with the age-old design of the Seiko Automatic Sport Watch.
Traditional dial
International warranty
Comfortable Nato strap
Orange dial base might seem ugly to some
What is it that sets apart the SRPC44 from other Seiko Prospex watches we have seen so far in this review? Let's look at its features to have a satisfactory answer to this question.
Features
To differentiate itself from the competition, this watch has shunned the blue dial which you might have thought is universal with the Prospex line. It comes with a black dial boundary which is punctuated with golden numbers at a distance of every ten minutes.
Look closely, and you'll note that the dial's base is also unique. Gone is the shiny blue 'in your face' coating which we have seen in other Prospex watches thus far. It has been replaced with a dull black base that mixes nicely with the golden hands and white pointers to make the time legible.
Automatic movement gives you the option to either self-wind this model or lets it do the same automatically. It comes with a batter reserve of 41 hours and is water resistant to 200 meters. Also present are 24 jewels to further ameliorate its design.
Final Verdict
Juxtapose all the abovementioned features of this watch with its price tag, and you'd know why it's one of the best-selling Prospex watches on the market.
Day and date calendar
Swiss Automatic movement
Has a safety buckle clasp
The gold coating could have been a little brasher
Why Buy a Seiko Dive Watch?
Seiko might be famous for producing budget watches, but that doesn't mean that it cuts corners to keep the price low. Read on to know more about reasons which make Seiko dive watches a must-have.
Craftsmanship
These watches contain a unidirectional rotating bezel, pointers that shine brightly in dark and luminescent hands. Also, instead of using cheap metals or exotic alloys, Seiko uses stainless steel to make its watches incredibly durable. Put simply, then, these models are the epitome of craftsmanship
Technology
Provided you end up choosing an automatic Seiko watch, they will make you aware of the cutting-edge
technology
the brand employs in its models. They do that by automatically syncing to atomic time references, correcting their calendar on their own and noting chronograph readings to 1/5th of a second.
Reputation
Due to the craftsmanship visible in its watches and the technology Seiko uses to increase its under-water depth with each passing year, the reputation of Seiko dive watches has gone through the roof. Not many other brands that make budget watches can make that claim.
Seiko Dive Watches – FAQs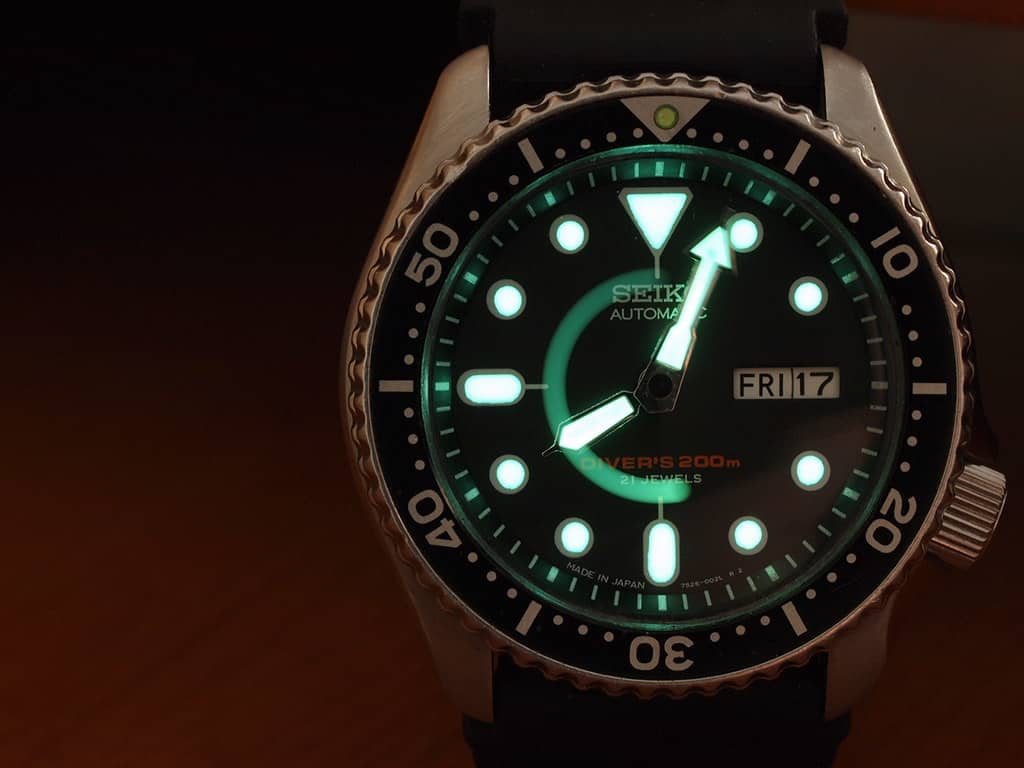 Q: Are Seiko Dive Watches Any Good?
Seiko dive watches offer a unique combination of a budget-friendly price range, eye-catching design, and high-end features. All these three things combine to make them a special and suitable option.
Q: What is the Seiko Prospex Line?
In its Prospex line, Seiko used some cutting-edge technological advancements. Allow us to identify a few of them: The Prospex is the first diver watch to prefer a titanium case over a standard steel case, the first professional dive watch which has put in a quartz movement, the first which has a hybrid analog-digital timepiece with an alarm, the first which comes with a ceramic shroud and the list continues.
Q: How deep Should a Dive Watch Go?
According to the International Standards Organization (ISO), every dive watch should be water-resistant to up to 100 meters. Beyond that, the ocean bed is the limit, though not many dive watches go beyond 600 meters. As for Seiko, most of its watches are water resistant to 200 meters.
Q: Why do divers need watches?
When divers take a dip to scour the depths of the sea, they have a tank on their back which provides necessary Nitrogen to breathe. As you might guess, this tank has limited oxygen supply and can only function for a certain time period. Dive watches allow the divers to set the time at which the tank will be about to go empty so that they can return to the water surface safe and sound.
Q: How long will a Seiko Solar dive watch last?
It depends on the warranty of the Seiko Solar diving watch that you might be looking at. Some of them last as much as 10 months, whereas others have a battery reserve of fewer than 50 hours.
Q: What is Better Seiko or Citizen?
It depends. Provided you want a budget-friendly option and can choose to ignore some of the bells and whistles, then Seiko dive watch is no doubt a better option. Conversely, if you can afford to spend extra, Citizen Watches have some cutting-edge features which justify their selection.
Difference between Automatic and Quartz Movements
Quartz movements are battery-powered and measure their time against a quartz crystal. This arrangement makes its time incredibly accurate. Batteries of quartz watch last between three and five years on average. Also, these watches require low maintenance.
Automatic movements, on the contrary, convert the wrist movements of the wearer into energy using ball bearings and a weighted gear. When compared with quartz watches, automatic ones are costlier and require more periodic maintenance.
Conclusion
As you have seen by now, Seiko gives you a lot of high-quality dive watches to choose from. Also, in contrast to some of its competitors, Seiko always tries to provide its offerings in a budget. Though it does have premium models for those who can afford to break the bank. Therefore, regardless of how deep your pockets are, Seiko has a model that you can take underwater with you.
Live Your Aloha Seiko Dive Watches Review
Dive Watches
★★★★★
"I was really confused about making a final decision. Thanks for sharing this valuable information about Seiko Watches. Highly recommended for everyone who wants to buy a Seiko dive watch.
"