If you're planning a trip to your favorite beach in the near future, you're going to need adequate sun protection while you catch the breeze, so you might want to invest in the best beach tent has to offer. Apart from providing sun protection and offering shelter from the strong wind and sun (so that sunburns can't spoil your picnic), they afford you some much-needed privacy amid scores of people.
Also, with an essential gear like a pop-up tent nearby, you won't have to go back to your hotel – and sacrifice the prime-time spot which you earned by making it to the beach when everyone else was sleeping. As a result, you're able to tolerate the hot sun and the waves for longer periods, and party right there on the beach.
Keeping all these things in mind, we've listed down the 10 best beach tents with detailed reviews. Most of them are available at an affordable price and setup requires minimal effort.
Quick View – The Best Beach Tent
---
Reviews of the Best Beach Tents
The first beach tent on our list is the Pacific Breeze Easy setup which justifies its name by taking less than a minute to assemble this canopy. The whole thing is like an inverted umbrella, so it's the best tent if you're the kind of person that is mechanically challenged; all you've got to do is pull on its strings and it will automatically pop up on its hinges, providing you with a cozy and compact outdoor space . Taking the canopy down is equally easy. The whole thing will come down the moment you push down the two pieces, which are marked by convenient yellow tags. It is also one of the few tents that will fit easily into the accompanying carry bag as the tent easily collapses, allowing for you to easily tie it with the included tie.
Excellent ventilation is guaranteed by its two large windows and breathable polyester fabric which also provides UPF 50 rating sun protection. The roomy interior will easily fit the whole family and you even get internal pockets to store your valuables.
This compact tent also has an incredibly strong fiberglass frame which is further supported by sand pockets and stakes to provide protection and shelter in the face of heavy winds. The PE floor is water-resistant and you also get a 1-year limited warranty on the whole package.
Pros
Takes less than a minute to assemble
Provides UPF 50 sun protection rating against UV rays
Internal pockets and two large windows
Has a waterproof floor
Available in two colors – dark blue and aqua – the Quick Cabana Beach Tent has a thick polyethylene fabric to withstand heavy winds without falling apart. The canopy's thick fabric hasn't made it heavy though, as the whole unit weighs a mere 6.1 pounds, making it easy for you to carry it around.
Thanks to its compression hub system – which is a fancy name for an integrated pole system – the poles are integrated into the tent. That makes this tent relatively easy to erect, even for beginners, as poles won't come in the way of its assembly.
Stability of the beach canopy is one thing you won't have to worry about as many reviews have noted. That's because it has a PE floor which will withstand minor tears, an umbrella-rated PU coating to keep water at bay, and an 8.5mm fiberglass which makes the whole unit sturdier, and offers excellent protection.
Reinforcing the thick fabric are the sand pockets which imparts stability in strong winds. You also get three windows for more-than-adequate ventilation. Yet, if you feel the chill is too strong to your liking, you can roll up the windows.
Finally, to make sure you get the best value for your money, the Lightspeed Cabana provides a whole host of attachments in the package. For instance, apart from the 8 heavy-duty plastic stakes and an oversized carry bag, you'd also get guy lines in the set. And to further sweeten the deal, a 1-year warranty is also provided.
Pros
Lightweight and durable
3 mesh windows with shade
Provides loads of attachments in the package
Interior pockets for storage
Cons
Dark color means the tent might get hot
What is it that a customer usually looks for when shopping for a baby beach tent? First, they want the design to allow ease of assembly. Second, they want some extra room for the parent(s) to sneak in and nurse the baby. And finally, they want the tent to have a reasonable price tag, and offer ample protection. Fortunately, this Schylling brand ticks all three boxes with aplomb.
It has that perfect size for a baby or small kids, which not only will allow them to relax or take a nap but also gives them the luxury of playing in the tent. Parents don't have to worry about their child sneaking out as it comes with a Velcro door which closes the entrance entirely like a secure bag.
Also, the fact that it's a kids tent doesn't mean it won't come with all the bells and whistles as some other canopy's on this list. For instance, it has the best SPF 50 rating of most brands to protect your child from harmful sun rays. And there's the pop-up mechanism to make sure you can get it up in no time, even for beginners.
Unlike most baby tents out there, you won't be chasing the Schylling down the beach in the aftermath of strong winds. Instead, the Schylling will be kept in place thanks to the sand pockets and tie-down pegs which come with it.
Finally, when it's raining out there on the beach, the waterproof fabric of the Schylling UV Play Shade won't let in intruding water droplets. Or, when the sun is shining, the mesh window – which is located at the back – would keep things comfortable inside the tent.
Pros
Market-high UV protection rating
Velcro strap to secure the door
Mesh window for ventilation
Has a carrying case in the package
Cons
Question marks about airflow
For a brand that provides more room than like competitors – since it is available in an XL size – the Pacific Breeze Easy Setup is available at a reasonable price for any person or group. All three of its windows – one on each side and the other on the back – have a mesh cover to take care of any pesky intruders, provide shelter at any outdoor site, and big enough for the whole family.
Also, to make sure you remain protected against harmful sun rays, it is made of a UPF 50 polyester fabric. In addition to being breathable – which means it won't allow things to get humid – the fabric on this beach canopy is also water repellant.
Get inside the tent, and you'll notice that it has a fiberglass frame to withstand heavy winds and a water-resistant PE floor to keep your valuable items dry. It also has internal pockets to store smaller accessories and hooks to let you hang your clothes.
Further increasing the stability of this tent is its 5 sand pockets which guard it against inclement weather conditions. You also get a carrying case in its package plus a 1-year warranty comes alongside the tent as well.
Overall, this is a great tent for families, or for those who want a little extra space in their tent.
Pros
Roomy for a family or party of friends
Internal pockets and hooks
Water-resistant PE floor
Comes with 1-year warranty
Cons
Question marks about the toughness of the fabric
Not quite a tent in the strict sense of the word – since it is open at the front with no door – the Sport-Brella is much more than an umbrella. Take, for instance, its high wind relief vents. They provide a safe outlet to the blowing air to make sure it doesn't end up uprooting the whole structure.
To make sure that it could withstand – despite its high open structure – gusts of wind, four features play an important part. The first of these is the 4.5mm steel ribs which keep the tent's center well-guarded. Then comes the 5mm steel stretcher which reinforces its connection with the ground.
Thirdly, it has a telescoping pole which won't only withstand thrusts of air but would also ignore if you accidentally bump into it. And the final feature which makes the whole unit sturdy are the ground stakes which the manufacturer recommends to be used only in extra-windy conditions.
If you like reading in your tent, the side windows of this unit will make sure that your head remains cool. Also, while it is open on one side, the 210 D polyester fabric of this tent which is rated UPF 50 – will keep you tucked away from the prying eyes of the sun.
Lastly, to further sweeten the pot, this brand comes with a side-zippered window for increased cross-ventilation, a carrying bag, and tethers.
Pros
Rugged 210D polyester
Side-zippered windows
Water-repellent
Ground stakes, tethers, and carry bag all included
Cons
Doesn't provide 100% privacy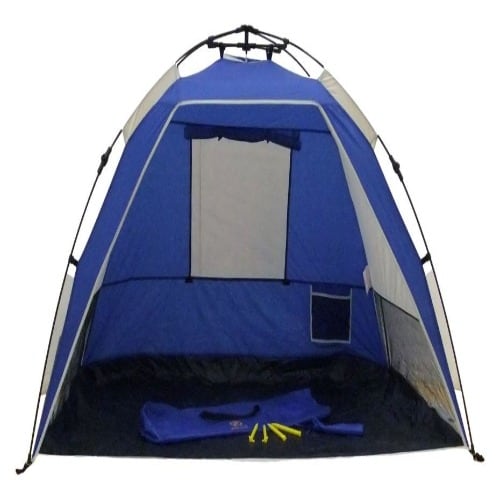 Glean through other related brands mentioned in this review, and you'd see that most of them have either polyester or polyethylene fabric. The Genji Sports Instant, however, has gone for a nylon fabric which is not only lightweight but is easy to wash and absorbs low moisture compared to the other two fabrics.
Setup is equally impressive. All the pieces come pre-assembled which means all you got to do is to let them hang out straight. Afterward, once the setup is partially standing, push the bottom hinge up, lock the 2 hinge points and you're ready to enjoy the shade.
As far as the features are concerned, the PE floor is waterproof and the entire fabric has a UPF 50 coating to prevent the ingress of harmful UV rays. When fully extended, its center height measures 122cm so an average-sized adult could easily stand underneath it.
Equally impressive is the carrying bag which is a bit larger than the folded size of this tent. That means that even if you haven't wrapped the tent perfectly, the carrying bag would still have enough space to store it.
In terms of openings, it has 2 side fine mesh screens to block out sand and a 1 large back window with a full screen to assure privacy.
Pros
Durable fiberglass frame
Instant push-up design
Window with high privacy screen
UPF 50 rated fabric
Cons
Question marks over its ventilation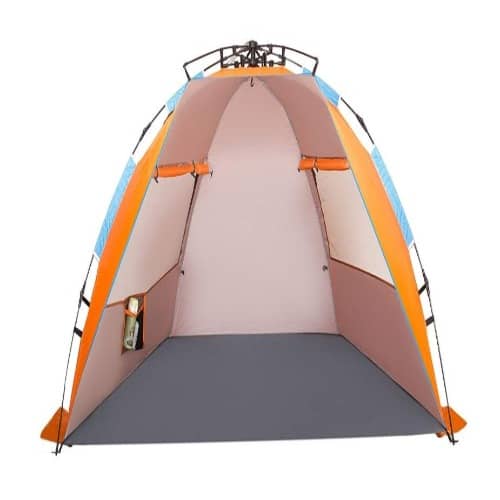 Whether you're going to visit a Hawaiian beach on your next trip – or want to try out tropics – one thing is guaranteed: it is bound to get windy out there. In such a scenario, only the best sturdy beach tent would separate sand from your eyes.
That's where the Oileus X-Large outdoor tent comes into play.
In addition to having a breathable 210T polyester fabric, it has a sturdy 8.5mm fiberglass frame and 6 sand pockets to make the tent almost windproof. Equally impressive is its performance against water as the tent has a waterproof 210T polyester fabric to keep your valuables dry.
Also, if you desire extra space, the new design of the Oileus features an awning for the same. It contains 2 side-windows with mesh-screens for maximum ventilation and has a single interior pocket to store small items. Such an arrangement means 4 adults could easily reside within the tent.
Pros
Space for 4 adults
Has an awning for extra shade
Automatic pop-up mechanism
1-year warranty
Cons
Has only one storage pocket
Starting with the best feature that this pop-up tent has to offer, and its assembly deserves a mention. In fact, if we are being honest, you cannot even call it assembly. Place the structure on the ground and hey, up it goes without requiring any input from your side.
Further increasing the utility of this model is its circular carry bag which even has straps so you can easily sling it over your shoulder and move around. Or, if your shoulders have grown weary after lifting weight before, the carry bag has a hand carry straps to come to their rescue.
Both of its side windows have D-shaped zippers using which you can open/close them at will. Also available are two mesh doors to make sure you get ventilation but not at the cost of insect bites. Then there are the doors at both ends which can be tucked to the side or fully closed depending on your mood.
The inner storage space of the ZOMAKE is enough to fit one queen size mattress or 2-4 adults depending on their size. It's one of the most spacious brands. Regardless of the number of people inside, all would remain protected as the tent has a durable fiberglass frame and UPF 50 rated fabric.
Pros
Convenient pop-up mechanism
Plenty of ventilation options
Easy to carry thanks to shoulder straps
Full UV coated fabric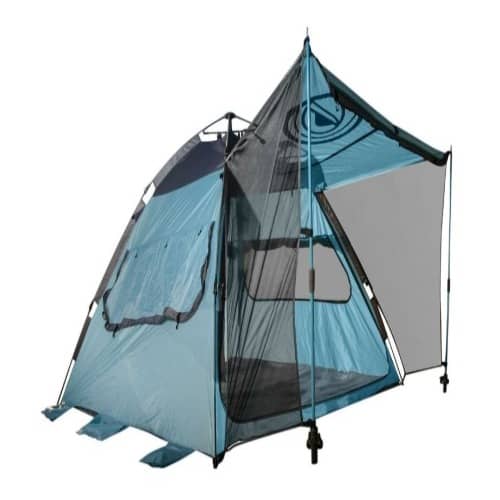 In contrast to any other related tent in this review, the WildHorn Outfitters doesn't have 1 but two storage areas. That's right; apart from having a fully enclosed room at the back which can house a family of 5 to 6 people, it has a shaded front-porch which is half the size of the room. One of the best tents to features this design.
Extended storage space is another notable feature of this tent. That is, because, it has not 1 but two storage space areas. The first of them is the tent at the back which has enough room to house a family of 5 to 6 people.
Together, both of these structures provide a massive floor space of 56 sq. feet. That means whether you're taking the whole coterie of your friends on a turtle tour – or are just looking for a laid-back tour site to visit for your family – this beach tent won't leave you wanting more.
What's more, its extended structure doesn't mean that the WildHorn Outfitters would take hours to set up. Instead, thanks to its QuickUp automatic frame system, the whole unit would pop up on its own. It also has thick 30D Oxford flooring and a waterproof Polyester rooftop to keep things dry.
Furthermore, to prevent wind from blowing away the whole structure, the tent comes with a sturdy 9.5mm fiberglass frame as well as 9 large sand pockets. Also included are 2 extendable canopy poles and 2 detachable side shades for those who want more coverage.
Pros
Durable and waterproof
Provides extended shade
Huge storage space
Sturdy frame
The gorgeous Arcshell Premium Extra comes with a unique dome which gives its users extra protection from the sun. The tent's cloth is made from heavy-duty waterproof plastic to keep things dry and all four corners have built-in pockets to store your phone, tablet or other valuables.
Setting the zipper of this tent apart from its counterparts is its electroplating which keeps it rust-free if/when the zipper comes in contact with water. You also have a large-sized storage bag sews on the tent's upper side to place bigger-sized items.
The positioning, as well as the sizes of the three extra-large windows, make sure that adequate ventilation is maintained at all times. All these windows have zippers as well as bug-repellent mesh screens to protect you from insect bites.
Then come the 5 extra-large sandbags to provide additional stability to the whole frame. Also contributing to the overall solidity of the frame are the stakes which are supplied in the package and can handle winds of up to 25 mph speed. That means you can easily make this tent a part of your tours to windy spaces.
Pros
Unique dome for extra shelter
Electroplated, rust-free zipper
Waterproof tent fabric
Five interior pockets
Cons
Not recommended for frequent usage
Beach Tent Buying Guide
As you can see from our selection of beach tents, they offer something for everyone because we kept the following aspects in mind during their selection.
Advantages of a Good Canopy
Still undecided as to whether or not you need the best beach tent on your next trip? This section, by listing down the major benefits of beach tents, might help you in making a decision.
1. They Provide Privacy
As any person with experience might tell, a beach might be the least-private space in the world. However, within the four walls of a beach tent, you can relax with your family without the intruding eyes of others. They also provide privacy should you choose to change out of your bathing suit.
2. Protect Your Possessions
The danger of theft isn't the only risk you face while carrying your valuables to the beach. There's also the risk of water damage, which the best beach tent will eliminate by giving you a secure space to store your possessions. Similar is the case if you have drinks with you as beach tents' shelter will keep them fresh and cold.
3. Shelter from Wind
One of the sure-shot ways of ruining a fun day at the beach, or a day out camping, is sitting in intense winds. By blowing sand into your eyes and nose, sand can waste an otherwise brilliant day at the beach. That is why you need a tent which will keep sand at bay.
4. Easy to Set Up
Compare them to other related products available on the market, and you'd see that beach tents are undoubtedly the easiest to set up. For instance, pop-up tents have a self-erecting feature which allows them to give shade without you even lifting a finger. Perfect for camping, the beach, or any outdoor activity.
5. Other Uses
Are you a fisherman? Then, you can use beach tents to store your gear. Or, if you're into hunting and camping, you can use the pop-up tent as a hunting blind. Kids, meanwhile, can play with beach tents all year round.
Type
Each of the following four types of beach tents differs when it comes to their construction and utility. So, it's crucial that you pay attention and choose the one which meets most of your requirements.
1. Canopy Tents
Designed for extended families, canopies are huge tents and are the best beach tent if you need a lot of space. They are easy to install to as most canopies offer the feature of pop-up installation. That's the sign of a great tent.
Making canopies sturdy is their sand pockets which are anchored into the ground. To create shelter, they have four upright poles which support the cloth and enable it to stretch above them for maximum shade.
Who Should Buy Them?
A large family or an extended group of beachgoers.
2. Baby Beach Tents
As their name suggests, the "baby" beach tents target a very specific – but noisy – segment of the human population. They are small, reliable and are a cinch to put up.
Also, in addition to using them on a beach, these tents might also double as a baby crib in your home. Toddlers and older children can even use them as toys.
Who Should Buy Them?
Families with a newborn or toddlers.
3. Cabana Beach Tents
Cabana beach tents cover three sides and leave the fourth open so that you could have a delightful view of the ocean. They have a pet-friendly floor, are spacey and tend to have lots of pockets. Since they are made for a family, cabana tents have Anti-UV protection.
What's more, the front opening contains a zipper which lets you convert them into a four-sided room. And provided you can afford to pay more, you can even get a cabana with a self-erecting mechanism which makes setting it up a piece of cake.
Who Should Buy Them?
Middle-sized families
4. Pop-Up Beach Tents
Can't withstand the effort of setting up the tent every time you loiter to the beach? Then you might find the pop-up tents interesting. All you have to do to set them up is to remove them from your bag, put them on the ground and watch as they acquire their final shape.
In case you're wondering, the reason why they are self-erecting has to do with the design of their stability poles. Their extra flexibility allows you to fit them in your carry bag while also making sure that they get up and running without you even lifting a finger.
Who Should Buy Them?
Anyone who doesn't like hard work.
How to Choose the Right One
Keep all the below-mentioned factors in mind while choosing a beach tent:
Size
As a customer deciding on the size of a beach tent, consider both its height, how many pounds it weighs, as well as the overall footprint. Remember, while larger tents provide more room, they tend to be difficult to maneuver. Smaller tents, which we recommend for kids, are a cinch to move around.
Weight
Too heavy a tent, and you might develop back pain carrying it around. Choose one which is on the lighter side, and it might get blown away too easily by the wind. Therefore, get tents which have additional pockets or stakes which, when the tent is planted, would impart stability to it.
Portability
Regardless of how extended your family is, nobody likes hauling in a heavy tent from the boot of their car to the beach, and back. Therefore, if you ask us, we recommend investing in a tent which provides a good balance between extended space and portability.
Coating
If you want protection against sun rays as well, go for tents with UPF 50 protection. Such tents have a fabric which is coated to prevent the penetration of harmful UV rays. Yet, too much coating isn't recommended as it will inhibit ventilation and, by extension, comfort.
Fabric
Talking about the best beach tents, most of them are made of either polyurethane or polyester. That is, because, both these materials are weather resistant (to some extent) and are lightweight. Still, regardless of the fabric you may choose, make sure it is rugged to withstand battering.
Assembly
In contrast to the beach tents' size – where every family might have different requirements – all of us are unanimous that the best tents are those which are the easiest to assemble. Make sure you get a tent which automatically pops up when you throw it to the ground.
Features
Want your beach tent to stand out from the crowd? When you are shopping for great tents, make sure it has these features:
Interior pockets
Want your valuables to remain safe inside your beach canopy while you're out surfing on the winds? Interior pockets do exactly that. Also, while looking at interior pockets, look for the ones which have a zipper for added protection. Otherwise, your belongings might be falling on the ground all the time due to their weight.
Fully enclosed walls
Privacy is one of the major reasons why beachgoers invest in beach tents. It's a feature that most customers look for when shopping for tents. You cannot have privacy, however, without having a tent with fully enclosed walls. Also, in case you're wondering, these walls are usually provided with a zipper, so you can erect/fold them with ease.
Windows with a mesh screen
Granted; you would have to spend over the odds to get this feature but once you've seen the ocean through your tent's windows, you'd never question your spending. A spectacular view is on offer with mesh screens making sure that your family stays free of bug bites, and giving you shelter at all times.
Floor mats
Have children accompanied you to the beach? Taking your furry friend with you as well? In both of these cases, you cannot ignore the importance of a floor mat for your beach tent. By covering the sand, it makes sure that those pesky creatures which mostly emanate from wet sand won't be able to trouble your loved ones inside the canopy. If you want a little added security and shelter, you can also bring a beach blanket with you as well.
Sandbags
Generally made of polypropylene or hessian, sandbags impart stability to your tent by fortifying it in the face of strong winds. They are generally sewn over the corners of the tent to impart stability to it.
Some Add-ons You Might Want
While they do increase the asking price of the tent, these add-ons prove their utility as well.
Silver-coated
In contrast to your average coated beach tent – which is only useful against UV rays – a silver coated beach canopy affords protection against sun and rain as well. So you can use it in all types of environments with your family or friends.
Extra shade
As we have seen with the Oileus X-Large, there are beach tents out there which give a canopy in the package to let you have that extra shade and shelter. This can be a good option for those with larger families.
Pop-up Mechanism
Either via hydraulics or through wind pressure, some beach tents give the automatic pop-up feature so that you don't have to do anything to set up the whole structure, making it incredibly easy.
Waterproof flooring
Having a waterproof floor means that even after a rain shower, you won't have to worry about your valuables getting wet and can continue your day at the beach.
Portable Carrying Bag
Whether you're out there touring Oahu or are looking to camp in your own yard, having a portable carrying bag would make the whole process of carrying around the tent a cinch.
Conclusion
There you have them; ten of the best beach tents of 2019 for the discerning customer. Still, if you need our help to make the final choice, our vote goes in favor of the Pacific Breeze Easy Up Beach Tent.
Durable and waterproof, this beach tent boasts an easy assembly, lots of floor space, and solid protection from the sun's harmful rays. Affordable and lightweight, it's hard to beat this tent if you're looking for a canopy that will stand the test of time.
Also, despite the fact that it does have a lot of space, it weighs a mere 4.5 pounds, making it easy to carry for both kids and adults. That means it has most of the features which we recommend looking for in a beach tent.
More Beach Reviews:
Live Your Aloha Beach Tent Review
Arcshell Premium Extra Large Pop Up Beach Tent
★★★★★
"
Living in Florida, we badly needed a good beach tent for our family to keep the heat off. Really love our tent, so thank you for the great review.
"