In early 2018, the Hawaii senate launched the Safer Sunscreen bill—a bill that prohibits the distribution and use of sunscreens containing harmful petrochemicals such as oxybenzone, octinoxate, avobenzone, and several others. These ingredients cause genetic damage to marine life, as well as coral reefs.
After the ban in Hawaii, many areas have passed their own sunscreen bans. This includes places like the U.S. Virgin Islands, the Key West, the Marshall Islands, Aruba, and even Thailand. So if you're planning to travel to any of these places, or, better yet, keen to prevent the damage to coral reefs, you have to invest in reef-safe sunscreens.
To ensure you're buying proper reef-safe sunscreens, we've made this list of the best reef-safe sunscreens you can buy today. We've also included a buyer's guide to lead your way to your next purchase.
Let's dive right in!
6 Best Reef-Safe Sunscreen for Your Next Trip to Hawaii
Now that we've discussed what you need to look for in a reef-safe sunscreen, here are our top picks:
1.   
All Good Sports Mineral Sunscreen Butter Stick SPF 50 – Best Overall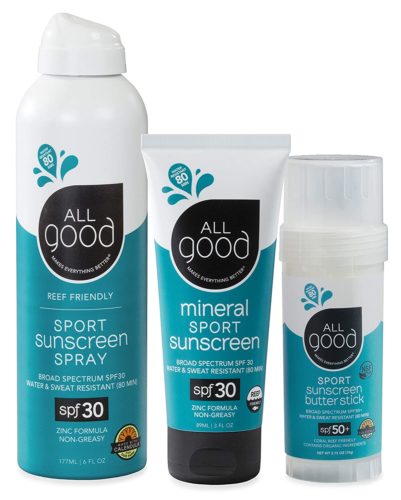 All Good was a loud-and-proud supporter of the Hawaii Safer Sunscreen bill. The company's signature product, the All Good Sports Face, doesn't contain oxybenzone, octinoxate, gluten, avobenzone, and other harmful additives.
The EWG (Environmental Working Group)—a non-profit organization that specializes in the research and advocacy of environmental health—lists the All Good Sunscreen as one of the safest products for your skin, with a near-perfect score of 2 (with 1 being the perfect score).
With primary ingredients such as rose hips, organic green tea, and buriti oil, this sunscreen not only protects you from the sun but also repairs and rehydrates your skin.  You're going to want something like this if you are planning on going swimming with dolphins.  Definitely want to protect those critters.
The Kid's version is nearly identical, except it contains organic chamomile instead of green tea to help soothe sensitive skin.
The All Good Sunscreen is lightweight and non-greasy. It comes in SFP 30 and SPF 50, with the only difference being that the SPF 50 comes in a butter stick while the SPF 30 comes in a tube.
Pros
SPF 50+ for maximum UVA/UVB protection

Easy, non-greasy application

Fragrance-free

Thick but rubs in evenly
Cons
Not suitable for people with coconut allergies
2.   
Stream2Sea Biodegradable & Reef Safe Sunscreen SPF 30 – Runner Up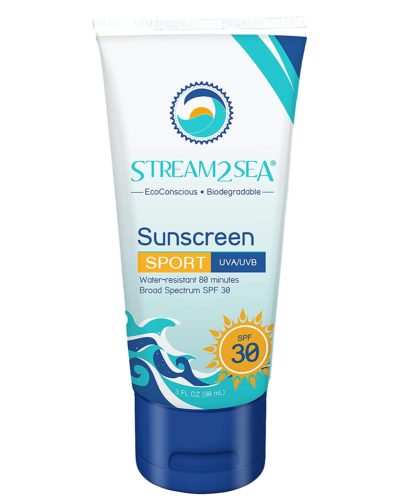 Made by environmentalists for environmentalists, the Stream2Sea Sport Sunscreen is one of the best reef-friendly sunscreens you can get your hands on. In fact, it proudly dons the seal of approval from Dr. Craig Downs from the Haereticus Environmental Laboratory!
The Stream2Sea Sport Sunscreen was tested and proven safe for reefs as well as freshwater and saltwater marine life.
It doesn't contain oxybenzone, parabens, gluten, or sulfates, making it as eco-friendly as sunscreens can be. It instead contains non-nano titanium dioxide and natural ingredients such as seaweed,  coconut oil, tulsi leaf, seaweed, and green tea.
On top of that, the sunscreen's packaging is made from sugarcane resins and recycled milk jugs instead of plastic.
The only reason why this product isn't at our number one spot is the fact that it's only available in SPF 20 and SPF 30. This is actually the one we personally used last time we went on a Molokini snorkel tour.  The difference between SPF 30 and SPF 50 is incredibly minimal—96.7% UVB protection as opposed to 98%—but it's worth mentioning.
Stream2Sea Sport Sunscreen gives you 80 minutes of water-resistant protection from the sun. Just make sure to apply the product every so often for continuous sun protection.
Pros
Doesn't contain ingredients listed on the HEL list

Dense and non-greasy

Eco-friendly packaging
Cons
Only SPF 30

Leaves a thin white film
3.   
Reef Repair Reef Safe Sunscreen SPF 50 – Best for Children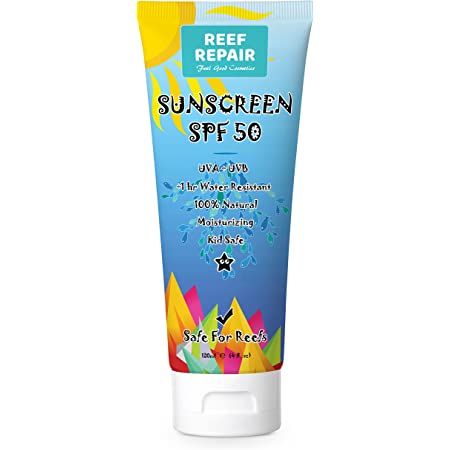 The Reef Repair Natural Sunscreen doesn't contain oxybenzone, octinoxate, paraben,  titanium dioxide, and the rest of the ingredients listed on the HEL list. It's a non-nano zinc oxide-based sunscreen, which is considered safe for reefs as stated by the Save the Reef organization.
Unlike most sunscreens, the Reef Repair Sunscreen doesn't leave an unpleasant sticky or greasy feeling on your skin upon application. It absorbs quickly into the skin and rubs evenly without excessive application. Plus, it doesn't leave a "ghost" effect on the skin.
The Reef Repair Natural Sunscreen isn't completely scentless; it has a light tropical coconut and vanilla scent derived from the oils used in the product. The scent isn't too overpowering though, so you can spray on your regular mist or perfume without mixing the scents.
Pros
Biodegradable formula

No white cast

Doesn't irritate the skin or the eyes
Cons
Not vegan

Contains coconut, which isn't suitable for those with coconut allergies
4.   
Thinksport Mineral Sunscreen – Best Budget-Friendly Option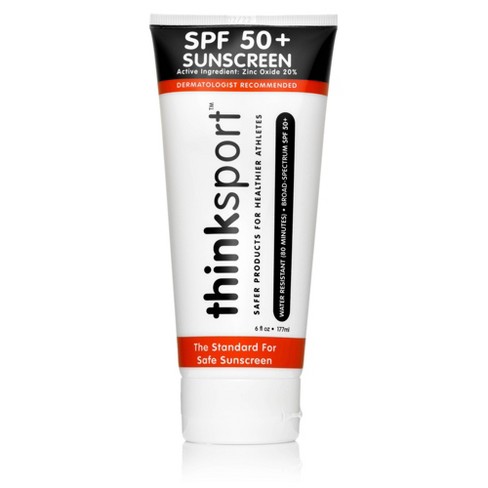 The Thinksport SPF 50+ Mineral Sunscreen is a water- and sweat-resistant sunscreen that uses a blend of traditional, reef-friendly ingredients.
It's non-GMO, gluten-free, paraben-free, cruelty-free, and doesn't contain any biologically toxic chemicals like avobenzone, oxybenzone, gluten, or petroleum.
In fact, it's the first sunscreen to pass the Whole Foods Premium Care requirements. It was also given a near-perfect score by the EWG.
This sunscreen is specifically made for active athletes and individuals who sweat a lot. It offers continuous sweat and water protection for up to 80 minutes before a reapplication is needed.
Pros
Blends well into the skin; doesn't leave white residues

Absorbs quickly into the skin so it won't feel oily or sticky

Vegan-friendly
Cons
Contains Epsom salt, which isn't suitable for people with bad skin allergies

Takes a bit of work to rub into the skin due to the thick consistency
5.   
Badger Sport Mineral Sunscreen Cream – Best Value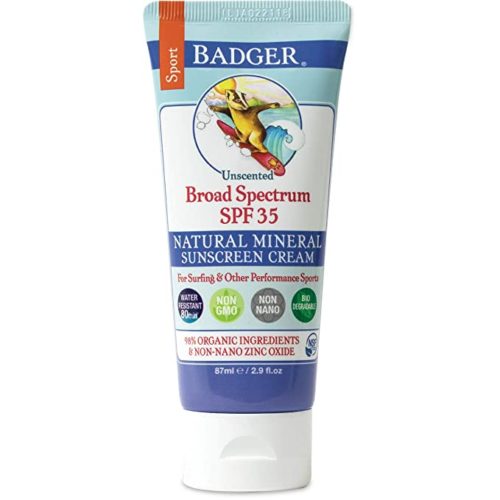 As the first-ever sunscreen to be certified by the HEL, we can't recommend the Badger Mineral Sunscreen enough.
It doesn't contain ingredients that are considered harmful to not only the coral reef environments but also to sea turtles, shrimps, and other aquatic animals.
It's GMO-free, water-resistant to up to 80 minutes, and contains 98% organic ingredients with clear zinc.
Plus, it's hypoallergenic, and fully tested to be safe and gentle on sensitive skin!
The Badger Mineral Sunscreen is made with four primary ingredients: traditional zinc oxide, sunflower oil, beeswax, and vitamin E. To make it even more environmentally friendly, it's packaged in a 50% PCR tube, and made with clean, water-free solar power.
This sunscreen is fragrance-free, making it a good choice for people with especially sensitive skin. However, Badger offers a scented version with faint tangerine and vanilla tones.
Pros
Clinically tested to be non-comedogenic

Doesn't leave a white sheen on the skin

The thick formula doesn't easily wash off in the water

Hypoallergenic

98% natural ingredients
Cons
Only 40 SPF

Not vegan

Doesn't apply evenly due to thickness
6.   
Raw Elements Face and Body Certified Natural Sunscreen – Best for People With Allergies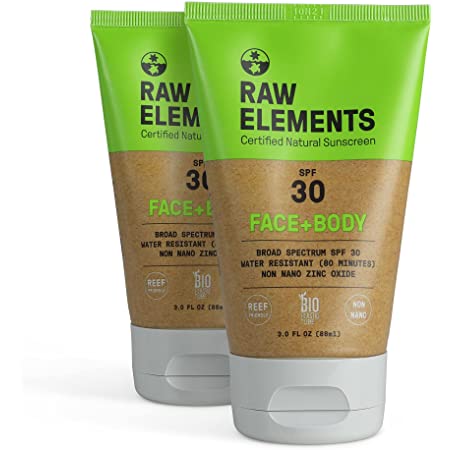 Recommended by both the EWG and Safe and Reef, the Raw Elements Natural Sunscreen is a reef-safe moisturizing sunscreen that doesn't contain oxybenzone, octanoate, parabens, and any form of microplastic.
Instead, it's made with organic and certified natural ingredients, such as organic black tea, beeswax, coffee beans, rosemary, and mango butter, as well as 23% non-nano zinc oxide. 
This is a great option sun screen when checking out Mermaid Cove, Oahu.  We put it on and completely forgot about it with no issues.
The Raw Elements is best suited for those who have hypersensitive skin and those who have soy, gluten, and nut allergies. It's also Leaping Bunny certified, which is the most trusted cruelty-free certification for non-animal tested products.
To top it off, the sunscreen comes in recyclable, compostable, plastic-free packaging. It's also water-resistant for up to 80 minutes.
It would've been perfect if not for the fact that it's available in only SPF 30. But as we've mentioned earlier, the difference between SPF 30 and 50 is quite minimal. This sunscreen works perfectly well under full sunlight, as long as you stay on top of the application.
Pros
All-natural formula

Hypoallergenic

Plastic-free packaging

Designed for all ages

Smooth application
Cons
Might smell a bit off-putting to some

Leaves skin feeling a bit sticky
Factors to Consider When Buying Reef-Safe Sunscreen
Here are some factors to consider when buying a sunscreen to ensure you're buying an actual reef-safe sunscreen product:
Ingredients
When buying sunscreen, make sure it's 100% chemical-free.
Oxybenzone and octinoxate, two common UV-blocking chemicals, are harmful to the aquatic environment. They not only cause coral bleaching but also encourage the development of aquatic viruses. The same is said with avobenzone and homosalate.
Here are other ingredients you should avoid, according to the Haereticus Environmental Laboratory: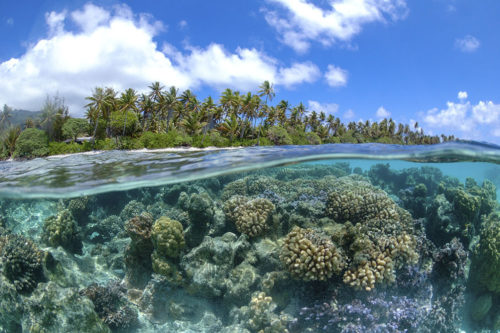 Octocrylene

Enzacamene

PABA (Para-aminobenzoic acid)

Paraben (Methyl, Ethyl, Propyl, Benzyl, etc.)

Triclosan

Ingredients with or made of microplastic beads or spheres

Chemicals with nanoparticles (i.e., zinc oxide or titanium dioxide)
It's important to note that the term "reef-friendly" isn't in any way regulated.
Major sunscreen companies, like Sun Bum, Alba Botanica Hawaiian, Banana Boat, and Copperstone all state they're "reef-safe," but they actually contain a fair percentage of oxybenzone, octinoxate, and avobenzone.
As such, you can't always trust products that claim they're "reef-safe." This is why you should always check the list of active ingredients to ensure reef-harming chemicals (as listed above) aren't included.
Water-Resistant
No sunscreen is truly water-resistant. All sunscreen washes off skin after a certain period of time.
To be classified as "water-resistant," the product must be able to stick on your skin for a certain period of time while swimming without a change in SPF measurement.
For instance, a three-hour SPF 50+ water-resistant sunscreen must remain at SPF 50+ after at least three hours of water immersion.  Definitely, a must if snorkeling in Maui or any other island.
That said, always search for a "waterproof" or at least water-resistant sunscreen. The better the product sticks to your skin, the less of it will wind up in the reefs.
Application Type
Sunscreen comes in two basic application types: lotion and spray.
As much as possible, stick with lotions and avoid mist or spray sunscreens, especially those that contain titanium dioxide.
Whenever you use spray sunscreen, some end up on the sand and the ocean. Plus, these sunscreens can be harmful to your health if inhaled.
SPF Rating
According to the Skin Cancer Foundation, the minimum recommended SPF is 30.
SPF 30 blocks 97% of UVB rays, as opposed to SPF 15 which only blocks about 93%. SPF 50 protects you from 98% of UVB rays.
Sunscreens beyond SPF 50 provide little to no difference in terms of sun damage, as no sunscreen offers 100% protection from UVB rays.
If you're given the choice between SPF 30 and 50, absolutely go for the latter. But if the choice is between SPF 50 and, say, SPF 80, the difference in price might not be worth it.
High-SPF sunscreens don't give you a whole lot of protection; in fact, the difference between SPF 50 UVB protection and SPF 50+ is in the decimal.
Chemical Sunscreens vs. Mineral Sunscreens: What's the Difference?
When shopping around for sunscreens, you'll stumble upon two types: mineral sunscreen and chemical sunscreen.
In the simplest of terms, chemical sunscreens absorb the sun's UV rays before they can damage your skin. They're often made from synthetic ingredients, like avobenzone and octisalate.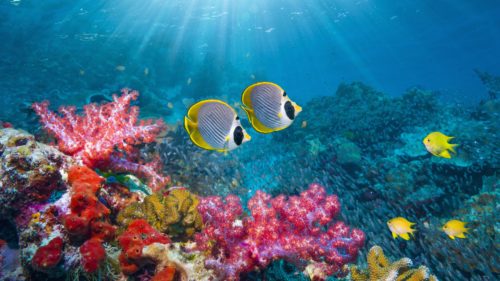 On the other hand, mineral sunscreens, also known as physical sunscreens, deflect and scatter the rays before they penetrate your skin. They're more "natural" than chemical sunscreens, but they still contain inorganic mineral compounds.  You'll also note that mineral sunscreen is less likely to get all over your glasses and inhibit you from checking out the view!
Mineral sunscreens pose less harm to oceanic reefs than chemical sunscreens. They're less effective against UV rays than the latter, but they're much more environmentally friendly than chemical SPF.
Plus, they're the ideal option for young children, people with skin problems, and those looking to adopt a more sustainable beauty routine.
Final Thoughts
There you have it; six of the best reef-safe sunscreen you can use on your next trip to Hawaii!
The above products don't contain harmful reef-damaging ingredients such as oxybenzone, octinoxate, parabens, gluten, and avobenzone, so you can rest assured knowing you're not inadvertently harming the reefs with your sunscreen.
Check out some other product reviews you might take to the beach with you.
If we had to choose a favorite, our first choice is the All Good Sports Mineral Sunscreen SPF 50, closely followed by the Stream2Sea Sunscreen SPF 30. Both products are thick, non-greasy, and water-resistant for up to 80 minutes.
For a more budget-friendly option, you can't go wrong with the Thinksport SPF 50 Mineral Sunscreen. It's Leaping Bunny certified, doesn't leave an unpleasant chemical-like scent on your skin, and absorbs quickly so you won't feel oily or sticky after application.